Player grades: "Otherworldly" McDavid leads team effort as Oilers polish off Kings 2-0 in decisive Game 7 – Edmonton Journal
Article content
Kings 0, Oilers 2
Article content
Taut. Tense. Terrific.
These three T-words do as good a job as any to describe Edmonton Oilers' 2-0 win over Los Angeles Kings that finally turned a topsy-turvy seven game series in Edmonton's favour. The game was scoreless until well past the midpoint before a relentless Oilers attack was finally rewarded, and hung in the balance at 1-0 until less than four minutes to play. That's when Connor McDavid scored a Glenn Anderson-calibre clincher that simultaneously blew the roof off the joint while finally providing the home side some welcome breathing room down the stretch.
Make no mistake, the Oilers were the better team in the decisive contest, and at both ends of the sheet. They outshot the Kings 41-29 including a staggering 24-11 margin in a decisive middle period. They held a convincing 14-5 advantage in Grade A shots with a 7-2 edge in 5-alarm shots, those latter two counts logged by David Staples and myself here at the Cult of Hockey (running count).
Article content
Not quite a "perfect" outing by the home side, but tending in that direction. Not only did the Oilers not give up a goal, they didn't even take a penalty in the hard-fought but generally clean affair that saw just one official penalty called all night. They blocked 21 shots and were credited with 19 takeaways compared to just 9 giveaways. And in the process, the Oilers' first Game 7 win since another impressive shutout, 4-0 at Colorado, way back in 1998.
Odd facts of the series: 1) There was never a lead change in any game. The team that scored first would occasionally be tied but never trail in any of the 7 games. 2) The series itself featured the maximum possible THREE lead changes, as the arrow flipped from 1-0 LAK to 2-1 EDM to 3-2 LAK to 4-3 EDM. Thankfully, they stop playing games once one team gets to 4.
Article content
The formula for success in the last 2 wins was a nifty wrinkle by Jay Woodcroft on the 11F / 7D line-up, in which it was effectively the second line that had no centre. Instead, Evander Kane and Zach Hyman played with a rotating group of pivots from the first, third, and fourth lines. (Must be an absolute bear to match up against.) Meanwhile, all 7 d-men saw meaningful action and made meaningful contributions. Some pretty slick coaching going on, from where I sit.
And some excellent hockey. Plus grades all around after this beauty.
Player grades

#2 Duncan Keith, 7. Played a solid, safe game on the back end. While no goals were scored during his 19 minutes at even strength, the Oilers dominated all shot shares including 68% of shots on goal and expected goals of 76%.
Article content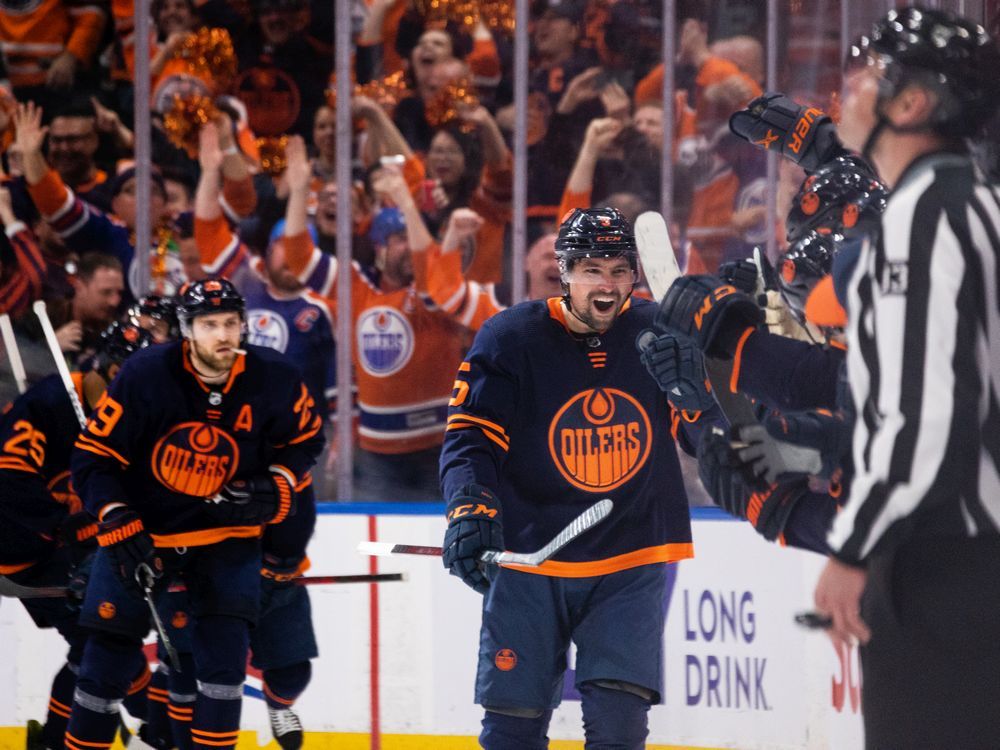 #5 Cody Ceci, 8. Had a coming out party in this series with major contributions at both ends of the ice. Scored his first goal of the playoffs at an excellent time, finally beating the stalwart Jonathan Quick 13 minutes into the middle frame by jumping into the high slot to take McDavid's feed and fire a well-placed shot past Mikey Anderson's accidental screen on the short side. It would stand up as the series-winning goal. 3 shots at one end, 3 blocks at the other, 1 very solid hit, and his usual sound defensive positioning. Finished the series 1-5-6, +8..
#6 Kris Russell, 7. Kept in the line-up as the seventh defenceman and more than covered that bet. His defensive effort is best encapsulated by this pair of stats: during his 8:44 of ice time, all at 5v5, Russell blocked 3 shots, while his goaltender only had to stop 1.

Article content
#10 Derek Ryan, 6. Consistently chipped the puck to good places to keep the cycle alive or at minimum leave the opposition with 200 feet to travel. So-so shot shares but made mistakes on precisely zero Grade A shots against. 5/11=45% on the dot.
#13 Jesse Puljujarvi, 6. Solid two-way play in limited action (6:50). 1 shot, 2 hits, excellent cycling and positive shot shares. Playing left wing for the first time in memory, and adjusting pretty well.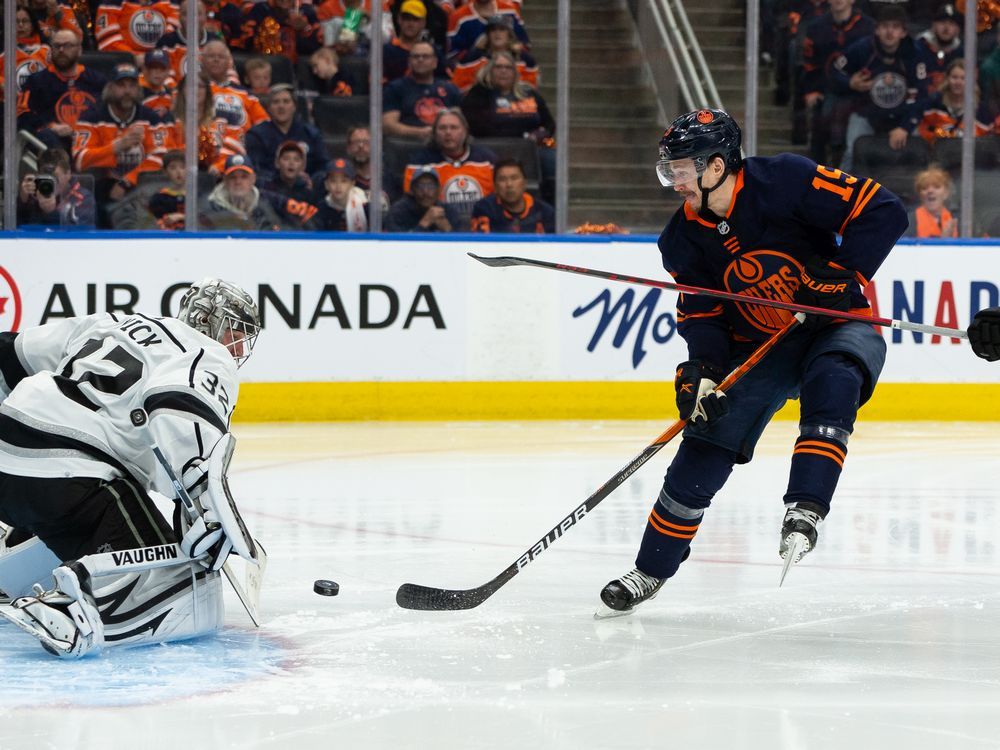 #15 Josh Archibald, 7. The Corsi Police wouldn't like his on-ice stats, but Archibald was a tenacious physical force in a series where the Oilers needed a little pushback against the likes of L.A. grinders Mikey Anderson, Matt Roy, Brendan Lemieux, Carl Grundstrom, and the freshly-retired Dustin Brown. Despite missing Game 1, Archibald led both teams with 33 hits in the series including 6 in the finale. He also had a couple of shots on net including a terrific breakaway attempt that was foiled by an outstanding stop.
Article content
#18 Zach Hyman, 7. A buzzsaw on the puck, Hyman won battles in all 3 zones. Led both teams with 7 shots on goal, many of them jam plays, while chipping in on 4 Grade A shots by the Oilers, none against. Numbers like 3 hits, 1 takeaway, 1 block speak to his involvement when the other guys had the puck.
#22 Tyson Barrie, 6. Game 6 scoring hero had no such moments in the spotlight this time, just a dependable game on the back end with positive shot shares and zero defensive issues.
#25 Darnell Nurse, 7. Repaid the teammates who bailed him out for his suspension in Game 6 with a solid effort. Looked a little more refreshed than when last we saw him, and played a far more proactive, Nurse-style game with 7 shot attempts, 2 hits and 4 blocks while posting solid shot shares primarily against the Anze Kopitar line. Made a great block of a dangerous Adrian Kempe shot in the early going. His own best shot was similarly blocked by Blake Lizotte. Did have a couple of defensive issues, notably on a powerful rush by Kempe that looked eerily similar to the overtime winner in Game 5. Fortunately Smith had the answer this time.
Article content
#27 Brett Kulak, 7. The new dad responded to his changing life circumstances with another impressive outing in Game 7. Fast on the puck and quick to move it in the right direction. His signature shift may have been when he won a race to a 50/50 puck at his own blueline to nullify a dangerous looking rush, then seconds later made a terrific keep-in at the offensive blueline. Earned a secondary assist on the clincher after winning a post-faceoff puck battle in his own end that contributed to McDavid and Yamamoto heading up-ice with speed.
#29 Leon Draisaitl, 7. Clearly labouring physically, he nonetheless found ways to contribute, his well-honed ability to feed the puck to McDavid high among them. Earned an assist on the first goal with an early touch of the puck, but his greater contribution was away from the disc when he engaged Anderson, causing a screen of Quick while opening a narrow shooting lane which Ceci hit perfectly. Minded his p's and q's on the defensive side, highlighted by a superb sequence where he chased Lizotte all the way across the Oilers blueline before eventually forcing the disc to safety. 0-1-1, +2 in an astonishing 22½ minutes.
Article content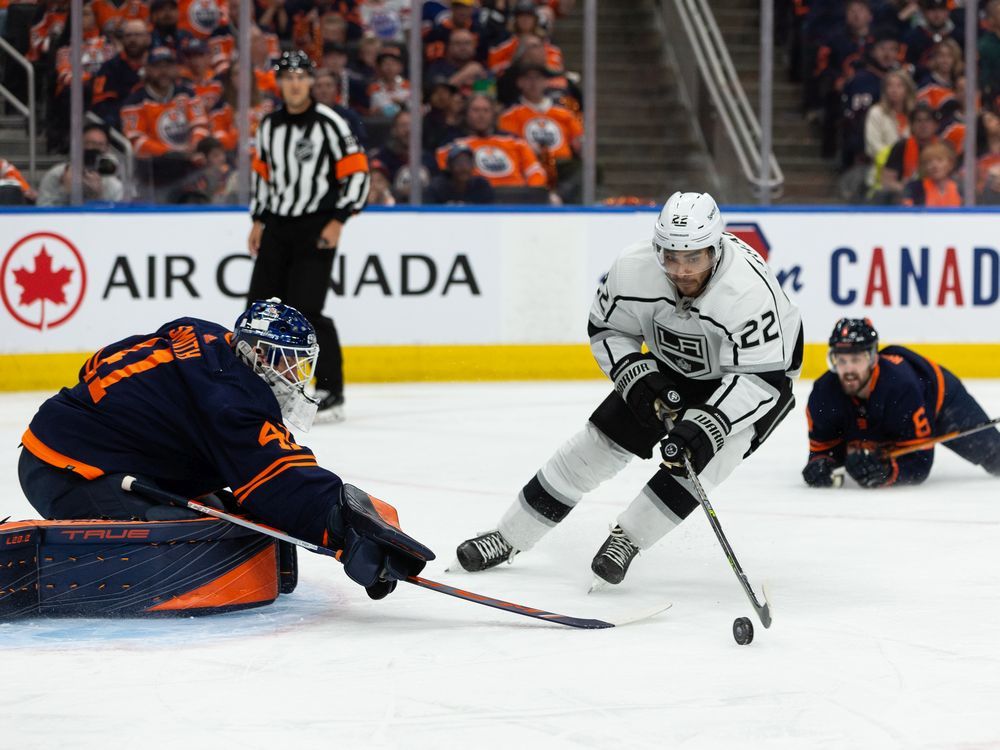 #41 Mike Smith, 9. A pillar of strength between the pipes. Didn't face a lot of glorious chances, but stopped all that he did face and scads of outside shots through traffic. Tracked the puck extremely well and controlled his rebounds expertly on those few occasions there were any rebounds at all. Did sprawl like a beached whale a couple of times but got some help from his mates on those occasions. On a night where he easily could have been the second best goalie on the ice (Jonathan Quick was outstanding at the other end), he slammed the door. 29 shots, 29 saves, 1.000 save percentage. Indeed, the shutout in his first career Game 7 earns Smith +1 on his grade. Ended the series with excellent stats including a 2.29 goals against average, .938 save percentage, and most importantly, 4 wins.
Article content
#44 Zack Kassian, 7. He like Archibald brought a consistent physical element, especially in the early going. Had a game high 7 hits including a couple of real doozies. Mashed Grundstrom and Anderson with heavy darts. Solid shot shares buttressed by 3 shots off his own stick. Sound on the defensive side of the puck.
#56 Kailer Yamamoto, 8. All over the ice, and the puck. Made a leaping play at the offensive blueline to keep the play alive in the build-up to the 1-0. Nearly scored the 2-0 himself when he found iron on a quick shot through traffic, but did set it up later with a good cross-ice pass that found a streaking McDavid hitting the line. His celebration of the goal that followed was a highlight in its own right. 2 shots, 2 blocks, 2 takeaways, 3 hits, and a pristine 4-0 in contributions to Grade A shots.
Article content
#71 Ryan McLeod, 8. Totally engaged and invested in Edmonton's biggest game of the year. Skated miles. Cleaned up a few situations in his own end, and got the puck moving north with an impressive 5 takeaways. Split his time almost evenly between two very different pairs of wingers — Kassian / Puljujarvi and Kane / Hyman — and held his own with both. 2 hits, 1 block. Made a mistake on a Kings Grade A shot, but contributed to 2 of those at the good end. Broke even (4/8=50%) on the dot, always an acceptable outcome for a rookie in a black art dominated by crafty veterans.
#75 Evan Bouchard, 7. The puck was moving north on his shift, with the Oilers posting a 70% share of expected goals during his nearly 20 minutes at even strength. Alas, one of the reasons none of those expected goals didn't materialize on the scoresheet was his inability to hit the net with any of his own shot attempts, of which there were 10 — 7 were blocked and 3 missed the target, even as 1 of those rang the iron. (Man, this guy hits a lot of posts and cross bars.) On this night did his best work in the d-zone, boxing guys out, breaking up passes, winning puck battles, moving the disc efficiently and using his partner to best advantage. His best sequence may have come defending a 2-on-2 rush by the skilled duo of Philip Danault and Trevor Moore midway in the third; Bouchard held his lane as they did a criss-cross drop pass attacking his side, then stuck with Moore to first block his shot, then finish the check hard in the corner before chipping the puck quickly up the boards towards puck support.
Article content
#91 Evander Kane, 7. Another night at the office with 5 shots, 3 hits, and 91% (!) expected goals. Actual goals were hard to come by, with his best chance pulled off the goal line by Andreas Athanasiou of all people. Nonetheless, 18 sawed-off minutes with just 4 shots against helped the cause on this night. Power forward finished the series with crooked numbers across the spectrum: 7-2-9, +5, 16 PiM and 32 hits.
#93 Ryan Nugent-Hopkins, 7. Severely limited in his usual feature roles on special teams, he delivered a sound defensive game at even strength. Won more than his share of battles along the way, one of which sprang Archibald on his breakaway. His regular line spent plenty of time behind their own blueline but with little damage; Nuge's shot shares soared when playing with the two "extra" wingers Kane and Hyman, including 6-0 shots in just 3½ minutes with Kane. A team best 7/13=54% on the faceoff dot.
Article content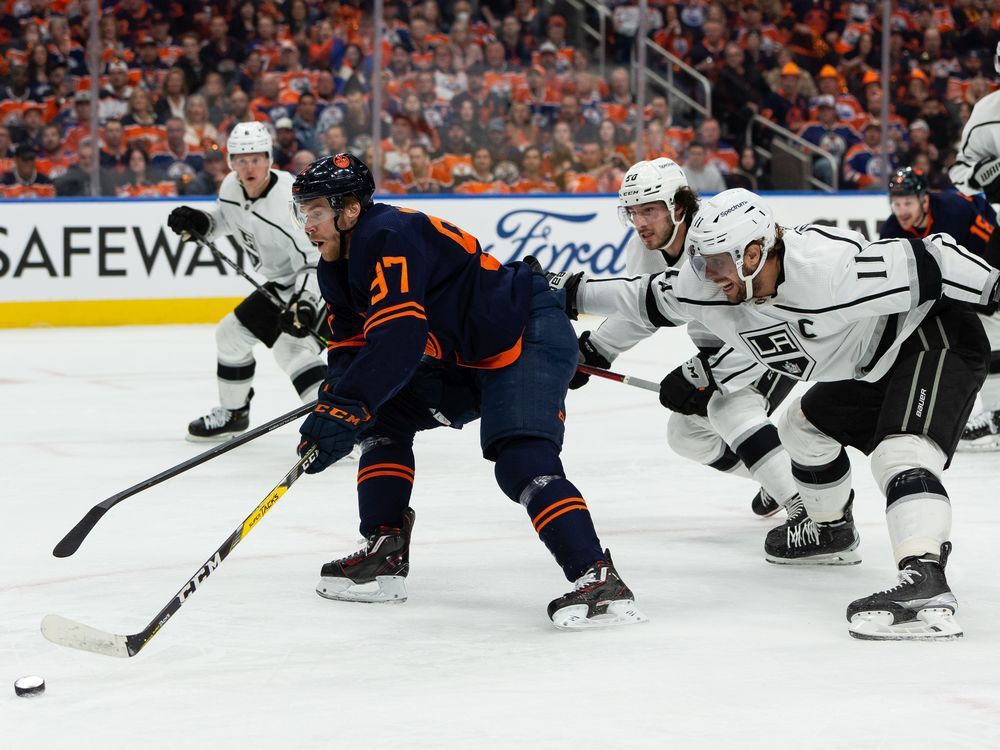 #97 Connor McDavid, 10. A third consecutive scintillating performance, over which time he was on the ice for (wait for it) 10 out of 10 Oilers goals, so why fight it. Playing like a man possessed just now, spinning out of checks like the Tasmanian Devil on Red Bull. Started his night by running over Sean Durzi with a massive open ice hit and took charge from there. Played a monstrous 27:23, with 12 shot attempts, 6 of them on net, 4 hits, 2 takeaways, and of yeah, 1-1-2, +2 in a 2-0 game. Earned a primary assist with a fine feed to Ceci. Easily could have had a couple more with a pair of brilliant setups of Yamamoto. Was all over the defensive zone, including a couple of key clears. With 4 minutes to go he put the game away at 2-0 with a brilliant sequence in which he first drew a (delayed) penalty by Durzi; while the King stopped to argue the call, McD carried on to jam a wraparound try that barely failed, then somehow recovered the pinball rebound in his skates and roofed a backhand from the slot. That set off a frenzied celebration by the player himself, his teammates, the packed house, and the thousands more watching on the big screen outside. What a moment, and what a game.
Recently at the Cult of Hockey
STAPLES: Kane brings some swagger to Oilers
LEAVINS: Player grades in Game Six
McCURDY: Reuniting the "nuclear option" for Game 6
Oilers player grades vs. Kings
Jimmy Butler steals the show on NBA media day with 'emo' phase look following Damian Lillard's trade to the Milwaukee Bucks
Whether or not Miami Heat's golden child Jimmy Butler's new "emo" look is just a phase, the NBA star carried it off with some aplomb, drawing plenty of laughs from his teammates.
One year on from his memorable fake dreadlocks look, the 34-year-old outdid himself by turning up at the Heat's media day on Monday sporting a straightened fringe, piercings in his eyebrow and lips and painted black nails.
Butler said he's now "emo" and after the summer he and the Heat have had, who can blame him?
After former Portland Trail Blazers guard Damian Lillard and his agent publicly stated on numerous occasions that he would only want to play for Miami, it seemed like a matter of when, not if, the 33-year-old would end up in South Beach.
Butler led the Heat to an improbable NBA Finals appearance as the eight seed last season, so it's easy to imagine his excitement at the prospect of Lillard's addition to the roster pushing the team over the top and to its first title in the post-Lebron James era.
However, the Milwaukee Bucks swooped in last week with a package that blew Miami's out of the water, meaning Lillard will now be plying his trade in Wisconsin and not Florida.
"Yeah, yeah, yeah, laugh it up," Butler said as he entered his press conference, pushing his fringe out of his eyes. "I'm emo. This is my emotional state, I'm at one with my emotions so this is what you get."
Despite failing to acquire Lillard and losing key contributors Gabe Vincent and Max Strus, Butler remains confident ahead of the upcoming season, telling reporters the Heat are going to win it all.
If it's good news that he's now at one with his emotions, Butler might just also be a gifted method actor and isn't actually going through a belated "emo" phase. The six-time All Star could be heard saying "don't make me break character" as he entered the press conference.
His new character was certainly a hit with his teammates and had Bam Adebayo crying tears of laughter as the pair were having their photos taken for the new season – which means, yes, Butler will have this hair in official photos for the entire year.
Certainly not someone to do things by halves, Butler was fully immersed in his new state and even posted songs from emo bands on his Instagram story throughout the day.
Finding Your Perfect Match: The Best Ways to Choose an Online Sportsbook
In the ever-expanding world of online sports betting, selecting the right sportsbook is crucial. This is to ensure an enjoyable and secure gambling experience. With numerous options available, it can be challenging to find the perfect fit. For instance, you can be looking into sites like BestOdds to find a sportsbook to go with but do not know what exactly to check.
This article will explain the basics of finding an excellent online sportsbook.
Licensing and Regulation
The first and most critical factor when choosing an online sportsbook is ensuring it operates in a legal and transparent manner. A reputable sportsbook should possess a valid license from a recognized regulatory authority. These licenses indicate that the sportsbook adheres to strict standards, including fair play, responsible gambling and financial security.
Before registering, check for the sportsbook's licensing information. In most cases, you will find this in the footer of their website. Some of the most reputable regulatory bodies for online sports betting include the United Kingdom Gambling Commission (UKGC), the Malta Gaming Authority (MGA) and the Isle of Man Gambling Supervision Commission.
Additionally, research the sportsbook's track record for regulatory compliance and any previous non-payment or unethical practices incidents. User reviews and industry news sources can provide valuable insights into the sportsbook's reputation.
Odds and Betting Markets
The quality of odds and the variety of betting markets offered are key factors in determining the suitability of an online sportsbook. Competitive odds provide better potential returns for your bets, while a wide range of markets allows you to explore different betting options.
Compare odds from multiple sportsbooks to ensure you get the best bet value. Some websites and apps even offer odds comparison tools to make this process more convenient.
Moreover, consider the breadth of sports and events covered by the sportsbook. Whether you're into mainstream sports like football, basketball, or soccer or niche sports and events, the sportsbook should offer diverse markets to cater to your preferences.
Security and Payment Options
Security is paramount when sharing personal and financial information with an online sportsbook. Look for sportsbooks that employ the latest encryption technologies, such as SSL (Secure Socket Layer), to safeguard your data. Consider factors like two-factor authentication (2FA) to enhance account security further.
Payment options are another critical aspect. Ensure the sportsbook offers convenient and secure methods for depositing and withdrawing funds. Common payment methods include credit/debit cards, bank transfers, e-wallets (like PayPal or Skrill) and cryptocurrencies (like Bitcoin). Choosing a sportsbook that supports your preferred payment method is essential to streamline your betting experience.
As LeBron James enters Year 21, the theme of Lakers media day was passing the torch and sharing the load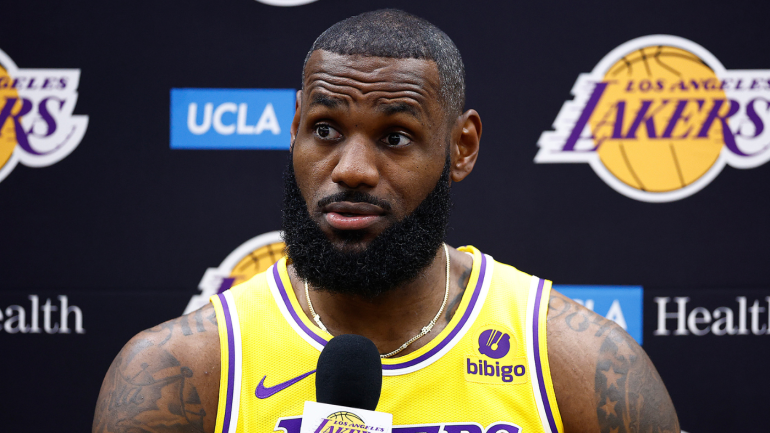 Getty Images
The budding relationship between fifth-year forward Rui Hachimura and four-time MVP LeBron James has been one of the stories of the offseason for the resurgent Los Angeles Lakers. Stories of the two working out together have become commonplace. "I call him my Daniel-san and I'm Mr. Miyagi," James joked at Lakers' media day Monday. It was an appropriate comparison not just between James and Hachimura, but the legend and his entire team.
Now that Udonis Haslem has called it a career and Andre Iguodala is seemingly headed in that direction, James is officially the NBA's oldest active player. He proved that he is still a superstar on the court last season, but aside from Anthony Davis and Taurean Prince, all of his Laker teammates are at least a decade his junior. In a perfect world, the days of James pushing for 30-point triple-doubles on a nightly basis are now over. He has a group of young teammates eager to learn from his example and lift him up when he needs it.
"I think with this team we have the most depth," new Lakers big man Christian Wood said Monday. "No team in the league has more depth than we have." This was the goal of the Lakers' offseason. Though they didn't make any particularly splashy additions, six of the seven Lakers to play at least 200 postseason minutes are back this season. Joining them are Gabe Vincent, a starter on Miami's finalist from a season ago, and Wood, one of the NBA's most dynamic scoring big men. Rounding out the new-look bench are former first-round picks Taurean Prince (29), Cam Reddish (24) and Jaxson Hayes (23). That youth-oriented approach was no accident, as Lakers coach Darvin Ham explained Friday.
"Now that we have, top-to-bottom, what we feel is a highly balanced, skilled, athletic, younger team of guys that have logged a ton of NBA minutes, we can surround both he and AD with these players who are coming in eager to contribute, eager to show that they can impact winning," Ham said. "That's gonna allow us to be able to be more efficient with his game-to-game minutes."
Managing James' minutes was difficult last season. The Lakers lacked depth on a roster depleted by the Russell Westbrook trade, and when Davis was hurt, James needed to carry a remarkable burden just to keep the Lakers afloat. He averaged 24.1 shots and 34.6 points per game between Dec. 18 and Jan. 24, Davis' longest extended absence of the season. Roughly one month later, he suffered the foot injury that hampered him for the rest of the season. It's an outcome Davis is hoping to avoid this time around.
"It's my goal every year to play 82," Davis said. Though likely unobtainable, keeping Davis on the floor will be essential to the Lakers' championship hopes this season. In fact, James might even argue that his co-star's health is more important than his own. "He is the face [of the franchise]," James said at media day. For stretches last season, he was among the NBA's best players. Between Nov. 13 and his own injury on Dec. 13, Davis averaged 32.4 points per game while doubling as the league's best defensive player.
But for the Lakers to realize their considerable potential, he'll have to sustain that dominance for longer stretches. The supporting players, who were so instrumental in lifting the Lakers from out of the top-10 in the West and into the Western Conference finals, will have to continue to benefit from James' presence as Hachimura has. The Lakers went from cellar-dweller to contender last season when they morphed from an older, star-driven roster to a younger, balanced one, and whether that means Davis stepping into James' role as the focal point of the team or the role players improving with another year in the system, the Lakers made it clear at media day that they plan to continue that transformation.