Player grades: "Otherworldly" McDavid leads team effort as Oilers polish off Kings 2-0 in decisive Game 7 – Edmonton Journal
Article content
Kings 0, Oilers 2
Article content
Taut. Tense. Terrific.
These three T-words do as good a job as any to describe Edmonton Oilers' 2-0 win over Los Angeles Kings that finally turned a topsy-turvy seven game series in Edmonton's favour. The game was scoreless until well past the midpoint before a relentless Oilers attack was finally rewarded, and hung in the balance at 1-0 until less than four minutes to play. That's when Connor McDavid scored a Glenn Anderson-calibre clincher that simultaneously blew the roof off the joint while finally providing the home side some welcome breathing room down the stretch.
Make no mistake, the Oilers were the better team in the decisive contest, and at both ends of the sheet. They outshot the Kings 41-29 including a staggering 24-11 margin in a decisive middle period. They held a convincing 14-5 advantage in Grade A shots with a 7-2 edge in 5-alarm shots, those latter two counts logged by David Staples and myself here at the Cult of Hockey (running count).
Article content
Not quite a "perfect" outing by the home side, but tending in that direction. Not only did the Oilers not give up a goal, they didn't even take a penalty in the hard-fought but generally clean affair that saw just one official penalty called all night. They blocked 21 shots and were credited with 19 takeaways compared to just 9 giveaways. And in the process, the Oilers' first Game 7 win since another impressive shutout, 4-0 at Colorado, way back in 1998.
Odd facts of the series: 1) There was never a lead change in any game. The team that scored first would occasionally be tied but never trail in any of the 7 games. 2) The series itself featured the maximum possible THREE lead changes, as the arrow flipped from 1-0 LAK to 2-1 EDM to 3-2 LAK to 4-3 EDM. Thankfully, they stop playing games once one team gets to 4.
Article content
The formula for success in the last 2 wins was a nifty wrinkle by Jay Woodcroft on the 11F / 7D line-up, in which it was effectively the second line that had no centre. Instead, Evander Kane and Zach Hyman played with a rotating group of pivots from the first, third, and fourth lines. (Must be an absolute bear to match up against.) Meanwhile, all 7 d-men saw meaningful action and made meaningful contributions. Some pretty slick coaching going on, from where I sit.
And some excellent hockey. Plus grades all around after this beauty.
Player grades

#2 Duncan Keith, 7. Played a solid, safe game on the back end. While no goals were scored during his 19 minutes at even strength, the Oilers dominated all shot shares including 68% of shots on goal and expected goals of 76%.
Article content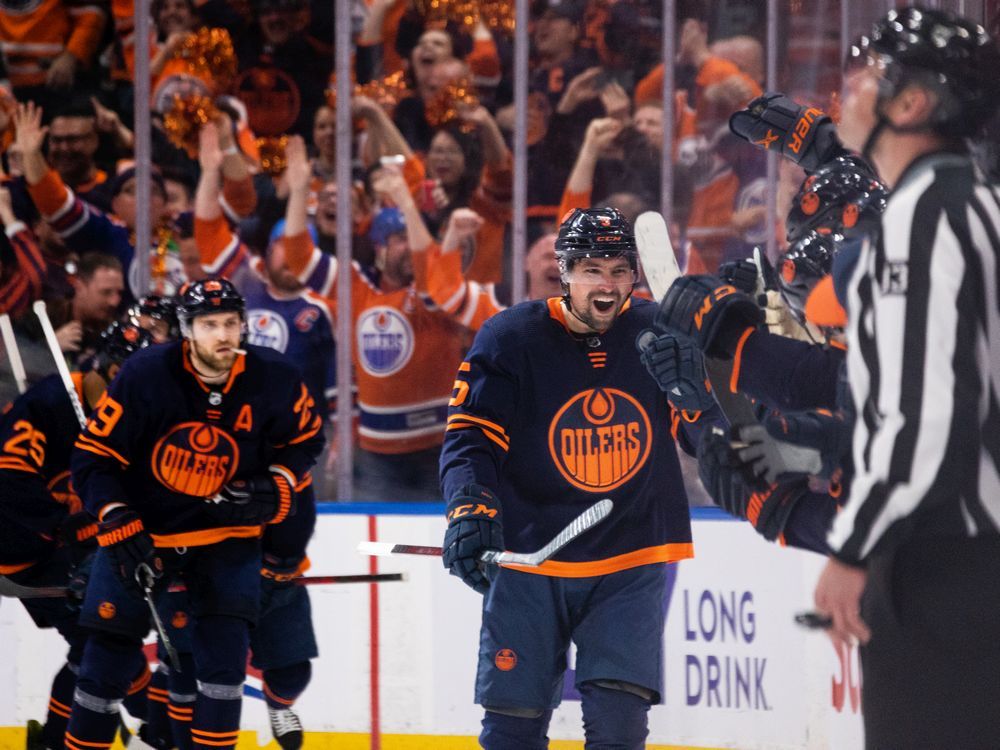 #5 Cody Ceci, 8. Had a coming out party in this series with major contributions at both ends of the ice. Scored his first goal of the playoffs at an excellent time, finally beating the stalwart Jonathan Quick 13 minutes into the middle frame by jumping into the high slot to take McDavid's feed and fire a well-placed shot past Mikey Anderson's accidental screen on the short side. It would stand up as the series-winning goal. 3 shots at one end, 3 blocks at the other, 1 very solid hit, and his usual sound defensive positioning. Finished the series 1-5-6, +8..
#6 Kris Russell, 7. Kept in the line-up as the seventh defenceman and more than covered that bet. His defensive effort is best encapsulated by this pair of stats: during his 8:44 of ice time, all at 5v5, Russell blocked 3 shots, while his goaltender only had to stop 1.

Article content
#10 Derek Ryan, 6. Consistently chipped the puck to good places to keep the cycle alive or at minimum leave the opposition with 200 feet to travel. So-so shot shares but made mistakes on precisely zero Grade A shots against. 5/11=45% on the dot.
#13 Jesse Puljujarvi, 6. Solid two-way play in limited action (6:50). 1 shot, 2 hits, excellent cycling and positive shot shares. Playing left wing for the first time in memory, and adjusting pretty well.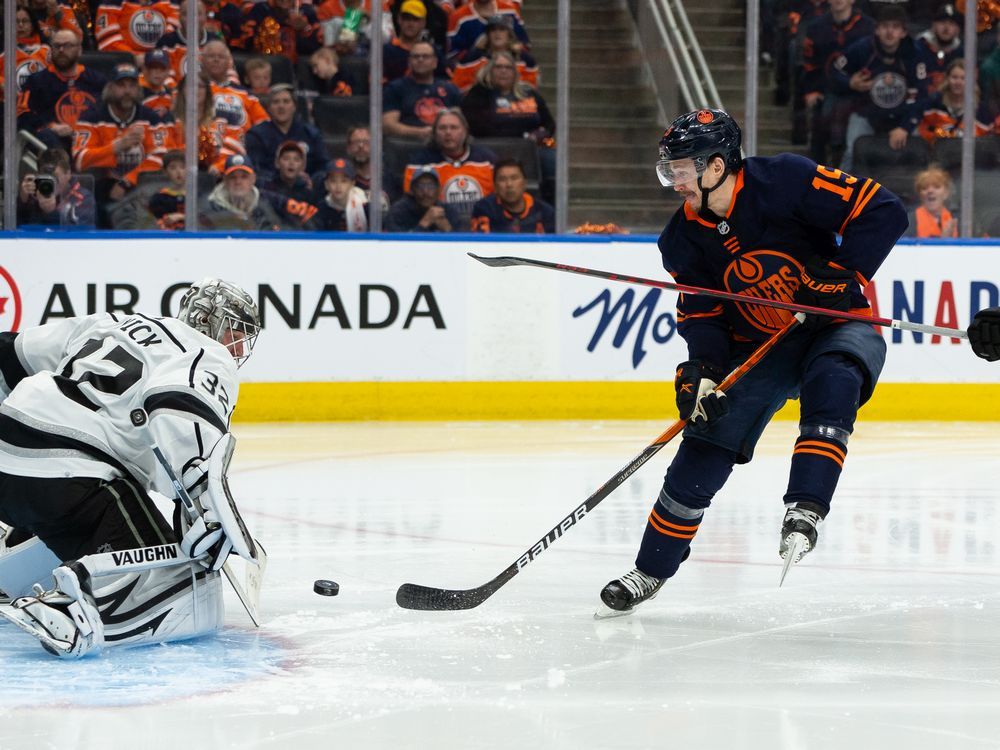 #15 Josh Archibald, 7. The Corsi Police wouldn't like his on-ice stats, but Archibald was a tenacious physical force in a series where the Oilers needed a little pushback against the likes of L.A. grinders Mikey Anderson, Matt Roy, Brendan Lemieux, Carl Grundstrom, and the freshly-retired Dustin Brown. Despite missing Game 1, Archibald led both teams with 33 hits in the series including 6 in the finale. He also had a couple of shots on net including a terrific breakaway attempt that was foiled by an outstanding stop.
Article content
#18 Zach Hyman, 7. A buzzsaw on the puck, Hyman won battles in all 3 zones. Led both teams with 7 shots on goal, many of them jam plays, while chipping in on 4 Grade A shots by the Oilers, none against. Numbers like 3 hits, 1 takeaway, 1 block speak to his involvement when the other guys had the puck.
#22 Tyson Barrie, 6. Game 6 scoring hero had no such moments in the spotlight this time, just a dependable game on the back end with positive shot shares and zero defensive issues.
#25 Darnell Nurse, 7. Repaid the teammates who bailed him out for his suspension in Game 6 with a solid effort. Looked a little more refreshed than when last we saw him, and played a far more proactive, Nurse-style game with 7 shot attempts, 2 hits and 4 blocks while posting solid shot shares primarily against the Anze Kopitar line. Made a great block of a dangerous Adrian Kempe shot in the early going. His own best shot was similarly blocked by Blake Lizotte. Did have a couple of defensive issues, notably on a powerful rush by Kempe that looked eerily similar to the overtime winner in Game 5. Fortunately Smith had the answer this time.
Article content
#27 Brett Kulak, 7. The new dad responded to his changing life circumstances with another impressive outing in Game 7. Fast on the puck and quick to move it in the right direction. His signature shift may have been when he won a race to a 50/50 puck at his own blueline to nullify a dangerous looking rush, then seconds later made a terrific keep-in at the offensive blueline. Earned a secondary assist on the clincher after winning a post-faceoff puck battle in his own end that contributed to McDavid and Yamamoto heading up-ice with speed.
#29 Leon Draisaitl, 7. Clearly labouring physically, he nonetheless found ways to contribute, his well-honed ability to feed the puck to McDavid high among them. Earned an assist on the first goal with an early touch of the puck, but his greater contribution was away from the disc when he engaged Anderson, causing a screen of Quick while opening a narrow shooting lane which Ceci hit perfectly. Minded his p's and q's on the defensive side, highlighted by a superb sequence where he chased Lizotte all the way across the Oilers blueline before eventually forcing the disc to safety. 0-1-1, +2 in an astonishing 22½ minutes.
Article content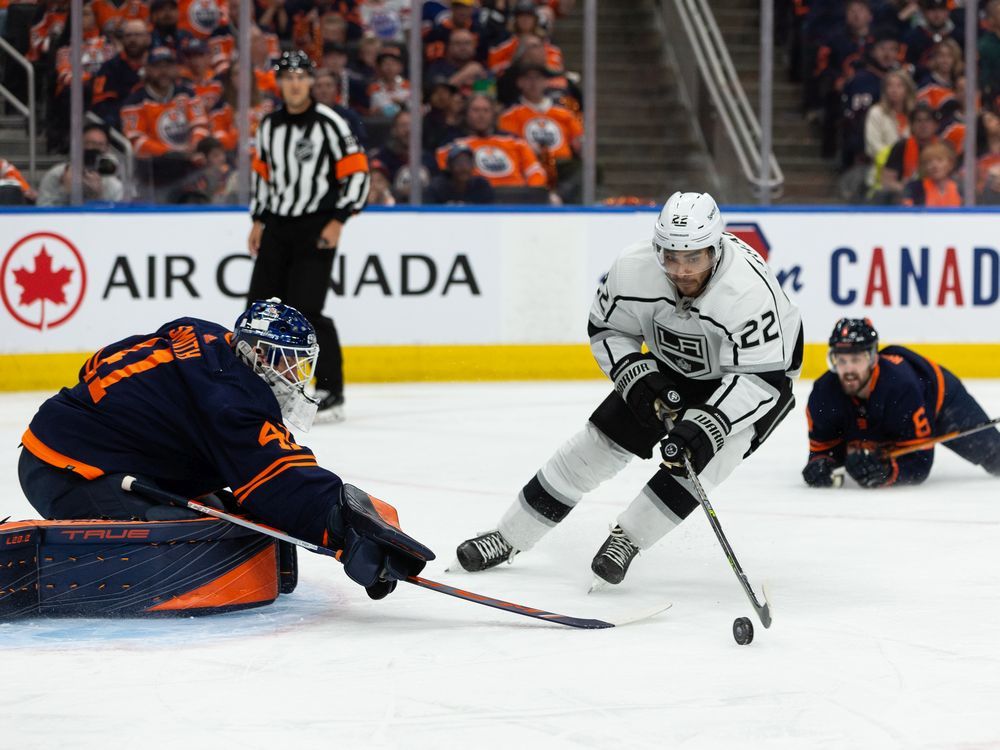 #41 Mike Smith, 9. A pillar of strength between the pipes. Didn't face a lot of glorious chances, but stopped all that he did face and scads of outside shots through traffic. Tracked the puck extremely well and controlled his rebounds expertly on those few occasions there were any rebounds at all. Did sprawl like a beached whale a couple of times but got some help from his mates on those occasions. On a night where he easily could have been the second best goalie on the ice (Jonathan Quick was outstanding at the other end), he slammed the door. 29 shots, 29 saves, 1.000 save percentage. Indeed, the shutout in his first career Game 7 earns Smith +1 on his grade. Ended the series with excellent stats including a 2.29 goals against average, .938 save percentage, and most importantly, 4 wins.
Article content
#44 Zack Kassian, 7. He like Archibald brought a consistent physical element, especially in the early going. Had a game high 7 hits including a couple of real doozies. Mashed Grundstrom and Anderson with heavy darts. Solid shot shares buttressed by 3 shots off his own stick. Sound on the defensive side of the puck.
#56 Kailer Yamamoto, 8. All over the ice, and the puck. Made a leaping play at the offensive blueline to keep the play alive in the build-up to the 1-0. Nearly scored the 2-0 himself when he found iron on a quick shot through traffic, but did set it up later with a good cross-ice pass that found a streaking McDavid hitting the line. His celebration of the goal that followed was a highlight in its own right. 2 shots, 2 blocks, 2 takeaways, 3 hits, and a pristine 4-0 in contributions to Grade A shots.
Article content
#71 Ryan McLeod, 8. Totally engaged and invested in Edmonton's biggest game of the year. Skated miles. Cleaned up a few situations in his own end, and got the puck moving north with an impressive 5 takeaways. Split his time almost evenly between two very different pairs of wingers — Kassian / Puljujarvi and Kane / Hyman — and held his own with both. 2 hits, 1 block. Made a mistake on a Kings Grade A shot, but contributed to 2 of those at the good end. Broke even (4/8=50%) on the dot, always an acceptable outcome for a rookie in a black art dominated by crafty veterans.
#75 Evan Bouchard, 7. The puck was moving north on his shift, with the Oilers posting a 70% share of expected goals during his nearly 20 minutes at even strength. Alas, one of the reasons none of those expected goals didn't materialize on the scoresheet was his inability to hit the net with any of his own shot attempts, of which there were 10 — 7 were blocked and 3 missed the target, even as 1 of those rang the iron. (Man, this guy hits a lot of posts and cross bars.) On this night did his best work in the d-zone, boxing guys out, breaking up passes, winning puck battles, moving the disc efficiently and using his partner to best advantage. His best sequence may have come defending a 2-on-2 rush by the skilled duo of Philip Danault and Trevor Moore midway in the third; Bouchard held his lane as they did a criss-cross drop pass attacking his side, then stuck with Moore to first block his shot, then finish the check hard in the corner before chipping the puck quickly up the boards towards puck support.
Article content
#91 Evander Kane, 7. Another night at the office with 5 shots, 3 hits, and 91% (!) expected goals. Actual goals were hard to come by, with his best chance pulled off the goal line by Andreas Athanasiou of all people. Nonetheless, 18 sawed-off minutes with just 4 shots against helped the cause on this night. Power forward finished the series with crooked numbers across the spectrum: 7-2-9, +5, 16 PiM and 32 hits.
#93 Ryan Nugent-Hopkins, 7. Severely limited in his usual feature roles on special teams, he delivered a sound defensive game at even strength. Won more than his share of battles along the way, one of which sprang Archibald on his breakaway. His regular line spent plenty of time behind their own blueline but with little damage; Nuge's shot shares soared when playing with the two "extra" wingers Kane and Hyman, including 6-0 shots in just 3½ minutes with Kane. A team best 7/13=54% on the faceoff dot.
Article content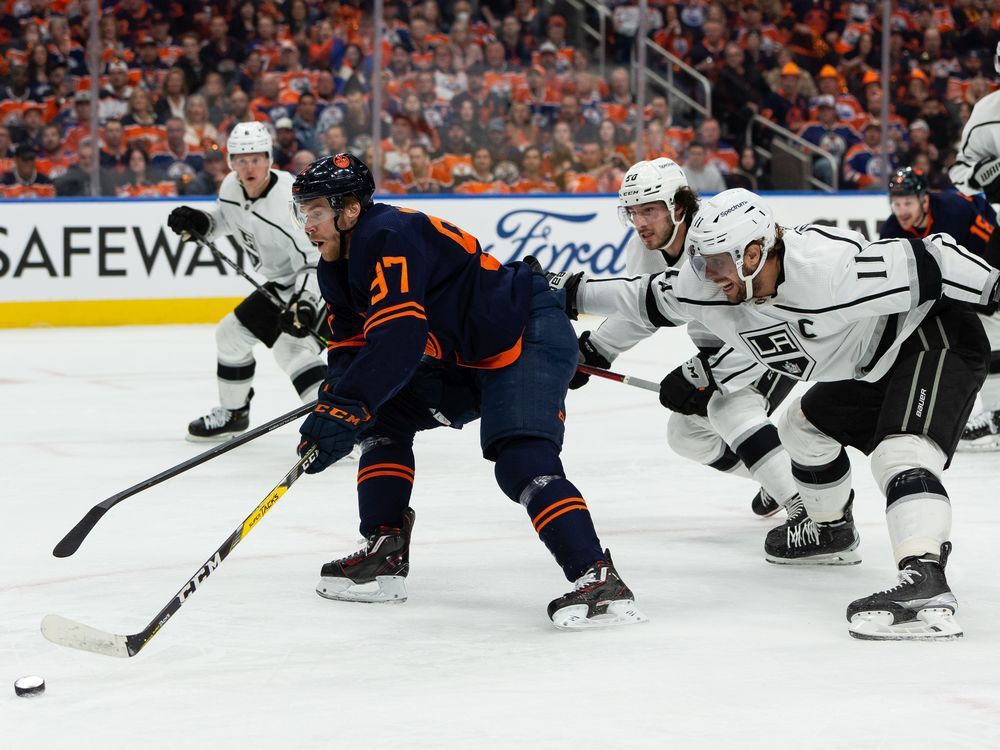 #97 Connor McDavid, 10. A third consecutive scintillating performance, over which time he was on the ice for (wait for it) 10 out of 10 Oilers goals, so why fight it. Playing like a man possessed just now, spinning out of checks like the Tasmanian Devil on Red Bull. Started his night by running over Sean Durzi with a massive open ice hit and took charge from there. Played a monstrous 27:23, with 12 shot attempts, 6 of them on net, 4 hits, 2 takeaways, and of yeah, 1-1-2, +2 in a 2-0 game. Earned a primary assist with a fine feed to Ceci. Easily could have had a couple more with a pair of brilliant setups of Yamamoto. Was all over the defensive zone, including a couple of key clears. With 4 minutes to go he put the game away at 2-0 with a brilliant sequence in which he first drew a (delayed) penalty by Durzi; while the King stopped to argue the call, McD carried on to jam a wraparound try that barely failed, then somehow recovered the pinball rebound in his skates and roofed a backhand from the slot. That set off a frenzied celebration by the player himself, his teammates, the packed house, and the thousands more watching on the big screen outside. What a moment, and what a game.
Recently at the Cult of Hockey
STAPLES: Kane brings some swagger to Oilers
LEAVINS: Player grades in Game Six
McCURDY: Reuniting the "nuclear option" for Game 6
Oilers player grades vs. Kings
Late fumble costs Tiger-Cats in Elks win on Canada Day – TSN
HAMILTON — Tre Ford was in his happy place Friday in Hamilton.
The Edmonton Elks quarterback got a win in his first career CFL start 30 minutes down the Queen Elizabeth Highway from his hometown of Niagara Falls, Ont.
The Elks came from behind to beat the Tiger-Cats 29-25 in front of 20,233 at Tim Hortons Field.
"To come back to Hamilton and have all my family watching me get that first start and that first win has been fantastic," Ford said.
Among Ford's supporters were his wife, parents, sister, sister-in-law and mother-in-law, his high school football coach from A.N. Myer Secondary, his University of Waterloo head coach Chris Bertoia, eight of his former university teammates and more friends.
Ford was shaky at times as the Elks trailed by 13 points early in the second half.
But the 2021 winner of the Hec Crighton Trophy winner that goes to the most outstanding Canadian university football player threw a game-tying touchdown pass to Kenny Lawler early in the fourth quarter.
The winning play for the Elks (1-3) arrived with 1:38 remaining when defensive back Scott Hutter tackled Hamilton quarterback Dane Evans and knocked the ball loose.
Jalen Collins recovered for a 14-yard touchdown.
"I saw him tackle him and thought, 'please punch the ball out," Collins said. "All we needed was an opportunity to close the game out. We were fighting all night. It was ugly."
The winless Tiger-Cats opened a season with four straight losses for the first time since 2017 when they started 0-8.
"I want to apologize to all the guys. I put both home losses on me," Evans said. "I just have to take care of it, and we win the game."
Evans was 20-for-31 in passing for 197 yards and a touchdown throw. He was intercepted twice.
Ford's numbers didn't sparkle, although he did rush for 61 yards on six carries. The 24-year-old competed 15 of 26 passes for 159 yards and a touchdown. He was intercepted once.
Edmonton's defence helped out with interceptions by Sheldon Brady and Matthew Thomas, as well as the pivotal late-game recovered fumble by Collins.
"A big shout out to the defence," Ford said. "They won us that game. They made what, three or four turnovers? They did super well.
"I have room for improvement. I'm not going to complain because we did win. But I'm going to hit the film room to see what I can critique and where I can get better."
Hamilton went after the rookie with various blitzes in the first half.
"My legs are going to open things up for my arm," Ford said.
Ford credited teammate and quarterback Nick Arbuckle, who started in Edmonton's three losses this season, for advising him during the game on defensive reads.
"He's been like that since day one, even though we're competitors for the position," Ford said.
He admitted to early jitters as Hamilton led 16-6 after the first quarter and 19-9 at halftime.
"I always get nervous for the first play of every game," Ford said. "I think it's a good thing because it means I care and that I want to win."
Evans hit Steven Dunbar for a 21-yard strike, and Lawrence Woods returned a kickoff of 72 yards for Hamilton's first-half touchdowns.
Edmonton's Kai Locksley scored on a one-yard plunge.
Elks kicker Sergio Castillo made two of his three field-goal attempts, while Hamilton counterpart Michael Domagala nailed his three and gave the Ticats at lead with a 33-yarder with 3:10 remaining in the game
"We're not good enough right now," Hamilton head coach Orlondo Steinauer said. "We're not executing at the level which needs to happen. We're just not making those plays we need to make."
This report by The Canadian Press was first published July 1, 2022.
Raptors sign forward Otto Porter Jr. to 2-year deal: reports – CBC.ca
The Toronto Raptors have signed forward Otto Porter Jr., who was a key member of the Golden State Warriors' NBA championship team.
The two-year deal was first reported by Yahoo Sports, and confirmed to The Canadian Press by a source close to negotiations.
The 29-year-old Porter averaged 8.2 points per game this past season. He's a tenacious defender and solid long-range shooter, with a career average of 39.8 per cent from behind the arc.
Porter was selected third overall by Washington in the 2013 draft, and played the first six seasons of his career there before being traded to Chicago in 2019. Orlando then acquired him at the 2021 trade deadline, and he signed with the Warriors in the 2021 off-season.
The Raptors have been busy since free agency opened at 6 p.m. ET on Thursday, signing Canadian forward Chris Boucher to a three-year deal, and signing veteran forward Thaddeus Young to a multi-year contract extension.
Blue Jays' bats assist bullpen, carry the day in comfortable win over Rays – Sportsnet.ca
TORONTO – The Blue Jays may have discovered the solution to their bullpen issues: score nine runs a game.
Sustainable? Maybe not, but the Blue Jays are hitting at their best right now, with an MLB-leading 170 runs scored in June to go along with 50 home runs last month. Wearing their red jerseys in front of a sellout Canada Day crowd of 44,445 Friday, some of that offensive output carried into July with a festive 9-2 win over the visiting Tampa Bay Rays.
"It was so special," said starter Jose Berrios. "I've heard a lot about this day, but being here and pitching today was very emotional. I know a lot of Canadians enjoy it and want to be at the ballpark on a day like today."
"It was amazing, to say the least," added Cavan Biggio, who reached base four times Friday. "In 2020 and 2021 we definitely missed this place. Now we're finally back and we're experiencing that energy that we've all been looking forward to on a nightly basis."
A Lourdes Gurriel Jr. home run put the finishing touch on this one, but the Blue Jays also hit six doubles, five of which came off Rays starter Corey Kluber in a five-run third inning. A three-run sixth created necessary breathing room for the Blue Jays, who were able to rest most of their high-leverage relievers on a day Berrios was not at his sharpest.
With three hits, including his fifth home run of the season, Gurriel Jr. helped drive the Blue Jays' offence. But don't overlook Biggio, who walked twice while also hitting two doubles on a day his season on-base percentage climbed to .385.
"Today was great," Biggio said. "Just hit after hit. A good pitcher, a good experienced guy on the mound, but we had a plan and we were able to execute it."
Even before a pitch was thrown, Blue Jays fans had plenty to cheer about Friday. The recently retired Russell Martin was honoured with a memorable video narrated by former teammate Jose Bautista and personal messages from the likes of former Jays manager John Gibbons and fellow Canadian Joey Votto.
As the video tributes played in centre field, most Blue Jays players watched from the dugout. The fans also responded warmly to Martin, who later threw out the ceremonial first pitch to another athletic catcher who wears No. 55: Gabriel Moreno.
"Unbelievable career," Biggio said of Martin. "What stands out to me the most is he played 14 years in the majors and made the playoffs 10 times. That's what this game's all about: it's about winning."
As for Berrios, he was effective enough, allowing two runs on eight hits over the course of five innings. He worked in and out of trouble, though, stranding nine runners, including both of the batters he walked.
While his fastball averaged 93.6 m.p.h., the Rays weren't often fooled by the right-hander, who generated eight swinging strikes on 98 total pitches. Still, the Blue Jays will take that from Berrios, especially considering he had allowed 14 earned runs over the course of his previous two starts.
"He's better than what he did today," Montoyo said. "He was missing by a little bit and that made him throw even more pitches and work harder … at the end of the day, he did the job."
But realistically, the Blue Jays would have been in a tough spot without so much help from their offence. Adam Cimber was presumed unavailable after pitching three days in a row, and David Phelps was likely off limits given that he'd just pitched in four of five. This was not an ideal day for the Blue Jays to try preserving a one- or two-run lead.
Thanks to their lineup, they didn't have to. With the exception of one inning from Trent Thornton, the Blue Jays were able to avoid their high-leverage relievers, putting them in a relatively strong position entering Saturday's double-header.
"If our pitching gives us a chance, our offence is going to go and that's exactly what happened," Montoyo said. "We should be better tomorrow because of that."
Sergio Romo made his Blue Jays debut with a clean inning seventh inning that featured two strikeouts and Max Castillo pitched the final two innings without incident as Toronto improved to 44-33 on the season while increasing their lead over the Rays to 3.5 games.
All told, this was pretty close to how the Blue Jays would have drawn it up. And end of the day, they're in Toronto again, playing at home on Canada Day for the first time since 2019. In case any doubt remained as to the day's significance, an impromptu rendition of O Canada broke out in the stands as the Blue Jays closed out the win. Soon after the fans finished singing, the players completed their 9-2 win.
"The energy and pride that this country embodies was definitely on full display," Biggio said.
Or, as Montoyo put it: "You could tell the happiness about it."