'Please help us': Note in Tesco Christmas card alleges forced labour, report says – Global News
The U.K.-based grocery chain Tesco said it halted production at a factory in China on Sunday after a British newspaper reported the factory used forced labour to produce charity Christmas cards for the supermarket.
Tesco said it also launched an investigation of the Chinese supplier it hired to make the holiday cards, Zheijiang Yunguang Printing, after the Sunday Times raised questions about the factory's labour practices.
The newspaper said the potentially problematic province of the cards came to light when a 6-year-old girl in south London found a card in her box already had a message written inside.
It read: "We are foreign prisoners in Shanghai Qinqpu prison China forced to work against our will. Please help us and notify human rights organization."
The writer asked whoever received the note to contact Peter Humphrey, a former British journalist who was detained in China while working as a corporate investigator and spent time at the same Shanghai prison.
The London girl's father, Ben Widdicombe, said Sunday they at first thought the message was a "prank."
"On reflection, we realized it was actually potentially quite a serious thing," Widdicombe said. "So I felt very shocked, but also a responsibility to pass it on to Peter Humphrey as the author asked me to do."
He said the message was eye opening: "It hits home there are injustices in the world and difficult situations that we know about and read about each and every day."
Widdicombe said finding the message shortly before Christmas was poignant and that he told his daughter, Florence, what it might mean.

2:00


Toronto rally calls on feds to address human rights violations in China



Toronto rally calls on feds to address human rights violations in China
"We explained that the person who wrote it was a prisoner in China and that the person felt the prison guards were being mean, making them do work, they felt really sad," the father said.
Humphrey told the BBC he thinks he knows who wrote the message. He said he won't identify the person for fear the inmate would face retribution.
Humphrey said he was "pretty sure" it was put inside the card by a group of prisoners as a collective request for help.
Tesco said it was "shocked" by the discovery and would never allow prison labour in its supply chain.
The company says it donates 300,000 pounds ($390,000) annually to the British Heart Foundation, Cancer Research UK and Diabetes UK from the sale of its Christmas cards.
© 2019 The Canadian Press
Proposed Sugary Drink Tax "Regressive," says Opposition Finance Critic – VOCM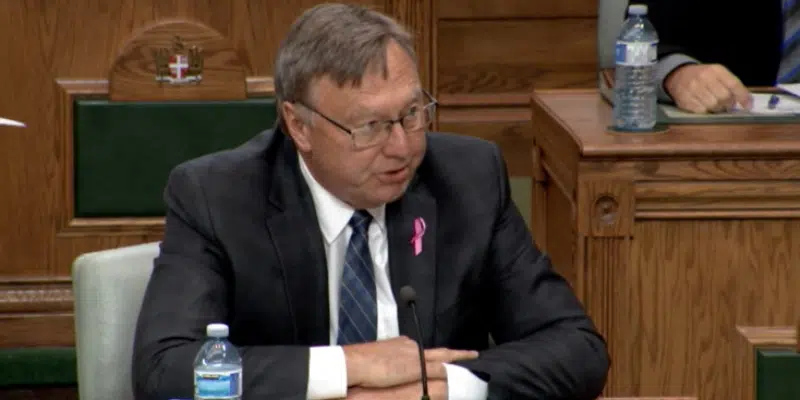 The provincial government's tax on sugary drinks comes into effect next September, and the minister responsible is pointing to data suggesting that the tax will work in changing people's habits.
Siobhan Coady points to a study that was done by a British medical journal called The BMJ. She says the study, which focuses on a similar tax in the UK, found that overall sales of soft drinks did not change, nor did share prices and domestic turnover. But what did change was the sugar purchased in those drinks, which Coady says decreased by almost 10 per cent.
PC MHA Tony Wakeham asserts that such taxes do nothing to affect health outcomes, and counters that the study Cody references is completely different from what's being proposed in this province.
In the UK, he says they were taxing producers to lower the amount of sugar in their products, and not taxing those using the product.
Wakeham says the proposed tax is negative and regressive. He says if Premier Andrew Furey is looking to modify behaviours to create healthy lifestyle changes, it should be based on positive things, not a negative tax.
Sleep Country Canada buys controlling stake in Hush Blankets – CBC.ca
Sleep Country Canada Holdings Inc. has signed a deal to buy Hush Blankets, a direct-to-consumer seller of weighted blankets, pillows, sheets and bed-in-a-box mattresses.
Under the deal, Sleep Country will acquire a 52 per cent stake in Hush for $25 million.
The company has also agreed to buy the other 48 per cent in annual 16 percentage point stake increments starting March 31, 2023, at a price based on the business's financial performance.
Hush was founded in 2017 by Lior Ohayon and Aaron Spivak and launched a weighted blanket in Canada in 2018.
Sleep Country says Hush will continue to operate as an independent business led by Ohayon and Spivak and a board including senior management from Sleep Country and Hush.
These countries are vaccinating children against COVID-19 – CTV News
Pfizer Inc and BioNTech SE have asked U.S. regulators to authorize their COVID-19 vaccine for emergency use in children aged 5-11, with an expert panel to the Food and Drug Administration scheduled to meet later this month to review data.
But with many parts of the world still awaiting doses for more vulnerable people, the World Health Organization has urged countries and companies that control the global supply of the vaccines to prioritize supply to COVAX.
The following is a list of some countries that have approved or are considering vaccinating children:
EU COUNTRIES
In June, Denmark said it would offer COVID-19 shots to children aged 12-15 to boost its overall immunity against the virus.
France has started vaccinating those from 12 years upwards, provided they have parental consent.
Germany in August agreed to make vaccination available to all children aged 12-17.
Austria has started vaccinating children aged 12-15.
Estonia could start vaccinating teenagers by the autumn, public broadcaster ERR reported, citing the head of the government's COVID-19 council.
Hungary started vaccinating 16 to 18-year-olds in mid-May, according to Xinhua news agency.
Italy on May 31 approved extending the use of Pfizer's vaccine to 12-15 year olds.
Lithuania's prime minister said the country could start vaccinating children from age 12 in June, news site Delfi reported.
Spain begun vaccinating children between 12 and 17 years old around two weeks before the academic year in September, the health minister said.
Swedish PM says children aged 12-15 will be offered COVID vaccine later this autumn.
Greece in July said children aged 12-15 could be vaccinated against COVID-19 with Pfizer/BioNTech and Moderna shots.
Finland's capital Helsinki in June said it will begin giving COVID-19 vaccines to children aged 12 to 15 who are at risk of contracting a severe coronavirus infection.
EUROPE (NON-EU)
Britain's top medical advisers in September recommended that 12 to 15-year-olds receive a first dose of a COVID-19 vaccine.
Switzerland approved on June 4 vaccinating 12 to 15-year-olds with Pfizer's shot, while Moderna's shot was approved in August for the age group.
In September, Norway started to offer one dose of Pfizer and BioNTech COVID-19 vaccine to children aged 12 to 15
San Marino has opened vaccinations for children aged 12-15, reported San Marino RTV, citing its Institute for Social Security.
MIDDLE EAST
In August, Israel on Sunday began offering a COVID-19 booster to children as young as 12.
The United Arab Emirates said in August rolled out China's Sinopharm COVID-19 vaccine to children aged 3-17.
ASIA-PACIFIC
Indonesia on June 28 recommended China's Sinovac vaccine for children aged 12-17.
An advisory committee to the Indian regulator recommended emergency use of Bharat Biotech's COVID-19 shot in the 2 to 18 age-group. The regulator's nod is awaited.
New Zealand's medicines regulator has provisionally approved use of Pfizer's vaccine for 12-15 year olds, Prime Minister Jacinda Ardern said on June 21.
Australia said on Sept. 12 it will expand its COVID-19 vaccination drive to include around one million children aged 12-15.
China on June 5 approved emergency use of Sinovac's vaccine for those between three and 17.
Hong Kong said on June 3 it would open its vaccine scheme to children over the age of 12.
Singapore opened up its vaccination program to adolescents aged 12-18 from June 1.
Japan on May 28 approved the use of Pfizer's vaccine for those aged 12 and above.
The Philippines on May 26 decided to allow the Pfizer-BioNTech's vaccine for emergency use in children aged 12-15.
Jordan in July begun vaccinating children aged 12 years and older against COVID-19.
AMERICAS
The COVID-19 vaccine by Pfizer-BioNTech will be the only one used in Mexico for at-risk children aged 12-17.
Brazil on June 11 approved use of Pfizer's vaccine for children over 12.
Chile has approved use of Pfizer's vaccine for 12 to 16-year-olds.
Pfizer and BioNTech have asked U.S. regulators to authorize emergency use of their COVID-19 vaccine for children ages 5 to 11. An advisory committee to the FDA will meet later this month to review the data.
Canada in early May approved use of Pfizer's vaccine for use in children aged 12-15. The country has fully vaccinated more that 80% of its eligible population ages 12 and over.
Cuba's vaccination campaign includes children as young as two.
AFRICA
South Africa will start vaccinating children between the ages of 12 and 17 next week using the Pfizer vaccine