Plenty on offer as curtains go up on the second BFC Art Festival in Shanghai – SHINE
The second BFC Art Festival has kicked off at the Bund Finance Center and features a variety of cultural and artistic programs.
It ends on August 7.
Contemporary French artist Bertrand Lavier is bringing his representative artworks to a grand art exhibition, his first on the Chinese mainland.
The 73-year-old artist rose to international prominence at the 1976 Venice Biennale in Italy.
Lavier was able to transform images from contemporary mass culture into works of art. He tried to explore the contradictory relationship between fine art and its depiction, reality, and simulation.
Many of his innovative works blur the boundaries between painting and sculpture, demonstrating a balance of compelling visual images and conceptual gestures.
The exhibition is on display until September 4.
The outdoor plaza in the center's north block is now a platform for displaying artwork from 20 or more local galleries. Visitors can view amazing pottery and fine handicrafts, both traditional and modern, at the Kyoto House until July 20.
The center is hosting art bazaars on weekends until July 24. The city's art institutions will display their unique cultural items and host interactive events. Illustrations by winners of the Hans Christian Andersen Awards are also on display until July 31.
A dozen art installations are displayed in the center's public areas.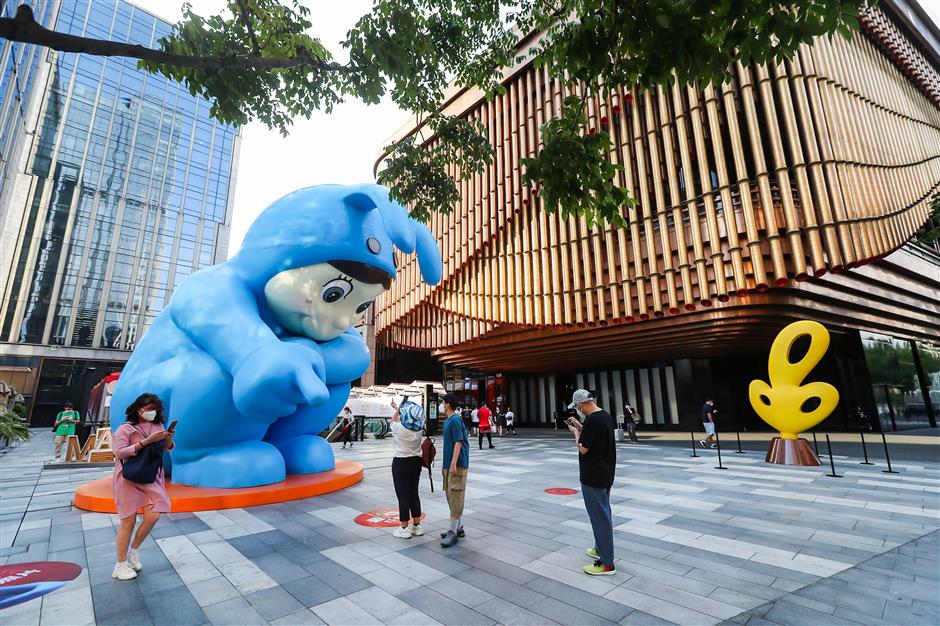 Contemporary artist Zhang Quan's sculpture KARORO, a blue charming bunny, is displayed in its entirety. The sculpture conveys the artist's desire that people in today's fast-paced society will maintain their simplicity, honesty, and curiosity in their lives.
Pop Mart, a famous blind-box brand, is presenting "DIMOO," a grand installation designed by Ayan to raise public awareness of autistic children.
Artist Shang Liang has brought his "Sofaman No. 3," an installation that depicts the dangers of today's sedentary lifestyle.
Some artworks are on sale at the BOOTH @ BFC. Artists, curators, and art critics are also being invited to share with people their art concepts and experience at workshops.
Spreading roots: City of Charlottetown calling for art proposals for tree appreciation program – Saltwire
CHARLOTTETOWN, P.E.I. — The City of Charlottetown is accepting proposals for Rooted in Art, an opportunity for P.E.I. artists to create temporary art installations inspired by Charlottetown trees.
Rooted in Art matches local artists with trees on public land in Charlottetown create an art installation on or around a tree.
The project was first held in fall 2020 and is meant to engage the community with nature in a new way and reflect the importance of the urban forest.
This year, four artists will be selected to install temporary art installations in different locations in the city. The structures will be on display over two weeks in October.
All Island artists are eligible to submit proposals for Rooted in Art, with a limit of one proposal per artist.
Applications will be accepted until Aug. 30 at 4 p.m. and can be sent by email to [email protected] or delivered to City Hall at 199 Queen St.
More information on the project and application requirements is available online.
Canada's largest women's festival, Kingston Women's Art Festival, returns – Kingstonist
Windsor Public Library wants to show you local art while you ride your bike – CBC.ca
Windsor Public Library wants to showcase the city's downtown art. It plans to have two cycling tours to show it off.
Becky Mayer, a librarian at the Windsor Public Library organized the tours. She said the main reason she wanted to do this is because people think there's nothing to do or see in Windsor.
"I often ride my bike around and I see a lot of cool and weird stuff," said Mayer. "So, I just thought that maybe a few people would want to join me on a weird stuff tour."
Mayer said she'll be bringing Betty the Bookmobile along for the journey. She said the ride will be pretty casual and if someone has a story to tell she's happy to give them space to share.
"I'm fine with talking as well. If you want to have a silent tour, that's also cool. Like, it's very, very casual. Go with the flow. We'll see what happens," Mayer said.
The first tour starts at 6 p.m. August 16, the second tour is on August 20 starting at 10 a.m. The tours last about an hour and starts at the library's Central Branch at the corner of Ouellette Avenue and Pitt Street.