Pop artist Claes Oldenburg transformed everyday objects into towering monuments – CBC.ca
Claes Oldenburg will be remembered as "an extraordinary man" for his impact on the art world and beyond, says an art gallery curator and long-time collaborator.
"Claes was an extraordinary man, an incredible artist and someone who we will all sorely, sorely miss," Steven Henry, a senior partner at the Paula Cooper Gallery in New York, told As It Happens guest host David Cochrane.
Henry worked on projects with Oldenburg for decades, including the artist's final piece earlier this year.
The Swedish-American sculptor, who disrupted the art world with his whimsical depictions of everyday objects and massive pieces of public art, died this week at the age of 93.
"The loss does feel profound for those of us in the art world but … beyond the art world as well, because his work touched so many," Henry said.
"Someone will say, 'Meet me at the baseball bat,' or 'Meet me at the clothespin,' and I think they may not even realize that's a Claes Oldenburg, yet they're delighted and enraptured by the piece."
Inspired by everyday items
Oldenburg was born in 1929 in Stockholm. He grew up living between Sweden, Norway and the U.S. due to his father's job postings as a diplomat. Oldenburg studied literature and art history at Yale University and then went on to the School of the Art Institute of Chicago.
In 1956, the budding artist moved to New York City. He was captivated by the city streets that were decorated with display windows, graffiti, advertisements and trash.
Over the next few years, his artwork was inspired by the everyday items sold at a bodega. He made "soft" sculptures, made of canvas or vinyl and filled with foam, that took the form of items like sandwiches, oranges and cigarettes.
"You have a great one in Canada," Henry said, referring to Oldenburg's 1962 work, Giant Hamburger.
"It's hilarious. It's, you know, sewn fabric that's been painted. And then you kind of encounter it, you're like: 'Wait, that's a hamburger!' and, 'What's it doing in a museum?' It's funny and it's subversive, I think."
Giant Hamburger was purchased by the Art Gallery of Ontario in 1967. At the time, some people didn't think the sculpture, which was renamed Floor Burger, belonged in the museum. Some students responded by leading protests while carrying a nine-foot ketchup bottle.
"Oldenburg's art continues to inspire and challenge," AGO curator Xiaoyu Weng wrote in an email to As It Happens.
"The work has generated many stories, some controversial (like the initial protest from the public against the work's acquisition due to its then experimental nature) and some joyful (there is a little boy who came two years in a row to see the work on his birthday)," wrote Weng, who is the AGO's Carol and Morton Rapp curator of modern and contemporary art.
Henry remembers Oldenburg for his wry sense of humour, which the artist infused into his work. In the '60s, Oldenburg made a name for himself in New York's explosive pop art scene with his outsized, ordinary objects inside Manhattan's tiny gallery spaces — a radical departure from the traditional displays at the time.
"I think he was commenting on this notion of the representation of power and how traditionally monuments have been these visualizations of typically men, standing or on horseback, and generating or at least communicating this notion of power and hegemony," he said.
"And I think he's saying, 'Okay, these other things can also be aggrandized in a way that, you know, maybe kind of gets us to question what is a monument?'"
Art à la carte
Food featured prominently in Oldenburg's work over the years — so much so that he carried a sketchbook with him to the dinner table.
"He would pull it out just in the midst of a conversation," Henry recalled. "And he would start drawing. And often it would be a sort of fanciful take on a meal."
Part of the reason why he drew his food was because his wife, Coosje van Bruggen, had food allergies and had to follow a plain diet.
"He would draw these wonderful, fantastic food dishes that she could consume visually," Henry explained. "We actually did a show called Images à la Carte, which was an exhibition of these very sweet drawings that he did for Coosje…. It was a very sweet and loving tribute to her."
Van Bruggen was also a sculptor and worked in collaboration with Oldenburg on several monuments, including the Clothespin in Philadelphia, Saw, Sawing in Japan and Apple Core in Israel, among others. She died in 2009.
According to Henry, Oldenburg stopped working on large-scale projects after his wife died. But a few years ago, when Henry spoke with Oldenburg about what projects he wanted to complete, a project from 20 years ago came up.
Oldenburg created a giant red shovel for his property in France. He wanted to create another shovel like it in blue, but never got it done until earlier this year. When the idea took shape, it was finally planted at Rockefeller Center in New York City.
"It became this metaphor of a rebirth," Henry said.
"He always loved the way the work was seen amongst buildings … where people could really engage with it one-on-one. We were thrilled that it was able to be done before he passed."
---
Written by Mehek Mazhar. Interview with Steven Henry produced by Chris Trowbridge.
Humans vs. machines: the fight to copyright AI art – Yahoo Canada Finance
By Tom Hals and Blake Brittain
(Reuters) – Last year, Kris Kashtanova typed instructions for a graphic novel into a new artificial-intelligence program and touched off a high-stakes debate over who created the artwork: a human or an algorithm.
"Zendaya leaving gates of Central Park," Kashtanova entered into Midjourney, an AI program similar to ChatGPT that produces dazzling illustrations from written prompts. "Sci-fi scene future empty New York…."
From these inputs and hundreds more emerged "Zarya of the Dawn," an 18-page story about a character resembling the actress Zendaya who roams a deserted Manhattan hundreds of years in the future. Kashtanova received a copyright in September, and declared on social media that it meant artists were entitled to legal protection for their AI art projects.
It didn't last long. In February, the U.S. Copyright Office suddenly reversed itself, and Kashtanova became the first person in the country to be stripped of legal protection for AI art. The images in "Zarya," the office said, were "not the product of human authorship." The office allowed Kashtanova to keep a copyright in the arrangement and storyline.
Now, with the help of a high-powered legal team, the artist is testing the limits of the law once again. For a new book, Kashtanova has turned to a different AI program, Stable Diffusion, which lets users scan in their own drawings and refine them with text prompts. The artist believes that starting with original artwork will provide enough of a "human" element to sway the authorities.
"It would be very strange if it's not copyrightable," said the 37-year-old artist of the latest work, an autobiographical comic.
A spokesperson for the copyright office declined to comment. Midjourney also declined to comment, and Stability AI did not respond to requests for comment.
SMASHING RECORDS
At a time when new AI programs like ChatGPT, Midjourney and Stable Diffusion seem poised to transform human expression as they smash records for user growth, the legal system still hasn't figured out who owns the output — the users, the owners of the programs, or maybe no one at all.
Billions of dollars could hinge on the answer, legal experts said.
If users and owners of the new AI systems could get copyrights, they would stand to reap huge benefits, said Ryan Merkley, the former chief of Creative Commons, a U.S. organization that issues licenses to allow creators to share their work.
For example, companies could use AI to produce and own the rights to vast quantities of low-cost graphics, music, video and text for advertising, branding and entertainment. "Copyright governing bodies are going to be under enormous pressure to permit copyrights to be awarded to computer-generated works," Merkley said.
In the U.S. and many other countries, anyone who engages in creative expression usually has immediate legal rights to it. A copyright registration creates a public record of the work and allows the owner to go to court to enforce their rights.
Courts including the U.S. Supreme Court have long held that an author has to be a human being. In rejecting legal protection for the "Zarya" images, the U.S. Copyright Office cited rulings denying legal protection for a selfie snapped by a curious monkey named Naruto and for a song that the copyright applicant said had been composed by "the Holy Spirit."
One U.S. computer scientist, Stephen Thaler of Missouri, has maintained that his AI programs are sentient and should be legally recognized as the creators of artwork and inventions that they generated. He has sued the U.S. Copyright Office, petitioned the U.S. Supreme Court and has a patent case before the U.K. Supreme Court.
Meanwhile, many artists and companies that own creative content fiercely oppose granting copyrights to AI owners or users. They argue that because the new algorithms work by training themselves on vast quantities of material on the open web, some of which is copyrighted, the AI systems are gobbling up legally protected material without permission.
Stock photo provider Getty Images, a group of visual artists and owners of computer code have separately filed lawsuits against owners of AI programs including Midjourney, Stability AI and ChatGPT developer OpenAI for copyright infringement, which the companies deny. Getty and OpenAI declined to comment.
Sarah Andersen, one of the artists, said granting copyrights to AI works "would legitimize theft."
'HARD QUESTIONS'
Kashtanova is being represented for free by Morrison Foerster and its veteran copyright lawyer Joe Gratz, who is also defending OpenAI in a proposed class action brought on behalf of owners of copyrighted computer code. The firm took on Kashtanova's case after an associate at the firm, Heather Whitney, spotted a LinkedIn post by the artist seeking legal help with a new application after the "Zarya" copyright was rejected.
"These are hard questions with significant consequences for all of us," Gratz said.
The Copyright Office said it reviewed Kashtanova's "Zarya" decision after discovering the artist had posted on Instagram that the images were created using AI, which it said was not clear in the original September application. On March 16, it issued public guidance instructing applicants to clearly disclose if their work was created with the help of AI.
The guidance said the most popular AI systems likely do not create copyrightable work, and "what matters is the extent to which the human had creative control."
'COMPLETELY BLOWN'
Kashtanova, who identifies as nonbinary and uses "they/them" pronouns, discovered Midjourney in August after the pandemic largely shut down their work as a photographer at yoga retreats and extreme-sports events.
"My mind was completely blown," the artist said. Now, as AI technology develops at lightning speed, Kashtanova has turned to newer tools that allow users to input original work and give more specific commands to control the output.
To test how much human control will satisfy the copyright office, Kashtanova is planning to submit a series of copyright applications for individual images chosen from the new autobiographical comic, each one made with a different AI program, setting or method.
The artist, who now works at a start-up that uses AI to turn children's drawings into comic books, created the first such image a few weeks ago, titled "Rose Enigma."
Sitting at a computer in their one-bedroom Manhattan apartment, Kashtanova demonstrated their latest technique: they pulled up on the screen a simple pen-and-paper sketch they had scanned into Stable Diffusion, and began refining it by adjusting settings and using text prompts such as "young cyborg woman" and "flowers coming out of her head."
The result was an otherworldly image, the lower half of a woman's face with long-stemmed roses replacing the upper part of her head. Kashtanova submitted it for copyright protection on March 21.
The image will also appear in Kashtanova's new book. It's title: "For My A.I. Community."
(Reporting By Tom Hals and Blake Brittain; editing by Noeleen Walder, Amy Stevens and Claudia Parsons)
The Thief Collector review – the ordinary married couple behind a massive art heist – The Guardian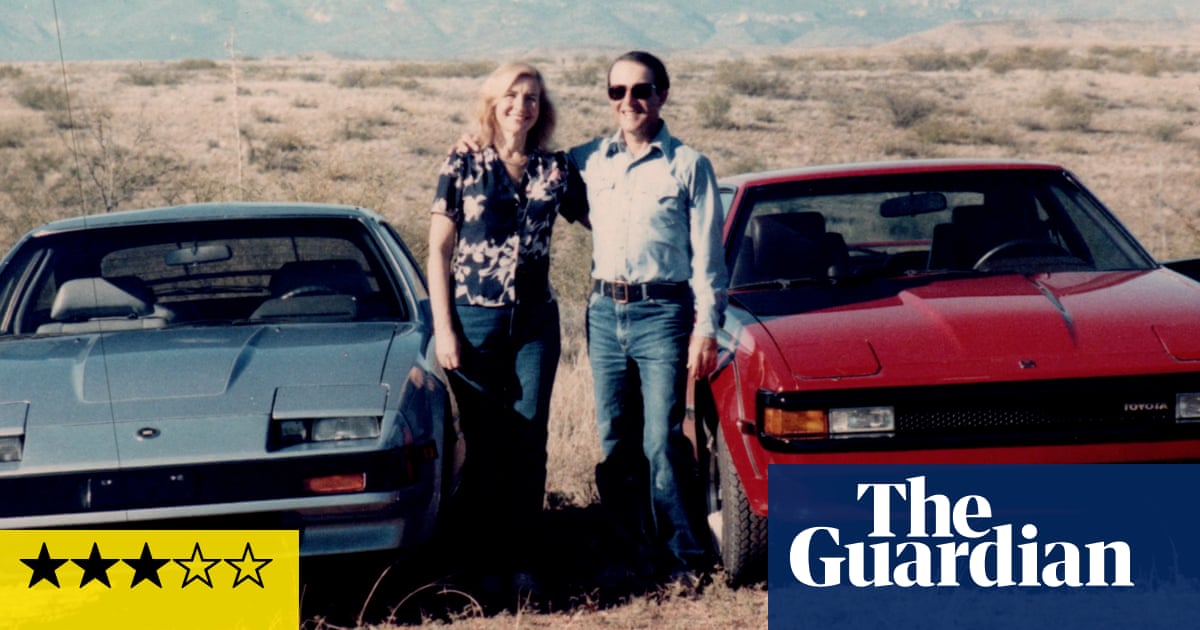 It was a brazen case of daylight robbery. In 1985, a couple walked into an art gallery on the campus of the University of Arizona and left 15 minutes later with a rolled-up Willem de Kooning shoved up the man's jacket. In 2017, the painting was finally recovered – not by the FBI, but by a trio of house clearance guys in New Mexico. It had been hanging for 30 years on the bedroom wall of retired teachers Rita and Jerry Alter.
How an ordinary couple like the Alters pulled off one of the biggest art heists of the 20th century is told in this mostly entertaining documentary. You can imagine the story being turned into a podcast and it's perhaps stretched a little thin for a full-length documentary. (Did we really need an interview with the couple's nephew's son?) The weak link is the film's dramatisation of the theft: a tongue-in-cheek pastiche that feels a bit glib as questions about the Alters' motivations deepen and darken. Still, the film offers a fascinating glimpse into the mystery of other people, especially other people's marriages. Friends and family still look dazed that the Alters – Rita and Jerry! – were behind the theft.
The unlikely heroes of the story are a trio of honest-as-they-come house clearance men who bought the De Kooning along with the contents of Jerry and Rita's house after they died. When a customer offered them $200,000 for the painting, they did a bit of Googling; after realising it could be the missing artwork (Woman-Ochre, now worth around $160m), they were straight on the phone to the gallery in Arizona to return it, with no question of making a dime for themselves.
The three men are brilliant interviewees, warm and thoroughly decent; their experience in rooting through other people's homes and lives has clearly given them the kind of insight that would make them great detectives, too. And if nothing else, this documentary ought to give someone working in television the idea of making a detective series about house clearance experts.
The Art of Gardening — New Patio Plants – CFJC Today Kamloops

460 Pemberton Terrace
Kamloops, BC
V2C 1T5
Phone: (250) 372-3322
Newsroom:
(250) 851-3204
We strive to achieve the highest ethical standards in all that we do. Our newsroom abides by the RTDNA Code of Ethics and Professional Conduct and follows the Canadian Press Stylebook
CFJC Today is a division of