Possible 'Banksy' artwork appears on Reading prison wall – BBC News
An artwork bearing the hallmarks of street artist Banksy has appeared on the side of Reading Prison overnight.
The picture shows a prisoner – possibly resembling famous inmate Oscar Wilde – escaping on a rope made of bedsheets tied to a typewriter.
The "guerrilla artist" has not yet claimed the work but an expert said it did "appear to be a new Banksy".
The jail famously housed Wilde between 1895 and 1897 and was immortalised by his poem Ballad of Reading Gaol during his stay, which reflected on the brutality of the Victorian penal system.
He was convicted after his affair with Lord Alfred Douglas was exposed.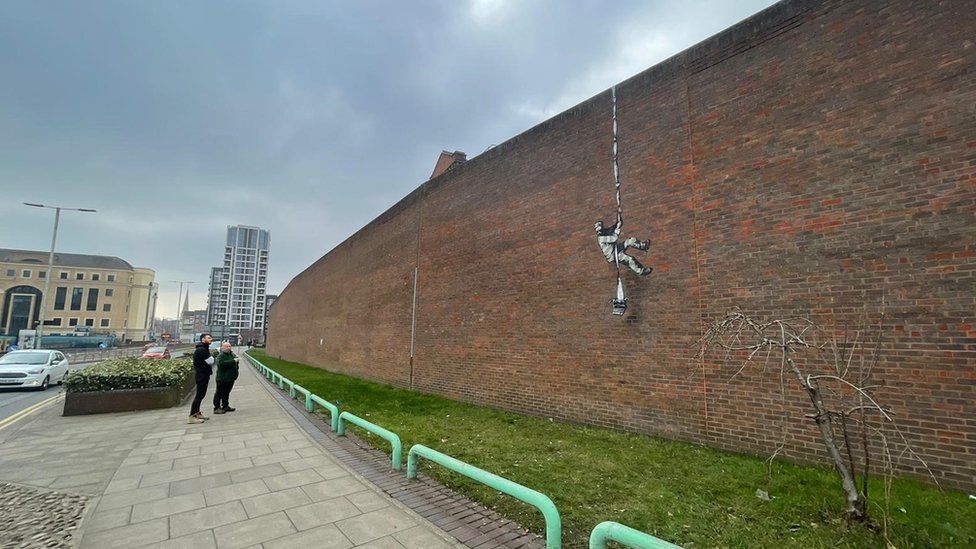 The prison has been derelict since 2013 and was put up for sale by the government in 2019.
However, a deal to sell the Grade II-listed building to developers fell through last year and Reading council said it hoped to revive its bid to turn it into an arts complex.
Banksy expert and vice-chancellor of Arts University Bournemouth, Prof Paul Gough, described the artwork as "pretty compelling" and said the quality of the painting suggested it was done by someone "who knows how to paint and has got a lot of practice at painting up a scaffold in the dead of night".
He added: "At the moment it would take a good copier to get that right."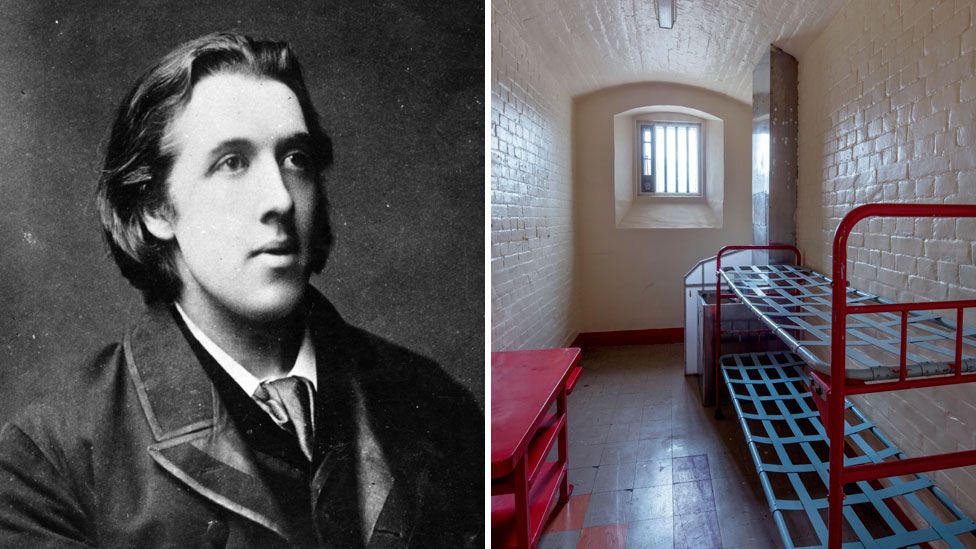 Discussing the artwork's message, he said: "It's possibly a comment on the prison's potential use as an arts centre, but the fact that it's got a type-writer and that it's all about paper and writing might be some sort of commentary on what's happening with news media and Facebook."
Vince John, from the 1loveart gallery in Bristol, which sells urban and street art, said: "I believe this is an example of Banksy's street work at its best, being both humorous and politically poignant. A great piece of work and a brilliant social commentary."
The art curator said he thought it referenced Oscar Wilde and could be a "nod of encouragement for the use of the building as a cultural and arts centre… now it has its crowd-puller and star exhibit to get things moving in the right direction".

At the scene
Andre Rhoden-Paul, BBC South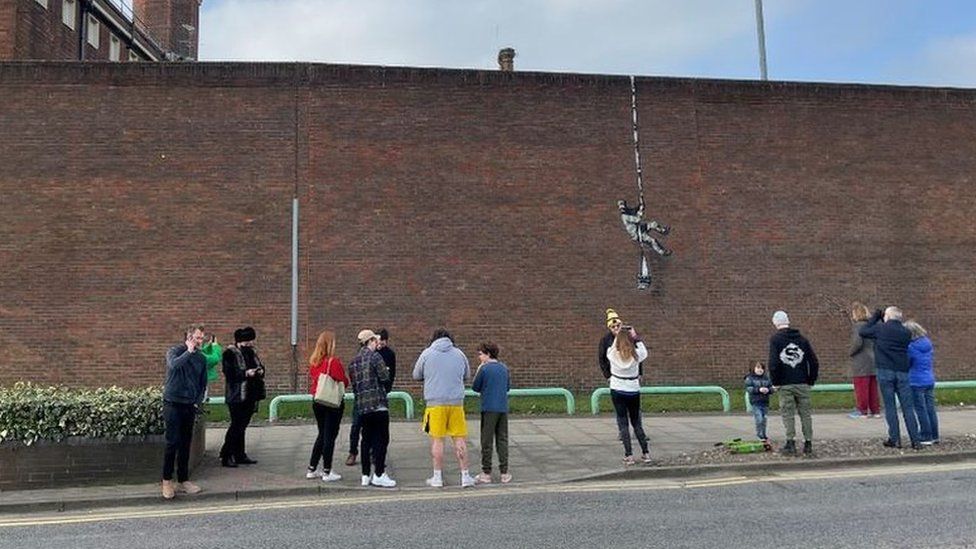 Residents flocked in their droves to take in the new possible Banksy street art that appeared overnight on the wall of HMP Reading.
Many were asking each other if the graffiti had been confirmed as genuine or not.
But that did not stop them taking selfies with Reading's latest attraction, which was stencilled on the towering brick wall under a seemingly out-of-use CCTV camera.
People passing by in cars also craned their necks out of windows to see what the fuss was about.

Toby Davies, artistic director of Reading-based Rabble Theatre, said if it is genuine "it's amazing that Banksy has recognised the cultural significance of Reading's extraordinary gaol".
He added: "In the right hands, this gaol will evolve Reading into an internationally recognised historical and cultural destination, built on the values of acceptance and diversity. Dare I say it, it looks like Banksy agrees."
Prof Gough added: "It draws attention to the town, it brings people out on the street, they then have a conversation and so public art is suddenly given a foreground at a time when people do want that level of diversion – and I think that's terrific."
Reading resident Marcus Edgar said he thought the artwork was a great way of raising awareness and "keeping that campaign alive and not selling it off to some developer".
Eloise Wylie agreed: "If it is real then that's really good. It's quite significant and really nice to support that campaign."
Reading East MP Matt Rodda said: "I'd like to thank Banksy, or whoever else painted this, for their support for the campaign to save Reading Gaol… This unique historic building should be saved for future generations."
The Ministry of Defence, which owns the building, has not yet responded to a BBC request for comment.

Launching the conversation on Newfoundland and Labrador art history – TheChronicleHerald.ca
ST. JOHN'S, N.L. —
"Future Possible: An Art History of Newfoundland and Labrador" is a book that has been a long time coming, Mireille Eagan says.
While working at the Confederation Centre Art Gallery in Prince Edward Island, Eagan curated an exhibition marking the 60th anniversary of Newfoundland and Labrador joining Confederation with Canada.
"As I was researching, I noticed that there was very little that existed in terms of the art history of this province," she said. "There wasn't even a Wikipedia article."
Noticing this large gap, "Future Possible" was a book that needed to exist, she said.
As the 70th anniversary approached in 2019, Eagan, now living in St. John's and working as curator of contemporary art at The Rooms, envisioned filling that gap.
Over two summers, The Rooms held a two-part exhibition. The first looked at the visual culture and visual narratives before the province joined Confederation and the second focused on 1949 onward, Eagan said.
"At its core, it was asking, what are the stories we tell ourselves as a province? It was looking at iconic artworks, it was looking at texts that have been written about this place, and it put these works in conversation with contemporary artworks," Eagan said.
In the foreword to the book, chief executive officer of The Rooms Anne Chafe described it as a complement to the exhibition and a project that "does not seek to be the final say. It seeks, instead, to launch the conversation."
History and identity
One example of that conversation between the past and the present mentioned by Eagan is the work of artist Bushra Junaid, who moved to St. John's from Montreal as a baby. The daughter of a Jamaican mother and Nigerian father, Junaid said her experience growing up in the province in the 1970s, where she always the only Black child in the room, was not like most.
"All of my formative years, my schooling and everything, took place in St. John's," she said. "It's very much shaped my current preoccupation."
Her interest in history, identity and representation led her to making "Two Pretty Girls…," which used an archival photograph of Caribbean sugarcane workers from 1903 with text from advertisements for sugar, molasses and rum from archived copies of The Evening Telegram collaged over the women's clothing.
In her essay "Of Saltfish and Molasses" published in "Future Possible," she described the work as "(allowing) me to place these women and their labour within the broader historical context of the international trade in commodities that underpinned Caribbean slavery and its afterlife."
It's a direct connection between Newfoundland and people in the Caribbean, a historical line not often drawn through the context of the transatlantic slave trade, but one she knows personally through the stories told by her mother, Adassa, about their ancestor, Sisa, who "as a teenager, survived the horrors of the Middle Passage, enduring the voyage from West Africa to Jamaica in the hold of a slave ship (Junaid)."
A book like "Future Possible" allows people to interpret themselves and their past, present and future, Junaid says.
"I appreciate the ways in which they really worked to make it as broad and diverse as possible," she said. "It's also striving to tell the Indigenous history of the place, the European settler history … and then also looking for … non-Western backgrounds such as myself. It's enriching."
What shapes us
St. John's writer Lisa Moore contributed an essay called "Five Specimens from Another Time" that weaves together moments from her own life, the province's history and current realities and the art that has inspired her over the years.
"It's really interesting to me to see all this work of people that I've written about in the past and whose work influenced me, even in my writing of fiction, and then newer artists," Moore said. "I just think that the book is a total gift."
With such a rich cultural history ready to be written, she imagines "Future Possible" is just the first of what could be many books about art in the province now that the "ice is cracked."
"The writers that (Eagan) has chosen to write here are also really exciting critics from all over the province, talking about all kind of different periods in art history," she said.
As time passes, the meaning of the works in the book becomes richer, she said.
Mary Pratt's 1974 "Cod Fillets on Tin Foil" and Scott Goudie's 1991 "Muskrat Falls," for instance, are two images with seemingly straightforward and simple subject matter. But any viewer looking now, who is aware of the cod moratorium and the Muskrat Falls hydroelectric dam, would find it difficult to see and interpret these images outside of those contexts.
"Artists, writers, filmmakers … they're keen observers of culture and the moment that we live in," Moore said. "They present things that are intangible like the feeling of a moment, or the culmination of social, political and esthetic powers that come together at a given time and shape us."
"Future Possible: An Art History of Newfoundland and Labrador" is available online and in stores.
Andrew Waterman reports on East Coast culture.
[email protected]
Twitter: @andrewlwaterman
RELATED:
Parrott Art Gallery goes virtual to help flatten the curve – The Kingston Whig-Standard
Article content
WENDY RAYSON-KERR
Feeling stir crazy because of COVID and the latest lock-down? Take a virtual trip to Morocco!
On Wednesday, April 14 at 2:30 p.m., the Parrott Gallery will host Lola Reid Allin's Armchair Traveler online presentation: "Morocco: Sea, Sand and Summit". Allin is an accomplished photographer, pilot, writer and speaker. Travel with her through the land of dramatic contrast and hidden jewels, busy markets and medieval cities, and enjoy some virtual sun.
For more information and to register for this free online event, please visit bellevillelibrary.ca/armchair-traveller.php. The Armchair Traveller Morocco photography exhibit is also available to view through the Parrott Gallery website until mid-May.
Even though our gallery is currently closed to the public, our exhibitions are all available to view online. Sam Sakr's show "The Housing Project" is certain to bring a smile to your face. His collection of mixed media artwork will take you to a playful land of fantastical creatures that inhabit imaginary, stylized cityscapes. If your spirit needs uplifting, you need to see to see this show. I hope that everyone will be able to view Sakr's work both online and then in our gallery after the lock-down ends in May. Without a doubt, it will be worth the wait to see it again in-person when we re-open.
Article content
Another exhibition that you can currently visit on the Parrott Gallery website is the group show "Spring Sentiments: a Reflection of Art in Isolation". This was a collaborative effort by the 39 artists who submitted their work, our staff who put the show together in the gallery and online, and our guest curator Jessica Turner. We are thrilled that Jessica was able to transcribe her experience with this show into a final paper for her Curatorial Studies BFA degree at OCADU.
The fact that we have had to close our doors just as this show was opening is a sad reflection of the theme as the audience must now reflect on this artwork at home, in isolation. The up-side to viewing this exhibition online is that one can read the artist statements that accompany the work and get a more in depth view of the artists' perspectives. We encourage viewers to support our artists by sending in their comments and to vote for their favourites in the show by following the appropriate link on the webpage.
When you can't come in to our building, the Parrott Gallery will bring the artwork to you. And then when the sun and flowers come out in May, and when it is safe to return to our gallery on the third floor of the Belleville Public Library, we hope to see you all again.
For questions about our online talk, our shows, or to purchase any of the artwork please call us at 613-968-6731 x 2040 or email us at gallery@bellevillelibrary.ca.
Wendy Rayson-Kerr is the Acting Curator at the John M. Parrott Art Gallery.
Couple accidentally paint over art worth $500K at South Korea gallery – fm96.com
A young couple damaged a $500,000 piece of art on display in South Korea last month after they mistook some nearby cans and brushes as an invitation to smear paint on the artwork.
CCTV footage captured the moment when the man and woman started splattering paint on the graffiti on March 28 at the Lotte World Mall in Seoul. Exhibition staff say the couple daubed, splattered and rubbed the paint on the display, causing extensive damage to the wall-sized piece of art.
"They thought they were allowed to do that as participatory art and made a mistake," Kang Wook, who runs the exhibition, told Reuters.
Read more:
An 'NFT' digital image just sold for US$69 million — but what is it?
The piece was a valuable work of art by U.S. graffiti artist JonOne, who made it in front of a live audience in Seoul in 2016. The artwork was later turned into a display with paint cans and brushes arranged nearby wherever it's shown.
Police reviewed the CCTV footage and arrested the couple shortly after they defaced the graffiti. They were later released without charges after the gallery accepted their explanation that it was an honest mistake.
"We are currently in discussions with the artist about whether to restore it," Kang said.
Read more:
Man arrested after 'gigantic' playground slide found on child's bunk-bed
The gallery has since added a sign to the display that reads: "Do not touch."
It's not the first time a careless gallery visitor has damaged a piece of art on camera. In 2015, a schoolboy in Taiwan accidentally tripped and punched a hole through a $1.5-million painting that he used to break his fall.
—With files from Reuters
© 2021 Global News, a division of Corus Entertainment Inc.