Powell: Fed on track to slow aid for economy later this year – Times Colonist
WASHINGTON (AP) — The Federal Reserve will start dialing back its ultra-low-rate policies this year as long as hiring continues to improve, Chair Jerome Powell said Friday, signaling the beginning of the end of the Fed's extraordinary response to the pandemic recession.
The Fed's move could lead, over time, to somewhat higher borrowing costs for mortgages, credit cards and business loans. The Fed has been buying $120 billion a month in mortgage and Treasury bonds to try to hold down longer-term loan rates to spur borrowing and spending. Powell's comments indicate the Fed will likely announce a reduction — or "tapering" — of those purchases sometime in the final three months of this year.
In a speech given virtually to an annual gathering of central bankers and academics, Powell stressed that the beginning of tapering does not signal any plan to start raising the Fed's benchmark short-term rate, which it has kept near zero since the pandemic tore through the economy in March 2020. Rate hikes won't likely start until the Fed has finished tapering its bond purchases.
But Powell said inflation has risen enough to meet its test of "substantial further progress" toward the Fed's goal of 2% annual inflation over time, which was necessary to begin tapering. There has also been "clear progress," he said, toward the Fed's goal of maximum employment.
At the same time, the Fed chair said the central bank is monitoring the economic impact of the highly contagious delta variant, which has caused a sharp spike in COVID-19 cases in the United States, especially in the South and West.
"While the delta variant presents a near-term risk, the prospects are good for continued progress toward maximum employment," Powell said. He spoke via webcast to the Jackson Hole Economic Symposium, which is being held virtually for a second straight year because of COVID-19.
On Wall Street, investors appeared to welcome Powell's message of a gradual withdrawal of the Fed's economic support beginning this year and his view that surging inflation pressures will likely prove temporary. The Dow Jones Industrial Average rose a sharp 225 points, or 0.6%, soon after Powell spoke.
The sharp jump in inflation has put the Fed's ultra-low-interest rate policies under growing scrutiny, both in Congress and among ordinary households that are being squeezed by surging prices. Inflation, according to the Fed's preferred gauge, rose 3.6% in July compared with a year earlier, the biggest increase in three decades. The month-to-month increase slowed from 0.5% to 0.3%.
In his speech, Powell underscored his longstanding belief that while inflation has surged, causing difficulties for millions of Americans, the price acceleration should ease once the economy further normalizes from the pandemic and supply shortages abate. History, he said, suggests that the Fed should not overreact to temporary price spikes by undoing its support for the economy too aggressively. Doing so could weaken job growth.
If the Fed were to reduce its stimulus "in response to factors that turn out to be temporary," the Fed chair said, "the ill-timed policy move unnecessarily slows hiring and other economic activity and pushes inflation lower than desired."
Powell also noted that while average wages have risen, they haven't increased enough to raise fears of a "wage-price spiral," as occurred during the ultra-high-inflation 1970s.
"Today," he said, "we see little evidence of wage increases that might threaten excessive inflation."
If anything, Powell said, the factors that helped keep inflation super-low for years before the pandemic — the growth of online retail, lower-cost goods from overseas, slowing population growth — could re-emerge as the pandemic fades.
Most Fed officials said at their last meeting in late July that inflation had met their goal of making "substantial further progress" toward topping 2% for some time. If the economy continued to improve, most officials said it would be appropriate to begin reducing the Fed's bond purchases later this year, according to minutes from the meeting released last week.
Complicating the situation, the resurgence of the pandemic, led by the delta variant, has confounded the Fed's expectations that the economy and job market would be on a clear path to improvement by this fall. The delta variant could slow spending in such areas as air travel, restaurant meals and entertainment.
In his remarks Friday, Powell did not outline any specific timetable for the Fed to begin slowing its bond purchases. Many economists say one or two more strong monthly jobs reports would likely trigger the start of a pullback before year's end.
"Even if we see another big gain in payroll employment in August, we suspect that the delta variant threat means the majority of officials will want to wait until the November meeting to give the green light,'' said Paul Ashworth, chief U.S. economist at Capital Economics.
Building Electrification Could Recharge Our Economy – And Save The Climate – Forbes Innovation
It's been a record-setting year for temperature extremes, with a polar vortex hitting Texas in February and heat domes hovering over the country this summer. As climate change worsens, we're facing a dangerous feedback loop: more frequent extreme weather events increase heating and cooling demand, risking more greenhouse gas emissions that worsen the climate crisis.
The budget reconciliation bill Congress is now considering offers a historic opportunity to dramatically reduce emissions from our buildings, while improving home efficiency, cutting bills, and creating hundreds of thousands of new jobs: A true win-win for the economy and the environment.
Electrification—replacing fossil-fueled appliances with efficient electric appliances powered by clean electricity—is the most viable solution to curtail planet-warming emissions and eliminate harmful indoor air pollutants without compromising comfort. Proven technologies like all-electric heat pumps, which provide both heating and cooling, as well as electric dryers and induction stoves are up to four times more efficient than fossil-fueled alternatives, saving consumers money, and are available on the market now.
As we clean our power supply – another critical piece of the budget reconciliation bill, enabled by the proposed $150 billion Clean Electricity Payment Program – we must also rapidly accelerate electric appliance adoption by homes and businesses across the country. That's where smart federal and state policy to drive down costs, transform the market, and quickly scale adoption comes in.
Targeted incentives can help make electric appliances more affordable in the near-term as technology costs fall, and consumer rebates are enormously popular. Updated standards for new appliances and all-electric building codes can also help achieve all-electric building stock by 2050 – when scientists agree we must reach net-zero emissions to protect a livable planet. Workforce training programs can develop the skilled workers needed to build this clean future. And we must prioritize an equitable transition with policies supporting adoption by lower- and fixed-income households and frontline communities.
The problem: fossil fuel-reliant infrastructure
Over a hundred million buildings burn fossil fuels for heating and cooking, contributing 13% of U.S. emissions, and new construction keeps increasing these emissions. Nearly 1.4 million new homes were constructed just last month alone, and more than half of all new homes are built with fossil gas heating or appliances.
Because the average appliance lasts 10 to 15 years and most buildings for at least 50 years, every new appliance or structure burning gas or other fossil fuels locks in higher emissions and costs for decades. Energy Innovation modeling shows electrifying all new buildings by 2025 and all new equipment by 2030 is essential for reaching net-zero by 2050.
Burning fossil fuels in buildings harms our health. Homes with gas stoves can have nitrogen dioxide concentrations 50% to 400% higher than homes with electric stoves, and children living in homes with a gas stove have a 24% to 42% increased risk of developing asthma.
Harvard research shows the health impacts of pollution from burning gas, biomass, and wood in industrial boilers and buildings now surpass the impact of air pollution from dirty coal plants. Commercial and residential buildings in the U.S. are now responsible for approximately 18,300 early deaths and $205 billion in health impacts—one-third of the health burden from stationary source pollution.
Rising energy costs and negative health impacts of fossil-fueled buildings disproportionately burden low-income consumers, communities of color, and frontline communities, making building electrification an essential part of rectifying long-standing environmental justice concerns.
Widespread benefits of electrification
Getting fossil fuels out of buildings is necessary for protecting public health and stabilizing the climate, but it's also an economic powerhouse.
RMI research shows that all-electric new homes reduce homeowner costs and harmful emissions. For example, an all-electric home in New York City creates $6,800 in household savings over 15 years compared to a fossil-fueled home.
Electrification retrofits are also cost-effective. Rewiring America research found 85% of U.S. households would save money on monthly energy bills if they used modern all-electric equipment, and ACEEE analysis shows 27% of U.S. commercial space can be electrified with a payback of less than 10 years, even without rebates. Targeted commercial incentives and appliance standards would increase this percentage. Policies must account for costs associated with electrical upgrades and labor, in addition to the effort needed to facilitate the adoption of newer technologies.
Building or retrofitting every building in the U.S. will require hundreds of thousands of skilled workers and create demand for other clean energy jobs in the utility sector. Building electrification would support a net increase of more than 104,000 jobs just in California, and clean energy workers typically earn higher and more equitable wages compared to the national workforce.
Policy pathways to electrify buildings
But realizing these benefits and ensuring our building stock is fully electrified in the short time we have left to act requires stronger national policies, bolstered by state and local leadership.
The budget reconciliation process underway in Congress is a tremendous opportunity to adopt smart building policies and programs that will yield benefits for millions of Americans now and for decades to come.
For example, the House Energy and Commerce Committee's Build Back Better Act invests $18 billion in home efficiency and electric appliance rebates, including $9 billion for a new High Efficiency Electric Home Rebate Program, modeled after Senator Martin Heinrich's Zero-Emission Homes Act. Rebates up to $10,000 for electric appliances and equipment in single-family homes and multi-family buildings would offset the higher upfront cost of all-electric heat pumps, dryers, and cooktops (faster than the market would on its own) and expedite clean replacement well before 2050.
The proposal wisely carves out $5.5 billion to offer higher incentives for low-income households, for tribes, and for projects located in pollution-burdened communities. The proposal also includes an incentive to cover any needed electrical upgrades and an added incentive for contractors implementing electrification projects. Other provisions offer funding for contractor training programs, which are key to growing a highly-skilled electrification workforce.
Other proposals from the House would expand and improve existing incentive programs, ensuring all homes and buildings are increasingly efficient. Expanded and targeted investment for families and businesses that struggle to afford energy is essential for an equitable transition, particularly in communities with high electricity prices and heating demand. Energy efficiency investments will reduce energy burdens while protecting people from weather extremes.
Beyond the ongoing legislative efforts, the federal government's regulatory authority is a not-to-be-overlooked tool for electrification. The Environmental Protection Agency and Department of Energy can and should adopt next generation appliance emissions and efficiency standards that would cut pollution and offer consumer savings, while stimulating the domestic market for new technologies. For example, an RMI analysis shows that across the U.S., even in cold climates, heat pumps are 2 to nearly 5 times more energy efficient than an Energy Star gas furnace on an annual basis, yet they make up a small fraction of the HVAC market. Strong appliance standards would expedite deployment of clean, efficient heat pumps and other electric appliances, while also phasing out gas appliances more quickly.
Because buildings last for decades, and as new construction growth trends continue unabated, all-electric building codes are another necessary tool in the toolbox. Although every state and local government has the authority to adopt their own building codes, code-setting bodies should work swiftly to adopt more stringent codes that achieve building decarbonization by 2050. We also need a dedicated workforce training program would increase code compliance while preparing a new generation of workers to build the all-electric future.
California just took a major step in the right direction by adopting their 2022 Building Energy Efficiency Standards, which makes electric heat pumps standard for either water or space heating for single-family homes, multifamily and most commercial buildings. The code also requires all-electric readiness for single-family homes to help reduce the costs of future fossil fuel-to-electric appliance conversions. Meanwhile, cities requiring all-electric new construction are leading the way for other cities and states to follow.
Although states and cities are leading, the U.S. still lacks a standardized approach to building codes, which is essential for scaling electrification nationwide. The Assistance for Latest and Zero Building Energy Code proposal included in the Build Back Better Act is a positive step to address this challenge – it would offer $300 million in grants to help states and local governments adopt smart building codes, including zero-energy codes. More federal leadership on building decarbonization and smart energy codes would send a strong market signal and accelerate the transition.
Flip the switch on all-electric buildings for a safe climate and strong economy
The climate crisis is accelerating faster than predicted, with 1 in 3 Americans experiencing a dangerous climate event this year. In light of the recent IPCC report's findings that every fraction of warming threatens greater instability, inaction risks an unlivable future.
Moving quickly to adopt efficient, all-electric technologies, through the enactment of strong policies, codes, and standards, will flip the switch on climate change, cut costs for consumers, protect public health, and grow the economy.
To ensure a livable planet, we must end our reliance on fossil fuels, including in our homes and buildings. But we don't need to sacrifice comfort or performance. With the problem clear and the solutions known, now is the time for Congress to act.
Evergrande: Embattled China property giant sparks economy fears – BBC News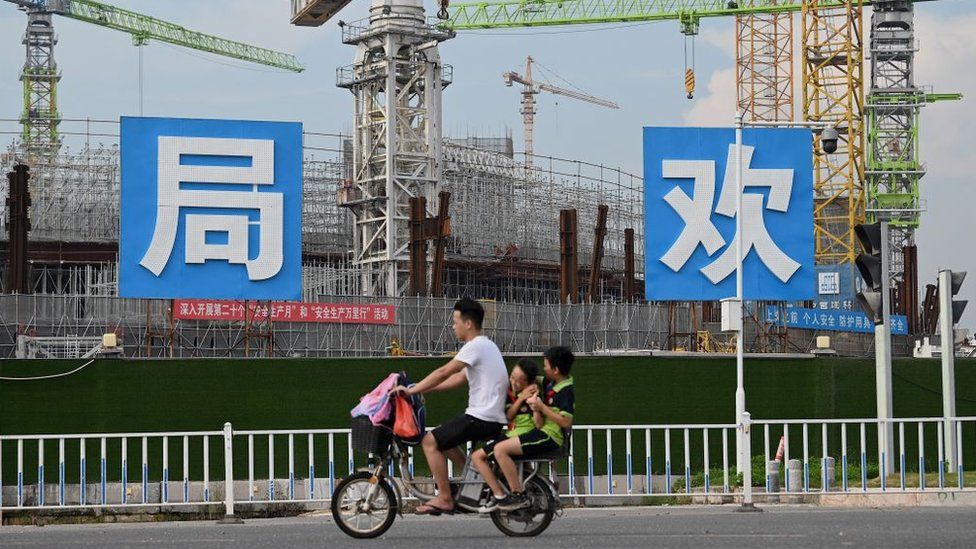 Chinese company Evergrande has started to repay investors in its wealth management business with property, as the world's most indebted real estate developer faces a key test this week.
Major banks have reportedly been told that they won't receive interest payments on loans that are due Monday, while interest payments of $84m (£61m) on the firm's bonds are also due on Thursday.
The company's shares fell by 15% in Hong Kong trade on Monday.
The property giant's deepening debt problems have triggered fears over the impact its potential collapse could have on China's economy.
Why is Evergrande in trouble?
Evergrande grew to be one of China's biggest companies by borrowing more than $300bn (£217bn).
Last year, Beijing brought in new rules to control the amount owed by big real estate developers.
The new measures led Evergrande to offer its properties at major discounts to ensure money was coming in to keep the business afloat.
Now, it is struggling to meet the interest payments on its debts.
This uncertainty has seen Evergrande's share price tumble by around 85% this year. Its bonds have also been downgraded by global credit ratings agencies.
Why would it matter if Evergrande collapses?
There are several reasons why Evergrande's problems are serious.
Firstly, many people bought property from Evergrande even before building work began. They have paid deposits and could potentially lose that money if it goes bust.
There are also the companies that do business with Evergrande. Firms including construction and design firms and materials suppliers are at risk of incurring major losses, which could force them into bankruptcy.
The third is the potential impact on China's financial system.
"The financial fallout would be far reaching. Evergrande reportedly owes money to around 171 domestic banks and 121 other financial firms," the Economist Intelligence Unit's (EIU) Mattie Bekink told the BBC.
If Evergrande defaults, banks and other lenders may be forced to lend less.
This could lead to what is known as a credit crunch, when companies struggle to borrow money at affordable rates.
A credit crunch would be very bad news for the world's second largest economy, because companies that can't borrow find it difficult to grow, and in some cases are unable to continue operating.
This may also unnerve foreign investors, who could see China as a less attractive place to put their money.
Is Evergrande 'too big to fail'?
The very serious potential fallout of such a heavily-indebted company collapsing has led some analysts to suggest that Beijing may step in to rescue it.
The EIU's Mattie Bekink thinks so: "Rather than risk disrupting supply chains and enraging homeowners, we think the government will probably find a way to ensure Evergrande's core business survives."
Others though are not sure.
In a post on China's chat app and social media platform WeChat, the influential editor-in-chief of state-backed Global Times newspaper Hu Xijin said Evergrande should not rely on a government bailout and instead needs to save itself.
This also chimes with Beijing's aim to rein in corporate debt, which means that such a high profile bailout could be seen as setting a bad example.
What does Evergrande do?
Businessman Hui Ka Yan founded Evergrande, formerly known as the Hengda Group, in 1996 in Guangzhou, southern China.
Evergrande Real Estate currently owns more than 1,300 projects in more than 280 cities across China.
The broader Evergrande Group now encompasses far more than just real estate development.
Its businesses range from wealth management, making electric cars and food and drink manufacturing. It even owns one of country's biggest football teams – Guangzhou FC.
Mr Hui has a personal fortune of around $10.6bn, according to Forbes.
Reporting by Peter Hoskins and Katie Silver

You may also be interested in:
Stagflation rocked the economy before. Is it coming back? – CNN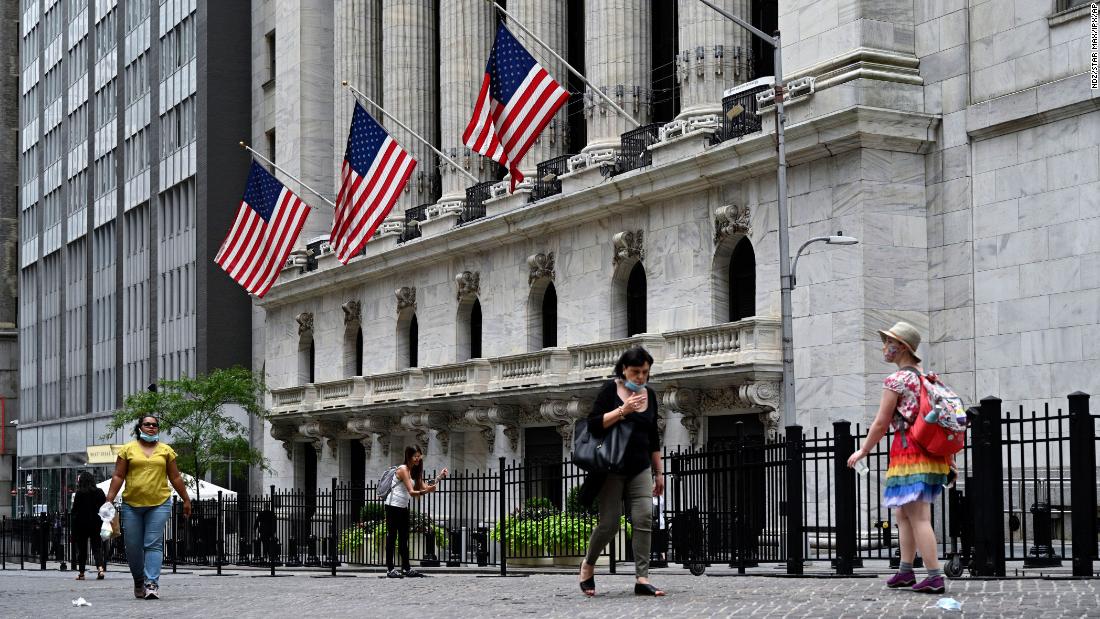 A version of this story first appeared in CNN Business' Before the Bell newsletter. Not a subscriber? You can sign up
right here
.
London (CNN Business)Mention the word "stagflation" to someone who followed the economy in the 1970s, and you can expect a strong reaction.
The phenomenon — which describes a period of high inflation and stagnant economic growth — was a nightmare for policymakers, leaving them with few options to rein in runaway prices without damaging the economy.
Federal Reserve Chair Paul Volcker
was ultimately forced to jack up interest rates to unprecedented levels to get inflation under control.
Now for the bad news: Decades later, talk of stagflation is back.
"One can make a case that 'mild' stagflation is already underway," the economist Nouriel Roubini wrote in a
recent column
. "Inflation is rising in the United States and many advanced economies, and growth is slowing sharply, despite massive monetary, credit, and fiscal stimulus."
Meanwhile, economists have been downgrading predictions for economic growth as they assess the impact of the highly contagious Delta variant of the coronavirus, which arrives as some stimulus measures start to wind down.
A prolonged period of stagflation is still not the baseline assumption among economists and Wall Street investors.
"Is that a permanent state, or is [it] more related to frictions around reopening? I think most of it is temporary," Neil Shearing, group chief economist at Capital Economics, told me.
But there is reason to pay close attention to what's unfolding. Although the Federal Reserve also maintains that recent inflation is transitory, and will pass once post-pandemic supply chain pressures and labor market disruptions ease, consumers are exhibiting growing anxiety.
Last week, the Federal Reserve Bank of New York released its latest survey of consumer expectations. It found that inflation expectations for the year ahead were at a record high, as were those at the three-year horizon. The data goes back to 2013.
Breaking it down: Economists closely watch inflation expectations because they could encourage workers to demand higher wages. If consumers are paid more, their purchasing power grows, and businesses may hike prices again — starting the entire cycle anew.
In a recent note to clients, Bank of America strategists Ohsung Kwon and Savita Subramanian also flagged concerns about energy prices. The 1973 oil crisis is widely seen as having exacerbated inflation problems.
"Although not our base case, stagflation has often been accompanied by oil shocks, and with crude prices recently jumping on supply chain disruptions, the risk of oil shocks has increased," Kwon and Subramanian said.
What happens next: The economy is showing some signs of resilience in the face of the Delta variant. But Kwon and Subramanian are advising clients to consider stocks with healthy dividends and shares of smaller companies that are more protected from inflation.
Those in charge of managing the economy, meanwhile, must weigh a complex matrix of factors. Officials at the Federal Reserve and the Bank of England, who will meet this week, have to decide whether to stick to their assessment that the problem is fleeting.
That would allow them to start pulling back crisis-era support in an orderly fashion. But as stagflation chatter grows, these decisions won't be easy.
"It's going to be an uncomfortable few months for central banks," Shearing said.
Catch up on the WSJ's blockbuster Facebook investigation
Last week, the Wall Street Journal released a
series of damning articles
about
Facebook
(FB)
, citing leaked internal documents that detail in remarkably frank terms how the company is not only well aware of its platforms' negative effects on users, but also how it has repeatedly failed to address them.
There's a lot to unpack from the Journal's investigation. But one thing that stands out is just how blatantly Facebook's problems are documented, using simple, observational prose not often found in internal communications at multinational corporations, my CNN Business colleague Allison Morrow writes.
On teen health:
In the Journal's report on Instagram's
impact on teens
, reporters cite a slide deck from Facebook's own researchers.
"We make body image issues worse for one in three teen girls," said one slide from 2019, according to the WSJ. Another reads: "Teens blame Instagram for increases in the rate of anxiety and depression … This reaction was unprompted and consistent across all groups."
Facebook's whitelist:
Facebook CEO Mark Zuckerberg has repeatedly, publicly maintained that Facebook is a neutral platform that puts its billions of users on equal footing. But in
another report
on the company's "whitelisting" practice — a policy that allows politicians, celebrities and other public figures to flout the platform's rules — the WSJ found a 2019 internal review that called Facebook out for misrepresenting itself in public.
"We are not actually doing what we say we do publicly," the review said, according to the paper. "Unlike the rest of our community, these people" — those on the whitelist — "can violate our standards without any consequences."
Getting angrier:
In 2018, Zuckerberg said a change in Facebook's algorithm was intended to improve interactions among friends and family and reduce the amount of professionally produced content in their feeds. But according to the documents published by the Journal,
staffers warned
the change was having the opposite effect.
A team of data scientists put it bluntly: "Misinformation, toxicity and violent content are inordinately prevalent among reshares," they said, according to the Journal's report.
Up next
Monday: NAHB Housing Market Index
Tuesday:
OECD economic outlook; US building permits and housing starts;
AutoZone
(AZO)
,
Adobe
(ADBE)
,
FedEx
(FDX)
and
Stitch Fix
(SFIX)
earnings
Wednesday: Bank of Japan and Federal Reserve policy decisions; US existing home sales; General Mills earnings
Thursday:
Bank of England policy decision;
Darden Restaurants
(DRI)
,
Rite Aid
(RAD)
,
Nike
(NKE)
and
Costco
(COST)
earnings; US initial jobless claims
Friday: New US home sales