Public art pieces beautify Sidney as Coast Salish art continues resurgence – Victoria News
Their canvas may be utilitarian, but for local First Nation artists, the art pieces wrapping four utility boxes in downtown Sidney are part and parcel of a broader resurgence in Coast Salish art and culture.
"Our art system was in grave danger for a long time," said Charles Elliot of Tsartlip First Nation last week, while standing next to the BC Hydro box at 2464 Beacon Ave. wrapped up in his piece titled "Seals."
"I noticed that we didn't have our system out there to see. I actually had to go into the museums [and] private collections to look [for it]," he said.
Elliot, a master carver whose work has appeared across the world, said he chose his subject, because seals are common in the area, very playful and friendly. "An orca would be a little bit too aggressive, but seals are just friendly," he said. He also hopes that the public will learn more Coast Salish art.
"There are quite a number of First Nations art disciplines and each discipline belongs to a certain area, and this is the Coast Salish style," he said. "I wanted to make sure that I had good display of Coast Salish art. It was easy to do that with the seals."
The piece "Otters & Blue Heron" by Doug LaFortune of the Tsawout First Nation stands just down the street from Elliot's piece at 2488 Beacon Ave. "The otter is a very important piece of our culture," said LaFortune, when asked about his choice of subject.
"It's very spiritual. Plus I was down at the bandstand [in Beacon Park] and I saw an otter running around the lawn. I have seen him quite often, so I really like the playfulness. [Otters] are real tricky characters and I enjoy watching them all the time."
Otters, he added, would often appear on traditional house posts. "They brought messages of good tidings and things like that," he said.
LaFortune hopes that his art will give residents a good feeling, but also inspire them to learn more the culture of local First Nations.
"Our culture is a lot deeper than people think it is," he said. "It's an old, old culture. I just want the public to get a touch of it, a little taste of it."
Two other artists — James Jimmy of Tseycum First Nation and Doug Horne of Tsawout First Nation — have also contributed respective pieces to this tableau, the "Sqto (Raven)" art on the hydro box at the corner of Fourth Street and Beacon Avenue and the "Hummingbird" near 2297 Beacon Ave, as part of Sidney's utility box beautification program.
It started in 2006 and has since wrapped 40 utility boxes in art from established and emerging artists from across the Saanich Peninsula.
Coun. Barbara Fallot said last week the COVID-19 pandemic has underscored the importance of art in thanking the artists.
"I'm so pleased that we are able to have more public art work," she said.
Primary funding for the project comes from the municipality, along with participation and sponsorship from local businesses and a BC Hydro grant program. Van Isle Marina has sponsored Doug Horne's "Hummingbird" piece this year.
Earlier this year, Sidney held a ceremony in council chambers to unveil a Coast Salish spindle whorl carving by Chazz Elliot, the son of Charles Elliot, in recognition of the W̱SÁNEĆpeople, their customs and traditions.
---
Like us on Facebook and follow @wolfgang_depner
wolfgang.depner@peninsulanewsreview.com
You may have seen focaccia edible art on instagram… now learn to make it at home – iNFOnews
Focaccia is a type of Italian flatbread and one of the easiest breads to make at home. This no-knead bread is made in a single bowl with a rubber spatula and requires only flour, salt, yeast, water and olive oil.
Dating back to ancient times, focaccia, which means "cooked on fire", is considered to be the precursor to the modern day pizza. Focaccia can be made with just olive oil and salt or with hundreds of toppings ranging from sweet to savoury.
The ingredient combinations are endless – be creative.
Image Credit: Claire Sear
One of the biggest Instagram food trends of 2020 is beautiful focaccia bread art. Teri Culletto, a home baker from Martha's Vineyard is credited with starting the focaccia art trend via her instagram account @vineyardbaker. Using raw vegetables and fresh herbs, Teri has created a series of Vincent van Gogh-inspired bread loaves she calls "Van Dough" and inspired thousands of home bakers around the world to create focaccia art.
Unleash your inner artist and enjoy creating your own delicious focaccia art at home. This is a great recipe to make with kids as they love decorating the focaccia.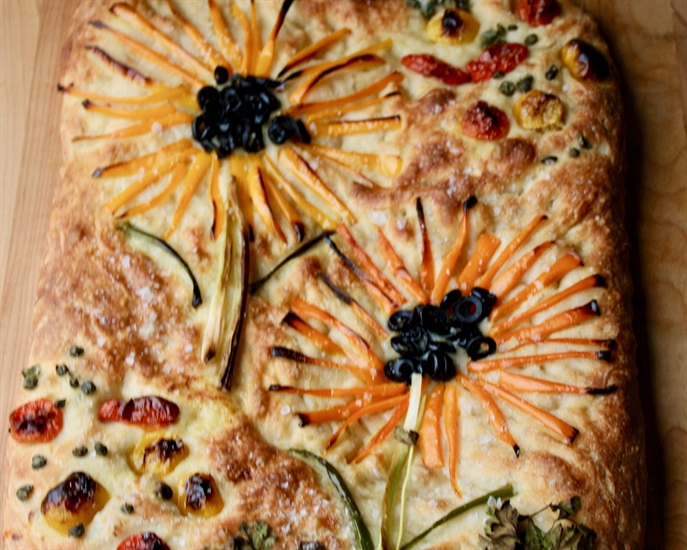 The baked version of the beautiful focaccia edible art!
Image Credit: Claire Sear
Focaccia
Ingredients:
3 1/2 cups all purpose flour
1 Tbsp kosher salt
1 tsp active dry yeast
2 – 3 cups warm water
4 Tbsp extra-virgin olive oil, plus more for greasing
1 ½ tsp Maldon Sea salt (Coarse sea salt can be substituted)
Suggested toppings: little sweet peppers, black olives, fresh chives, parsley, basil, capers, grape tomatoes, red onions, edible flowers, sesame seeds, and nuts. Tip: dipping herbs in lemon water can help keep them greener in the oven.
Directions:
In a large bowl, whisk together the flour, kosher salt and yeast. Slowly add 1 1/2 cups of warm water to the flour mixture and stir. Add additional water as needed until all the flour is incorporated and a sticky dough forms. Dough should be wet.
Tip: Weather affects the amount of water and flour needed. Recipe measurements for water are general guidelines. You need to add as much water as needed to make a wet sticky dough. Do not be alarmed if you need more or less water than the recipe indicates.
Pour two tablespoons of olive oil into a medium bowl. Transfer the dough to the bowl and roll and turn the dough over so that it is coated with the olive oil. Cover tightly with plastic wrap. Place in the refrigerator for at least 24 hours or up to two days.
When you are ready to bake the focaccia, line a 9 x13 inch baking sheet with parchment paper. Brush the parchment paper with olive oil. Remove the dough from the refrigerator and transfer to the prepared baking sheet. Tip: parchment paper just adds another level of guarantee that the focaccia won't stick to the pan. If you don't have parchment paper, brush the baking sheet generously with olive oil.
Using your hands, spread the dough out as much as possible to the edges of the baking sheet. If the dough is sticking you can add additional olive oil. Do not worry if dough doesn't cover the full pan, it will once the dough has time to rise.
Place the dough in a warm place and let it rise until it has doubled in size. In the summer it may only take 30 minutes for the dough to rise. In the winter it can take over an hour. You want the dough to be room temperature and fluffy.
Preheat the oven to 410°F.
Using your palms, pat down the dough down to an even thickness of about 1 inch and then use your fingertips to dimple the entire dough. Drizzle with olive oil. Isn't this is fun?
Unleash your inner artist and decorate your focaccia. Sprinkle with Maldon sea salt.
Place in the oven. Bake for 10 minutes and then rotate the pan back to front. If the bread is already starting to brown, turn the heat down to 375°F. Bake for an additional 10-15 minutes until the top is golden brown. Transfer the focaccia on the baking sheet to a wire rack to cool. Slide the focaccia out of the pan, cut into generous slices and serve.
Focaccia is best eaten the day it is made. If you do have leftovers, the focaccia can be frozen and then reheated. It is also excellent the next day served in soup.
Serve with a glass of B.C. rosé.
— Claire Sear is a Vancouver-based food, drink & lifestyle writer
---
We welcome your comments and opinions on our stories but play nice. We won't censor or delete comments unless they contain off-topic statements or links, unnecessary vulgarity, false facts, spam or obviously fake profiles. If you have any concerns about what you see in comments, email the editor.
PHOTOS: Thousands gather at Vancouver Art Gallery to protest racism – Vernon Morning Star
A protest against anti-black violence and racism took over the grounds in front of the Vancouver Art Gallery on Sunday night.
Thousands attended the rally, which Vancouver Police Chief Adam Palmer said was peaceful.
The protest Sunday (May 31) comes after nearly a week of protests in the United States, which were sparked by a Minneapolis police officer seen on video kneeling on the neck of George Floyd, a handcuffed black man who died in custody after pleading that he could not breathe. Derek Chauvin was charged with murder Friday, and all four police officers present during Floyd's death have been fired.
Floyd's death was the latest in a series of confrontations, assaults and deaths of black Americans. On Feb. 23, Ahmaud Arbery, 25, was fatally shot in Georgia while jogging. On March 13, Breonna Taylor, 26, was killed during a nighttime "no-knock warrant" by plainclothes Louisville police officers. On May 25, a woman called the police on Christian Cooper to tell them he was "threatening [her] life" when Cooper asked the woman to put her dog on a leash in New York's Central Park.
In Canada, protesters also want answers about Regis Korchinski-Paquet, a black woman fell to her death from a 24th-floor apartment when police responded to a 911 call. Korchinski-Paquet's death is being investigated by the police watchdog.
TY #Vancouver for exercising your right to lawful #PeacefulDemonstration at the #VAG! #ProudCanadian

TY to our #VPD officers for your professionalism & committment to #CommunityWellbeing! #ProudChief

Everyone went home safely #HowWeDoit in #YVR @VancouverPD pic.twitter.com/CEwYwlp6Sz

— Adam Palmer (@ChiefPalmer) June 1, 2020
..It's a big crowd at the Vancouver Art Gallery for #BlackLivesMatter #protest #GeorgeFloyd #vanpoli #bcpoli pic.twitter.com/VfX93BjF6l

— Lindsay Brown (@Lidsville) June 1, 2020
Incredible, hopeful, peaceful, determined crowd (masks on, 2m apart) at #Vancouver Art Gallery to protest racism and creeping fascism. 10,000 I guess. Lots of antifascists here @realDonaldTrump, ya can't arrest us all ✊✊ pic.twitter.com/KshneDRpU8

— Jim Stanford (@JimboStanford) June 1, 2020
Here's an amazing shot of the crowd outside the Vancouver Art Gallery today. Everyone of you that was there deserves a standing O for showing solidarity with our Black brothers and sisters. #GeorgeFloyd #BlackLivesMatter pic.twitter.com/bNHKdtVd5r

— Tej Dhaliwal (@DrDangles87) June 1, 2020
this is the #vancouverprotest at the Vancouver Art Gallery downtown. #GeorgeFloyd #NoJusticeNoPeace pic.twitter.com/jrFswmjxn6

— S⃣UMMER ✊🏽✊🏾✊🏿 (@summersincities) June 1, 2020
Jacob Callender-Prasad, the organizer of the event, had called for Sunday rally to be peaceful.
"We do not need to riot in Vancouver, we do not need to destroy our community – that's not needed here," Callender-Prasad said in a video posted to the Black Vancouver Instagram page.
"It's not the same as the United States. We don't have cops going around causing damage here."
Callender-Prasad has asked attendees to wear face masks and practice social distancing as COVID-19 precautions remain in effect in B.C. Organizers had expected about 1,000 to 2,000 people
Callender-Prasad said Sunday's event would include a social media shoutout to U.S. President Donald Trump "to ask him to actually push the governor in Minnesota, to push them to charge those other three officers."
Callender-Prasad said that although police brutality may be more prevalent south of the border, there are still issues in Canada to address.
"We still have instances in Canada of these unwanted and unfortunate events."
The Vancouver chapter of Black Lives Matter said it was not the organizer of the event but stood in solidarity with those protesting.
---
Like us on Facebook and follow us on Twitter.
Want to support local journalism during the pandemic? Make a donation here.
Theatre and film are inherently political, say art critics – CBC.ca
Dictators and autocrats on all sides of the political spectrum have always kept a close eye on what artists do and say.
Oligarchs know that art is dangerous. Art is subversive and anything that makes people think, or question, is a threat to those who wield power.
Art is political. In a discussion recorded at the Stratford Festival last year, three New York Times journalists discuss the politics of theatre — the relationship between what's on the stage, and what's going on in the lives and the world of the people in the audience.
"What makes theatre inherently political is that it's an art of conversation and it's an art of being in a room watching people talk to each other and work issues out," says Scott Heller, theatre editor of the New York Times.
"I think that that's why, unlike digital forms or other visual art forms, there's something small p-political about being involved in watching theatre that leads you to think big P- politically … the art of theatre is the art of people negotiating and that immediately leads to larger ways to think about politics."
Theatre is at its best when it can both reflect back what is happening in the world and also lead the audience to find a common ground in understanding each other and agreeing on common societal values, says Heller.
Representation in film
The history of theatre suggests that this has pretty much always been the case. The very oldest written plays we have come from ancient Greece nd those plays evoke similar experiences to a play written yesterday: we see characters much like ourselves, onstage, working out personal dilemmas and family feuds, while larger social struggles of the times loom in the background.
All of which means that we don't always need new plays to understand the present we find ourselves in. Old plays frequently give us unnerving insights into ourselves today, and the modern society we live in. Turns out, people haven't changed much over the millennia — and nor has human society.
The "kissing-cousin" as it were, of theatre is of course film — a similar story-and-audience relationship being played out, but with some quite profound differences.
Cara Buckley covers film for the New York Times — a medium that puts a premium on new production, and on the relevance of what people see to their own lives.
"What happens on that screen is so important for the audience in terms of how they see themselves and how they relate," Buckley explains.
" I remember…seeing a film with Meryl Streep about the suffragettes, and I'd never seen so many women on screen doing smart political things that I was kind of taken aback."
[embedded content]
As a woman, Buckley says that experience speaks to the need for representation of different voices which she says is political. She adds the effect on the audience is profound when you see yourself reflected back to you by your own culture.
For both theatre and film, that question of the audience seeing themselves reflected on the stage or screen has become hugely important; in a 'popular' art form. The politics demands that the diversity of society needs to be represented in what we see.
"The response theatre had for many years was to try to speak to everyone at once. And that works when you have a big musical of a certain type, but otherwise it doesn't work," Jesse Green remarks.
The co-chief theater critic for The New York Times says theatre now is heading in a different direction, one he adds is a good thing.
"Theatre makers are understanding the power of what the other art forms have done, fractionalising and speaking to smaller groups — whether to encourage them in something they already know or whether to show them something that they thought they knew but actually didn't."

Guests in this episode:
Cara Buckley is a culture reporter for the New York Times who covers bias and equity issues in Hollywood. Previously, she worked as the Carpetbagger columnist, covering the campaigns and controversies of the film awards season. She has been a Metro reporter, covered the Iraq war and was part of a team that won a Pulitzer Prize in 2018 for public service for reporting on workplace sexual harassment issues. Born in Dublin, she grew up in Ireland and Canada, and lives in Brooklyn.
Scott Heller is the theater editor of The New York Times. He joined The Times in 2010 from The Boston Globe, where he had served as arts editor. Mr. Heller, a Brooklyn native, is a graduate of the University of Pennsylvania. He was a Knight-Wallace Journalism Fellow at the University of Michigan, where he also earned an M.A. in American Studies.
Jesse Green is the co-chief theater critic for The New York Times. From 2013 to 2017 he was the theater critic for New York magazine, where he had also been a contributing editor, writing long-form features, since 2008. Articles he has written for these and many other publications have been recognized with nominations and prizes from the National Magazine Awards and the National Lesbian and Gay Journalists Association, among others.
---
* This episode was produced by Philip Coulter. It was recorded in 2019 in Stratford by Melissa Renaud. Special thanks to Ann Swerdfager and Antoni Cimolino.