Q&A style: Duende offers up fine-art prints from coveted creators – Vancouver Sun
Sarah Delaney, Rubeena Ratcliffe and Brit Gill are among the initial group of artists on offer
It's not uncommon for Vancouver-based artist Sarah Delaney's collections to sell out in minutes.
The original artworks, which have garnered Delaney an ever-growing online following, are coveted by art lovers, locally and beyond, which means getting ones' hands on one of her unique creations can be tricky.
Rachel Harrison and Jennifer Scott, the duo behind the new Vancouver-based company Duende, are looking to ease the struggle of snagging one of Delaney's — as well as a handful of other creatives including fine artists and photographers — pieces by offering limited-edition fine art prints of varying prices and sizes.
Their aim, they say, is to, "mingle impactful art with the public, allowing the everyday collector to build their gallery based on a connection with each piece." We caught up with Harrison and Scott to learn more.
---
Q. For those who aren't familiar, what is Duende?
A. Duende is a curated online gallery founded on the belief that choosing art should be based on the connection we feel to it and the power of certain pieces to really resonate with us.
Our vision is to define a place where an entire space can be curated with meaningful art of mixed mediums, created by a variety of artists, while establishing a cohesive relationship between the pieces. By offering limited-edition collections, our customers are gaining the value and exclusivity that comes with small runs, yet working with prints allows flexibility for making art more approachable.
Q. Is there a story behind the name?
A. Duende is a Spanish word with a wide variety of definitions; the meaning we identify with for our business is "the mysterious power of art to deeply move a person."
Q. Who is the target customer?
A. We were inspired to create this type of boutique-style online gallery platform from the perspective of designers, as both of us have established our careers as interior designers and stylists within Vancouver; we feel that we will see much of our traffic come from other designers, decorators, developers and commercial art buyers who face the same challenges we did of sourcing impactful, exclusive art at an approachable level. However, Duende really is for the everyday collector. For the people that have a love for art, want pieces to tell a story within their home and want to know that even a collection of mixed mediums and artists can create a cohesive, personal gallery.
Q. And how did you choose the artists to collaborate with?
A. Our initial gathering of art and artists was curated to work together as a full collection; we have such a strong passion for art, so the process of narrowing down who we wanted to collaborate with for this first season was hard. Ultimately, we identified what we wanted the vibe of this premier collection to feel like, and reached out to some of our favourite artists — both local and from around the world — to create this current roster. We definitely have a growing group of incredible talent that we have our eye on for the next season, which will take on a tone of its own. For us, it's all about curating what we see as relevant in the moment and how each piece interacts with the next within the entire collection … each piece within any given season has been carefully selected to work beautifully with any other piece in the same season.
Q. How often will the artist selection change?
A. Our gathering of artists and chosen works are featured for a season of six months, after which time a new season of art and artists is introduced; by rotating our offerings after each season, we are able to continuously bring fresh content and talent to our community.
Q. What's one thing you wish more people knew about fine art prints?
A. Working with limited-edition fine art prints is such a 'sweet spot' for building your own art collection. Many people aren't in a position to jump into the realm of purchasing original works, but likewise don't want to fall back into mass-produced art as an alternative; with limited edition prints comes the ability to purchase high-impact art that offers exclusivity and large format options, without the financial commitment of original art.
Q. What is the price for Duende pieces?
A. Duende is based on a universal pricing platform. What that means is, each piece is offered at three set sizes — determined by the aspect ratio of the original work — and every piece in our gallery at that same size is offered at the same price. Essentially, there are three set sizes and three correlating set prices for every piece.
Q. Lastly, where can people check them out?
A. To check out our incredible roster of artists and each of their full collaborative collections with us, people can visit our online gallery at duendecuration.com. We also use Instagram (@duendecuration) to share our artists pieces, alongside some of the inspirations behind the works, as well as giveaways and other behind-the-scene fun.
Related
CLICK HERE to report a typo.
Is there more to this story? We'd like to hear from you about this or any other stories you think we should know about. Email vantips@postmedia.com.
'One of the greatest logos of all time' gets a fresh coat of paint – CBC.ca
We use cookies and data to
Deliver and maintain Google services
Track outages and protect against spam, fraud, and abuse
Measure audience engagement and site statistics to understand how our services are used and enhance the quality of those services
If you choose to "Accept all," we will also use cookies and data to
Develop and improve new services
Deliver and measure the effectiveness of ads
Show personalized content, depending on your settings
Show personalized ads, depending on your settings
Non-personalized content is influenced by things like the content you're currently viewing, activity in your active Search session, and your location. Non-personalized ads are influenced by the content you're currently viewing and your general location. Personalized content and ads can also include more relevant results, recommendations, and tailored ads based on past activity from this browser, like previous Google searches. We also use cookies and data to tailor the experience to be age-appropriate, if relevant.
Select "More options" to see additional information, including details about managing your privacy settings. You can also visit g.co/privacytools at any time.
The Fearless Freedom of Henry Taylor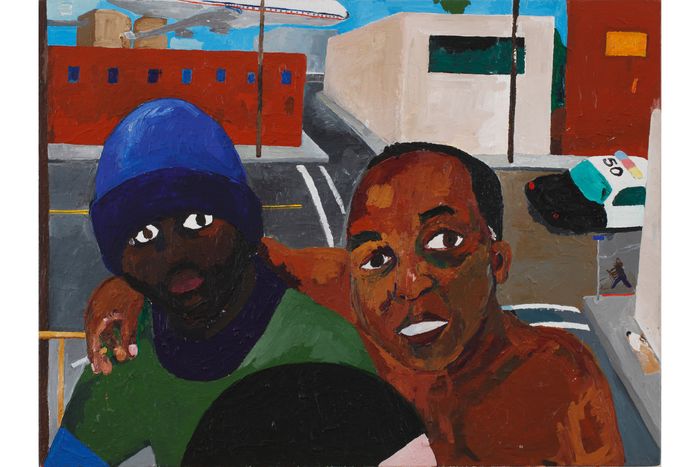 Henry Taylor, Untitled, 2006. 
Art: © Henry Taylor. Courtesy the artist and Hauser & Wirth. Photograph by Robert Bean
Henry Taylor once said, "I want to be all over the place." He is! The Whitney's new retrospective of the artist, Henry Taylor: B Side, is the best show of 2023. Every gallery has pictures that will take your breath away with their omnivorous ambition. His subjects range from his friends to strangers in his L.A. neighborhood to famous Black historical figures like Miles Davis and Cicely Tyson, who he famously depicted in front of the White House like a revisionist update on the dour couple in American Gothic. He's done Barack and Michelle Obama, too, though you barely recognize them at home on a couch. He's done self-portraits, murals, depictions of extreme violence committed against Black people. His inspirations include Jay-Z, Noah Davis, and the late great Bob Thompson, who appears repeatedly in a bird shape that watches over his paintings. "I want to feel free when I'm on that fucking canvas," he has said. Taylor is about the freest artist now working.
The story of how he arrived at this position of supreme autonomy is an unlikely one. Born in Ventura, California, he was the youngest of eight children. His mother cleaned other people's homes. His father was a painter for the U.S. government. One of his older brothers was shot at 22 and died seven years later. "I think about that a lot," he has said. One brother became a minister, another started a Black Panther chapter in Ventura County. As a kid he'd "just watch and listen."
Taylor graduated from CalArts in his late-thirties and didn't have gallery representation until his mid-forties. "A lot of galleries who say they were looking at me for 20 years—that's a motherfucking lie," he told The Guardian in 2021. Half a lifetime of being an outsider has left its mark on his work, which describes a universe in which the line between vertiginous success and abject failure is perilously thin. "Every successful Black person has 18 members of his family living in the projects," he has said, "and we all know someone who's in the system."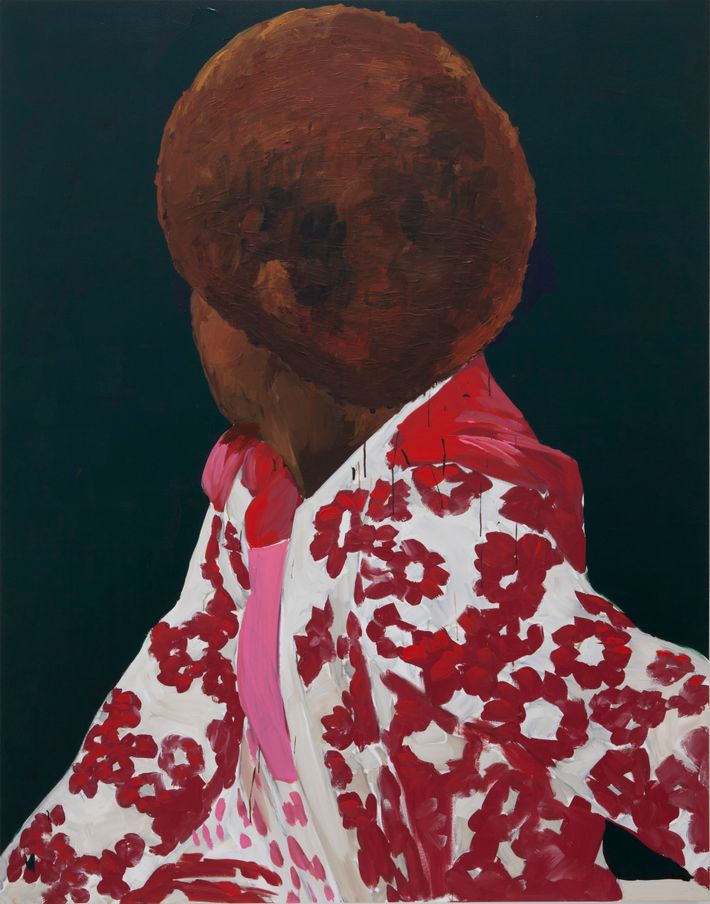 "There are certain things I endured that I didn't think my son would have to endure," he told LAXART executive director Hamza Walker in an interview for Cultured. "But we're still having to go through these things." B Side features many testaments to the immutability of the Black experience, most prominently an enormous untitled graphite mural that unfurls across four walls of a large gallery and retells the story of slavery and its long dreadful tail, from West Africa to the Great Migration and beyond. It culminates with a giant image of Whitney Houston with wings. There is also THE TIMES THAY AINT A CHANGING, FAST ENOUGH! from 2017, a world-upending painting that depicts the police killing of Philando Castile the year before. He is alone in the car, bleeding out, a corpse lying in what has become his tomb. A blue, twisting seatbelt divides the painting in two, one half defined by Castille's lifeless, lidless eye, the other by a white hand holding a gun.
Yet even here, life blazes across the canvas: the sizzling colors, the big cut-out shapes, the fast but studied paint strokes, the rivulets of blood turned orange and blue. Throughout his work, bravura and heroism are mingled with the humiliation of death and defeat. In his self-portrait, based on a late-16th century painting of Henry V, Taylor is shown in profile in a plush robe and a bejeweled chain. He raises a tiny delicate hand in a blessing, a gesture of kingly greatness.
So many pictures here echo other pictures, as if Taylor were a kind of shaman of art history filling its ghostly spirits with fresh life. Before Gerhard Richter there was Cassi, from 2017, is a replica of Richter's picture of his 11-year old daughter, Betty, but instead of a blond, white girl the subject is a Black girl with an Afro, his fellow artist Cassi Namoda. It is a point-blank shot at the era of Great White Males. His recreation of Whistler's Mother is titled Eldridge Cleaver, featuring the Black Panther casually smoking a cigarette as he lounges in a Modernist chair.
My favorite of Taylor's paintings are his images of everyday life. The 4th, from 2012, is a monumental painting, 13 feet tall and more than six feet wide. It could dominate a cathedral. We see a Black woman at a grill, a superb abstract composition of chicken, hot dogs, and other meats. In the background is a walled-in courtyard: a penitentiary. Perhaps she is offering a sacrifice to those incarcerated within. Perhaps this is this what the Fourth of July means to Taylor: independence served with a dose of the carceral state, yet another B Side of American history—the Black Side. He has presented this perspective with love and wit and wisdom, showing that freedom isn't gained by transcendence but by understanding that the only way out is through.
Two Art Publications' Editors-in-Chief Step Down Within a Week of Each Other
Within one week of each other, Alison Cole of the Art Newspaper and Andrew M. Goldstein of Artnet News announced that they were resigning as their publications' editors-in-chief.
Last week, Goldstein announced the end of his seven-year tenure at Artnet News in an email addressing his colleagues. "It has been the pride and privilege of my career to work with the extraordinary team of journalists at Artnet News," Goldstein wrote, "and I owe them my deepest gratitude. In a time of constant, destabilizing change in the art world and the world at large, Artnet's rigorous reporting has exposed the inner workings of the art market, helped guide the industry through the Covid pandemic, and chronicled the earth-shaking reckonings that the art establishment has faced when it comes to issues of racism, sexism, and colonialism."
Goldstein was previously chief digital content officer at Phaidon until 2017, when he joined Artnet News. There, he hosted and oversaw the creation of the Art Angle podcast as well as the publication's subscription news service Artnet Pro and its reported data analysis in the Artnet Intelligence Report. Goldstein also served as editor-in-chief at Artspace's magazine and as executive editor of Artinfo.
"We also charted a path forward, shining the Klieg light of our audience on the artists, dealers, collectors, museum directors, and other innovators who are changing things for the better, and bringing the best art into the world," Goldstein added. It isn't clear where he is headed next.
Meanwhile, on Monday, the Art Newspaper announced Cole's departure after five and a half years at the helm. She will, however, retain a position as editor-at-large.
Cole is leaving the publication to oversee a newly-created policy unit that will inform cultural policies in the arts and creative industries in the UK.
While at the Art Newspaper, the publication has continued to expand across print and online in the UK and the US. In its announcement of her departure, the publication said it has seen a peak in advertising revenues and circulation since Cole joined.
"Alison took on the challenging task of leading the newspaper's cultural strategy and its success as the medium of record for the art world," said the Art Newspaper's publisher Inna Bazhenova in a statement. "I look forward to our continued association with Alison as Editor at Large and wish her every success in her new endeavour."