Quebec's decision to delay second Pfizer COVID-19 doses frustrating for some health-care professionals – CTV News Montreal
MONTREAL —
Quebec's decision to delay the second dose of the Pfizer COVID-19 vaccine this week to inoculate as many people as possible with a first dose is causing concern for some health-care professionals working on the front lines.
The Minsistry of Health said Dec. 31 that it would not hold back doses for the second "booster shot" for those who have already received a first shot.
"Note that the effectiveness of the first dose, 14 days after administration, is over 90 per cent for both vaccines (Pfizer and Moderna)," Quebec said. "The second remains important, mainly to ensure long-term protection. It should be administered within the time limits prescribed by public health in order to ensure maximum immunization coverage. The appointments of people already vaccinated to receive their 2nd dose will be adjusted accordingly."
The news left one nurse at the Jewish General Hospital stressed and anxious.
"They now claim that we are 90 per cent immune with a first dose when they were telling us all along that it was 60 per cent covered," said the nurse who wished to remain anonymous. "Where's the proof of the 90 per cent coverage. We are exhausted and desperate for help."
Another nurse wrote a response to the CIUSSS when she received the letter informing her that her second dose was cancelled.
"I did not consent to receive one dose of a very new vaccine without the booster 21 to 28 days afterwards as intended," wrote Sarah, who wished to only use her first name. "This is not how the vaccine has been scientifically demonstrated to work. Despite the fear of taking a new vaccine, I did my research and laid my trust in Pfizer, the CIUSSS as well as the ministry of health. Now, the new recommendation shifts to a more haphazard approach of mass vaccination. I am extremely disappointed and think this strategy will breach the trust of many employees as well as the public, just as mine has been."
Nathan Friedland is a nurse at Lakeshore General Hospital, which has suffered immensely from staff shortages, outbreaks and other logistical issues. He has not been vaccinated and welcomes Quebec's decision.
"I happen to think Quebec is making the right decision here: vaccinate as many as possible right away especially with the latest projections from INESSS," he said. "What should now happen is that they take those 27,000 vaccines they were going to hold and give them to the staff in the ICUs and ERs because we are about to get overrun with COVID!"
The decision is in line with other health authorities such as Ontario and the UK, which decided not to hold back half of its vaccines for second vaccinations.
Health Canada says that for the Pfizer-BioNTech COVID-19 mRNA vaccine to work best you need two doses 21 days apart. Based on studies of around 44,000 participants, Health Canada says, the vaccine "was 95 per cent effective in preventing COVID-19 beginning 1 week after the second dose."
Pfizer director of corporate affairs Christina Antoniou repeated this saying the vaccine is to be administered 21 days apart, and that individuals may not be optimally protected until at least seven days after their second dose of the vaccine.
"We consider it to be a safe approach for the vaccination points of use to continue storing a portion of the doses received, to ensure no delay in the second dose deployment," said Antoniou. "It's a conservative approach that we have recommended to ensure that both doses of the vaccine are delivered according to the schedule in the product label (i.e. 21 days apart)."
She added that it is the responsibility of the provincial health authorities to determine their immunization program, however.
When asked how long before the first dose becomes ineffective without the second, Antoniou said Pfizer does not have that data.
"We do know that it takes about two weeks after the initial dose to develop an immune response, but that two doses are necessary," she said. "In our clinical trial, the two-dose regimen of the vaccine, which was given 21 days apart, was well-tolerated and demonstrated vaccine efficacy of 95 per cent against COVID-19. There is still much to learn about the disease, and the protective nature of the vaccine will continue to be studied."
Sarah wished the CIUSSS would have protested the government's decision and refused the new approach.
"Let people who received the first dose already get their second. My second dose is in just a few days," she said. "Switch the strategy after letting people receive their booster if they already received a first dose. If people still choose this way of vaccination, great! Give people the choice to do it this way… My choice has been stripped by the government. My bodily autonomy has been taken away."
Quebec has received 55,000 Pfizer and 32,500 Moderna vaccines.
As of the last COVID-19 update on Dec. 31, the government of Quebec reported that 29,250 vaccines had been administered in the province.
Keep Your iPhone 12 and Its Accessories Away From Pacemakers – Lifehacker
If you or someone you know has an Implantable Cardioverter Defibrillator (ICD), you may want to avoid using an iPhone 12. According to a recent study in the Heart Rhythm Journal, the iPhone 12 and its accessories can interfere with an ICD's behavior, and even stop it from working.
The study found several components within the iPhone 12 can "potentially inhibit lifesaving therapy in a patient particularly while carrying the phone in upper pockets." This warning applies to all iPhone 12 devices, including the iPhone 12, iPhone 12 Mini, iPhone 12 Max, and iPhone 12 Max Plus. The iPhone 12's MagSafe accessories are also a risk, specifically the MagSafe Charger and MagSafe Duo Charger, due to their magnets and NFC radios.
According to the study, the magnetic charging coils and RF-emitting components in these products are strong enough to interfere with an ICD's internal mechanisms, which respond to magnetic fields. Researchers observed immediate suspension of the ICD's heart-regulating operations if an iPhone "was brought close to the ICD over the left chest area." The interference "persisted for the duration of the test."
This poses serious health risks, including the possibility of heart failure or cardiac arrest. To help inform users of the potential risks, Apple updated its iPhone 12 health and safety documentation with new guidelines based on the report's suggestions. Apple now recommends users keep their iPhone 12 and MagSafe accessories more than six inches away from their chest at all times, and more than 12 inches away if your phone is wirelessly charging. Definitely don't put your iPhone in your shirt or jacket's breast pocket.
While these warnings are for the iPhone 12 line and its magnetic accessories specifically, they're not the only products that can affect medical devices. A similar case study shows smartwatches and fitness trackers can interfere with ICDs if they come within 2.4 centimeters of the ICD's location in a patient's chest. The iPhone 12 interference is more severe—especially while charging wirelessly—but you should take caution using any smart devices near someone with an ICD.
G/O Media may get a commission
watchOS 7.3 for the Apple Watch adds new Unity Watch Faces, Time To Walk and more – MobileSyrup
watchOS 7.3, the latest version of Apple's wearable operating system, is set to release today.
The update includes several notable features like a new Unity Watch Face collection to celebrate Black History Month, 'Time to Walk' Fitness+ recordings from several notable celebrities and ECG in more regions around the world.
Along with the new Unity Watch Faces, Apple is also launching a new version of the Apple Watch Series 6 that includes a Black Unity Sport Band on February 1st.
Regarding ECG's wider release, the feature is releasing in Japan, Mayotte, the Philipines and Thailand.
The update also includes performance improvements and fixes related to Control Center and Notification Center issues.
While watchOS 7.2 is rolling out now, and at roughly 3PM ET, hit my Apple Watch Series 6.
Update 26/01/2021 3:31pm ET: This story has been updated to confirm that watchOS 7.2 has now arrived on my Apple Watch Series 6.
Source: Apple
Apple Releases 14.4 Software for HomePod With New U1 Features for Mini – MacRumors
Apple today released a new 14.4 software update for the HomePod, with the update coming over a month after the 14.3 software release that brought performance improvements and bug fixes.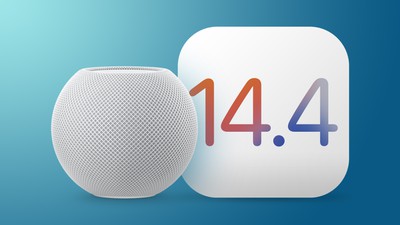 Today's update introduces new U1 Ultra Wide band functionality between the HomePod mini and devices that have a U1 chip like the iPhone 11 and iPhone 12 models.
Software version 14.4 includes bug fixes and the following new features with an Ultra Wideband (U1) equipped iPhone.
– Hand off music with visual, audible, and haptic effects from ‌iPhone‌ to ‌HomePod mini‌
– Get personalized listening suggestions on ‌iPhone‌ when it is next to ‌HomePod mini‌
– Media controls automatically appear without having to unlock ‌iPhone‌ when it is close to ‌HomePod mini‌
The update adds visual, audio, and haptic effects when songs are transferred from a ‌‌HomePod mini‌‌ to a U1-enabled ‌iPhone 11‌ or ‌‌iPhone 12‌‌. When an ‌‌‌iPhone‌‌‌ is near the ‌‌‌HomePod mini‌‌‌ it begins a soft haptic touch rhythm that gets faster and faster as the ‌‌‌‌iPhone‌‌‌‌ gets closer until the interface to transfer a song between the ‌‌‌‌HomePod mini‌‌‌‌ and the ‌‌‌‌iPhone‌‌‌‌ opens.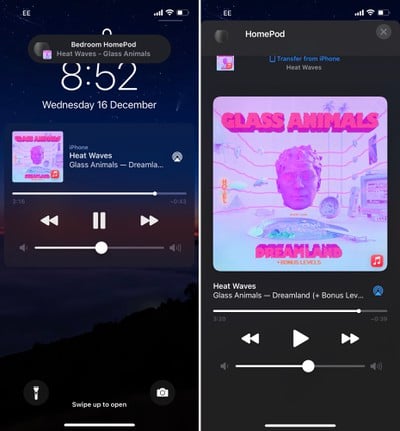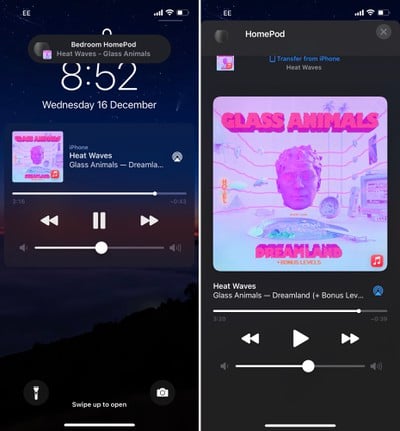 This functionality will make handoff quicker and more reliable on a ‌‌‌‌HomePod mini‌‌‌‌ and an ‌‌‌iPhone 11‌‌‌ or ‌‌‌iPhone 12‌‌‌, all of which are equipped with U1 chips that let the devices better understand where they are in relation to one another.
The update also adds personalized listening suggestions on ‌iPhone‌ when it is next to the ‌HomePod mini‌ and it causes media controls to automatically appear without having to unlock the ‌iPhone‌ when it is nearby the ‌HomePod mini‌.
U1 chip functionality is unique to the ‌HomePod mini‌ and is not available on the standard ‌HomePod‌ because the ‌HomePod‌ does not have a U1 chip inside.