Quick Reaction: Raptors 100, Knicks 83 – Raptors Republic
Lay anchor, fellas. A win is a win.
.grade background: #315233; padding: 10px; border: 3px solid #977252; color: white; font-size:35px; font-weight: bold; text-align: center;
margin-top: 5px
O. Anunoby

34 MIN, 5 PTS, 7 REB, 2 AST, 1 STL, 1-10 FG, 0-7 3FG, 3-4 FT, 0 BLK, 1 TO, 22 +/-

Had a very nice defensive game on Randle. Offensively, he made a couple nice passes after knifing into the defense, but he was so-so. Ideally, no more 0-for-something games from the 3-point line going forward.

N. Powell

34 MIN, 17 PTS, 4 REB, 1 AST, 2 STL, 7-13 FG, 2-7 3FG, 1-1 FT, 1 BLK, 3 TO, 28 +/-

Brought a significant scoring pop to the starting lineup. Pulled willingly from downtown and punched gaps to get to the bucket. A nice return to form for him, hopefully.

F. VanVleet

35 MIN, 25 PTS, 5 REB, 7 AST, 1 STL, 9-19 FG, 4-9 3FG, 3-3 FT, 1 BLK, 1 TO, 21 +/-

Lots of spot-up opportunities to cash in on. Liked his poise in this one a lot. He even made some nice plays in the mid-range. Very encouraging stuff on the offensive end tonight.




K. Lowry

36 MIN, 20 PTS, 7 REB, 4 AST, 2 STL, 6-12 FG, 4-9 3FG, 4-6 FT, 0 BLK, 4 TO, 11 +/-

Kept the team afloat with Norm in the early going. Aggressive in the screen game, played well out of the horns sets, and scrambled well on defense. Pedestrian by his standards, but a really nice game.

A. Baynes

14 MIN, 3 PTS, 4 REB, 1 AST, 0 STL, 1-3 FG, 1-3 3FG, 0-0 FT, 0 BLK, 1 TO, 0 +/-

Was the Raptors least effective big man tonight. Canned a three to open the game up, but did little else. He's also still not providing much in the way of rim protection. He's getting walked under the bucket on the odd occasion.

C. Boucher

24 MIN, 9 PTS, 9 REB, 2 AST, 0 STL, 3-9 FG, 1-4 3FG, 2-5 FT, 1 BLK, 2 TO, 11 +/-

Really liked his energy in this one. Super aggressive diving to the bucket, and added a vertical threat that the Raptors didn't otherwise have. He competes every second he's out there.

T. Davis

16 MIN, 10 PTS, 4 REB, 0 AST, 0 STL, 4-7 FG, 2-5 3FG, 0-0 FT, 1 BLK, 3 TO, -5 +/-

A very quiet ten points, but he always finds shots for himself. Transition, offensive rebounds, whatever, he slides into open spots. His defense is still very gamble heavy with little payoff, and the on-ball stuff was mistake laden. Production on shot attempts is nothing to scoff at, though.




S. Johnson

12 MIN, 0 PTS, 4 REB, 2 AST, 0 STL, 0-2 FG, 0-2 3FG, 0-0 FT, 0 BLK, 0 TO, 0 +/-

He's an above average defender. He doesn't bring much of anything to the offensive side of the floor. Both of those were true tonight.

A. Len

12 MIN, 11 PTS, 2 REB, 0 AST, 0 STL, 3-4 FG, 3-3 3FG, 2-2 FT, 1 BLK, 0 TO, 8 +/-

By the power of Zeus, he raised the Raptors up in his giant hands at the end of the third quarter. His 3 triples were like a life line. He's huge defending the rim, which is good. He's also very slow-footed in the pick n' roll defensively and gambles with pokes for no reason. Good performance.

Y. Watanabe

9 MIN, 0 PTS, 4 REB, 1 AST, 1 STL, 0-2 FG, 0-1 3FG, 0-0 FT, 1 BLK, 0 TO, -8 +/-

Had a clean block stolen away by a bad call. He brings energy defensively and on the glass. Didn't provide anything of substance offensively, though.

P. Watson

2 MIN, 0 PTS, 1 REB, 0 AST, 0 STL, 0-1 FG, 0-1 3FG, 0-0 FT, 0 BLK, 0 TO, -1 +/-

Too short a stint.

D. Bembry

2 MIN, 0 PTS, 2 REB, 1 AST, 0 STL, 0-0 FG, 0-0 3FG, 0-0 FT, 0 BLK, 1 TO, -1 +/-

Too short a stint.

M. Flynn

2 MIN, 0 PTS, 0 REB, 0 AST, 0 STL, 0-1 FG, 0-1 3FG, 0-0 FT, 0 BLK, 0 TO, -1 +/-

Too short a stint. Would like to see meaningful minutes for him.

Nick Nurse

Very odd rotations in this one, but the game was going to call for that as soon as the Siakam news was announced. In my limited view, I think the lack of any meaningful Flynn minutes is a shame. Can't complain about too much when there's a W, though.
Things We Saw
The Pascal Siakam situation is extremely odd. Either there's more going on behind the scenes, or the Raptors have decided to abandon their history of leniency and draw a hardline with their max player. For example, Terence Davis cut a hole in his mask to specifically disobey the rules that were set out by the NBA, and the Raptors didn't lay down any punishment. So, my guess? There's at least something else going on here. Nurse's post-game comments should help with clarity.
The Raptors can't count on the opposing team shooting 9-percent from deep very often. Their closeouts and rotations were still pretty sloppy in this one, and they were just as capable of going into an offensive drought against this Knicks defense. A win is a win, but questions should still be asked of how they plan to succeed against better teams.
That game was a fever dream. Incredibly sloppy basketball, played in Tampa, with crowd noise plugged in, and people sparsely populating the stands. Anyway.
Mets trade Steven Matz to Blue Jays for 3 pitchers – theScore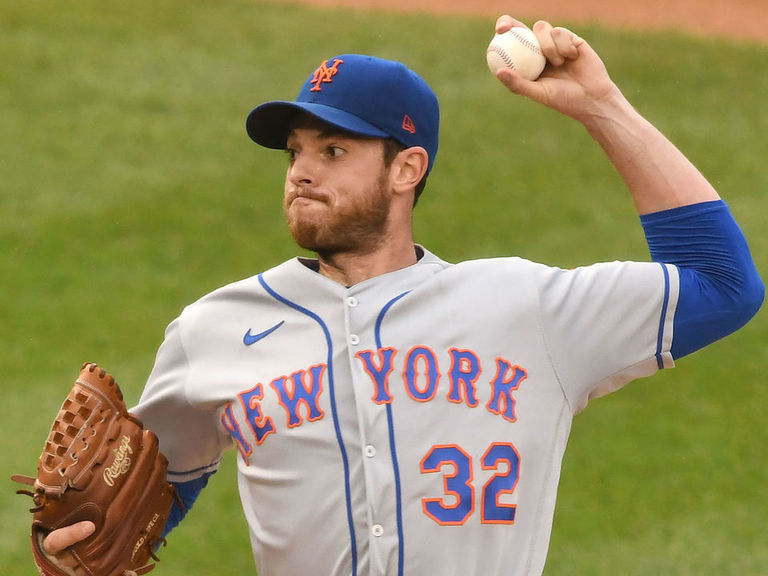 The New York Mets have traded left-handed pitcher Steven Matz to the Toronto Blue Jays for a trio of right-handed pitchers in Sean Reid-Foley, Yennsy Diaz, and Josh Winckowski, the teams announced Wednesday.
Matz, 29, has struggled in recent years while acting primarily as a starter. The lefty has posted a 5.09 ERA and 5.11 FIP over 191 innings since the beginning of 2019 while making 36 starts and five relief appearances.
The former second-round pick is owed $5.2 million in 2021 before becoming eligible for free agency next winter. Matz joins a rotation led by fellow lefties Hyun Jin Ryu and Robbie Ray, as well as right-handers Nate Pearson and Tanner Roark.
Reid-Foley has played parts of three seasons with the Blue Jays after ranking as one of the best pitchers in their farm system. The 25-year-old owns a 4.40 ERA and 5.20 FIP in 71 2/3 career innings, making 13 starts and eight relief appearances.
Diaz, 24, made his major-league debut during the pandemic-shortened 2020 campaign. The right-hander allowed two runs on one hit and four walks over 2/3 of an inning. Diaz authored a 3.74 ERA and 3.93 FIP through 144 1/3 innings in Triple-A in 2019.
Winckowski, 22, spent the 2019 season between Single-A Lansing and High-A Dunedin, posting a 3.11 ERA over 127 1/3 innings.
Gameday: Bucks @ Raptors: Jan 27 – Raptors Republic
There's a growth chart in my son's room which he measures himself against every few months but sometimes 14 times a week. Kids are weird. That's what the Raptors will be doing tonight: measuring how much they've grown as a team since the start of the campaign. Games against the Heat and Pacers are practice runs for ones like tonight, where the result lingers for longer. The 10-6 Bucks are tied in the loss column for the best record in the East with Philly and Boston, with the Raptors sitting in 10th. That spot is largely considered a false position given the number of tight ones the Raptors have lost, especially on their travels west. The Bucks did beat the Hawks in their last game but prior to that they failed two significant tests against the Nets and Lakers, leaving them possibly questioning their position. That's the thing with records – we'd rather believe what we feel about a team than how good they've shown to be.
Other than re-upping Giannis the Bucks pulled off the Jrue Holiday trade, netting them improved defense and athleticism at a spot they felt was capping their aspirations. Holiday's shooting 38% from three, averaging 16 points and has brought a dynamism to their game absent with Bledsoe. Despite Kyle Lowry's issues of late the point guard play has been solid thanks to Fred VanVleet. VanVleet's answers to the questions posed by those who balked at his deal have been emphatic. He has improved his three-point shooting, mid-range game, defense, ball-handling and finishing. He remains the Raptors best offensive weapon and creator, which few would have predicted. Well, maybe Louis Zatzman but I can be forgiven for being skeptical of a man who has a secret shrine in his house, deep in the kitchen cabinet on the underside of a shelf. Push the shelf inwards and rotate it at an angle of 23 – no more, no less. You will be witness to a cosmos which shames Pan's Labyrinth's labyrinth. Those have dared entered it have not returned. Except Zatzman. He always returns. Each time growing stronger.
Anytime we're talking defensive backcourt play we have to start with how dribble penetration is handled. Whereas in previous years the Raptors could devise schemes that funnel the ball into their formidable defensive big men, the same strategy doesn't have the literal or figurative legs to stand on. Combine this with aggressive closeouts which teams are getting accustomed to, the Raptors are offering too many clean paths to the rim. In response, they have used the zone a lot more in recent games, especially pressure zones where the top two guys are actively playing the pass more aggressively instead of sagging back. This has been an effective counter but it hasn't stopped the overall bleeding. Most recently the Pacers dropping 70 points in the first half while shooting 51%.
The defensive signs are still encouraging as necessity has once again proven to be the mother action, if not invention. Pascal Siakam playing Free Safety by being everywhere yet nowhere was the de facto defensive stance. His absence has correlated with Nick Nurse having more guys play a more contained approach because they can't cover the ground Siakam can. We often talk about injured players coming back and seeing the game differently because they've finally had a chance to purely observe without the anxiety of playing. It's interesting to think about how a coach might change their perception of the scheme based on the same. Like any human being they learn through inspection and adaption, and inspection takes many forms. He's not going to re-wire the defense but perhaps a sprinkle or too of something that might have been gathering dust was in order.
Here's an interesting stat: The Raptors three-point rate (threes as a percentage of all FGAs) last season was 42%. For the Bucks it was 43%. This season the Bucks are at 42% where as the Raptors have climbed to #1 in the league at 48% (they're shooting 37%, 2% higher). That's a significant shift in the balance of the offense which is why there's so much emphasis on three-point shooting this season: the Raptors just take a ton of them and arguably live and die by the three. Though that's true of many teams, this degree of dependency on three-point shooting is something new. This can be curbed by not taking shots that are unequivocally poor. There's at least 2-3 shots a game (1-2 usually Norm) that would make even Mike D'Antoni raise an eyebrow. These are indiscretions that need to be cut out but if you insist on taking hail mary thees perhaps they should be taken by Matt Thomas, our best three-point shooter.
Let's talk Giannis. The Raptors will probably throw a few different looks at him – OG, Watanabe, Johnson, Boucher – but the 30% three-point shot says it's the zone that's the main weapon. Giannis has the ability to slither his way between defenders which diminishes the effectiveness of even deep zones played against him. See, he doesn't drive to the rim. He snakes towards it at a cheetah's speed with the footing of a mountain goat. There's much to be said playing man-defense against him what with OG's speed and size, and Boucher supplying help through shot-contention. The risk is that it leads into situations where you pick up fouls and leave yourself vulnerable to the drive-and-kicks they feed of. Switching through different zone defenses may not win you an entire series as the defense gets used to it, but in a single game it can surprise and lead to short-run profits. But maybe that's exactly why you don't play it.
Other than that, I'd like to see Brook Lopez go 0-13 and get decked by Aron Baynes if for no other reason to culminate the return of Baynes to something resembling an NBA player. The man is not just jumping, he's blocking shots. He's not just boxing out, he's getting the rebound. He's not just moving, he's rotating. He's not just shooting, he's scoring. If the NBA was handing out MIP awards every 2-3 days then Baynes for sure would be one of the 10 nominees. Welcome back, Aron.
We're going to have live post-game shows immediately after the game with a variety of people. Sub us on YouTube and see you after the whistle.
More from RR:
Game Info
Tipoff: 7:30pm EST | TV: TSN | Radio: TheFan590. Bucks are a 5.5 point favorite.
Raptors Lineups
Pascal Siakam (left knee swelling) is questionable, Patrick McCaw (knee) is out.
PG: Kyle Lowry, Malachi Flynn
SG: Fred VanVleet, Norman Powell, Terence Davis, Matt Thomas, Jalen Harris
SF: OG Anunoby, Stanley Johnson, DeAndre Bembry, Paul Watson
PF: Pascal Siakam, Yuta Watanabe
C: Aron Baynes, Chris Boucher
Bucks Lineups
Bucks have no injuries.
PG: Jrue Holiday, DJ Augustin, Bryn Forbes
SG: Donte ViVincenzo, Sam Merrill, Torrey Craig
SF: Khris Middleton, Pat Connaughton, Jordan Nwora
PF: Giannis Antetokounmpo, Thanasis Antetokounmpo
C: Brook Lopez, Bobby Portis, D. J Wilson
Seravalli: 'Shocking' move as Pittsburgh Penguins GM Rutherford departs in jaw-dropping fashion – TSN
Legendary Pittsburgh play-by-play man Mike Lange likes to roar "Ladies and gentlemen, Elvis has just left the building," after Penguins wins on home ice.
On Wednesday, one of the men responsible for hanging two Stanley Cup banners in that building left the Steel City in jaw-dropping, Elvis-like fashion.
The Penguins announced Jim Rutherford had resigned from his post as general manager, citing personal reasons. The three-time Stanley Cup champion manager, who turns 72 in three weeks, was inducted into the Hockey Hall of Fame in the builder category in 2019, thanks in no small part to the back-to-back Cups he led the Penguins to in 2016 and 2017.
The Penguins (4-1-2) are just seven games into their 56-game slate, tied for third place in the realigned East Division.
"I know it's a little unusual to have this happen during a season, but just felt this was the right time to step away," Rutherford said in a statement from the team.
"Shocking," was how Penguins CEO David Morehouse described Wednesday's turn of events.
Assistant GM Patrik Allvin (pronounced All-veen) will take over on an interim basis, the team said, with full autonomy of hockey operations. Allvin, 46, is the first Swede to sit in an NHL GM's chair in league history. He had been at his assistant GM post only since Nov. 4, replacing Jason Karmanos, who was fired on Oct. 26.
Rutherford did not provide a specific reason for his resignation, but ruled out his health.
"No health issues, I'm probably healthier than I was 20 years ago," Rutherford told TSN's Pierre LeBrun.
Instead, Rutherford opted to keep his reasons for stepping down private.
"No, I'm not going to do that," Rutherford told LeBrun when asked to elaborate on his decision. "I don't think it serves anybody well. I've been treated first-class here and I really appreciate and respect what they've done for me. That's the way I want to leave the Penguins."
Morehouse said it was a "personal decision Jim made," adding that Rutherford had "his mind made up" after sleeping on his decision overnight.
"I don't think there's any one thing that led to Jim resigning," Morehouse said.
One thing Rutherford did make clear: He isn't ready to retire just yet. This may be an abrupt end to his seven-year tenure in Pittsburgh, but it's not necessarily the end of his career. Rutherford has this season remaining on his contract with the Penguins.
"I will just take it easy for a while until the summer time and at that point, I can decide if I want to keep working or if I want to retire," Rutherford told LeBrun.
Morehouse said the Penguins plan to cast a wide net for Rutherford's replacement. The jockeying for one of the NHL's truly coveted jobs, with the chance to inherit a roster with Sidney Crosby and Evgeni Malkin, had already begun according to Morehouse. He said he received calls from interested candidates before the news was even announced.
One of the prerequisites for interested candidates, Morehouse said: a manager willing to think outside the box and be aggressive.
There is no question Rutherford was that in Pittsburgh. After a shaky end to his two-decade tenure in Carolina, Rutherford reinvented himself at the confluence of the Three Rivers.
His nickname of "Trader Jim" was well-earned. Rutherford completed a whopping 61 trades in just over six and a half years on the job. For perspective, the NHL's longest-tenured GM, Nashville's David Poile, has completed just 126 in 23-plus years on the job, according to CapFriendly.com.
He swung big and he swung often, his courage of conviction never in question. Rutherford traded for maligned winger Phil Kessel from Toronto and Kessel ended up eating hot dogs out of Lord Stanley's chalice. Kessel produced 45 critical playoff points over two postseason runs, nearly resulting in a Conn Smythe Trophy.
Rutherford often had the sterling silver touch. On one of his first days on the job, he dealt James Neal to Nashville in exchange for Patric Hornqvist. He added some more speed in Carl Hagelin, changing the look of the Pens, and properly insulated his stars with Trevor Daley, Nick Bonino, Ian Cole, Ben Lovejoy, Justin Schultz and Ron Hainsey.
But perhaps what Rutherford will most be remembered for from his tenure in Pittsburgh will be his no-ego ability to flush mistakes. If Rutherford swung and whiffed, he wasn't too proud to admit it.
Head coach Mike Johnston was jettisoned after just a season and a half, a wrong righted by the hiring of Mike Sullivan. The Penguins said hello and goodbye quickly to Christian Ehrhoff, Derick Brassard, Nick Bjugstad, Patrick Marleau and Erik Gudbranson. The Penguins missed Conor Sheary, who walked to Buffalo in free agency due to cap constraints, so Rutherford reacquired him.
His reward was the 2016 Jim Gregory General Manager of the Year Award.
"He deserves a lot of credit," Sidney Crosby told TSN in 2016. "He's had in mind what he wants our team to look like and how he wants us to play and showed a lot of confidence in different guys."
Along the way, Rutherford lost lieutenants in assistant managers Bill Guerin, Tom Fitzgerald and Jason Botterill, all of whom went on to become GMs elsewhere in the NHL.
His latest protege, Allvin, will be given a long look by the Penguins. Allvin might just need to be surrounded by an experienced assistant like Les Jackson. Or perhaps Botterill, recently hired as an assistant in Seattle, will be interested in returning to the fold. Former Flyers GM Ron Hextall spent time growing up in Pittsburgh while his father, Bryan, played for the Penguins.
There is no shortage of qualified candidates (see the list below). But one thing is for certain: Whoever it is will have enormous shoes to fill. The Penguins are very much in 'win-now' mode after saying goodbye to Rutherford, who gave Crosby and Malkin and Co. every opportunity to do so.
Patrik Allvin
Assistant GM, Pittsburgh
Craig Billington
Assistant GM, Colorado
Jason Botterill
Assistant GM, Seattle
Craig Conroy
Assistant GM, Calgary
Mathieu Darche
Dir. Hockey Ops, Tampa Bay
Kris Draper
Dir. Amateur Scouting, Detroit
Chris Drury
Assistant GM, N.Y. Rangers
John Ferguson Jr.
Assistant GM, Boston
Laurence Gilman
Assistant GM, Toronto
Ron Hextall
Advisor, Los Angeles
Mark Hunter
GM, OHL London Knights
Chris Lamoriello
Assistant GM, N.Y. Islanders
Dean Lombardi
Advisor, Philadelphia
Chris MacFarland
Assistant GM, Colorado
Scott Mellanby
Assistant GM, Montreal
Pat Verbeek
Assistant GM, Detroit​
"We're going to do a careful analysis of people who are interested," Morehouse said. "We're looking for someone who can take this great group of players and hang another banner in the rafters."
Contact Frank Seravalli on Twitter: @frank_seravalli​