Railways outline investment to meet winter climate challenges – moosejawtoday.com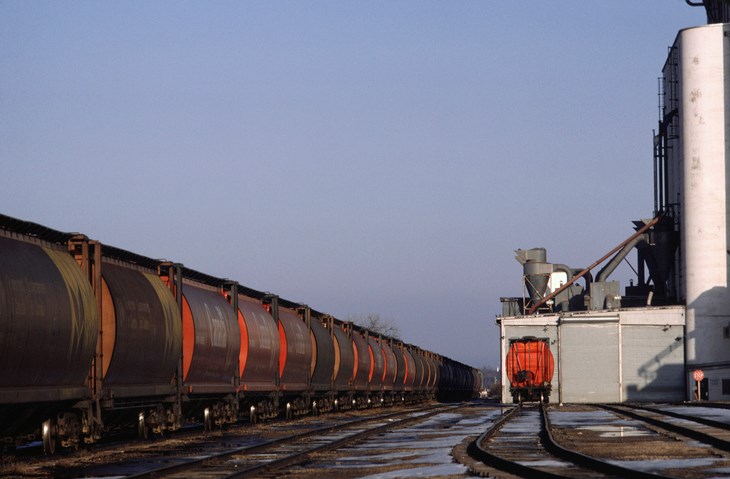 Canada's two major railways — CN and CP Rail — will invest $4.5 billion this year to meet the challenges of moving goods in harsh winter climates.
CP, which operates most of the southern routes on the Prairies, plans $1.6 billion on safety, network flexibility, increased capacity and communications according to the company's 2020-21 winter plan.
Highlights of the winter plan include:
Air brake flow monitoring to maintain pressure
Technology to automatically detect cold wheels
Predictive powers to forecast rilling stock failures
High-speed camera inspection systems
In-house testing of new air brake valve gasket materials
Modernizing 201 locomotives and training over 400 employees
Expanding temperature forecasts system
CN will invest $2.9 billion on the winter plan with a focus on double tracking parts of the mainline, extending sidings, increasing yard tracks and building more infrastructure in both Port of Vancouver and Port of Prince Rupert areas.
CN will acquire 1,500 new grain hopper railcars for the 2020–2021 crop year.
Adding 260 new locomotives, for over 2,200 winter-prepped locomotives, should reduce loss of traction from ice, snow and water, resulting in wheel slippage. The new locomotives are 100 per cent alternating current, improving traction.
Forty-one more air distribution cars will assist in a consistent flow of air through brake lines, allowing longer trains.
Sidings will be added and lengthened to allow trains to meet and pass for 140 miles of double track on mainlines, mostly in Western Canada.
Yard capacity will be increased at Winnipeg, Melville and Edmonton.
Ron Walter can be reached at ronjoy@sasktel.net
Dogecoin dropped after Elon Musk calls it a 'hustle' on 'SNL' show
By Alden Bentley and Gertrude Chavez-Dreyfuss
NEW YORK (Reuters) -The value of dogecoin dropped sharply in early U.S. hours on Sunday, after Tesla chief and cryptocurrency supporter Elon Musk called it a 'hustle' during his guest-host spot on the "Saturday Night Live" comedy sketch TV show.
Dogecoin was quoted as low as $0.47 on crypto exchange Binance, down 28% from levels around $0.65 before the show.
The billionaire Tesla Inc chief executive hosted the show at 11:30 p.m. EDT on Saturday (0330 GMT on Sunday).
Cryptocurrency enthusiasts had for days been eager to see what he would say, after his tweets this year turned the once-obscure digital currency into a speculator's dream.
Asked 'what is dogecoin', Musk replied, "It's the future of currency. It's an unstoppable financial vehicle that's going to take over the world."
When a show cast member Michael Che countered, "So, it's a hustle?", Musk replied, "Yeah, it's a hustle." And laughed.
Musk is the rare business mogul to have been asked to host the venerable comedy TV show. The timing puts Musk back in the spotlight just as Tesla's stock is losing steam following last year's monster rally.
The unconventional CEO has posted numerous comments about cryptocurrencies on Twitter and criticized regular old cash for having negative real interest rates.
"Only a fool wouldn't look elsewhere," he said in February.
His cryptic tweets "Doge" and "Dogecoin is the people's crypto" that month kicked off a rally in dogecoin – created as a parody on the more mainstream bitcoin and ethereum.
On Thursday, Musk tweeted: "Cryptocurrency is promising, but please invest with caution!" with a video clip attached in which he said, "it should be considered speculation at this point. And so, you know, don't don't go too far in the crypto speculation …"
But he also said, in the video, that cryptocurrency has a "good chance" of becoming what he called "the future currency of the Earth."
On crypto data tracker CoinGecko.com, dogecoin has jumped more than 800% over the last month and is now the fourth-largest digital currency, with a market capitalization of $73 billion. It hit a record high Thursday above $0.73.
It has overtaken more widely used cryptocurrencies such as litecoin and tether.
Tesla said in February it bought $1.5 billion worth of bitcoin and would soon accept it as a form of payment for its electric cars, a large stride toward mainstream acceptance that sent bitcoin soaring to a record high of nearly $62,000.
Tesla shares closed 1.3% higher at $672.37 on Friday.
(Reporting by Gertrude Chavez-Dreyfuss and Alden Bentley in New York, and Noel Randewich and Hyunjoo Jin in San Francisco Additional reporting by Joe White and Vidya RanganathanEditing by Matthew Lewis & Simon Cameron-Moore)
Wealthsimple hits $4 billion valuation on funding from Ryan Reynolds, Drake
(Reuters) -Wealthsimple said on Monday it has raised C$750 million ($610.40 million) in its latest funding round, which more than doubled the Canadian fintech company's valuation to C$5 billion.
The latest funding round included participation from celebrities Drake, Michael Fox and Ryan Reynolds, according to the company.
The Toronto-based company that has helped make stock trading, peer-to-peer money transfers and tax filing easily accessible, said it will use the amount raised to further expand its market position, product suite and team.
The latest funding round, led by venture capital firms Meritech and Greylock, also includes investments from iNovia, Sagard, TSV and Redpoint.
The funding consists of C$250 million primary fundraising by Wealthsimple and a C$500 million secondary offering by holding company Power Corp of Canada, its largest shareholder.
Wealthsimple said it has seen rapid growth in the past 14 months as Canadians took an interest in stock trading during the COVID-19 pandemic.
Earlier this year, the company said it plans to grow revenue by adding premium features for its clients.
($1 = 1.2288 Canadian dollars)
(Reporting by Eva Mathews and Tiyashi Datta in Bengaluru; Editing by Shailesh Kuber and Shounak Dasgupta)
Ethereum breaks past $3,000 to quadruple in value in 2021
SINGAPORE (Reuters) –Cryptocurrency ether broke past $3,000 on Monday to set a new record high in a dazzling rally that has outshone the bigger bitcoin, as investors bet that ether will be of ever greater use in a decentralised future financial system.
Ether, the token transacted on the ethereum blockchain, rose 3% on the Bitstamp exchange to $3,051.99 by lunchtime in Asia. It is up more than 300% for the year so far, easily outpacing a 95% rise in the more popular bitcoin.
In part, the big rally is a catch-up to late 2020 gains in bitcoin, said James Quinn, managing director at Q9 Capital, a Hong Kong cryptocurrency private wealth manager.
It also reflects improvements to the ethereum blockchain, he said, and a growing shift towards "DeFi", or decentralised finance, which refers to transactions outside traditional banking for which the ethereum blockchain is a crucial platform.
"At first, the rally was really led by bitcoin because as a lot of the institutional investors came into the space, that would be their natural first port of call," Quinn said.
"But as the rally has matured over the last six months, you have DeFi and a lot of DeFi is built on ethereum."
The launch of ether exchange-traded funds in Canada and surging demand for ether wallets to transact non-fungible tokens such as digital art have also pushed up the price.
The ether/bitcoin cross rate has soared more than 100% this year and hit a 2.5-year high on Sunday, pointing to a degree of rotation into the second-biggest cryptocurrency as investors diversify their exposure.
"Surging DeFi volumes continue to push ethereum prices higher as investors gain confidence in crypto and see ethereum as a safe second-place asset," said Jehan Chu, managing partner at Hong Kong blockchain venture capital firm Kenetic Capital.
Illustrating the momentum for such new transactions, Bloomberg reported last week that the European Investment Bank plans on issuing a digital bond over the Ethereum blockchain, while JP Morgan plans a managed bitcoin fund.
Bitcoin, the world's biggest crypto asset with more than $1 trillion in market capitalisation, regained the $50,000 mark last week and hovered around $58,000 on Monday, up about 3% but well below its record high at $64,895.22.
The U.S. dollar was broadly steady. [FRX/]
(Reporting by Tom Westbrook and Vidya Ranganathan; Editing by Himani Sarkar & Shri Navaratnam)