Real estate agent suspended after failing to tell buyers he was selling properties owned by his wife – CBC.ca
A real estate agent has had his registration suspended for a year after he forged documents and failed to disclose to buyers that his wife was the owner of three properties he was selling.
Daryl Scott Newis had his salesperson registration suspended in a decision by the Manitoba Securities Commission, which regulates real estate professionals in the province.
Newis admitted he committed a number of offences considered fraudulent under the Real Estate Brokers Act, the decision released last Friday says. The suspension took effect Nov. 27.
"The respondent's misconduct in this matter was very serious," the decision says. "He engaged in a pattern of wrongful conduct that continued over an extensive period of time. He was deceptive to numerous parties including the purchasers of the three properties, his employing broker, staff and the public."
At the time, Newis was working for Cornerstone Properties Inc., operating as Cornerstone Real Estate. Subsequently he was a salesperson at Century 21 Carrie Realty Ltd., the decision says.
Newis was the listing agent for the three properties — one on Home Street, another on Simcoe Street and the third on McDermot Avenue.
For two of the properties, Newis went back to the buyers and had them sign documents saying they had been aware, prior to the transaction closing, that Newis's wife was the owner. But Newis "had not advised any of the purchasers of this fact prior to the closing of the transactions," the investigation found.
The panel also found "he deprived the purchaser of the Home Street property of the opportunity to obtain her own agent who would act in her best interests."
Faulty roof, furnaces needed repair
There were additional problems with the Home Street property, the decision says. Although the real estate listing said it had two "newer furnaces," two "newer hot water tanks" and "a newer roof", that was found to be false.
The buyer had an inspection done that found "there were sections of the roof which did not have any shingles, and that there were cedar shingles under the existing roof which would have to be removed," according to an agreed statement of facts. Roof repair quotes ranged from $5,250 to $6,500.
"One furnace was determined to be 23 years old and was shut down immediately as a crack was found in the cell. The second furnace was 21 years old, was extremely dirty and required cleaning," the statement said. "One hot water tank was determined to be 21 years old. The second hot water tank was only five years old, but was not installed to code." Replacement and repair of the furnace and hot water tank were estimated at $8,701.
After the securities commission began its investigation, Newis sent documents to investigators in which he forged the signature of his wife, the decision said.
"The respondent had signed offers to purchase on each of the three properties as a witness to [his wife's] signatures. These three documents were not signed by [his wife]."
In his submission to the disciplinary panel, Newis described himself as a 50-year-old, sole breadwinner for his family who has been in real estate since he completed Grade 12.
'Genuinely remorseful'
He said he had taken full responsibility for his conduct, and his counsel noted that "he entered into an agreed statement of facts, saving the time and resources of a scheduled five-day hearing."
He submitted six letters of support from friends and colleagues, to show his conducts was "aberrant to his character".
"The respondent is genuinely remorseful," the panel heard.
CBC News reached out to Newis for comment but did not get a reply. An official for Century 21 Carrie Realty declined to comment.
In addition to a 12-month suspension from being a real estate salesperson, Newis was ordered to take and pass all modules of the Manitoba real estate salesperson course and pay costs of $14,542.92 toward the disciplinary process.
After serving his suspension, Newis is ordered to serve a period of six months of strict supervision by his employing broker.
Forgery 'very serious transgression'
"As noted, forging documents is a very serious transgression. The industry cannot function if registrants are not honest and forthright in their dealings," the decision says.
"The panel is also very concerned that the respondent failed to truthfully answer questions put to him during the investigation…"
The decision concludes by noting that in response to a question from the disciplinary panel about why Newis acted as he did, a lawyer for Newis said the client had a "brain fart".
"Apart from the fact that the response is meaningless either medically or in law, it was a flippant response to a serious question in a hearing in which an individual's livelihood was at risk. If there was no legitimate response to the question counsel should have stated so," the decision said.
---
Got a tip for CBC Manitoba's I-Team? Email or call the confidential tip line at 204-788-3744.
Proptech and the Rising Tide of Technology in the Real Estate Industry – insideBIGDATA
It is no secret that utilizing newer
technology like big data and analytics can shake up and revolutionize nearly
any industry. The real estate industry is no exception here, and has, in fact,
already begun reaping the rewards that big data and data-driven technologies
can provide.
The huge amounts of data generated by the real
estate industry can be leveraged to its advantage even further going forward as
new technology and ideas are pushing the envelope for the real estate industry
at both the macro and micro scale.
Analytics
<!–
–>
One of the most basic and powerful data-driven tools that the real estate industry has at their disposal comes in the form of analytics. The benefits of data analytics in real estate extend to both the consumers and realtors because it allows for advanced property evaluation across a huge spectrum of parameters from expected appreciation and depreciation rates to crime statistics, accessibility, and other factors. This not only allows for real estate companies to determine value more accurately and mitigate risk, but increases customer engagement as well, providing them with highly relevant information regarding potential purchases.
The huge amount of real estate data available can, and should, be leveraged for maximum predictive impact just as Wall Street uses the data available to model algorithmic trading. Through the use of data analytics, realtors and investors are able to keep up to date on vital market data in real-time, allowing for the ability to stay ahead of the curve on the rapidly changing market of commercial real estate. Accurate, timely market data can make a massive impact on a company's ability to turn a profit on a piece of real estate and empowers potential home buyers by providing a comprehensive view of the market even as it changes minute to minute.
While these huge pools of real estate data are already being used by Artificial Intelligence programs to improve the customer experience through personalization and predictive home evaluation over time, AI can further change the real estate game. AI can help to accurately predict which locations will be the most beneficial for developers to invest in, optimizing market-level profitability and revenue and revenue as well as helping to identify optimized spatial layouts of new developments.
Virtual Reality
Though the real estate industry has been relatively slow in hopping on the big data train, it has taken a short amount of time for the industry to see the massive value that data brings to the table. Data can show investors, developers, and potential buyers detailed and pertinent information about real estate without ever having to see it in person. While macro-level data like land valuation, crime statistics, accessibility, and traffic flow are incredibly important when looking at real estate development and investing, the data generated at the micro-level is now coming into play in a big way.
Data comes in a variety of different forms, and while it can be easy to be tempted to shelf classic visual data for the more esoteric sets of data pertaining to a piece of real estate. Visual data, however, is actually at the forefront of one of the more inventive and exciting data-driven technologies being used in the real estate industry today. When enough visual data is available, realtors can implement Virtual Reality technology in order to give prospective buyers a tour of the property, giving an in-depth look at the dimensions of any given building that a static photograph simply cannot provide.
Again, VR is another new data-fueled technology that benefits both buyers and sellers of real estate. Realtors massively expand their market as they don't have to set up actual appointments to show a home and can actually show it simultaneously to many different potential clients. Additionally, homes can be staged virtually through VR, turning an empty and visually cold, unfurnished home into a staged home in an instant with the ability to change any furniture or fixtures in the blink of an eye to appeal to any number of aesthetic palettes.
Informed Decisions
The real estate industry has been long considered generally conservative, relying on more Luddite business methods and general entrepreneurial skills to operate quite successfully for decades. This is all changing with the rise of "Proptech", technologies that capitalize on the huge amounts of data generated in the world of real estate, which is working to help both purveyors and purchasers to make more informed decisions.
Quantifiable data, whether gathered from historical sources, social media platforms, or any other number of sources, work to show a bigger picture than many are used to seeing. When investors, realtors, and buyers are all able to see the forest for the trees, everyone comes out ahead as they have the ability to make a better decision based on all of the available data instead of just historical data or gut feelings.
In its raw form, much of the data generated by or relating to the real estate industry isn't all that helpful. However, with the power of data analytics, machine learning tools, and Artificial Intelligence, the heavy-duty number crunching is taken care of, leaving a distilled and very useable product. In a way, these new technologies are really leveling the playing field when it comes to real estate, providing the same advantage to anyone willing to take the time to apply big data in an effective way.
These technologies are unlikely to outright upend the real estate industry anytime soon, considering the industry's historically slow adoption of new technology. They will, however, revolutionize how properties are sold, evaluated, marketed, and even seen on a very real level.
About the Author
Avery Phillips is a freelance human based out of the beautiful
Treasure Valley. She loves all things in nature, especially humans.
Leave a comment down below or tweet her @a_taylorian with any questions or comments.
Sign up for the free insideBIGDATA newsletter.
What it takes to be the Best Real Estate Agent
Aaron Kirman has sold roughly $6 billion worth of real estate over his 25-year career, making him one of the top realtors in Los Angeles.
He routinely sells multimillion-dollar properties, including one estate for a whopping $65 million, and on his new CNBC show, "Listing Impossible," he helps homeowners sell their luxury real estate. He also runs the Aaron Kirman Group (AKG), a real estate team he started in 2017 that's grown from seven agents at its inception to nearly 70 today.
As a top realtor, Kirman makes seven figures, but not all agents earn a ton of money — and that's one of the biggest misconceptions about the job.
"On average, agents make anywhere between $30,000 and $50,000, which isn't what the public thinks that they make," he tells me when I spent a day shadowing him from 7 a.m. to 7 p.m. "It's a lot less than you think because it's such a competitive industry."
Entry-level agents can bring home even less than that because "it takes about a year to sell something," he says.
Over the course of the day I spend with Kirman, he lets me in on what it takes to make it in the cutthroat industry. Here are his three keys to success:
You have to put in the time
Even Kirman, who's established himself as one of the most successful agents in the country, works long days that often end past 9 p.m. A misconception about the job is that realtors, especially those at the top, don't work that hard. "It's a tough job," he assures me. "There are a lot of nuances that make it extremely complicated."
When it comes to being successful, "60% of it is showing up," he says. "You just have to work really hard."
While he logs a lot of hours, "it's in a different format than most [jobs]," he says. "I don't sit at a desk or in an office. I'm out and about."
You have to be brutally honest
Kirman has worked hard over his career, "but I especially credit my success to one secret: I'm brutally honest with my clients," he writes for CNBC Make It. "If agents don't tell their clients what mistakes they're making, it can take much longer for a home to sell."
During the day I spent with him, two of our appointments were to assess the staging of homes nearly ready to put on the market. True to his word, Kirman didn't hold back when offering feedback. His commentary ranged from, "Hate the chandelier. We gotta get this down." to "Everything is disgusting," which was his gut reaction to one particular home theater.
I especially credit my success to one secret: I'm brutally honest with my clients.
Aaron Kirman
star of CNBC's "Listing Impossible"
He's also had to tell homeowners things like, "you have terrible taste," "your house is worth much less than you think," and "the layout of your house is awful."
You have to understand people
Why It Might Not be right To Buy Bridgemarq Real Estate Services Inc. (TSE:BRE)
Bridgemarq Real Estate Services Inc. (TSE:BRE) stock is about to trade ex-dividend in 4 days time. You will need to purchase shares before the 30th of January to receive the dividend, which will be paid on the 28th of February.
Bridgemarq Real Estate Services's next dividend payment will be CA$0.11 per share. Last year, in total, the company distributed CA$1.35 to shareholders. Calculating the last year's worth of payments shows that Bridgemarq Real Estate Services has a trailing yield of 8.8% on the current share price of CA$15.27. If you buy this business for its dividend, you should have an idea of whether Bridgemarq Real Estate Services's dividend is reliable and sustainable. We need to see whether the dividend is covered by earnings and if it's growing.
Check out our latest analysis for Bridgemarq Real Estate Services
Dividends are typically paid from company earnings. If a company pays more in dividends than it earned in profit, then the dividend could be unsustainable. Bridgemarq Real Estate Services distributed an unsustainably high 120% of its profit as dividends to shareholders last year. Without more sustainable payment behaviour, the dividend looks precarious. That said, even highly profitable companies sometimes might not generate enough cash to pay the dividend, which is why we should always check if the dividend is covered by cash flow. The company paid out 104% of its free cash flow over the last year, which we think is outside the ideal range for most businesses. Cash flows are usually much more volatile than earnings, so this could be a temporary effect – but we'd generally want look more closely here.
Cash is slightly more important than profit from a dividend perspective, but given Bridgemarq Real Estate Services's payouts were not well covered by either earnings or cash flow, we would be concerned about the sustainability of this dividend.
Click here to see how much of its profit Bridgemarq Real Estate Services paid out over the last 12 months.
Have Earnings And Dividends Been Growing?
Stocks in companies that generate sustainable earnings growth often make the best dividend prospects, as it is easier to lift the dividend when earnings are rising. If earnings decline and the company is forced to cut its dividend, investors could watch the value of their investment go up in smoke. It's encouraging to see Bridgemarq Real Estate Services has grown its earnings rapidly, up 64% a year for the past five years. Bridgemarq Real Estate Services's dividend was not well covered by earnings, although at least its earnings per share are growing quickly. Fast-growing businesses normally need to reinvest most of their earnings in order to maintain growth, so we'd suspect that either earnings growth will slow or the dividend may not be increased for a while.
Many investors will assess a company's dividend performance by evaluating how much the dividend payments have changed over time. Bridgemarq Real Estate Services's dividend payments are effectively flat on where they were ten years ago.
To Sum It Up
Is Bridgemarq Real Estate Services an attractive dividend stock, or better left on the shelf? While it's nice to see earnings per share growing, we're curious about how Bridgemarq Real Estate Services intends to continue growing, or maintain the dividend in a downturn given that it's paying out such a high percentage of its earnings and cashflow. It's not that we think Bridgemarq Real Estate Services is a bad company, but these characteristics don't generally lead to outstanding dividend performance.
Want to learn more about Bridgemarq Real Estate Services's dividend performance? Check out this visualisation of its historical revenue and earnings growth.
If you're in the market for dividend stocks, we recommend checking our list of top dividend stocks with a greater than 2% yield and an upcoming dividend.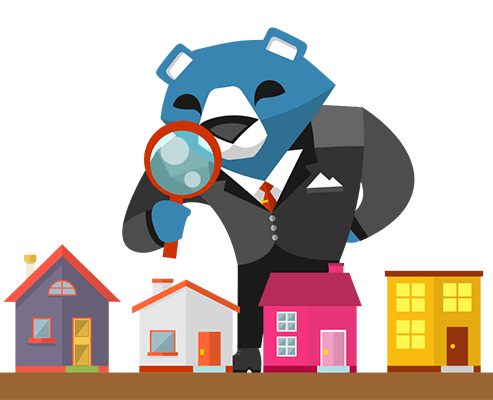 The easiest way to discover new investment ideas
Save hours of research when discovering your next investment with Simply Wall St. Looking for companies potentially undervalued based on their future cash flows? Or maybe you're looking for sustainable dividend payers or high growth potential stocks. Customise your search to easily find new investment opportunities that match your investment goals. And the best thing about it? It's FREE. Click here to learn more.