Real estate industry needs to retool for the technological revolution ahead – Financial Post
The future of work is uncertain. From blue-collar to white-collar to all the jobs in between, technological advances are likely to impact the nature and scope of careers.
The real estate sector, traditionally slow in adopting technology, is even starting to feel the effects of disruption.
Proptech, a term to describe advanced technologies in real estate, is beginning to emerge, with start-ups applying machine learning and artificial intelligence techniques to previously labour-intensive tasks to achieve higher productivity.
The mass deployment of such tools in the future is likely to generate greater profits. However, such advancement may come at a human cost.
A recent survey of real estate executives by the Altus Group, a Canadian commercial real estate services and software company, revealed that the real estate industry is "sitting at the cusp of realizing meaningful returns from technology investments." The survey collected insights from 400 C-Suite executives in the commercial real estate (CRE) industry.
Almost 75 per cent of the executives surveyed believed that increased automation was likely to eliminate jobs. At the same time, 71 per cent thought that automation would introduce new types of jobs in the real estate industry, or "shift jobs towards higher value-added tasks."
Realizing the potential of machine learning and AI, the Journal of Portfolio Management recently dedicated an entire issue to "the changes being brought to real estate investment by new technology." While technology is affecting all aspects of the industry, from construction to financing to investments and beyond, the application of predictive analytics to financial outcomes have attracted the greatest attention.
Writing in the same journal, Chad Cowden and co-authors deployed advanced tools to predict the default rates for commercial real estate loans. They compared the predictive accuracy of the traditional statistical tools, such as regression models, with those relying on machine learning paradigms.
The findings of their comparative analysis are in line with what others have found: Machine learning tools, such as the "support vector machine technique for predicting defaults on commercial property loans significantly outperforms other methods." Furthermore, such tools perform well even with imperfect data.
New predictive analytics algorithms are already being deployed for the valuation of real estate properties. Automated valuation (AV) models forecast valuations based on the structural characteristics and location of a property with little or no human intervention.
Such technical advancements are likely to create redundancies in the workforce.
One option to meet with this challenge for the real estate industry will be to explore ways to retrain and repurpose the existing workforce, which is uniquely advantaged because of its domain-specific knowledge and experience.
This is likely why Bridget Frey, chief technology officer (CTO) of Redfin, an innovative real estate brokerage based out of Seattle, is also not convinced that algorithms will completely replace human insights.
Speaking at in 2017, Frey observed the "algorithms work better when we leave a place for a human to be in the loop, and I think that's where the direction needs to go."
The Altus Group survey revealed that almost half of the real estate firms were spending two to three months in a year "managing and organizing data to drive decision-making." This suggests the industry lacks ready access to data scientists who would help the industry reduce the time spent on managing and organizing data efficiently.
An earlier survey in 2015 reported 29 per cent of the industry leaders were of the view that the lack of internal expertise and capability was preventing their companies from collecting or utilizing data to drive decision-making. By 2020, a much lager proportion of 52 per cent highlighted a lack of internal expertise in data management and utilization.
The commercial real estate industry is poised for a significant change. The era of smart buildings is upon us. Using the latest tech, building managers can determine where users are in real-time to determine the intensity of space use over time.
Companies such as Innerspace use the unique digital signatures of ubiquitous smart devices to determine where people are within a building and how to optimize energy use and security and limit harmful emissions to improve sustainability and profitability. This will require a data-centric, analytics-oriented workforce, which currently does not exist.
The commercial real estate industry should make every effort to collaborate with different levels of government and institutes of higher learning to train the workforce needed for the data- and technology-centric real estate management industry of the future.
Murtaza Haider is a professor of Real Estate Management at Ryerson University. Stephen Moranis is a real estate industry veteran. They can be reached at www.hmbulletin.com.
Toronto-area commercial real estate deals total $7B in Q2, up 43% from year ago – Alberta Prime Times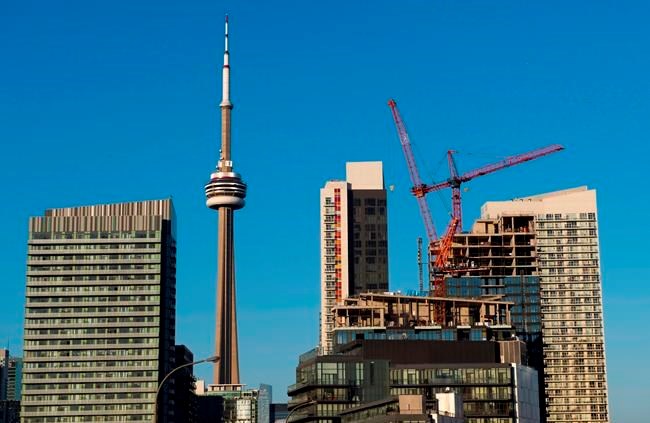 TORONTO — A new report says the total value of commercial real estate sales in the Greater Toronto Area in the second quarter rose 43 per cent compared with a year ago.
The report by Avison Young says sales of office, industrial, retail, multi-residential and industrial, commercial and investment (ICI) land across the region totalled $7 billion for the three-month period, up from $4.9 billion a year earlier.
The result brought total investment to $14 billion for the first half of 2022.
The report says the industrial sector saw the highest investment dollar volume during the quarter with $2.6 billion compared with $1.4 billion in the same quarter last year.
The ICI land category garnered $1.7 billion, up from $1.6 billion a year ago, while office properties saw $1.1 billion in deals, up from $349 million in the second quarter of 2021.
Multi-residential deals totalled $1 billion, up from $815 million in the same quarter last year and retail property deals amounted to $696 million, down from $725 million a year ago.
This report by The Canadian Press was first published Aug. 18, 2022.
The Canadian Press
From Homebuyers To Real Estate Investors – AccessWire
TORONTO, ON / ACCESSWIRE / August 18, 2022 / To say that a mortgage is just a loan is far from the truth. It is much more than that. A mortgage is your key to home/property ownership, and if you land the right one, it will become a crucial financial tool for building a strong financial future through real estate.
How would you be able to land the right mortgage and make millions yourself? You're in luck because you don't have to do it alone. We know a mortgage agency that can hook you up with a certified mortgage professional to speed up the process, ensure you get the best deal, and teach you how to earn your fortune in real estate.
Mortgage Alliance is one of Canada's most established mortgage companies, with years at the industry's top. The Canadian mortgage agency enjoys a reputation as a prime source of mortgage solutions for homebuyers, homeowners, and investors alike. They cater to clients all around Canada, providing professional mortgage services and financial guidance to "help people improve their financial health in the short, medium, and long term through real estate," according to Mortgage Alliance agent Lesley Hepditch.
To that end, the agency takes a comprehensive approach to helping its clients achieve their goals. Their agents don't use any cookie-cutter solutions. Instead, they work closely with clients to understand their financial situation or needs and provide personalized strategies to secure the best results for their mortgage and their financial future. "We also act as financial coaches, so while I myself am chiefly a mortgage professional, I am also licensed to handle investments and insurance. This allows Mortgage Alliance agents like me to help clients in ways not many other companies can. In short, we look at their overall financial health, then help them craft ways to achieve their goals." Lesley said.
Mortgage Alliance covers all the usual mortgage services, including new home purchases, refinancing, and renewals. It promises clients unbiased advice and expert education on what they need to know to make the best decisions. Lesley explained that the end goal is simple: "We want to help people earn more income and become properly protected, debt-free, and financially independent by helping them build their four pillars of investing: investments, income protection, debt elimination, and real estate. For us, client education is just as important as results because we want to help them achieve lasting wealth."
With their agents' mortgage expertise and deep financial acumen, landing the right mortgage will be the least of your worries, or rather successes, with Mortgage Alliance. If you're ready to take the first step toward securing a thriving financial future, don't hesitate to contact the mortgage and financial experts at Mortgage Alliance using the details listed below.
Contact:
Lesley Hepditch
Mortgage Alliance
+19022237166
[email protected]
www.mortgagealliance.com/LesleyHepditch
About Mortgage Alliance:
Mortgage Alliance is one of Canada's most trusted mortgage companies. They offer the full selection of mortgage services, with a focus on providing custom solutions for any of their clients' financing needs.
SOURCE: Mortgage Alliance
Real estate at critical juncture to embrace dynamic workplaces – PR Newswire
JLL's Future of Work Survey shows that while hybrid work is here to stay, the office remains critical to business operations
CHICAGO, Aug. 18, 2022 /PRNewswire/ — As businesses continue to evolve their workplaces to best meet the needs of their employees, JLL's (NYSE: JLL) global Future of Work Survey finds that 72% of decision makers believe the office is critical to doing business. The research shows that over the next several years companies anticipate hybrid work to become the dominant model and will be looking across their real estate portfolios to re-think their office spaces, invest in new technology and prioritize sustainability.
"The next three years will prove to be an inflection point for real estate as businesses plot their future path and rethink the purpose of their portfolio," said Dr. Marie Puybaraud, Global Head of Research, JLL Work Dynamics. "The changes accelerated by the pandemic represent an opportunity to pause, think about a long-term real estate strategy and how it aligns with future business priorities."
Rethinking the office layout to accommodate hybrid working in the long-term
The mass adoption of hybrid work will have a lasting impact, with 77% of CRE leaders agreeing that offering remote or hybrid working will be critical to attracting and retaining talent in the future. As the trend toward dynamic working will continue, successfully operationalizing hybrid working will be the most important strategic priority for commercial real estate (CRE) executives over the next three years. This includes exploring flexible space options, with 43% of companies planning to accelerate investment in flexible space between now and 2025, and 51% saying they will lease flexible space through a third-party provider.
"As the office finds a new purpose post-pandemic as a destination for collaboration in employees' hybrid workstyles, occupiers will need to continue increasing their investments in creative spaces," said Cynthia Kantor, Chief Client Value & Growth Officer, JLL Work Dynamics. "Enhancing socialization, especially among a large, often geographically dispersed, workforce will be critical to future talent strategies, as the office accelerates its role as the innovation hub of the work ecosystem."
Forty-five percent of organizations consider collaboration to be one of the primary purposes of office space and 73% have planned or are planning to make all office spaces open and collaborative, with no dedicated desk spaces. Many companies are also investing in spaces that support new workforce priorities around health and wellbeing.
Environmental and social aspirations will shape future portfolio transformation
As organizations face ever increasing pressure to deliver clear outcomes in the race to net zero and create social value through real estate, 77% say investing in quality space is a priority. With green strategies having a direct impact on real estate decisions, 74% say they are likely to pay a premium for green credentials; further, more than half of occupiers (56%) plan to do so by 2025.
However, stakeholder aspirations are not solely environmental, with nearly 8 out of 10 companies saying their employees expect their workplaces to have a positive impact on society. This means increasing investment in social considerations will be equally as important as funding environmental objectives. With diversity, inclusion and wellbeing now falling high on the corporate agenda, companies are underpinning these objectives with further investment and resources. Seventy-nine percent of respondents agree that their organizations are acting today to make the workplace more inclusive and diverse for all employees.
Investing in technology investments to boost workplace performance and productivity
Technology and data will be critical foundations in the future of successful real estate operations, but the gap that needs to be filled is immense. Only 13% of CRE executives say they are collecting data on an ongoing or real-time basis using advanced analytics. With the transformative power of technology to shape the dynamic workplace, companies are focused on ramping up investments in intelligent solutions to unlock new opportunities for boosting workforce performance and productivity.
The research finds a clear roadmap for CRE technology shaped around 15 anchor technologies, including workplace apps, remote working technology and virtual reality.1 As organizations plan future investments, CRE leaders are focused on key strategic areas like sustainability and employee wellbeing. By 2025, most companies (78%) plan to have incorporated over ten of the anchor technologies in their operations, and 40% plan to incorporate all 15.
Real estate needs are becoming more sophisticated and complex
To respond to the complex range of future of work challenges, CRE leaders will focus more on harnessing specialist skills to achieve their strategic objectives. Seventy-five percent of leading CRE functions anticipate greater reliance on external partners, with the two top areas for outsourcing growth expected to be health and wellbeing services (44%) and sustainability strategy (44%). Further, as technology becomes a crucial platform to boost performance levels on all fronts, 43% say they will need more outsourcing support for CRE technology solutions over the next three years.
___________________________
1 For a list of the 15 anchor technologies, refer to p. 30 in JLL Future of Work Survey (August 2022)
About JLL
JLL (NYSE: JLL) is a leading professional services firm that specializes in real estate and investment management. JLL shapes the future of real estate for a better world by using the most advanced technology to create rewarding opportunities, amazing spaces and sustainable real estate solutions for our clients, our people and our communities. JLL is a Fortune 500 company with annual revenue of $19.4 billion, operations in over 80 countries and a global workforce of more than 102,000 as of June 30, 2022. JLL is the brand name, and a registered trademark, of Jones Lang LaSalle Incorporated. For further information, visit jll.com.
Connect with us
https://www.linkedin.com/company/jll
https://www.facebook.com/jll
https://twitter.com/jll
Contact: Gayle Kantro
Phone: + 1 312 228 2795
Email: [email protected]
SOURCE JLL