Real estate: Luxury homes listed for over $1M in Canada – CTV News
The average price of a home in Canada now stands at an all-time high of $816,720. According to a new report released by real estate company Re/Max, it seems as though a key driver of growth has been the recent boom in Canada's luxury home market.
Data revealed that 18 of the 19 local markets assessed in the report saw significant year-over-year increases in the sale of luxury homes worth more than $1 million, ranging from detached and attached units, to condominium properties.
The Greater Toronto Area and Metro Vancouver remain red-hot markets, seeing considerable growth in the sale of homes worth more than $3 million, with increases of 112.8 per cent and 75.8 per cent, respectively. Based on data gathered by the Canadian Real Estate Association, the average price of a home in both Ontario and British Columbia has recently exceeded $1 million.
Several other markets also saw notable gains in the sale of luxury homes at over $1 million year-over-year. In Barrie, Ont., 278 units were sold for more than $1 million in 2021, an increase of about 518 per cent compared to the year before. Meanwhile, Saint John reported the sale of 15 units above $1 million each in 2021, an increase of 1,400 per cent when compared to a single sale made in 2020.
Only one market reported a drop in the sale of homes worth more than $1 million; Charlottetown saw a 42.9 per cent decrease in sales from 2020 to 2021.
With considerable demand for luxury homes across the country, CTVNews.ca has compiled a list of Canadian properties currently on the market for at least $1 million.
METRO VANCOUVER
(Lawrence Lu / Jerry Wang, Macdonald Platinum Marketing)
(Lawrence Lu / Jerry Wang, Macdonald Platinum Marketing)
Type: House
Price: $2,888,000
Year Built: 2013
Property Size: 334 sq. m
Lot Size: 0.67 hectares
Located in the Metro Vancouver area, this European-style home welcomes its guests with six-metre ceilings over the foyer, living and family rooms. Floor-to-ceiling windows offer stunning views while allowing natural light to pour in. The luxury property has five bedrooms, six bathrooms, a home office and a private media room. Its 73-foot yard and covered patio are ideal for enjoying outdoor activities all year long.
KELOWNA
(Kevin Arnason / Todd Simpson, Royal LePage Kelowna)
(Kevin Arnason / Todd Simpson, Royal LePage Kelowna)
Type: House
Price: $6,249,000
Year Built: 2010
Property Size: 948.35 sq. m
Lot Size: 0.27 hectares
With its custom-built pool featuring mosaic tiling, an adjacent sports court and a sunken trampoline, this Mediterranean-inspired home is ideal for entertaining. Complete with seven bedrooms and eight bathrooms, the property spans nearly 950 square metres in total. The interior boasts sky-high 6.7-metre ceilings and luxury brand finishes, while an outdoor covered kitchen and pergola give this estate its resort vibe.
CALGARY
(Sona Visual and Zoon Media / Heather Waddell, Sotheby's International Realty Canada Calgary)
(Sona Visual and Zoon Media / Heather Waddell, Sotheby's International Realty Canada Calgary)
Type: House
Price: $4,425,000
Year Built: 2009
Property Size: 437.82 sq. m
Lot Size: 0.1 hectares
This luxury home in Calgary is an architectural marvel, with floor-to-ceiling windows that offer stunning views of nearby mountains and valleys. The open-concept kitchen comes with oak plank flooring and a central island. On the upper level is the master bedroom with a private balcony, large dressing room and closet. With three bedrooms and five bathrooms, the home also has a yoga room and wine cellar.
EDMONTON
(Rocco Macri / Trevor Dunn, MaxWell Realty)
(Rocco Macri / Trevor Dunn, MaxWell Polaris Realty)
Type: House
Price: $1,150,000
Year Built: 1925
Property Size: 280.15 sq. m
Lot Size: 0.3 hectares
Initially built in 1925, this Edmonton luxury home has been completely rebuilt for a more contemporary look and feel. Four bedrooms and five bathrooms span across 2.5 storeys, amounting to more than 4,000 square metres of living space. The master bedroom also comes with its own balcony. Meanwhile, a loft and ensuite bathroom occupy the top floor, and a home theatre fills the lower level. The home also has its own wine cellar and vault for tasting.
TORONTO
(Hooman Aliary, The Agency Development Group Toronto)
(Hooman Aliary, The Agency Development Group Toronto)
Type: House
Price: $9,700,000
Year Built: 2006
Property Size: 929 sq. m
Lot Size: 0.42 hectares
Near Toronto's Bridle Path community is this timeless luxury home with its own grand foyer and piano lounge. The gourmet kitchen comes with chef-grade appliances and a walk-in fridge, while the master ensuite features its own steam shower and boudoir. A wood-panelled grand family room also offers views of a nearby ravine. On the lower level is a wine cellar, billiard room and exercise lounge with direct access to the inground pool.
GREATER MONTREAL
(Studio Point De Vue / Joseph Montanaro, Re/Max Action Westmount)
(Studio Point De Vue / Joseph Montanaro, Re/Max Action Westmount)
Type: House
Price: $7,900,000
Year Built: 2005
Lot Size: 0.09 hectares
Located in Greater Montreal, this luxury estate with stone exterior sits high on Upper Bellevue, offering extensive views of the metropolitan area below. The custom-built home has five bedrooms, four bathrooms, and a home office. An open-concept chef's kitchen leads directly into a spacious den for easy access. The property also has an integrated double garage, as well as a landscaped garden surrounding a private pool.
ST. JOHN'S
(Amanda Ryan / Rob Moore, Re/Max Realty Specialists)
(Amanda Ryan / Rob Moore, Re/Max Realty Specialists)
Type: House
Price: $1,695,000
Year Built: 2016
Property Size: 459.87 sq. m
Lot Size: 0.22 hectares
This lakeside property located on a cul-de-sac in St. John's comes with private access to Virginia Lake. On the main floor is a great room with windows that span from the floor to its cathedral ceilings, maximizing the outdoor view. The gourmet kitchen features a large island with labradorite granite countertops, a gas cooktop and a walk-in pantry. On the top floor is a loft area overlooking the great room, as well as three bedrooms and a spa-inspired master bathroom.
HALIFAX
(Studio Royale / David Dunn, Royal LePage Atlantic)
(Studio Royale / David Dunn, Royal LePage Atlantic)
Type: House
Price: $3,499,000
Year Built: 2011
Property Size: 423.45 sq. m
Lot Size: 0.2 hectares
With four bedrooms and four bathrooms, this Halifax home comes with spectacular views of the Northwest Arm, a key part of Nova Scotia's coastline. Located lakeside, the property also features its own dock, as well as a putting green. Inside, its kitchen comes with granite countertops, built-in appliances, a breakfast bar and a butler's pantry. On the top floor is the master bedroom with a walk-in closet and private deck overlooking the water.
CHARLOTTETOWN
(Patty Campbell, Powerhouse Realty PEI)
(Patty Campbell, Powerhouse Realty PEI)
Type: House
Price: $1,149,000
Year Built: 2020
Property Size: 389 sq. m
Lot Size: 0.17 hectares
Just a 14-minute drive from the heart of Charlottetown, this corner lot property has five spacious bedrooms and just as many bathrooms for a total area of nearly 400 square metres. The kitchen features custom cabinets, a stone backsplash, and a double sink, while the living room has a stone propane fireplace. A soaker tub and large glass shower can be found in the master bathroom, while a recreation room is found in the basement.
FREDERICTON
(Matthew Gorveatte / Larry Booker, Re/Max East Coast Elite Realty)
(Matthew Gorveatte / Larry Booker, Re/Max East Coast Elite Realty)
Type: House
Price: $1,195,000
Year Built: 2016
Property Size: 435.62 sq. m
Lot Size: 0.21 hectares
Located in Fredericton, this custom luxury home is as spacious as it is stunning. On the upper floor is the master bedroom, with access to an elevated patio with a hot tub and seating area to view the backyard. The main level features an open-concept living space with a two-sided gas fireplace separating the family room from the kitchen. An oversized sunroom overlooks the backyard, while an entertainment room and exercise area fill the lower level.
Prime Retail Real Estate Is Hot And Retailers Will Pay More For It – Forbes
As if retailers don't have enough challenges with ongoing supply chain issues, recruiting and retaining staff and shoppers spooked by rising prices, now they have another worry. Prime retail real estate is in high demand and rental rates are rising accordingly.
That's good news for REITs and other retail real estate owners and property managers but bad news for retailers that have to work rising real estate prices onto their balance sheets. It's the simple economic law of supply and demand.
Retailers are opening new stores far faster than they are closing them, creating a fierce fight for the best spaces. At the end of 2021, the National Retail Federation reported that major U.S.-headquartered retailers announced more than 8,100 new store openings, more than double the 3,950 closings planned.
Through January 2022, a month popular for retailers to announce their opening and closing plans, the gap between the number of openings and closings is even wider – 1,190 openings to 742 closings, according to Coresight Research.
Simon Property Group, the largest U.S. mall property owner, just reported its occupancy rates reached 93.3% at the end of March, up from 90.9% last year.
In the earnings call, CEO David Simon said it had signed more than 900 leases for over three million square feet in the quarter and added there was a "significant number of leases in our pipeline." Given its positive outlook, SPG also raised its previous guidance.
Demand exceeds supply
Real estate investment firm JLL Capital Markets has just completed a study of the trending retail real estate markets and I sat down with Danny Finkle, retail co-leader in JLL's capital markets and co-head of its Miami office, to discuss the findings.
"Retail follows consumers, rent growth follows both, and investors follow all three," he said. "It all comes down to diminishing supply with a consistent and growing demand from the user in the retail space."
Reducing supply is a low level of new retail development which is not likely to turn around soon due to the rising cost of construction and building materials. Adding another complication is the large amount of existing square footage in malls, open-air retail centers, and other spaces that have been repurposed for alternative uses.
Driving increased demand for space is retailers' recognition that even with a strong e-commerce presence, they need to maintain an equally strong brick-and-mortar presence. So even established retailers that may have reduced their existing retail fleet are starting to open new stores again.
And digitally-native B2C retailers are now making tracks to physical retail which is creating even greater competition for prime retail space.
Reducing supply is the overall low level of new retail development which is not likely to turn around soon with the cost of construction and building materials going through the roof. Adding further complication is the amount of existing square footage in malls, open-air retail centers, and others repurposed for alternative uses.
Where it's hot
Eight markets top the list in growth potential, according to JLL's analysis:
· Nashville, showing over 60% growth in rental rates since 2011;
· South Florida, up nearly 50%;
· Austin and Tampa both at 39%;
· Denver at 37%; and
· Charlotte, Dallas-Fort Worth and Raleigh-Durham around 30%.
Among major cities, Chicago is an outlier with net absorption rates significantly higher than number two Washington, DC, followed in order by Boston, Philadelphia, Los Angeles, San Francisco and New York City trailing the pack.
"Retailers need to be where the people are and while workers will eventually return to downtown urban areas, right now we have to pay attention to where people are moving, as well as working," he shared.
Where it's not
A recent analysis of Census data conducted by Brookings Institute showed an "outsized" decline in the size of the nation's 56 major metropolitan areas (defined as exceeding one million residents). People are moving to smaller metro areas in droves with even stronger growth to non-metropolitan areas.
The biggest losers were New York, Los Angeles, San Francisco and Chicago in 2021 and Boston, Miami, Washington, DC, Seattle, Minneapolis-Saint Paul and Philadelphia all went from growth in the 2019-2020 period to a decline in 2020-2021.
Retailers will need to keep their ear close to the ground as to how the trend in work-from-home, either full-time or increasingly part-time, changes the traffic patterns in the nation's downtowns. They also may be able to grab attractive urban retail spaces on the cheap in the meantime.
As for retailers looking to secure suburban retail spaces, Finkle says the market will remain very competitive.
"If you look at the amount of new retail development, it is a minuscule percentage, at a 50-year low. And the prospect for new development on a go-forward basis is also remarkably low. It's hard to believe that anyone is going to build a new enclosed mall in the near future.
"But people still want to get out and shop and retailers need to be there for them," he concluded.
Real estate market on P.E.I. shows only slight signs of cooling – CBC.ca
There are signs P.E.I.'s red-hot real estate market could be starting to cool — but that doesn't mean it's going to be any easier to break into the Island's competitive real estate market.
Nationally, the market showed signs of cooling in March as both the number of homes sold and the average selling price declined compared to the previous month. But that's not the case on P.E.I.
"The flattening hasn't necessarily hit us yet here," said James Marjerrison, the newly minted president of the P.E.I. Real Estate Association.
"But I would not be surprised, with rising interest rates and record highs, that there would be a bit of a flattening period — I just haven't seen that just yet."
The latest stats show prices continue to rise, for now. According to the P.E.I. Real Estate Association, of the 194 homes or units that sold on P.E.I. in April, the average price was a record $414,742, up more than 20 per cent from April 2021.
Low inventory
Despite those record prices, there were fewer homes sold in April on P.E.I. — almost 23 per cent fewer compared to last April's all-time record sales. During the first four months of 2022, there were nine per cent fewer home sales than the same period last year.
That's because, in part, there were fewer homes available to sell — what agents call low inventory. The number of new listings on the Island in April, at 265, was down more than 17 per cent from April 2021.
None of which is good news for buyers hoping the market cools so they can buy their first home or move up to a larger home.
"If housing prices were to fall a bit or if there was a bit of a correction, you might think that it could make it more affordable for people getting into the market," said Marjerrison.
"But if interest rates continue to rise, that could put more pressure on affordability in terms of the monthly payment and the stress test, so that could level it off."
Buyers might need to come up with a bigger down payment to keep their monthly mortgage commitments more manageable considering the higher interest rates, he explained.
"It's a bit of a shell game when you're juggling interest rates and house prices."
'Blessing and a curse'
Shaun Cathcart, a senior economist with the Canadian Real Estate Association who spoke to CBC P.E.I. from his home in Ottawa, said prices are rising more slowly than they were a year ago, which represents "a very slow topping out."
"Our forecast is for things to sort of flatten out and to some extent … they kind of have been," he said.
The spike in mortgage rates in March saw more expensive markets in Canada cooling quickly in April.
"Not so much in P.E.I.," Cathcart explained. "More affordable markets tend to be more immune to interest rate increases like this."
The wild card for the Maritime provinces of P.E.I., New Brunswick and Nova Scotia is buyers coming from outside the region who have just sold their homes in a hot market, and have plenty of money to spend, he said. They don't care about mortgage rates, he said, because homes are still comparatively very affordable.
"It's a blessing and a curse that it can keep activity going at a higher level than you're seeing elsewhere in Canada, where we've seen some big slowdowns, but it's also not great for locals competing for an almost record-low inventory of homes for sale."
'Going to make it worse'
Marjerrison said he has heard from potential buyers who have decided to keep renting until real estate prices come down.
If Cathcart's predictions hold true, those buyers could be waiting a very long time.
In fact, he said the current market could make it even more difficult for locals who've been priced out of the market in the last few years.
"I think it's going to make it worse," Cathcart said.
"Typically what happens when markets slow down is you get a disconnect between buyers and sellers: sellers still want what the house across the street sold for last year, and buyers are not able to offer as much, or not willing to, and so what happens is the transaction doesn't happen."
Low inventories will rebuild as those homes sit on the market longer, he said, and prices will eventually flatten.
Affordability is going to come by way of decreasing the scarcity of homes.— Shaun Cathcart— Shaun Cathcart
"You go from everything selling to multiple offers, to the nicest homes still getting their asking prices and some of the other ones sitting around," he said.
"That's what I would expect: a flattening out of prices and a more normal number of sales. And that's what our forecast is for most places in Canada."
Mortgage rates will drive the change, Cathcart said. Bank rates that were 3.3 per cent last month have risen almost a full percentage point in one month, to 4.1 per cent.
"The market's getting out in front of what the Bank of Canada is expected to do, which is to go from the overnight rate of one per cent right now to close to three per cent by the end of this year," he said.
Fixed mortgage rates at banks have already priced in that prediction, he said.
The good news is if you are looking for a mortgage now, interest rates are unlikely to rise much more, he believes.
"It's just going to be the variable rates playing catch-up with that over the rest of the year," he said.
'It's going to increase inequality'
The combination of all these factors will hit first-time buyers the hardest.
Homeowners have had several years of building huge amounts of equity in their homes, Cathcart said, which means those looking to move will continue to outbid first-timers.
"If anything, it's going to increase inequality, which is already terrible," he said. "Where the haves can continue to have and move around, and the have-nots, it just makes it harder for them to acquire their first home … It's unfortunate."
Cathcart said CREA has been encouraging politicians to invest more in new housing. It's the only way they see the housing crunch being alleviated, he said, but it's easier said than done.
He believes the key is higher-density multi-unit development such as townhouses with "less space for cars and more space for people."
"Affordability is going to come by way of decreasing the scarcity of homes, because the population is just going to keep on increasing" with international immigration, he said.
The scarcity of homes in turn has put, and will continue to put, pressure on rental markets, Cathcart said, and price low-income Canadians out of even renting.
"Maybe it's a little bit depressing … but these are things we have to think about," he said.
Barry Choi: Real estate mistakes you should avoid – Financial Post
The landscape has changed, and you need to be aware when making decisions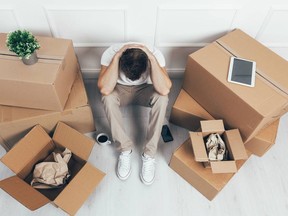 Article content
With inflation at record highs, the Bank of Canada has increased interest rates much faster than many expected.
Article content
Now that the cost of borrowing money has increased, real estate market sales and prices are increasing at a lower rate, and in some cases, dropping. These types of market conditions haven't been seen in Canada in years, and some people are getting caught making huge financial mistakes.
Not factoring in market changes before selling
In a hot real estate market, homeowners looking to upgrade would typically buy a new home before listing their current one. Since homes in desirable areas would sell quickly, most homeowners would be confident that they'd be able to unload their homes for the price they need before their new home closes.
With current market conditions, buyers have become cautious. Getting multiple bids over asking is not as common, and it may take longer to sell. This presents a huge problem for sellers who need the proceeds from the sale of their current home to fund their new one.
Article content
Unfortunately, there's no easy solution. Waiting things out likely won't make things any better since the markets won't turn around overnight. Plus, you're on a deadline since you need to close on the home you agreed to buy.
More from MoneyWise
You could just accept the highest offer and try to find a way to make up the difference. For example, you could see if an alternative lender is willing to loan you more money. If you went this route, you'd probably have to pay a higher interest rate since the lender is taking on more risk.
Alternatively, you could forfeit your deposit on the new home and walk away with the loss. That said, that seller does have the right to sue you for damages if they can't sell the home again for what you agreed to pay. If the house sells for less than you offered, you could be legally on the hook for the difference.
Article content
To avoid this mess completely, you should include a financing condition that gives you time to sell your current property with a minimum set price. Sellers may criticize that condition, but it's in your best interests to protect yourself as sale prices are no longer certain.
Not getting an appraisal for your buying price
Many lenders will require an appraisal on the home you've purchased before releasing the funds for your mortgage. Basically, appraisals are based on current market values, not what you offered for the home.
In some situations, the appraiser might say that the property is not worth as much as you agreed to pay. Suppose you paid $700,000, but the appraiser says your home is only worth $650,000. You'd be short $50,000 on your mortgage. Coming up with that amount is no easy task.
Article content
During a hot market, buyers would often ask for another appraisal. This may seem like a pointless exercise, but it wouldn't be unusual for new sales in the area to be higher than what you paid. The new appraiser could then justify the price you paid, which would allow you to get all the funds you need.
With current market conditions, appraisers and lenders are likely to be more cautious. There's no guarantee that your appraisal will come back at the price you paid. To minimize your risk, consider bidding well below what you've been approved for. So, if your lender says you'll qualify for a $1,000,000 home, consider not bidding more than $900,000, as it gives you a buffer to work with.
Getting pre-qualified instead of pre-approved for a mortgage
Article content
Just about every lender has an online calculator where you can estimate the mortgage you'll be approved for. These calculators also allow you to adjust the interest rate to see how any changes would affect your payments.
While this is a convenient and quick way to calculate affordability, it's simply a pre-qualification and is essentially meaningless since you haven't been approved for anything yet.
With a pre-approved mortgage, lenders will formally run your numbers. They'll look at your income, credit score, debt loads, and more to determine precisely how much they're willing to lend you. They'll also share the interest rates they're willing to extend you for fixed and variable mortgages. Since this is a formal approval process, lenders will be able to hold the rate for 90 to 120 days. This will allow you to shop in confidence, knowing that you have the financing in place.
Article content
Some people assume that a pre-qualification is the same as a pre-approval, but that's simply not the case. Getting pre-approved is basically a promise from the lender. The last thing you want is to buy a home and then find out you don't have the financing in place. That could leave you scrambling to find an alternate lender.
Not factoring in higher interest rates
If you were looking to buy a home last year, it wouldn't have been uncommon to find a fixed-rate mortgage for around two per cent. Suppose you were looking to get a $700,000 closed mortgage on a five-year term with a 25-year amortization (payment) schedule. Your monthly payment would be $2,964.16.
However, these days, fixed-rate mortgage rates are hovering around four per cent. That would make your monthly payment $3,682.14. That's more than a $700 difference. You could go with a variable-rate mortgage, which will change based on market conditions. At the moment, you would pay less interest than a fixed-rate mortgage. However, with interest rates expected to keep rising, you might end up paying more than a fixed-rate mortgage in the long run.
Article content
If you haven't gotten a pre-approved mortgage or updated your budget recently, you might be shocked to see your monthly carrying costs with the higher rates. The amount you may have been able to afford a year ago may no longer be the case now. That's why many potential homeowners have become more cautious when bidding, which has resulted in the current market slowdown.
While the real estate market will sort itself out eventually, it may be time for caution, due to all the money on the line. That doesn't mean you shouldn't buy or sell real estate during this time, you just need to take some extra steps to protect yourself from a major financial mistake.
This article provides information only and should not be construed as advice. It is provided without warranty of any kind.