Real estate: Most expensive and least expensive homes sold in Vancouver over the past month – Vancouver Sun
The price range for home purchases in Vancouver over the past 30 days was between $295,000 and $17 million.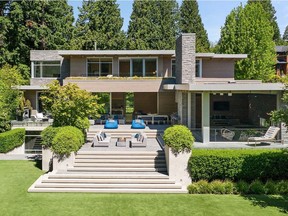 Article content
Interest rates are going up as the federal government seeks to control inflation, brought on by the COVID-19 pandemic and the government's own policy of keeping rates low to encourage pandemic spending.
As a result, real estate prices have stalled as buyers take stock.
Here's a look at the cheapest and most expensive Vancouver detached homes, townhomes and condos sold over the past month:
---
Most Expensive Detached Home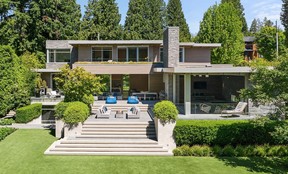 The most expensive detached home sold in the past 30 days was at 2958 West 45th Avenue in Kerrisdale for $17 million.
This 8,520 square foot house was on the market for 59 days. It was initially listed for $20.98 million, then dropped to $18.988 million.
This means the seller got 20 per cent less than what they were expecting when it first listed. The property sold on April 2, and was reported as sold on April 14.
Article content
It's a relatively new build over an acre of land and designed by architect Howard Airey. The house has six bedrooms and almost 2,000 square feet of patio space. The home was assessed as of July 1, 2021 at $17.92 million.
---
Most Expensive Townhome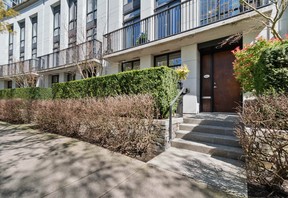 The most expensive townhome sold in Vancouver in the past month sits across the road from George Wainborn Park in Yaletown in downtown Vancouver.
The townhome, at 485 Beach Crescent, is 2,600 square feet spread over three levels
It sold on April 16 for $3.499 million — which was also the asking price.
The three-bedroom listing (with 600 square feet of decks) only sat on the market for four days. The monthly maintenance fee is hefty at $1,685 a month.
It is assessed at $2.94 million.
Article content
---
Most Expensive Condo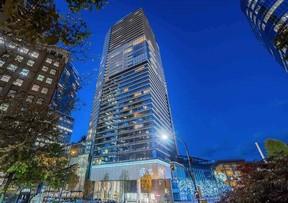 There were more than 300 condos sold in Vancouver over the past month, including 21 worth more than $2.5 million. Of the 300, 22 were at UBC and 121 in the downtown core.
Perhaps surprisingly, the most expensive condo sold was worth more than twice the value of the most expensive townhome — at $7.2 million.
This 2,667 square foot, one-level condo sits within a 26-storey tower at 1011 Cordova Street (Fairmont Pacific Rim) in Coal Harbour.
It was listed for 55 days at $7.68 million before selling on March 31.
The condo has 360 degree views of Vancouver and access to all sorts of amenities with a monthly strata fee of $2,427.
---
Cheapest detached home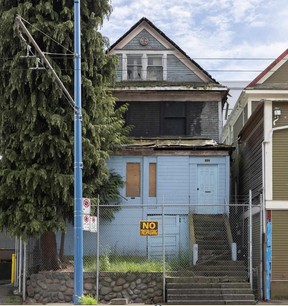 There were 14 detached homes sold for less than $1.5 million in Vancouver over the past month.
Article content
The cheapest was at 526 East Cordova Street for $1.149 million.
This rundown 2,600 square foot home sits on a 122 foot deep and 25 foot wide lot with rezoning potential in the Downtown Eastside.
The home was built in 1910 so there might be heritage density possibilities. It looks like it was a beautiful home at one point but now appears unlivable and is alongside a chicken rendering plant.
It was assessed at $1.177 million.
---
Cheapest townhome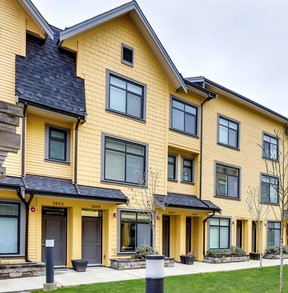 The cheapest townhome sold in Vancouver over the past month was in the Killarney neighbourhood for $620,000.
This listing at 2605 East 43rd Avenue was on the market for six days. It is 579 square feet with one bedroom and a monthly strata fee of $150.
---
Cheapest condo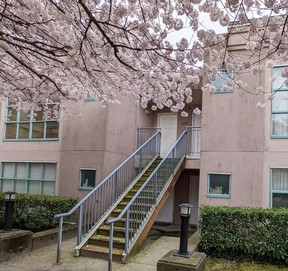 There were 42 condos sold in Vancouver over the past thirty days for less than $500,000.
The least expensive of the lot went for $295,000 in a development called Gardenia Villa on the 2400-block of East 10th Avenue.
Originally listed for $574,000, it sold on April 4 for almost 50 per cent less. Two other condos in the same development sold for around the same in the past month.
The reason is because this is a leaky condo that banks will not finance. The listing states a special levy of $226,000 will be paid in full by the seller upon completion.
Worry, buyer's remorse high as real estate market slowdown materializes – Ottawa Business Journal
A wave of buyer's remorse is taking shape in several heated real estate markets, after housing prices started dropping and the number of sales slowed over the last two months.
Realtors and lawyers in Toronto and Vancouver say they have noticed buyers looking at what options they have to get out of a purchase and sellers hoping to ensure one goes through because conditions have shifted dramatically from the previous highs and frenzied pace.
The country experienced a 25.7 per cent drop in the number of homes sold over the last year and a 3.8 per cent slide in housing prices between March and April, the Canadian Real Estate Association said Monday. The average home price last month totalled $741,517.
Such numbers have prompted some sellers to explore lawsuits to ensure transactions move forward and other purchasers to worry about the value of pre-sale properties they bought years ago but have yet to take possession of.
"With today's real estate prices, there's really no option but to go all in and if you're going all in, and then suddenly you're realizing that perhaps you made a bad bet and there's a way out of that bet, you're going to do whatever you can to get out," said Mark Morris, a Toronto real estate lawyer.
In recent weeks, he has seen nine cases where buyers want to back out of deals but on Monday alone was approached by three sellers keen to use legal channels to keep purchasers from walking away.
Morris doesn't call the encounters a trend because it's unclear how many other lawyers are seeing the same spate, but three queries in a day is his new record. He used to see one case of that nature every few months.
"Purchasers are looking at the existing crisis, and in the best of times, they feel they overpaid, but now they have objective proof that they've done so because markets have started to pummel and fall and really shows no signs of slowing down," said Morris.
"Many of those buyers are faced with the option of moving forward or upping and walking."
People get "spooked" every time the market turns and explore what they can do about deals they signed, but few end up walking away because it's hard to get out of such transactions, said Phil Soper, CEO of Royal LePage.
He thinks the exception to this pattern came in 2020, when the COVID-19 pandemic broke out and people wanting out of transactions had so many unknowns on their side.
Most buyers trying to end a deal this year won't be successful because there is no legal way out, but such cases are also impractical for sellers, Morris said.
"Is a seller really willing to pursue a buyer that has no assets? Is the seller really going to go through three years of courts only to find that they have a judgment that can't be pursued?" he pondered. "Are they really ready to put up the amount of money that it will take to pursue this to the ends of the earth if they're able to resell? Perhaps not."
In cases where the buyer has put money into a seller's trust account, that money can only be released with a court action, the closing of the deal or a mutual agreement not to pursue the sale, said Morris. He's seen buyers agree to give the seller the money, if the seller mutually agrees to end the deal.
If a deal ends, brokers can sue for their lost commission but not many explore this avenue because it's "not a good look" to take legal action against a client, who might still turn to you when they try to sell the home from the failed transaction again, said Morris.
While Tirajeh Mazaheri hasn't seen legal action in Vancouver, the Coldwell Banker Prestige Realty agent has seen buyer's remorse and worry crop up among investors who purchased pre-construction homes a few years ago but have yet to take possession of them.
"A lot of those people are thinking, 'Is the market going to be able to justify this price or keep up with the price I paid and can I get this money back if I want to sell in a year?'" she said.
The people who purchased in early rounds of pre-construction sales for a building are already ahead of the curve, but those who bought later will have to wait longer to break even or make a profit, she said.
Even though worry is at a high, Mazaheri and Soper agree the markets do rebound and homes are still a valuable investment.
"Anyone who bought a home in 2021 in this country, if they bought anywhere near market price, their home is going to be worth more in 2021," said Soper.
"Will it be worth more one year from now? That's harder to predict ? but even a year from now the likelihood of that home being worth less than it is today is smaller."
Vancouver real estate: 'Plush' new build for $7.5M | CTV News – CTV News Vancouver
It's new, it's near the beach and it costs millions more than the benchmark for the area.
A newly built home for sale in Vancouver is listed at $7.5 million.
The sellers of the house on West 12th Avenue are asking more than $5 million more than the current benchmark in its neighbourhood of Point Grey.
They say it's somewhat of a rarity for the tony region of the city, but it's priced higher than some of the neighbouring homes because it's brand new, and because of its features.
According to those behind the listing, the four-bedroom home has a total floor space of 4,189 square feet over two storeys and a basement.
It has a 564-square-foot rooftop deck with city, water and mountain views, the listing from realtor Faith Wilson with Christie's International Real Estate says.
The home has "luxurious, high-end finishes, including a spa ensuite richly appointed in calacatta stone."
It has a "spa-inspired dry sauna" on the ground floor, and its recreation and media rooms each have wet bars.
The grounds are landscaped and there's a three-car garage past its gated entry.
The kitchen is described as "gourmet," and the family room "boasts coffered ceilings (and an) exquisite waterfall Caesar stone cooking centre."
Its future buyer would find themselves in walking distance of Jericho and Spanish Banks beaches.
Its property taxes are not for the faint of heart at an estimated $13,962. That estimate, however, is from 2020, before the new house was built.
Recent reports suggest Vancouver's luxury real estate market is seeing a decrease in sales, but prices continue to climb.
The price is far out of reach for many, including most of those who live in the area.
Still, according to census data for the area, more than one-quarter of Point Grey residents have a total household income in the highest category – $200,000 and over.
The median for households of two or more people is $135,680, much higher than in many Vancouver neighbourhoods.
A quarter of those who live in the area work in "professional, scientific and technical services," and nearly a quarter are in educational services, the data from Statistics Canada suggests.
Three-quarters of adults have at least some level of university education, from a bachelor's degree to a doctorate.
Canmore real estate developments back on after tribunal ruling | CTV News – CTV News Calgary
A contentious proposed real estate development in Canmore got new life Tuesday.
One year ago, Canmore town council rejected the Smith Creek development and decided the Three Sisters Village proposal needed significant changes.
Three Sisters Mountain Village Properties Ltd., the project developer, appealed the decision to a municipal tribunal, and Tuesday the town was ordered to allow the projects to proceed.
Conservation groups fought the proposal, saying it didn't provide enough space for wildlife to travel through the valley.
"Unless overturned, this decision will cause harm to the lands, and wildlife movement and habitat of an important part of the Yellowstone to Yukon region," said a statement issued by Yellowstone to Yukon Conservation Initiative on Twitter. "Keeping these lands connected and intact is in the best interest of Albertans now and into the future. Connectivity provides the best chance for some of our most cherished and threatened wildlife to thrive."
There was no word from the Town of Canmore on whether it will appeal the decision.