Real estate transfers July 21-Aug. 6 – Massillon Independent
Bethlehem Township
Bernhart Chris M & Cheryl L from Knisley William & Carmel, parcel 1101024 Mombasa Ave, $37,500.
Burkhard Sharen from Bramley Barbara C, 48 C St SW Nav Vil, $10,000.
Frey Keith & Catherina from Hoover Jerry & Nancy, parcel 1101087 Zambesi, $9,600.
Lewandowski George & Bonnie from Dirosa Mark R Tte of the Mark R Dirosa, parcel 1100860 Zambesi, $10,000.
Mhca Homes LLC from Imperati Antonio Dominick, 6000 Beth Ave SW Lot #21, $1,000.
Ryan Vicki & Philip from Miller Barbara J, parcel 1100222 Watusi Way, $2,000.
Scalf Nancy M & James E from Herron Mary A, 44 C St SW Nav Vil, $100,000.
Canal Fulton
Cook Georgene from Craig Samson & Stephanie L, 559 Longview Ave, $172,500.
Newsome Terry W Jr & Jennifer Lynn from Lowery Joshua, 731 Dan Ave, $210,500.
Smeyres Lindsay R from Seibert Julie A, 303 High St SE, $33,636.
Snier William A Jr & Anna M from Hardy Bonnie L, 2104 Livingston Dr, $190,000.
Jackson Township
Bergert Emily R & Mazzan Michael D from Keller Timothy J, 5471 Echodell Ave NW, $280,000.
Bradshaw Timothy J & Karen C from Muntean Madalen R Ttee, 1307 Plymouth St NW, $180,000.
Buttacavoli Adam & Erin from Wake Naomi, 5244 Dungannon Cir NW, $324,000.
Cheyney Emily J from Underwood David I & Suzanne J Co Trustee, 3803 Wales Ave NW, $275,000.
Culbertson Rory K & Jordan A from Kress William L Trustee, 5980 Thistlehill Cir NW, $232,000.
Doyle Lisa A & Timothy J from Hatcher Tamiko L, 2101 Glenmont Dr NW, $299,900.
Elavsky Nancy Jean Et Al from Elavsky Nancy Jean Et Al, 3296 Amherst Ave NW, $26,325.
Elenchevski Karen M & Niko from Difiori Louis J & Ashley, 6169 Constance Cir NW, $268,000.
Ezzo Scott & Mallory from Hepner Seth R & Bethany L, 6785 Corrine Dr NW, $298,000.
Gardner Christine & Jack from Rapp Kenneth, 7953 Heatherview St NW, $180,000.
GBJ3 Enterprises LLC from L C Commons LLC, 4033 Whipple Rd NW, $379,000.
Glenwood R.e.m from Evans Bridgett E, 8414 Kellydale St NW, $180,000.
Hula Thomas M from Gerber Deborah A, 2111 Ridgecrest Dr NW, $215,000.
Johnson Melissa M & Kazar Robert A Ttees from Ranalli Jacquelin, 5010 Belden Park Dr NW, $187,500.
Killen Joshua T from Bennett James S & Jennifer R, 3004 Coldwater Ave NW, $250,000.
Kropff Alexandra Kathryn & Finch Jorden from Roberts Charles A II, 3945 Eastlynn Ave NW, $204,000.
Leiberman Adam & Nicole from Smith Kenneth W & Stacy A, 7696 Bricker Rd NW, $377,000.
Lindsay Katelyn M from Hahn Tami Rae & Mclain Diane M Trustees, 1207 Stuart St NW, $172,000.
Mcafee Sean Michael from Kron Gerald P & Kimberly R, 6744 Scarborough Rd NW, $540,000.
Mcafee Sean Michael from Kron Gerald P & Kimberly R, parcel 1621859 Scarborough St NW, $540,000.
Mclaughlin Brooke E from Scott Deidre A, 4478 Smithview Ave NW, $281,500.
Meighen Rebecca L from Stull Deborah L, 8588 Lassen Cir NW, $120,400.
Murphy Theresa L from Laubacher Dorothy L, 3688 Barrington PL NW, $145,000.
Robson Shannon R & Carr Tiffany N Ttees from Murphy Beverly J, 7330 Pinelane St NW, $210,000.
Rowlands Shayne & Martin Paige E from Lautzenheiser Eric R & Heidi J, 5227 Frank Ave NW, $230,000.
Shirey James Fred & Robin L from Garner Amy & Valli Monica, 4729 Crystal Lake Ave NW, $93,500.
Spencer Holdings LLC from Candea Eugene & Elaine, 6631 Lake O Springs Ave NW, $190,000.
Stella Wayne A & Katherine E from Zaun Steven & Malory, 7284 Rob St NW, $226,000.
Studer Linda I from Carrington West LLC, parcel 10013580 Regency Dr NW, $115,000.
Sung Shin-Jang & Lu Hsin-Pei from NVR Inc A Virginia Corporation DBA, 3961 Old Hickory Ave NW, $362,890.
Tawail Mark & Distefano Louis A from Distefano Louis A & Michael v, 5231 Foxchase Ave NW, $225,000.
Tawil Mark from Tawail Mark & Distefano Louis A, 5231 Foxchase Ave NW, $225,000.
Whitney Alberto M & Jennifer L from Persson Rebecca, 2941 Thackeray Ave NW, $165,000.
Williams Christopher & Kounouzvelis from Sitzlar Jeffrey Scott & Renee Lynn, 6195 Sandy Ridge Cir NW, $330,000.
Zaun Steven J & Malory from Axline Drew & Emily, 5825 Garth Cir NW, $327,000.
Zhang Junzhi from Stella Wayne A & Katherine E, 7573 Amethyst Cir NW, $550,000.
Lawrence Township
Saltsman Michelle Logan from Bostic Larry R Sr &Beverly A, 6126 Cartage Ave NW, $279,900.
Massillon
126 James LLC from Ohio Packaging Corporation, 846 3rd St NW, $225,000.
Arelt Donald J & Wolver Adria L from Thornberry Charlene M, 610 27th St NW, $150,000.
Berkey William Thomas from Reyes Luis F, 3662 Silver Creek Cir NW, $241,500.
Bordner Cory M & Jessica from Mathers Scotte, 861 South Ave SE, $40,000.
Butler-Turner Beth from Keeran Deborah D, 446 16th St NE, $143,500.
Castle 2020 LLC from Schaffner Kory C, 17 Central CT SE, $22,500.
Eklund Lynette from Miller Jacob T, 808 Rotch Ave NE, $154,000.
Friend Taylar & Higgins Erika from Nicholls Mark T & Wilson Joseph P Jr, 2213 Oak Ave SE, $185,000.
Friend Taylar & Higgins Erika from Nicholls Mark T & Wilson Joseph P Jr, parcel 615005 Oak St, $185,000.
Green Mountain Holdings Cayman Ltd from Murdock David A, 1161 Bradford Rd NE, $249,000.
Heath Jessica J from Radel Melissa K, 143 25th St NW, $105,000.
Herron Mary A from Smith Whitmer Kimberly A, 150 24th St NW, $122,500.
Herron Mary A from Smith Whitmer Kimberly A, parcel 615684 Chauncy Ave NW, $122,500.
Hinton Capital Investments LLC from Worley Ann E & Yarnell Carlton N T, 862 Cherry Rd NW, $24,367.
Jacobsen Erich E from Mcguire John W, parcel 617795 Forest St SE, $32,000.
Mutchler Danielle M from Clements Larry R, 718 14th St SW, $80,000.
Okey Lillian C from Lindsay Debbie J, 831 Wallace Ave SE, $115,000.
Ownes Mark E & Engle-Owens Dawn L from Toomey Patrick & Rebecca, 1741 Wales Rd NE, $270,000.
Patterson Felicia from Zelski Dianne Ttee, 1744 Springhaven Cir NE, $224,000.
Silvka Ryan Nathaniel from Fredey Kayla, 327 Delaware Ave NE, $135,000.
Stuber Alton E Jr & Glenda from Saulsgiver Deanna J, 1037 Andrew Ave NE, $43,607.
Ward Donald D & Nancy L from Noyes Robert H, 2114 Main Ave W, $119,000.
Williams David A & Renner Amanda R from Slutz Randall E & Tina N, 1265 Lanedale St NW, $260,000.
Perry Township
Amogu Ndem & Atabong Fonjia Sonia-Iva from Owens Corey D & Stephanie A, 5515 Severn Cir NW, $350,000.
Brooks Michael K & Joanna M from Clark Richard A Jr, 3110 Conover St NW, $205,000.
Dash Residential LLC from Waibel Lorraine C Trustee, 1610 Isler Cir NW, $93,500.
Hail Holdings LLC from Palmer Christopher J, 4727 Surmay Ave SW, $13,500.
Lenigan Scott D from Lenigan Sandra C Ttee/ Sandra C Lenigan, 515 Manor Ave NW, $165,000.
Marker Steven L & Debrah J from Oney Angela A & Larry J, 205 Kolpwood Ave NW, $91,000.
Meadows Ohio LLC from Dacosta Pauline, 4516 Navarre Rd SW Lot #4, $1,000.
Meadows Ohio LLC from Pair Sandra, 4516 Navarre Rd SW Lot #37, $1,600.
Meadows Ohio LLC from Rupert Kay, 4516 Navarre Rd SW Lot #23, $1,900.
Meadows Ohio LLC from Ulm Tina, 4516 Navarre Rd SW Lot #39, $1,000.
NVR Inc A Virginia Corporation DBA from Dehoff Agency Inc, 6076 Lavenham Rd SW, $60,000.
NVR Inc A Virginia Corporation from NVR Inc A Virginia Corporation, 6929 Gauntlet St SW, $47,895.
Parker David M & Liane A from Plack Richard P Jr & Monica S, 4035 Cinwood St NW, $339,900.
Parsons Christopher W & Jean M from Spino Karen L Trustee Beverly Burns Irr, 614 Pinewood Ave SW, $200,000.
Plastow Kara Jo & Richard Albert from Starlit Rentals LLC, 125 Genoa Ave SW, $125,000.
Richardson Sean & Cramer Jennifer from Fonner Alice K, 4442 2nd St NW, $133,000.
Strange Nicholas B & Kaitlynne M from Baker Robert L, 3063 Bayer Cir NW, $1,000.
Vesley Mike from Bright Bryan G & Leina M, 347 Roxbury Ave NW, $62,000.
Sugarcreek Township
Boreman Tucker L & Courtney J from Smith Tyler A & Thomas Jessica M, 511 Church Ave S, $95,000.
Eberly Arlan & Shelly from Miller Julie A, 445 Wabash Ave N, $115,000.
Harris Rebecca J from Parsons Michael D, 7599 Kellerer Ave SW, $3,000.
Leasure Richard A & Weisse Skylee L from Kamban Landon & Pietro James, 234 2nd St SE, $225,000.
Yoder Willis Jr from Troyer Melvin E & Mandy A, 11044 Johnsford Rd SW, $262,500.
Tuscarawas Township
Badger Sean A from Patt Lisa M, 1006 Roseland Ave NW, $80,000.
Gallion Raymond W & Christina L from Thomas Carolyn S, 10540 Gladdis St SW, $200,000.
Lombardo Louis J & Jennifer L from Nussbaum Rex G & Julie A, parcel 7203994 Alabama Ave SW, $93,000.
Pag Homes LLC from Keen Darin G, 12708 Sally St SW, $110,000.
Smith Kyla M from Smith Leslie L & Mckenzie Kelly S, 12708 Wooster St NW, $150,000.
Stevenson Emily from Wilkes Sterling S Jr & Brenda D, 11757 Sinclair St SW, $74,500.
the Prayer House LLC from Calhoun Robert W & Arthur K Trustees, 13167 Wooster Ave NW, $170,000.
Special Feature: Safety net invaluable in current real estate market – Canadian Lawyer Magazine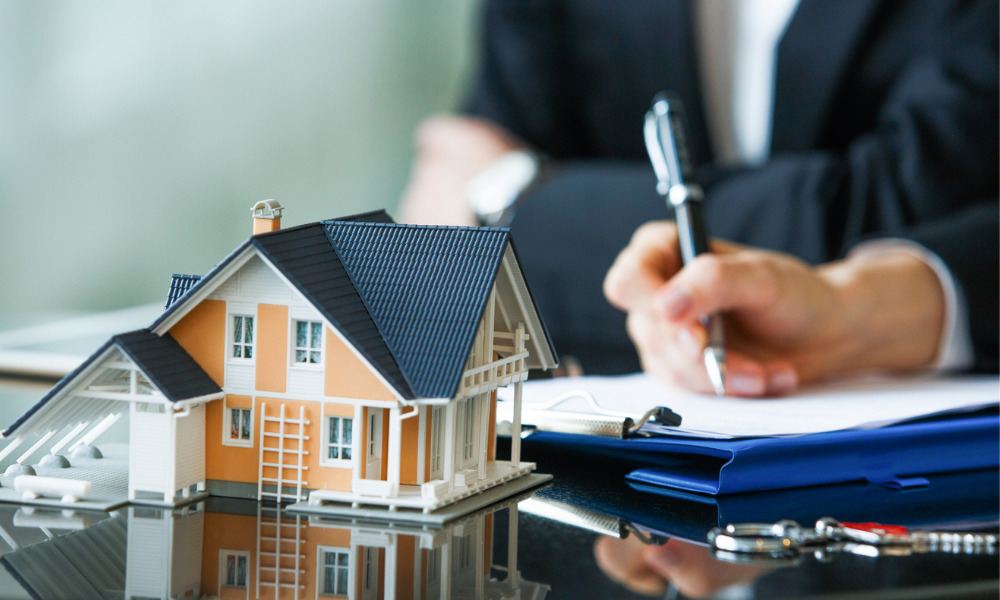 Real estate has always been considered a high-risk area of practice, and in 2020, real estate reached its highest recorded portion of claims in the market. Running a successful law practice that deals in real estate comes with unique challenges and competition.
Lawyers must ensure that all internal processes are properly adhered to, but it's not uncommon for experienced lawyers to accidentally overlook details.
This special feature from FCT highlights the benefits of E&O products in real estate practice.
Real estate heir Robert Durst found guilty of murdering friend Susan Berman – Global News
A Los Angeles jury convicted Robert Durst on Friday of murdering his best friend 20 years ago in a case that took on new life after the New York real estate heir participated in a documentary that connected him to the slaying linked to his wife's 1982 disappearance.
Durst, 78, was convicted of the first-degree murder of Susan Berman, who was shot at point-blank range in the back of the head in her Los Angeles home in December 2000 as she was prepared to tell police how she helped cover up his wife's killing.
Berman, the daughter of a Las Vegas mobster, was Durst's longtime confidante who told friends she provided a phony alibi for him after his wife vanished.
Prosecutors painted a portrait of a rich narcissist who didn't think the laws applied to him and ruthlessly disposed of people who stood in his way. They interlaced evidence of Berman's killing with Kathie Durst's suspected death and the 2001 killing of a tenant in a Texas flophouse where Robert Durst holed up while on the run from New York authorities.
Durst was arrested in 2015 while hiding out in a New Orleans hotel on the eve of the airing of the final episode of "The Jinx: The Life and Deaths of Robert Durst," in which he was confronted with incriminating evidence and made what prosecutors said was a confession.
Durst could be heard muttering to himself on a live microphone in a bathroom: "There it is. You're caught."
Durst's decision to testify in his own defense — hoping for a repeat of his acquittal in the Texas killing — backfired as he was forced to admit lying under oath, made damning admissions and had his credibility destroyed when questioned by the prosecutor.
The conviction marks a victory for authorities who have sought to put Durst behind bars for murder in three states. Durst was never charged in the disappearance of his wife, who has never been found, and was acquitted of murder in Galveston, Texas, where he admitted dismembering the victim's body and tossing it out to sea.
The story of Durst, the estranged scion of a New York real estate developer, has been fodder for New York tabloids since his wife vanished. He provided plot twists so numerous that Hollywood couldn't resist making a feature film about his life that eventually led to the documentary and discovery of new evidence in Berman's slaying.
Durst ran from the law multiple times, disguised as a mute woman in Texas and staying under an alias at a New Orleans hotel with a shoulders-to-head latex mask for a presumed getaway. He jumped bail in Texas and was arrested after shoplifting a chicken sandwich in Pennsylvania, despite having $37,000 in cash — along with two handguns — in his rental car.
He later quipped that he was "the worst fugitive the world has ever met."
Durst escaped close scrutiny from investigators when his wife disappeared. But his troubles resurfaced in late 2000 when New York authorities reopened the case.
His lawyer told him to be prepared to be charged in the case, and he fled a life of luxury to Galveston, Texas, where he rented a cheap apartment as "Dorothy Ciner," a woman he pretended couldn't speak. He eventually dropped the disguise after mishaps that included walking into a men's restroom and igniting his wig at a bar while lighting a cigarette.
Just before Christmas, he testified that he traveled to LA to visit Berman for a "staycation" with plans to see some of the tourist sites.
Durst, who had long denied ever being in LA at the time of Berman's death, testified at trial that he found her dead on a bedroom floor when he arrived.
Berman, a writer who had been friends with Durst since they were students at the University of California, Los Angeles, had serious financial problems at the time. Durst had given her $50,000, and prosecutors suggested she was trying to leverage more money from him by telling him she was going to speak with the cops.
Nine months after her death, Durst killed his Galveston neighbor Morris Black, in what he said was either an accident or self-defense. Durst said he found Black, who he had become friends with, in his apartment holding Durst's .22-caliber pistol.
Durst was acquitted after testifying the 71-year-old was killed in a struggle for the gun. Durst then chopped up Black's body and tossed it out to sea. He was convicted of destroying evidence for discarding the body parts.
After the trial and the ghastly evidence of the dismemberment, Durst found he was a pariah, he said. Despite an estimated $100 million fortune, he was turned away by multiple condominium associations and said the Los Angeles County Museum of Art wouldn't take his money unless he donated anonymously.
Durst thought a 2010 feature film based on his life, "All Good Things," starring Ryan Gosling as him and Kirsten Dunst as Kathie, had been largely accurate and painted a sympathetic portrait, despite implicating him in three killings. He only objected that he was depicted him killing his dog — something he would never do.
He reached out to the filmmaker and agreed to sit for lengthy interviews for a documentary. He encouraged his friends to do the same and gave the filmmakers access to boxes of his records.
He came to deeply regret his decision after "The Jinx" aired on HBO in 2015, calling it a "very, very, very big mistake."
The documentary filmmakers discovered a crucial piece of evidence that connected him to an anonymous note sent to police directing them to Berman's lifeless body.
Durst, who was so confident he couldn't be connected to the note, told filmmakers "only the killer could have written" the note.
Filmmakers confronted him with a letter he sent Berman a year earlier. The handwriting was identical and Beverly Hills was misspelled as "Beverley" on both. He couldn't tell the two apart.
The gotcha moment provided the climax of the movie as Durst stepped off camera and muttered to himself on a live microphone in the bathroom: "Killed them all, of course."
During 14 days of testimony that was so punishing Judge Mark Windham called it "devastating," Durst denied killing his wife and Berman, though he said he would lie if he did.
He tried to explain away the note and what prosecutors said was a confession during an unguarded moment.
For the first time, Durst admitted on the witness stand that he sent the note and had been in Los Angeles at the time of Berman's death.
Durst said he sent the note because he wanted Berman to be found but didn't want anyone to know he had been there because it would look suspicious.
He acknowledged that even he had difficulty imagining he could have written the note without killing Berman.
"It's very difficult to believe, to accept, that I wrote the letter and did not kill Susan Berman," Durst testified.
A prosecutor said it was one of the truest things Durst said amid a ton of lies.
© 2021 The Canadian Press
Artificial intelligence is taking over real estate – here's what that means for homebuyers – CNBC
Brick-and-mortar real estate may seem like the only tangible thing left in an increasingly virtual world, but it too is being taken over by artificial intelligence.
Some of the biggest names in the business, such as Compass, Zillow and LoanSnap, are now employing AI to help find buyers the perfect mortgage and the perfect home. And for real estate agents, it may already be a game-changer.
Most real estate data is public, from land records to title documents, purchase price and even mortgage liens. The trouble was it was an onerous process to go to local offices and obtain all the information. Not anymore. Computer algorithms can now go through millions of documents in seconds, looking through property values, debt levels, home renovations, and even some of a homeowner's personal information.
At LoanSnap, a San Francisco-based mortgage lender, AI is used in various steps of the mortgage process, from finding the perfect loan type for a borrower to finding the right investor for the loan.
First the borrower's financial information is put in. Then the system "takes all that information, forecasts it out into the future and looks at thousands and thousands and thousands of options," said Karl Jacob, CEO of LoanSnap. "That's different ways of paying off debt, different loan options, and this is one of the first times AI has been turned into something that helps consumers versus harms consumers."
And for refinances, he said, "We're building a financial model for someone, and showing them exactly how much money they're losing on a monthly and yearly basis, and then showing them how they could potentially fix that issue and save money in the future. Again, in seconds."
Jacob admits that pretty much every company now claims to use AI in some respect but said not all are really applying it to its full potential.
"Ninety-five percent of it is rhetoric, right? It's a popular term. People glom on to things like that and say, 'Oh yeah, we use AI too.' AI is actually machines thinking and/or looking at possibilities that would not have been looked at before," he added.
So AI can be helpful for borrowers, but it also seems like the holy grail for real estate agents hunting for listings in today's ultra-competitive housing market. The supply of homes for sale has hit several record lows since the start of the pandemic, when buyer demand suddenly took off. Agents are desperate to find new listings, and AI is providing a new entrance.
"The traditional agent would go knock on the doors of a lot of homes. Now AI helps you find the homes that are most likely to sell in the next 12 months, and it does so by triangulating all the data associated with the home, like when the home last sold, how long the owner has occupied the home, what rate the home sells at in that particular area," said Joseph Sirosh, chief technology officer at Compass, a real estate brokerage.
AI "triangulates all of that information to predict which home is likely to come for sale, so the agent can now approach that homeowner, offer his or her services, and have a much higher probability."
Sirosh said Compass agents have a 94% higher chance of winning a potential listing they target with AI than not. Agents can supposedly price the home more exactly and target marketing more specifically.
For those searching to buy a home, all the data available can also help them to find exactly what they're looking for, rather than touring house after house.
Using Compass' AI, they can evaluate the price of their property in comparison with other properties in the market, search for specific types of homes in ultra-specific locations, input desired square footage of indoor and outdoor spaces and then get immediate alerts when something hits the market.
Zillow recently upgraded its popular home price "Zestimate," claiming it now uses neural networks, or machine learning comparable to how the brain works.
"In the case of the Zestimate algorithm, the neural network model correlates home facts, location, housing market trends and home values. As a result of this update, the Zestimate can now react more quickly to dynamic market conditions, providing homeowners with a more accurate estimate [prediction] of a home's current value," according to a Zillow release.
The company is now incorporating this new learning into its direct cash-offer homebuying business, Zillow Offers.
So far, the Zestimate is an initial cash offer on about 900,000 eligible homes across 23 markets.
"With this latest update and increased Zestimate accuracy, the number of homes eligible for a cash offer will likely increase by 30%," according to the release.
AI is not doing anything that traditional research couldn't accomplish, but it does accelerate the process dramatically, which in a fast-moving and ultra-competitive market, is crucial to these businesses.
"AI allows you to go to the self-driving dimension, which is AI outsources the heavy lifting that's associated with a real estate transaction: the complex data, compliance, the paperwork, the finding of the home, the negotiation, the offers. I think that really makes a transaction go much faster. It is simpler, and it's often cheaper," said Sirosh.
With this speed, he said, artificial intelligence can conquer the most human component of any real estate transaction: stress.