Reality check: A look at Trump's claims on coronavirus, the U.S. economy and Biden – Globalnews.ca
If saying things 100 times could make them true, U.S. President Donald Trump's account of how the U.S. is doing with the coronavirus would be true.
COVID-19 testing would be the envy of the world, the economy would be on the cusp of roaring back, the threat would be receding in a pandemic that has sickened more than 3.1 million Americans and killed more than 133,000.
But repetition doesn't make for reality. The U.S. is taking a disproportionate hit from the coronavirus globally and does not have it under control.
A look at how rhetoric from the past week compares with the facts on various fronts:
Virus
TRUMP: "For the 1/100th time, the reason we show so many Cases, compared to other countries that haven't done nearly as well as we have, is that our TESTING is much bigger and better. We have tested 40,000,000 people. If we did 20,000,000 instead, Cases would be half, etc. NOT REPORTED!" — tweet Thursday.
THE FACTS: His notion that infections are high only because the U.S. diagnostic testing has increased is false. His own top public health officials have shot down this line of thinking. Infections are rising because people are infecting each other more than they were when most everyone was hunkered down.

2:03


Trump calls Biden a 'puppet' of socialism



It's true that increased testing also contributes to the higher numbers. When you look harder, you're going to see more. But the testing has uncovered a worrisome trend: The percentage of tests coming back positive for the virus is on the rise across nearly the entire country.
That's a clear demonstration that sickness is spreading and that the U.S. testing system is falling short.
"A high rate of positive tests indicates a government is only testing the sickest patients who seek out medical attention and is not casting a wide enough net," says the Johns Hopkins University Coronavirus Resource Center, a primary source of updated information on the pandemic.
Americans are being confronted with long lines at testing sites, often disqualified if they are not showing symptoms and, if tested, forced to wait many days for results.
___
TRUMP on the coronavirus: "We have the lowest Mortality Rate in the World." — tweet Tuesday.
THE FACTS: This statement is wholly unsupported.
An accurate death rate is impossible to know. Every country tests and counts people differently, and some are unreliable in reporting cases. Without knowing the true number of people who become infected, it cannot be determined what portion of them die.
Using a count kept by Johns Hopkins University, you can compare the number of recorded deaths with the number of reported cases. That count shows the U.S. experiencing more deaths as a percentage of cases than most other countries now being hit hard with the pandemic. The statistics look better for the U.S. when the list is expanded to include European countries that were slammed early on by the virus but now appear to have it under control. Even then, the U.S. is not shown to be among the best in avoiding death.
Such calculations, though, do not provide a reliable measurement of actual death rates, because of the variations in testing and reporting, and the Johns Hopkins tally is not meant to be such a measure.

1:08


Coronavirus: Top health official in Tulsa says Trump rally likely 'contributed' to COVID-19 spike



The only way to tell how many cases have gone uncounted, and therefore what percentage of infected people have died from the disease, is to do another kind of test comprehensively, of people's blood, to find how many people bear immune system antibodies to the virus. Globally, that is only being done in select places.
___
TRUMP: "Deaths in the U.S. are way down." — tweet Monday, one of at least a half dozen heralding a drop in daily deaths from the virus.
THE FACTS: It's true that deaths dipped even as infections spiked in many parts of the country. But deaths lag sickness and the spikes have not played out.
"It's a false narrative to take comfort in a lower rate of death," Dr. Anthony Fauci, director of the National Institute of Allergy and Infectious Diseases, said Tuesday. He advised Americans: "Don't get yourself into false complacency."
___
Economy
TRUMP: "Job growth is biggest in history." — tweet Wednesday.
THE FACTS: Yes, but only because it is following the greatest job losses in history, by far.
The U.S. economy shed more than 22 million jobs in March and April, wiping out nearly a decade of job growth in just two months, as the viral outbreak intensified and nearly all states shut down nonessential businesses. Since then, 7.5 million, or about one-third, of those jobs have been recovered as businesses reopened. Even after those gains, the unemployment rate is 11.1%, down from April and May but otherwise higher than at any point since the Depression.

2:28


Trump pushes for U.S. schools to reopen this fall



___
TRUMP: "Economy and Jobs are growing MUCH faster than anyone (except me!) expected." — tweet Wednesday.
THE FACTS: Not really. It's true that May's gain of 2.7 million jobs was unexpected. Economists had forecast another month of job losses. But most economists projected hiring would sharply rebound by June or at the latest July, once businesses began to reopen. The gains kicked in a month earlier than forecast.
Now, though, coronavirus cases are rising in most states, imperiling the climb back. In six states representing one-third of the economy — Arizona, California, Colorado, Florida, Michigan, and Texas — governors are reversing their reopening plans, and the restart is on pause in 15 other states. Such reversals are keeping layoffs elevated and threatening to weaken hiring.
Trump on Biden
TRUMP campaign ad, playing out a scenario where a person needing help calls the police in a Biden presidency and gets a voice recording: "You have reached the 911 police emergency line. Due to defunding of the police department, we're sorry but no one is here to take your call." The ad closes with the message: "You won't be safe in Joe Biden's America."
THE FACTS: Biden has not joined the call of protesters who demanded "defund the police" after Floyd's killing. He's proposed more money for police, conditioned to improvements in their practices.
"I don't support defunding the police," Biden said last month in a CBS interview. But he said he would support tying federal aid to police based on whether "they meet certain basic standards of decency, honourableness and, in fact, are able to demonstrate they can protect the community, everybody in the community."

1:02


Kudlow says Canada's strict COVID-19 restrictions to blame for Trudeau not attending USMCA summit



Biden's criminal justice agenda, released long before he became the Democrats' presumptive presidential nominee, proposes more federal money for "training that is needed to avert tragic, unjustifiable deaths" and hiring more officers to ensure that departments are racially and ethnically reflective of the populations they serve.
Specifically, he calls for a $300 million infusion into existing federal community policing grant programs.
That adds up to more money for police, not defunding law enforcement.
Biden also wants the federal government to spend more on education, social services and struggling areas of cities and rural America, to address root causes of crime.
Democrats, meanwhile, have pointed to Trump's repeated proposals in the administration's budget to cut community policing and mediation programs at the Justice Department. Congressional Republicans say the program can be effectively merged with other divisions, but Democrats have repeatedly blocked the effort. The program has been used to help provide federal oversight of local police departments.
Despite proposed cuts, Attorney General William Barr last month said that the department would use the COPS program funding to hire over 2,700 police officers at nearly 600 departments across the country.
___
REPUBLICAN NATIONAL COMMITTEE email: "In the wake of rioting, looting, and tragic murders ripping apart communities across the country, Joe Biden said `Yes, absolutely' he wants to defund the police." — email Wednesday from Steve Guest, RNC's rapid response director.
THE FACTS: That's misleading, a selective use of Biden's words on the subject.

2:16


Joe Biden attacks Trump's COVID-19 remarks: 'He's worried about looking bad'



The email links to an excerpted video clip of Biden's conversation with liberal activist Ady Barkan, who endorsed Biden on Wednesday after supporting Elizabeth Warren and Bernie Sanders during the Democratic primaries. A full recording of that conversation, provided by the Biden campaign to The Associated Press, shows he again declined to support defunding police,
Barkan raises the issue of police reform and asks whether Biden would funnel money into social services, mental health counselling and affordable housing to help reduce civilian interactions with police.
Biden responds that he is calling for increased funding for mental health providers but "that's not the same as getting rid of or defunding all the police" and that both approaches are needed, including more money for community police.
Asked again by Barkan, "so we agree that we can redirect some of the funding," Biden then answers "absolutely yes."
Biden then gives the caveat that he means "not just redirect" federal money potentially but "condition" it on police improvements.
"If they don't eliminate choke holds, they don't get (federal) grants, if they don't do the following, they don't get any help," Biden replied.
"The vast majority of all police departments are funded by the locality, funded by the municipality, funded by the state," he added. "It's only the federal government comes in on top of that, and so it says you want help, you have to do the following reforms,."
Biden on Trump
BIDEN: "President Trump claimed to the American people that he was a wartime leader, but instead of taking responsibility, Trump has waved a white flag, revealing that he ordered the slowing of testing and having his administration tell Americans that they simply need to `live with it." — statement Wednesday marking the rise in U.S. coronavirus infections to more than 3 million.
THE FACTS: To be clear, the government did not slow testing on the orders of the president.
Trump at first denied he was joking when he told a Tulsa, Oklahoma, rally on June 20 that he said "to my people, `Slow the testing down, please"' because "they test and they test." Days later he said he didn't really mean it.
In any event, a succession of his public-health officials testified to Congress that the president never asked them to slow testing and that they were doing all they could to increase it. But testing remains markedly insufficient.
© 2020 The Canadian Press
As the economy hits its peak, stock market gains could be harder to come by – CNBC
A specialist trader works inside his post on the floor of the New York Stock Exchange (NYSE).
Brendan McDermid | Reuters
Diminishing economic returns could mean diminishing stock market returns as the U.S. transitions to a post-pandemic economy.
Wall Street increasingly is talking about peak growth in both the economy and corporate earnings as a stimulus-fueled recovery gives way to more normalized patterns.
Congress and the Federal Reserve have provided trillions in funding and liquidity measures that soon either will dry up or at least begin evaporating, leaving investors to ponder what lies ahead with their portfolios.
The market will have to handle what is likely to be a lasting bout with inflation at a time when the drivers for growth are uncertain.
"It's a world that we haven't had to deal with in 40-plus years, and I don't think you can just take out your regular playbook from the last couple of decades," said Peter Boockvar, chief investment officer at Bleakley Advisory Group. "Valuations of pretty much everything are extraordinarily high, which means there's no room for error."
Boockvar spoke of an environment in which inflation will be higher as growth moves lower, a cycle known as "stagflation," something the U.S. wrestled with for years from the mid-1970s to early '80s. Practically no one thinks the current conditions will morph into something that bad, but there are similarities.
Inflation is running at 30-year highs, according to the Fed's preferred gauge, while growth lately has been solid but a bit disappointing. Second-quarter GDP rose at a 6.5% annualized pace, but that was well below the 8.4% Wall Street estimate. Manufacturing data released Monday showed the sector still expanding, but at a lower-than-expected rate.
The factors are combining in "the classic recipe for a growth scare," wrote Nick Colas, co-founder of DataTrek Research.
Looking at Apple Mobility and Google data that examines how people are getting around, Colas found that they are providing "a worrisome combination" though it's too early to tell how things will shape out in the long run.
Still, he warned that investors high on the second quarter's record-breaking pace of corporate earnings beats may find trouble ahead.
"Excellent Q2 earnings have allowed us to shake off that [growth scare] narrative every time it's come up in recent weeks," Colas said. "Now that the bulk of earnings season has passed, however, and seasonal volatility trends assert themselves we may see the growth scare narrative break through more convincingly."
The trouble with optimism
The factors of higher inflation, slowing growth and waning stimulus occur amid high levels of investor sentiment as the major stock market averages hover around record highs.
In fact, that brimming optimism is flashing warning signs, according to Bank of America.
The firm's gauge of investor sentiment that measures Wall Street portfolio allocations to stocks is the closest it's been to a "sell" signal since May 2007, shortly before the market was about to hit record highs that soon would come tumbling down during the financial crisis.
"We have found Wall Street's bullishness on stocks to be a reliable contrarian indicator," Savita Subramanian, head of U.S. equity and quantitative strategy at Bank of America, said in a note to clients. Higher allocations to stocks eventually end up pointing to a decline ahead, the gauge has shown.
Subramanian said the indicator's current level is pointing to price returns in the next 12 months of just 7% compared with the average forecast of 13% since the financial crisis ended in 2009.
To be sure, a slowing economy doesn't mean negative returns, and the current conditions may be pointing at nothing more than a cooling off for a market that has been on fire since rocketing to its pandemic low in late March 2020. After all, even though fiscal stimulus is slowing, the Fed remains committed to keeping its policy ultra-loose until it sees much more progress on employment.
"With the recovery still underway, investors shouldn't be frightened by headlines declaring slowed momentum," said Seema Shah, chief strategist at Principal Global Investors. "Once markets have digested the transition to a more sustainable pace of expansion, decelerating growth is usually associated with weaker, but still positive, equity returns."
In fact, the past two peaks in earnings cycles have led to double-digit market gains over one-, three- and five-year periods, said Jason Pride, chief investment officer of private wealth at Glenmede.
"Rather than obsessing over near-term growth peaks, investors would be wise to see the bigger picture," Pride said in his weekly market note.
Still, signs that growth is abating are worrisome.
The bond market in particular is pointing to a substantial slowdown ahead, with the 10-year Treasury note yielding just 1.18% Monday afternoon. The benchmark yield below 1.25% is the bond market "signaling not all is well economically," wrote Christopher Harvey, senior equity analyst at Wells Fargo.
Boockvar, the Bleakley investment chief, said the current economic environment could cause problems for a market that has relied on investors willing to pay consistently at higher valuation multiples.
"One of the characteristics of the equity market in the 1970s was one of multiple compression," he said. "A lot had to with the sharp rise in interest rate. But it becomes a more challenging environment with a bout of stagflation, even if it's stagflation-lite."
Become a smarter investor with CNBC Pro.
Get stock picks, analyst calls, exclusive interviews and access to CNBC TV.
Sign up to start a free trial today.
Working from home is here to stay, and that's hurting the economy – CNN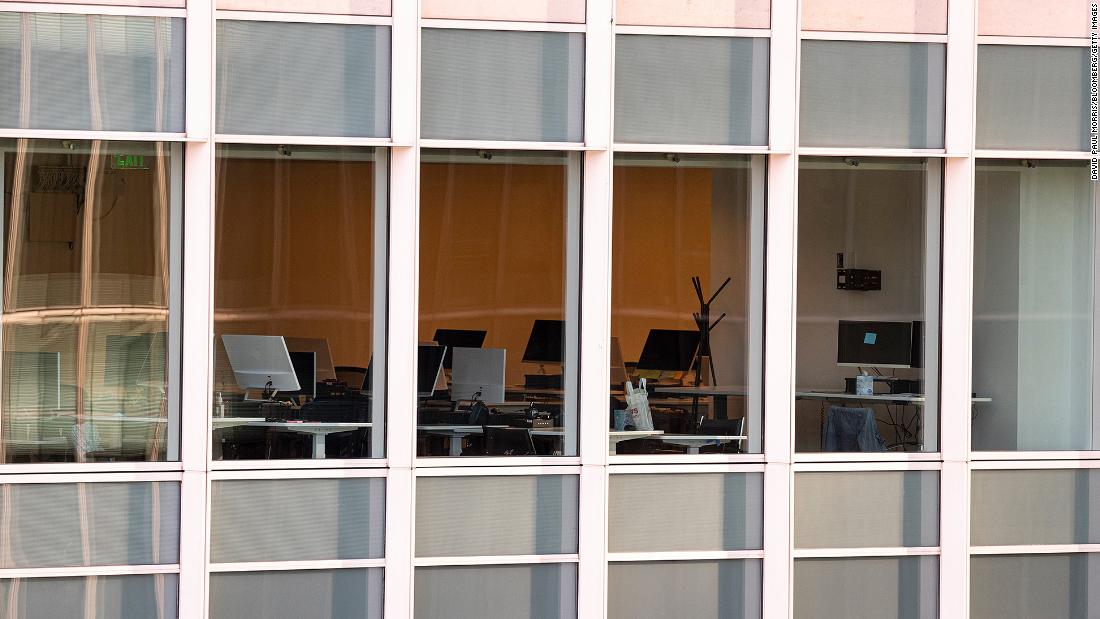 Love it or hate it, commuting is good for the economy. You pay train conductors' salaries with your subway fare. The dry cleaner by the office and the coffee shop around the corner all count on workers who have been largely absent for nearly a year and a half.
In 2020, the number of people working from home nearly doubled, to 42% of America's workforce, according to the
Bureau of Labor Statistics
.
And although many workers may prefer that setup, staying home is likely to delay the recovery of the vital office-adjacent economy.
According to economists from
Goldman Sachs
(GS)
, office attendance in large US cities is only about one-third of pre-pandemic levels. That's a lot of employees who are
still working remotely
and not spending cash on items like train tickets or lattes — the kind of economic activity is essential in America's
consumer spending and service-driven economy
.
For example, in New York — one of cities hit hardest at the start of the outbreak — subway ridership is still not even half of what it was pre-pandemic, according to data from the
Metropolitan Transportation Authority
.
To put this in perspective, New York's public transport system is the largest in the nation and at the heart of the city's economic power. Before Covid, it brought in nearly $17 billion in revenue. But with ridership still depressed, revenue predictions have been slashed, too. The Metropolitan Transit Authority received nearly $4 billion in government funding through the CARES Act, but fare and toll revenues aren't expected to come back to their previous levels until 2023, according to a
report
from the Office of the New York State Comptroller earlier this year.
Other businesses that workers frequent on their way to the office are also struggling.
For
Starbucks
(SBUX)
, the loss of that daily consumer is weighing on the bottom line. Last quarter, the coffee chain's average in-store transactions were at 90% of pre-pandemic levels.
"We certainly have the ability to bring more customers in, but our opportunity is the frequency of those customers," Starbucks CFO Rachel Ruggeri said on an
earnings call
.
As a global coffee behemoth, Starbucks has a staying power that smaller, local coffee shops don't have.
When it comes to lunch, salad chain Just Salad has reopened all of its locations and said business is picking up steadily. "We expect that to accelerate even more after Labor Day," when more employees are slated to return to in-person work, Just Salad's CEO Nick Kenner told CNN Business in an email.
Drag on the recovery
But the targeted September return to the office is in jeopardy for many businesses. The rapid spread of the more infectious
Covid-19 Delta variant
is a new hurdle to in-person work.
Tech giants
Apple
(AAPL)
and
Google
(GOOG)
have already pushed back the dates for the office return.
Further complicating the return to the office, the Centers for Disease Control and Prevention reversed its
mask guidance
last week, urging even vaccinated Americans in high-transmission areas to wear masks indoors — another development that could complicate the return to in-person work and slow the pace of the broader economic
recovery
.
No matter when it really happens, the way we work has permanently changed for many professions: Remote work and
hybrid in-office models
are likely here to stay as one of the legacies of the pandemic.
This is bad news for the metropolitan areas and states that heavily rely on the services sector, be it through workers or tourists, including Hawaii, Las Vegas and New York. Those places are lagging behind in the recovery.
"Job ads increasingly offer remote work and surveys indicate that both workers and employers expect work from home to remain much more common than before the pandemic," Goldman Sachs economists said in a note to clients.
Delta variant bears down on China just as its economy loses steam – CTV News
BEIJING —
The Delta variant poses new risks for the world's second-biggest economy as it spreads from the coast to China's inland cities and presents fresh challenges to authorities who have for months managed to avert any widespread outbreak of the coronavirus.
Barely a month after disrupting industry in the southern export hub of Guangdong, cases of the Delta variant were detected in Nanjing, capital of Jiangsu province on the coast. The infections were traced back to a flight from Russia.
Since Nanjing confirmed its first Delta cases on July 20, numerous cities in southern China and a few in the north including Beijing have reported infections. The tally of locally transmitted cases stood at 353 as of Sunday.
It was not immediately clear whether Nanjing was the source of all the infections, as some authorities have yet to disclose the outcome of their virus-tracing efforts.
Jiangsu, the province with the second-largest economic output after Guangdong in 2020, is by far the worst-hit, accounting for about 80 per cent of the confirmed cases.
The emergence of the variant, which is more transmissible than the original strain first detected in the city of Wuhan in late 2019, has seen the return of tough counter-epidemic measures.
Many cities have warned against non-essential travel, required proof of negative tests for those who do travel, and launched mass-testing for the virus.
Policymakers are under pressure to ensure that while populations are protected, economies are not excessively strained.
China's overall economy is not invulnerable. It grew more slowly than expected in April-June, due to persistently high raw material prices, cautious consumer spending and a subdued real estate market.
"The Delta variant is the biggest test of China's zero-COVID strategy since the initial outbreak last year," said Julian Evans-Pritchard, senior China economist at Capital Economics.
"But given the country's track record in dealing with the virus so far, our assumption is that they will quash the outbreak before it gets out of control. Of course, doing so will come at some economic cost."
Yangzhou, near Nanjing, has been battling rising coronavirus cases since last Wednesday. Many factories and logistics firms in the city of 5 million have been shut as employees joined queues of people to get tested, some up to three times a week.
"We cannot deliver goods because the delivery firm informed us that they've suspended their services," said a manager of a toy factory surnamed Wang.
"In the past few days, many places have been gradually locked down. We were officially told to stop operations today, and all our employees didn't come to the factory."
TOURISM VULNERABLE
Tourism in some smaller cities could take a hit in August, usually a peak travel season due to the summer school break.
Zhangjiajie, where dramatic stone pillars inspired the Hallelujah Mountains in the 2009 blockbuster "Avatar," has seen an outbreak, linked to Nanjing, traced to a theatrical performance at a tourist site on July 22.
Zhong Nanshan, a coronavirus expert who helped shape China's COVID-19 response, told a conference on the weekend that he was not too worried about the ability of big cities, like Nanjing, to tackle the virus with their "excellent" control systems, state media reported.
But there were questions about the ability of smaller places, like Zhangjiajie, with limited resources when suddenly having to test and trace the 2,000 people in the audience for the show as well as their close contacts, he said.
Zhangjiajie, nestled in the mountains of Hunan province, has gone into a semi-lockdown, closed tourist sites and indoor entertainment venues, and told people to avoid unnecessary trips.
"All staff at our hotel must take nucleic acid tests every two days," said a front desk attendant surnamed Li at the Zhangjiajie Huatian Hotel.
The hotel is not open to the public and its online reservation system is suspended.
A staffer surnamed Yin at Zhangjiajie China International Travel Agency said everyone at her agency had been sent home for a "vacation."
"We're waiting for the notice on when we can start working again," she said.
(Reporting by Ryan Woo and Roxanne Liu; Additional reporting by Beijing Newsroom)