Red hot Sedona real estate shows signs of cooling – Sedona Red Rock News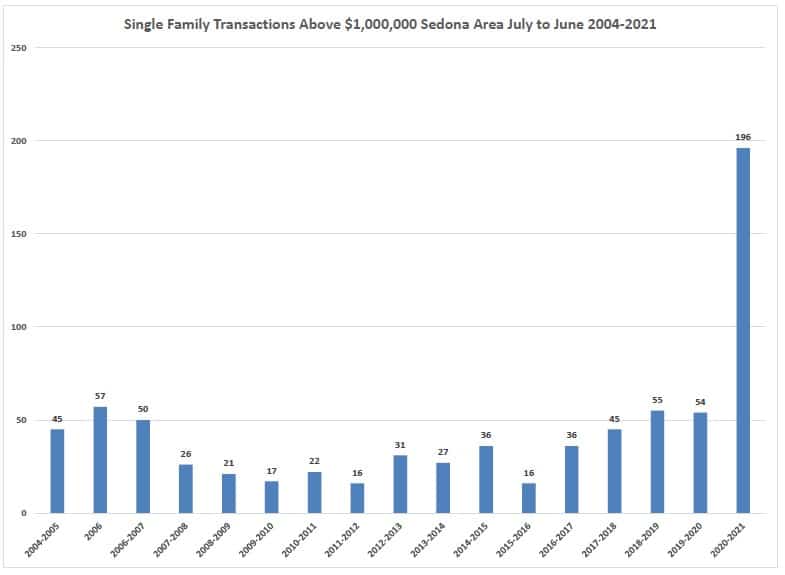 The demand for Sedona real estate is high and the inventory is low. Long gone are the homes averaging $500,000.
The new median priced home in Sedona is averaging $850,000, and million-dollar homes are in high demand.
Has Sedona reached its pinnacle in the housing market?
With the rising cost of homes, low inventory, more and more short-term rentals and limited rental housing available, will Sedona's bubble burst? Will there be an adjustment in home sale prices? Are we going to experience another market crash similar to 2007-2008?
No Collapse Predicted Yet
According to several local real estate agents, there is no evidence to indicate the market will collapse any time soon. On the contrary, many feel that Sedona is now a luxury market with buyers searching for homes over the million-dollar range.
"Ten to 15 years ago, people would come to town looking for a home between $500,000 and $700,000 asking what could they get, and you would show them the houses available," said Rick Wesselhoff, of Coldwell Banker Realty. "Then it changed when the internet became popular with Zillow and Realtor. com. People would say, 'I see houses X, Y and Z [online], and I want to see them when I come to town.'"
"Now they say, 'I see there aren't any homes available, but I am looking for some­thing like this,' and then it's the agent's job to look for something that's about to come on the market," Wesselhoff said. "It went from having a ton of inven­tory to dialed into what they want and now they want it and it's just not there."
The Buyers
Many real estate agents interviewed said that at least half or more of the buyers are coming from California. A lot of buyers are people in their 50s who realized during the COVID-19 pandemic that they can work remotely, and they want to live in a beautiful place and raise their families in a safe environment. A few of the multimillion-dollar homes were purchased by young entrepreneurs in their 20s and 30s who want a place where they can telecommute and enjoy the outdoors.
"Based on the trends and things I have studied, Sedona is going to be a solid market for the next year," said Kris Anderson, an agent with eXp Realty in Sedona.
Anderson said she is seeing more sales with younger buyers coming into the market and purchasing million-dollar homes. She doesn't see the housing bubble bursting any time soon in Sedona.
"I am not seeing that bubble nor am I seeing the foreclosure or notice for trustee sales," she said. "Those were the indica­tors for 2008. I look at notice for trustee sales and I could foresee 180 days out if there were some problems. We are not going to see that in Sedona. We are still a second home market."
Sales up 35%
At mid-year, single-family residence sales were up 35% over 2020. The median recorded sales price of those homes jumped 47% to $850,000, with an average price per square foot of $385.
"With multiple offer competition for new listings becoming commonplace, the sale-to-list-price ratio rose to an unprecedented 101%," said Roy Grimm, a broker with RE/MAX Sedona. "That is, on average, homes sold for 1% higher than list price. That price acceleration is largely due to a severe shortage of inventory in the face of continued strong demand."
The inventory in Sedona and the Village of Oak Creek is challenging. Currently there are 148 total residential units on the market and 82 available, meaning not in contract yet. Of the 82, 42 are in unincor­porated areas, and in city limits, 30 are homes, eight condos and two manufac­tured homes.
Of the 30 homes, two are priced at $700,000 or below, nine are priced between $700,000 and $1 million, and 19 are over $1 million.
"We definitely have a lot of people coming here for primary residences, and investment in short-term rentals has gone up as well," Wesselhoff said, adding Sedona "is hotter than the Village of Oak Creek because half of the neighbor­hoods do not allow short-term rentals. A property that allows short-term rentals is worth more to the buyers."
In 2021, the number of homes on the market has been 27% of the figure in 2020.
Vacation Rentals
Contributing to the skyrocketing prices is fierce competition for proper­ties that could legally be used as vacation rentals. That attribute has led to a sales price premium well beyond what a usual comparative market analysis would have indicated and sharply boosted the median and average price figures.
More and more buyers are coming into the market purchasing homes for the long term, but they want to use the property as a short-term rental until they are ready to move in for good.
"The No. 1 reason for people to leave Sedona or sell their home is to move closer to their children or for health care," Wesselhoff said. "I get that call every day from a past client or a friend asking how much can they get for their house. They really don't want to move, but they think if they sell their homes right now, they could pocket $300,000 to $500,000.
"Finding a place to live after they sell their home is not easy, so I tell them to stay where they are."
Sales Have Cooled
As the median price of a single-family home continues to set records, sales have cooled over that last 90-day period.
"The last 12-month period saw 710 sales, a 47% increase over the previous 12-month period's 485 sales," according to Randy Crewse, with Arizona Prime Real Estate. "This was the largest number of sales in a 12-month period ever. In the face of very strong demand, residential inventory continued to drop another 6% over the last 90-day period."
Vacant land sales have increased over the year as well.
"Vacant land had its best run since the 'Land Rush of 2004,' with 222 sales versus 54 in 2020," Grimm said. "Prices, however, still haven't matched that great leap. The median was up a very healthy 25%, but still only $242,250 — vastly short of 2006's $515,000. Still, with supply dwindling, it's only a matter of time before we're back to those sorts of prices."
"[Buyers] have to do their homework before they purchase land," Anderson said, "because we are finding that some people that were buying land, their Realtors didn't educate them well enough on how much things will cost such as a septic tank, a soil test and hiring a contractor to do a topography.
"If buyers are not getting the best education, they are getting these parcels and becoming disgruntled. I have had a couple of people go through the process and they have asked me to re-list their property after they bought it with another agent because they didn't know it was going to be so expensive."
Mortgage Rates
Record-low mortgage rates and shortage of inventory are keeping the housing market strong as far as demand is considered.
"It's a natural progression — it's all cyclical. As inventory goes down, prices go up …. I think that the forecasts right now over the next 12 months are pretty stable — 3% price increase as opposed to the 38% price increases we saw over the last year," Wesselhoff said. "Absorption rate takes into account the number of homes sold every month and how it relates to the number of homes total."
"A balanced market has six months of inventory," he said. "So if we are selling 50 homes a month you have to have 300 homes on the market to have a balanced even market. If there is less than 300 then that's a sellers market; if there is more than 300 at that rate of sale then it's a buyers market. Six months is the key. We are two months, so it is well into a sellers market. It can't get much lower than that."
For those who work in Sedona and want to live here, affordable housing is almost non-existent and expensive. Patricia Saxton, an artist in Sedona, has rented a home in the Village of Oak Creek for over three years. In March, the owner decided to move back and renovate his home, leaving Saxton without a place to live.
"I was given 45 days to vacate. The inventory was low and the prices were zipping up high," she said. "I couldn't find anything and I reached out to a friend that had a casita, and they let me stay there," she said. "It took me over five months to find a place. I kept track of the rentals and just happened to get online at the right moment and found a house that is perfect for me."
Dennis Dearden, superintendent of the Sedona Oak Creek School District, has found it difficult to find housing for teachers that he hired.
"One of the major issues is our school system," he said. "With declining enroll­ment, it is difficult for young families to afford the average house prices and recruiting teachers is a challenge. It's not hard to find teachers. They look at this place, the scenery and or the opportunity to teach in a unique school very attractive, and the salaries are very competitive to those in the Phoenix area."
"But the bottom line is once they get here they want to live in Sedona and it dawns on them they can't find a house here — there are no houses available or it's out of their price range," he said.
Forecast
"Locally title companies are telling us of a sharp decline in new escrows in Sedona and statewide for June and July," according to Grimm. "Some of that could be attributed to a return to our former market seasonality, but there does seem to be a sense of a bit of cooling."
"And, we are seeing more and more list prices decrease as sellers begin to back off some of the overweening valuations," he said. "Multiple offer situations are, however, still standard for well-priced homes and even some vacant land new listings when they hit the market. One shift, though, that we've seen with our clients is our increasing success for buyers with loans competing with cash buyers for those properties. That's not only good news for those clients, especially with rates so low now, but it also opens up the market to a sizeable level of pent-up demand from folks needing financing.
"They've been largely shut out of the market, until recently, by cash buyers," Grimm said. "Having them back, in increasing numbers, keeps the market strong and healthy."
Class action against commissions in real estate clears another hurdle – The Globe and Mail
We use cookies and data to
Deliver and maintain Google services
Track outages and protect against spam, fraud, and abuse
Measure audience engagement and site statistics to understand how our services are used and enhance the quality of those services
If you choose to "Accept all," we will also use cookies and data to
Develop and improve new services
Deliver and measure the effectiveness of ads
Show personalized content, depending on your settings
Show personalized ads, depending on your settings
Non-personalized content is influenced by things like the content you're currently viewing, activity in your active Search session, and your location. Non-personalized ads are influenced by the content you're currently viewing and your general location. Personalized content and ads can also include more relevant results, recommendations, and tailored ads based on past activity from this browser, like previous Google searches. We also use cookies and data to tailor the experience to be age-appropriate, if relevant.
Select "More options" to see additional information, including details about managing your privacy settings. You can also visit g.co/privacytools at any time.
This $2 million Toronto home underwent a huge makeover and now looks better than ever
Back in 2014, we featured 325 Perth Ave. as the house of the week, boasting how great of a catch it was with its open concept layout, basement apartment, and deep backyard.
Nine years later, it's had a massive glow-up and is now better than ever.
Listed for $1,899,000, 325 Perth Ave. underwent the renovation of a lifetime back in 2021.
"The owners bought this house in 2014 against 32 other offers and for 133 per cent over asking price, and the media debated heavily at the time if it was a smart decision," realtor Maggie Lind told blogTO.
But they really made the best of their decision and in 2020, they began a renovation to add a 16-foot addition, build a laneway suite and gut the main floor.
But then the pandemic hit.
"Because of COVID the laneway house was completed first, and the owners, and their two boys (both under 6) moved into it, even though it was only 350 square feet. Each night they went back to the construction to sleep in the two bedrooms on the second floor," added Lind.
The sacrifice was worth it, though, as the renovated home is gorgeous.
The main floor, with an open-concept floor plan, wide plank white oak flooring, and custom built-ins, is beautiful.
There's also a cheeky hidden powder room on the main floor and the custom kitchen is sleek and modern with quartz counters.
The 16-foot addition at the back of the house is now a cozy family room that walks to the back garden and is filled with natural light.
Upstairs, there are three bedrooms, including a completely new primary suite.
It has soaring ceilings, double closets, and an ensuite bathroom with a deep soaker tub, walk-in shower, and double vanity.
The basement has a separate entrance and could be used as an income-generating space as it has a kitchen, bedroom and bathroom.
And if one income-generating space wasn't enough, there's also the laneway house at the back of the property.
The laneway home is similar in design to the main house – modern, bright, and airy.
It's a studio apartment with about 400 square feet of living space, as well as parking and a storage room. It also has its own laundry, making it ideal for tenants and guests alike.
Currently, the laneway house is tenanted for $1,700 a month.
This home really went from a snack to the full meal deal.
New to Canada? Here's how to purchase or rent a home – CTV News
We use cookies and data to
Deliver and maintain Google services
Track outages and protect against spam, fraud, and abuse
Measure audience engagement and site statistics to understand how our services are used and enhance the quality of those services
If you choose to "Accept all," we will also use cookies and data to
Develop and improve new services
Deliver and measure the effectiveness of ads
Show personalized content, depending on your settings
Show personalized ads, depending on your settings
Non-personalized content is influenced by things like the content you're currently viewing, activity in your active Search session, and your location. Non-personalized ads are influenced by the content you're currently viewing and your general location. Personalized content and ads can also include more relevant results, recommendations, and tailored ads based on past activity from this browser, like previous Google searches. We also use cookies and data to tailor the experience to be age-appropriate, if relevant.
Select "More options" to see additional information, including details about managing your privacy settings. You can also visit g.co/privacytools at any time.