Red hot Sedona real estate shows signs of cooling – Sedona Red Rock News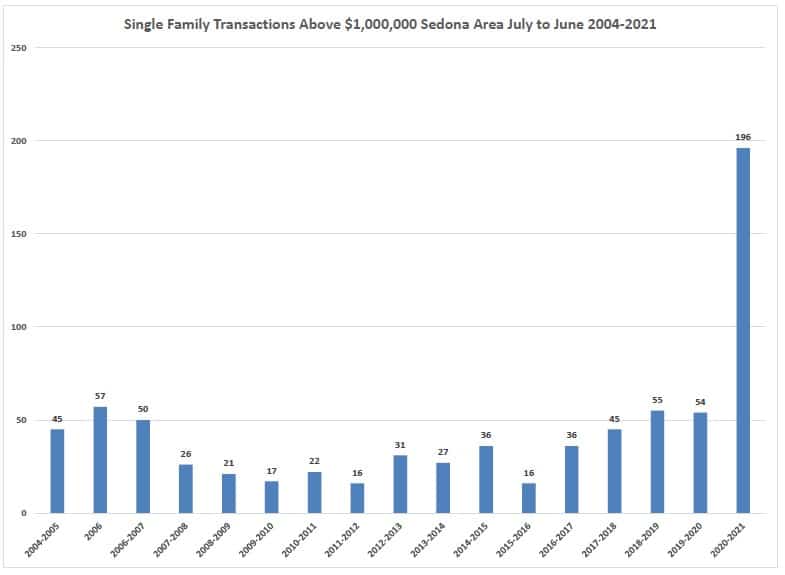 The demand for Sedona real estate is high and the inventory is low. Long gone are the homes averaging $500,000.
The new median priced home in Sedona is averaging $850,000, and million-dollar homes are in high demand.
Has Sedona reached its pinnacle in the housing market?
With the rising cost of homes, low inventory, more and more short-term rentals and limited rental housing available, will Sedona's bubble burst? Will there be an adjustment in home sale prices? Are we going to experience another market crash similar to 2007-2008?
No Collapse Predicted Yet
According to several local real estate agents, there is no evidence to indicate the market will collapse any time soon. On the contrary, many feel that Sedona is now a luxury market with buyers searching for homes over the million-dollar range.
"Ten to 15 years ago, people would come to town looking for a home between $500,000 and $700,000 asking what could they get, and you would show them the houses available," said Rick Wesselhoff, of Coldwell Banker Realty. "Then it changed when the internet became popular with Zillow and Realtor. com. People would say, 'I see houses X, Y and Z [online], and I want to see them when I come to town.'"
"Now they say, 'I see there aren't any homes available, but I am looking for some­thing like this,' and then it's the agent's job to look for something that's about to come on the market," Wesselhoff said. "It went from having a ton of inven­tory to dialed into what they want and now they want it and it's just not there."
The Buyers
Many real estate agents interviewed said that at least half or more of the buyers are coming from California. A lot of buyers are people in their 50s who realized during the COVID-19 pandemic that they can work remotely, and they want to live in a beautiful place and raise their families in a safe environment. A few of the multimillion-dollar homes were purchased by young entrepreneurs in their 20s and 30s who want a place where they can telecommute and enjoy the outdoors.
"Based on the trends and things I have studied, Sedona is going to be a solid market for the next year," said Kris Anderson, an agent with eXp Realty in Sedona.
Anderson said she is seeing more sales with younger buyers coming into the market and purchasing million-dollar homes. She doesn't see the housing bubble bursting any time soon in Sedona.
"I am not seeing that bubble nor am I seeing the foreclosure or notice for trustee sales," she said. "Those were the indica­tors for 2008. I look at notice for trustee sales and I could foresee 180 days out if there were some problems. We are not going to see that in Sedona. We are still a second home market."
Sales up 35%
At mid-year, single-family residence sales were up 35% over 2020. The median recorded sales price of those homes jumped 47% to $850,000, with an average price per square foot of $385.
"With multiple offer competition for new listings becoming commonplace, the sale-to-list-price ratio rose to an unprecedented 101%," said Roy Grimm, a broker with RE/MAX Sedona. "That is, on average, homes sold for 1% higher than list price. That price acceleration is largely due to a severe shortage of inventory in the face of continued strong demand."
The inventory in Sedona and the Village of Oak Creek is challenging. Currently there are 148 total residential units on the market and 82 available, meaning not in contract yet. Of the 82, 42 are in unincor­porated areas, and in city limits, 30 are homes, eight condos and two manufac­tured homes.
Of the 30 homes, two are priced at $700,000 or below, nine are priced between $700,000 and $1 million, and 19 are over $1 million.
"We definitely have a lot of people coming here for primary residences, and investment in short-term rentals has gone up as well," Wesselhoff said, adding Sedona "is hotter than the Village of Oak Creek because half of the neighbor­hoods do not allow short-term rentals. A property that allows short-term rentals is worth more to the buyers."
In 2021, the number of homes on the market has been 27% of the figure in 2020.
Vacation Rentals
Contributing to the skyrocketing prices is fierce competition for proper­ties that could legally be used as vacation rentals. That attribute has led to a sales price premium well beyond what a usual comparative market analysis would have indicated and sharply boosted the median and average price figures.
More and more buyers are coming into the market purchasing homes for the long term, but they want to use the property as a short-term rental until they are ready to move in for good.
"The No. 1 reason for people to leave Sedona or sell their home is to move closer to their children or for health care," Wesselhoff said. "I get that call every day from a past client or a friend asking how much can they get for their house. They really don't want to move, but they think if they sell their homes right now, they could pocket $300,000 to $500,000.
"Finding a place to live after they sell their home is not easy, so I tell them to stay where they are."
Sales Have Cooled
As the median price of a single-family home continues to set records, sales have cooled over that last 90-day period.
"The last 12-month period saw 710 sales, a 47% increase over the previous 12-month period's 485 sales," according to Randy Crewse, with Arizona Prime Real Estate. "This was the largest number of sales in a 12-month period ever. In the face of very strong demand, residential inventory continued to drop another 6% over the last 90-day period."
Vacant land sales have increased over the year as well.
"Vacant land had its best run since the 'Land Rush of 2004,' with 222 sales versus 54 in 2020," Grimm said. "Prices, however, still haven't matched that great leap. The median was up a very healthy 25%, but still only $242,250 — vastly short of 2006's $515,000. Still, with supply dwindling, it's only a matter of time before we're back to those sorts of prices."
"[Buyers] have to do their homework before they purchase land," Anderson said, "because we are finding that some people that were buying land, their Realtors didn't educate them well enough on how much things will cost such as a septic tank, a soil test and hiring a contractor to do a topography.
"If buyers are not getting the best education, they are getting these parcels and becoming disgruntled. I have had a couple of people go through the process and they have asked me to re-list their property after they bought it with another agent because they didn't know it was going to be so expensive."
Mortgage Rates
Record-low mortgage rates and shortage of inventory are keeping the housing market strong as far as demand is considered.
"It's a natural progression — it's all cyclical. As inventory goes down, prices go up …. I think that the forecasts right now over the next 12 months are pretty stable — 3% price increase as opposed to the 38% price increases we saw over the last year," Wesselhoff said. "Absorption rate takes into account the number of homes sold every month and how it relates to the number of homes total."
"A balanced market has six months of inventory," he said. "So if we are selling 50 homes a month you have to have 300 homes on the market to have a balanced even market. If there is less than 300 then that's a sellers market; if there is more than 300 at that rate of sale then it's a buyers market. Six months is the key. We are two months, so it is well into a sellers market. It can't get much lower than that."
For those who work in Sedona and want to live here, affordable housing is almost non-existent and expensive. Patricia Saxton, an artist in Sedona, has rented a home in the Village of Oak Creek for over three years. In March, the owner decided to move back and renovate his home, leaving Saxton without a place to live.
"I was given 45 days to vacate. The inventory was low and the prices were zipping up high," she said. "I couldn't find anything and I reached out to a friend that had a casita, and they let me stay there," she said. "It took me over five months to find a place. I kept track of the rentals and just happened to get online at the right moment and found a house that is perfect for me."
Dennis Dearden, superintendent of the Sedona Oak Creek School District, has found it difficult to find housing for teachers that he hired.
"One of the major issues is our school system," he said. "With declining enroll­ment, it is difficult for young families to afford the average house prices and recruiting teachers is a challenge. It's not hard to find teachers. They look at this place, the scenery and or the opportunity to teach in a unique school very attractive, and the salaries are very competitive to those in the Phoenix area."
"But the bottom line is once they get here they want to live in Sedona and it dawns on them they can't find a house here — there are no houses available or it's out of their price range," he said.
Forecast
"Locally title companies are telling us of a sharp decline in new escrows in Sedona and statewide for June and July," according to Grimm. "Some of that could be attributed to a return to our former market seasonality, but there does seem to be a sense of a bit of cooling."
"And, we are seeing more and more list prices decrease as sellers begin to back off some of the overweening valuations," he said. "Multiple offer situations are, however, still standard for well-priced homes and even some vacant land new listings when they hit the market. One shift, though, that we've seen with our clients is our increasing success for buyers with loans competing with cash buyers for those properties. That's not only good news for those clients, especially with rates so low now, but it also opens up the market to a sizeable level of pent-up demand from folks needing financing.
"They've been largely shut out of the market, until recently, by cash buyers," Grimm said. "Having them back, in increasing numbers, keeps the market strong and healthy."
When it comes to cutting carbon emissions, the real estate industry is running out of time – CNN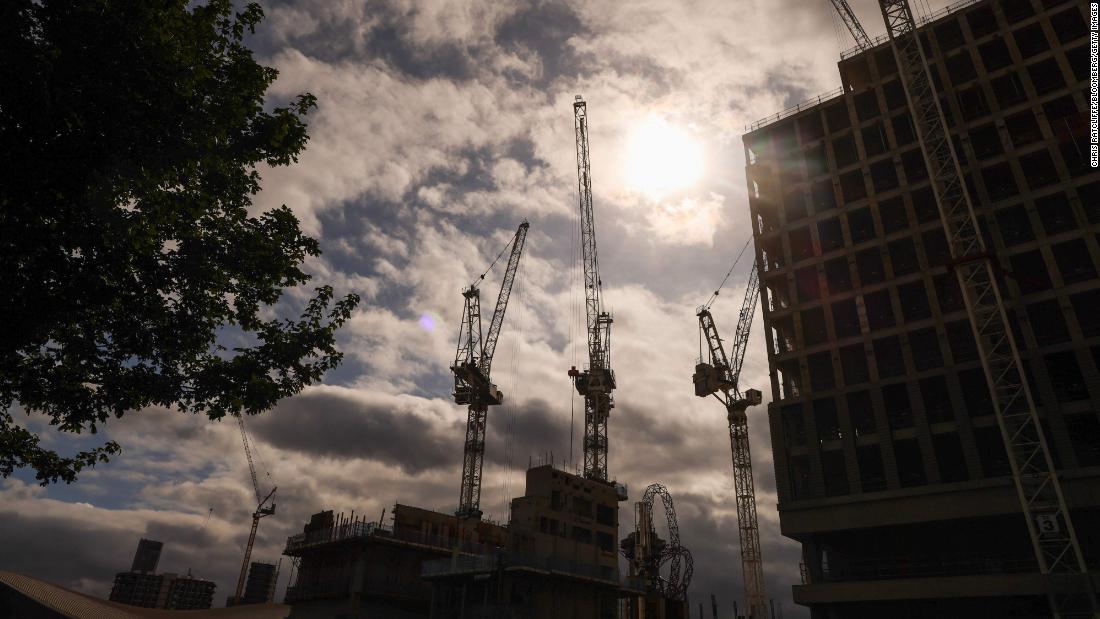 Diane Hoskins is co-CEO of Gensler. The opinions expressed in this commentary are her own.
Extreme weather events — including heat waves, droughts and floods — have unfolded all over the world this summer. The grave impact of climate change is upon us and will continue to have a profound impact on human life. But there are still largely untapped actions we can take to reduce the damage.
Achieving global policy ambitions like the ones set in the 2015 Paris Agreement will require leadership from the private sector, but individual companies with strong internal climate commitments can't go at it alone. They are hamstrung unless other businesses in their ecosystem follow through with similar pledges. To accomplish this, companies need policies that require the cooperation of external stakeholders at every step of the value chain.
For those of us in the real estate sector, the concern always seemed to be less about the cause of our manmade carbon footprint and more about cost. For years, we have seen rising sea levels and extreme weather events happening around us, putting property portfolios at risk. The economic and physical changes have affected insurance industry volatility, impacting construction and long-term investment prospects.
However, many in the industry have yet to admit that buildings are as responsible for carbon as cars. The real estate industry makes up 49% of
global carbon emissions
when accounting for construction and building performance. Most carbon reduction efforts in the building sector have focused on operational efficiency — energy sources for keeping buildings at an ideal temperature, lighted, ventilated and powered — so that properties consume as little energy as possible. And while these efforts have furthered the industry's goal of getting buildings closer to net zero operationally, we can no longer ignore that building materials account for half of a building's total lifetime
carbon footprint
.
We are out of time. And the real estate industry's wait-and-see approach is no longer acceptable. Embodied carbon — emissions associated with the manufacturing, transport, construction and disposal of building materials — must become a priority for the entire industry value chain.
With commercial buildings, concrete and steel have traditionally been used for construction, along with other frequently used carbon-intensive materials like foam insulation, plastics and aluminum. However, building with structural wood has increasingly gained traction as an alternative, given that it sequesters more carbon than it emits. Developers are becoming aware of its versatility and sustainability, and if adopted on a global scale, mass timber could challenge steel and cement as the preferred materials for construction. Additionally, structural engineers have already successfully used recycled steel and low-carbon cement consisting of alternative mixtures. This, combined with using more unpolished and salvaged materials, has already proven to lower buildings' carbon footprints.
And since nearly 75% of all
raw materials
in the US are used for the construction of buildings, the conscious decisions about the sourcing, construction and finishing of our development projects will have a lasting environmental impact.
At Gensler, a global architecture and design firm, we recently issued letters to our structural engineers, vendors, suppliers, construction and general contracting leaders asking for their partnership in shaping their policy to change the value chain. Together, we are developing an agreed-upon approach for specifying quality products that align with our company's carbon neutrality promise. In early 2022, Gensler is launching new green specifications that focus on reducing high-carbon materials, using the most efficient structural solutions to reduce material quantities, sourcing materials that are extracted and manufactured locally, and minimizing waste. These specifications will be used on all of our projects. From then on, we will prioritize working with partners who meet those specifications and use materials that significantly reduce construction-related emissions, such as low-carbon concrete, steel, cross-laminated timber and alternative materials that absorb rather than emit carbon. With Gensler's design impact and its global scale, this change in demand for sustainable materials will have an immediate ripple effect across the building sector.
If all parts of the real estate ecosystem — including architects, owners, developers, investors, constructors and material suppliers — move toward a net zero ambition, together, they could save 10 billion tonnes of
CO2
from the atmosphere. This is the equivalent of removing nearly 2.2 billion
gas-powered cars
from the road for an entire year. There must be global net zero building standards across major market participants, investors, developers, designers and occupiers to drive demand. We must also create policies that demand energy suppliers provide access to low-carbon alternatives.
This era of reducing the embodied carbon in building materials will change construction and real estate development. We have entered a critical period for humanity. Carbon-neutral statements,
science-based targets
, and promises at international forums like the UN Climate Change conference will not suffice. Tangible and immediate action is the only solution.
What Sold: 19 Newport County real estate sales, transactions (Sept. 18 – 24) – What'sUpNewp
Real estate, like any industry, is based on the foundation of supply and demand. Sellers are seeing premium prices for their homes due to low-interest rates and even lower inventory; which makes for a very competitive environment from a buyer's perspective.
If you're considering selling or simply want to know what your home may be worth in today's market, I am offering confidential, complimentary, and no-strings-attached home value analyses to anyone interested. If you have any real estate questions, please give me a call directly at 401-241-1851 or email me at TylerB@remaxnewportri.com.
In the meantime, here's what sold in Newport County last week.
Newport
26 Brown and Howard #201 sold for $2,275,000 on September 24. This 2,556 sq. ft home has 2 beds and 3 baths.
11 Harrison Avenue #D4 sold for $2,295,000 on September 23. This 2,446 sq. ft home has 3 beds and 3 baths.
529 Bellevue Avenue sold for $6,600,000 on September 24. This 7,624 sq. ft home has 5 beds and 8 baths.
14 Homer Street sold for $611,000 on September 24. This 1,573 sq. ft home has 3 beds and 2 baths.
15 Hammersmith Road #14A sold for $775,000 on September 24. This 1,956 sq. ft home has 3 beds and 3 baths.
31 Bowery Street sold for $5,200,000 on September 22. This 6,613 sq. ft home has 11 beds and 10 baths.
11 S Baptist Street sold for $690,000 on September 21. This 1,536 sq. ft home has 4 beds and 2 baths.
13 Holland Street #2 or B sold for $415,000 on September 20. This 1,018 sq. ft home has 2 beds and 2 baths.
14 Brinley Street #1 sold for $300,000 on September 20. This 631 sq. ft home has 1 bed and 1 bath.
154 Eustis Avenue sold for $1,200,000 on September 20. This 2,160 sq. ft home has 3 beds and 2 baths.
11 Sagamore Street sold for $459,000 on September 20. This 1,852 sq. ft home has 3 beds and 3 baths.
Middletown
109 Wolcott Avenue sold for $1,060,000 on September 23. This 3,800 sq. ft home has 6 beds and 6 baths.
Portsmouth
3 Fox Run sold for $399,000 on September 22. This 1,600 sq. ft home has 2 beds and 3 baths.
30 Moitoza Lane sold for $650,000 on September 21. This 1,026 sq. ft home has 2 beds and 1 bath.
297 Glen Road sold for $1,105,000 on September 21. This 2,402 sq. ft home has 4 beds and 3 baths.
66 Rebels Way #BH 26 sold for $586,000 on September 21. This 2,321 sq. ft home has 2 beds and 3 baths.
26 Cherokee Drive sold for $530,000 on September 21. This 2,194 sq. ft home has 3 beds and 3 baths.
12 Ann Avenue sold for $413,000 on September 20. This 1,908 sq. ft home has 3 beds and 2 baths.
Jamestown
Nothing to report.
Tiverton
2156 Main Road sold for $379,000 on September 20. This 1,008 sq. ft home has 2 beds and 1 bath.
Little Compton
Nothing to report.
Real estate could reap climate action dividends – REMI Network – Real Estate Management Industry Network
The global urgency for climate action has an upside companion in global opportunities for strategic investment that could improve people's lives and yield sustainable returns. Delivering the keynote address during the recent online commercial real estate sustainability trailblazers (CREST) awards, Dr. Richard Munang, the United Nations Environment Program (UNEP) climate change coordinator for Africa, underscored how the pursuit of net-zero emissions could open up new markets, create jobs and richly reward investors who move in advance of regulatory mandates.
"Not everybody who chased the zebra caught it, but he who caught it, chased it. This African proverb describes a critical asset that precedes success and it is summed up in two words: Taking chances," Munang submitted. "Environmental sector players regularly need to take chances and seize opportunities."
While the landlord-tenant teams participating in the race2reduce — a climate action initiative of the Building Owners and Managers Association (BOMA) of Greater Toronto aimed at finding energy and water savings and curbing solid waste output within commercial buildings — might not define themselves as direct environmental sector players, they fit into Munang's broader philosophy of moving key economic sectors onto what he terms the net-zero emissions pathway.
Real estate, he maintains, is particularly well positioned to realize the "economic, social and environmental dividends" of operational savings, enhanced asset value, market influence and emerging new investment asset classes such as energy retrofit and affordable housing. Citing the findings of the recently released Intergovernmental Panel on Climate Change (IPCC) report on the physical factors of climate change, he reiterated that real estate's current quotient of 40 per cent of total global emissions also gives it the weight to lead the transition to net-zero status. Projections for a required USD $4.7 trillion global investment in green buildings over the next eight years represent critical leverage.
"The real question that all of us need to ask today, and also need to answer, is how the process of reducing these emissions can actually unlock more investment opportunities for the real estate industry as we drive inclusive economic growth," Munang asserted. "Real estate can enhance the chances of realizing and attracting capital in green developments. This comes with a reorientation where focus shifts from ordinary markets and investments to niche markets and investments that place a premium on green sustainability."
Along with the tangible reduction achievements gained through low-emission technologies, passive design principles and renewable energy options, he credits "soft" attributes such as passion, inspiration and boldness for generating interest, drawing participation, bolstering commitment and helping to overcome obstacles. That's also central to the race2reduce and CREST strategy, which harnesses friendly rivalry while creating a context for collaborative efforts toward a larger shared goal.
As Munang affirmed, that shared goal is a momentous one:
"In the cycles of life, it happens that big challenges befall one generation which must be solved to guarantee the existence of future generations," he said. "Climate change is the challenge of our generation. And we have all of 10 to 30 years with which to change the cause and narrative for present and future generations."
The 2021 CREST winners are:
Performance Leadership, Electricity
≤ 100,000 square feet: 15 Toronto Street, Toronto; owned by 15 Toronto Holdings Limited; managed by Madison Properties Inc.
100,000 to 500,000 square feet: 40 St. Clair Avenue West, Toronto; owned and managed by Colliers International
≥ 500,000 square feet: 100 Wellington Street West, Toronto; owned and managed by The Cadillac Fairview Corporation
Performance Leadership, Gas
≤ 100,000 square feet: 480 Progress Avenue, Toronto; owned by CIBC; managed by BGIS
100,000 to 500,000 square feet: 95 Moatfield Drive Toronto; owned and managed by Colliers International
≥ 500,000 square feet: 3381/3389 Steeles Avenue, Toronto; owned and managed by CentreCorp
Performance Leadership, Water
≤ 100,000 square feet: 154 University Avenue, Toronto; owned and managed by Colliers International
100,000 to 500,000 square feet: 1, 3 & 4 Robert Speck Parkway, Mississauga; owned and managed by Colliers International
≥ 500,000 square feet: 100 Wellington Street West, Toronto; owned and managed by The Cadillac Fairview Corporation
Performance Leadership, Waste
≤ 100,000 square feet: 154 University Avenue, Toronto; owned and managed by Colliers International
100,000 to 500,000 square feet: 390 Bay Street, Toronto; owned by Munich Reinsurance Company of Canada; managed by Avison Young Real Estate Management Services
≥ 500,000 square feet: RioCan portfolio; owned and managed by RioCan Real Estate Investment Trust
Performance Leadership, Landmark Buildings
Greater Toronto Airports Authority portfolio; owned and managed by Greater Toronto Airports Authority
Climate Champion
100,000 to 500,000 square feet: 90 Sheppard Avenue East, Toronto; owned and managed by Crown Property Management Inc.
≥ 500,000 square feet: 25 York Street; owned by Menkes Developments; managed by Menkes Property Management Services
Collaborative Excellence, Landlord
≤ 500,000 square feet: 390 Bay Street, Toronto; owned by Munich Reinsurance Company of Canada; managed by Avison Young Real Estate Management Services
≥ 500,000 square feet: 1800 Sheppard Avenue East, Toronto; owned and managed by The Cadillac Fairview Corporation
Collaborative Excellence, Tenant
≤ 500,000 square feet: 250 The Esplanade, Toronto; Tenant, Energy@Work; Owner, Berkeley Castle Investments
Innovative Excellence
≤ 100,000 square feet: 15 Toronto Street, Toronto; owned by 15 Toronto Holdings Limited; managed by Madison Properties Inc.
100,000 to 500,000 square feet: 4711 Yonge Street, Toronto: owned by Menkes Developments & Healthcare of Ontario Pension Plan (HOOPP); managed by Menkes Property Management Services
≥ 500,000 square feet: 999 Upper Wentworth Street, Hamilton; owned and managed by The Cadillac Fairview Corporation