Religious broadcaster Pat Robertson dies aged 93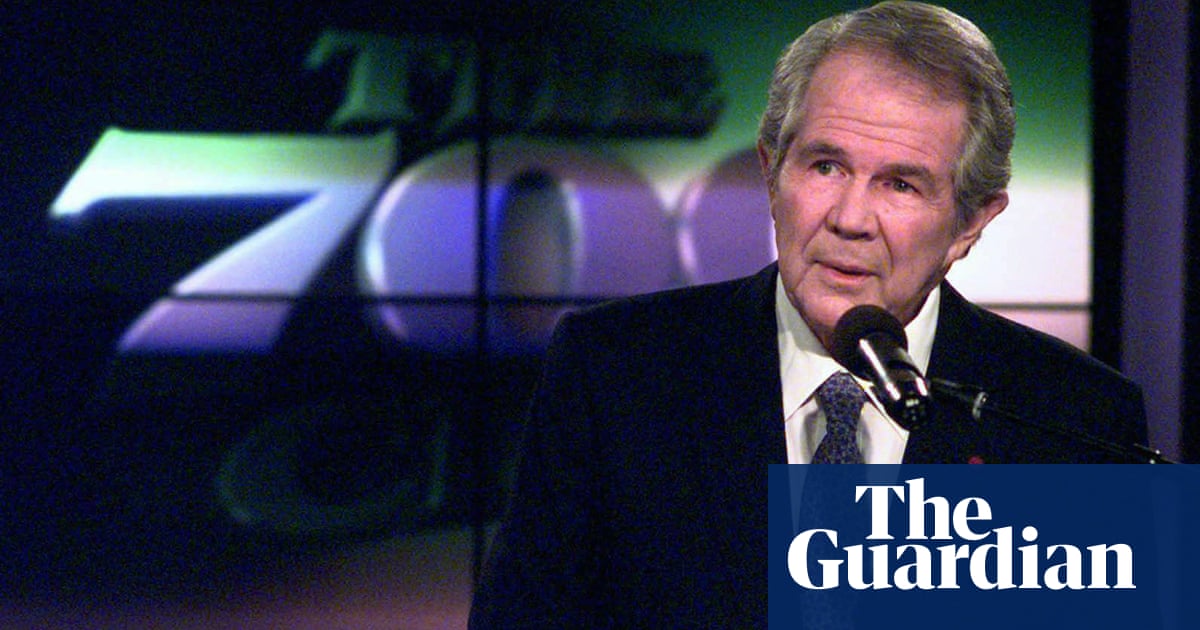 The religious broadcaster Pat Robertson, who led the Christian Coalition and ran for president as a Republican, has died.
On Thursday, the Christian Broadcasting Network announced his death. No cause was given. He was 93.
Robertson's enterprises also included Regent University, an evangelical Christian school in Virginia Beach; the American Center for Law and Justice, which defends the first amendment rights of religious people; and Operation Blessing, an international humanitarian organization.
But for more than half a century, Robertson was a familiar presence in American living rooms, known for his 700 Club television show, and in later years, his televised pronouncements of God's judgment on America for everything from homosexuality to the teaching of evolution.
The money poured in as he solicited donations, his influence soared, and when he moved directly into politics by seeking the GOP presidential nomination in 1988, he brought a huge following with him.
Robertson pioneered a now common strategy of courting Iowa's network of evangelical Christian churches, and finished in second place in the Iowa caucuses, ahead of Vice-President George HW Bush.
At the time, Jeffrey K Hadden, a University of Virginia sociologist and a Robertson biographer, said Robertson's masterstroke was insisting that 3 million followers across the US sign petitions before he would decide to run. The tactic gave him an army.
″He asked people to pledge that they'd work for him, pray for him and give him money," Hadden told the Associated Press in 1988. "Political historians may view it as one of the most ingenious things a candidate ever did."
Robertson later endorsed Bush, who won the presidency. Pursuit of Iowa's evangelicals is now a ritual for Republican hopefuls, including those currently seeking the White House in 2024.
Robertson started the Christian Coalition in Chesapeake in 1989, saying it would further his campaign's ideals. The coalition became a major force in Republican politics in the 1990s, mobilizing conservative voters through grassroots activities.
By the time of his resignation as the coalition's president in 2001 – Robertson said he wanted to concentrate on ministerial work – his impact on both religion and politics in the US was "enormous", according to John C Green, an emeritus political science professor at the University of Akron.
Many followed the path Robertson cut in religious broadcasting, Green told the AP in 2021. In American politics, Robertson helped "cement the alliance between conservative Christians and the Republican party".
Marion Gordon "Pat" Robertson was born on 22 March 1930 in Lexington, Virginia, to Absalom Willis Robertson and Gladys Churchill Robertson. His father served for 36 years as a US representative and US senator from Virginia.
After graduating from Washington and Lee University, he served as assistant adjutant of the 1st Marine Division in Korea.
He received a law degree from Yale University Law School, but failed the bar exam and chose not to pursue a law career.
Robertson met his wife, Adelia "Dede" Elmer, at Yale in 1952. Eighteen months later, they ran off to be married by a justice of the peace, knowing neither family would approve.
Robertson was interested in politics until he found religion, Dede Robertson told the AP in 1987. He stunned her by pouring out their liquor, tearing a nude print off the wall and declaring he had found the Lord.
They moved into a commune in New York City's Bedford-Stuyvesant neighborhood because Robertson said God told him to sell all his possessions and minister to the poor.
Robertson received a master's in divinity from New York Theological Seminary in 1959, then drove south with his family to buy a bankrupt UHF television station in Portsmouth, Virginia. He said he had just $70 in his pocket, but soon found investors, and CBN went on the air on 1 Oct 1961. Established as a tax-exempt religious non-profit, CBN brought in hundreds of millions, disclosing $321m in "ministry support" in 2022 alone.
One of Robertson's innovations was to use the secular talkshow format on the network's flagship show, the 700 Club, which grew out of a telethon when Robertson asked 700 viewers for monthly $10 contributions. It was more suited to television than traditional revival meetings or church services, and gained a huge audience.
His guests eventually included several US presidents – Jimmy Carter, Ronald Reagan and Donald Trump.
At times, his on-air pronouncements drew criticism.
He claimed that the terrorist attacks that killed thousands of Americans on 11 September 2001 were caused by God, angered by the federal courts, pornography, abortion rights and church-state separation. Talking again about 9/11 on his TV show a year later, Robertson described Islam as a violent religion that wants to "dominate" and "destroy", prompting President George W Bush to distance himself and say Islam is a peaceful and respectful religion.
He called for the assassination of the Venezuelan president Hugo Chávez in 2005. Later that year, he warned residents of a rural Pennsylvania town not to be surprised if disaster struck them because they voted out school board members who favored teaching "intelligent design" over evolution. And in 1998, he said Orlando, Florida, should beware of hurricanes after allowing the annual Gay Days event.
In 2014, he angered Kenyans when he warned that towels in Kenya could transmit Aids. CBN issued a correction, saying Robertson "misspoke about the possibility of getting Aids through towels".
Robertson also could be unpredictable: in 2010, he called for ending mandatory prison sentences for marijuana possession convictions. Two years later, he said on the 700 Club that marijuana should be legalized and treated like alcohol because the government's war on drugs had failed.
Robertson helped solidify evangelical support for Donald Trump, dismissing the candidate's sexually predatory comments about women as an attempt "to look like he's macho".
After Trump took office, Robertson interviewed the president at the White House. And CBN welcomed Trump advisers, such as Kellyanne Conway, as guests.
But after Trump lost to Joe Biden in 2020, Robertson said Trump was living in an "alternate reality" and should "move on", news outlets reported.
Robertson's son, Gordon, succeeded him in December 2007 as chief executive of CBN, which is now based in Virginia Beach. Robertson remained chairman of the network and continued to appear on the 700 Club.
Robertson stepped down as host of the show after half a century in 2021, with his son Gordon taking over the weekday show.
Robertson wrote 15 books, including The Turning Tide and The New World Order.
His wife Dede died last year at the age of 94. The couple had four children, 14 grandchildren and 24 great-grandchildren, CBN said in a statement.
Social media is a double-edged sword for the public image of Canadian labour unions – The Conversation
We use cookies and data to
Deliver and maintain Google services
Track outages and protect against spam, fraud, and abuse
Measure audience engagement and site statistics to understand how our services are used and enhance the quality of those services
If you choose to "Accept all," we will also use cookies and data to
Develop and improve new services
Deliver and measure the effectiveness of ads
Show personalized content, depending on your settings
Show personalized ads, depending on your settings
If you choose to "Reject all," we will not use cookies for these additional purposes.
Non-personalized content is influenced by things like the content you're currently viewing, activity in your active Search session, and your location. Non-personalized ads are influenced by the content you're currently viewing and your general location. Personalized content and ads can also include more relevant results, recommendations, and tailored ads based on past activity from this browser, like previous Google searches. We also use cookies and data to tailor the experience to be age-appropriate, if relevant.
Select "More options" to see additional information, including details about managing your privacy settings. You can also visit g.co/privacytools at any time.
REACTION: How social media responded to Red Bull's constructors' title win – Formula 1
We use cookies and data to
Deliver and maintain Google services
Track outages and protect against spam, fraud, and abuse
Measure audience engagement and site statistics to understand how our services are used and enhance the quality of those services
If you choose to "Accept all," we will also use cookies and data to
Develop and improve new services
Deliver and measure the effectiveness of ads
Show personalized content, depending on your settings
Show personalized ads, depending on your settings
If you choose to "Reject all," we will not use cookies for these additional purposes.
Non-personalized content is influenced by things like the content you're currently viewing, activity in your active Search session, and your location. Non-personalized ads are influenced by the content you're currently viewing and your general location. Personalized content and ads can also include more relevant results, recommendations, and tailored ads based on past activity from this browser, like previous Google searches. We also use cookies and data to tailor the experience to be age-appropriate, if relevant.
Select "More options" to see additional information, including details about managing your privacy settings. You can also visit g.co/privacytools at any time.
Russian media rhetoric could be 'incitement to genocide in Ukraine': UN
UN investigators probing violations in Ukraine since Russia's full-scale invasion have warned that some rhetoric transmitted by Russian media could amount to incitement to genocide.
Speaking before the UN Human Rights Council on Monday, the head of the investigation team, Erik Mose, voiced concern "about allegations of genocide in Ukraine".
"For instance, some of the rhetoric transmitted in Russian state and other media may constitute incitement to genocide," he said, adding that the team was "continuing its investigations on such issues".
The Norwegian judge heads a three-person Commission of Inquiry (COI), which was created by the council to investigate violations committed since Russia's full-scale invasion of its neighbour in February last year.
In its first full report in March, the team determined that Russian authorities had committed "a wide range of war crimes".
Mose said at the time that the commission was aware of accusations of genocide, including the forced transfer of Ukrainian children to areas under Russian control, and promised to investigate.
In his update to the council on Monday, Mose lamented a "lack of clarity and transparency on the full extent, circumstances, and categories of children transferred", and said the team was continuing to investigate.
The March report had also determined that Moscow was behind a vast array of other war crimes, including widespread attacks on civilians and infrastructure, killings, torture and rape and other sexual violence.
Mose said on Monday that the commission, which had travelled more than 10 times to Ukraine, was now "undertaking a more in-depth investigation" that "may also clarify whether torture and attacks on energy infrastructure amount to crimes against humanity".
Among other things, he said the team was investigating the cause of the disastrous destruction of the Nova Kakhovka dam in Russian-held territory on June 6.
The team had also collected more evidence indicating "widespread and systematic" use of torture by Russian armed forces, commission member Pablo de Greiff told reporters.
The torture was mainly taking place in detention centres controlled by Russian authorities, and was in some cases so brutal the victims died, he said.
"Not having access to places of detention under the control of the Russian Federation, it is impossible to quantify exactly the number of people that may have died as a result of this practice," he said, adding that it appeared to be "a fairly large number".
Rape and other sexual violence was also widespread.
In the Kherson region, the commission found that "Russian soldiers raped and committed sexual violence against women of ages ranging from 19 to 83 years", Mose said.
Pointing to "the scale and gravity of violations and corresponding crimes that have been committed in Ukraine by Russian armed forces", he emphasised "the need for accountability".
The investigators are in the process of drawing up a list of suspected perpetrators, which "will be in due course submitted to the High Commissioner for Human Rights", he said.
The team, he said, has also urged Ukrainian authorities to " expeditiously and thoroughly investigate the few cases of violations by its own forces".
The cases of abuse found on the Ukrainian side largely involved the use of explosive weapons that affected civilian populations and the mistreatment of detained Russian soldiers, the investigators said.
But Mose stressed that there was no comparison to the variety and vast numbers of violations committed on the Russian side.