Report Urges Real Estate Owners to Take Action to Decarbonize Cities – Storeys
Written By
Erin Nicole Davis
We're at the point when it's no longer a nice idea to decarbonize cities; it's an urgent necessity.
The latest global research from global real estate firm JLL — who is working with corporations and governments to rapidly decarbonize cities — reveals telling insights into the future of cities in response to the climate crisis.
In simple terms, JLL says we're at a tipping point. And immediate action is needed.
In a study of 32 global urban centers, Decarbonizing Cities and Real Estate, JLL's research revealed that real estate's contribution to emissions averages 60%, even higher in the world's largest business centers — as much as 78% in London, 73% in Tokyo, 71% in Washington, DC, 70% in Paris, and 66% in New York.
JLL acknowledges that city governments are setting ambitious sustainability targets, yet says plans to tackle the embodied and operational carbon emissions from buildings are often not included. JLL is subsequently urging real estate landlords, investors, developers, and occupiers to step in with other sustainability initiatives to deliver a net-zero environment.
In an overarching theme, the study finds there is a significant gap between the policies enacted in municipalities, the impact of the real estate industry, and the climate science that indicates the need to reach peak emissions to limit global warming. The research identified that the most successful cities to advance decarbonization will be those that balance regulation, incentives, innovation, and accelerators.
The global commercial real estate company says that, in order to deliver a net-zero economy, city governments need to take real estate decarbonization as seriously as other sustainability initiatives and find the right balance between regulation, incentivization, coercion, and advocacy.
The report found that leading cities understand the importance of partnerships to help small and medium-sized companies improve sustainability.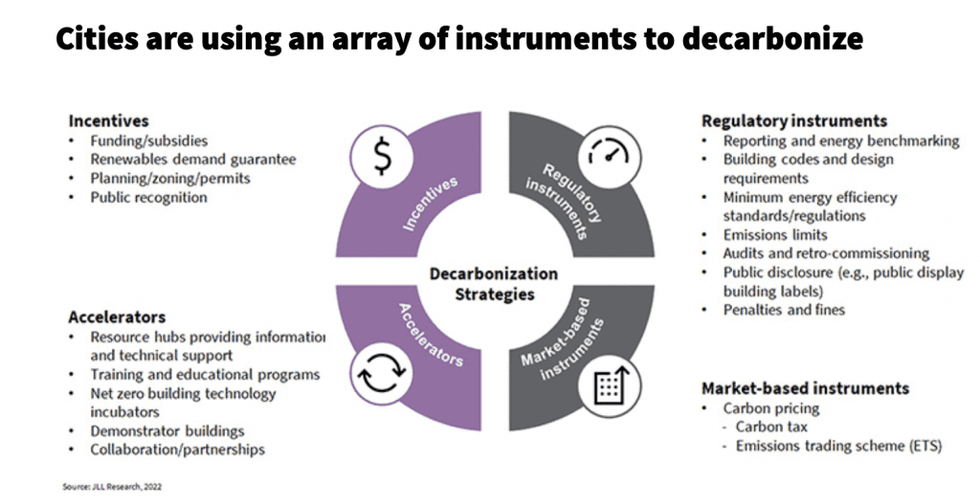 According to the report, one of the biggest gaps in realizing net-zero targets is in greening energy grids — a challenge corporates have no direct control over and one that often requires larger collaboration at the multi-city or national level. "To meet this challenge of both breadth and urgency, cities will need to collaborate with neighbouring local, state, and national governments to develop large-scale renewable energy and storage infrastructure," reads a JLL-issued press release. "City governments have a pivotal role in greening local energy grids, over which the real estate industry has little direct control. Without decarbonizing the electricity grid there are limits to what building owners can achieve in reducing their carbon emissions." It's literally been out of the real estate industry's hands.
"Partnerships between the private-sector and local governments are critical to driving tangible progress in decarbonizing the economy, particularly in the Global North where so much retrofit is required of existing building stock," said Guy Grainger, Global Head of Sustainability Services and ESG for JLL. "If this doesn't happen, expect local governments to introduce heavy regulation and penalties on building standards — there will be winners and losers as cities race to zero."
The research warns that, in aggregate, at the global scale, policy is lagging the science today and this puts a greater onus on the private sector to take the lead in climate action. Waiting for regulation to take action is not advised, says JLL, and those who act now will have more resilient assets and even a competitive edge.
The research also identified the pivotal role that knowledge sharing and accelerator programs play in facilitating the retrofitting of existing buildings, particularly for small owners and occupants. In developed cities, 80% of the building stock that will be standing in 2050 has already been built. To meet 2050 targets, retrofitting rates will need to exceed 3% per year — they currently stand at 1-2% — making knowledge sharing of sustainable practices between governments and large and small entities critical to keep pace.
The report calls out several cities for their innovative approaches to reducing emissions from buildings, including New York City with a raft of local laws that are among the most stringent globally; Singapore and Vancouver, which have set out holistic approaches to greening their buildings; Paris and Amsterdam, which are taking a lead in considering embodied carbon; London and Los Angeles which are setting the pace on biodiversity; and Tokyo's cap-and-trade program which incentivizes building owners to reduce emissions.
Closer to home, Toronto's TransformTO Climate Action Plan has a target to retrofit 100% of existing buildings to achieve an average 40% improvement in energy performance by 2050. Through the Better Buildings Partnership (BBP), the City of Toronto provides energy reporting and benchmarking, retrofit loans, and building support expertise to improve the energy efficiency of all building types. The BBP has supported over 2,600 projects resulting in 810,000 tonnes of CO2 emissions reduction.
On a larger scale, the research highlights how cross-border collaboration will be needed, especially to help mitigate the worst impacts of climate change for the planet, and in particular for the most vulnerable cities in the Global South.
Simplicity Changes the Real Estate Conveyancing Software Landscape in Ontario with Launch of Prolegis – Canada NewsWire
'Simplicity is incredibly pleased and excited to offer Ontario real estate lawyers and conveyancers a fresh new choice in a legal software provider. Collaborating with our valued customers and a network of trusted stakeholders, we are building a better, brighter future for real estate legal professionals and Canadian homebuyers. At Simplicity, we envision a future where innovative technology is at the forefront of enhancing the customer experience in the real estate ecosystem. We are committed to helping advance technology utilization and adoption within the real estate sector by providing solutions that are user-friendly, easy to implement, and economical to acquire and operate.' said Neil N. Babiy, Co-Founder and CEO of Simplicity Global Solutions Ltd.
About Prolegis Real Estate
Prolegis is a powerful, easy-to-use, cloud-based real estate conveyancing solution built for lawyers by lawyers. The solution integrates seamlessly with a real estate practice, providing a rich set of tools and information to help each user unlock exciting new levels of performance, customer engagement, and work-life balance.
Prolegis provides customers with exceptional value:
Thoughtfully designed to save time with all the capabilities and key third-party integrations needed to convey a real estate transaction efficiently and economically.
User flexibility to configure and organize work, communicate with clients, and manage the real estate transaction end-to-end from a single solution; anytime, anywhere.
An extensive library of precedent document templates, powerful document and workflow management tools, community databases, stakeholder portals, and real-time support.
Prolegis Real Estate raises the competitive bar with its unique set of Communication, Practice Management, and Document Preparation tools which enable quick, easy, and accurate processing of real estate transactions.
Ontario real estate lawyers and conveyancers can click here to Learn More about Prolegis and to Book a Demo. Simplicity has highly skilled Customer Success Specialists in place across Canada to welcome new customers.
Click here to view a Prolegis Product Teaser Video.
About Simplicity Global Solutions Ltd.
Simplicity Global Solutions Ltd. is a Canadian technology company offering innovative, secure, cloud-based solutions designed to inter-connect lawyers, real estate professionals, mortgage professionals, lenders, registry services, title insurers and the end consumer to offer quick, easy, accurate and secure sharing of information. Simplicity's mission is to interconnect all real estate and lending stakeholders to enable the frictionless flow of information across the entire real estate and lending lifecycle to eliminate inefficiencies while improving productivity for consumers and industry participants.
Additional information can be found at www.prolegis.ca and www.simplicity.global
SOURCE Simplicity Global Solutions Ltd.
For further information: Media and investor contact: Neil N. Babiy, Co-Founder and CEO, Simplicity Global Solutions Ltd., [email protected], (587) 899 1147
This Ontario city has the most overvalued real estate market in Canada – blogTO
Good luck buying a home anywhere in Ontario right now, as meteoric price gains and a historic inflation spike push housing markets in the province further out of reach.
And as bad as things are in the Greater Toronto Area in 2022, rampant speculation is not limited to urban centres. According to one housing market assessment, Peterborough is now the single most overvalued housing market in the entire country.
Moody's Analytics has ranked Peterborough, Ontario, at the top of the list for most overvalued housing markets in the company's fourth-quarter assessment of housing price valuations in Canada.
Peterborough's 107.8 per cent valuation comes after years of substantial price growth for the municipality northeast of Toronto.
Though with an average annual household income of about $70,000 and the average May 2022 selling price climbing nearly 19.8 per cent to $836,843, the city's market is firmly on the unattainable side of the scale.
According to RE/MAX Canada's analysis of the valuation, recent activity "has first-time homebuyers priced out of the market, especially local buyers," adding that "too many prospective homebuyers are still stuck waiting to achieve the dream of home ownership."
Experts attribute Peterborough's valuation to factors like rampant investor speculation, blind bidding, and low interest rates.
Despite all the doom and gloom, home sales took a nosedive in the region in May, sales falling at an annualized rate of 34.3 per cent with a year-over-year decline of 18 per cent and a 17.7 per cent dip below the ten-year average.
Though May home prices leapt significantly in May, this downturn in demand could soon translate to decreasing value.
A spike in supply could further ease conditions, though Kate Kidd, President of the Peterborough and the Kawarthas Association of Realtors, says "it's going to take more than a few months of stronger supply to have any meaningful impact on the market balance in the long term."
After Peterborough, Canada's second most overvalued housing market was also found not too far from Toronto, with St. Catharines-Niagara's market valued at 106.9 per cent.
This Week's Top Stories: Canadian Real Estate Slowdown Is Just Getting Started & "This Time Is Different" – Better Dwelling – Better Dwelling