Rogers sees decrease in profit, sales in Q1 as a result of coronavirus – Yahoo Canada Finance
<p class="canvas-atom canvas-text Mb(1.0em) Mb(0)–sm Mt(0.8em)–sm" type="text" content="Rogers Communications (
RCI
) (
RCI-A.TO
) reported a five per cent decrease in revenue in the first quarter of 2020, which it largely attributed to the impact of COVID-19. The carrier withdrew its 2020 financial guidance it originally issued in January due to the uncertainty surrounding the pandemic. " data-reactid="23″>Rogers Communications (
RCI
) (
RCI-A.TO
) reported a five per cent decrease in revenue in the first quarter of 2020, which it largely attributed to the impact of COVID-19. The carrier withdrew its 2020 financial guidance it originally issued in January due to the uncertainty surrounding the pandemic.
In the three months ending March 31, the Toronto-based national carrier reported total revenue of $3.416 billion, down from the $3.587 billion it reported in the same period a year ago.
"[This was] largely driven by a 17 per cent decrease in wireless equipment revenue, as a result of lower subscriber activity surrounding the COVID-19 pandemic," the carrier said in its Q1 earnings report that was released on April 22.
"The wireless service revenue decrease was primarily a result of lower roaming revenue, with lower overall roaming activity and as we provided these services to our customers at no cost during the COVID-19 pandemic, and lower overage revenue, primarily as a result of the continued adoption of our Rogers 'Infinite' unlimited data plans."
The carrier reported $352 million in net income, or 68 cents per share, down from $391 million, or 76 cents per share that it reported the same period a year before.
The carrier's shares were down 4.05 per cent in pre-market trading, falling to US$40.80.
Rogers stated that it is "withdrawing the financial guidance" it reported in January as a result of the uncertainty surrounding the global coronavirus pandemic.
"We are unable at this time to predict the overall impact on our operations and financial results, but the impact may be material," the carrier said in the report. "As a result, it is not possible at this time to reliably estimate the impact of the pandemic on our financial results for the remainder of the year."
A Scotiabank report said that "guidance removal should no longer be a surprise given the uncertainty for the rest of 2020."
"We believe the key is to focus on company's comments on the areas impacted and assess the magnitude and assume a duration," the report said. Scotiabank also said that Rogers will suffer the most in subscriber activation and retention, wireless roaming and overage revenue, cable business, and sports broadcasting and events, as a result of COVID-19.
Tony Staffieri, Rogers' chief financial officer, said many customers are considering downsizing their packages in wireless and cable due to "elevating unemployment levels."
"As the right size and their spend to their new cash flow realities, expect this volume will pick up depending on the depth and duration of the economic downturn, and will ultimately impact recurring ARPU, and revenue," he said.
"As you would expect, we do not anticipate the subscriber market to reactivate in any material way until the public is allowed to safely return to malls and our stores. While the market was previously growing at approximately four per cent on an annual basis, this lack of subscriber growth rate will impact our revenue growth."
Conversely, Staffieri said that the company spent $2 billion in handsets expenditures in Q1 2019 and this was down 60 per cent in the last few weeks of March.
"This will yield material cash savings that has already started," he said.
The carrier said it added 257,000 monthly paid wireless subscribers, a decrease from the 295,000 subscribers it added in the same period a year ago.
The carrier's monthly subscriber churn rate, the measure of subscribers who deactivate their service, was 0.93 per cent, a decrease from the 0.99 per cent it reported a year before.
Rogers' Average Billing Per User (ABPU) for the quarter was $65.14, up from $64.62.
The carrier's Average Revenue Per User (ARPU) for the quarter was $52.85, down from $54.13.
ABPU and ARPU results were in line with an RBC report that estimated similar numbers.
<p class="canvas-atom canvas-text Mb(1.0em) Mb(0)–sm Mt(0.8em)–sm" type="text" content="Download the Yahoo Finance app, available for Apple and Android and sign up for the Yahoo Finance Canada Weekly Brief.&nbsp;" data-reactid="43″>Download the Yahoo Finance app, available for Apple and Android and sign up for the Yahoo Finance Canada Weekly Brief.
Canada's trade deficit doubled to $3.3B in April as COVID-19 walloped imports and exports – CBC.ca
Canada's exports and imports plunged in April on falling oil prices and as the coronavirus pandemic shut down factories and retail stores, Statistics Canada said on Thursday, adding that the reopening of most auto assembly plants may help trade in the coming months.
"We are really getting hammered with respect to cars and crude," said Peter Hall, chief economist at Export Development Canada.
Total exports fell 29.7 per cent to $32.7 billion in April, the lowest level in more than 10 years, and imports declined 25.1 to $35.9 billion, the lowest since February 2011, Statscan said.
The April trade deficit widened to $3.25 billion from a revised $1.53 billion in March, Statscan said, larger than the $2.36 billion forecast by analysts in a Reuters poll.
Exports of energy products fell $3.6 billion, the largest decrease on record, Statscan said. Crude oil exports led the decline, plunging 55.1 per cent.
Meanwhile, exports of passenger cars and light trucks slumped 84.8, while imports plunged 90 per cent.
The slump in auto and energy exports because of shutdowns was also reflected in Canada-U.S. trade data, where total trade fell by $23.4 billion, representing more than 90 per cent of Canada's trade activity decline. The neighbouring countries' automotive and energy sectors are highly integrated.
The coronavirus pandemic has disrupted global supply chains and forced officials in Canada to shutter non-essential businesses and urge people to stay at home. In recent weeks, Canada's 10 provinces have gradually begun to restart their economies.
"While some factories and retailers began to reopen in May, it's likely to take until the June data to see any material signs of rebounding economic activity," said Royce Mendes, a senior economist at CIBC.
"With the focus now shifting to the recovery stage, and with many economies gradually re-opening since May, the worst is hopefully in the rearview mirror," TD Bank economist Omar Abdelrahman said.
The Canadian dollar extended its decline after the release of the data, falling to 73.88 cents US.
Canada's mortgage insurer tightens rules as it forecasts home-price drop of up to 18% – Financial Post
TORONTO — The government-backed Canada Mortgage and Housing Corp said on Thursday it would tighten rules for offering mortgage insurance from July 1, after forecasting declines of between 9 per cent and 18 per cent in home prices over the next 12 months.
The move would make it harder for riskier borrowers, who offer down payments of less than 20 per cent, to access CMHC's default mortgage insurance.
CMHC is establishing a minimum credit score of 680 instead of the current 600, the group said in an emailed statement.
It will also limit total gross debt servicing ratios to its standard requirement of 35 per cent of annual income, compared with a threshold as high as 39 per cent currently, and total debt servicing to 42 per cent versus as much as 44 per cent now.
The measures will help curtail "excessive demand and unsustainable house price growth," CMHC Chief Executive Evan Siddall said in the statement.
He said COVID-19 has exposed longstanding financial-market vulnerabilities, and "we must act now to protect the economic futures of Canadians."
Some 35 per cent of Canadian banks' mortgages are insured, their financial statements show. CMHC is the top mortgage insurer, while Genworth MI Canada and other private companies also provide similar products.
Despite evaporating activity in the housing market due to the COVID-19 pandemic, prices have continued to rise as listings have fallen off alongside demand.
Home prices across the country rose 1.3 per cent in April from March, and data from Toronto and Vancouver real estate boards showed increases of 3 per cent and 2.9 per cent in May, respectively, from a year earlier.
The CMHC has taken a more bearish view of the housing market than others. Last week, some of Canada's biggest banks forecast maximum price declines of about 7 per cent.
Siddall last week responded to critics of its more dire outlook, saying on Twitter they were "whistling past the graveyard and offering no analysis."
© Thomson Reuters 2020
Canadian Dollar Price Outlook: USD/CAD Grinds Around Big Fig Support – DailyFX
Canadian Dollar, CAD, USD/CAD Price Analysis
This morning brought a Bank of Canada rate decision, this Friday's

economic calendar

brings Canadian jobs numbers to be released at the same time as US Non-Farm Payrolls.

The bank held rates, and given the change in leadership the big question is forward-looking strategy at the bank.

USD/CAD broke down from

a descending triangle formation

, and is now finding support around the 1.3500 big figure. But sellers haven't yet been able to establish any significant trends around that support, leading to the prospect of short-term pullback.
BoC Leaves Rates Flat, USD/CAD Remains Around 1.3500
Earlier this morning we heard from the Bank of Canada as the BoC left rates flat; but the prospect of change in leadership atop the BoC does highlight potential changes in the future after outgoing Bank of Canada Governor Stephen Poloz had previously stated that rates were as low as they could go. Taking over at the bank this week is Tiff Macklem, and as noted by our own Thomas Westwater earlier today, this morning's statement likely had little input from the newly-installed BoC Governor. This does, however, point to the possibility of change on the horizon given how aggressively the coronavirus slowdown has hit global economies.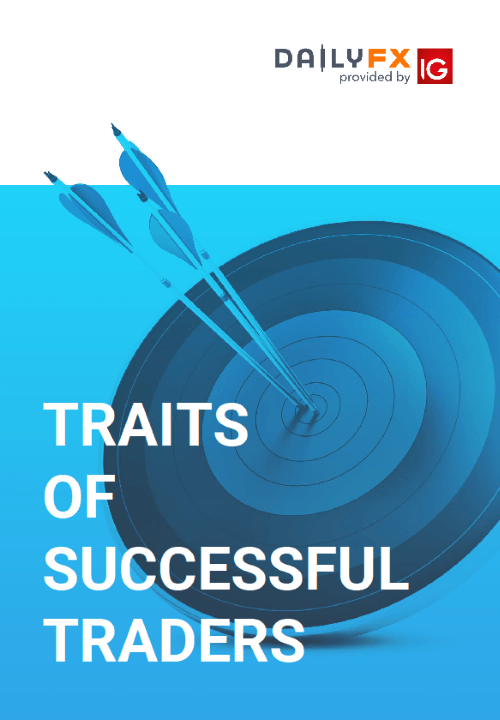 Recommended by James Stanley
Traits of Successful Traders
In USD/CAD, the pair has largely clung on to support around this rate decision, temporarily testing below the big figure of 1.3500 but, so far, failing to establish any continued bearish trends below that level. And this comes on the heels of an earlier-week breakdown, as USD/CAD had built into a descending triangle formation, with a series of lower-highs from late-March into mid-May, combined with horizontal support around the 1.3850 area on the chart.
USD/CAD Four-Hour Price Chart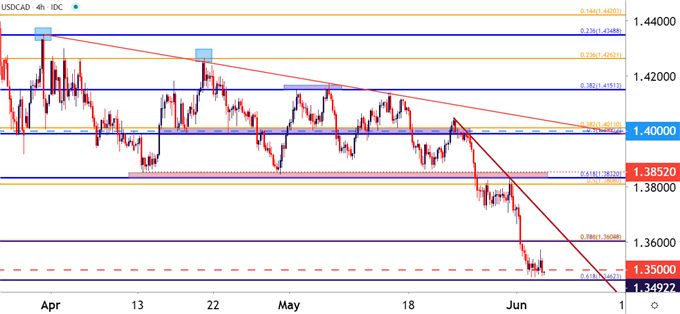 Chart prepared by James Stanley; USDCAD on Tradingview
Can USD/CAD Bears Drive Through Psychological Support?
Of recent, commodity currencies have been on a tear against the US Dollar, USD/CAD included. AUD/USD has been on a similar display of recent and the same can be said for NZD/USD.
The trouble at this point for USD/CAD bears is the fact that the short-side move is already fairly well-developed; and prices are showing continued support around the 1.3500 big figure. Can USD/CAD bring sellers in at sub-1.3500 prices to continue pushing lower? Or, will the pair need a retracement first before continuing that bearish trend?
USD/CAD
BEARISH
Data provided by



of clients are net long.


of clients are net short.
| | | | |
| --- | --- | --- | --- |
| Change in | Longs | Shorts | OI |
| Daily | -2% | -5% | -3% |
| Weekly | -9% | -13% | -10% |
On the chart is a nearby area of interest for resistance potential. As looked at in yesterday's webinar, the space around the 1.3600 area seems especially interesting, as there are two very recent Fibonacci levels within close proximity of each other. This is the 61.8% retracement of the 2020 major move, and the 78.6% retracement of the March major move. At this point, that zone hasn't yet been tested for resistance and a show of sellers here could re-open the door for bearish continuation strategies in the pair.
USD/CAD Hourly Price Chart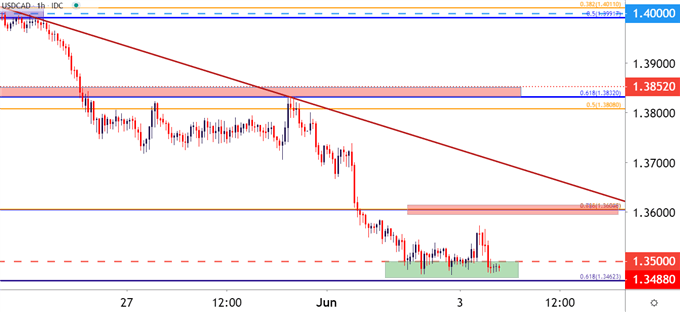 Chart prepared by James Stanley; USDCAD on Tradingview
— Written by James Stanley, Strategist for DailyFX.com
Contact and follow James on Twitter: @JStanleyFX