Russian economy slowed significantly at end of September, Bank of Russia says
This content was produced in Russia where the law restricts coverage of Russian military operations in Ukraine
MOSCOW, Oct 11 (Reuters) – Economic activity in Russia slowed significantly at the end of September, Bank of Russia Deputy Governor Alexei Zabotkin told lawmakers on Tuesday, but payments to mobilised troops should cushion the negative effect on consumer demand.
President Vladimir Putin announced on Sept. 21 that 300,000 people would be mobilised to boost Russia's efforts in what it calls a "special military operation" in Ukraine, but details of the economic impact have so far been thin on the ground.
The central bank has been instrumental in limiting the economic fallout from the conflict in Ukraine and subsequent sanctions targeting Russia, introducing capital controls to steady the rouble, which had plunged to a record low against the dollar in early March.
An emergency rate hike to 20% in late February was followed by six cuts back to pre-crisis levels, but the bank suggested its rate-cutting cycle may have come to an end last month when trimming to 7.5%. The market is eagerly awaiting the next meeting on rates on Oct. 28.
"The board of directors will analyse all changes in the situation, as well as incoming data," Zabotkin said when asked whether holding rates is likely.
He said the bank, which expects Russia's economic contraction to bottom out in the first half of next year, would slightly improve its 2022 full-year GDP forecast for a fall of 4%-6%.
The bank still sees the neutral rate range at 5-6%, Zabotkin said, and is maintaining its inflation forecast for 2022 of a rise by 11-13%, well above its 4% target.
"We will move smoothly towards stabilising inflation at the target," Zabotkin said. "But the decline in inflation may be slower now. This is because the economic transformation demands significant price adjustments across a wide range of goods and services."
But as the conflict in Ukraine escalates and domestic pressure for a Russian victory intensifies, the focus on economic stability is jarring for some.
"Our special military operation is under way, we must understand how it will end…stop telling us about stability," lawmaker Valeriy Gartung of the small pro-Kremlin "Just Russia" party told Zabotkin.
Reporting by Elena Fabrichnaya; Writing by Alexander Marrow; Editing by Nick Macfie
Our Standards: The Thomson Reuters Trust Principles.
Inflation and interest rates to slow Alberta economic growth: ATB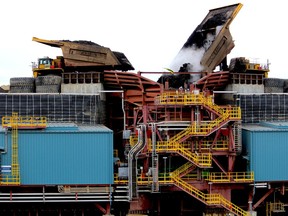 The oil and gas sector will continue to help Alberta's economy outperform the rest of the country, according to ATB Financial, but there will still be some pain for Albertans in the year ahead.
The Crown corporation's 2023 economic forecast, released Wednesday, suggests the province's real GDP will fall from five to 2.8 per cent but will continue to outpace Canada as a whole, which could see a recession in the new year.
"We're just trying to stress that there is this sort of push-pull, positive-negative," said Rob Roach, deputy chief economist at ATB Financial. "It is way better to be in Alberta right now with this overall growth, but it doesn't mean everything's going great for everybody."
Alberta has benefited from high oil prices over the course of 2021, resulting in higher revenues and pushing the province to an expected $12.3-billion surplus.
Oil companies were producing a record 3.88 million barrels of oil a day in September. With the Trans Mountain Pipeline expansion expected to be completed in the third quarter of 2023, an additional 690,000 barrels of exporting capacity will be brought online.
Roach said he expects a 20 per cent jump in oil and gas extraction capital spending next year and another five per cent in 2024. But that will likely be the last major capital investment in Alberta's sector for the foreseeable future.

"It hits that wall after next year," he said. "Without more pipelines, you just can't keep expanding production."
"It does take time to add up to something," said Roach. "It won't come up to the point where it can rival oil and gas, maybe never. That's a big, big tall order. But in terms of economic growth, economic activity, it has been positive and there's no reason why it won't continue."

Consumers facing higher costs for rent, groceries and utilities are still in for a tough year, said Roach.

Inflation has cooled since its highs of 8.1 per cent year-over-year this summer, down to 6.9 per cent nationally in October, but there are still a number of global factors that will continue to have an effect.

The war in Ukraine remains a wild card in how it affects global energy prices, supply chains and other commodities such as grain.

Supply chains are improving, but there are still challenges, particularly if COVID-related restrictions cause further interruptions. China has already seen disruptions in a number of sectors, especially those that rely on computer chips.
While gas prices have fallen off from their summer highs, they are still contributing to rising costs at grocery stores and other retail, especially as diesel remains about 60 cents per litre higher than gasoline.
Real estate is also expected to remain strong in Alberta in 2023, bolstered by the migration of 60,000 people to the province in 2022 from other countries.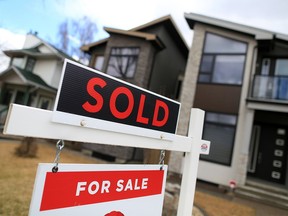 The price of housing has come off its record-setting pace from 2021 and early 2022, but Re/Max is predicting a seven per cent increase in the price of single-family homes in Calgary in its 2023 Canadian Housing Market Outlook, released Tuesday. Only Muskoka, Ont., and Halifax are forecasted to have a higher increase in the price of a home at eight per cent, while Canada as a whole is looking at a 3.3 per cent decrease in home prices.
In Calgary, the average home sold for $658,277 between Jan. 1 and Oct. 31, up 13 per cent from $585,025 over the same period in 2021.

The Bank of Canada has been attempting to slow inflation, raising its benchmark interest rate from 0.25 per cent in March to 3.75 per cent in October. Roach said he expects rates to go up another 25 to 50 basis points next week. The strategy has had the desired effect of lowering prices in most other real estate markets, but Calgary remains an outlier.

He expects the bank to stop increasing rates next year, but it will be 2024 before a decrease is likely.

"It's unlikely that they'll stop at four," said Roach.

"We think there's still enough inflation that they'll have to get into that 4.25 range. It'll be all year those interest rates will be high, though, even if they stop raising them."

Twitter: @JoshAldrich03
India may become the third largest economy by 2030, overtaking Japan and Germany
Beautiful and colorful aerial view of Mumbai skyline during twilight seen from Currey Road, on February 16, 2022 in Mumbai, India.Pratik Chorge | Hindustan Times | Getty Images
India is set to overtake Japan and Germany to become the world's third-largest economy, according to S&P Global and Morgan Stanley.
S&P's forecast is based on the projection that India's annual nominal gross domestic product growth will average 6.3% through 2030. Similarly, Morgan Stanley estimates that India's GDP is likely to more than double from current levels by 2031.
"India has the conditions in place for an economic boom fueled by offshoring, investment in manufacturing, the energy transition, and the country's advanced digital infrastructure," Morgan Stanley analysts led by Ridham Desai and Girish Acchipalia wrote in the report.
"These drivers will make [India] the world's third-largest economy and stock market before the end of the decade."
India posted a year-on-year growth of 6.3% for the July to September quarter, fractionally higher than a Reuters poll forecast of 6.2%. Prior to this, India recorded an expansion of 13.5% for the April to June compared to a year ago, buoyed by robust domestic demand in the country's service sector.
The country posted a record 20.1% year-on-year growth in the three months to June 2021, according to Refinitiv data.
"These drivers will make [India] the world's third-largest economy and stock market before the end of the decade."
S&P's projection hinges on the continuation of India's trade and financial liberalization, labor market reform, as well as investment in India's infrastructure and human capital.
"This is a reasonable expectation from India, which has a lot to 'catch up' in terms of economic growth and per capita income," Dhiraj Nim, an economist from Australia and New Zealand Banking Group Research, told CNBC.
Some of the reforms cited have already been set in motion, said Nim, highlighting the government's commitment to set aside more capital expenditure in the country's annual expenditure books.
Becoming a more export-driven hub
There's a clear focus by India's government to become a hub for foreign investors as well as a manufacturing powerhouse, and their main vehicle for doing so is through the Production Linked Incentive Scheme to boost manufacturing and exports, according to S&P analysts.
The so-called PLIS, which was introduced in 2020, offers incentives to both domestic and foreign investors in the form of tax rebates and license clearances, among other stimulus.
"It is very likely that the government is banking on PLIS as a tool to make the Indian economy more export-driven and more inter-linked in global supply chains," S&P analysts wrote.
Workers processing metal parts at a cookstove manufacturing plant of GHG Reduction Technologies Pvt in Nashik, Maharashtra, India, on Sunday, Nov. 13, 2022.
By the same token, Morgan Stanley estimates that Indian manufacturing's share of GDP will "rise from 15.6% of GDP currently to 21% by 2031" — which implies that manufacturing revenue could increase three times from the current $447 billion to around $1,490 billion, according to the bank.
"Multinationals are more optimistic than ever about investing in India … and the government is encouraging investment by both building infrastructure and supplying land for factories," Morgan Stanley said.
"India's advantages [include] abundant low-cost labor, the low cost of manufacturing, openness to investment, business-friendly policies and a young demographic with a strong penchant for consumption," said Sumedha Dasgupta, a senior analyst from the Economist Intelligence Unit.
These factors make make India an attractive choice for setting up manufacturing hubs until the end of the decade, she said.
Risk factors
Salient sticking points that could challenge Morgan Stanley's forecast include a prolonged global recession, since India is a highly trade-dependent economy with nearly 20% of its output exported.
Other risk factors cited by the U.S. investment bank include supply of skilled labor, adverse geopolitical events and policy errors which may arise from voting in a "weaker government."
A global slowdown may dampen India's export businesses outlook, India's finance ministry said last Thursday.
Brazil's economy grows less than expected in third quarter, but still reaches record level – Reuters
BRASILIA, Dec 1 (Reuters) – Brazil's economic growth slowed more than expected in the third quarter as higher interest rates affected household spending, underscoring challenges facing President-elect Luiz Inacio Lula da Silva next year.
Gross domestic product rose 0.4% in the three months to September, government statistics agency IBGE said on Thursday, below the 0.7% growth forecast by economists polled by Reuters.
Brazil's central bank have raised borrowing costs to a nearly six-year high to battle double-digit inflation this year, which has begun to weigh on domestic demand.
Economists warn that if Lula unleashes a surge of new government spending, the central bank may not cut rates as expected.
"The balance of risks for 2023 are to the downside, due mostly to politics and the deterioration of the fiscal picture, which could keep interest rates high for even longer," wrote economist Andres Abadia of Pantheon Macroeconomics in a note.
Household consumption rose just 1%, down from 2.1% in the second quarter, while fixed investments gained 2.8% and a burst of election-year spending lifted government expenditures 1.3%.
On the production side, farm output fell 0.9% in the quarter due to a delayed sugar cane harvest, while industrial output advanced 0.8% and the dominant services sector rose 1.1%.
This was the fifth consecutive quarter of expansion, putting activity in Latin America's largest economy 4.5% above its pre-pandemic level in the fourth quarter of 2019.
"The clear message from today's figures is that the economy is losing momentum," said William Jackson, chief emerging markets economist at Capital Economics, predicting an even weaker fourth quarter due to a worsening global outlook and high interest rates.
"We're sticking to our view that while the economy will grow by 3% this year, it will expand by little more than 1% in 2023," he wrote in a note to clients.
The government of outgoing President Jair Bolsonaro forecasts GDP to rise by 2.7% this year and 2.1% in 2023.
President-elect Lula, who will be sworn in on Jan. 1, is pushing to exclude a major welfare programme from Brazil's constitutional spending cap, opening space for more public expenditures to meet his campaign promises.
As Lula has still not proposed alternative fiscal rules to keep a lid on public debt, his push for more spending has created doubts about monetary policy and pushed up Brazil's yield curve, implying higher financing costs for the government's hefty interest bill.
The central bank paused its tightening cycle in September after 12 consecutive hikes that raised the benchmark interest rate to 13.75% from a record-low 2% in March 2021.
Central bank chief Roberto Campos Neto has said that fiscal uncertainty could force policymakers to take a more restrictive approach.
Brazil's GDP expanded by 3.6% from the third quarter of 2021, IBGE reported on Thursday, slightly below the 3.7% rise forecast by economists polled by Reuters.
IBGE also revised down second-quarter growth to 1% from the prior quarter, compared to 1.2% reported previously, while revising upward first-quarter growth to 1.3% from 1.1% previously.
Reporting by Marcela Ayres; Editing by Steven Grattan, Brad Haynes and Arun Koyyur
Our Standards: The Thomson Reuters Trust Principles.