Rye sports media alumni discuss adapting amid the pandemic – The Eyeopener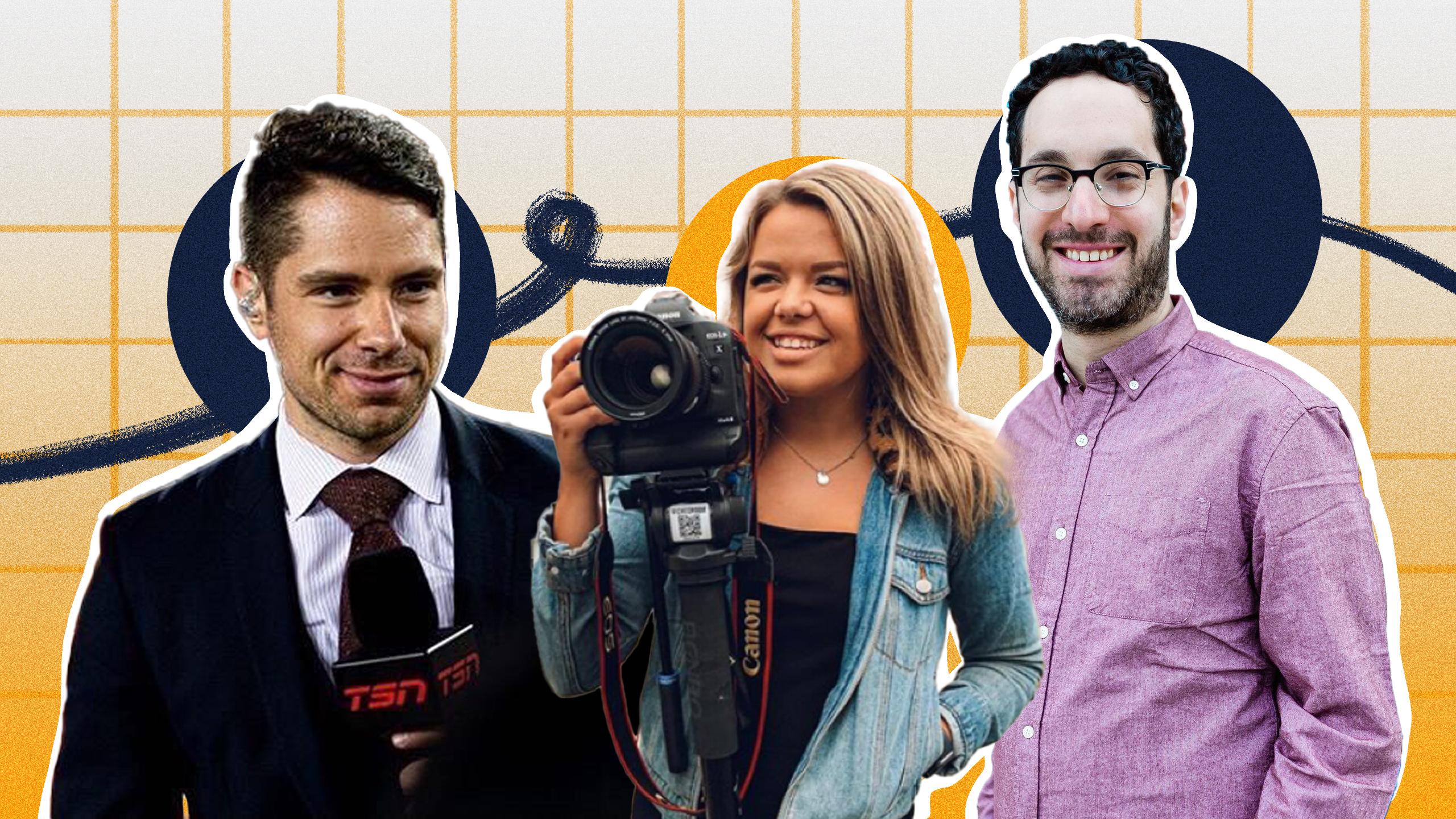 Reading Time: 3 minutes
By Ben Okazawa
Jesse Pollock is no stranger to putting a smile on people's faces.
"The first job I ever did for BarDown (a completely digital TSN sub-brand), I dressed like a dinosaur and had to hold a BarDown flag in [Jurassic Park]" Pollock recalls. These days, the RTA sport media graduate is continuing to make sports fans laugh.
The only difference is that, now, he's doing it from behind a screen.
On March 11, the sports world was sent into a frenzy when the NBA announced it was postponing the remainder of the 2019-20 season to prevent the spread of COVID-19. Within days, all of the major sports leagues around the world followed suit.
Despite the new challenges, there were a few unsung heroes who worked tirelessly to provide people with a sense of normalcy during the early stages of the pandemic.
Matthew Scianitti has continued to work hard throughout his career. Scianitti, who graduated from Ryerson's masters of journalism program, currently works as a TSN reporter. "I went almost a whole year without a day off," said Scianitti of his early days at TSN.
Now, in the midst of league shutdowns, he says adaptability is key. "You have to make yourself flexible and show a willingness to try different things," said Scianitti. "[If you don't], you're waiting to get fired."
Traditionally covering the CFL, Scianitti has been reporting on the NFL and other leagues during the pandemic after the league announced the cancellation of its season.
Many might think sports reporting would be made more difficult by physical distancing. Sarah Jenkins, who graduated from Ryerson's sport media program in 2018, has seen a silver lining. "[The pandemic] has just changed the dynamic," said the CBC producer, "We can talk to anyone, about anything, [who is] anywhere now."
For sports journalists, a lack of media access has acted as somewhat of a catalyst, forcing them to try new things and interview people they otherwise never would've thought of approaching.
Pollock didn't experience that same uncertainty that so many people did during the early stages of quarantine. As a producer of digital content for BarDown, described by Media in Canada as TSN's "fast-paced and youthful" online counterpart, he thinks he and his team were actually busier without sports.
"I think people craving sports content relied on BarDown," said Pollock of the league hiatuses, "We [knew it was] a tough time and people need to be entertained."
Recognizing that people needed a break from reality, Pollock spoke of a pressure to continue being creative and producing content. BarDown has accumulated hundreds of thousands of followers across different social media platforms. But, that pressure has turned into a motivator for Pollock during league shutdowns, and the BarDown team produced regular sports content because of it.
Eric Koreen can relate to that feeling of pressure. In university, he spent many days toiling away in the Rogers Communications Centre as a journalism student. Now, Koreen is one of two writers covering the Toronto Raptors for The Athletic. He travels with the team across the continent, writing news, opinion, and feature stories for "Canada's Team." As someone who would normally be with the Raptors during the season, the NBA's no-exit, no-entry bubble in Orlando put Koreen in a tough spot as a writer.
Koreen has real concerns about the pandemic's effect on sports media. Although others have found virtual interviews to be more convenient and accessible, Koreen believes that there is no real substitute for interpersonal connection. "It became very difficult to write personality-based features, just because there wasn't the time, there wasn't the opportunity or access to do that," he said.
Koreen's biggest worry though is that these Zoom interviews won't stop when the threat of COVID-19 ends. "I definitely felt that my range was limited by the type of access we had," he said, "[But] why should [sports leagues] be making one-on-one interviews accessible before games?" Koreen believes that leagues may try to capitalize on the current pandemic to continue to limit media access for their convenience.
Scianitti, Jenkins, and Pollock all expect virtual interviews to be much more prevalent in sports media down the line, even post-pandemic.
Another point everyone can agree on? They miss reporting on live sports.
"There's a moment that happens right before a game gets started," says Scianniti, "Where you're looking around and you realize our planet might be a speck of sand in a galactic ocean… but what these athletes are about to do is the most important thing."
Sports media is an ever-changing landscape and the COVID-19 pandemic has made the industry adapt in order to survive. Ryerson alumni have been leading the charge, bending—but, not breaking—to these unprecedented circumstances.
Related
Britney Spears calls recent documentaries about her 'hypocritical'
LOS ANGELES (Reuters) – Pop singer Britney Spears spoke out on Tuesday about recent documentaries about her life and career, calling them "hypocritical" because they rehash her personal problems while criticizing the media for reporting them the first time.
Walt Disney Co's FX network and The New York Times released "Framing Britney Spears" in February. The documentary examined the singer's meteoric rise to fame as a teenager, the ensuing media scrutiny and her widely publicized breakdown.And this month, the BBC released "The Battle for Britney: Fans, Cash and a Conservatorship" in Britain. It will debut in the United States and Canada starting May 11 via the BBC Select streaming service.
In an Instagram post, Spears did not name either documentary but said "so many documentaries about me this year with other people's takes on my life."
"These documentaries are so hypocritical … they criticize the media and then do the same thing," she added.
In March, Spears said she cried for two weeks after watching part of "Framing Britney Spears".
The BBC said in a statement on Tuesday that its documentary "explores the complexities surrounding conservatorship with care and sensitivity."
"It does not take sides and features a wide range of contributors," the statement added.
A New York Times spokesperson declined to comment.
Spears, who shot to fame in 1998 with the hit "Baby One More Time," is in a court battle seeking to replace her father as her conservator. He was appointed to the role in 2008 after she was hospitalized for psychiatric treatment.
Her fans have shown their support on social media under the hashtags #We'reSorryBritney and #FreeBritney. Spears is scheduled to speak to a Los Angeles court in June.
In her Instagram post, which included a video of herself dancing, Spears said that "although I've had some pretty tough times in my life … I've had waaaayyyy more amazing times in my life and unfortunately my friends … I think the world is more interested in the negative."
(Reporting by Lisa Richwine; Editing by David Gregorio)
Grammy organizers change rules after allegations of corruption
LOS ANGELES (Reuters) – The organizers of music's Grammy Awards on Friday announced an end to the so-called "secret" committees that have led to allegations that the highest honors in the industry are open to rigging.
The Recording Academy said that nominations for the next Grammy Awards in January 2022 will be selected by all of its more than 11,000 voting members, instead of by committees of 15-30 industry experts whose names were not revealed.
The Academy was slammed last year when Canadian artist The Weeknd got zero Grammy nominations, even though his critically acclaimed album "After Hours" was one of the biggest sellers of 2020.
The Weeknd, in a Twitter post last November, said "The Grammys remain corrupt. You owe me, my fans and the industry transparency."
The Recording Academy said in a statement on Friday that the changes were significant and were made "to ensure that the Grammy Awards rules and guidelines are transparent and equitable."
Allegations that the Grammy nominations process is tainted were made in a legal complaint filed in early 2019 by the former chief executive of the Recording Academy, Deborah Dugan.
At the time, the Academy dismissed as "categorically false, misleading and wrong" Dugan's claims that its members pushed artists they have relationships with. Dugan was later fired.
American pop star Halsey, also shut out of the 2021 Grammys, last year called the nominations process "elusive" and said she was "hoping for more transparency or reform."
Former One Direction singer Zayn Malik called in March for an end to "secret committees."
"I'm keeping the pressure on & fighting for transparency & inclusion. We need to make sure we are honoring and celebrating 'creative excellence' of ALL," Malik tweeted hours ahead of the 2021 Grammy Awards ceremony.
The Recording Academy on Friday also said it was adding two new Grammy categories – for best global music performance, and best Latin urban music album – bringing to 86 the total number of Grammy Awards each year.
(Reporting by Jill Serjeant; Editing by David Gregorio)
Movie theaters face uncertain future
By Lisa Richwine
LOS ANGELES (Reuters) – Maryo Mogannam snuck into the Empire theater in San Francisco with his older cousins to watch "Animal House" when he was 14. He watched most of the James Bond movies at the historic art house and took his wife there on some of their first dates.
The cinema, which had been showing movies since the silent film era, served notice in February that it was permanently closing because of the impact of COVID-19. The marquee is now blank, and cardboard and paper cover the box office window.
"It's kind of like losing a friend," said Mogannam, now 57, who owns a retail shipping outlet near the theater, which had been renamed the CineArts at the Empire.
As vaccinated Americans emerge from their homes, they also may find their neighborhood theater is not there to greet them.
An eight-cinema chain in New England said it will not reopen. The same fate hit a Houston art house beloved by director Richard Linklater and, in a shock to Hollywood, more than 300 screens run by Los Angeles-based Pacific Theatres. That includes the Cinerama Dome, a landmark that hosted several red-carpet movie premieres.
Following a year of closures, theaters face deferred rent bills plus media companies' focus on drawing customers to streaming services. Up to one-fourth of the roughly 40,000 screens in the United States could disappear in the next few years, Wedbush Securities analyst Michael Pachter said.
The National Association of Theatre Owners rejects that estimate, spokesman Patrick Corcoran said, noting that similar dire warnings accompanying the advent of television and the switch to digital screens never came to pass.
Hollywood filmmakers want cinemas to thrive.
"It's the only place where the art dominates," said "Avatar" director James Cameron. "When you watch something on streaming, the other people in the room with you are welcome to interject, to pause to go to the bathroom, to text."
At theaters, "we literally make a pact with ourselves to go and spend two to three hours in a focused enjoyment of the art."
"For 300 people to laugh and cry at the same time, strangers, not just your family in your house, that's a very powerful thing," said Chloe Zhao, Oscar-nominated director of best picture nominee "Nomadland."
At the Academy Awards on Sunday, the movie industry will "make a case for why cinema matters," producer Stacey Sher said. While acknowledging the hardship of the pandemic, "we also have to fight for cinema and our love of it and the way it has gotten us through things," she said.
About 58% of theaters have reopened in the United States and Canada, most restricted to 50% capacity or less. The biggest operators – AMC, Cinemark and Cineworld – make up roughly half the overall market.
Industry leaders project optimism, forecasting a big rebound after restrictions ease and studios unleash new blockbusters.
Coming attractions include a new Bond adventure, the ninth "Fast & Furious" film, a "Top Gun" sequel and several Marvel superhero movies.
"Avatar 2," Cameron's follow-up to the highest-grossing film of all time, is set to debut in December 2022. Some box office analysts predict 2022 ticket sales will hit a record.
Supporters point to late March release "Godzilla vs. Kong," which brought in roughly $48.5 million at U.S. and Canadian box offices over its first five days, even though audiences could stream it on HBO Max.
"That was a big win for the entire industry," said Rich Daughtridge, president and chief executive of Warehouse Cinemas in Frederick, Maryland.
But near- and long-term challenges loom, particularly for smaller cinemas.
Theaters are negotiating with landlords over back rent. A federal aid program was delayed due to technical problems.
Plus, media companies are bringing movies to homes sooner. Executives say streaming is their priority, pouring billions into programming made to watch in living rooms as they compete with Netflix Inc.
Most at risk are theaters with one or two screens, Wedbush Securities' Pachter said. He said his best guess is between 5,000 and 10,000 screens could go permanently dark in coming years.
"I think we'll see a gradual decline in the number of screens," Pachter said, "just like we've seen a gradual decline in the number of mom-and-pop grocery stores and bookstores."
(Reporting by Lisa Richwine; Additional reporting by Rollo Ross in Los Angeles, Alicia Powell in New York and Nathan Frandino in San Francisco; Editing by Jonathan Oatis)