Rye sports media alumni discuss adapting amid the pandemic – The Eyeopener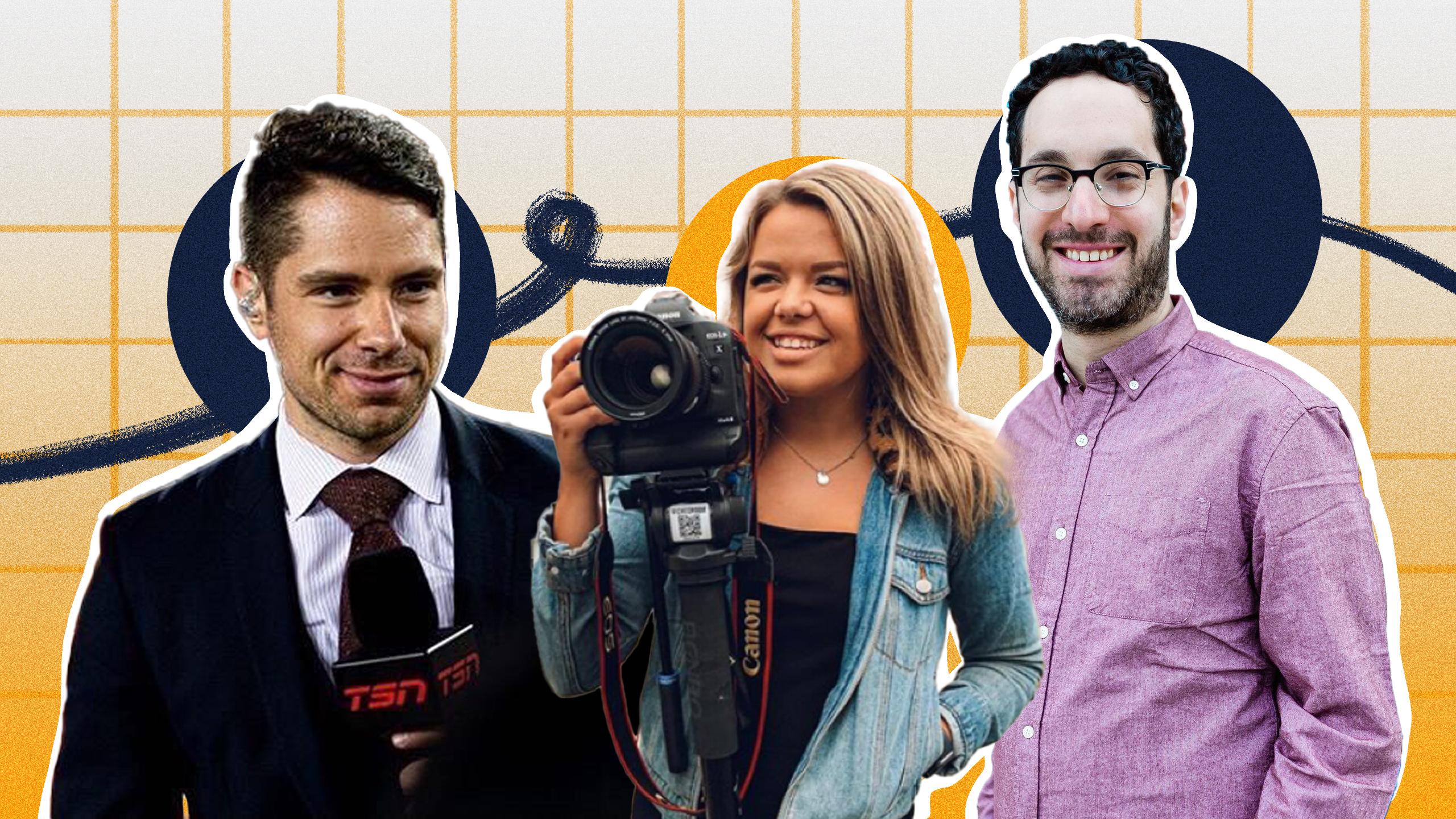 Reading Time: 3 minutes
By Ben Okazawa
Jesse Pollock is no stranger to putting a smile on people's faces.
"The first job I ever did for BarDown (a completely digital TSN sub-brand), I dressed like a dinosaur and had to hold a BarDown flag in [Jurassic Park]" Pollock recalls. These days, the RTA sport media graduate is continuing to make sports fans laugh.
The only difference is that, now, he's doing it from behind a screen.
On March 11, the sports world was sent into a frenzy when the NBA announced it was postponing the remainder of the 2019-20 season to prevent the spread of COVID-19. Within days, all of the major sports leagues around the world followed suit.
Despite the new challenges, there were a few unsung heroes who worked tirelessly to provide people with a sense of normalcy during the early stages of the pandemic.
Matthew Scianitti has continued to work hard throughout his career. Scianitti, who graduated from Ryerson's masters of journalism program, currently works as a TSN reporter. "I went almost a whole year without a day off," said Scianitti of his early days at TSN.
Now, in the midst of league shutdowns, he says adaptability is key. "You have to make yourself flexible and show a willingness to try different things," said Scianitti. "[If you don't], you're waiting to get fired."
Traditionally covering the CFL, Scianitti has been reporting on the NFL and other leagues during the pandemic after the league announced the cancellation of its season.
Many might think sports reporting would be made more difficult by physical distancing. Sarah Jenkins, who graduated from Ryerson's sport media program in 2018, has seen a silver lining. "[The pandemic] has just changed the dynamic," said the CBC producer, "We can talk to anyone, about anything, [who is] anywhere now."
For sports journalists, a lack of media access has acted as somewhat of a catalyst, forcing them to try new things and interview people they otherwise never would've thought of approaching.
Pollock didn't experience that same uncertainty that so many people did during the early stages of quarantine. As a producer of digital content for BarDown, described by Media in Canada as TSN's "fast-paced and youthful" online counterpart, he thinks he and his team were actually busier without sports.
"I think people craving sports content relied on BarDown," said Pollock of the league hiatuses, "We [knew it was] a tough time and people need to be entertained."
Recognizing that people needed a break from reality, Pollock spoke of a pressure to continue being creative and producing content. BarDown has accumulated hundreds of thousands of followers across different social media platforms. But, that pressure has turned into a motivator for Pollock during league shutdowns, and the BarDown team produced regular sports content because of it.
Eric Koreen can relate to that feeling of pressure. In university, he spent many days toiling away in the Rogers Communications Centre as a journalism student. Now, Koreen is one of two writers covering the Toronto Raptors for The Athletic. He travels with the team across the continent, writing news, opinion, and feature stories for "Canada's Team." As someone who would normally be with the Raptors during the season, the NBA's no-exit, no-entry bubble in Orlando put Koreen in a tough spot as a writer.
Koreen has real concerns about the pandemic's effect on sports media. Although others have found virtual interviews to be more convenient and accessible, Koreen believes that there is no real substitute for interpersonal connection. "It became very difficult to write personality-based features, just because there wasn't the time, there wasn't the opportunity or access to do that," he said.
Koreen's biggest worry though is that these Zoom interviews won't stop when the threat of COVID-19 ends. "I definitely felt that my range was limited by the type of access we had," he said, "[But] why should [sports leagues] be making one-on-one interviews accessible before games?" Koreen believes that leagues may try to capitalize on the current pandemic to continue to limit media access for their convenience.
Scianitti, Jenkins, and Pollock all expect virtual interviews to be much more prevalent in sports media down the line, even post-pandemic.
Another point everyone can agree on? They miss reporting on live sports.
"There's a moment that happens right before a game gets started," says Scianniti, "Where you're looking around and you realize our planet might be a speck of sand in a galactic ocean… but what these athletes are about to do is the most important thing."
Sports media is an ever-changing landscape and the COVID-19 pandemic has made the industry adapt in order to survive. Ryerson alumni have been leading the charge, bending—but, not breaking—to these unprecedented circumstances.
Related
Media Beat: November 26, 2020 | FYIMusicNews – FYI Music News
The pop singer has joined manager Andrew Gertler in launching Permanent Content, a company that will focus on scripted and documentary projects that reflect issues important to young people. The first project is a doc about himself. – Yahoo News
I f you're interested in saving a little money on your taxes, the Digital News Tax Credit could go along way. That is, assuming you're eligible for it. To get the digital news tax credit, you need to have paid money for subscription media in 2020. That includes online newspaper subscriptions and other paid media services. The media outlet you subscribed to also has to be approved. The main criteria is that the news outlet be Canadian. If it's any mainstream Canadian newspaper, it's likely approved. The catch is you will get back $75 on the cap of $500 spent on subscriptions. – The Motley Fool
The media may take credit for the Biden victory, as it conducted the campaign; almost no one voted for Biden, an undistinguished and bumbling wheel-horse who was on his way to the political glue factory until he was rescued by the Democratic party elders to prevent a victory by Marxist Sen. Bernie Sanders. The media's credit for that is mitigated by the terrible failure of the phony polls and predictions of a great repudiation of Trump, and the further erosion of public trust in the media to levels that are far below those enjoyed by the president it laboured so relentlessly to destroy. – Conrad Black, National Post (FYI addendum: Trump pardoned Black, the former media mogul who was jailed for fraud and obstruction of justice in the US, shortly after he wrote a book praising the US president.)
[embedded content]
California's Silicon Valley shapes our lives. From the websites where we do our household shopping to the video-streaming services we watch to the companies which provide our email, almost all are based in this corner of the United States.
Until recently, that is. The rise of TikTok, an app whose parent company is the Chinese firm ByteDance, has struck at the heart of Silicon Valley's supremacy. Along with other digital products coming out of China, TikTok has the potential to reshape the future of technology – a future in which the culture and the interests of Shanghai or Beijing could mould the industry more than that of San Francisco Bay. – Chris Stokel-Walker, BBC
When the internet got involved in music, everything changed. Sales tanked and cheques shrank. That retirement fund was no longer assured. This goes a long way to explaining why so many heritage acts from the 1960s, '70s, and '80s — think Eagles, Fleetwood Mac, and Guns N' Roses — went back on the road. They had to make up for that lost revenue somehow. David Bowie was the first to find an equitable solution with his so-called "Bowie Bonds". – Alan Cross, Global News
Seattle-headquartered MediaNet, which was acquired by SOCAN in 2016, will provide licensing, catalogue, and rights management services for Echelon through its MediaNet Enterprise product integration, which allows music applications to access over 85 million tracks. – Music Business Worldwide
Chappelle posted a video to his Instagram page titled "Unforgiven" in which he explained his reasons for pulling "Chappelle's Show" from Netflix after not being paid by ViacomCBS. The video was filmed during a recent stand-up set and the comedian is urging his fans to boycott sites streaming the material. – Zack Sharf, IndieWire
German media giant Bertelsmann said Wednesday that its Penguin Random House division is buying rival Simon & Schuster, in a megadeal that would reshape the U.S. publishing industry.
Penguin Random House, already the largest American publisher, will buy the New York-based Simon & Schuster, whose authors include Stephen King, Hillary Clinton and John Irving, from TV and film company ViacomCBS for $2.17 billion in cash. – The Canadian Press
France is going forward with its plan to tax big tech companies. The government has sent out notices to tech giants, as reported by the Financial Times, Reuters and AFP. There could be retaliation tariffs on French goods in the U.S. – Tech Crunch
The announcement follows months of bargaining between Google, French publishers and news agencies over how to apply revamped EU copyright rules, which allow publishers to demand a fee from online platforms showing extracts of their news. – Reuters
Instead of encoding the identifier or watermark in the video content, Amazon proposes to add it to the manifest data. As a result, Amazon's solution can be more easily applied at the individual level. This can be useful to protect content on Amazon's own streaming service, but other rightsholders may want to use it as well. – TorrentFreak
Mick Jagger and Steve McQueen held court from its tufted red booths. Beautiful girls frugged in cages above its dance floor. The most famous club in rock history, the Whisky a Go Go on the Sunset Strip, launched a generation of music, from the Byrds and Buffalo Springfield to Frank Zappa and the Doors. – David Kamp, Vanity Fair archives
[embedded content]
Loblaw acquires technology from Torstar to accelerate media platform Français – Canada NewsWire
BRAMPTON, ON, Nov. 26, 2020 /CNW/ – Loblaw Companies Limited (TSX: L; "Loblaw") today announced Loblaw Inc.'s acquisition of technology and the related team from Eyereturn Marketing Inc., a subsidiary of Torstar Corporation. The transaction complements and strengthens Loblaw Media, the company's full-service digital marketing agency launched in 2019.
With this new technology and expertise, Loblaw Media can better connect brands and consumers online through targeted ad campaigns and promotions. It will reduce the company's reliance on third-party media technology to create and serve ad campaigns and be integrated into Loblaw Media's proprietary audience targeting and measurement platform.
"This acquisition is an important milestone for us, adding immediate capability and credibility to our growing media business," said Uwe Stueckmann, Loblaw's Chief Customer Officer. These team members are some of the best and brightest in the ad technology space. Together, we'll take Loblaw Media to the next level, delivering outstanding campaigns with meaningful insights for our clients and promotions for our customers."
Loblaw Media uses transaction-based insights to help brands plan and deliver more relevant campaigns, and to help deliver more relevant ads to customers. Loblaw is uniquely positioned in the media space due to its strong digital connection to customers. This is driven primarily by the company's loyalty program, PC Optimum, which provides Loblaw Media with specific, anonymized target audiences based on real in-store and online purchase histories.
About Loblaw Companies Limited
Loblaw Companies Limited is Canada's food and pharmacy leader and the nation's largest retailer. Loblaw provides Canadians with grocery, pharmacy, health and beauty, apparel, general merchandise, financial services, and wireless mobile products and services. With more than 2,400 corporate, franchised and Associate-owned locations, Loblaw, its franchisees, and Associate-owners employ approximately 200,000 full- and part-time employees, making it one of Canada's largest private sector employers.
Loblaw's purpose – Live Life Well® – puts first the needs and well-being of Canadians who make one billion transactions annually in the companies' stores. Loblaw is positioned to meet and exceed those needs in many ways: convenient locations; more than 1,050 grocery stores that span the value spectrum from discount to specialty; full-service pharmacies at nearly 1,400 Shoppers Drug Mart® and Pharmaprix® locations and close to 500 Loblaw locations; PC Financial® financial services; affordable Joe Fresh® fashion and family apparel; and three of Canada's top consumer brands in Life Brand®, no name® and President's Choice®.
SOURCE Loblaw Companies Limited
For further information: [email protected]
Related Links
Launch of next generation Intelligent Media Reputation Crawler opens up new business opportunities – GlobeNewswire
Copenhagen, Nov. 26, 2020 (GLOBE NEWSWIRE) — After extensive and successful testing, Hypefactors will launch version 4.0 of the Intelligent Media Reputation Crawler in the Hypefactors tech platform. This will benefit all current and future customers as well as open up new business segments and opportunities. The launch is planned for Monday 30. November 2020.
As one of few media intelligence companies in the world, Hypefactors has developed a proprietary advanced crawler technology, searching, finding, and enriching relevant media mentions in near real-time.
With version 4.0, more than 4 million articles are streamed in continuously, as big data and enriched using custom-built automated machine learning (ML) solutions. Add to this that more than 2 million social media posts, pictures, and videos are processed daily. The machine-learning-based Artificial Intelligence (AI) enables a unique level of automation, scale and precision combined that is unreported in science and business. This specialized application of AI on media data turns our big data into smart data for the users.
Highlights of version 4.0 are:
Machine-learned advertisement detector
AI-assisted automated detection of new relevant media sources
Global media impact indicators
Time-series analysis using AI-based publication date recognition across all languages
More accurate impression/readership estimation
Unmatched machine-learned reputation assessment
Through these updates, more media sources from non-Western regions have been added, incl. from Latin America, the Middle East, and Asia. Also, more niche sites and blogs have been added. This has significantly expanded our global media coverage.
The development providing users with the market's most accurate streams of relevant media data, has been made possible using recent theoretical advances in machine learning, and supported by Google and Amazon cloud solutions through the Silicon Valley-based accelerator Founder Friendly Labs, in which Hypefactors was invited to join in 2019.
The milestone implementation will provide new business potential beyond the communications departments. R&D, Business Intelligence, Marketing, and Sales could benefit from injecting relevant and smart media intelligence data into their operations.
Hypefactors' unique tech assets are now even stronger. The Intelligent Media Reputation Crawler vers. 4.0 strengthens the company's platform and technological asset base and is expected to make a positive contribution to the commercial development of the company.
—-
About Hypefactors A/S
Hypefactors is an integrated AI-powered Earned Media tech platform to support better media intelligence and reputation management.
Hypefactors combine data, analytics, technology, and tools to provide a unified and easy-to-use experience. With all the tools to automate and ease the work, and all the facts to document the results. In addition to media monitoring across the different media channels, the platform provides access to a number of facts, incl. automated documentation of the monetary value and quality assessment of each third party media mention. The platform also contains other time-saving tools such as automatically-generated media reports and a mobile app giving access to real-time media mentions. The company is listed at Nasdaq Growth Market in Copenhagen, Denmark.
For more information, please contact:
Casper Janns, CEO: Tlf.: +45 20167481, e-mail: cj@hypefactors.com
Pierre André Montjovet, Chairman of the Board: Tlf: +41 (0)78 922 33 0,
e-mail: p.montjovet@heritage.ch
Hypefactors A/S
Kronprinsessegade 8B
1306 Copenhagen K
Denmark
www.hypefactors.com
Certified Adviser
Kapital Partner ApS
Jesper Ilsøe, tlf. +4526802728
Jernbanegade 4
1608 Copenhagen V
Denmark
www.kaptalpartner.dk