Samsung CEO reveals name of the next foldable, confirms S20 family in secret meeting – GSMArena.com news – GSMArena.com
Samsung allegedly held secret meetings at CES with partners and carrier customers, where it showcased yet-unannounced products. This is not surprising in itself, because the company has been known to do this in the past.
What's more surprising is what came out of these meetings this week. First off, Samsung Mobile boss DJ Koh allegedly revealed the official name of the phone we've all been calling Galaxy Fold 2. The next foldable is going to be called Galaxy Bloom. There's even a blurry picture that's purportedly been hastily shot in one such meeting by an attendee, to prove this.
Samsung is apparently planning to market this product to women in their 20s, which explains the name (although it's not entirely clear how), but also the shape. The inspiration for the design came from Lancome's compacts, and when you put the two side by side as below, that's sure starting to make a lot of sense.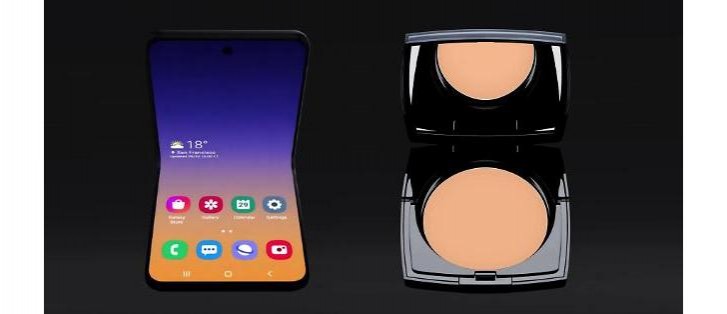 The device won't have a plastic film on top of its screen like the original Galaxy Fold, instead using ultra-thin glass. The Galaxy Bloom will shoot 8K video, and will be the first smartphone to support this function. There will be both 4G and 5G versions of the Bloom.
Additionally, Koh apparently confirmed the much rumored new naming strategy for the flagship Galaxy S line. The three models launching at the February 11 event will be called S20, S20+, and S20 Ultra. Samsung chose to not keep counting up one by one in order to properly celebrate the start of the new decade.
The Galaxy S20 Ultra is said to sport a 108 MP main rear camera, as well as support for 100x zoom. All three will have 8K recording capabilities too.
Apple debuts a $4.99 per month Apple Music Voice plan, designed mainly for HomePod or AirPods use – TechCrunch
In 2019, Amazon introduced a more affordable way to stream Amazon Music in their home with the launch of a free, ad-supported music service that streamed over its Echo speakers. Today, Apple is catching up with its debut of a new, lower-cost version of its Apple Music subscription it calls the "Voice plan." Unlike Amazon's service, the Voice plan is not free. Instead, it's a more affordable, $4.99 per month ad-free subscription that limits consumers to only being able to access the Apple Music via Siri voice commands.
Explained the company at its October event today, the new Voice plan will allow customers, in 17 countries to start, to use Siri to play songs, playlists, and all stations in Apple Music when the service launches later this fall. This will also include access to a series of new playlists based on moods and activities, as well as personalized mixes and genre stations. That means you'll now be able to ask Siri to play you music for a dinner party or something that would help you to wind down at the end of the day, for example. Hundreds of new playlists will be available, said Apple.
Apple Music rivals, including Spotify, Amazon Music, and Pandora already offer such a feature — and have for years. So this is a matter of Apple playing catch up in the space with its own expanded set of editorially crafted mood and activity playlists. Currently, its editorial selections are more limited to its "Made for You" lineup which includes personalized playlists like your Favorites Mix, Chill Mix, New Music Mix and Get Up Mix.
While Apple says the new Voice plan can be used to access Apple Music across "all your Apple devices," it's clearly been designed with HomePod in mind — similar to Amazon's free music streaming for Echo. If using a phone, tablet or computer, it wouldn't necessarily make sense to speak to Siri to play music when you have a device with a screen. However, the service could possibly be interesting to those who primarily listen to Apple Music via their AirPods — and don't mind speaking all their commands.
Apple says the service will also work via CarPlay, in addition to iPhone and other devices like iPad, Mac, Apple TV, and Apple Watch.
Subscribers will see a customized app interface that displays suggestions based on their music preferences and a queue of their recently played music through Siri. There will also be a section called "Just Ask Siri," which teaches users how to optimize Siri for Apple Music.
The new plan joins the other Apple Music subscriptions, the Individual plan and Family plan, at $9.99 per month or $14.99 per month respectively. Like the Individual plan, the new Voice Plan is also limited to just 1 person per subscription, Apple said. It provides access to the full Apple Music catalog of over 90 million songs.
At launch, it will be available in Australia, Austria, Canada, China mainland, France, Germany, Hong Kong, India, Ireland, Italy, Japan, Mexico, New Zealand, Spain, Taiwan, the U.K. and the U.S. The company didn't offer an exact launch date besides "later this fall."
Apple said it will market the service to non-subscribers who ask for music through Siri. They'll be able trial the service for 7 days for free, with no auto-renewal.
To complement the launch of the new service, Apple also announced new, third-gen AirPods and more colorful lineup of HomePod mini smart speakers.
Australia must commit to carbon cuts to keep green energy advantage -Fortescue's Forrest
Australia risks losing its advantage in the green energy revolution if its leaders don't promptly commit to cutting carbon emissions by 2050, the country's richest man, Fortescue Metals Group founder Andrew Forrest said on Monday.
Forrest, who grew Fortescue from a minnow to rival the world's biggest mining giants in less than two decades, has spearheaded his company's global green energy drive, signing deals from Brazil to Indonesia to Democratic Republic of Congo.
The company aims to build a 250 megawatt hydrogen electrolyser at Bell Bay in Tasmania — 25 times the size of the biggest existing electrolysers in the world — for less than A$1 billion ($740 million), Forrest said, putting a price on the project for the first time.
Fortescue is ready to make a final investment decision this year, as promised, but is waiting for support from the state government before going ahead with the project.
While Forrest told Reuters that Australia is the best place to realise his green vision, the country's failure to commit to a policy to cut emissions is risking that advantage.
"I would say 2050 neutrality is a certainty for Australia. If we support it by COP26 the dividend flow to regional Australia will be substantial. If we don't support it by COP26, the future will remain uncertain," Forrest said, referring to the COP 26 climate conference in Glasgow at the end of October.
"The renewable energy, green hydrogen, green ammonia, green electricity industry is very, very mobile," he said.
"It is where the will is strongest – they will be the first to be developed."
Australia's energy policy is again in the spotlight as Prime Minister Scott Morrison prepares to attend the conference, where global leaders will meet to set further climate goals to follow on from the landmark 2015 Paris accord.
But Morrison is short on updated climate ambitions to bring to the table given his reliance on the junior partner in Australia's coalition government which said it would not be rushed into a decision on whether to support a target of net zero emissions by 2050.
The Nationals who represent coal and farming heartlands worry that stronger emissions targets will cost jobs. Coal is the country's second biggest export earner.
But Forrest, speaking to Reuters from London, said that rural Australians were set to be the biggest winners in the move to green energy – if agreements are made in time.
"I have demonstrated investment into the regions despite the fact Australia is dragging the chain," Forrest told Reuters.
Fortescue is investigating the potential to convert top Australian fertiliser maker Incitec Pivot's Brisbane ammonia plant to use green hydrogen as a feedstock instead of natural gas, with an on-site electrolysis plant that will produce up to 50,000 tonnes of hydrogen a year.
The plant's future had been under threat due to soaring gas prices, however setting up a green hydrogen production site to feed the existing plant could save 400 jobs and create many more, Forrest said.
At the same time, the product from the plant will be cheaper for local farmers.
"So farmers in Australia long into the future can plan for the next season, or even for the next generation … knowing that fertilisers are coming from a hydrogen molecule that is infinite," Forrest said.
(Reporting by Melanie Burton and Sonali Paul; Editing by Kirsten Donovan)
Google's Pixel is now the official fan phone of the NBA – MobileSyrup
Ahead of Google's Pixel Fall Launch Event, the Pixel has been declared the NBA's official fan phone thanks to Google's new multi-year agreement with the league.
In addition, Google is now the Official Search Engine, Search Trends, and Fan Insights partner for each league, including the NBA, NBA G League and the NBA 2K League. The Pixel lineup will be the NBA Playoffs' first-ever presenting partner, joining YouTube TV (also owned by Google but not available in Canada) in the postseason.
The most searched NBA query last season was "How many games in nba season." As official partners of the @NBA, Google and Pixel are excited to be with you for all 82 of them. https://t.co/2JP2kTouhe 🏀 pic.twitter.com/sceQreakYz

— Google (@Google) October 18, 2021
"Through this multi-year partnership, we'll work with the NBA to create exciting immersive experiences for fans using our 3D and AR technology, as well as leverage new features that will be announced at our Pixel Fall Launch event," reads Google's blog post.
Google will also incorporate Search Trends throughout the season, displaying how fans search for information regarding games before, during, and after games using real-time data.
More information about the immersive experiences will be revealed by Google at the Pixel 6 launch event tomorrow. The company intends to unveil new Pixel camera features during a special Opening NBA Night on TNT Tip-Off pregame show following the launch event.
Image credit: Google
Source: Google