Samsung Galaxy Z Fold 3 5G: First impressions – Gadgets Now
The third generation of Samsung Galaxy Fold focuses on durability, enhanced productivity, better software experience while flaunting some bold features. When the smartphone industry is largely figuring out their approach towards making foldable phones, Samsung has introduced innovations like an under display camera and supporting stylus on a flexible display that is not made of glass. Not to forget, the Z Fold 3 is also IPX8 water resistant. The Z fold 3 is, of course, expensive but it assures you that you are using the most advanced smartphone of 2021 and there's no other device right now that can match it. After using the Galaxy Z Fold 3 for a couple of days, here's our initial impressions. Samsung Galaxy Z Fold 3 design
Samsung hasn't made any drastic change in the new Z Fold 3 when it comes to the design or display of the phone. Things are pretty much similar to the 2020 Galaxy Z Fold 2. But the entire experience has definitely improved. The device no longer looks bulky as the main camera module at the back has been trimmed. The matte finish on the rear panel, which is now made of Corning Gorilla Glass Victus, looks premium. The hinge has become sturdier and you will feel confident while folding or unfolding the device. When the device is folded, it fits well in the hands, looks stylish and the build quality exudes confidence.
Once you unfold the device, you will notice that the selfie camera cut out in the display is gone. You are getting the entire screen estate. Samsung is using an under display selfie camera which is subtly visible when you use a light colour wallpaper or any app that has a white background. The camera is integrated well underneath the display and while watching movies or gaming you will not even recognise that it's there. Another aspect is that the edges around the flexible display are slightly raised so that it's protected from accidental falls. Samsung has managed the hinge area of the display well and the crease along the fold is less visible now. Having said that, that crease is going to remain until Samsung replaces the flexible plastic display with real glass. Now, bending glass to make it flexible will take some time to happen. But in the new Z Fold 3, you will learn to live with the crease as it doesn't create a problem while consuming content.
The body of the device is quite similar to the Z Fold 3 with USB Type-C port at the bottom, volume rockers and wake button (with integrated fingerprint scanner) on the right side. Samsung Galaxy Z Fold 3 display
It goes without saying that the Samsung Galaxy Z Fold 3 comes with two displays: the external cover display and the main display that is foldable. The Samsung Galaxy Z Fold 3 comes with a 6.2-inch HD+ Dynamic AMOLED cover display with 120Hz refresh rate. Note that the cover display is what you will see when the device is folded. You can perform all tasks on this display and it is made of glass. When you unfold the device, you will get a 7.6-inch QXGA+ Dynamic AMOLED main display with 120Hz refresh rate. The dimensions of the display hasn't changed but now you get 120Hz refresh rate making things appear smoother. These are the best displays you get in a foldable phone right now but you will have to get used to the aspect ratios. The foldable display is squarish while the cover display has an aspect ratio of 25:9. You can run all apps in full screen mode to cover the entire display area but this may lead to content getting cropped. At the same time, if you run anything on the original aspect ratio, you will notice black bands around the content. This is why the Z Fold 3 is not meant for gaming. But the squarish aspect ratio helps during multitasking, as you can manage to squeeze up to four apps and run them simultaneously.
The transition from the cover screen to the main screen is seamless and overall, you will love the quality. Samsung Galaxy Z Fold 3 camera
The device comes with a total of five cameras– three at the back, one underneath the main display and one on the cover display. The triple rear camera module includes a 12MP ultrawide sensor with F2.2 aperture, 12MP dual pixel autofocus primary sensor with F1.8 aperture, OIS and another 12MP telephoto sensor with F2.4 aperture and OIS. There's 2X optical zoom and 10X digital zoom along with HDR10+ video recording. When you fold the device, you will get a selfie camera on the cover display with 10MP sensor and F2.2 aperture. This is Samsung's first phone to come with an under display camera. The under display camera has a 4MP sensor and an aperture of F1.8.
Talking about the quality, there aren't a lot of changes and it still clicks good photos like the Z Fold 2. But you will be disappointed with the quality of the under display camera. More about the camera quality in our full review.
Samsung Galaxy Z 3 Fold specs
The device is powered by a 5nm 64-bit octa-core Qualcomm Snapdragon 888 5G chipset with a maximum clock speed of 2.84GHz. It is the fastest Android processor. The phone supports 5G connectivity. It comes along with 12GB of RAM and internal storage options of 128GB or 256GB. There's no slot for a microSD card and runs on Android 11 operating system out-of-the-box.
The phone is backed by a 4,400mAh battery. For security, the device supports biometric locks like Face or fingerprint and it's a 5G-enabled smartphone. In India, the phone will come in Phantom Black and Green colour options. Samsung Galaxy Z 3 Fold first impressions
The Galaxy Z 3 Fold is all about refinement and letting users do more with the hardware. It has got all the style along with the substance. Also, with support for the S-Pen stylus, you can get the experience of the Galaxy Note series as well if you decide to purchase the stylus separately. There are a few things that you may not like about the device; inside the box you will not get any charger or earbuds or any other accessory. You just get a charging cable. The device doesn't support the older S-Pen stylus, so you will have to buy a new one in case you wish to scribble something on the device. Though the device is sturdy and water resistant, you will need to be careful with dust as there's no IP rating for dust particles. You need to use the Z Fold 3 with soft hands and not the way you generally use your phones.
Once you are used to the Z Fold 3, the experience you get is quite unmatched and it will be difficult to get back regular phones.
---
FacebookTwitterLinkedin
---
Forgot to Pre-Order Your iPhone 13 or 13 Pro? Apple Store Pickup Remains an Option for Launch Day – MacRumors
iPhone 13 and iPhone 13 Pro pre-orders began last Friday at 5:00 a.m. Pacific Time, and soon after, shipping estimates for select models began slipping to late September or early October for some models.

If you weren't prepared to get up at an early hour or you haven't got round to pre-ordering for another reason, there's still a chance to get an ‌iPhone 13‌ mini, ‌iPhone 13‌, ‌iPhone 13 Pro‌, or ‌iPhone 13 Pro‌ Max in your hands when they launch on Friday.
In the United States and other countries that have Apple retail stores, such as Canada, the United Kingdom, and Australia, many ‌iPhone 13‌ models are still available for in-store pickup on Friday, September 24.
Even if a particular iPhone model isn't estimated to be delivered on launch day, it's still possible to reserve some versions for in-store pickup.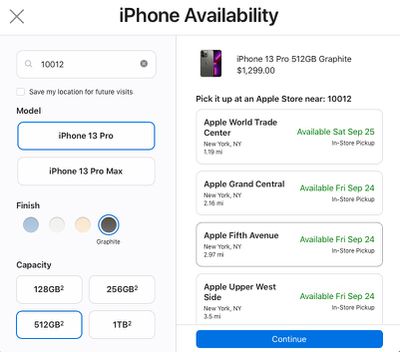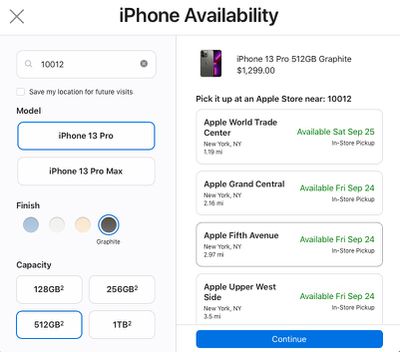 An ‌iPhone 13 Pro‌ in Silver with 128GB of storage, for example, is currently estimated to ship in 4-5 weeks on Apple's online store. However, the device is available for pickup on September 24 at multiple retail stores in several countries.
Once you proceed to the checkout and click the blue "Checkout" button, select "I'll pick it up," then choose a store location, pickup date, and an available 15-minute check-in window from the options.
If you will be picking up the ‌iPhone‌ personally, enter your phone number. If someone else will be arranging the pickup, enter his or her contact information. The person making the pickup must be carrying a valid photo ID.
Then, proceed with the checkout process as usual. Once payment has been made, wait until you receive a pickup notification email or text message by September 24 before picking up the ‌iPhone‌. If you don't receive one, call the store.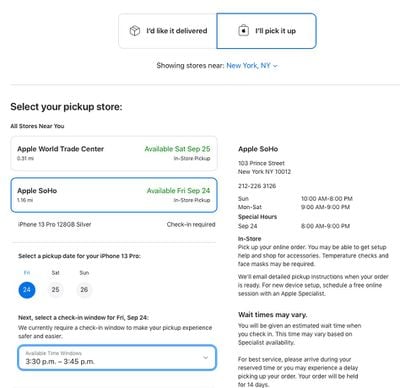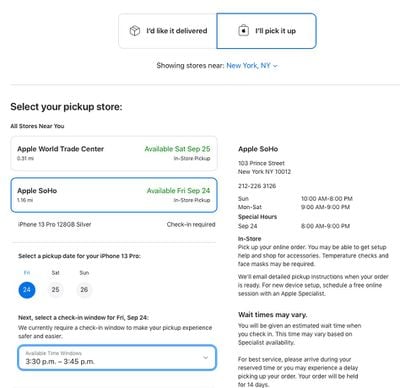 Since the ‌iPhone‌ is paid for ahead of time, the store will hold the device in its back room until you arrive. Your order will be held for 14 days.
Of course, another option is to simply wait until Friday and walk into an Apple store, preferably right when they open. You may have to wait in line, but the queues have typically been shorter in recent years. Note that temperature checks and face masks may be required.
You can use the pickup tool on Apple's website on launch day to check if stores in your local area have stock, or call the store directly.
All in all, there are still a few days to ensure you get your new ‌iPhone‌ on launch day, even if you missed the pre-order rush. Just make sure to select which color, storage, and carrier combinations are still available for pick-up by September 24.
iOS 15 now available with new FaceTime features and Focus notifications – MobileSyrup
iOS 15 is here, so saddle up your iPhone and start downloading the latest update to try out all of the new features. This year's update is overall pretty bland, especially compared to the new hotness that is Material You over on Android, but it's a worthwhile update nonetheless.
Below I highlight a few of my favourite new features and what I like about them based on a few weeks I've spent with the latest iOS 15 beta, but before that, let's go over how to install the update. As with all iOS updates, simply navigate to your Settings app, open the 'General' section and select 'Software update.'
The update is compatible with smartphones as old as the iPhone 6s and the iPhone SE.
What is this new Focus mode?
The most noticeable iOS 15 update is the new look for notifications. This time around, the app icon with each notification is larger to make it easier to see at-a-glance which app is begging for your attention.
Beyond that subtle visual flourish, there's a new 'Focus' button within Settings and Control Center (the menu that allows you to change screen brightness and play/pause music playback). When you open this, it shows you a few new notification filters that can block preset apps during specific times. You need to set this up on your own, but once activated, it can be useful for blocking social notifications during work hours and work notifications during social hours.
FaceTime invites Windows and Android to the party
Perhaps the part of iOS 15 that will be used the most is a new FaceTime feature that allows users to set up chatrooms that you can invite people to with a link. This is just like how Zoom, Google Meet and Teams all work, putting FaceTime on slightly more level footing with those competitors. It also allows FaceTime users to invite Android and Windows users for the first time.
To be clear, non-Apple users can only be invited to a FaceTime chat; they can't start one.
On top of all this, Apple has also added some new layouts to Facetime to make it easier to see everyone in a chat at once.
The new iMessage updates take a bit to get used to
One of the more subtle updates that's come with iOS 15 is a new form of iMessage. For the most part, the app looks the same, but now, when you send or receive multiple photos, they get stacked in the chat instead of all displayed at once.
This looks nicer, but you can easily mistake it for just a single photo if you just glance at it.
One of the more exciting updates that seems cool but might not catch on is the new 'Shared with you' sections within Safari and Photos. In each of these sections, you can see links or pictures that people have sent you via iMessage, so you can quickly open them or check them out later.
Copy text from anywhere
One of the sleeper updates added in iOS 15 is the ability to copy text from pretty much anything.
Within the Photos app, you can click on a little icon in the bottom right of each picture to copy text from within the photo. If you're in Safari, you can tap and hold onto text in images and, in pretty much every case, the phone will be able to copy it accurately.
You can also highlight phone numbers to instantly call them or addresses to get directions in Maps.
Spotlight search is the real way to get around your iPhone in 2021
If you're not already utilizing the power of Spotlight Search on iPhone, you should really start with iOS 15.
When you pull down on the home screen in the new update, you can search for pretty much anything now. This includes the web, your photos, contacts and messages, among many other sources. You can even now use it from the iOS lock screen.
Auto translate
The iOS translate app can automatically detect when a person is speaking and will begin translation immediately. Since you can also select text in images and other things in iOS 15, you can also translate them quite easily.
This isn't the new Safari iWanted
When Apple first revealed iOS 15 and its other software updates earlier this summer, it planned to revamp the look of Safari on all of them. While I was really excited about these visual changes, the world, apparently, was not.
The first version of iOS 15 safari was a simple bubble that floated at the bottom of the screen. If you tapped on the bubble, you could search using Google. There was also a three-dot menu and a button to see all your open tabs. Swiping across the bubble also allowed users to jump through all their open tabs quickly. This functionality, thankfully, is still in iOS 15.
The search bubble didn't last, and instead, Apple replaced it with a much more accessible and technical-looking bottom navbar. While this version might not look as nice, it's likely going to be a lot easier for people to adapt to.
Apple Prompts Pre-Order Customers to 'Get Ready' for New iPhone 13 With iCloud Syncing and Trade-Ins – MacRumors
iPhone users who have pre-ordered an iPhone 13 model are seeing a new prompt in the Settings app that walks through the steps of preparing for a new device.

Tapping on this prompt encourages users to make sure that iCloud syncing is enabled for all of their apps for a complete ‌iCloud‌ backup, offering up an option to turn on syncing for any app that doesn't have it on.
The feature also explains how to use an existing ‌iPhone‌ to set up a new ‌iPhone‌ for a quick sign in process, and it offers up details on finding out how much an existing ‌iPhone‌ is worth for trade-in purposes.
Apple is likely showing this information based on Apple ID, so many customers who pre-ordered an ‌iPhone‌ may be seeing the new popup. For those who want to get rid of it, just tapping through the prompts should be enough to get it to disappear.
Top Stories
Update: As of 5:30 a.m. Pacific Time, the "Expired Pre-Order" issue appears to have been fixed for many Apple customers. Some Apple customers who went through the pre-approval steps to purchase a new iPhone 13 on Apple's website or Apple Store app are seeing the message "Your iPhone pre-order has expired" when subsequently checking their order status page.
Apple customers can use the…
Following the announcement of the iPhone 13 mini, iPhone 13, iPhone 13 Pro, and iPhone 13 Pro Max, Apple is allowing customers to get ready for pre-orders, which are set to take place on Friday, September 17 at 5:00 a.m. Pacific Time.
Existing and new iPhone Upgrade Program members can use the Apple Store app on the iPhone or Apple's website to go through all of the pre-approval steps to get …
Apple is now accepting pre-orders for the iPhone 13, iPhone 13 mini, iPhone 13 Pro, and iPhone 13 Pro Max through its online storefront and through the Apple Store app.
Pre-orders are available in more than 30 countries and regions around the world. Those who used the "Get Ready" feature to prepare for pre-orders will just need to hit a button to get their orders in.
This year's iPhones…
Apple's online store is down ahead of iPhone 13 mini, iPhone 13, iPhone 13 Pro, and iPhone 13 Pro Max pre-orders, which are set to begin at 5:00 a.m. Pacific Time in the United States.
"You're… early," reads the Apple Store message when attempting to visit the U.S. website. "Pre-order begins at 5:00 a.m. PDT. Enjoy the extra sleep." Apple used to do new device pre-orders at 12:01 a.m….
Apple has started shipping out iPhone 13, iPhone 13 mini, iPhone 13 Pro, and iPhone 13 Pro Max orders to customers who pre-ordered one of the new devices on Friday, September 17.
Many orders will still say "Preparing to Ship" in Apple's ordering system and will continue to do so until later this week, but customers in the United States who are receiving their devices through UPS can use the U…
While it has been many years since Apple stopped providing first weekend sales numbers for new iPhones, Morgan Stanley analyst Katy Huberty today said that iPhone 13 Pro pre-orders are "off to a promising start" with "strong early demand."
Huberty based her opinion off of Apple's delivery estimates for iPhones, which she has been tracking for many years. Shortly after pre-orders began last…
iPhone 13, iPhone 13 mini, iPhone 13 Pro, and iPhone 13 Pro Max pre-orders went live on Apple.com earlier today, and now you can also pre-order the newest Apple smartphones across many carriers and retailers in the United States. Carriers typically offer numerous deals and bonuses to ordering through them instead of Apple, and that's no different for the iPhone 13 launch.
Note: MacRumors is an …
Coinciding with the start of iPhone 13 and iPhone 13 Pro pre-orders, Apple today started offering 0% financing for an extended 24 months on new iPhone purchases in Canada through financing partner PayBright, up from six months previously.
For example, customers with approved credit can now pay for the iPhone 13 Pro with 128GB of storage for 24 equal monthly payments of $58.29, with zero…
iPhone 13 and iPhone 13 Pro pre-orders started today, and while many customers have successfully placed their pre-orders, some have experienced issues when attempting to complete their purchase with an Apple Card or Apple Pay.
Some customers have turned to Twitter to express their frustration with the pre-ordering process, sharing screenshots of errors that they received, such as "there was…
Apple today held its annual iPhone-centric event, introducing the iPhone 13 mini, iPhone 13, iPhone 13 Pro, and iPhone 13 Pro Max. We also got a look at the new Apple Watch Series 7 and were surprised with the new ninth-generation low-cost iPad and the iPad mini 6.
Subscribe to the MacRumors YouTube channel for more videos. It took Apple an hour and twenty minutes to introduce the new devices …