Scientists narrow age estimate for fossils of human ancestor – Rhyl Journal
Scientists say they have finally calculated the age of the youngest known remains of Homo erectus, which is generally considered an ancestor of our species.
The fossilised skull fragments and other bones were uncovered on the Indonesian island of Java in the 1930s. Determining their age has been a scientific challenge, and a wide range has been proposed by numerous studies.
In a report released by the journal Nature, scientists conclude the remains are between 108,000 and 117,000 years old.
Researchers used five dating techniques on sediments and fossil animal bones from the area, combining 52 age estimates for the analysis. The project took 13 years to complete.
Paleoanthropologist Russell Ciochon of the University of Iowa, an author of the study, said: "I don't see any way to date this site more thoroughly."
Homo erectus arose in Africa about 2 million years ago and spread widely there and in Asia, and possibly into Europe. It reached Java more than 1.5 million years ago, and the new dates suggest it died out at least 35,000 years before the arrival there of our own species, Homo sapiens.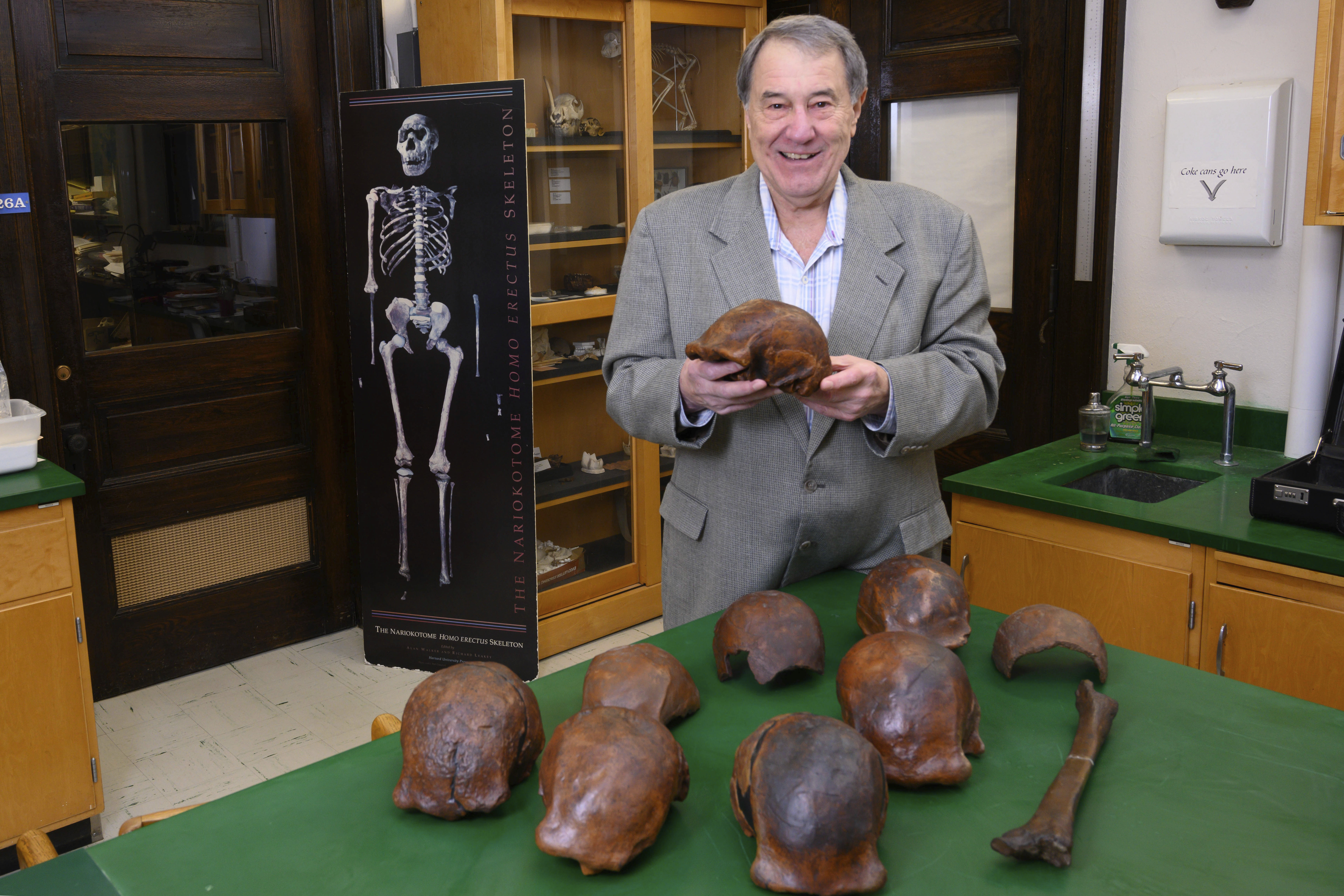 Homo erectus may have been doomed on Java by climate change that turned its open woodland environment into rainforest, Mr Ciochon said. Still, it evidently existed longer on Earth than any other species on our "Homo" branch of the evolutionary tree.
Susan Anton, a New York University anthropologist who did not participate in the work, called the dating effort "heroic". But she said she considered the reported age range to be too narrow. She said she preferred a span of less than 550,000 years old to more than 100,000 years old.
That is roughly what she and co-authors proposed in a paper published in 2011. The younger end of the range in that paper was as recent as 120,000 years, which she said is virtually the same as the new result.
Eastern Ontarians get a pricey taste of high-speed internet with Elon Musk's Starlink – CBC.ca
It might be expensive, but to get rid of his shoddy internet, it's a price Darren Boss is willing to pay.
Three years ago, Boss and his wife moved from Ottawa to just outside Perth, Ont., and until recently they'd been dealing with spotty, unreliable internet — a problem facing countless rural Canadians, and a big obstacle for the couple given they both work in IT.
They'd often have to schedule their video work meetings so they weren't competing at the same time for a reliable connection. Boss said they tried several providers and had the same experience every time.
That's why the pair decided to sign up for Starlink, the new pricey high-speed internet service provided by Elon Musk's U.S.-based SpaceX firm, which was recently approved by the Canadian Radio-television and Telecommunications Commission (CRTC).
The service is available to select users for "beta testing," with the promise of wider availability this year. Boss received his satellite a few weeks ago and said so far, the results have been promising.
"I changed the way I did some of my job just because of how slow the upload speeds were and now I don't have to make those compromises anymore," Boss said.
But he admits it's expensive. Boss paid $800 for the satellite equipment alone, and $150 a month for the service itself.
"I feel pretty grateful to have this opportunity," he said. "And I feel lucky that we could afford to get the service."
Potential game-changer
North Grenville, Ont., Mayor Nancy Peckford has been a long-time advocate of better internet access for rural municipalities and said Starlink is a potential game-changer.
Connectivity standards from CRTC include speeds of 50 Mbps download/10 Mbps upload for fixed broadband services. At those speeds, multiple members of a household should be able to stream, download and upload with no concerns.
According to Peckford, however, recent tests in her community showed speeds significantly "below the CRTC minimum rate."
"It's very, very distressing. I mean, you're looking at upload [and] download speeds that are a fifth of what you might see in an urban area," she said.
Still seeking other investments
While Starlink isn't "necessarily affordable" for those it was made for, Peckford said that "desperate times sometimes require desperate measures."
She said a handful of North Grenville residents have signed up with Starlink, and the town is watching the results very closely.
Despite Starlink's availability, North Grenville and other nearby municipalities are still working with the provincial and federal governments, Peckford said, on other infrastructure investments.
"I don't think it's the end all, be all," she said. "But I would also suggest that many of our residents are welcoming it, and our businesses, with open arms — and rightly so."
NASA awards key contract to bring rock samples back from Mars – Yahoo Movies Canada
GlobeNewswire
Project Details: – StrategyR – A Trademark of Global Industry Analysts, Inc. – Project Edition: 6. – Influencer Pool: 1008. – MarketGlass™ Platform – Our influencer driven interactive research platform draws from unique perspectives of participating executives from featured companies.New York, March 05, 2021 (GLOBE NEWSWIRE) — Reportlinker.com announces the release of the report "Global Zero-Trust Security Industry" – https://www.reportlinker.com/p06033329/?utm_source=GNW In addition to being a global intelligence exchange platform, MarketGlass™ is a powerful knowledge center that delivers dynamic project-focused market intelligence. Client companies will have complete insider access to the project Data stack. – Interactive peer-to-peer and enterprise-to-enterprise ideation and market intelligence exchange is facilitated via a robust, secure, and validated process. The process draws from uniquely qualified project-specific and geographically focused executives overseeing business development, marketing and sales operations. Trends & Factors – Identifying and validating local trends and factors driving each competitive marketplace. These factors include pricing variances, market trajectories, Covid-19 impact and recovery, locally active leading brands, and other parameters impacting the region in the short to medium term such as supply chain realignments.Mobile Access & App – Our mobile version of the report may be accessed via our mobile app or directly for a full mobile experience.Complimentary Updates – for one year. At least one update in 12-month period is normal and anytime there's a significant change affecting the market dynamics.Bespoke Updates & Team Collaborations – Clients may build a bespoke version of our report with peers on our MarketGlass™ platform which enables multidimensional data simulations. Knowledge Center – clients have full-stack data access for project data they support or purchase including primary research engagement stats, companies and executives. Abstract: – Global Zero-Trust Security Market to Reach $64.4 Billion by 2027 – Amid the COVID-19 crisis, the global market for Zero-Trust Security estimated at US$18.3 Billion in the year 2020, is projected to reach a revised size of US$64.4 Billion by 2027, growing at aCAGR of 19.7% over the period 2020-2027. On-Premise, one of the segments analyzed in the report, is projected to record 19% CAGR and reach US$39.2 Billion by the end of the analysis period. After an early analysis of the business implications of the pandemic and its induced economic crisis, growth in the Cloud segment is readjusted to a revised 20.8% CAGR for the next 7-year period. – The U.S. Market is Estimated at $5.4 Billion, While China is Forecast to Grow at 19% CAGR – The Zero-Trust Security market in the U.S. is estimated at US$5.4 Billion in the year 2020. China, the world`s second largest economy, is forecast to reach a projected market size of US$11.1 Billion by the year 2027 trailing a CAGR of 19% over the analysis period 2020 to 2027. Among the other noteworthy geographic markets are Japan and Canada, each forecast to grow at 17.8% and 17% respectively over the 2020-2027 period. Within Europe, Germany is forecast to grow at approximately 14.4% CAGR. Select Competitors (Total 34 Featured) – AkamaiCentrifyCheck Point Software TechnologiesCiscoCloudflareCyxtera TechnologiesForcepointFortinetGoogleIBM Read the full report: https://www.reportlinker.com/p06033329/?utm_source=GNW I. METHODOLOGYII. EXECUTIVE SUMMARY1. MARKET OVERVIEW Influencer Market Insights World Market Trajectories Impact of Covid-19 and a Looming Global Recession Global Competitor Market Shares Zero-Trust Security Competitor Market Share Scenario Worldwide (in %): 2020E Global Competitor Market Shares by Segment 2. FOCUS ON SELECT PLAYERS 3. MARKET TRENDS & DRIVERS 4. GLOBAL MARKET PERSPECTIVE Table 1: World Current & Future Analysis for Zero-Trust Security by Geographic Region – USA, Canada, Japan, China, Europe, Asia-Pacific and Rest of World Markets – Independent Analysis of Annual Sales in US$ Million for Years 2020 through 2027 and % CAGR Table 2: World Historic Review for Zero-Trust Security by Geographic Region – USA, Canada, Japan, China, Europe, Asia-Pacific and Rest of World Markets – Independent Analysis of Annual Sales in US$ Million for Years 2012 through 2019 and % CAGR Table 3: World 15-Year Perspective for Zero-Trust Security by Geographic Region – Percentage Breakdown of Value Sales for USA, Canada, Japan, China, Europe, Asia-Pacific and Rest of World Markets for Years 2012, 2020 & 2027 Table 4: World Current & Future Analysis for On-Premise by Geographic Region – USA, Canada, Japan, China, Europe, Asia-Pacific and Rest of World Markets – Independent Analysis of Annual Sales in US$ Million for Years 2020 through 2027 and % CAGR Table 5: World Historic Review for On-Premise by Geographic Region – USA, Canada, Japan, China, Europe, Asia-Pacific and Rest of World Markets – Independent Analysis of Annual Sales in US$ Million for Years 2012 through 2019 and % CAGR Table 6: World 15-Year Perspective for On-Premise by Geographic Region – Percentage Breakdown of Value Sales for USA, Canada, Japan, China, Europe, Asia-Pacific and Rest of World for Years 2012, 2020 & 2027 Table 7: World Current & Future Analysis for Cloud by Geographic Region – USA, Canada, Japan, China, Europe, Asia-Pacific and Rest of World Markets – Independent Analysis of Annual Sales in US$ Million for Years 2020 through 2027 and % CAGR Table 8: World Historic Review for Cloud by Geographic Region – USA, Canada, Japan, China, Europe, Asia-Pacific and Rest of World Markets – Independent Analysis of Annual Sales in US$ Million for Years 2012 through 2019 and % CAGR Table 9: World 15-Year Perspective for Cloud by Geographic Region – Percentage Breakdown of Value Sales for USA, Canada, Japan, China, Europe, Asia-Pacific and Rest of World for Years 2012, 2020 & 2027 Table 10: World Current & Future Analysis for Energy & Power by Geographic Region – USA, Canada, Japan, China, Europe, Asia-Pacific and Rest of World Markets – Independent Analysis of Annual Sales in US$ Million for Years 2020 through 2027 and % CAGR Table 11: World Historic Review for Energy & Power by Geographic Region – USA, Canada, Japan, China, Europe, Asia-Pacific and Rest of World Markets – Independent Analysis of Annual Sales in US$ Million for Years 2012 through 2019 and % CAGR Table 12: World 15-Year Perspective for Energy & Power by Geographic Region – Percentage Breakdown of Value Sales for USA, Canada, Japan, China, Europe, Asia-Pacific and Rest of World for Years 2012, 2020 & 2027 Table 13: World Current & Future Analysis for Other Verticals by Geographic Region – USA, Canada, Japan, China, Europe, Asia-Pacific and Rest of World Markets – Independent Analysis of Annual Sales in US$ Million for Years 2020 through 2027 and % CAGR Table 14: World Historic Review for Other Verticals by Geographic Region – USA, Canada, Japan, China, Europe, Asia-Pacific and Rest of World Markets – Independent Analysis of Annual Sales in US$ Million for Years 2012 through 2019 and % CAGR Table 15: World 15-Year Perspective for Other Verticals by Geographic Region – Percentage Breakdown of Value Sales for USA, Canada, Japan, China, Europe, Asia-Pacific and Rest of World for Years 2012, 2020 & 2027 Table 16: World Current & Future Analysis for Government & Defense by Geographic Region – USA, Canada, Japan, China, Europe, Asia-Pacific and Rest of World Markets – Independent Analysis of Annual Sales in US$ Million for Years 2020 through 2027 and % CAGR Table 17: World Historic Review for Government & Defense by Geographic Region – USA, Canada, Japan, China, Europe, Asia-Pacific and Rest of World Markets – Independent Analysis of Annual Sales in US$ Million for Years 2012 through 2019 and % CAGR Table 18: World 15-Year Perspective for Government & Defense by Geographic Region – Percentage Breakdown of Value Sales for USA, Canada, Japan, China, Europe, Asia-Pacific and Rest of World for Years 2012, 2020 & 2027 Table 19: World Current & Future Analysis for BFSI by Geographic Region – USA, Canada, Japan, China, Europe, Asia-Pacific and Rest of World Markets – Independent Analysis of Annual Sales in US$ Million for Years 2020 through 2027 and % CAGR Table 20: World Historic Review for BFSI by Geographic Region – USA, Canada, Japan, China, Europe, Asia-Pacific and Rest of World Markets – Independent Analysis of Annual Sales in US$ Million for Years 2012 through 2019 and % CAGR Table 21: World 15-Year Perspective for BFSI by Geographic Region – Percentage Breakdown of Value Sales for USA, Canada, Japan, China, Europe, Asia-Pacific and Rest of World for Years 2012, 2020 & 2027 Table 22: World Current & Future Analysis for Telecom, IT & ITeS by Geographic Region – USA, Canada, Japan, China, Europe, Asia-Pacific and Rest of World Markets – Independent Analysis of Annual Sales in US$ Million for Years 2020 through 2027 and % CAGR Table 23: World Historic Review for Telecom, IT & ITeS by Geographic Region – USA, Canada, Japan, China, Europe, Asia-Pacific and Rest of World Markets – Independent Analysis of Annual Sales in US$ Million for Years 2012 through 2019 and % CAGR Table 24: World 15-Year Perspective for Telecom, IT & ITeS by Geographic Region – Percentage Breakdown of Value Sales for USA, Canada, Japan, China, Europe, Asia-Pacific and Rest of World for Years 2012, 2020 & 2027 Table 25: World Current & Future Analysis for Retail & eCommerce by Geographic Region – USA, Canada, Japan, China, Europe, Asia-Pacific and Rest of World Markets – Independent Analysis of Annual Sales in US$ Million for Years 2020 through 2027 and % CAGR Table 26: World Historic Review for Retail & eCommerce by Geographic Region – USA, Canada, Japan, China, Europe, Asia-Pacific and Rest of World Markets – Independent Analysis of Annual Sales in US$ Million for Years 2012 through 2019 and % CAGR Table 27: World 15-Year Perspective for Retail & eCommerce by Geographic Region – Percentage Breakdown of Value Sales for USA, Canada, Japan, China, Europe, Asia-Pacific and Rest of World for Years 2012, 2020 & 2027 Table 28: World Current & Future Analysis for Healthcare by Geographic Region – USA, Canada, Japan, China, Europe, Asia-Pacific and Rest of World Markets – Independent Analysis of Annual Sales in US$ Million for Years 2020 through 2027 and % CAGR Table 29: World Historic Review for Healthcare by Geographic Region – USA, Canada, Japan, China, Europe, Asia-Pacific and Rest of World Markets – Independent Analysis of Annual Sales in US$ Million for Years 2012 through 2019 and % CAGR Table 30: World 15-Year Perspective for Healthcare by Geographic Region – Percentage Breakdown of Value Sales for USA, Canada, Japan, China, Europe, Asia-Pacific and Rest of World for Years 2012, 2020 & 2027 Table 31: World Current & Future Analysis for Large Enterprise by Geographic Region – USA, Canada, Japan, China, Europe, Asia-Pacific and Rest of World Markets – Independent Analysis of Annual Sales in US$ Million for Years 2020 through 2027 and % CAGR Table 32: World Historic Review for Large Enterprise by Geographic Region – USA, Canada, Japan, China, Europe, Asia-Pacific and Rest of World Markets – Independent Analysis of Annual Sales in US$ Million for Years 2012 through 2019 and % CAGR Table 33: World 15-Year Perspective for Large Enterprise by Geographic Region – Percentage Breakdown of Value Sales for USA, Canada, Japan, China, Europe, Asia-Pacific and Rest of World for Years 2012, 2020 & 2027 Table 34: World Current & Future Analysis for SMEs by Geographic Region – USA, Canada, Japan, China, Europe, Asia-Pacific and Rest of World Markets – Independent Analysis of Annual Sales in US$ Million for Years 2020 through 2027 and % CAGR Table 35: World Historic Review for SMEs by Geographic Region – USA, Canada, Japan, China, Europe, Asia-Pacific and Rest of World Markets – Independent Analysis of Annual Sales in US$ Million for Years 2012 through 2019 and % CAGR Table 36: World 15-Year Perspective for SMEs by Geographic Region – Percentage Breakdown of Value Sales for USA, Canada, Japan, China, Europe, Asia-Pacific and Rest of World for Years 2012, 2020 & 2027 III. MARKET ANALYSISUNITED STATES Market Facts & Figures Market Analytics Table 37: USA Current & Future Analysis for Zero-Trust Security by Deployment – On-Premise and Cloud – Independent Analysis of Annual Sales in US$ Million for the Years 2020 through 2027 and % CAGR Table 38: USA Historic Review for Zero-Trust Security by Deployment – On-Premise and Cloud Markets – Independent Analysis of Annual Sales in US$ Million for Years 2012 through 2019 and % CAGR Table 39: USA 15-Year Perspective for Zero-Trust Security by Deployment – Percentage Breakdown of Value Sales for On-Premise and Cloud for the Years 2012, 2020 & 2027 Table 40: USA Current & Future Analysis for Zero-Trust Security by Vertical – Energy & Power, Other Verticals, Government & Defense, BFSI, Telecom, IT & ITeS, Retail & eCommerce and Healthcare – Independent Analysis of Annual Sales in US$ Million for the Years 2020 through 2027 and % CAGR Table 41: USA Historic Review for Zero-Trust Security by Vertical – Energy & Power, Other Verticals, Government & Defense, BFSI, Telecom, IT & ITeS, Retail & eCommerce and Healthcare Markets – Independent Analysis of Annual Sales in US$ Million for Years 2012 through 2019 and % CAGR Table 42: USA 15-Year Perspective for Zero-Trust Security by Vertical – Percentage Breakdown of Value Sales for Energy & Power, Other Verticals, Government & Defense, BFSI, Telecom, IT & ITeS, Retail & eCommerce and Healthcare for the Years 2012, 2020 & 2027 Table 43: USA Current & Future Analysis for Zero-Trust Security by Organization Size – Large Enterprise and SMEs – Independent Analysis of Annual Sales in US$ Million for the Years 2020 through 2027 and % CAGR Table 44: USA Historic Review for Zero-Trust Security by Organization Size – Large Enterprise and SMEs Markets – Independent Analysis of Annual Sales in US$ Million for Years 2012 through 2019 and % CAGR Table 45: USA 15-Year Perspective for Zero-Trust Security by Organization Size – Percentage Breakdown of Value Sales for Large Enterprise and SMEs for the Years 2012, 2020 & 2027 CANADA Table 46: Canada Current & Future Analysis for Zero-Trust Security by Deployment – On-Premise and Cloud – Independent Analysis of Annual Sales in US$ Million for the Years 2020 through 2027 and % CAGR Table 47: Canada Historic Review for Zero-Trust Security by Deployment – On-Premise and Cloud Markets – Independent Analysis of Annual Sales in US$ Million for Years 2012 through 2019 and % CAGR Table 48: Canada 15-Year Perspective for Zero-Trust Security by Deployment – Percentage Breakdown of Value Sales for On-Premise and Cloud for the Years 2012, 2020 & 2027 Table 49: Canada Current & Future Analysis for Zero-Trust Security by Vertical – Energy & Power, Other Verticals, Government & Defense, BFSI, Telecom, IT & ITeS, Retail & eCommerce and Healthcare – Independent Analysis of Annual Sales in US$ Million for the Years 2020 through 2027 and % CAGR Table 50: Canada Historic Review for Zero-Trust Security by Vertical – Energy & Power, Other Verticals, Government & Defense, BFSI, Telecom, IT & ITeS, Retail & eCommerce and Healthcare Markets – Independent Analysis of Annual Sales in US$ Million for Years 2012 through 2019 and % CAGR Table 51: Canada 15-Year Perspective for Zero-Trust Security by Vertical – Percentage Breakdown of Value Sales for Energy & Power, Other Verticals, Government & Defense, BFSI, Telecom, IT & ITeS, Retail & eCommerce and Healthcare for the Years 2012, 2020 & 2027 Table 52: Canada Current & Future Analysis for Zero-Trust Security by Organization Size – Large Enterprise and SMEs – Independent Analysis of Annual Sales in US$ Million for the Years 2020 through 2027 and % CAGR Table 53: Canada Historic Review for Zero-Trust Security by Organization Size – Large Enterprise and SMEs Markets – Independent Analysis of Annual Sales in US$ Million for Years 2012 through 2019 and % CAGR Table 54: Canada 15-Year Perspective for Zero-Trust Security by Organization Size – Percentage Breakdown of Value Sales for Large Enterprise and SMEs for the Years 2012, 2020 & 2027 JAPAN Table 55: Japan Current & Future Analysis for Zero-Trust Security by Deployment – On-Premise and Cloud – Independent Analysis of Annual Sales in US$ Million for the Years 2020 through 2027 and % CAGR Table 56: Japan Historic Review for Zero-Trust Security by Deployment – On-Premise and Cloud Markets – Independent Analysis of Annual Sales in US$ Million for Years 2012 through 2019 and % CAGR Table 57: Japan 15-Year Perspective for Zero-Trust Security by Deployment – Percentage Breakdown of Value Sales for On-Premise and Cloud for the Years 2012, 2020 & 2027 Table 58: Japan Current & Future Analysis for Zero-Trust Security by Vertical – Energy & Power, Other Verticals, Government & Defense, BFSI, Telecom, IT & ITeS, Retail & eCommerce and Healthcare – Independent Analysis of Annual Sales in US$ Million for the Years 2020 through 2027 and % CAGR Table 59: Japan Historic Review for Zero-Trust Security by Vertical – Energy & Power, Other Verticals, Government & Defense, BFSI, Telecom, IT & ITeS, Retail & eCommerce and Healthcare Markets – Independent Analysis of Annual Sales in US$ Million for Years 2012 through 2019 and % CAGR Table 60: Japan 15-Year Perspective for Zero-Trust Security by Vertical – Percentage Breakdown of Value Sales for Energy & Power, Other Verticals, Government & Defense, BFSI, Telecom, IT & ITeS, Retail & eCommerce and Healthcare for the Years 2012, 2020 & 2027 Table 61: Japan Current & Future Analysis for Zero-Trust Security by Organization Size – Large Enterprise and SMEs – Independent Analysis of Annual Sales in US$ Million for the Years 2020 through 2027 and % CAGR Table 62: Japan Historic Review for Zero-Trust Security by Organization Size – Large Enterprise and SMEs Markets – Independent Analysis of Annual Sales in US$ Million for Years 2012 through 2019 and % CAGR Table 63: Japan 15-Year Perspective for Zero-Trust Security by Organization Size – Percentage Breakdown of Value Sales for Large Enterprise and SMEs for the Years 2012, 2020 & 2027 CHINA Table 64: China Current & Future Analysis for Zero-Trust Security by Deployment – On-Premise and Cloud – Independent Analysis of Annual Sales in US$ Million for the Years 2020 through 2027 and % CAGR Table 65: China Historic Review for Zero-Trust Security by Deployment – On-Premise and Cloud Markets – Independent Analysis of Annual Sales in US$ Million for Years 2012 through 2019 and % CAGR Table 66: China 15-Year Perspective for Zero-Trust Security by Deployment – Percentage Breakdown of Value Sales for On-Premise and Cloud for the Years 2012, 2020 & 2027 Table 67: China Current & Future Analysis for Zero-Trust Security by Vertical – Energy & Power, Other Verticals, Government & Defense, BFSI, Telecom, IT & ITeS, Retail & eCommerce and Healthcare – Independent Analysis of Annual Sales in US$ Million for the Years 2020 through 2027 and % CAGR Table 68: China Historic Review for Zero-Trust Security by Vertical – Energy & Power, Other Verticals, Government & Defense, BFSI, Telecom, IT & ITeS, Retail & eCommerce and Healthcare Markets – Independent Analysis of Annual Sales in US$ Million for Years 2012 through 2019 and % CAGR Table 69: China 15-Year Perspective for Zero-Trust Security by Vertical – Percentage Breakdown of Value Sales for Energy & Power, Other Verticals, Government & Defense, BFSI, Telecom, IT & ITeS, Retail & eCommerce and Healthcare for the Years 2012, 2020 & 2027 Table 70: China Current & Future Analysis for Zero-Trust Security by Organization Size – Large Enterprise and SMEs – Independent Analysis of Annual Sales in US$ Million for the Years 2020 through 2027 and % CAGR Table 71: China Historic Review for Zero-Trust Security by Organization Size – Large Enterprise and SMEs Markets – Independent Analysis of Annual Sales in US$ Million for Years 2012 through 2019 and % CAGR Table 72: China 15-Year Perspective for Zero-Trust Security by Organization Size – Percentage Breakdown of Value Sales for Large Enterprise and SMEs for the Years 2012, 2020 & 2027 EUROPE Market Facts & Figures Market Analytics Table 73: Europe Current & Future Analysis for Zero-Trust Security by Geographic Region – France, Germany, Italy, UK and Rest of Europe Markets – Independent Analysis of Annual Sales in US$ Million for Years 2020 through 2027 and % CAGR Table 74: Europe Historic Review for Zero-Trust Security by Geographic Region – France, Germany, Italy, UK and Rest of Europe Markets – Independent Analysis of Annual Sales in US$ Million for Years 2012 through 2019 and % CAGR Table 75: Europe 15-Year Perspective for Zero-Trust Security by Geographic Region – Percentage Breakdown of Value Sales for France, Germany, Italy, UK and Rest of Europe Markets for Years 2012, 2020 & 2027 Table 76: Europe Current & Future Analysis for Zero-Trust Security by Deployment – On-Premise and Cloud – Independent Analysis of Annual Sales in US$ Million for the Years 2020 through 2027 and % CAGR Table 77: Europe Historic Review for Zero-Trust Security by Deployment – On-Premise and Cloud Markets – Independent Analysis of Annual Sales in US$ Million for Years 2012 through 2019 and % CAGR Table 78: Europe 15-Year Perspective for Zero-Trust Security by Deployment – Percentage Breakdown of Value Sales for On-Premise and Cloud for the Years 2012, 2020 & 2027 Table 79: Europe Current & Future Analysis for Zero-Trust Security by Vertical – Energy & Power, Other Verticals, Government & Defense, BFSI, Telecom, IT & ITeS, Retail & eCommerce and Healthcare – Independent Analysis of Annual Sales in US$ Million for the Years 2020 through 2027 and % CAGR Table 80: Europe Historic Review for Zero-Trust Security by Vertical – Energy & Power, Other Verticals, Government & Defense, BFSI, Telecom, IT & ITeS, Retail & eCommerce and Healthcare Markets – Independent Analysis of Annual Sales in US$ Million for Years 2012 through 2019 and % CAGR Table 81: Europe 15-Year Perspective for Zero-Trust Security by Vertical – Percentage Breakdown of Value Sales for Energy & Power, Other Verticals, Government & Defense, BFSI, Telecom, IT & ITeS, Retail & eCommerce and Healthcare for the Years 2012, 2020 & 2027 Table 82: Europe Current & Future Analysis for Zero-Trust Security by Organization Size – Large Enterprise and SMEs – Independent Analysis of Annual Sales in US$ Million for the Years 2020 through 2027 and % CAGR Table 83: Europe Historic Review for Zero-Trust Security by Organization Size – Large Enterprise and SMEs Markets – Independent Analysis of Annual Sales in US$ Million for Years 2012 through 2019 and % CAGR Table 84: Europe 15-Year Perspective for Zero-Trust Security by Organization Size – Percentage Breakdown of Value Sales for Large Enterprise and SMEs for the Years 2012, 2020 & 2027 FRANCE Table 85: France Current & Future Analysis for Zero-Trust Security by Deployment – On-Premise and Cloud – Independent Analysis of Annual Sales in US$ Million for the Years 2020 through 2027 and % CAGR Table 86: France Historic Review for Zero-Trust Security by Deployment – On-Premise and Cloud Markets – Independent Analysis of Annual Sales in US$ Million for Years 2012 through 2019 and % CAGR Table 87: France 15-Year Perspective for Zero-Trust Security by Deployment – Percentage Breakdown of Value Sales for On-Premise and Cloud for the Years 2012, 2020 & 2027 Table 88: France Current & Future Analysis for Zero-Trust Security by Vertical – Energy & Power, Other Verticals, Government & Defense, BFSI, Telecom, IT & ITeS, Retail & eCommerce and Healthcare – Independent Analysis of Annual Sales in US$ Million for the Years 2020 through 2027 and % CAGR Table 89: France Historic Review for Zero-Trust Security by Vertical – Energy & Power, Other Verticals, Government & Defense, BFSI, Telecom, IT & ITeS, Retail & eCommerce and Healthcare Markets – Independent Analysis of Annual Sales in US$ Million for Years 2012 through 2019 and % CAGR Table 90: France 15-Year Perspective for Zero-Trust Security by Vertical – Percentage Breakdown of Value Sales for Energy & Power, Other Verticals, Government & Defense, BFSI, Telecom, IT & ITeS, Retail & eCommerce and Healthcare for the Years 2012, 2020 & 2027 Table 91: France Current & Future Analysis for Zero-Trust Security by Organization Size – Large Enterprise and SMEs – Independent Analysis of Annual Sales in US$ Million for the Years 2020 through 2027 and % CAGR Table 92: France Historic Review for Zero-Trust Security by Organization Size – Large Enterprise and SMEs Markets – Independent Analysis of Annual Sales in US$ Million for Years 2012 through 2019 and % CAGR Table 93: France 15-Year Perspective for Zero-Trust Security by Organization Size – Percentage Breakdown of Value Sales for Large Enterprise and SMEs for the Years 2012, 2020 & 2027 GERMANY Table 94: Germany Current & Future Analysis for Zero-Trust Security by Deployment – On-Premise and Cloud – Independent Analysis of Annual Sales in US$ Million for the Years 2020 through 2027 and % CAGR Table 95: Germany Historic Review for Zero-Trust Security by Deployment – On-Premise and Cloud Markets – Independent Analysis of Annual Sales in US$ Million for Years 2012 through 2019 and % CAGR Table 96: Germany 15-Year Perspective for Zero-Trust Security by Deployment – Percentage Breakdown of Value Sales for On-Premise and Cloud for the Years 2012, 2020 & 2027 Table 97: Germany Current & Future Analysis for Zero-Trust Security by Vertical – Energy & Power, Other Verticals, Government & Defense, BFSI, Telecom, IT & ITeS, Retail & eCommerce and Healthcare – Independent Analysis of Annual Sales in US$ Million for the Years 2020 through 2027 and % CAGR Table 98: Germany Historic Review for Zero-Trust Security by Vertical – Energy & Power, Other Verticals, Government & Defense, BFSI, Telecom, IT & ITeS, Retail & eCommerce and Healthcare Markets – Independent Analysis of Annual Sales in US$ Million for Years 2012 through 2019 and % CAGR Table 99: Germany 15-Year Perspective for Zero-Trust Security by Vertical – Percentage Breakdown of Value Sales for Energy & Power, Other Verticals, Government & Defense, BFSI, Telecom, IT & ITeS, Retail & eCommerce and Healthcare for the Years 2012, 2020 & 2027 Table 100: Germany Current & Future Analysis for Zero-Trust Security by Organization Size – Large Enterprise and SMEs – Independent Analysis of Annual Sales in US$ Million for the Years 2020 through 2027 and % CAGR Table 101: Germany Historic Review for Zero-Trust Security by Organization Size – Large Enterprise and SMEs Markets – Independent Analysis of Annual Sales in US$ Million for Years 2012 through 2019 and % CAGR Table 102: Germany 15-Year Perspective for Zero-Trust Security by Organization Size – Percentage Breakdown of Value Sales for Large Enterprise and SMEs for the Years 2012, 2020 & 2027 ITALY Table 103: Italy Current & Future Analysis for Zero-Trust Security by Deployment – On-Premise and Cloud – Independent Analysis of Annual Sales in US$ Million for the Years 2020 through 2027 and % CAGR Table 104: Italy Historic Review for Zero-Trust Security by Deployment – On-Premise and Cloud Markets – Independent Analysis of Annual Sales in US$ Million for Years 2012 through 2019 and % CAGR Table 105: Italy 15-Year Perspective for Zero-Trust Security by Deployment – Percentage Breakdown of Value Sales for On-Premise and Cloud for the Years 2012, 2020 & 2027 Table 106: Italy Current & Future Analysis for Zero-Trust Security by Vertical – Energy & Power, Other Verticals, Government & Defense, BFSI, Telecom, IT & ITeS, Retail & eCommerce and Healthcare – Independent Analysis of Annual Sales in US$ Million for the Years 2020 through 2027 and % CAGR Table 107: Italy Historic Review for Zero-Trust Security by Vertical – Energy & Power, Other Verticals, Government & Defense, BFSI, Telecom, IT & ITeS, Retail & eCommerce and Healthcare Markets – Independent Analysis of Annual Sales in US$ Million for Years 2012 through 2019 and % CAGR Table 108: Italy 15-Year Perspective for Zero-Trust Security by Vertical – Percentage Breakdown of Value Sales for Energy & Power, Other Verticals, Government & Defense, BFSI, Telecom, IT & ITeS, Retail & eCommerce and Healthcare for the Years 2012, 2020 & 2027 Table 109: Italy Current & Future Analysis for Zero-Trust Security by Organization Size – Large Enterprise and SMEs – Independent Analysis of Annual Sales in US$ Million for the Years 2020 through 2027 and % CAGR Table 110: Italy Historic Review for Zero-Trust Security by Organization Size – Large Enterprise and SMEs Markets – Independent Analysis of Annual Sales in US$ Million for Years 2012 through 2019 and % CAGR Table 111: Italy 15-Year Perspective for Zero-Trust Security by Organization Size – Percentage Breakdown of Value Sales for Large Enterprise and SMEs for the Years 2012, 2020 & 2027 UNITED KINGDOM Table 112: UK Current & Future Analysis for Zero-Trust Security by Deployment – On-Premise and Cloud – Independent Analysis of Annual Sales in US$ Million for the Years 2020 through 2027 and % CAGR Table 113: UK Historic Review for Zero-Trust Security by Deployment – On-Premise and Cloud Markets – Independent Analysis of Annual Sales in US$ Million for Years 2012 through 2019 and % CAGR Table 114: UK 15-Year Perspective for Zero-Trust Security by Deployment – Percentage Breakdown of Value Sales for On-Premise and Cloud for the Years 2012, 2020 & 2027 Table 115: UK Current & Future Analysis for Zero-Trust Security by Vertical – Energy & Power, Other Verticals, Government & Defense, BFSI, Telecom, IT & ITeS, Retail & eCommerce and Healthcare – Independent Analysis of Annual Sales in US$ Million for the Years 2020 through 2027 and % CAGR Table 116: UK Historic Review for Zero-Trust Security by Vertical – Energy & Power, Other Verticals, Government & Defense, BFSI, Telecom, IT & ITeS, Retail & eCommerce and Healthcare Markets – Independent Analysis of Annual Sales in US$ Million for Years 2012 through 2019 and % CAGR Table 117: UK 15-Year Perspective for Zero-Trust Security by Vertical – Percentage Breakdown of Value Sales for Energy & Power, Other Verticals, Government & Defense, BFSI, Telecom, IT & ITeS, Retail & eCommerce and Healthcare for the Years 2012, 2020 & 2027 Table 118: UK Current & Future Analysis for Zero-Trust Security by Organization Size – Large Enterprise and SMEs – Independent Analysis of Annual Sales in US$ Million for the Years 2020 through 2027 and % CAGR Table 119: UK Historic Review for Zero-Trust Security by Organization Size – Large Enterprise and SMEs Markets – Independent Analysis of Annual Sales in US$ Million for Years 2012 through 2019 and % CAGR Table 120: UK 15-Year Perspective for Zero-Trust Security by Organization Size – Percentage Breakdown of Value Sales for Large Enterprise and SMEs for the Years 2012, 2020 & 2027 REST OF EUROPE Table 121: Rest of Europe Current & Future Analysis for Zero-Trust Security by Deployment – On-Premise and Cloud – Independent Analysis of Annual Sales in US$ Million for the Years 2020 through 2027 and % CAGR Table 122: Rest of Europe Historic Review for Zero-Trust Security by Deployment – On-Premise and Cloud Markets – Independent Analysis of Annual Sales in US$ Million for Years 2012 through 2019 and % CAGR Table 123: Rest of Europe 15-Year Perspective for Zero-Trust Security by Deployment – Percentage Breakdown of Value Sales for On-Premise and Cloud for the Years 2012, 2020 & 2027 Table 124: Rest of Europe Current & Future Analysis for Zero-Trust Security by Vertical – Energy & Power, Other Verticals, Government & Defense, BFSI, Telecom, IT & ITeS, Retail & eCommerce and Healthcare – Independent Analysis of Annual Sales in US$ Million for the Years 2020 through 2027 and % CAGR Table 125: Rest of Europe Historic Review for Zero-Trust Security by Vertical – Energy & Power, Other Verticals, Government & Defense, BFSI, Telecom, IT & ITeS, Retail & eCommerce and Healthcare Markets – Independent Analysis of Annual Sales in US$ Million for Years 2012 through 2019 and % CAGR Table 126: Rest of Europe 15-Year Perspective for Zero-Trust Security by Vertical – Percentage Breakdown of Value Sales for Energy & Power, Other Verticals, Government & Defense, BFSI, Telecom, IT & ITeS, Retail & eCommerce and Healthcare for the Years 2012, 2020 & 2027 Table 127: Rest of Europe Current & Future Analysis for Zero-Trust Security by Organization Size – Large Enterprise and SMEs – Independent Analysis of Annual Sales in US$ Million for the Years 2020 through 2027 and % CAGR Table 128: Rest of Europe Historic Review for Zero-Trust Security by Organization Size – Large Enterprise and SMEs Markets – Independent Analysis of Annual Sales in US$ Million for Years 2012 through 2019 and % CAGR Table 129: Rest of Europe 15-Year Perspective for Zero-Trust Security by Organization Size – Percentage Breakdown of Value Sales for Large Enterprise and SMEs for the Years 2012, 2020 & 2027 ASIA-PACIFIC Table 130: Asia-Pacific Current & Future Analysis for Zero-Trust Security by Deployment – On-Premise and Cloud – Independent Analysis of Annual Sales in US$ Million for the Years 2020 through 2027 and % CAGR Table 131: Asia-Pacific Historic Review for Zero-Trust Security by Deployment – On-Premise and Cloud Markets – Independent Analysis of Annual Sales in US$ Million for Years 2012 through 2019 and % CAGR Table 132: Asia-Pacific 15-Year Perspective for Zero-Trust Security by Deployment – Percentage Breakdown of Value Sales for On-Premise and Cloud for the Years 2012, 2020 & 2027 Table 133: Asia-Pacific Current & Future Analysis for Zero-Trust Security by Vertical – Energy & Power, Other Verticals, Government & Defense, BFSI, Telecom, IT & ITeS, Retail & eCommerce and Healthcare – Independent Analysis of Annual Sales in US$ Million for the Years 2020 through 2027 and % CAGR Table 134: Asia-Pacific Historic Review for Zero-Trust Security by Vertical – Energy & Power, Other Verticals, Government & Defense, BFSI, Telecom, IT & ITeS, Retail & eCommerce and Healthcare Markets – Independent Analysis of Annual Sales in US$ Million for Years 2012 through 2019 and % CAGR Table 135: Asia-Pacific 15-Year Perspective for Zero-Trust Security by Vertical – Percentage Breakdown of Value Sales for Energy & Power, Other Verticals, Government & Defense, BFSI, Telecom, IT & ITeS, Retail & eCommerce and Healthcare for the Years 2012, 2020 & 2027 Table 136: Asia-Pacific Current & Future Analysis for Zero-Trust Security by Organization Size – Large Enterprise and SMEs – Independent Analysis of Annual Sales in US$ Million for Please contact our Customer Support Center to get the complete Table of ContentsRead the full report: https://www.reportlinker.com/p06033329/?utm_source=GNWAbout ReportlinkerReportLinker is an award-winning market research solution. Reportlinker finds and organizes the latest industry data so you get all the market research you need – instantly, in one place.__________________________ CONTACT: Clare: clare@reportlinker.com US: (339)-368-6001 Intl: +1 339-368-6001
SpaceX's Starship SN10 explodes after landing – Yahoo Movies Canada
GlobeNewswire
Entrepreneurs need to create links with the important people in their industry Fariba Rahimi Entrepreneurs need to create links with the important people in their industry Fossegrenda, Norway, March 05, 2021 (GLOBE NEWSWIRE) — At the young age of sixteen years, Fariba Rahimi moved from her home country Iran to follow her dreams in Norway. At that time, no one knew that this teenager was on her way to becoming a top international model, a successful entrepreneur and an inspiring entrepreneur. The popular model is a woman of many talents and one of her achievements include Trøndervask, Norway's leading real estate, construction and building maintenance company. Ten years ago, Fariba built her business from the ground up, all by herself and today, it is now a six-figure business. Thanks to the exponential growth of her business, Fariba Rahimi is now also a member of Forbes Business Council, a prestigious platform where major people from all over the world share their success stories. But how did a teenager who fled her country go on to become a top model and entrepreneur? We got in touch with the star herself to share her insights about turning a startup into a six-figure business. Trust us, she would know! So without further ado, let's begin. Embrace Your Failures According to Fariba, every single startup faces a setback atleast once in its tenure. And the only ones who survive are those who embrace their failures and learn their mistakes, rather than giving up. Fariba says that the key to every successful business is learning from their mistakes and applying the findings towards your growth. Fariba says that failures are blessings in disguise because they show you where you lack, so that you can critically analyze the situation and avoid it the next time. If your business is facing obstacles, it means that it is on the right track. The only thing left to turn it into a successful business is to correcting those mistakes. Keep Up With The Trends Stay updated with the latest technology. Keep learning everyday about what's new and update your business production with the latest machinery and equipment. Always stay aware of the modern practices as it will help you cater to the dynamic needs of the market. According to Fariba, the most important and crucial step for businesses today is to adapt digital marketing practices. This is the trend that is here to stay and if any business fails to connect with the wider market on social media, it fails on every level. Businesses need to adapt to the internet platforms and use all of the relevant social media to cater to a wide segment of the market. Know The Right People Have you ever heard of a successful entrepreneur with 0 social links? Neither have I! According to Fariba, entrepreneurs need to create links with the important people in their industry. Knowing the right people is all it takes to save a failing business and turn it into a growing one. But you need to start networking from even before you launch your business. In fact, start spending your early twenties getting to know successful people. Being in their company would motivate you a lot. Create a wide circle of only genuine and successful people who would help you grow both personally and professionally. Believe In Yourself According to Fariba, this goes without saying but self-belief from an early age is what separates successful people from the rest. You need to be confident in yourself and your abilities to fulfill your dreams. If you follow these steps, your success is guaranteed and you are on the right track to growing a six-figure business, according to Fariba. Fariba now lives in Trondheim, Norway, and runs her business while partnering with famous brands such as Versace for their advertising campaigns. Apart from being an entrepreneur, Fariba is a very popular international model and influencer. She has appeared in the covers of various top magazines as a very inspiring Fariba Rahimi +4747711552 This news has been published for the above source. Fariba Rahimi [ID=17181] Disclaimer: The information does not constitute advice or an offer to buy. Any purchase made from this story is made at your own risk. Consult an expert advisor/health professional before any such purchase. Any purchase made from this link is subject to the final terms and conditions of the website's selling. The content publisher and its distribution partners do not take any responsibility directly or indirectly. If you have any complaints or copyright issues related to this article, kindly contact the company this news is about. Attachment Fariba Rahimi