Sekiro-esque Black Myth: Wukong gets a new action-packed gameplay trailer – GamesRadar+
Black Myth: Wukong, an action-adventure game developed by Chinese indie studio Game Science, has been given a new gameplay trailer.
The three-minute video shows off some exciting new combat sequences, beautiful environments, some gross-looking enemies and, of course, some more flashy abilities.
[embedded content]
Black Myth seems to be a rendition of the trials and tribulations of Sun Wukong, also known as the Monkey King, who is a legendary figure in Chinese myth and the main character in a 16th-century novel called Journey to the West.
Alongside the trailer, Game Science added a caption explaining that this doesn't show a section that will be included in the story of the game, but even so, we do get to see a bunch of new combat moves and fun animations, along with different enemy types and bosses. We can also probably assume that the combat and enemies seen in the trailer will make their way to the final game.
The trailer starts by showing Wukong running through a desert-like area surrounded by dilapidated buildings, and he's being chased by what appears to be some sort of flying wolf enemies. It goes on to show the player using some new abilities, one which seems to transform the top-half of the character into some big, stony mass with skulls embedded in it which can deflect ranged attacks. We also see some sort of monster using a staff to manipulate lightning and Wukong utilising a spell which can freeze enemies in place, leaving them wide open. The video, which is pegged around celebrating the Chinese New Year, the year of the Ox, ends with a giant bull demon bursting out from behind a door, seemingly greeting Wukong.
From the gameplay we've seen so far, it looks incredibly detailed and realistic. We reported last year that the studio, Game Science, played God of War, Sekiro, and Monster Hunter World during development to learn from the games; suffice it to say the influences are extremely visible. True to Sekiro, the timing of moves looks to be an incredibly important aspect of combat, being the difference between taking a hit right to the face or parrying an attack to leave the enemy wide open for a counter.
We haven't heard anything new about Wukong since last year when it first gained a lot of attention after its announcement and a 13-minute gameplay trailer was released.
Up for a challenge? Check out our list of games like Dark Souls.
A Valorant guide to Astra, her interactions with other agents – Sportskeeda
Astra is the newest agent in Valorant, to be introduced in the live game in the Episode 2 Act 2 update.
This new controller comes with a unique style of approach. The ability interface, also known as the Astral Form, is a quirky concept added to Valorant. And with the launch of a new agent, comes the question of interaction with other existing elements in the game.
Astra has three normal abilities – a smoke, a concussion, and Gravity Well. The ultimate ability is a wall that blocks audio cues and bullets.
This calls for an examination as to how these abilities perform against the abilities of other agents. With that knowledge, one can even implement combos with teammates to achieve better results in Valorant.
Valorant Agent Astra's interactions with every other Agent
While Yoru came with a set of abilities that have mobility, Astra's abilities are mostly stationary. Therefore the smoke and concuss only affects the enemies solely. However, the Gravity Well and the Cosmic Divide possess interesting features.
To make the list short, here's an interesting fact – all abilities of any agent in Valorant can pass through the Cosmic Divide wall, except Jett's knives and Cypher's Camera dart.
Jett: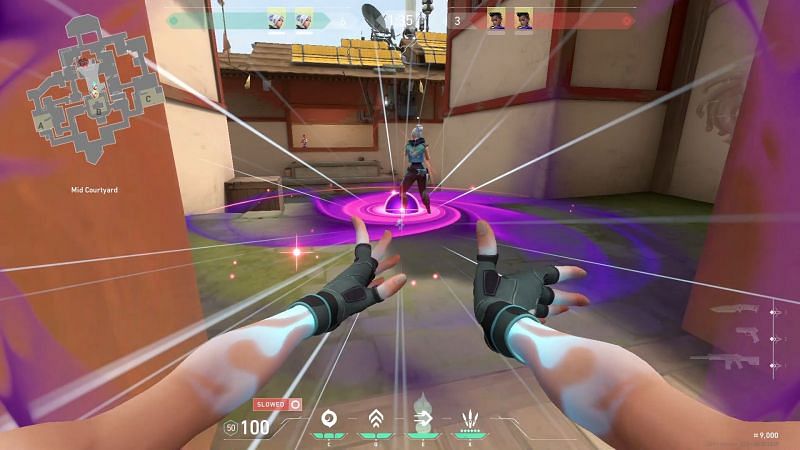 The only reliable way to escape from the sucking gravity is Jett's dash. Even the dash's distance remains the same. However, one is still affected by the Gravity Well if the player uses updraft to escape. Basically Gravity Well affects players horizontally as well as vertically.
Jett's ultimate is the only ability which cannot pass through the Cosmic Divide.
Sage: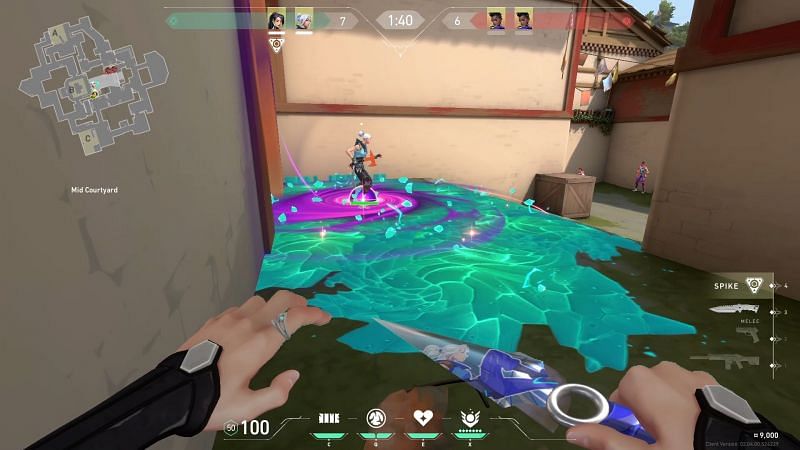 The Gravity Well works really well with Sage's Slow Orb. It literally stops a player in their tracks. The combination of suction power of the Gravity Well and the slowed speed of the player, makes it impossible to escape without being vulnerable.
And yet, Jett's dash beats this too. She can easily escape from this chaos with a quick dash. Another unreliable way to escape this combo is by making a Sage Wall over it.
Cypher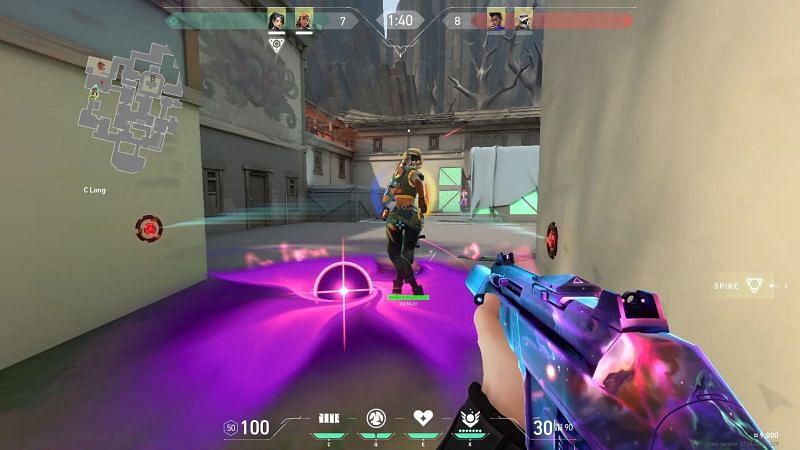 Cypher's Trip wire is another quick way to get a free kill on an enemy. Cypher's trap slows down the trapped player until the trap is broken. Therefore, if a player gets trapped in the wire, while also standing over a Gravity Well, it makes it almost impossible to escape.
This is a really quick way to get a kill in Valorant on an enemy if the Cypher cage is used too.
Also Read: Valorant introduces new agent Astra, all abilities explained
Published 01 Mar 2021, 02:33 IST
The Nintendo Switch Is Holding Back Games Like 'Pokémon Legends: Arceus' – Forbes
This week in a new Pokémon event, Nintendo rolled out the game that everyone has been waiting two decades for, an open world Pokémon title. It's called Pokémon Legends: Arceus, and while we don't know the full scope of it, we know that it features some basic things that players have been hoping for, an open world where you can sneak up on a wild Pokémon, throw a ball, and get to battling in real-time.
A lot of comparisons were made between Pokémon Legends and Breath of the Wild, as the games share similar landscapes and even trailer shots, at times, but I've watched this reveal a few times now and I can't shake the feeling that it just looks….bad.
I don't mean the concept of an open world Pokémon game is bad, I mean it literally looks bad, and at this point, the Nintendo Switch is really starting to show its age. The Switch is effectively two generations behind Sony and Microsoft now in terms of power, and while no, it doesn't need to match Series X and PS5 and has done just fine not focusing on power, there's a limit to that. And we are very clearly at that limit. Hell, Nintendo is even getting lapped by mobile games like Genshin Impact in terms of visuals.
Games like Breath of the Wild or Mario Odyssey or Animal Crossing are able to hide the Switch's graphical shortcomings to some extent through cartoony graphics or art design. Breath of the Wild is a beautiful game despite the Switch's lack of power, but despite the comparison to Legends here, I absolutely don't see that same kind of carryover. Legends just looks painfully dated and low quality in terms of graphics, with blurry textures and sparse landscapes dotted by fuzzy trees. It's missing that key ingredient that made BOTW gorgeous despite the Switch's power, and the style just doesn't work here.
Nintendo enthusiasts often give Nintendo a pass for graphics, which I understand, but I certainly don't think its games would be hurt by investing more into getting the Switch up to speed with its competitors, or at least being able to see them on the horizon. Why can't we have a Pokémon game with gorgeous landscapes like Assassin's Creed Valhalla or The Witcher 3, even if the animation style is different? But this? This is…bad.
I don't think I'm alone here. After the debut of Pokémon Legends: Arceus, "Switch Pro" started immediately trending on Twitter, as players seem to think it's time for the Switch to get a power upgrade, as the base system is now clearly starting to show its age after four years. There's talk that we could see the Switch Pro or Super Nintendo Switch or whatever you want to call it this fall, but that's not a guarantee, nor do we know what its specs might be when it does get here. Again, no one is expecting PS5 and Series X parity, or even close, especially with Nintendo's continued focus on portability. But we're at a point where enthusiasm for even anticipated new games is dampened by the Switch's age and capabilities, and it's time for a change. We'll see what happens in the next few months here.
Follow me on Twitter, YouTube, Facebook and Instagram. Pick up my sci-fi novels the Herokiller series, and The Earthborn Trilogy, which is also on audiobook.
What are your thoughts about the recently announced Pokémon games? – MobileSyrup
Over the past couple of days, we've seen a Poke-themed Post Malone concert, more details about the new Pokémon Snap and the reveals of Pokémon Legends: Arceus and Pokémon Brilliant Diamond/Shining Pearl.
There is also free content for games like Pokemon Sword and Shield, Pokémon Masters Ex and Pokémon Go. All of this is in celebration of the 25th anniversary of the iconic franchise.
#PokemonLegendsArceus was created to deliver an experience that goes beyond the framework that the Pokémon series has had thus far, honoring past games' core gameplay while infusing new elements.

We hope you'll enjoy opening a new door in the Pokémon series in early 2022. pic.twitter.com/LfSKMoQcar

— Pokémon (@Pokemon) February 26, 2021
Generally, I thought this was a great week for the series, even though I'm not the most excited for the upcoming games.
Still, it's cool to see a more modern take on the series' formula from Pokémon Legends: Arceus. This new title is an open-world role-playing game set in an older version of the Sinnoh region. This means there's a possibility there won't be any gyms and that the starter Pokémon given to the player are from a variety of regions, suggesting this won't be an entirely new mainline Pokémon game.
On the other hand, Pokémon Brilliant Diamond and Shining Pearl are cute, stylized remakes of the classic 2007 Diamond and Pearl titles for the Nintendo DS. I'm hoping these games offer an experience similar to the Alpha Sapphire and Omega Ruby remakes.
Let us know what you thought of Pokémon's 25th-anniversary celebration, and are you excited about the latest announcements surrounding the series?