Simcoe-Muskoka top doc on UK COVID variant in area: 'All eyes are watching us right now' – Sudbury.com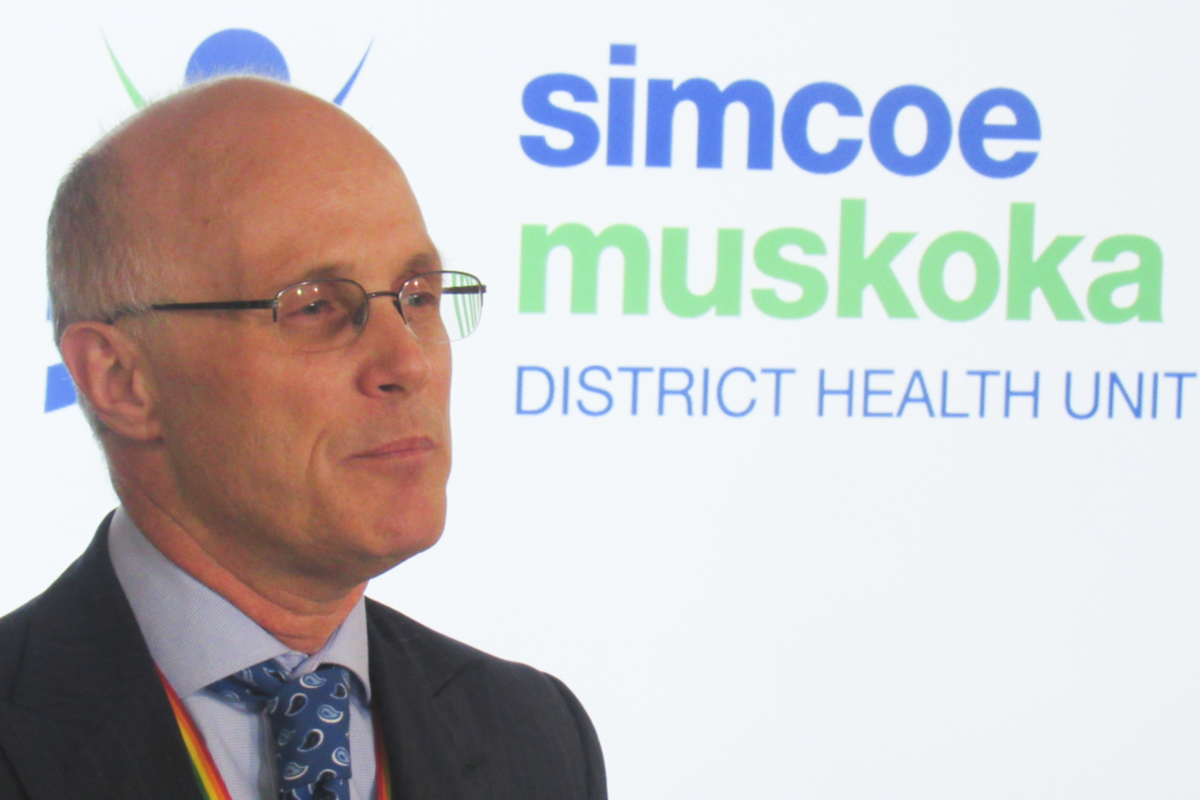 BARRIE – As more details emerge about the presence of the United Kingdom variant of COVID-19, it could also mean more changes to protective measures in long-term care homes, the local community, and abroad.
On Saturday, public health officials confirmed the more virulent UK B.1.1.7 variant is present at Roberta Place in south-end Barrie, where the death toll has now reached 40***.
There are 127 residents — which represents all but two residents — who have tested positive for the virus, as well as 86 workers, which represents approximately half of the entire staff. Six residents and one staff member are currently hospitalized at Royal Victoria Regional Health Centre (RVH).
The outbreak at the 137-bed Roberta Place long-term care home was first declared on Jan. 8.
This week, it was reported that a worker may have brought the virus into the Essa Road facility after being in contact with an international traveller. Simcoe–Muskoka medical office of health Dre. Charles Gardner was asked if charges could be laid if someone wasn't following quarantine rules.
"When we look at the situation, we actually don't see violation of any of the recommendations from the province, nor was there a violation of the Quarantine Act with regards to the individual who was travelling," he said Saturday during a Zoom call with reporters. "So the exposure in question did not take place out in the community."
The staff member who contracted the virus did not show symptoms at the beginning when they went to work, the doctor noted.
"They were asymptomatic when they were tested routinely," Gardner said.
Public health officials have been reluctant to release any information that could identify either the staff member or the traveller, but Gardner did confirm traveller is a resident of Simcoe–Muskoka.
"There's no requirement to be in isolation and not go into work solely because one has been in contact with a traveller who's asymptomatic," Gardner said.
"We need to keep learning about this virus as we go," he added. "I have no doubt that, with this variant, we're going to continue to have to change and tighten up requirements."
Questions have also been raised about staff at Roberta Place going between rooms of residents who were positive for the virus and others who were not.
"I would agree that the home never successfully put in place the kind of cohorting… where you maintain the restriction on the movement of staff, or the exposure of staff to cases and non-cases," Gardner said. "That was something that certainly was not the optimum practice in an outbreak and that wasn't established, in part because of how quickly this spread and in part because the number of staff that became ill, they had such a difficulty maintaining the adequate staffing in the first place."
Cohorting is a strategy to reduce risk of transmission by assigning health-care workers to patients or groups of patients based on patient exposure or infection.
Gardner said it can be "challenging" to do that, however, during a fast-moving outbreak.
"This moved very quickly," he said. "There were 40 cases that emerged over the course of a single weekend at the very beginning. The rapid pace made it difficult to put those measures in place."
David Jarlette, president of Jarlette Health Services, which operates Roberta Place, said the virus came into the long-term care home so quickly they weren't able to achieve cohorting "in a quick and timely fashion."
With so many staff and team members infected at Roberta Place, Gardner said they have had to take a multi-faceted approach to ensure staffing levels are sufficient at the facility. Jarlette Health Services has reallocated staff and also brought in temporary workers from outside organizations, such as the Red Cross.
An occupational health and safety team has been formed involving the health unit and other health-care partners. They also want to make sure all employees are offered the vaccine, Gardner said.
"From what we have seen, the uptake for this has been very, very strong, but we need to continue that as new people come into the facility," he added.
There will be ongoing monitoring at Roberta Place through rapid testing by Orillia Soldiers' Memorial Hospital (OSMH), which has been granted temporary leadership of the long-term care home following an order under the Health Protection and Promotion Act (HPPA). Testing will be done on a twice-weekly basis. Anyone who shows symptoms or who has a positive result will be placed in isolation at home, or hospitalized if needed.
Gardner said they hope to contain the variant to the site and limit spread into the community. This includes "a more strict threshold" for people who are at higher risk and more intensive follow-up. In cases where the person cannot isolate at home, they could be put up in a hotel to reduce the risk of spread to household members, he added.
"Our goal is to avoid transmission into the community," the doctor said.
Gardner conceded community spread involving the UK variant is likely already happening.
"It's certainly on the edge," he said. "It would depend on their contacts beyond their household and whether or not we're starting to see spread there. We haven't seen that yet, but we're on the very edge."
Gardner said health officials also want to protect long-term care homes and retirement facilities from community spread.
If outbreaks are seen at other facilities, Gardner said he will have the genome sequencing done to determine whether the variant is showing up in those other facilities.
With the local emergence of the UK variant, BarrieToday asked Gardner if any modifications to protocols or protective measures will be put in place at other long-term care homes in Simcoe–Muskoka.
In regard to Roberta Place, case and contact management has already changed to identify people who are considered high-risk.
"If in fact there's been an exposure that's just momentary, rather than 15 minutes or more, we're considering that a high-risk contact and those individuals go into isolation or quarantine," Gardner said.
As well, people in full protective gear who have been in a confined space for more than 30 minutes with an infected person, they will also be considered a high-risk exposure. The isolation period for such instances is being extended from 10 days to 14.
"The experience that has been seen with the UK variant in other countries has been of a higher viral load and therefore possibly a longer period of viral shedding," said Gardner, resulting in a longer period of isolation. "We certainly will have to learn from this with regard to what we do at other sites. The whole province will have to learn as we go.
"All eyes are watching us right now," the doctor added.
Gardner said the situation at Roberta Place will have a "profound" effect on other long-term care homes.
"We all need to be on the alert," he said.
The immunization of all residents retirement homes is another immediate change in protocol at long-term care homes, Gardner said. Last weekend, vaccinations were completed for all residents of long-term care homes in Simcoe–Muskoka. That focus has now shifted to retirement homes in the region. There are still 16 homes to go, which Gardner expected to be done by Wednesday.
***This information has been updated with the most recent numbers.
Why it's important to tell people that monkeypox is predominantly affecting gay and bisexual men – Medical Xpress
<div data-thumb="https://scx1.b-cdn.net/csz/news/tmb/2022/why-its-important-to-t.jpg" data-src="https://scx2.b-cdn.net/gfx/news/2022/why-its-important-to-t.jpg" data-sub-html="Monkeypox particles in an infected cell. Credit: NIAID,
CC BY
">
Monkeypox virus, or MPXV, is an emerging threat to public health. The World Health Organization recently declared the current outbreak a global public health emergency.
For decades, several African countries have experienced ongoing outbreaks of MPXV, driven primarily by contact with animals and transmission within households. However, before last year, most people in Europe and North America had never even heard of the disease. That was until the current outbreak among gay, bisexual and other men who have sex with men.
Debates over the epidemiology of MPXV
Over the past several months, a controversy has raged about whether it's OK to say that the current MPXV outbreak is primarily affecting gay and bisexual men, and that it is primarily being spread through close personal contact, such as sex.
As a social and behavioral epidemiologist working with marginalized populations, including gay and bisexual men, I believe it's important that people know that sexual and gender minority men are the primary victims of this MPXV outbreak. I believe this knowledge will help us end the outbreak before it bridges into other communities.
For reference, more than 90% of cases in non-endemic countries have been transmitted through intimate sexual contact, and the vast majority of cases are among gay men. Very few cases are linked to community transmission.
While these statistics are undisputed, some have feared that identifying sexual behavior as the primary cause of current MPXV transmission would dampen the public health response. Others have warned that connecting MPXV to an already stigmatized community will worsen stigma towards gay sex.
Non-sexual transmission is possible, and a considerable threat
It is true that MPXV can transmit through more casual contact and through fomites (inanimate objects on which some microbes can survive, such as bed linens, towels or tables).
However, months into the current outbreak, we have not seen these routes emerge as important pathways of transmission. This may be due to changes in the fundamental transmission dynamic of MPXV or due to enhanced cleaning procedures implemented in response to COVID-19 in places such as gyms and restrooms.
Why it's crucial to know MPXV affects gay and bisexual men
Informing the public about MPXV is important because public opinion plays an important role in shaping public health policies, such as who gets access to vaccines and what interventions are used to stop disease transmission.
A recent study conducted by my team aimed to demonstrate the importance of public health education by asking Canadians to participate in a discrete choice experiment.
We asked participants to choose between two hypothetical public health programs across eight head-to-head comparisons. Descriptions for each hypothetical program identified the number of years of life gained by patients, the health condition it addressed and the population it was tailored for.
From our analyses of this data, we learned a lot about how the public wants public health dollars to be spent and how their knowledge and bias shapes these preferences. There were five major takeaways:
This study highlights why it is important to educate the public about health inequities. People are smarter, more pragmatic, and more compassionate than we give them credit for. If we take the time to share evidence with them about the challenges that stigmatized communities face, they will be more willing to support policies and efforts to address these challenges.
Ending MPXV quickly is critical, especially since the virus has the potential to evolve in ways that could make the disease more infectious. Protecting gay and bisexual men first, protects everyone.
We should, of course, always be aware of the potential harms and the corrosive effects of stigma. However, in public health, honesty really is the best policy.
---
---
This article is republished from The Conversation under a Creative Commons license. Read the original article.
Citation:
Why it's important to tell people that monkeypox is predominantly affecting gay and bisexual men (2022, August 15)
retrieved 15 August 2022
from https://medicalxpress.com/news/2022-08-important-people-monkeypox-predominantly-affecting.html
This document is subject to copyright. Apart from any fair dealing for the purpose of private study or research, no
part may be reproduced without the written permission. The content is provided for information purposes only.
How Worried Should You Be About New Reports on Polio? – The Suburban Newspaper
MONDAY, Aug. 15, 2022 (HealthDay News) — Poliovirus detected in New York City wastewater last week put public health officials on high alert, as it indicates the potentially paralyzing virus is circulating widely in the area.
But infectious disease experts say there's no need for families of fully vaccinated children to panic.
"The inactivated polio vaccine is part of the standard childhood immunization schedule, so for most families, it really shouldn't be a concern," said Dr. Gail Shust, a pediatric infectious diseases specialist at NYU Langone Hassenfeld Children's Hospital in New York City. "It happens to be an extremely effective vaccine."
At this point, there's also no need to seek out a polio booster for a fully vaccinated child or adult, she added.
"For kids who've gone through the normal vaccination schedule in the United States, there is zero reason for them to get a booster," Shust said.
Instead, concern should be focused on communities with clusters of unvaccinated children and adults, because those are the people at risk for polio, experts say.
A young man in Rockland County, N.Y. — about 45 minutes northwest of the Bronx — was diagnosed in late July with the first case of paralytic polio identified in the United States in nearly a decade.
Subsequently, poliovirus was detected in the sewage of both Rockland County and neighboring Orange County, indicating community transmission of the virus.
Polio can lead to permanent paralysis of the arms and legs. It also can be fatal if paralysis occurs in muscles used to breathe or swallow.
About 1 in 25 people infected with poliovirus will get viral meningitis, and about 1 in 200 become paralyzed.
"A lot of people who get infected with poliovirus, they're asymptomatic," Shust said. "It's entirely possible there are other cases that haven't been diagnosed and there are more people infected than we're aware of."
Children should receive at least three doses of polio vaccine by 18 months of age, with a fourth dose delivered between ages 4 and 6, according to the U.S. Centers for Disease Control and Prevention.
New York state health officials said they are particularly concerned by neighborhoods where fewer than 70% of children between 6 months and 5 years of age have received at least three doses of polio vaccine.
About 86% of New York City kids have gotten all three doses, but in Rockland County the rate is just over 60%, and in Orange County the rate is just under 59%, state health officials said.
Statewide, nearly 79% of children have received three doses by their second birthday, officials said.
Poliovirus also has been identified in London's wastewater, and health officials in the United Kingdom have decided to offer polio vaccine boosters to children.
"They're starting to do that in London. We haven't said that that's necessary," said Dr. William Schaffner, medical director of the Bethesda, Md.-based National Foundation for Infectious Diseases.
"The only time we've given boosters in the past is when someone who was vaccinated as a child then decided to travel to some developing country where there was a lot of polio, and we said, OK, to be on the safe side, to be prudent, we'll give you a booster before you go," Schaffner said. "It wasn't really thought to be necessary, but it was a prudent, extra, easy, safe thing to do."
Poliovirus lives in the intestinal tract and can be transmitted through stool, so wastewater surveillance is a logical way to track it, said Vincent Racaniello, a professor of microbiology and immunology at Columbia University in New York City.
"These viruses have probably been in the sewage for years," he said. "We've just never looked for them, and now we started to look because of this case. And I would say the more we look, we're going to find it all over the U.S., especially in major cities."
These strains of poliovirus likely entered the United States from people in other countries who have had the oral polio vaccine, Racaniello and Schaffner said.
The oral vaccine was the first developed and the easiest to administer, so it is still used as part of the World Health Organization's polio eradication efforts around the globe, the experts said. But, Racaniello said, it's an infectious vaccine, meaning it contains a weakened version of the virus itself.
"It reproduces in your intestines, and you shed it — that's the virus in the sewage," he said. "That virus gets around very easily, and it can cause polio even though it's a vaccine virus. After it passes through the human gut, it can reacquire the ability to cause polio."
The United States stopped using the oral vaccine in 2000, after the U.S. Preventive Services Task Force decided that the risk of even a few incidental cases of polio was too great, Schaffner said.
"Each year we had about 4 million births and we had somewhere between six and 10 cases of vaccine-associated poliomyelitis," he said. "We were giving a very small number of children and adults paralysis by using the oral vaccine."
The U.S. now exclusively uses a four-dose inactivated polio vaccine.
"The virus is killed. There's no possibility it can multiply. It cannot mutate. It cannot cause paralysis," Schaffner said. "But as an inactivated viral vaccine, it has to be given by needle and syringe, which is more cumbersome and considerably more expensive and, of course, added to the number of inoculations little children were getting, which didn't make moms too happy."
Schaffner said it's "notable" that vaccine-related poliovirus is circulating in the United States.
"We wouldn't have expected it to be widely disseminated, so we're just finding there's even more intercontinental transmission of these oral polio vaccine viruses than we thought," Schaffner said.
"If you had asked me before this case, I would have said that unless somebody has just gone abroad or had a visitor from abroad, you wouldn't find it here because we're not using [the oral vaccine] in the United States," Schaffner added. "But we may be a smaller global community even than I thought."
The only true protection is vaccination, and Racaniello hopes that wastewater surveillance data will help persuade the vaccine-hesitant to go ahead and get their jabs.
"Maybe they thought there was no poliovirus in the U.S., right? And so they say I don't need to get vaccinated," Racaniello said. "And so now we can show them that there is. In fact, I think we should do more surveillance of wastewater and show people, look, it's in every major metropolitan city. You better get vaccinated."
More information
The U.S. Centers for Disease Control and Prevention has more about polio.
SOURCES: Gail Shust, MD, pediatric infectious diseases specialist, NYU Langone Hassenfeld Children's Hospital, New York City; William Schaffner, MD, medical director, National Foundation for Infectious Diseases, Bethesda, Md.; Vincent Racaniello, PhD, Higgins Professor, Department of Microbiology and Immunology, Columbia University, New York City
Monkeypox outbreak 'shows signs of slowing' in Britain, health officials say – CBC News
British health officials say the monkeypox outbreak across the country "shows signs of slowing," but that it's still too soon to know if the decline will be maintained.
In a statement on Monday, the Health Security Agency said authorities are reporting about 29 new monkeypox infections every day, compared to about 52 cases a day during the last week in June. In July, officials estimated the outbreak was doubling in size about every two weeks. To date, the U.K. has recorded more than 3,000 cases of monkeypox, with more than 70 per cent of cases in London.
The agency also said more than 27,000 people have been immunized with a vaccine designed against smallpox, a related disease.
"These thousands of vaccines, administered by the [National Health Service] to those at highest risk of exposure, should have a significant impact on the transmission of the virus," the agency said.
It said the vast majority of cases were in men who are gay, bisexual or have sex with other men and that vaccines were being prioritized for them and for their closest contacts and health workers.
Last month, Britain downgraded its assessment of the monkeypox outbreak after seeing no signs of sustained monkeypox transmission beyond the sexual networks of men who have sex with men; 99 per cent of infections in the U.K. are in men.
British authorities said they bought 150,000 doses of vaccine made by Bavarian Nordic, the world's only supplier. The first 50,000 doses have already been rolled out or will be shared soon with clinics across the country, and the next 100,000 vaccines are expected to be delivered in September.
WATCH | Canada records more than 1,000 monkeypox cases:
As Canada hits more than 1,000 cases of Monkeypox, public health officials say we have enough vaccine supply. In the U.S., health officials are giving smaller doses of the monkeypox vaccine to stretch limited supplies.
Canada will use wastewater testing to track disease
The Public Health Agency of Canada (PHAC) has repeatedly declined to provide the number of monkeypox vaccines Canada has in the national stockpile, citing security concerns, despite providing that number for other vaccines and other countries sharing that information.
Chief Public Health Officer Dr. Theresa Tam said during a news conference Friday that Canada has so far deployed 99,000 vaccines to provinces and territories.
She said that it was "too soon to tell" if cases were slowing in Canada, although there may be "some early signs" that they are not increasing at the same rate as during the beginning of the outbreak.
There are now 1,059 monkeypox cases across Canada, with the bulk of them in Ontario and Quebec, and Tam said Canada will soon move to testing wastewater in different regions of the country to better track the spread of the disease, building off the infrastructure developed to monitor COVID-19 during the pandemic.
Anyone can become infected with monkeypox through multiple forms of close, physical contact with an infected person's lesions, including skin-to-skin contact such as touching or sex, as well as through respiratory droplets in a conversation, or even being exposed to contaminated clothes or bedding.
Most people recover without needing treatment, but the lesions can be extremely painful and more severe cases can result in complications including brain inflammation and death.
Globally, there have been more than 31,000 cases of monkeypox reported in nearly 90 countries. Last month, the World Health Organization declared the outbreak to be a global emergency and officials in the U.S. have classified the epidemic there as a national emergency, but Canada has not followed suit.
Outside of Africa, 98 per cent of cases are in men who have sex with men. With only a limited global supply of vaccines, authorities are racing to stop monkeypox before it becomes entrenched as a new disease.
Tam said more than 99 per cent of monkeypox cases in Canada are in men and the median age of those infected is 35. Late last month, PHAC urged gay and bisexual men to practise safe sex and limit the number of sexual partners, in an effort to slow the spread of the virus among sexual networks.