Simcoe-Muskoka top doc on UK COVID variant in area: 'All eyes are watching us right now' – Sudbury.com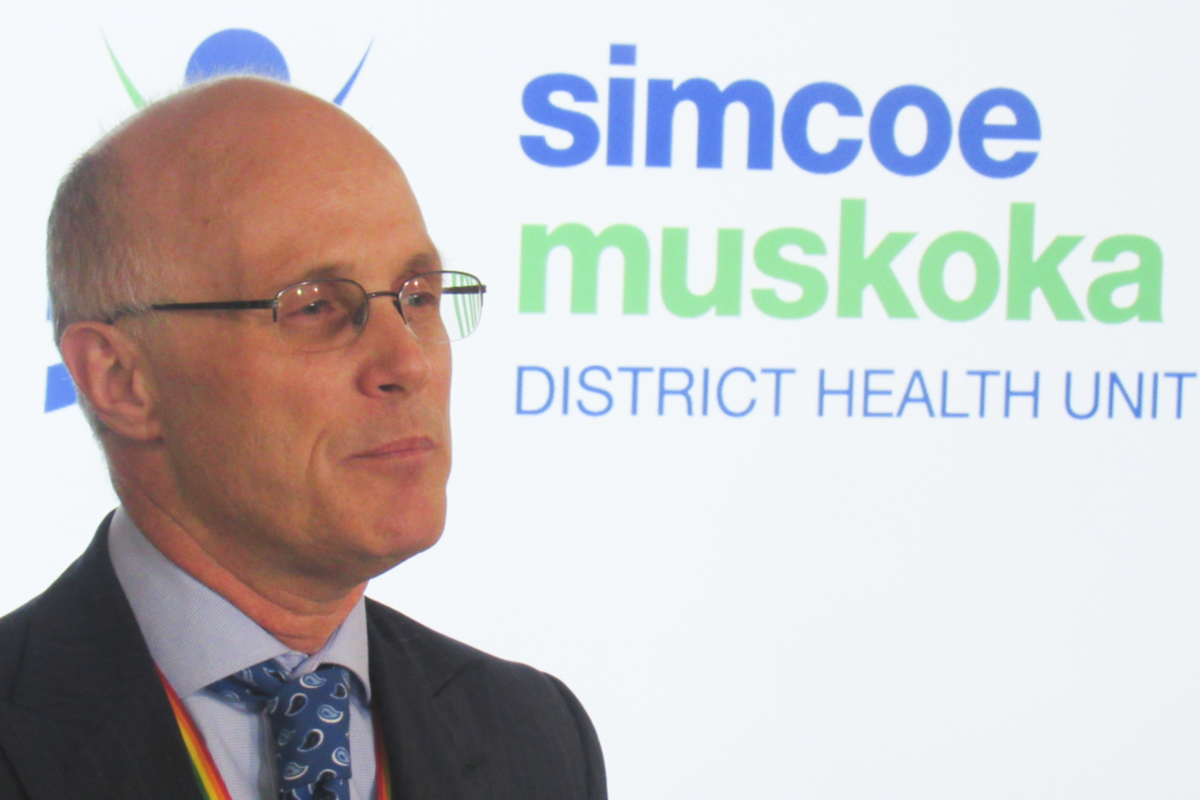 BARRIE – As more details emerge about the presence of the United Kingdom variant of COVID-19, it could also mean more changes to protective measures in long-term care homes, the local community, and abroad.
On Saturday, public health officials confirmed the more virulent UK B.1.1.7 variant is present at Roberta Place in south-end Barrie, where the death toll has now reached 40***.
There are 127 residents — which represents all but two residents — who have tested positive for the virus, as well as 86 workers, which represents approximately half of the entire staff. Six residents and one staff member are currently hospitalized at Royal Victoria Regional Health Centre (RVH).
The outbreak at the 137-bed Roberta Place long-term care home was first declared on Jan. 8.
This week, it was reported that a worker may have brought the virus into the Essa Road facility after being in contact with an international traveller. Simcoe–Muskoka medical office of health Dre. Charles Gardner was asked if charges could be laid if someone wasn't following quarantine rules.
"When we look at the situation, we actually don't see violation of any of the recommendations from the province, nor was there a violation of the Quarantine Act with regards to the individual who was travelling," he said Saturday during a Zoom call with reporters. "So the exposure in question did not take place out in the community."
The staff member who contracted the virus did not show symptoms at the beginning when they went to work, the doctor noted.
"They were asymptomatic when they were tested routinely," Gardner said.
Public health officials have been reluctant to release any information that could identify either the staff member or the traveller, but Gardner did confirm traveller is a resident of Simcoe–Muskoka.
"There's no requirement to be in isolation and not go into work solely because one has been in contact with a traveller who's asymptomatic," Gardner said.
"We need to keep learning about this virus as we go," he added. "I have no doubt that, with this variant, we're going to continue to have to change and tighten up requirements."
Questions have also been raised about staff at Roberta Place going between rooms of residents who were positive for the virus and others who were not.
"I would agree that the home never successfully put in place the kind of cohorting… where you maintain the restriction on the movement of staff, or the exposure of staff to cases and non-cases," Gardner said. "That was something that certainly was not the optimum practice in an outbreak and that wasn't established, in part because of how quickly this spread and in part because the number of staff that became ill, they had such a difficulty maintaining the adequate staffing in the first place."
Cohorting is a strategy to reduce risk of transmission by assigning health-care workers to patients or groups of patients based on patient exposure or infection.
Gardner said it can be "challenging" to do that, however, during a fast-moving outbreak.
"This moved very quickly," he said. "There were 40 cases that emerged over the course of a single weekend at the very beginning. The rapid pace made it difficult to put those measures in place."
David Jarlette, president of Jarlette Health Services, which operates Roberta Place, said the virus came into the long-term care home so quickly they weren't able to achieve cohorting "in a quick and timely fashion."
With so many staff and team members infected at Roberta Place, Gardner said they have had to take a multi-faceted approach to ensure staffing levels are sufficient at the facility. Jarlette Health Services has reallocated staff and also brought in temporary workers from outside organizations, such as the Red Cross.
An occupational health and safety team has been formed involving the health unit and other health-care partners. They also want to make sure all employees are offered the vaccine, Gardner said.
"From what we have seen, the uptake for this has been very, very strong, but we need to continue that as new people come into the facility," he added.
There will be ongoing monitoring at Roberta Place through rapid testing by Orillia Soldiers' Memorial Hospital (OSMH), which has been granted temporary leadership of the long-term care home following an order under the Health Protection and Promotion Act (HPPA). Testing will be done on a twice-weekly basis. Anyone who shows symptoms or who has a positive result will be placed in isolation at home, or hospitalized if needed.
Gardner said they hope to contain the variant to the site and limit spread into the community. This includes "a more strict threshold" for people who are at higher risk and more intensive follow-up. In cases where the person cannot isolate at home, they could be put up in a hotel to reduce the risk of spread to household members, he added.
"Our goal is to avoid transmission into the community," the doctor said.
Gardner conceded community spread involving the UK variant is likely already happening.
"It's certainly on the edge," he said. "It would depend on their contacts beyond their household and whether or not we're starting to see spread there. We haven't seen that yet, but we're on the very edge."
Gardner said health officials also want to protect long-term care homes and retirement facilities from community spread.
If outbreaks are seen at other facilities, Gardner said he will have the genome sequencing done to determine whether the variant is showing up in those other facilities.
With the local emergence of the UK variant, BarrieToday asked Gardner if any modifications to protocols or protective measures will be put in place at other long-term care homes in Simcoe–Muskoka.
In regard to Roberta Place, case and contact management has already changed to identify people who are considered high-risk.
"If in fact there's been an exposure that's just momentary, rather than 15 minutes or more, we're considering that a high-risk contact and those individuals go into isolation or quarantine," Gardner said.
As well, people in full protective gear who have been in a confined space for more than 30 minutes with an infected person, they will also be considered a high-risk exposure. The isolation period for such instances is being extended from 10 days to 14.
"The experience that has been seen with the UK variant in other countries has been of a higher viral load and therefore possibly a longer period of viral shedding," said Gardner, resulting in a longer period of isolation. "We certainly will have to learn from this with regard to what we do at other sites. The whole province will have to learn as we go.
"All eyes are watching us right now," the doctor added.
Gardner said the situation at Roberta Place will have a "profound" effect on other long-term care homes.
"We all need to be on the alert," he said.
The immunization of all residents retirement homes is another immediate change in protocol at long-term care homes, Gardner said. Last weekend, vaccinations were completed for all residents of long-term care homes in Simcoe–Muskoka. That focus has now shifted to retirement homes in the region. There are still 16 homes to go, which Gardner expected to be done by Wednesday.
***This information has been updated with the most recent numbers.
BC Speeds Up Its COVID Vaccination Plan – TheTyee.ca
Public health officials in British Columbia say all eligible adults over 18 will receive their first COVID vaccine dose by the end of July, two months sooner than initially projected.
The arrival of two new vaccines and a decision to delay the administration of second doses will mean faster first vaccinations for both priority and general populations.
B.C. plans to receive 60,000 doses of the recently approved AstraZeneca vaccine as early as next week and the Johnson & Johnson vaccine, already approved in the U.S., is currently awaiting Health Canada approval. B.C. has been using the Pfizer-BioNTech and Moderna vaccines.
"This is exciting news," provincial health officer Dr. Bonnie Henry said today. "That means that we will be able to move everyone up in the queue."
The AstraZeneca vaccine will allow a "parallel track" of vaccinations for first responders and essential workers alongside the age-based rollout for the general population, as soon as the province determines the best way to deploy it.
The AstraZeneca vaccine is the third vaccine to gain approval in Canada. It still requires two doses for maximum effectiveness, but is stable at fridge temperatures, making it easier to use than the Pfizer and Moderna vaccines, which require special freezers.
Henry said the province has considered promising data out of the United Kingdom and extended the time between first and second doses of the Pfizer and Moderna vaccines from six to 16 weeks. That will free up as many as 70,000 more first doses in the next month alone.
Significant immunity appears to last at least four months from the date of the first dose, she said, and B.C.'s own data shows the vaccine has dramatically reduced cases and outbreaks in long-term and acute care settings.
Penny Ballem, head of B.C.'s vaccination program, said extending the delay in second doses means "we will reach much more of our population very quickly."
The province also announced details of the second phase of B.C.'s age-based rollout of Pfizer and Moderna vaccines, which is set to begin March 15 with seniors 80 and older and Indigenous adults 65 and over living in their own communities.
Each health authority will begin publishing its vaccination booking phone line this week. Fraser Health will also have an online booking platform due to the high number of seniors living in the region.
Seniors over 90 and Indigenous seniors over 75 will be able to call a central phone line in their health authority on Monday to book a vaccine appointment starting the week of March 15.
Those over 85 and Indigenous adults over 70 will be able to call starting March 15 to book appointments beginning March 22, the day those 80 and over or Indigenous and older than 65 will be eligible to phone and book appointments starting March 29.
Seniors' support people may also book appointments over the phone when the senior is eligible, as long as they have their date of birth, postal code and personal health number.
By April 11, the province expects all 175,000 seniors over 80 will be vaccinated, as well as Indigenous seniors aged 65 and over, due to their higher risk of serious illness and death.
And in mid-April the province's third vaccination phase will begin, covering the general population descending from aged 79 and adults 16 to 65 who are clinically vulnerable.
The province had planned to complete the process by providing access for 18-to-24-year-olds before the end of September in phase four. Henry says that will now happen by the end of July.
Work is still under way to determine the priority groups like essential workers who will be vaccinated as part of the changes to the plan.
Henry and Ballem noted they will likely include police, paramedics, firefighters, mail carriers and workers in poultry and food processing facilities that have seen high numbers of cases and outbreaks.
"Vaccines are a remarkable tool to help control outbreaks and we have used those around the province to do that successfully," said Ballem.
The availability of new vaccines and extended second doses will mean that B.C. can likely return to more pre-pandemic activities sooner than expected.
And Henry noted that restrictions in long-term care visits, which have devastated residents' physical and mental health, are being reviewed in light of the evidence vaccines have brought down the vast majority of cases and outbreaks.
But Henry and Premier John Horgan stressed that the schedule all depends on vaccine supply, which is out of the province's hands, and easing pandemic restrictions depends on the rate of vaccination.
"We're hopeful as we go into April that a decrease in transmissibility will enable us to go back to the things we were doing as late as October," said Henry, noting B.C. doesn't "yet have enough vaccine or enough people in the community who are protected to let our guard down."
Guidance to wear a mask, physically distance, and stay home when ill issued nearly one year ago at the outset of the pandemic still applies, and will be critical to ensuring variants of concern don't take hold as the vaccine rolls out.
"More people will be protected sooner than we had originally planned for, and that is the good news," said Henry. "But we need to hold on a little longer. We are in the final miles of this marathon, and it is weeks and months."
"We do not want to see variant infections taking off and undermining our ability to provide protection to people," she added.

Vaccination sites busy in Ontario regions offering COVID shots to seniors – KitchenerToday.com
TORONTO — Some Ontario seniors braved frigid temperatures Monday to get a COVID-19 vaccine as several regions in the province moved ahead with their plans to vaccinate the general public.
With the broad launch of a provincial booking portal still two weeks away, some local public health units used their own systems to allow residents aged 80 and older to schedule appointments.
In York Region, where bookings opened Monday morning for shots that could be administered as early as the afternoon, dozens of seniors and their caregivers lined up outside a sports centre to get the vaccine.
Some huddled together for warmth – a winter weather advisory was in effect for the region – as the line to enter the centre in Richmond Hill moved slowly.
Hassan Abbas Kara was saving a place in line while his grandmother waited in a car.
"I don't want her to wait in the cold, so it's a little thing I can do right now to help her," he said.
Atta Hussain, 82, said the process was "beautiful" and well organized, and expressed relief after receiving his shot.
"We thank everybody who is participating," he said.
York Region said its vaccination clinics were fully booked just two hours after they started taking appointments. A spokesman said approximately 20,000 appointments were made Monday across five locations in the region.
Clinics were also offering shots to those 80 and older in Windsor-Essex County, and to those 85 and older at a hospital in Hamilton, where officials warned of long wait times amid high call volumes to its COVID-19 hotline.
Hamilton's top doctor apologized for backlog on the phone line and asked people who don't live in the city to not call about appointments.
The provincial government has said it aims to begin vaccinating Ontarians aged 80 and older starting the week of March 15, the same day it plans to launch its vaccine booking system, which will offer a service desk and online portal.
It has said the vaccine rollout will look different in each of its 34 public health units.
When asked about the lack of provincewide cohesion, Health Minister Christine Elliott said that public health units know their regions best and that's why they have been given responsibility to set the pace locally.
"Some of them are already vaccinating the over-80-year-old people that are living within their regions," Elliott said Monday. "I think that's something that we should be celebrating not denigrating."
Green party Leader Mike Schreiner said he's happy some public health units are offering shots already, but argued it could cause issues later when health units that have already started making appointments on their own systems have to switch over to the provincial one.
The province also said Monday that it has asked the federal government for guidance on possibly extending the intervals between the first and second COVID-19 vaccine doses to four months.
It pointed to British Columbia's decision to do so and said there's growing evidence suggesting intervals between the Pfizer-BioNtech and Moderna COVID-19 vaccine doses can be safely extended.
Monday also saw two Ontario regions – Thunder Bay and Simcoe Muskoka – return to lockdowns as a result of rising COVID-19 cases.
Restrictions on businesses and gatherings were loosened in seven other health units: Niagara Region, Chatham-Kent; Middlesex-London; Southwestern; Haldimand-Norfolk; Huron Perth; and Grey Bruce.
Municipal officials in Simcoe Muskoka raised concerns about pressure on small businesses and the effects of yet another lockdown on the public during a public meeting with the health unit on Monday.
The region's top doctor said he's heard concerns about the strict measures from people in areas with fewer cases. Dr. Charles Gardner said he'll be in touch with the province's chief medical officer about whether a full lockdown is required for the region.
In Thunder Bay, which entered a lockdown after reporting more COVID-19 cases in February than all of 2020, a local hospital reported it was expanding its COVID-19 and intensive care units to meet the needs of the community.
Meanwhile, a spokesman for federal Health Minister Patty Hajdu said the Public Health Agency of Canada was reviewing a funding application for an isolation site in Thunder Bay after the city said it could no longer afford to keep it running.
Ontario reported 1,023 new cases of COVID-19 and six more deaths from the virus on Monday.
– With files from Cole Burston
This report by The Canadian Press was first published March 1, 2021.
Holly McKenzie-Sutter, The Canadian Press
B.C. extends wait between COVID-19 vaccine doses to four months – News 1130
VANCOUVER (NEWS 1130) – B.C. has decided to extend the time between first and second COVID-19 vaccine doses.
Provincial Health Officer Dr. Bonnie Henry says the interval between the two shots will now be four months.
Citing data from around the world, as well as in B.C., Henry says we are seeing immunity last at least four months after a person is given a first dose of the vaccines. The extension will apply to all three vaccines currently approved in Canada, made by Pfizer-BioNTech, Moderna, and AstraZeneca.
The decision to extend duration between first – second doses to 4 months DBH says came looking at data from around the world (UK, Israel) & here seeing the immunity lasts at least 4 months. Extension is for all three types of vaccine.#bcpoli @NEWS1130

— LizaYuzda (@LizaYuzda) March 1, 2021
"The important thing that we have learned is that these vaccines work, they give a very high level of protection, and that protection lasts for many months," Henry said on Monday.
"In combination with the new vaccines that we have available, this gives us a very important and very real benefit to everybody here in B.C. That means we can move everybody up the list and more people will be protected sooner," B.C.'s top doctor added, noting delaying the second shot "provides very high, real-world protection to more people sooner."
Henry says health officials will be monitoring vaccine effectiveness going forward.
Related articles:
Word of the extension comes as the province unveiled dates for when the most senior British Columbians will begin to have access to the vaccines.
A call-in system to book vaccination appointments for Indigenous peoples aged 65 and up and other British Columbians aged 90 and up will open March 8, with clinics starting to run March 15.
Seniors aged 85 to 90 can start booking on March 15, for vaccinations starting a week later. Booking opens for those aged 80 to 85 open on March 22.
Admitting the challenges restrictions at long-term care homes have had on residents and their families, Henry says the province will be revisiting when restrictions can be decreased "given what we know now about how effective these vaccines are."
-With files from Frances Yap