Sir Richard Branson: Space flight will be 'extraordinary' – BBC News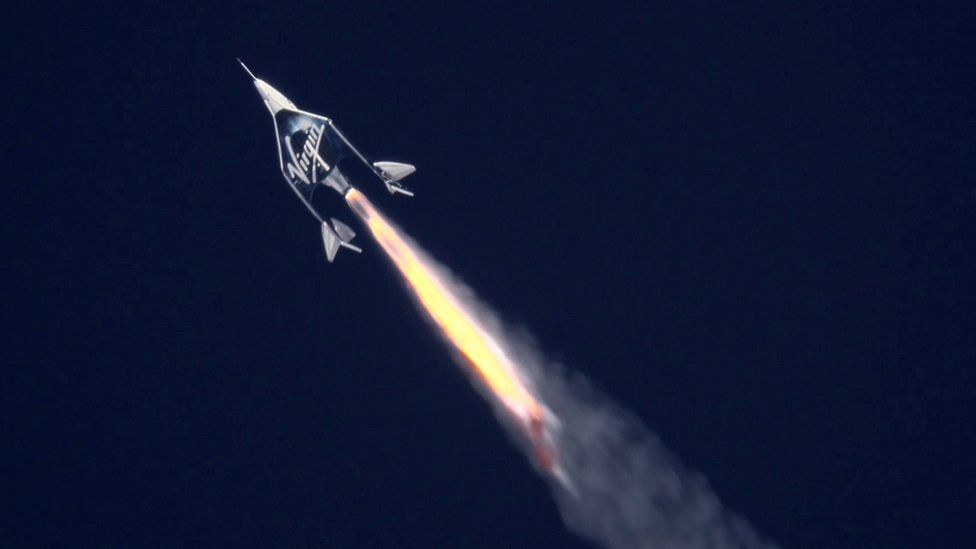 UK businessman Sir Richard Branson is about to realise a lifetime's ambition by flying to the edge of space.
He'll ride his Virgin Galactic rocket plane on Sunday to an altitude where the sky turns black and the Earth's horizon curves away into the distance.
The entrepreneur says he wants to evaluate the experience before allowing paying customers aboard next year.
The vehicle will set off for the 1.5-hour mission above New Mexico at about 07:00 local US time (14:00 BST).
But technical difficulties, including a fatal crash during a development flight in 2014, have made the space project one of the most challenging ventures of his career.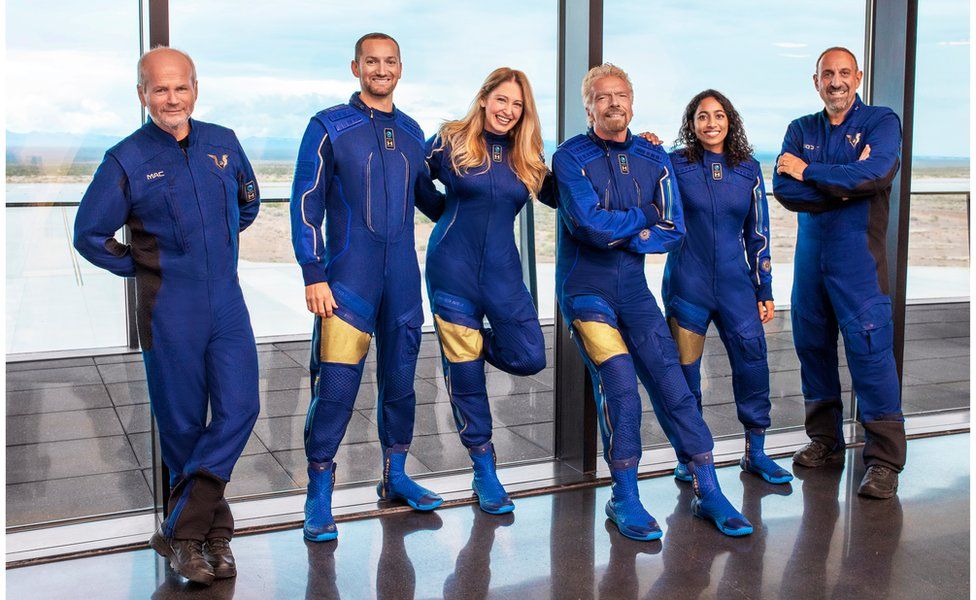 "I've wanted to go to space since I was a kid, and I want to enable hopefully hundreds of thousands of other people over the next 100 years to be able to go to space," Sir Richard told the BBC.
"And why shouldn't they go to space? Space is extraordinary; the Universe is magnificent. I want people to be able to look back at our beautiful Earth and come home and work very hard to try to do magic to it to look after it."
How does his rocket plane work?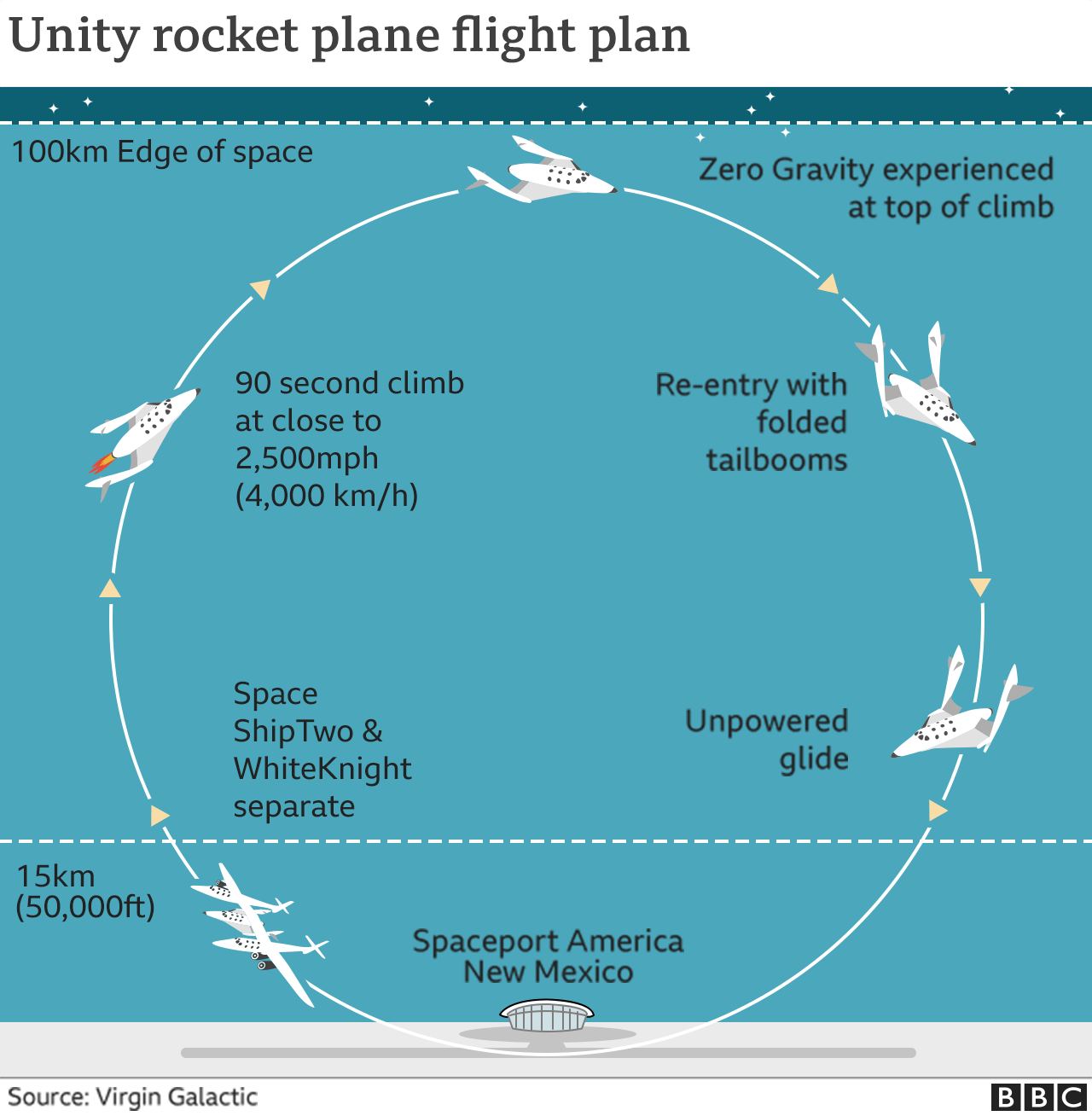 The vehicle, known as Unity, will be carried by a much bigger aeroplane to an altitude of about 15km (50,000ft), where it will be released.
A rocket motor in the back of Unity will then ignite and blast the ship skyward. The motor will burn for 60 seconds, by which time Sir Richard, his three crewmates and the two pilots up front, will have an extraordinary view of the planet below.
The maximum height achievable by Unity is roughly 90km (50 miles, or 295,000ft), but towards the top of the climb Sir Richard will start to enjoy a few minutes of weightlessness and he'll be able to float around the cabin and to look out of the window.
Eventually, though, he'll have to strap back into his seat for the glide return back to the spaceport in New Mexico.
What will he see from the window?
Sir Richard will be taking instruction throughout the flight from Beth Moses. She's the chief astronaut instructor at the businessman's Virgin Galactic company. Apart from the firm's cadre of test pilots, Moses is the only person who's so far experienced the exhilaration of an ascent. The view out of the window, she says, is "just phenomenal".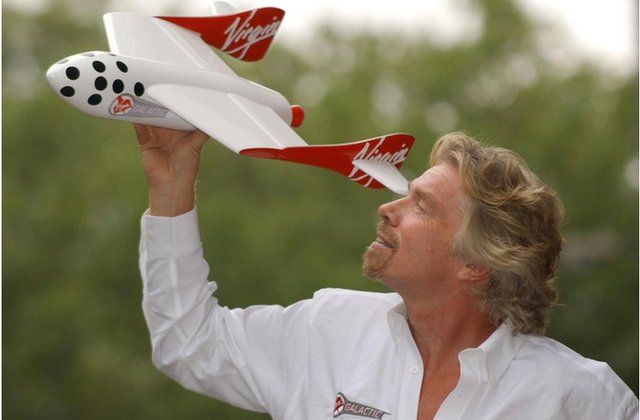 "Pictures don't do it justice. It's just so bright and beautiful. I saw the ocean, and halfway up the US and halfway down into Mexico. I saw the green of the land and the white snow-capped mountains," she told BBC News.
"Because you are weightless and still, and the ship has come to a stop, you can just soak it in, in a really timeless way. It stuck in my soul."
Who is Sir Richard's competition?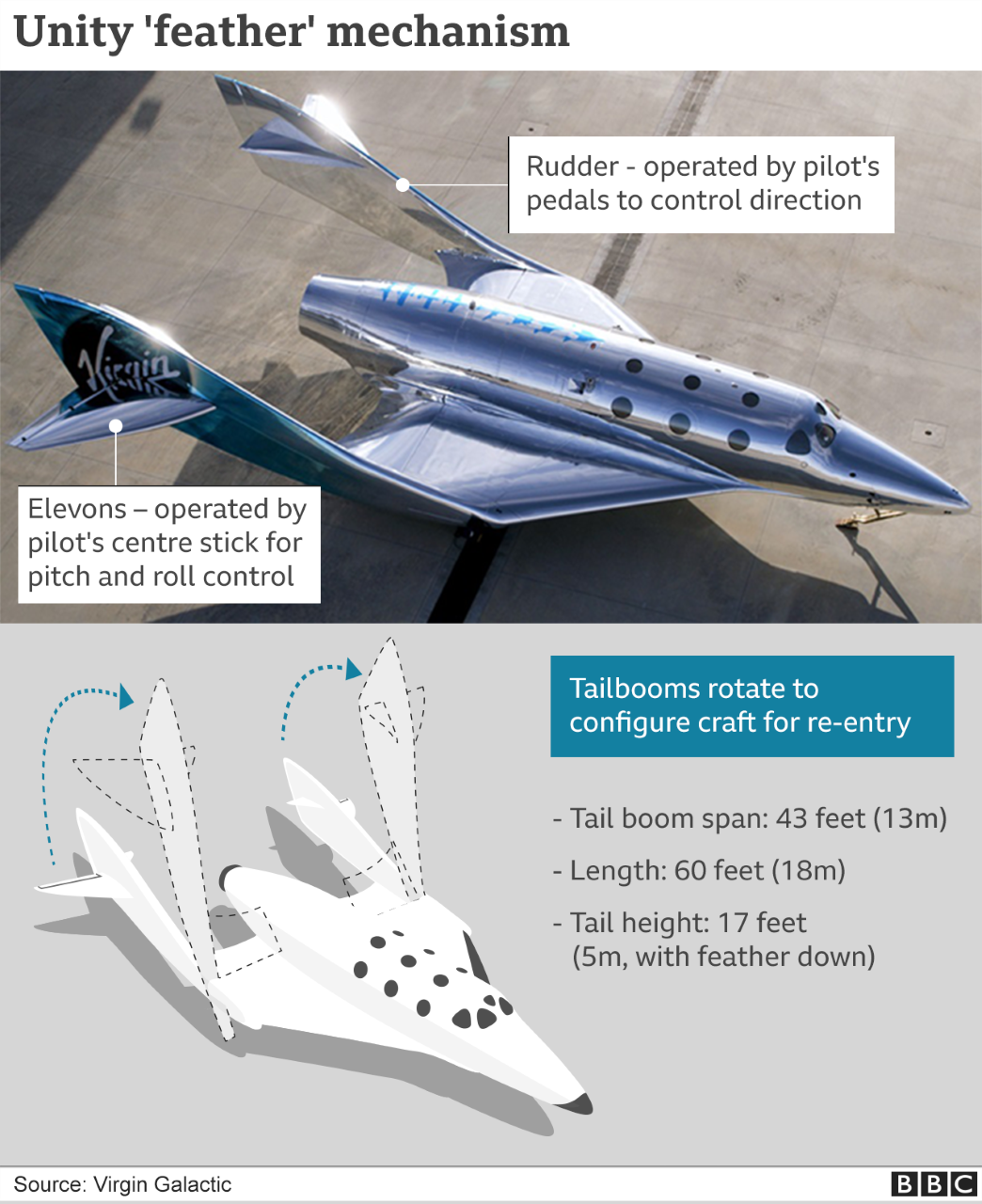 Unity is a sub-orbital vehicle. This means it can't achieve the velocity and altitude necessary to keep it up in space to circle the globe.
The only other near-market sub-orbital system belongs to Amazon.com founder, Jeff Bezos. He has a rocket and capsule he calls New Shepard, and he will fly on its inaugural crewed flight on 20 July.
But while Sir Richard has a line of some 600 individuals who've already paid deposits for tickets priced at up to $250,000 (£180,000), Mr Bezos has said little yet about how he intends to commercialise New Shepard.
Is the competition friendly?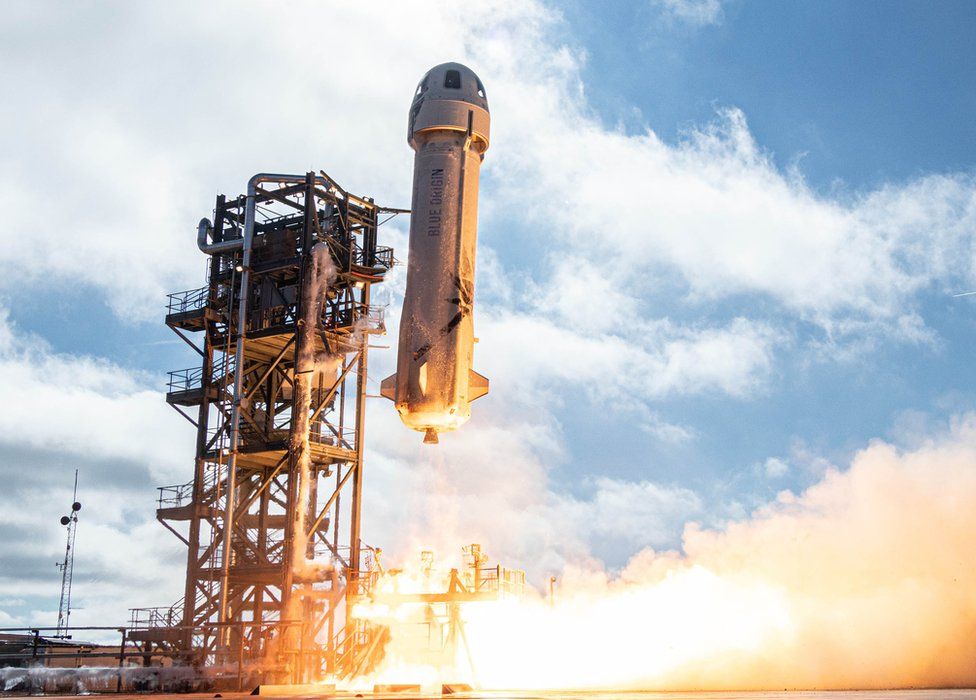 Sir Richard says he has spoken to Jeff Bezos on the phone and they have wished each other well in their space endeavours. But there is no doubting there is some edge in the relationship.
On Friday, Mr Bezos's Blue Origin space company issued a tweet that took a pop at Virgin Galactic's Unity vehicle. The posting repeated a claim that anyone who flew on the rocket plane would forever have an asterisk by their name because they wouldn't reach the "internationally recognised" altitude for where space begins – the so-called Kármán line of 100km.
The tweet also said Unity's impacts on the environment were far greater than New Shepard's. Virgin Galactic told the BBC that the carbon footprint of flying in Unity is equivalent to a business flight from London to New York, but that all the company's activities are offset.
From the beginning, New Shepard was designed to fly above the Kármán line so none of our astronauts have an asterisk next to their name. For 96% of the world's population, space begins 100 km up at the internationally recognized Kármán line. pic.twitter.com/QRoufBIrUJ

— Blue Origin (@blueorigin) July 9, 2021
The US government recognises the boundary of space to be at about 80km (50 miles) and awards astronaut wings to anyone who exceeds this altitude.

Accounting firm EY to pay $100M US fine after auditors caught cheating on ethics exams – CBC News
Accounting firm Ernst & Young will pay $100 million US to settle U.S. Securities and Exchange Commission (SEC) charges that its auditors cheated on certified public accounting (CPA) exams and that it misled the agency's investigators.
The London-based auditor admitted to the charges and agreed to pay what the SEC said is its largest fine against an auditor.
"EY acknowledges the findings determined by the SEC," said Brendan Mullin, EY media relations director, adding that the firm's response has been "thorough, extensive and effective."
"At EY, nothing is more important than our integrity and our ethics."
The CPA is the key qualification for accountants in the United States.
EY has also agreed to "undertake extensive remedial measures to fix the firm's ethical issues," the SEC said.
49 people got test answers ahead of time
The Wall Street watchdog found that 49 EY professionals "obtained or circulated" answer keys to CPA licence exams, while hundreds of others cheated to complete the continuing professional education components relating to CPA ethics.
"This action involves breaches of trust by gatekeepers … entrusted to audit many of our nation's public companies. It's simply outrageous that the very professionals responsible for catching cheating by clients cheated on ethics exams," said Gurbir Grewal, the SEC's enforcement director, in a statement.
"And it's equally shocking that Ernst & Young hindered our investigation of this misconduct," added Grewal.
EY submitted to the SEC that it did not have issues with cheating when, in fact, the firm had been informed of potential cheating on a CPA ethics exam by a member of staff, the SEC said.
It added that EY admitted it did not correct its submission even after an internal EY investigation confirmed there had been cheating, and even after its senior lawyers discussed the matter with the firm's senior management.
The SEC's order also finds that EY violated a Public Company Accounting Oversight Board (PCAOB) rule requiring the firm to maintain integrity in the performance of a professional service.
The SEC has ordered EY to retain two independent consultants to help remediate its deficiencies. One will review the firm's policies and procedures relating to ethics and integrity. The other will review EY's conduct regarding its disclosure failures, including whether any EY employees contributed to the firm's failure to correct its misleading submission, the SEC said.
Canada's transport minister speaks out about 'unacceptable issues' at airports following reports of luggage chaos at Pearson – CP24 Toronto's Breaking News
Canada's transport minister is speaking out about the "unacceptable issues" that continue to result in significant delays at Canadian airports after images surfaced on social media showing hundreds of pieces of luggage piled up at Pearson International Airport.
The Greater Toronto Airports Authority, which operates Pearson, told CP24 on Tuesday that a number of issues over the past several days have led to "challenges with baggage," including "flight delays and cancellations, staff shortages and temporary mechanical disruptions with the baggage system."
So far dozens of people have spoken out about losing their luggage at Pearson, including one woman who told CP24 that her bag was lost once on the way to Phoenix and then again on the way back to Toronto, resulting in a frustrating "suitcase scavenger hunt" that ultimately proved fruitless.
There have also been numerous images shared on social media showing huge piles of luggage in the baggage claim area at Pearson, which travellers have had to search through in the hopes of finding their missing bags.
"What we are seeing today is that while many of those Canadian Air Transport Security Authority and Canadian Border Security Agency issues have significantly improved we continue to see delays, cancellations and luggage issues," Transport Minister Omar Alghabra told reporters at an unrelated announcement in the GTA on Wednesday. "I have had conversations with the four largest airports and the two largest airlines just on Thursday and I will be having follow up conversations with them soon. They know that they need to add more resources and they are working on that and we are offering our support to address these issues. But these are unacceptable issues."
Pearson has been plagued by delays for months now amid increased demand and some staffing shortages.
Alghabra said that at this point the federal government has done everything in its control to address the issues at airports, including increasing staffing at customs and at security checkpoints.
He said that his government is also looking at "possibly extending the suspension" of random COVID-19 testing, which was supposed to be lifted on July 1.
That, he said, is because it is taking longer than expected to address the logistics of moving the testing off-site.
"What we are seeing is the surge of demand for air travel beyond what anybody expected and that is honestly good news. But the surge in demand is outpacing the ability for airlines and airports to enhance the resources that they need to accommodate that surge," he said. "So we are working with airlines and airports to ensure that the resources needed, that the scheduling adjustments that are needed are addressed. Because we are also seeing extreme peaks at certain hours of the day."
Tory says he will speak with Air Canada about issues
Many of the luggage issues at Pearson have reportedly involved Air Canada flights.
In a statement provided to CP24 on Tuesday, Air Canada said "that avoiding baggage delays is a top priority" as they are "disruptive and inconvenient" for customers and lead to added costs that the airline ultimately has to bear.
But they said that with the "well-documented issues" plaguing airports and resulting in last-minute flight cancellations there are simply more instances of delayed bags.
"I think the overall record is better today at the airport than it was a few weeks ago and I think there is every reason to believe that progress will continue," Toronto Mayor John Tory told reporters at a news conference on Wednesday when asked about the issues at Pearson. "I am not personally familiar with the precise way baggage is handled but certainly from my limited knowledge it occurs to me that most of the responsibility rests with the airlines, so I will, undertake in light of what has happened to be in touch with Air Canada and find out from their perspective what the problem is, what they are doing to solve their part of it and if they believe that governments in the broadest sense can be helpful in making things work better so those baggage issues don't arise."
Canadian Businesses Need Integrated Facility Services
Many Canadian businesses require professional facility management to streamline their operations for the smooth functioning of buildings and facilities. Hiring separate contractors for different facility responsibilities, however, can become more time consuming and convoluted. An integrated facilities management company can act as an end-to-end solution for all your facility management needs and take care of all responsibilities.
Hiring a qualified integrated facility services team allows businesses to consolidate facility management under a single discipline, which includes integrating tasks, employees, technology, and safety. This simplifies facility management by bringing together different services under a single contract.
Consider how your business operations and management can benefit from integrated facility services
Time to Focus on Core Business Tasks
An integrated facility services team will take care of all facility-related services, allowing you to better allocate your time and resources to core business tasks. When you remove the burden of facility management off your shoulders, you can focus more on other aspects of your business, such as designing or building products, communicating with clients, and marketing.
A professional facility service provider will develop a tailored solution to meet a facility's specific requirements. An experienced team can follow regulatory standards, improve communication between employees, and create a better workplace environment.
Lower Operational Costs
According to research and analysis, 90,600 businesses disappeared between 2013 and 2017 – and this was before the impacts of the global pandemic. The costs associated with running a business continue to increase, impacting the life-expectancy of businesses across various industries.
Switching your facility management to consolidated integrated services led by a professional will reduce operational costs by allowing you to invest in one provider, rather than a handful. Having only one point of contact will also reduce the time and labor required needed to coordinate with the provider. You can leverage economies of scale by streamlining facility operations, making the process more cost-effective.
A knowledgeable integrated facility service team can audit your workplace and identify cost-saving opportunities. They can guide strategic sourcing and allow you to bundle vendor services and contracts to save you money. You may also get discounts or benefits from pre-negotiated rates when a single company handles your facility management services.
Better Response Time
Facility management includes a wide range of services that require attention for smooth business operations. If management is inefficient, you may notice delays in the work process, leading to revenue losses.
When integration is done correctly, you'll notice that response times will improve. Most efficient integrated facility service teams use modern technology to manage multiple sites and business operations. This allows better collaboration among team members despite their location and improves response time.
Streamlined Operations
Compiling all your facility management activities with a single company can be faster, more cost-effective, and more efficient. When business operations are streamlined, your team will notice more flexibility, improving employee engagement and better relationships with stakeholders.
An integrated solution is a more comprehensive approach because it is simpler to manage a singular point of contact. This will streamline the decision-making process, improve quality, and enforce accountability.
Embracing Integrated Facility Services
The Canadian Facility Management Market stood at USD 32.17 billion in 2020 and is forecasted to grow until 2026. A singular point of contact will make business operations less overwhelming, allowing you to divert your attention to other aspects of your business.
The key to successful integration is hiring a professional company with extensive experience managing facilities. When you find the right provider, a weight will be lifted off your shoulders, allowing you to relax knowing that your management is in good hands.