So you want my arts job: Art Installer – ArtsHub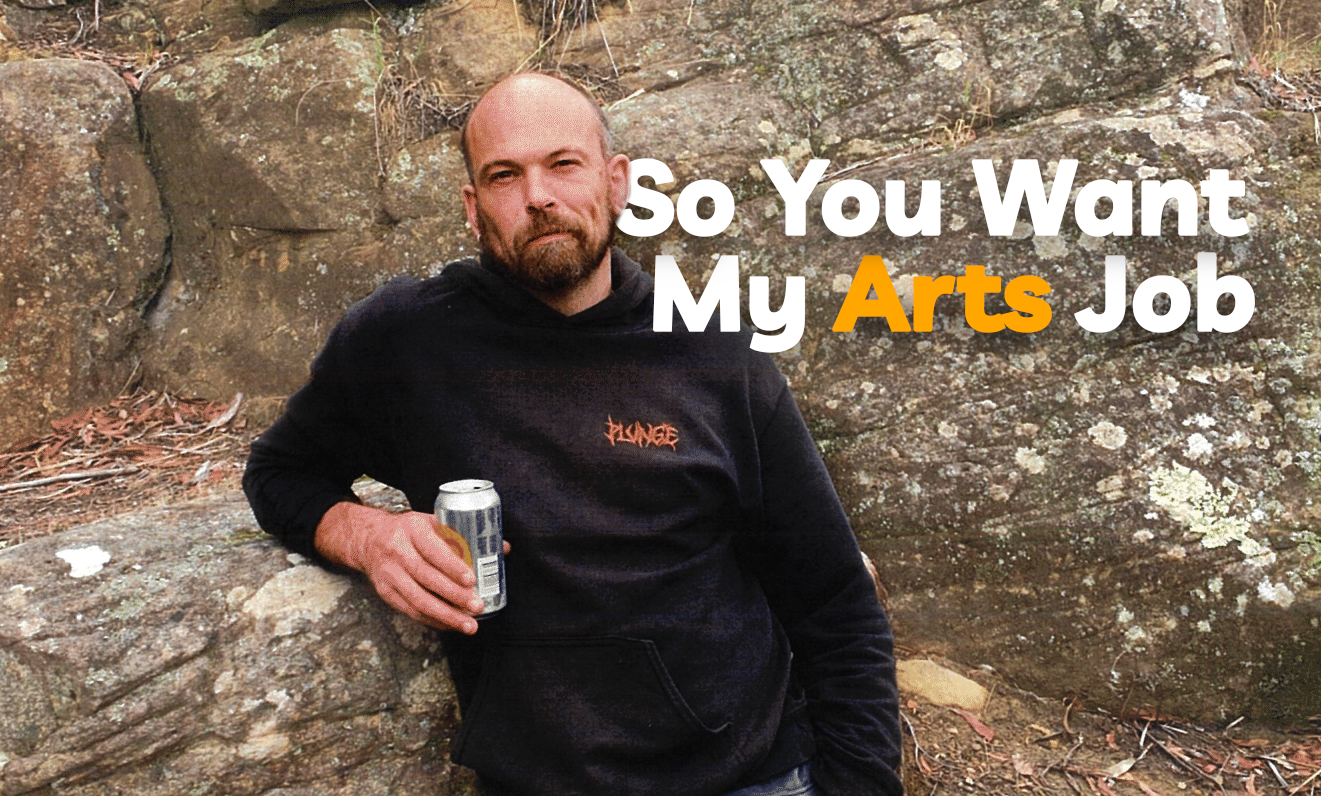 A rare opportunity saw Andrew Hawley join the National Gallery of Victoria (NGV) as a casual art handler after graduating from his BFA in Drawing at RMIT in 2003.
Eighteen years later, he is now the Collection and Exhibition Preparator at Hobart's Museum of Old and New Art (Mona), known for their eccentric and challenging exhibitions, and undoubtedly, one of the most exciting environments in which to work in art installations, storage, and exhibition preparations.
He also holds a Masters in Cultural Materials Conservation from the University of Melbourne, and has worked across ACMI, the Victorian Arts Centre, ExhibitOne, POD Museum and Art services, and the Melbourne Immigration Museum.
From Ron Meuck's 10 metre infant sculpture to Ai Weiwei's White House (2015) in Mona's Siloam, Hawley and his colleagues are the answer to your question: 'But how did they manage to get it there?'
Here, Hawley shares the excitement of working on high-profile exhibitions and discusses the skills you would need to pursue this challenging but rewarding profession.
HOW WOULD YOU DESCRIBE WHAT YOU DO?
In a nutshell; I prepare artwork and other culturally significant material for storage, exhibition and loan, and assist with exhibition/display installation. My role is quite varied but I spend most of my time at our off-site collection store where I design, construct and fit out custom packing units for artworks. These vary from timber crates and travel frames to archival board boxes, archival tubes for rolled works and the occasional solander box. I also ensure artwork is clean and display ready.
I organise and maintain the off-site collection storage area which involves a lot of 3D Tetris. I work closely with colleagues including registrars, a conservator, a mount maker and several other very highly skilled art handler/technicians as well as a wider team of kinetic artwork and time based media technicians.
I assist with exhibition installation/deinstallation and collection changeover at the museum and some external locations during festivals.
I'm also a qualified paper conservator so I undertake some conservation assessments and treatments when required.
Read: So you want my arts job: Museum Program Producer
HOW DID YOU GET STARTED IN YOUR CAREER?
I finished a fine art degree in 2003 and was looking for something outside the hospitality industry and inside the museum/gallery industry. Luckily, a regular customer at one of the venues I worked in (as a chef/cook), let word slip that the National Gallery of Victoria were hiring casual art handlers to prepare to move into the refurbished premises at St Kilda Road. I got the boss' details, wrote an application letter, attended a job interview and somehow was successful, despite no prior experience.
WHAT DO YOU LOOK FORWARD TO THE MOST IN YOUR JOB?
Unique challenges and a reliance on lateral thinking for solutions – something I experience almost every day. I also have great colleagues with whom I liaise about all aspects of the job. We learn from each others' creative perspectives.
I love the excitement of a large or high profile exhibition, including engagement with external or international artists and curators, trying to help realise a vision that may or may not be clear in everybody's mind. I equally love the calm and solitude of a collection store and the fact that I work so closely with museum objects on a daily basis. If I have a bad day, looking at an ancient Egyptian mummified cat or some 2,000 year old bronze knife coins is very soothing.
IN AN INTERVIEW FOR YOUR JOB, WHAT SKILLS AND QUALITIES WOULD YOU LOOK FOR?
Similar institutional experience in a similar capacity (eg. art handling, art packing) would be a must. It takes many years to attune yourself to the level of care required around culturally significant objects and irreplaceable artworks.
Other qualifiers would include:
A strong work ethic
An ability to handle multiple projects with strict deadlines
The ability to delegate fun jobs
The ability to undertake monotonous or tedious jobs
Strong, clear communication
Patience
Physically fit and able
The ability to look outside oneself and one's own experience for solutions. It's a bit of a 'jack of all trades' kind of position and a good Jack should know when they need to call on a master of something.
Someone who prefers order and neatness in their professional life. I'm in no way the neatest person in my private life but organising a storage area that keeps artwork safe and secure requires a high degree of attention to detail.
WHAT IS ONE OF THE MOST MEMORABLE INSTALLATION EXPERIENCES/PROJECTS THAT YOU'VE WORKED ON?
There's been a lot over the years – I've done everything from helping carry and install a 10 metre silicon sculpture of an infant (Ron Mueck) to hanging iconic works from Picasso, Munch or Tom Roberts. From installing 100 tiny neolithic arrow/spear heads in one showcase to helping build a large, imperial Chinese house framework on glass balls (Ai Weiwei), and from installing famous AFL players' jerseys in a sports museum (MCG/Australian Sports Museum) to hanging stills from Kubrick's 2001 Space Odyssey (ACMI).
It's hard to pick one moment from one project. In recent times, it's probably been the preparatory work and final install of big MONA shows like On the Origins of Art, The Museum of Everything and our recent Monanisms 2021 collection based exhibition.
WHAT'S THE BEST THING HAPPENING IN YOUR SECTOR AT THE MOMENT?
We're still operating and I still enjoy my job.
Read: So you want my arts job: Theatre Technician
In the boreal forest, nature inspires art – Prince Albert Daily Herald
The outside has come inside at the Mann Art Gallery, with simultaneous displays from several artists who draw their inspiration from nature albeit in different ways.
For Ken Van Rees, it was walking through a burnt patch of forest near South End (Reindeer Lake) that caused him to wonder what he could do with charcoal and canvas.
"As I was walking through the forest, I looked down at my pants, they were light-coloured, and there were all these charcoal markings on them," said Van Rees during a reception held by the gallery on Nov. 26. "I thought, oh, maybe I could do something with this and this started this long journey of creating art from burnt forest."
Van Rees allows the forest, wind and time to do some of the work for him. He puts a canvas down in a chosen spot, puts a burned log on top and then comes back days, weeks or months later to see what has happened.
He has also set up a game camera and was interested to see the wildlife that stopped and took a sniff or walked on the canvas.
"There were all these animals looking at my artwork. There were deer, there were bears walking across my artwork. There were wolves walking around," Van Rees said.
Where most people avoid burned areas of nature and look for lush, green landscape, the fiery side of nature has a more visual appeal for him.
"Most of us prefer a green forest. That's what we like to go camping in or hiking in. For me, because I worked on forest fires when I was a teenager and I had that first experience with forest fires, it somehow resonated with me," he said.
Van Rees' art can be found at the Mann Art Gallery until January 15 and is an accompaniment to the work of well known artist Greg Hardy.
In contrast to the more muted colours in Van Rees' work, Hardy's in some cases has bursts of orange and other bright colours.
"This is a show of drawings from the La Ronge area, where I have a cabin up on an island," said Hardy.
About four years ago, Hardy was talking to the then director of the Mann gallery and agreed to a showing of his drawings.
With changes in staff at the gallery and the pandemic, it took time for the exhibition to come together, but it is now displayed.
Some of the drawings were done decades ago and some are more recent but the focus on the natural world is shared with Van Rees.
"I have an affinity for the natural world and I paint a lot of things, but I always come back to its landscape that moves me the most as subject matter," said Hardy.
Hardy's career has been established for some time and he makes it his full time occupation, sharing his time between La Ronge and his main studio near Saskatoon.
"Realistically, this is a small sampling of the drawings that I have because I draw all the time," Hardy explained. "It's primarily the landscape," he said of his decision to work in northern Saskatchewan. "We used to go up further north and do a lot of canoe trips and it had always been a dream or a hope to have a wilderness cabin at some point."
An architect from Prince Albert had the cabin available for sale and so Hardy was able to buy it.
"As soon as I saw it, I was just like this is amazing," he said. "The subject matter was all around and I knew it was going to be very positive."
Hardy paints or draws where ever he is, and mainly draws inspiration from the plains before focusing on the forest.
"This was like a 15 year concentration on Lac La Ronge and it still feels like a positive source of inspiration," he said. "But having said that, I'm shifting gears and going to go back to the plains."
He looks for good quality light when he paints and also looks for energy.
"The more dramatic the landscape the better. I feel more in tune with what's going on if there's a storm or a pending storm," Hardy explained.
"And I've always been taken with the sky, since I was a little kid."
A third display is up at the gallery for the duration of the exhibition featuring Hardy along with Van Rees.
Title 'The Secret is in the Paper', the collection was curated by collections assistant Breanne Bandur and is focused on different approaches to the treatment of paper.
Princess Diana photo exhibition tours three U.S. cities
A new exhibition featuring photographs of the late Princess Diana will be on display in three U.S. cities starting in December.
"Princess Diana Exhibition: Accredited Access" gives a candid view of Diana through the eyes of Anwar Hussein, the longest-serving British royal photographer, and his two sons Zak and Samir Hussein, also photographers. Anwar Hussein took photos of Diana from when she became a public figure until her death in 1997.
"You get to walk through and see a proper journey of how Diana progressed throughout her life from being just a shy, innocent girl to then moving on to being a fashion icon and a humanitarian," said Zak Hussein, promoting the exhibition in Santa Monica, California.
Visitors are given a phone and headphones so they can read and hear commentary about the significance of each image.
"You get to hear from myself and my brother the stories behind the pictures," said Zak. "It's not your regular exhibition of just looking at pictures on the wall … It's got that more documentary feel about it."
Zak hopes to educate people about the ways Princess Diana changed the royals. For example, Diana rarely wore gloves.
"Beforehand, it was quite normal for the royals to wear gloves when touching members of the public and it's something that Diana didn't do. She wanted to really feel the person and that emotions come across through touch," said Zak.
Anwar Hussein is widely credited with conveying a more candid view of the royals. Zak said his father excelled at capturing authentic glimpses of the subject's personality, and advised him to do the same.
"People like to see more candid, more relaxed images of the royals and it's something that again you can see in this exhibition," Zak said.
The exhibition by the Husseins goes on display in Los Angeles, Chicago and New York from Dec. 1.
(Reporting by Rollo Ross; Editing by Karishma Singh and Cynthia Osterman)
Aberdeen Art Gallery wins architecture award – Museums Association
Aberdeen Art Gallery has been named Scotland's building of the year following its recent £36.4m redevelopment.
The Royal Incorporation of Architects in Scotland (RIAS) announced that the gallery had won the 2021 Andrew Doolan Best Building in Scotland Award on 30 November.
Aberdeen City Council's flagship cultural venue was designed by Hoskins Architects. The redevelopment, which was completed in late 2019, involved refurbishing and extending the 19th-century building.
The project involved new exhibition and education spaces, upgraded building services and environmental performance, and improved art handling, storage, back of house and study facilities. Aberdeen Art Gallery is an A-listed building.
Chris Coleman-Smith, director at Hoskins Architects, said: "The team has done an exceptional job of subtly and sensitively restoring original features of the 19th-century building and improving fabric performance, alongside confident alteration and the bold addition of new elements that enhance the visitor experience, knitting together a thread of careful conservation and the requirements of a world class, 21st-century gallery."
The annual Doolan Award is assessed by an expert jury who look at each project's architectural integrity, usability and context, delivery and execution, and sustainability. All types of building are eligible for the award, which is named in memory of its founder and patron, the architect/developer Andy Doolan, who died in 2004. The architects of the winning building receive a £10,000.
RIAS president Christina Gaiger PRIAS said: "Aberdeen Art Gallery is an outstanding building and a highly deserving winner of the 2021 Doolan Award. Hoskins Architects have brought a piece of Scottish heritage into the 21st century with humility, skill and sensitivity.
"In the face of the climate emergency, how we upgrade, respect and adapt our existing building stock is absolutely crucial. In Aberdeen Art Gallery we have an outstanding example of how a public building, thanks to the talent of Hoskins Architects and far-sighted clients Aberdeen City Council, exemplifies the smart re-use of an existing building, as part of a collective regenerative response to climate change."
The redevelopment of the gallery was supported by Aberdeen City Council, which provided £14.6m, and the National Lottery Heritage Fund, which contributed £10m. Energy company BP donated £1m to the project.