Social Media Trends to Watch in 2020
Here's what businesses, brands and the average user can anticipate for the future of social platforms.
December
20, 2019
9 min read
The last decade has seen social media solidify into thriving, multifaceted communities where more than 3.2 billion people worldwide are active daily. More than 90 percent of millennials regularly use at least one of these platforms, and more than 85 percent of Generation Zers learn about new products through social media. It's not hard to see why nearly three-fourths of marketers believe social media is an effective part of their business.
As we close this decade down, there's no doubt that social media will play a growing role in our lives for the foreseeable future. So, how should businesses, brands and even the average user anticipate the future for social platforms?
Here's a breakdown of some of the biggest trends we'll see evolving on social media in 2020 and years to come.
1. The death of the "like" button on Instagram.
It's no secret that brands (and even regular users) often fixate on "likes," comments and followers on social media as a measure of popularity and brand recognition. But this obsession is having a negative impact on our mental health and can actually stymie the free flow of engagement. We go along with the crowd, click a button and stop engaging in a meaningful way.
Related: 10 Laws of Social Media Marketing
Instagram is the latest in a long list of social media sites seeking to make likes less prominent. You will no longer be able to see the number of likes other Instagram posts get, although you can still see likes on your own posts.
The idea has been hailed as a way to "depressurize" Instagram and could also help combat fake likes and followers — these padded numbers can make brands and influencers appear to have a wider reach then they actually do. However, if likes do go away, marketers, brands and influencers will need to find ways to adapt to these changes.
2. Less emphasis on "vanity metrics."
Losing the "like" button on Instagram is part of a broader trend to de-emphasize the use of "vanity metrics" on social media. Twitter CEO Jack Dorsey has said that follower counts are now meaningless, and in a TED conference talk, he said if he could go back, he wouldn't emphasize the "like" button so much.
For social media marketers and influencers, this should signal that it's time to start digging deeper into actionable metrics — such as the rate and quality of user engagement on social media. Savvy marketers will take note, and begin exploring user demographics and relevant user data to better understand how to target potential customers.
3. Video story content is king.
Video continues to be one of the most important trends in the social media world. In fact, video will make up 82 percent of all internet traffic in 2020, according to Social Media Today. As social media platforms look for ways to further prioritize video content, marketers will increasingly zero in on videos as part of their overall strategies to target specific markets.
Keep a close eye on how this format reshapes marketing strategies. There will be an emphasis on creative, engaging storytelling that captures user attention in seconds. Brands will need to have a keen eye for how video stories engage users (especially on platforms where the like button goes away).
 4. TikTok is disrupting social video.
The emphasis on video means that video-driven platforms such as TikTok, Lasso and byte will continue to grow in popularity. Of these platforms, TikTok is the social media disruptor currently leading the way, especially with Gen Z users.
The Chinese-owned social video app is well-positioned to shape this trend as it offers fertile ground for influencers, including micro-influencers (another trend we'll discuss).
Related: 5 Smart Ways to Use Social Media to Grow Your Business
TikTok is upping user engagement with its engaging, fresh and entertaining content that isn't overly focused on a hard sell. In short, TikTok is the antithesis of your mother's Instagram account because it shuns the overly curated and filtered view of life Instagram has become known for.
5. Social media audience segmentation.
Whether we're marketing a product or branding ourselves, we craft our social media posts with our audience in mind — or at least who we think our audience is. The problem is, we don't always have a firm grasp on who exactly is in our niche, nor do we do a good job of tailoring our message to target specific audiences. This one-size-fits-all approach is missing the boat on audience segmentation.
Segmentation means to strategically divide your audience into meaningful groups based on individual preferences. Segmentation goes beyond basic demographics by allowing you to target and build rapport and a sense of community with specific audience members. In the coming years, segmentation will be a defining line between the savviest social media strategies and those that are just winging it.
6. Personalized video marketing will become a thing.
Audience segmentation goes hand in hand with an increasing level of personalized social media marketing. It makes sense that combining segmentation with our love of video will result in personalized video marketing — think video content that is customizable and hyper-relevant to specific segments of your market.
Social media platforms, including Facebook, Instagram and Snapchat, are already pushing brands to produce video content through Story Ads, in part because these ad campaigns often see higher click-through rates than traditional News Feed ads. Twitter is also jumping into the fray with six-second video ads. Personalized content will take this trend to the next level.
7. Social shopping seamlessly incorporated into social platforms.
In the last 10 years, social platforms have played a significant role in expanding ecommerce into a multibillion-dollar industry in the U.S. The fact is, social shopping is now a big part of social media.
Users expect and want to have access to brands and products through social platforms — the trick is to create a high level of interest through creative and engaging storytelling (which often relies on videos and influencer marketing). Another must is creating a frictionless shopping experience where customers don't need to leave the social media site to buy products.
There's no doubt this trend will continue to expand in the new year. Look for an increasing number of shoppable posts, stories and links across all social media sites. And while TikTok isn't yet being utilized in this way, it likely won't be long before this platform evolves and retailers begin homing in on ways to crack this platform open to shoppability.
8. Less public, more private interactions.
As our social media "friend" lists become more unwieldy, and concerns about information privacy grow, more users are turning to private groups and messaging apps to connect with others. Messaging apps like Facebook Messenger, WhatsApp and Instagram Messaging allow us to create more intimate groups where we can feel secure in sharing intimate and detailed information with others.
This trend, which is really a return to direct communication, has the potential to be massive. In fact, messaging apps have outgrown social networks as the connective tools of choice for many users. The top messaging apps now combine for nearly 5 billion monthly active users. That's more users than traditional social networks have worldwide.
9. Audiences want meaningful connections.
As people become more wary of posting in the public social media domain, and interactions migrate away from public view, marketing will also need to follow suit.
Related: 10 Tools for Social Media Managers in 2020
Brands must find ways to create more private, intimate connections with their audiences without becoming overly intrusive. This will likely come down to building brand communities, or groups where your brand message is relevant, but where you are also receptive to direct messaging.
For instance, consider a 2018 Facebook survey of 8,000 people in which 69 percent of respondents said that directly messaging with a company helps them feel more confident about the brand. Other platforms, such as Instagram, offer a "List" feature that enables users to share posts and stories with a select group of friends. The goal is to give audiences more meaningful connections and a feeling of being in an exclusive and intimate environment.
10. Authentic content key to social selling.
When it comes to wooing would-be shoppers to ecommerce social media stores, users are more skeptical than ever. They want to hear insights from real people before they pull out a credit card and close the sale. This is where user-generated content and employee-generated content are critical, with the key being that these must be genuine.
User-generated content (think customer reviews) provide some proof the product may be worthy of trying. Employee-generated content is a bit broader and can include videos, images or blog posts, which may allude to their company's mission and values, and the overall benefits of the product or services. Employees are seen as trusted insiders and customers find those insights more believable than canned company posts or other generic forms of social media marketing.
11. Influencer marketing goes nano.
When it comes to influencer marketing, it's time to look beyond the old adage "go big or go home." For the biggest bang on social media, brands should consider the impact of micro- and even nano-influencers.
While there will likely always be a market for big-name influencers, don't underestimate the sway of micro-influencers, who have smaller, better-defined audiences. Influencers at this level offer a greater level of personalization and stronger audience engagement. Not only that, but users are more likely to follow an influencer they feel connected to than a faceless brand.
12. Social media is the place to nurture trust.
Brands would do well to remember that social media isn't just a platform for marketing and advertising; it's truly the best place to nurture trust and build a relationship with their audience. Social media offers the ultimate opportunity for communicating brand value and engaging with potential customers on their level.
Doing this requires brands to find ways to have a free flow of dialogue and let their hair down. Showing your brand's human side and increasing transparency will build confidence with audiences. Focus on fun, simple engagement, be responsive to customer communication, and find meaningful ways to show social responsibility and a deeper level of social interaction. Doing this will help you stay ahead of the curve on everything else on social media.
Netflix is not in deep trouble. It's becoming a media company – CNN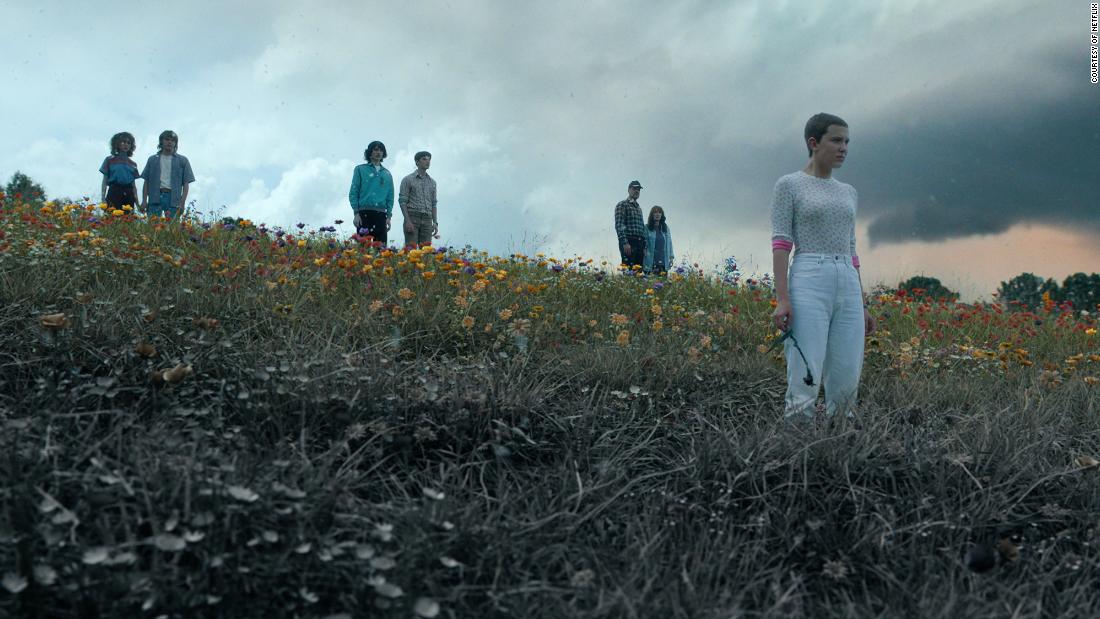 New York (CNN Business)Netflix has had a terrible 2022. In April, it said it lost subscribers for the first time since 2011. Its stock has tumbled more than 60% so far this year.
Yet its recent struggles may not be the start of a downward spiral or the beginning of the end for the streaming giant. Rather, it's a sign that Netflix is becoming a more traditional media company.
Netflix
(NFLX)
was originally valued as a Big Tech company, part of the Wall Street acronym, "FAANG," which stood for
Facebook
(FB)
,
Apple
(AAPL)
,
Amazon
(AMZN)
, Netflix and
Google
(GOOG)
. Wall Street once valued the company at about $300 billion — a number on par with many Big Tech companies that Netflix's business model ultimately couldn't live up to.
"I think Netflix was extremely overvalued," Julia Alexander, director of strategy at Parrot Analytics, told CNN Business. "Unlike those companies that have different tentacles, Netflix does not have a lot of tentacles."
But Netflix was never really a tech company.
Yes, it relied on subscriber growth like many companies in the tech world, but its subscriber growth was built on having films and TV shows that people wanted to watch and pay for. That's more a like a studio in Hollywood than a tech company in Silicon Valley.
Netflix looked a lot more like a tech company than, say, Disney, Comcast, Paramount or CNN parent company Warner Bros. Discovery. But as those traditional media companies start to look a lot more like Netflix, Netflix in turn is starting to take page out of its rivals' playbooks: It's going to
start serving ads
and it has been releasing some shows over the course of weeks and months rather than all at once.
Netflix has said that its cheaper ad tier and clampdown on password sharing may come next year. It's partnering with
Microsoft
(MSFT)
for its
ad business.
"I think in many ways the moves Netflix are making suggest a transition from tech company to media company," Andrew Hare, a senior vice president of research at Magid, told CNN Business. "With the introduction of ads, crackdown on password sharing, marquee shows like 'Stranger Things' experimenting with a staggered release, we are seeing Netflix looking more like a traditional media company every day."
Hare added that Netflix's former business strategy, which was "once sacrosanct is now being thrown out the window."
"Netflix once forced Hollywood deeply out of its comfort zone. They brought streaming to the American living room," he said. "Now it appears some more conventional practices could be what Netflix needs."
At Netflix right now, "a lot of these strategic moves are being made as they mature and move into the next phase as a company," noted Hare. That includes focusing on cash flow and revenue rather than just growth.
"In other words, old school business," he said.
— CNN Business' Moss Cohen contributed to this report.
City of Brandon – August 7th Media Release – City of Brandon –
For the last 24 hours:
Drinking in Public Leads to Multiple Criminal Charges:
At about 11:40 AM Saturday morning, it was reported that a male subject was acting bizarrely in and around the 700 block Rosser Ave. When located in the area, the 21 year-old was drinking an alcoholic beverage so was detained under the LGCCA. He was subsequently found to be in breach of multiple conditions of two separate Probation Orders. Search incident to arrest revealed a machete in his backpack. He disclosed taking an unknown quantity of unknown pills, so was released on appropriate police imposed conditions as he was receiving medical assessment and treatment. He is to appear in Court on October 3rd, facing one count of possessing a weapon and six counts of failing to comply with a Probation Order.
Break & Enters:
An unlocked attached residential garage on Falcon Crescent was entered overnight on Friday and tools were stolen. Some of those were recovered strewn across neighbouring property.
A resident in the 300 block 27th Street reported that the detached garage had been forcibly entered overnight Thursday – Friday. The complainant was unsure if anything had been stolen but the walk-through door frame had been damaged during the incident.
Theft With Threat:
At about 3:50 PM Saturday afternoon, it was reported that a resident in the 700 block 20th Street had been robbed of a bicycle approx. 20 minutes prior, while in his back yard. Police attended and spoke with the victim who related that an unknown male came into his back yard and stole an old bicycle of no value, and brandished a knife while doing so. The suspect left without further incident. The suspect was described as Indigenous in appearance, 6'5", skinny, wearing a blue hoodie, black bandana and hat. The knife was pulled from the front right pants' pocket.
Arrest Warrants:
A 28 year-old female was encountered in the 700 block 18th Street Saturday evening, with personal effects strewn about a business vestibule. A records query revealed a warrant for arrest for failing to comply with a Probation Order. She was arrested and released on scene with a court date of October 3rd.
Just before midnight Saturday night, Brandon RCMP advised having a 51 year-old male in custody on the strength of a BPS held warrant for arrest for sexual assault. RCMP had attended to a complaint in Glenboro and encountered the accused. He is held in custody and will appear before the court later today.
Motor Vehicle Collision With Injuries:
At 11:15 PM Saturday night, 911 reported a two vehicle collision at the intersection of Russell Street and Madison Crescent. Two occupants were stuck in a vehicle that had rolled over onto its' side. The investigation revealed that the driver of the rolled vehicle failed to stop at the stop sign. That driver was transported to BRHC by EMS with non-life threatening injuries. The second driver was uninjured.
Others:
Several people were detained from separate incidents, for their own safety or to prevent a breach of the peace, due to their level of intoxication. They will be held in custody until sober enough to care for themselves.
RELEASE AUTHORIZED BY:
A/Staff Sergeant Dallas Lockhart, #101
C Platoon
~~~~~~~~~~~~~~~~~
Anyone with information on any unsolved crime is asked to call Brandon Crime Stoppers at 204-727-(TIPS) 8477, www.brandoncrimestoppers.com or by texting BCSTIP and your message to CRIMES (274637). Crime Stoppers pays up to $2000.00 cash for information that leads to the solution of a crime.
CRIME STOPPERS 204-727-TIPS
Social Media Buzz: Taiwan, Indiana Abortion Ban, Kim and Pete – Bloomberg