Some neighbourhoods have a little library, but this one has a mini art museum – CBC.ca
Perched atop a post at the foot of his front yard, high school art teacher Matt Coleman runs what might just be the tiniest art gallery in Canada.
In this dollhouse-sized display room based in Hamilton, the sculptures are as big as thimbles and the canvases are seldom larger than hockey cards. The gallery patrons, who you'll find browsing the exhibitions, are all toy figurines. And the basement hides a cubby with take-home art supplies, while upstairs, in the museum attic, you can spy a fully-furnished artist's studio, with nods for the keen-eyed to Warhol, Jeff Koons, Banksy and other art world characters. The gallery is itself something of a tiny masterpiece.
Inspired by those ubiquitous Little Free Libraries (whose motto is "take a book, leave a book"), anyone is welcome to make an artwork for display at the Mapleside Museum of Miniature Art. Unlike most other galleries, however, they're also welcome to take a piece home free of charge.
The concept's proven to be a hit, as the neighbourhood's youngest Picassos and not-so-young hobbyists contribute their creations alongside a few of the city's most established artists. With new artworks hitting the walls all the time, the MMOMA might not only be one of the country's tiniest art exhibitors, but one of its busiest, too.
The project began about a year ago, after a friend introduced Coleman to Stacy Milrany's Free Little Art Gallery, which had then just recently opened in Seattle. Coleman "fell in love with the idea," he says. "I love fostering creativity and building communities around art. That's my ultimate purpose."
He adds: "I weirdly also just like miniature things."
With some barn board, cedar shingles, solar lighting and plexiglass — as well as the helping hands of the Meredith family a few doors over, who built and operate the neighbourhood Little Library — Coleman opened the Mapleside Museum of Miniature Art in December 2021. The teacher and gallery director, who was also once a busker, knew that if he wanted others to participate, he'd have to "prime the pump" with an example — so its inaugural exhibition featured the collaborative paint and marker works of Coleman and his 10-year-old son Quinn.
Quickly, the project attracted some social media buzz, and attention from local news outlets followed. MMOMA was soon flooded with contributions, and Coleman's role as curator truly began.
In its brief time, the gallery has already shown an astonishing variety of art, including drawings, paintings, photographs, prints, etchings, sculptures, textiles, mixed media collage and ceramics. Some works are by first-time scribblers, while others are by notable local talents, such as Holly Long, Amanda Immurs and the roving guerrilla (erm, duck) artist Lewis Mallard.
Cornelia Peckart and Nancy Benoy, both professional artists and art educators, featured MMOMA on an episode of their podcast Art To Go back in February, and left a postcard-sized piece each. "I wanted to participate," Peckart says, "because I love the idea of anonymous exchange and the open sharing of beautiful creations."
Perhaps Hamilton's best-known landscape artist, E. Robert Ross — whose works have been collected by public institutions as well as significant private collectors, like former U.S. president Bill Clinton and Prince Charles and Duchess Camilla — is a spirited supporter of the MMOMA. He lives nearby and has contributed four or five paintings so far: a trillium, a cloud over water, a pine tree in winter, he recalls. Whereas his 11-by-22-foot painting for the lobby of Hamilton's St. Joseph Hospital took the realist artist some nine months to complete, Ross can satisfyingly realize an idea on a three-by-four-inch panel for the MMOMA in an hour or so.
"Art shouldn't be so exclusive," he says. "Art is for people to see … As an artist, you want your work to be seen, and this is just another venue."
Of course, the gallery's walls aren't solely for professionals. Early childhood educator Christine Trimmins introduced her kindergarteners to the MMOMA after a few students brought up their visits during a class discussion. Inspired by Coleman's project, her Earl Kitchener Elementary kindergarten class built their very own miniature museum, which they used to exchange artwork. Shortly after, Coleman treated the students to a group show at the real MMOMA.
"I love that [the museum] invites any artist, at any age and artistic ability, to express themselves," Trimmins says. "It exposes art to people who may be reluctant to walk into an art gallery. But what I think makes it extremely special is the ability it has to build connectedness."
For a recent exhibition, titled The Hive, Coleman laser-cut dozens of wooden hexagons for artists to embellish and return to the gallery. He received interest from art makers as far away as Alberta, so he dutifully mailed the honeycomb-shaped panels wherever enthusiasm arose. Collecting more than 60 submissions from over 50 artists, The Hive covered the museum's walls, with the work of Mapleside Avenue residents butted up beside out-of-towners and kindergarten-aged creators right next to the likes of E. Robert Ross. It was a true visualization of the incredible community this tiny museum has gathered.
The MMOMA director still has large plans for his mini museum, with a zine show and miniaturists exhibition in the works. Because galleries sometimes close for private parties, Coleman, alongside artist and DJ Julie Fazooli, has begun imagining what a rave night at MMOMA might look like. And since a few other mini art museums have newly opened in Hamilton — at least one directly inspired by MMOMA — the mini gallerists have been discussing the possibility of a mini art crawl. It's all proof that big inspiration can grow from the tiniest of places.
"I think that humans are just aching to connect and to create," Coleman says. "Being able to create a space that is accessible to all levels and all ages just through the sheer joy of art and creating community, it's sort of this field of dreams: if you build it, they will come."
Take a look at more art from the MMOMA:
The chaotic joy of Art Fight – The Verge
In the summer of 2017, I was stuck between high school and college and stuck between two versions of myself. There was the high school version of me, someone with a laser focus on traditional academic success, and the college version of myself, a mystery that burst with the potential to do and create outside of the box that I had formed around myself.
It started with a simple DM — something along the lines of "this seems fun; you should join it also!" When I clicked the link, I saw a dizzying array of character designs laid out in tidy rows, filling the homepage of the site. It was overwhelming, not just because so many people had joined this site but also because they had shared so many stories and characters. The characters were technicolor and sparkling, with lengthy backstories included with their pictures. There was so much passion, and I was being invited to join them.
Art Fight is a fairly simple concept. For the month of July, artists register on the site and are divided into teams. Once registered and sorted, they upload examples of their art along with personal characters and stories of their own that they would be interested in other people drawing. Then, the games begin.
You score points in Art Fight by drawing another team's requests, called an "attack" in the lingo of the game. The more complex the request, the higher the score, and at the end of the month, the team with the most points gets a special badge on the site showing they've won. There's no reward beyond the badge, and nobody is too strict about the teams. Individuals can change teams multiple times over the course of the month. The real incentive isn't winning but, rather, drawing for others and being drawn in turn.
I was an amateur artist at the time and had spent very little time creating a social media profile and promoting my art. But even then, it was exciting to know I could draw for others and know they would be excited to draw back. Something about this space was welcoming to people of all skill levels and meant that I wasn't lost in the digital noise.
In the following years, the time that I spent on Art Fight waxed and waned based on the business of my own summers. But each year, I made sure to draw at least one piece for it, taking the lovingly rendered illustration that another artist had made of their character and granting it life in my own art style. It remained a constant, this act of creating for someone else that I likely did not know.
The other constant was the range of other artists that used the platform. Some were students or hobby artists, drawing in the free time that they had on weekends or after work. Others were professional artists, pulling together attacks as breaks from their own work. What remained true was the range of people that Art Fight encompassed, with individuals from almost any walk of life with an interest in character design and storytelling coming together to share their creations.
Back in the summer of 2017, I hadn't realized quite how special that was. Wedged in among my career aspirations and life goals, my art often feels pushed to the background, something that can't be properly pursued unless it has a "purpose" (usually involving money). Having a space where that creation is encouraged and given a community, for any skill level and with few caveats, still feels exhilarating.
For the artists I know, sharing online can be a mixed blessing. Platforms offer reach but they can feel actively hostile, putting artists at the whims of algorithms and mainstream attention. There are few platforms actively devoted to art and even fewer constructed to make artists feel more comfortable. The result can feel alienating, forcing creators to post constantly to stay relevant rather than follow their own inspiration.
Art Fight, for me, is a balm to that. Even for a hobbyist artist like me, there is something exciting about individuals making art for each other without the caveats of platforms or the frantic scramble to be seen. It is a challenge that asks only for what you want to give to it rather than what the platform wants. For that reason, the month of July is a sanctuary — a place to create on my terms with the knowledge that it will still be seen by others and maybe be special to some of them.
Camille Butera is a Master of Science student at Oxford University and a recent graduate of Smith College. Outside of that, you can find her drawing and catching up on TV shows about five years after everyone else.
Downtown gateway art project gets initial green light – CollingwoodToday.ca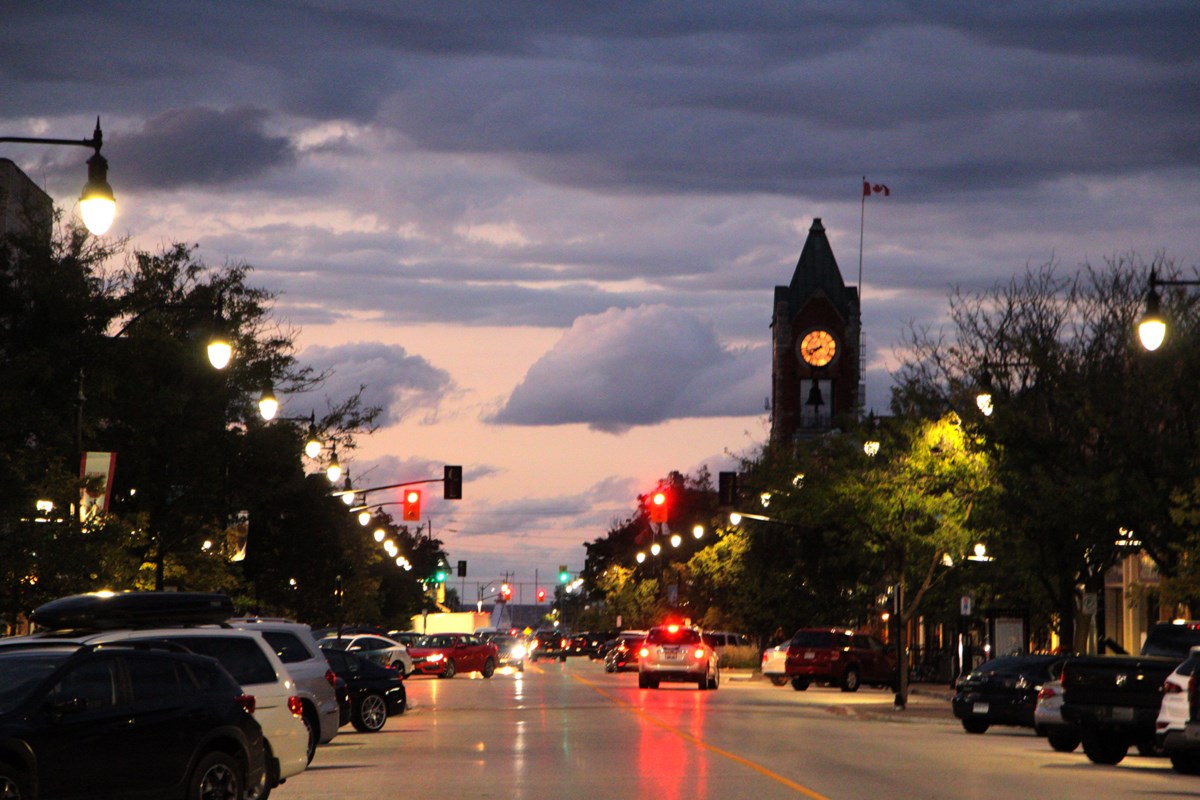 Council has given initial approval for the Collingwood Downtown Business Improvement Area (BIA) to proceed in a public art process for a gateway feature for the downtown.
During Monday's strategic initiatives standing committee meeting, council voted in favour of proceeding with a gateway feature, with a focus on the feature being an integrated public art installation anchoring the downtown core.
"Art is in the beholder. We follow a process. Some may disagree with the process. We're voting on a process today, not a piece of art," said Hull. "When it's installed, and people don't like it – you voted for the process."
Based on a plan proposed and approved by the BIA board, the process for the public art gateway feature would follow the town's public art policy, and would begin with planning by an ad-hoc committee to come up with a budget and theme with an invitation to the community to participate on the committee.
During Monday's meeting, BIA general manager Sue Nicholson noted that the theme is currently under discussion.
"Working through the public process, I think the theme is 'What has built this downtown,'" said Nicholson. "The shipbuilding, the rail that basically created this community. These themes will help shape what this piece of art looks like."
Later, there would be a call to artists, a selection process with interviews, and, ultimately, the installation of the piece. A public art working group selected for the project would include town staff, BIA, community members, and representatives from the Collingwood Museum, the historical society, and the Blue Mountain Foundation for the Arts.
The BIA's goal is to move quickly through the process to have a final design and artist contracted by the end of January 2023.
The project would be funded by a $215,000 federal grant which must be used for beautification of the downtown before March 31, 2023. If not used by that date, the BIA would lose the federal funding.
Coun. Deb Doherty said she was in support of the recommendation.
"I applaud the BIA board for having taken a very negative assessment of their original proposal and gone back to the drawing board and come back with a very creative approach that I hope will be a win-win for the town, residents and the BIA," said Doherty.
The original proposed archway project was presented to council in early March 2022. The design showed two tall poles with a black metal archway spanning Hurontario Street at the intersection with First Street/Huron Street. On the arch were white letters reading "Historic Downtown Collingwood" on one side and "Historic Harbourfront Collingwood," on the other. The idea, according to the BIA, was to help people find the downtown and encourage them to turn onto Hurontario Street.
The proposal was immediately and vehemently rejected by public opinion. Letters to CollingwoodToday.ca decried it as an eyesore and the BIA received dozens of emails and submissions opposing the design and concept of an archway in the downtown.
A public survey put out by the town in April received nearly twice as many responses as the 2022 town budget survey with 727 responses to the archway survey and 529 of them (72.8 per cent) against an archway altogether.
Town council was also bombarded with opposition from residents culminating to a meeting on May 30 when Mayor Keith Hull (then acting mayor) said he was surprised by the ferocity of the response to the archway.
At the May 30 meeting, council told the BIA and town staff to go back to the drawing board to find a different way to spend the $215,000 federal grant.
Nicholson's proposal to use the town's Public Art Policy to commission a gateway feature that is not an arch is in response to council's May order.
On Monday, not all councillors were in favour of the proposal.
"I feel this is contrary to our sign bylaw. I feel it is contrary to our heritage conservation district. It's almost as if this is a sign project in the guise of art," said Coun. Chris Carrier. "I think art is art – let art be the anchor as opposed to wrapping it in the envelope of signage."
"This is almost like another kick at the can we had before," he added. "I think the public rejected it not because they were misunderstanding the finances, but because they didn't want an arch."
The committee voted 6-1 in favour of proceeding with the public art process, with Carrier opposed. Coun. Bob Madigan declared a conflict on the matter and didn't participate in discussions as he is a BIA member.
The decision will need to be ratified at the next meeting of council before going into effect.
With files from Erika Engel.
How this local arts group is making art accessible in Calgary – CBC.ca
The corner of 8th ave and 1st street bustled with colour, music and dancing last week at The Alcove's Hip-Hop Showcase, one of their several pop-up events this summer.
"Hip-hop really brings people from different ethnicities, different races together, in ways that other spaces don't," said MC GoodMedicine who feels these spaces allow people to be authentic and tell their story.
These pop-ups by The Alcove Centre for Arts are an attempt to showcase how a physical recreational facility for the arts could benefit the community in many ways. This non-profit group is dedicated to making art more accessible by providing workshops and platforms to support local artists.
"We have so many hidden gems here, and these workshops are helping pass down the knowledge to the youth," said Ryan De Guzman a.k.a Rubix, a local rapper.
"I believe Calgary's still young, kind of like in its pre-teens…but we are growing and have the potential to be like Montreal," Guzman said as he reflected on the arts scene and its future in the city.
The first half of the showcase was a spray paint and street art workshop led by Anthony Russell who provided guidance on colour theory, spray can control, letter structure and style. After the formal instruction, the space welcomed a collaborative community mural, facilitated by a graffiti trio, Spreason. Attendees and community members had the opportunity to spray paint their own name tags to this four by eight foot mural.
CBC Calgary was on location with canvases, custom CBC stencils and paint supplies, for aspiring and professional artists to express themselves. While some captured yellow and orange gradients of a sunrise, others were inspired by bright patterns, and even monochrome palettes.
In collaboration with ANTYX and TRIBE Artist Society, The Alcove opened up the floor to an open jam, or a "cypher." DJ Playtime spun some tunes for rappers and dancers to come and vibe together.
The showcase was aimed to be "for the community, from the community and by the community." The workshops were made possible in partnership with the Calgary Downtown Association and the venue was a collaborative effort by University of Calgary's faculties of Social Work and School of Creative and Performing Arts.
The Alcove is hosting a multicultural themed arts showcase on August 27 and once again, CBC Calgary will be on-site to creatively stimulate conversations about art, community and more.