Blue Jays Fire Charlie Montoyo – MLB Trade Rumors
The Blue Jays have fired manager Charlie Montoyo, reports Ken Rosenthal of The Athletic (via Twitter). The decision comes barely three months after Montoyo signed a one-year extension that ran through the end of the 2023 season.
The Blue Jays have announced the move via press release. Montoyo has been "relieved of his duties as manager" (i.e. fired) in favor of bench coach John Schneider, who'll assume the position on an interim basis through the end of the 2022 season. Triple-A manager Casey Candaele is joining the Major League staff as an interim bench coach as well.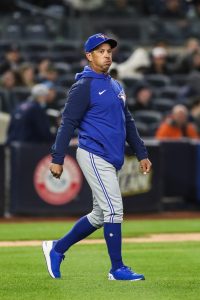 It's rare to see a team that's four games over .500 and in possession of a Wild Card spot oust its skipper, but Montoyo's Jays are in the midst of a dreadful stretch that has seen them drop nine of their past 11 games. That includes a sweep at the hands of a red-hot Mariners club that used a series of four straight wins over Toronto to pull itself back to within a half game of the very Wild Card spot to which the recently floundering Blue Jays are clinging. ESPN's Jeff Passan adds that "questions in the clubhouse about leadership" also contributed to Montoyo's dismissal (Twitter link).
It's been an unexpectedly mediocre season for the Blue Jays on the whole. While their lineup has been well above-average overall — Toronto hitters are batting .259/.321/.435, good for a fifth-ranked 111 wRC+ — that masks a dismal stretch in the middle of the season where the Jays were one of the lowest-scoring teams in the league for a few weeks. Even with those solid rate stats, Toronto sits just 11th in total runs scored (401), and their offense has not been the juggernaut unit that most expected.
Each of Bo Bichette, Teoscar Hernandez and Vladimir Guerrero Jr. have been better than the average hitter but shy of their recent levels of production (Bichette in particular). Offseason acquisition Matt Chapman has been better than he was in his past couple seasons with Oakland but has yet to rebound to the form he showed prior to 2020 hip surgery.
There have been similarly unexpected troubles on the pitching staff, with Jose Berrios' unexpected decline chief among them. The longtime Twins top starter and prized 2021 deadline acquisition for the Jays signed a seven-year contract extension in the offseason and has immediately followed up with far and away his worst performance since his rookie season.
Berrios was the picture of consistency for the Twins from 2017-21 and pitched like his typically strong self down the stretch with Toronto following last July's trade. However, he's stumbled through the 2022 season with a 5.38 ERA and career-low 20.7% strikeout rate through 95 1/3 frames. His rotationmate, offseason free-agent signing Yusei Kikuchi, has had similar struggles in the first season of a three-year deal. Hyun Jin Ryu was lost for the season due to Tommy John surgery. Injuries have prevented Nate Pearson from taking the mound.
Of course, those shortcomings certainly don't fall squarely on Montoyo's shoulders, but he'll be the one to bear the blame for the struggles of those expected contributors and the team's recent spate of often close losses. He becomes the third manager to be dismissed this season alone, as both Joe Girardi (Phillies) and Joe Maddon (Angels) were fired earlier in the year.
At least in terms of win-loss record, Montoyo will go down as one of the more successful managers fired in recent memory. Despite taking over in the late stages of a rebuild in 2019, he guided the Jays to an even 236-236 record in his three-plus seasons on the job. Prior to his time with the Jays, the bilingual Montoyo was one of the most successful minor league managers in Rays franchise history, and he also spent four seasons as bench coach in Tampa Bay. Given that history and track record, it stands to reason that he could find himself in the running for some offseason coaching and/or managerial searches — if his desire is to get right back into a dugout, of course.
Between court ruling and new world rankings, LIV golfers facing long road back to PGA Tour – Sportsnet.ca
WILMINGTON, Del. — Long before the PGA Tour's post-season opener ended with a winning bogey in a three-hole playoff, the biggest drama was in the clubhouse at the TPC Southwind.
A dozen or so players gathered around a screen to watch the outcome in the first of what figures to be many court fights between the PGA Tour and Saudi-funded LIV Golf.
"I walked by player dining and I saw about 10 really nervous people pacing all around the room and I thought, 'Well, there's something going on,'" Jon Rahm said.
He was curious enough to stay for the finish.
This one went to the tour. A federal judge denied the request of three LIV golfers to compete in the FedEx Cup playoffs. Talor Gooch, Hudson Swafford and Matt Jones were in Memphis, Tenn., in case they got the green light but soon were headed home.
When will they return?
That was one of the realities that came out of the ruling, even if it was an emergency hearing. More detailed arguments for a temporary injunction could come later. U.S. District Judge Beth Labson Freeman said her first open spot for an evidentiary hearing was Sept. 27-29.
That's the week of the Presidents Cup. Such is the year.
The assumption is the three players — possibly more if they chose not to resign from the PGA Tour — want freedom to play both circuits. For now they are suspended — or banned, which is the word used in a text exchange from February between Sergio Garcia and Greg Norman.
"Hi Sharky! It's official, the Tour has told our manager this week that whoever signs with the League, is ban from the Tour for life! I don't know how are we gonna get enough good players to join the League under this conditions. What do you think?" Garcia said in his text, now part of the court documents.
Norman replied: "They cannot ban you for one day let alone life. It is a shallow threat. Ask them to put it in writing to you or any player. I bet they don't. Happy for anyone to speak with our legal team to better understand they have no chance of enforcing."
Judge Freeman ruled otherwise.
For some players, it might be awkward to be in the same tournament as the 10 players who are suing the PGA Tour. This is starting to get personal. Until now, any hard feelings was over someone wearing spikes too long or getting called "Brooksie."
The notion of a lifetime ban is premature. Even so, the reality is LIV golfers might not be seen on the PGA Tour anytime soon whether they want to or not.
"It doesn't look like it," Rahm said. "I'm confident that the LIV side of things are still going to push strong to keep trying to change some things. But I also know that the lawyers on the PGA Tour side are going to keep fighting for the way things are going right now. It's not the last thing we are going to hear from them."
Outside of court are two issues still to be determined.
The majors have not announced their criteria for eligibility next year. The U.S. Open typically waits until the fall to go over any tweaks it wants to make. The USGA hasn't make any significant changes to its exemptions since going to the top 50 (from top 20) in the world ranking in 2001 and doing away with money lists on the PGA Tour and European tour in 2012.
The Masters began using the top 50 in the world ranking in 1999. Masters champions currently have lifetime exemptions, and six of them since 2010 are now part of LIV Golf. There isn't a seating chart for the Masters Club dinner on Tuesday night for past champions. This might be a good time to start a new tradition.
The Open Championship leans heavily on the world ranking for exemptions and an alternate list. The PGA Championship uses the PGA Tour money list and a catch-all "special invitations" category that seems to always catch the top 100 in the world. It just doesn't say that in writing.
At this rate, maybe the majors don't have to make many adjustments if they want to limit the number of LIV golfers.
LIV Golf no longer has anyone in the top 20 because Dustin Johnson dropped to No. 21 this week. Its players don't get world ranking points, and its July 6 application to be included in the world ranking system probably won't be decided until next year at the earliest. The process historically takes one year or longer.
It's a safe bet that with few exceptions, the only players who will be exempt for all the majors already are exempt because they won one in the last five years — Phil Mickelson, Johnson, Bryson DeChambeau, Brooks Koepka and Patrick Reed (who has one year left).
That leads to another reality also unveiled last week. The world ranking began the switch to a modernized system that is reputed to be more accurate and in doing so eliminates minimum points for smaller tours and weak fields.
Reed played the Asian Tour last week. He tied for 31st and received 0.31 points. The winner got just under 7.4 points — about half what the Korn Ferry Tour winner received.
A year or so from now, good luck finding anyone from the top 75 who isn't a PGA Tour member.
Players are free to choose whatever path they want. If that means guaranteed money — more than they could reasonably have earned on the PGA Tour — it's hard to fault them.
But it could be a long road back, if that's where they even want to go.
In an 'urgent' situation, Blue Jays come up short yet again – Sportsnet.ca
TORONTO – John Schneider's word choice to describe where the Toronto Blue Jays are at in their season right now – urgent. It's a pretty apt pick as his players face their sternest challenge yet in this less-than-the-sum-of-their-parts summer, amid questions big and small and unsteady play all around the roster eating away at their place in the wild-card race.
To that end, the interim manager met with Bo Bichette a couple of times to discuss his decision to slide the shortstop down to seventh in the batting order, the lowest he'd ever started in a big-league game, with Matt Chapman bumping up to fifth on Tuesday. He gathered the players for what he said was a brief pre-game chat on what they needed to do against the Baltimore Orioles, although it wouldn't be surprising if more than that came up. And he very much left the door open to Yusei Kikuchi not making his next start Saturday, the rotation TBD beyond Jose Berrios on Thursday and Kevin Gausman on Friday in New York against the Yankees.
The gist? There's a lot of managing going on right now.
That the winning hasn't yet followed is a growing concern, Tuesday night's 4-2 setback to the Orioles making it nine losses in the club's past 12 outings, all against the teams around them in the playoff race.
Ross Stripling returns from the injured list to start Wednesday's finale and if the Blue Jays don't avoid the sweep, Baltimore will leapfrog them into the third wild-card spot, one of many mettle-testing moments that loom in the weeks ahead.
"With what we've been through the last couple of years in terms of where we've been playing and the type of games we've been playing in, those experiences mean a lot going forward," said Schneider. "A lot of guys have been in a lot of those spots. That's where the urgency comes in and you've got to get it rolling pretty quick."
This one started with promise as Alek Manoah was his dominant self early and Vladimir Guerrero Jr., followed George Springer's leadoff infield single with an impressive two-run homer, hammering a middle down fastball 398 feet despite an apex of only 43 feet.
The trajectory was remarkable.
"I was looking for that pitch and I got it and I made good contact," Guerrero said through interpreter Hector Lebron.
Still, the auspicious start wasn't enough to prevent an inauspicious end, the game beginning to turn once the Blue Jays came up empty after loading the bases with one out in the third. Chapman quickly fell behind 0-2 to Dean Kremer before rolling over an outside cutter for an inning-ending double play and the game unravelled from there before a crowd of 37,940.
Manoah, cruising through four, surrendered back-to-back solo shots to Cedric Mullins and Adley Rutschman in the fifth to tie the game and then allowed a two-out RBI single to Ramon Urias in the sixth that plated the go-ahead run. A rare Jackie Bradley Jr., error in centre allowed Urias to take second and after Manoah walked Jorge Mateo, Anthony Bass surrendered another RBI single to Ryan McKenna that made it 4-2.
Illustrative of how things are going for the Blue Jays, Teoscar Hernandez made a strong throw to the plate but it skipped high on Alejandro Kirk, preventing him from putting down a tag.
The Blue Jays burned their challenge questioning a safe call on a back-pick attempt at first base that inning, and that loomed large in the seventh, when Raimel Tapia appeared to beat out an infield hit but his team had lost its review.
That came a few pitches after Tapia swung through a Kremer offering on a hit-and-run attempt and Santiago Espinal, who had injected some life into the Blue Jays dugout with a bunt single, was thrown out trying to steal second.
Everything fell into the when it rains, it pours category.
"We have probably our best contact guy in that spot in a 1-0 count and it didn't work out," said Schneider. "Watching the pace and the cadence of the game, what was happening, trying to force the issue a little bit to get back to the top with George, knowing Dillon Tate was coming in. The best case is first and third with one out, worst care first and second, one out and we'll take our chances there. Didn't work out."
That's been the case more often than not during the past two often-out-of-sync weeks for the Blue Jays. Guerrero pointed to the club's hitting with runners in scoring position of late as an issue, believing that needs to change as Toronto has totalled just 24 runs over the past nine games.
At the same time, they Blue Jays allowed 49 runs over the same span and this is a time where faith must be maintained.
"You've just got to trust yourself," said Guerrero. "And I told my teammates, just keep trusting yourself, keep working hard, somehow, at some point, things are going to turn around."
Given that they're now 2-6 against the Orioles, with four games against the New York Yankees, against whom they are 4-8, to follow, Schneider's word of the day – urgent – applies all the more.
"We're still in a playoff spot. We're a playoff team. We know we're a playoff team. Going through a tough stretch and we'll continue to get better," said Manoah, adding that Orioles right now "are doing a good job. We're going to see a whole lot more of them coming down the stretch. It's not how you start, it's how you finish."
To that end, the Blue Jays are kicking around whether to start Mitch White in Kikuchi's place this weekend against the Yankees and will keep looking to make things happen in their lineup.
Dropping Bichette felt jarring but his .727 OPS is currently ranked seventh on the Blue Jays roster, with his .427 slugging percentage sixth and his .300 on-base percentage eighth. While he's clearly a more talented hitter than that, at the moment that's where he's at and with the Blue Jays needing to find ways to cluster hits, a lineup switch is understandable.
"Just shaking things up and giving guys different looks and seeing how it shakes out, really," said Schneider. "Nothing in particular to it. Like Chappy's at-bats recently, offence hasn't really been killing it. So just trying to shake it up."
Shake harder, shake different as the Blue Jays continue searching for a combination to break them out of a funk deepening by the day.
Manchester United shares briefly pop 17% in premarket after Elon Musk jokes about buying the club – CNBC
Shares of the English soccer club Manchester United Plc briefly rose by as much as 17% in premarket trading on Wednesday, after Elon Musk jokingly tweeted "Also, I'm buying Manchester United ur welcome."
Photo by Catherine Ivill/Getty Images
Shares of the English soccer club Manchester United briefly rose by as much as 17% in premarket trading Wednesday, after Tesla CEO Elon Musk jokingly tweeted that he would buy the club.
"Also, I'm buying Manchester United ur welcome," the billionaire wrote on Twitter. Hours later, Musk responded to a Twitter user asking if he was serious about buying the club and clarified that it was a joke.
"No, this is a long-running joke on Twitter. I'm not buying any sports teams," he tweeted, before adding: "Although, if it were any team, it would be Man U. They were my fav team as a kid."
Manchester United shares, which are traded under the abbreviation MANU on the New York Stock Exchange, were up 3.68% in premarket trading as of 4:30 a.m. ET, paring gains after initially surging 17% after the tweet.
Based on the club's most recent stock market valuation, buying Manchester United would have cost Musk around $2 billion. Manchester United declined to comment on the matter when contacted by CNBC.
Musk's original tweet incited a wide-spread reaction and had gained over 573 000 likes and had been retweeted over 140 000 times at time of writing. Manchester United fans reacted surprised, yet hopeful, as many have criticized the current owners of the club, the American Glazer family.
This is linked to the club's slow start to the current season of the English Premiere League, notching two losses in two games, and the club being part of the failed attempt to set up the European Super League last year.
Even before Musk clarified that his offer to buy Manchester United was a joke, some fans remained skeptical as the billionaire has a history of making similar jokes online.
In April of this year, he tweeted that he would purchase Coca-Cola "to put the cocaine back in," a tweet he referred back to on Wednesday after clarifying that he would not buy Manchester United.
"And I'm not buying Coca-Cola to put the cocaine back in, despite the extreme popularity of such a move," Musk wrote.
The original tweet about purchasing Coca-Cola came just days after Twitter's board accepted Musk's offer to buy the social media company for $44 billion.
Musk has since gone back on this deal just four months after agreeing to it. Twitter is taking the billionaire to court over the dispute.