Stroll struggling to understand how he lost Turkish GP – ESPN
Lance Stroll said he had no explanation for how quickly his Turkish Grand Prix unraveled, after finishing ninth despite leading the first half of the race.
Stroll, who claimed pole position on Saturday, led away and looked comfortable in the opening stages. That changed after the first stop, when he went from the full wet to intermediate tyre, as he struggled to match the pace of the chasing pack.
Despite objecting to the call, Stroll pitted for a second set of intermediates, surrendering the lead in the process, but continued to drop back through the order. The Canadian was unsure why he had been able to make the best of the tyre.
"I don't know what happened, I don't understand," Stroll said. "We had so much graining on the first set of intermediates. We decided to pit, we were losing seconds a lap.
"I just don't know where that graining came from, it just happened instantly. It grained again, massive graining, and no pace.
"We'll have to look into it, it was pretty terrible today."
He added: "It's just frustrating that you're in the lead by 10 seconds, and then all of a sudden you finish ninth. I don't understand how that happens.
"I mean I do, it's graining, but we just need to look into why it hit me so much harder than the other car.
"I'm not so sure why."
While Stroll pitted, Racing Point teammate Sergio Perez stayed out on his original set of intermediates and managed to guide the car home for second position. Perez said that call only just worked, with his tyres right on the limit when he crossed the line.
"I told my team on the radio, I think one more lap on those tyres and they would have exploded," Perez said. "The vibrations were extremely bad towards the end. But I think it also made that race, looking after them in the beginning [and] towards the end with drying conditions.
"The team did a fantastic job in terms of strategy reading the race. I think Lewis today was extremely strong, and towards the end we died, but we managed to get a good result."
Is Westbrook for Wall a lose-lose deal for all involved? – theScore
In a blockbuster akin to a couple teams rearranging expensive deck chairs on a sinking ship, the Houston Rockets traded Russell Westbrook to the Washington Wizards for John Wall and a future first-round draft pick. Here's what the deal means for the parties involved:
Rockets take another step back
Westbrook's on-court value may not match the monetary value of his contract, and he's two years older than Wall, but Wall arrives in Houston on an equally burdensome deal, and with far more questions to answer about his current standing in the league.
Opening week of the coming season will mark two full years since Wall last appeared in an NBA game. The five-time All-Star underwent left heel surgery in January 2019, which led to an infection. While dealing with that already complicated recovery, a slip and fall at his home resulted in a ruptured Achilles. Wall's also had surgery on both knees in the past, and missed 41 games the season before his heel and Achilles injuries.
It's fair to say no one was lining up to take on the $131.5 million remaining on Wall's contract, which includes a player option worth more than $46.8 million in 2022-23.
Westbrook's contract also has three years and $131.5 million remaining, with the only difference being Wall will make about $200,000 less this season, while Westbrook's 2022-23 player option is $200,000 cheaper. If the Rockets believe they can eventually flip Wall before his option season, then owner Tilman Fertitta – whose earned a reputation for penny-pinching – will save a couple hundred grand in this deal, with Houston also recouping a (protected) first-rounder in the process.
That's fine if you assume this is a precursor to a James Harden trade that will fully launch the Rockets into a rebuild, but if the team remains committed to competing in the short term in order to keep Harden in Houston, which appears the case, this trade makes a lot less sense.
Wall's no more of an off-ball threat than Westbrook was. Of the 263 players in NBA history who've attempted as many 3-pointers as Wall, Westbrook's 3-point percentage of 30.5 ranks 259th. Wall's 32.4% conversion rate ranks 247th. In addition, the last time Wall was healthy, he was logging more time with the ball in his hands than any player besides Harden.
Over a five-year run of All-Star campaigns from 2013 through 2018, Wall averaged roughly 20 points, 10 assists, four rebounds, and two steals, and was a more consistent defensive player than Westbrook's ever been. But expecting a high-usage point guard – whose greatest attribute is his speed – to be the same player at 30 after an Achilles rupture seems like wishful thinking.
Best-case scenario: Wall remains an explosive star who can replace some of what Westbrook brought to the table last season during a three-month stretch when Westbrook got back to being the rim-rampaging guard he was at his peak. If Wall can do that while offering a tiny bit more shooting, more off-ball movement, and a greater defensive focus, this feels like a wash for Houston.
The realistic scenario: The Rockets simply swapped a bad contract (Westbrook) for a terrible contract (Wall), and will still pair Harden with an ill-fitting backcourt mate who's a worse player than Westbrook is. The only win here is the future draft pick.
The sting of that reality is more excruciating when you consider that just last year, Houston surrendered two first-rounders and two more pick swaps to turn Chris Paul – a better player, on a shorter contract, who actually fit beside Harden – into Westbrook.
That's the kind of backwards asset management that turns contenders into pretenders.
Wizards move up a tier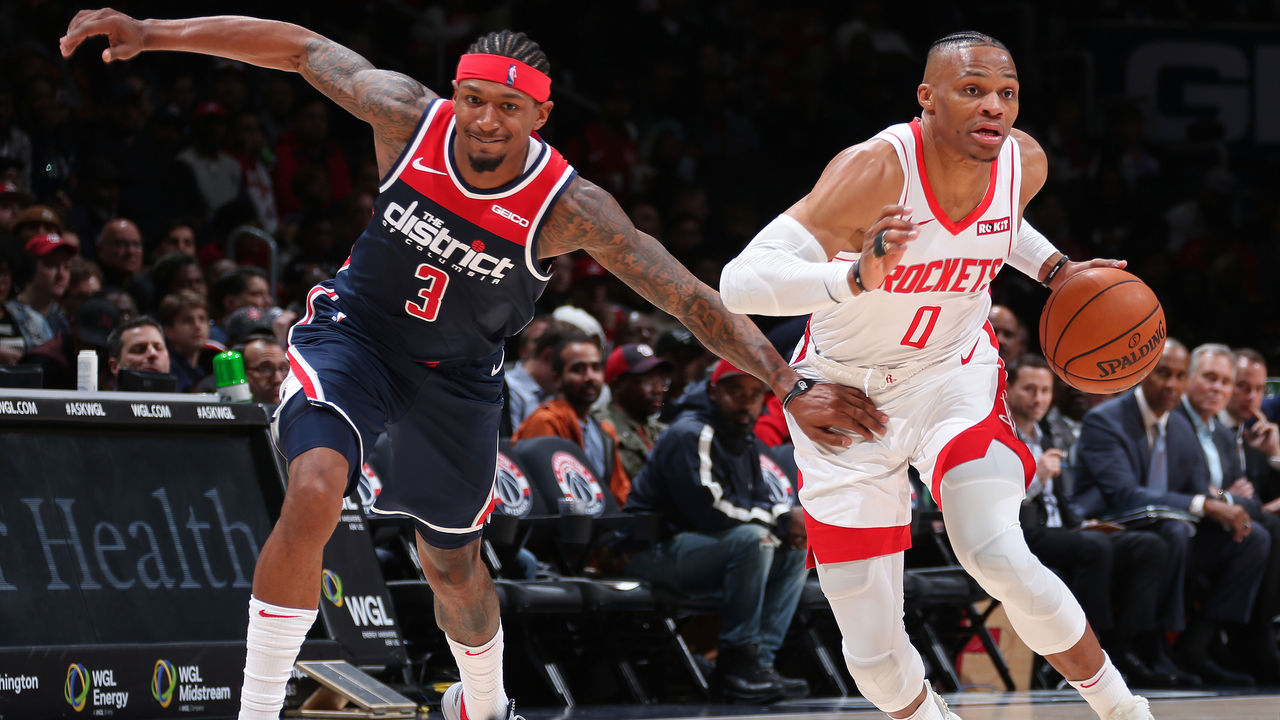 Speaking of asset management: Washington trading Wall means the club got zero games played from its former franchise player since Wall's lucrative extension kicked in last year.
Still, in a deal with no clear winner, the Wizards are certainly the lesser loser.
Westbrook was the better player when both stars were at their peak, and he's certainly the safer bet now that Wall's become such an injured and uncertain commodity.
After contracting COVID and dealing with a quad injury, Westbrook was a shell of himself during the summer restart. But with the Rockets going small and a clearer runway to attack in the paint, Westbrook averaged 30.7 points, eight rebounds, 6.8 assists, and 1.7 steals on nearly 51% shooting over a span of 34 games between early December and early March last season.
While Westbrook's off-ball issues are well documented, and even though his taking the ball out of Bradley Beal's hands will be detrimental for Washington when Westbrook falls in love with his nonexistent jumper, he and Beal will immediately become one of the NBA's most dynamic backcourts should Westbrook play to his strengths, as he did for a sizeable chunk of last season.
Beal, as a better shooter and more willing off-ball threat than Harden, also presents a much more seamless fit for Westbrook. In reuniting with Westbrook, head coach Scott Brooks could stagger his star backcourt's minutes to ensure one of Russ or Beal is on the court at all times (though Brooks has often been criticized for failing to stagger stars).
The Wizards will likely remain a defensive disaster, but with plenty of shooting around Beal and Westbrook, an offense that played at the fifth-fastest pace last season – and one that was surprisingly potent before being besieged by injuries – should be enough to get Washington back in the Eastern Conference playoff mix.
The Wizards should join the revamped Hawks in a two-team tier below the East's top seven, but from a talent perspective, both are closer to the Pacers than they are to a bottom-six group that's likely to include the Magic, Bulls, Hornets, Pistons, Knicks, and Cavaliers. At the very least, Washington should qualify for the 2021 play-in tournament that will involve teams No. 7-10 – a sobering new reality for Westbrook, who's used to playing for Western Conference teams with grander postseason ambitions.
After extending Beal last year, the Wizards have remained hellbent on keeping their other franchise cornerstone happy. Beal, in turn, has at least said the right things about wanting to remain in Washington for the life of his contract. Trading a future first-rounder and swapping one overpaid star for another in order to graduate from futility to mediocrity might seem like a shortsighted play, but the Wizards should be more competitive on a nightly basis, and if that keeps Beal happy and engaged, it's a worthwhile gamble.
NHL players will likely have to pay for lost revenues, commissioner Bettman warns – CBC.ca
NHL commissioner Gary Bettman warned players Wednesday they are likely going to have to pay one way or another to make up for the league's projected lost revenue whenever the 2020-21 season gets underway.
Speaking on a Sports Business Journal panel, Bettman stressed the NHL is not attempting to reopen the collective bargaining agreement some five months after it was extended. Instead, he said, the fiscal realities amid the pandemic mean the 50-50 revenue-sharing split between owners and players will be affected for at least the near future.
And that means players will have to bear the brunt of any shortfall to owners.
The question then becomes, Bettman said, whether it's in their best interest to pay the money back in the short-term — by deferring a higher percentage of their salaries as the NHL has raised in discussions — or face the potential of having the salary cap stay flat over the remainder of the six-year deal.
"If we have to pay out lots of cash, two-thirds of which is going to come back to us, that may cause some stress," Bettman said. "And by the same token, if the players owe us more money than anybody imagined, the salary cap could well be flat or close to flat for the next five or six years, and players into the future will be repaying what we're owed."
When it comes to a flat cap, which would have the potential of restricting future pay increases for players, Bettman said: "[Players] have to ask themselves, 'Does this make sense?'"
The NHL's new CBA currently calls for players to defer 10 per cent of their salary for the upcoming season and it puts a cap on how much money will be kept in escrow over the length of the deal.
Without calling it a formal proposal, the league has raised the possibility of having players increase salary deferrals to 20 per cent or 26 per cent and increasing the escrow caps, according to a person with knowledge of the discussions who spoke to The Associated Press on condition of anonymity because neither side is publicly announcing details of negotiations.
The National Hockey League Players' Association did not respond to a message seeking comment.
Players, agents unhappy with state of talks
Players and several agents have privately grumbled at the developments, and accused the league of attempting to renege on the deal reached in July that led to the resumption of play and the completion of last season.
Bettman refuted the criticism, calling it "unfortunate" and "inaccurate," and said the agreement at the time was based on collective assumptions that are no longer applicable. The NHL now has to factor in a shortfall in gate revenue because fans aren't expected to be allowed to attend games, at least initially.
Another issue is the likelihood of a one-time realignment due to cross-border travel restrictions, which will likely result in Canada's seven teams competing in one division. U.S.-based teams might be required to play in hub cities, as opposed to their own arenas.
WATCH | I was in net for… The Easter Epic:
In episode 6 of our new series, Rob Pizzo speaks to former Washington Capitals goalie Bob Mason about the longest Game 7 in NHL history, and the Pat LaFontaine goal that finally ended it. 5:39
The league is also expected to play a shortened season, which could feature as few as 48 games, such as what happened in the lockout-shortened 2012-13 campaign.
In an email to The Associated Press, NHL deputy commissioner Bill Daly said "as of right now," the NHL is still targeting Jan. 1 to start the season, before adding: "That is obviously subject to change."
It's becoming increasingly unlikely the NHL will meet that target date. Players have not yet been asked to travel to their home cities. When they do, they will be potentially required to spend up to two weeks in self-quarantine before teams can even be allowed to open training camp.
Another issue are local health regulations. The NFL's San Francisco 49ers, for example, relocated to Arizona this week after Santa Clara County banned contact sports teams from holding games and practices for at least the next three weeks.
The San Jose Sharks are based in the same county.
Calgary selected to host Brier, Scotties, other major bonspiels in hub-style format – CBC.ca
Calgary is about to become a curling mecca.
Weeks after CBC Sports first reported the Alberta city had been selected to host a number of important bonspiels, Curling Canada made it official on Tuesday that the Scotties, the Brier, the men's world championship and mixed doubles national championship will all be hosted at Canada Olympic Park.
There is no timeline at this point for when the events will take place.
There are also two Grand Slam of Curling events being planned for the Calgary curling bubble as well.
Curling Canada officials said they continue to have dialogue with all levels of government and health officials to come up with the safest protocol, using many of the lessons learned from the NHL and NBA bubbles.
WATCH | CBC Sports' Devin Heroux, Colleen Jones discuss Calgary curling hub:
Devin Heroux is joined by six-time Scotties medallist Colleen Jones to discuss the announcement of the Calgary curling bubble. 5:34
Six-time Scotties winner Colleen Jones says with COVID-19 cases in Calgary rising, there are still concerns about how the event will happen.
"For a lot of people this is great news," Jones said. "The other side of the coin, though, is with COVID cases rising across the country there's a lot of trepidation about how the provincial championships will go.
"Provincial associations are all meeting right now as we speak. There's surveys going out asking curlers how this should look."
In an email to CBC Sports, the Department of Canadian Heritage said it has received a request from Curling Canada to hold an international event in Canada — that would be the men's world curling championship.
"An authorization will only be granted if plans offer robust protocols to mitigate the risk of importation and spread of COVID-19 in Canada," the email said.
"An authorization would be conditional on ongoing support from provincial and local public health authorities and the provincial government, as well as a risk mitigation measures plan, developed and implemented by Curling Canada and assessed by the Public Health Agency of Canada."
The curling extravaganza will most likely begin with the crown jewel of women's curling, the Scotties. All of the events will be played without fans at The Markin MacPhail Centre at WinSport's Canada Olympic Park.
While there are still many details to work through regarding player and coach safety, Alberta's Minister of Culture, Multiculturalism and Status of Women, Leela Sharon Aheer, said it's a positive thing for the province.
"This series of championship curling events is a fantastic opportunity for Alberta to once again show the world that our ability to host major hub city sporting events is second to none," she said.
"We look forward to delivering an exciting and memorable curling experience for all players, participants and fans."
The Scotties was originally going to be held in Thunder Bay, Ont., but the pandemic quashed those plans. Pre-event tickets had been sold out. However, Thunder Bay has been awarded the 2022 Scotties.
The Brier was going to be played in Kelowna but is now also set to take place in the Calgary bubble. It marks the first time the Scotties and the Brier are being played in the same city in the same season.
'I trust Curling Canada'
Defending Brier champion Brad Gushue is thrilled Curling Canada found a way to safely get curlers back to the pebbled ice.
"Every player I've talked to has wanted this to happen and [is] excited it's going to happen," Gushue said. "I've heard some players are a little hesitant but they are few and far between.
"I trust Curling Canada enough to do this in a safe manner. Our team is on board."
Gushue says his team has had a number of conversations about what life in the Calgary bubble might look like, including potentially being away from family for nearly two months.
"That's a hard one to swallow. To be honest though, it's something we've discussed at length with our families," Gushue said.
"There might be some teams that don't do it. It's hard not to do when you love the sport and you want to compete."
Gushue is hoping to defend his Brier title and earn a spot back to the men's world championship, having not been able to wear the maple leaf at last year's championship in Scotland because of the pandemic.
WATCH | Gushue disappointed by cancellation of curling world championship:
In an Instagram Live with our curling aficionado Devin Heroux, Brier 2020 champion Brad Gushue said he was 'disappointed but not surprised' about the cancellation of the curling world championships. 1:34
"Missing a world championship is not the end of the world but when you're a competitive curler it tears at you a little bit," he said.
"It weighed on me. There were moments throughout the summer when people would bring up the worlds and I thought this just sucks that I'm not going to get there."
Gushue is also planning on playing in the mixed doubles national championship and two Grand Slam events that will also be housed in the Calgary bubble.
Preparing for lack of fans
The grind of six to seven consecutive weeks of curling is something Gushue is already preparing for, including not having any fans inside the arena to motivate him.
"I feed off the crowd," he said. "To not have them around is going to be a challenge for me. I'm working with our sports psychologist on how to handle that. I don't know how it's going to affect me."
Gushue says his Newfoundland and Labrador team have only played in two competitions this season — by far the least amount of time they've been on the ice during a season in their careers.
And they haven't even been a complete team.
Geoff Walker is in Alberta with his wife, Laura, and their newborn baby. Walker opted to stay in the province as he didn't want to leave and quarantine for two weeks before being able to play with Team Gushue.
"I still haven't seen Geoff in person since the night we won the Brier," Gushue said. "How do we get together to practise and play?"
Provincial restrictions make playdowns a puzzle
That's a common question many of the top curling teams in the country are asking these days as most of the foursomes have at least one player living out of the province — restrictions in each jurisdiction of the country differ, making it increasingly challenging for curlers to get together on the ice.
That brings up the issue of provincial playdowns.
With many provinces imposing strict rules around gatherings, curling associations are trying to formulate plans that would allow them to safely and fairly select provincial and territorial representatives to attend both national championships.
The announcement of this Calgary curling bubble comes a year out from the Roar of the Rings Olympic qualifiers scheduled for Saskatoon next November into December.
This is a crucial quadrennial for Canadian curling after both the men's and women's teams failed to reach the podium for the first time at the 2018 Olympics.