Sturgeon: Renewables could form basis of Scots economy – bbc.com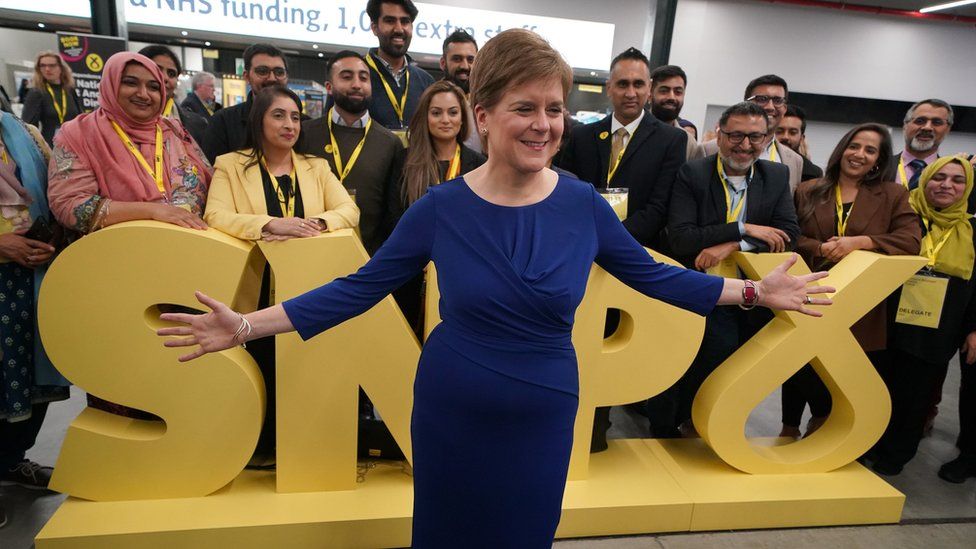 Scotland could establish a sustainable new economy based on renewable energy if it becomes independent, Nicola Sturgeon is to claim.
The first minister will set out details of her economic prospectus during her SNP conference speech in Aberdeen.
And she will attack the UK government's "aggressive unionism" as undermining the very thing it seeks to protect.
The UK government has refused to engage with Ms Sturgeon's calls for an independence referendum in 2023, something she says is a "denial of democracy".
Ms Sturgeon has already promised to publish a new paper setting out the economic case for independence in the days following the conference.
This is expected to cover issues including currency and how quickly institutions such as a central bank could be set up.
The SNP leader is expected to tease further details during her party conference speech, including promises to repeal legislation regulating trade unions and expanding the minimum wage to young workers.
She will promise not to lift her government's effective ban on fracking, and will paint renewable energy as the potential basis for a whole new system.
She will say: "Our economic prospectus will set out how we can build a new, sustainable economy based on our massive renewable energy resources.
"It will show how in an independent Scotland, we can deliver lower energy prices and stronger security of supply.
"With independence we will show how we can break with the low productivity, high inequality Brexit-based UK economy – and use the full powers of independence to build an inclusive, fair wellbeing economy that works for everyone."
Ms Sturgeon ran into controversy on Sunday after telling the BBC's Laura Kuenssberg that "I detest the Tories and everything they stand for"
Conservative minister Nadim Zahawi described this as "dangerous language", while former Scottish Tory leader Ruth Davidson said it "traduced a quarter of the Scottish voting population".
But Ms Sturgeon later told the BBC she did not regret her choice of words, insisting that she was "referring to Tory policies and values, not individuals or Tory voters".
She will continue this criticism in Monday's speech, accusing the UK government of "aggressive unionism" which is undermining the partnership between nations.
She will claim that it is "Westminster's denial of Scottish democracy, full frontal attacks on devolution and basic lack of respect" which are "causing tension and fraying the bonds between us".
The Scottish Conservatives said this claim was "incoherent nonsense", insisting that a referendum was "the wrong priority at the worst possible time".
Meanwhile Scottish Labour MP Ian Murray said Ms Sturgeon was "right to highlight the Tories' failure", but said she had ignored her own government's "deplorable record over the last 15 years".


The economy has always been viewed as a pivotal, yet tricky issue in the debate over independence.
But amid market turmoil and UK government u-turns, we have arrived at the point where the SNP feels it might be a campaign asset rather than a challenge to overcome.
The worse the economic outlook under the present system, the more they can present independence as a sensible investment rather than a gamble.
There are still many questions to answer, and there will be intense scrutiny of Ms Sturgeon's latest paper when it is eventually published.
But right now if a UK government minister were to ask the SNP leader what her currency plan is, she might feel she could ask them back: "What's yours?"

Mint issues black-ringed toonie in memory of Queen Elizabeth II
The Royal Canadian Mint is issuing a new black-ringed toonie to honour Queen Elizabeth II.
The mint says the coin's black outer ring is intended to evoke a "mourning armband" to honour the queen, who died in September after 70 years on the throne.
The mint says it will start to circulate nearly five million of the coins this month, and they will gradually appear as banks restock inventories.
Aside from the black ring, the mint says the coin retains the same design elements of the standard toonie.
Four different images of the queen have graced Canadian coins since 1953, when she was crowned.
The core of the commemorative toonie will feature the same portrait of the queen that has been in circulation since 2003, with a polar bear design on the other side.
"Queen Elizabeth II served as Canada's head of state for seven decades and for millions of Canadians, she was the only monarch they had ever known," Marie Lemay, president and CEO of the Royal Canadian Mint, wrote in a statement.
"Our special $2 circulation coin offers Canadians a way to remember her."
The mint says it may produce more of the coins, depending on what it calls "marketplace needs".
This report by The Canadian Press was first published Dec. 7, 2022.
The Canadian Press
Japan's Economy Shrank Less Over Summer Than First Thought
(Bloomberg) — Japan's economy took a smaller hit than first thought during a summer marked by a renewed Covid surge and a plunge in the yen, with a return to growth expected this quarter.
Gross domestic product shrank an annualized 0.8% in the three months to the end of September from the previous period, revised figures from the Cabinet Office showed Thursday. That was smaller than the 1.2% contraction first estimated and a 1% drop forecast by economists.
The revised figures showed that stronger exports reduced the heavy negative impact on trade from the yen drop, and that capital spending by firms held up.
A buildup of inventories also helped narrow the contraction of the economy, though that also suggests there wasn't enough demand for the output of factories. The data also showed consumption was weaker than first thought during the summer Covid surge and inflation acceleration.
Overall, the figures didn't improve enough to eliminate concerns among policymakers over the resilience of the economy. Japan heads toward the end of the year and into 2023 with clouds darkening over the global outlook, and the possibility of recessions in key overseas markets.
"The weaker consumption worries me," said Harumi Taguchi, principal economist at S&P Global Market Intelligence. "Spending hasn't picked up much in the current quarter, either, probably because of inflation and another rise in Covid infections."
What Bloomberg Economics Says…
"Details under the hood of Japan's narrower third-quarter GDP contraction aren't encouraging. A buildup in inventory that contributed to the upward revision will limit catch-up production in 4Q."
— Yuki Masujima, economist
For the full report, click here
Prime Minister Fumio Kishida has already put together an economic stimulus package to cushion the impact of strengthening inflation that should offer more support for growth early next year. Analysts also expect the economy to have returned to expansion this quarter.
The Bank of Japan, meanwhile, is expected to keep interest rates unchanged at ultra-low levels during the last months of Governor Haruhiko Kuroda's tenure.
Still, analysts are concerned about how the economy will weather a global slowdown prompted by tighter central bank police elsewhere in the world. Cautious moves by China to relax its virus restrictions offer one of the few points of optimism over the coming months.
"External demand is also be on the wane, as we saw in industrial production," Taguchi said. "The situation may change if China lifts its zero Covid policy, but for now Europe and the US are bracing for the impact of an economic slowdown in the wake of interest rate hikes."
Economists expect private sector spending and services consumption to support the economy this quarter. Pent-up demand held over from the summer Covid wave has already fueled consumer outlays, though the recent resurgence of infections will likely start to limit those gains. The government is widely expected to keep the country free of virus-related restrictions to maintain economic activities.
Inflation is growing as another concern for consumption and the recovery path. Japan's price increases hit their fastest clip in 40 years in October, and the pace likely sped up further in November based on last month's Tokyo data, a leading indicator for nationwide trends.
Kishida's support package offers further relief from soaring energy costs with electricity bills set to get hefty subsidies from early next year.
Business spending didn't get revised up as expected but still showed resilience in corporate sentiment despite a yen slide that prompted government intervention in currency markets. The plunge in the yen over the summer may give companies second thoughts about their business plans.
Still, the yen's recent pullback may reassure businesses going ahead and should also have a favorable impact on net trade this quarter.
"Personally, I don't think the capital investment will decrease that much," said Toru Suehiro, chief economist at Daiwa Securities. "I think that capital investment will continue throughout next year due to pent-up demands."
Another positive development is that Japan fully reopened its borders to tourists in October. That offers the prospect of renewed inbound spending by visitors attracted by cheaper travel expenses thanks to their relatively stronger currencies.
(Adds economist comment, more details)
Key White House economic advisor says U.S. economy is slowing but resilient
The U.S. economy is showing "continued resilience" despite a predictable slowdown, a top White House economic advisor said Wednesday.
National Economic Council Director Brian Deese said low rates of credit card delinquency and mortgage concerns point to resiliency in household balance sheets, while the labor market and the savings rate also indicate steadier growth. What's more, he pointed to slowing inflation as a positive sign for healthier economic growth.
"We need to see a transition to a more stable growth trajectory, but I think if you look at the key elements that you need as part of that, some easing on the inflation side … we're starting to see some evidence in that direction," Deese said Wednesday on CNBC's "Squawk Box."
The November labor market report released Friday showed job growth was better than expected, as nonfarm payrolls increased by 263,000. The unemployment rate was 3.7%.
White House economic adviser Brian Deese speaks during a press briefing at the White House in Washington, March 31, 2022.
The Federal Reserve has steadily raised interest rates in an effort to bring down the highest inflation in 40 years, contributing to concerns about a coming recession. The improving labor market, combined with a 0.6% increase in average hourly earnings last month, also has put pressure on the central bank to continue raising rates.
The Fed's benchmark overnight borrowing rate reached a target range of 3.75%-4% after six consecutive hikes this year. Major U.S. stock indexes have struggled this week, in part due to concerns of a slowing economy and expectations of more rate increases ahead.
The Fed is expected to hike rates again at its meeting next week.
Despite the concerns felt by investors, economic resilience will position the U.S. to become a center of "investment, productivity and innovation" over the next few years, Deese said.
"We were out in (Phoenix) yesterday with a set of CEOs who all underscored this, that even as we're looking at this transition and navigating through this historically unique transition, the United States looks better as a prospect to invest, and that's going to be a driver," Deese said. "That's going be where we get our innovation and our productive capacity, beyond the next month or two."