Thai investor mood dips for first time in four months, politics weigh
By Satawasin Staporncharnchai and Orathai Sriring
BANGKOK (Reuters) – Investor confidence in Thailand's capital markets over the next three months dropped for the first time in four months, unsettled by recent anti-government protests, a capital market association said on Thursday.
The risk coming from political turbulence is adding to pressure on the government as policy makers struggle to revive an economy expected to shrink by a record amount as the coronavirus pandemic upends tourism and consumption.
The Federation of Thai Capital Market Organisations said its July survey showed the investor confidence index fell to 85.26 from 101.19 in the previous month.
"The main reason was politics. It's the first time in months that political factors took the spotlight and played a role in investment," the federation's chairman, Paiboon Nalinthrangkurn, told a briefing.
Demonstrators have called for the removal of the government of Prime Minister Prayuth Chan-ocha, amendments to the constitution and reforms of the monarchy.
The Thai stock index .SETI> has fallen by 15% so far this year, with foreign investors dumping 231 billion baht ($7.44 billion) of shares.
Investors remained concerned about the economy and the earnings of listed companies, but they hoped a new government economic team would help restore confidence, Paiboon said.
"From now on, it will depend on the new team and whether they will have policies to build market confidence," he said.
In a cabinet shake-up, banking executive Predee Daochai was picked as finance minister and given the tough task of pulling Southeast Asia's second-largest economy out of a deep slump.
The finance ministry expects the economy to shrink 8.5% this year, although the government has introduced stimulus measures, including a 1.9 trillion baht package, in a bid to mitigate the outbreak impact.
(Reporting by Satawasin Staporncharnchai and Orathai Sriring; Editing by Ed Davies)
Source:
RBG's Death Is About To Upend Politics Again : Death Of Ruth Bader Ginsburg – NPR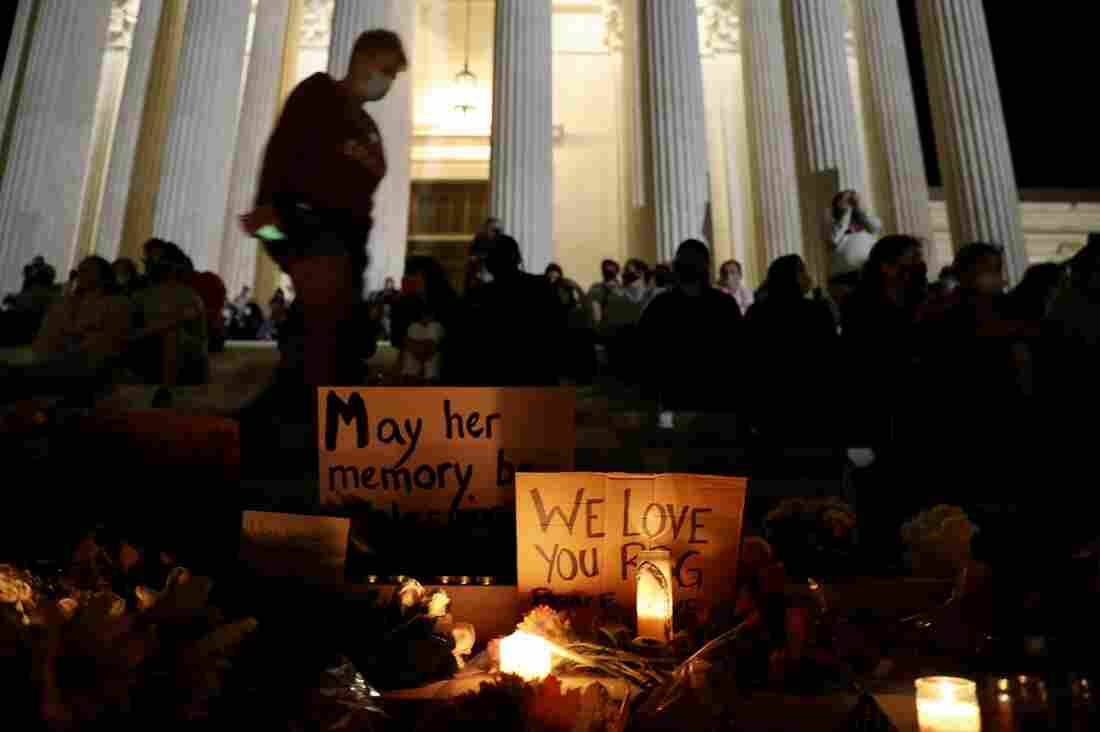 The death of Ruth Bader Ginsburg is a major cultural moment and has potential implications for the next generation of American society.
Just look at the images of people who crowded the Supreme Court's steps Friday night after news of her death broke.
The Supreme Court hasn't been this conservative in three-quarters of a century, and if President Trump nominates a replacement for her seat, and he or she is confirmed, it would move the court even further to the right and be difficult for liberals to take control of for a very long time.
Senate Majority Leader Mitch McConnell is vowing to bring a Trump nominee to the Senate floor for a vote — despite his denial of even a hearing for then-President Barack Obama's 2016 Supreme Court nominee, with far more time to go until the election.
It's unclear when that vote would take place — either before the election or during a lame-duck session. And it's not clear if Republicans would have the votes to pass a nominee. It would almost certainly be close.
It's also not clear how — or if — this reshapes the calculus in any way for the 2020 election. It could fire up the GOP base, which cares a great deal about the court. And it could fire up Democrats, especially women, to go to the polls for Democratic nominee Joe Biden.
But little has moved the needle in this election one way or the other, and those groups were already enthusiastic about voting.
So no one really knows how any of this is going to play out except to say that there is going to be some kind of fight over this seat.
Mandryk: 2020 election needs to take the politics out of the classroom – Regina Leader-Post
Article content continued
To be clear, there have been 85 new school capital projects announced in Saskatchewan compared with 32 school closures since 2008 after the Sask. Party took over — a period that has included unprecedented population growth.
And while New Democrat supporters might rightly be indignant about Sask. Party accusations of "NDP school closures" or playing politics with school openings, the NDP government wasn't exactly shy about doing the same. (Political lore suggests certain high schools in Regina only exist because a local NDP MLA bitterly complained he was the only cabinet minister without a high school in his riding.)
Moreover, the current NDP surely has not been shy about distributing pre-election campaign literature that screams this government has "no solution for overcrowded classrooms" that now contributes mightily to the lack of safety during COVID-19.
Can the NDP credibly complain about dangers of classroom overcrowding while muttering about Sask. Party playing politics with school openings and closures?
And then there's the little matter of the NDP campaign commitment to limit classroom size that would cost hundreds of millions in infrastructure and the hiring of teachers — a costly promise that may already becoming outdated by distance learning.
Of course, all this could inspire meaningful debate on education issuesthat isn't driven by partisan politics. Just don't hold your breath waiting for that to happen.
Mandryk is the political columnist for the Regina Leader-Post and Saskatoon StarPhoenix.
It's Been A Tense Week For Politics And Pandemic Science – NPR
Political interference on COVID-19 guidelines at the CDC, a DHHS spokesman on leave after attacking scientists on facebook live, and the President continues to contradict the science of the pandemic.