The 10 Most Important Oil Market Trends For 2020 – OilPrice.com
As a busy 2019 in the oil and gas industry ends, analysts are busy issuing predictions about next year and what they would mean for oil markets and prices.
This year saw a mix of some of the more predictable events—such as OPEC and Russia extending their cooperation pact, twice—and a 'black swan' such as the September attacks on Saudi oil facilities which cut off 5 percent of daily global oil supply for weeks.
As black swans are, by definition, unpredictable, analysts focus on predicting the 'knowns' in the market for 2020 as they see them at the end of 2019.
There are many factors to watch in oil markets next year, both in the U.S. and globally.
For the sake of simplicity, here are 10 of the most important predictions and factors to watch in the oil and gas industry in the United States and worldwide.
Independent energy analyst David Blackmon has summed up some predictions, concerning mostly the U.S., for Forbes.
And these are:
1) U.S. shale production will continue to grow
U.S. shale growth is slowing down, but all analysts and organizations still expect oil supply from the United States to continue to rise in 2020. Growth may be slower, due to reduced capex from drillers, but U.S. will still be the main contributor to non-OPEC supply growth next year.
2) Rig count will remain stable
Despite the fact that the U.S. oil and rig count declined by more than 250 units this year to December 20 compared to the same time last year, the number of active oil rigs last week saw an increase of 18 rigs—the first double-digit growth since the beginning of April, according to Baker Hughes data.
3) U.S. oil and LNG exports will continue to rise
Exports of U.S. oil and liquefied natural gas (LNG) are expected to grow with the increase in infrastructure capacity in 2020.
The United States exported more crude oil and petroleum products than it imported in September 2019—the first month in which America was a net petroleum exporter since monthly records began in 1973, the U.S. Energy Information Administration (EIA) said earlier this month.
Total U.S. crude oil and petroleum net exports are expected to average 570,000 bpd in 2020 compared with average net imports of 490,000 bpd in 2019, according to EIA's latest Short-Term Energy Outlook (STEO).
4) Oil and gas prices will remain range-bound in 2020
Rising production from non-OPEC nations not part of the OPEC+ deal, driven by the U.S., Brazil, and Norway, is expected to keep a lid on oil prices, while OPEC+ cuts and an expected pick-up in global economic and oil demand growth will keep a floor under prices.
5) Sudden supply outages will have smaller impact on oil prices
Due to the growing non-OPEC supply, unexpected and short-lived outages are likely to have a smaller impact on oil prices than they would have on markets five or ten years ago, analyst Blackmon says.
Case in point—the mid-September attacks on critical Saudi infrastructure sent oil prices soaring—with WTI Crude touching a five-month high of $62.90 a barrel—but just for one day, as slowing demand growth and a protracted trade war weighed on prices.
6) Bankruptcies in the U.S. shale patch are set to grow
The number of bankruptcies and companies seeking protection from creditors is expected to rise in 2020, continuing the trend from 2019.
Haynes and Boone estimated at end-September that the U.S. oil and gas industry had 33 filings year to date in September, more than the number of filings in each of 2017 and 2018, at 24 and 28 filings, respectively.
With reduced capital availability in equity and debt markets, more of the smaller companies could struggle through the next year.
7) U.S. oil and gas mergers & acquisitions are poised to rise
A growing number of distressed U.S. oil and gas firms and few funding options could mean that the 'smaller guys' could be acquired by bigger shale players or the smaller guys could team up to scale operations and cut costs.
Signs of consolidation in U.S. shale have already started to emerge, and the wave is expected to continue in 2020. Related: Bullish Sentiment Remains Despite Oil Price Dip
Shareholders of Callon Petroleum and Carrizo Oil & Gas approved an all-stock merger last week.
Two months ago, Parsley Energy and Jagged Peak Energy announced that Parsley would buy Jagged Peak in an all-stock transaction valued at US$2.27 billion, including Jagged Peak's debt.
"The inevitable consolidation in the Permian has started and Jagged Peak made a decisive move to team up with the right partner," said S. Wil VanLoh, Jr., a Jagged Peak director and the founder and CEO of Jagged Peak's controlling shareholder, Quantum Energy Partners.
In its Q3 2019 Oil & Gas deals insights, PwC said:
"In the quarters ahead, we expect to see more companies merging to create scale, companies continuing to focus on generating positive cash flows and shareholder value, while struggling companies will become more amenable to being acquired or seeking restructuring through bankruptcy."
Internationally, the key factors to watch in oil markets will be:
8) How oil demand growth will fare as the U.S.-China trade dispute de-escalates
Oil prices hit a three-month high on December 13 amid growing optimism of a phase-one trade deal. In the days following the announcement that a phase-one deal had been reached, China removed six chemicals and oil derivatives from its list of tariffed U.S. imports.
9) How OPEC+ cooperation will proceed after March 2020
Another key factor to watch is what OPEC and its Russia-led non-OPEC partners will do after March 2020, when the current agreement for deeper cuts expires. The next move by the cartel and its allies will largely depend on how oil demand growth will fare in the typically low-demand growth season in Q1. The move will also depend on how much oil OPEC and friends will have managed to withhold from the market compared to plans—that is, whether all members will have fallen in line and stopped cheating.
10) Sudden supply outages in restive regions
Oil market participants will continue to monitor developments in Libya and Iraq, which could suddenly tighten the market more than anyone had intended to.
By Tsvetana Paraskova for Oilprice.com
More Top Reads From Oilprice.com:
Unifor approves $1 billion General Motors deal to build electric vans in Ontario – Yahoo Canada Finance
CBC
The New Brunswick Teachers' Federation says it does not support keeping schools open during red phase, a change that took both teachers and district officials by surprise. The federation, which represents both anglophone and francophone teachers, said the province did not consult them before changing the rules. "This government's decision was communicated to us only a few minutes before today's press conference," said the federation in a letter released yesterday. Minister of Education Dominic Cardy and Dr, Jennifer Russell, the province's chief medical officer of health, announced Sunday 36 new cases of COVID-19, a new single-day record. The cases include 24 in the Edmundston and Grand Falls region, or Zone 4, which is moving to the red phase. At the same news conference, Cardy said schools in Zone 4 will stay open under new phase-red guidelines. The guidelines previously said if a zone moved to the red phase, all non-essential businesses and schools must close. Cardy said students will be safe at school, even during phase red. The federation said it plans to address its concerns with Cardy, including asking how suddenly changing the rules could help "foster a climate of stability," and how students, teachers and staff will be kept safe. Francophone North-West School District superintendent Luc Caron held a media conference Monday afternoon supporting the government's decision. "[If] schools are open that means schools are safe and that is Public Health's message that they're sending out," he said. "We will continue to do our best to give the kids the best education, best quality of service possible." Caron said the new rules came as a surprise to the district as well. He said staff have been working on red-phase plans for months, but had to pivot when they learned that they will remain open in red. Caron said if parents want to keep their kids at home because they don't feel safe, they are free to do that. But if they do, "they become the teacher." He said he hopes parents will understand the district is keeping the students and staff safe by following Public Health guidelines of cleaning and masking. He said the district will step up active screening of school personnel, and screen employees on a daily basis. Extracurricular activities will be cancelled, and if employees or students experience only one symptom they are asked to stay home and get tested, he said. "We encourage our parents to take a look on our health measures in place and I hope they realize that means we are strict and our measures are safe," he said. "We would invite them to bring back their kids to school."
GM investing $800M to build BrightDrop electric van in Canada plant – Fox Business
General Motors has earmarked approximately $800 million to convert its CAMI Assembly plant in Ontario, Canada, into an electric vehicle manufacturing facility.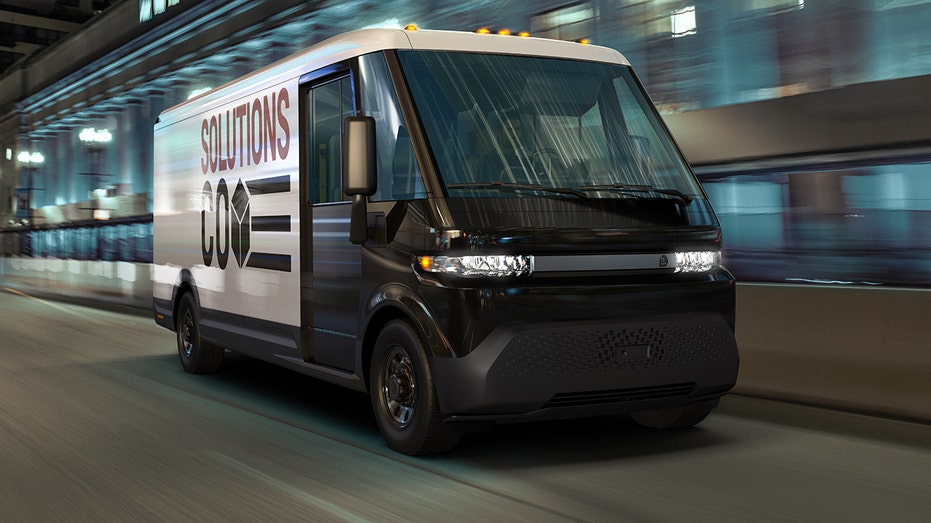 The factory, which currently produces the Chevrolet Equinox, will begin building electric vans for GM's new BrightDrop division by the end of 2021, with the full transformation to electric vehicles scheduled for completion within two years.
GM also builds the Equinox in Mexico for U.S. sale, but has not announced its plans for making up for the lost Canadian production capacity.
GM last week announced the formation of the BrightDrop brand during a CES presentation when it revealed the purpose-built EV600 commercial van. The EV600 will use the automaker's new Ultium electric vehicle platform and be followed by other models.
FedEx was announced as the first customer for the EV600, which will have a range of 250 miles per charge and become widely available in 2022 at a yet to be announced price.
GET FOX BUSINESS ON THE GO BY CLICKING HERE
CAMI is the fourth factory being converted electric vehicle production that GM has announced in recent weeks, following its Spring Hill. Tenn., Orion Township, Mich., and Detroit-Hamtramck facilities, the last of which has been renamed Factory ZERO.
Couche-Tard CEO would love second shot at Carrefour deal – theglobeandmail.com
Alimentation Couche-Tard (ATD-B-T) (ATD-A-T) would revive its $20 billion bid for France's Carrefour (CRRFY) if the Canadian convenience store operator saw a change in the French government's stance on the proposed deal, its chief executive said on Monday.
Couche-Tard dropped its surprise bid for the European retailer over the weekend after the plan ran into opposition from the French government. Some French politicians said the issue was a matter of national food safety.
"We'd love to do the transaction …. if we got signals that the environment could change or would change from the French government or other key stakeholders," Brian Hannasch told an analyst call.
News of the approach from Couche-Tard, which operates convenience outlets and fuel stations, broke only last week but unravelled swiftly in the face of opposition from French politicians including finance minister Bruno Le Maire.
With a deal effectively blocked, the companies said they had decided instead to examine opportunities for sharing practices on fuel purchases, partnering on private labels and distribution in overlapping networks.
Shares in Carrefour slumped more than 6% in Paris to 15.55 euros on Monday afternoon as the prospect of the 20 euro per share offer evaporated, for now at least. Couche-Tard shares rose 3.4%.
"In terms of politics, I think we went into this with eyes wide open knowing that this was a risk, and I certainly do believe that the pandemic has heightened the food security issue, particularly in France," Hannasch said.
"And so whether that changes over time, it's hard to say."
'TRUE BARRIER'
In a note to clients on Monday, Bryan, Garnier & Co retail analyst Clément Genelot blamed France's 2022 presidential elections as the "true barrier to the deal," amid fears that the sale of the country's leading private employer could strengthen far-right opposition to incumbent Emmanuel Macron.
Carrefour employs 105,000 people in France and runs around 8,000 convenience stores as well as its traditional hypermarkets and supermarkets.
One top ten Couche-Tard shareholder, already skeptical about the merits of a tie-up with a grocer, said the company would face questions for moving away from its core business.
"I think in the interim there will continue to be some form of overhang or discount I think applied to the equity just because there will be that concern that the management team has started to get outside what's considered their area of competence," he said on condition of anonymity.
Analysts at investment bank Citi said there was still a chance Carrefour and Couche-Tard could revive talks at a later date, while the possibility remained for Carrefour and domestic rival Casino to examine a merger deal.
Be smart with your money. Get the latest investing insights delivered right to your inbox three times a week, with the Globe Investor newsletter. Sign up today.