The Apple Studio display has an A13 chipset, 64GB storage and runs iOS 15.4 – GSMArena.com news – GSMArena.com
Apple's new Studio Display is more than it appears – it has an Apple A13 chipset (iPhone 11), 64 GB of storage and runs the latest iOS 15.4. Apparently, only 2 GB of the internal storage are currently in use, so there is plenty of room for new features.


Storage details for the Apple Studio Display, courtesy of Khaos Tian
What is it that the Studio Display does that needs a fairly powerful smartphone chipset? Right now it implements Center Stage for the built-in webcam. This feature originally launched on the iPad . It follows one or more people and makes sure they are in the middle of the frame during video calls, even if they get up and move around.
The camera is reportedly suffering from some teething issues, but those may be fixed in software – the Apple A13 has a capable ISP after all. That camera has an ultra wide lens (122°) and a 12 MP sensor, by the way, so it's already much better than a typical laptop webcam.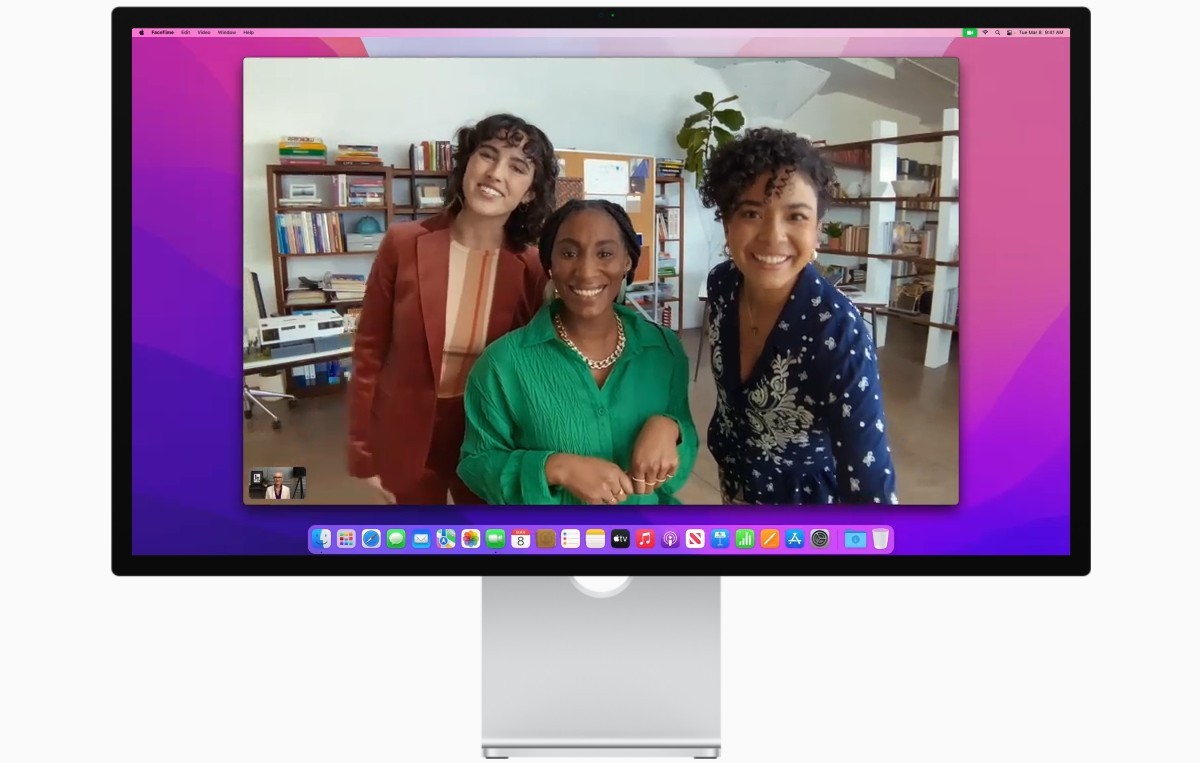 Interestingly, the second generation Apple TV 4K is powered by an Apple A12 chipset, so the Studio Display is actually more powerful than it. Apple could, in theory, get the display to work as a standalone Apple TV device, but whether it wants to do that is another question. It's not clear what kind of connectivity is available on board, which may be the limiting factor.
New Apple ad targets data brokers – TechCrunch
Apple is doubling down on raising consumer awareness of privacy risks in a new ad campaign, unveiled today, which puts the spotlight on how the data broker industry trades in mobile users' personal data — from selling browsing history and shopping habits, to location data, contacts and plenty more besides.
The campaign also highlights a number of features Apple has developed to counter this background trade in web users' information by giving iOS users' tools they can use to counter tracking — such as Mail Privacy Protection, which helps users combat email trackers; and App Tracking Transparency (ATT), which lets them request that third party apps do not track their mobile activity.
The new 90-second ad spot will run globally this summer on broadcast and social media across 24 countries, per Apple, which also said the campaign will include related creative being splashed across billboards.
In a press screening of the ad ahead of today's launch the iPhone maker said the goal is to show how features it's developed can help iOS users protect their privacy by taking back control over their personal data.
The ad (which can be seen in the embedded video below) casts the data broker industry as a gaggle of "dubious" 'human trackers' — who the protagonist, a consumer called Ellie, whom we meet as she's shopping for records, stumbles upon engaged in a backroom auction.
Shock horror! — or, well, zero surprise to those of us who are more than casually online — it's her personal data that's going under the hammer.
[embedded content]
In the ad, the smirking audience of data brokers can be seen making bids for Ellie's 'digital items' — including her drug store purchases, emails she's opened, details of her late night messaging habits and the contact data of her nana (as well as, presumably, the rest of her address book). With mounting horror at the sale of her private information, Ellie is shown activating features on her iPhone, including the aforementioned Mail Privacy Protection — which result in the data brokers vanishing in a puff of smoke, until, eventually, the room has been cleaned out.
The advert makes a decent stab at trying to get consumers to understand — and thus care — about a murky trade that's designed to strip away their privacy by tracking their daily activity and trading and triangulating different bundles of information gleaned about them to create highly detailed per-person profiles — which may contain thousands of inferred characteristics.
It does this by dramatizing what is undoubtedly an exceptionally intrusive trade as an in-person auction for a single consumer's data. Of course the reality is that most tracking (and trading) is done at scale, with trackers invisibly baked into everyday services, both online (via technologies such as tracking cookies and pixels) and offline (data gathered via card payment firms can and is sold to brokers) — so it can be hard for consumers to understand the real-world implications of technologies like cookies. Or know there's an entire data broker industry that's busy buying and selling their info for a fat profit.
The ad is perhaps not as instantly powerful as an earlier tracking-focused ad — in which Apple depicted trackers as an ever-growing crowd of stalkers, who inserted themselves, rudely and without asking, into an iPhone user's personal space — watching them and taking notes on their daily activity.
One narrative challenge for Apple with this latest privacy-focused ad is it can't show Ellie using a rival device — which could help explain how come so much of her info is being tracked in the first place.
That said, many of Apple's privacy features do require the user to opt in to obtain the slated protections — not all, though (Safari's Intelligent Tracking Prevention feature is on by default, for example) — so even iOS users need to take proactive action to get the best level of protection possible. Hence there's value in Apple shelling out to drive awareness of privacy — both for existing iOS users, as well as in the hopes of encouraging Android users to make the switch.
The tech giant has made pro-privacy messaging an increasingly important plank of its brand over the past five years or so, leaning into blistering attacks on what CEO Tim Cook memorably dubbed the "data industrial complex" back in a major 2018 keynote speech.
It's a stance that has become an essential differentiator for a premium brand in a world of commoditized mobile devices and services. But it also brings Cupertino into conflict not only with adtech giants like Google and Facebook — the latter's revenue was reported to have taken a hit after Apple launched ATT, for example — but with developers themselves, many of whom rely on ads to monetize free apps and do that by being plugged into the tracking and targeting adtech ecosystem Apple is busy warning consumers against.
The company also risks straining relations with carriers — many of whom are themselves implicated in privacy-hostile tracking of users — after it debuted a VPN-like, network proxy encrypted browsing feature for iCloud+, called Private Relay last year. The feature, which is still in beta, is designed to prevent ISPs from loggings web users' browsing data — and it's notable that certain carriers (and countries) have been reported blocking access.
Private Relay does not feature in Apple's new ad on data brokers. Asked about this Apple said it necessarily had to limit the number of features it focused on to fit the 90-second ad format. It also noted that as well as the feature still being in beta it needs in-region partners for it to work as smoothly as possible — which is a network Apple said it's still building out.
Certain of Apple's privacy flexes — most notably ATT — have also drawn attention from competition regulators, following ad industry complaints. So there are wider reasons for Cupertino to be keen for its pro-consumer actions to be viewed through a privacy (rather than an anti-competition) lens.
Earlier this year, an interesting research paper found that Apple and other large companies had been able to increase their market power as a result of the ATT feature giving individual users more control over what third parties could do with their data — linking better consumer privacy to more concentrated data collection. Although the researchers also found evidence of the tracking industry trying to evolve its tactics to circumvent a user denial of tracking.
Apple iOS 15.5 Release: Should You Upgrade? – Forbes
Apple iOS 15.5 has arrived and it is an extremely important update, but not for the reasons you might expect. So should you upgrade? Here's everything you need to know.
Tip: bookmark this page because I will keep it up to date if/when new problems are found. I will deliver my final verdict in a week.
Who Is It For?
Apple iOS 15.5 and iPadOS 15.5 have been released for all iOS 15-compatible devices, this means the iPhone 6S (2015) and newer and iPad Mini 4 (2015) and newer. I must warn you that there are now concerns around delays to the auto-update process, so the best method is to trigger it manually by navigating to Settings > General > Software Update. If you are running newer beta software (see 'The Road Ahead' section at the end), you must unenroll your device before the update will appear.
Note: this guide is not focused on older iOS updates or iPadOS, but I will touch upon pertinent issues in these guides.
The Deal Breakers
Jailbreakers, nothing has changed. Unc0ver and checkra1n continue to be stumped by iOS 15 and with critical security updates in this update (spoilers), I'd suggest you switch priorities and upgrade.
For everyone else, the first 24 hours is promising. While I have seen isolated reports from upgraders of poor network reception, screen wake up failing during calls and missing FaceTime notifications there has been no momentum around any of these so far. Reddit and Apple Support Communities are also quiet.
As always, I will continue to monitor this as more users upgrade.
So What Do You Get?
Apple's official iOS 15.5 release notes read as follows:
– Wallet now enables Apple Cash customers to send and request money from their Apple Cash card
– Apple Podcasts includes a new setting to limit episodes stored on your iPhone and automatically delete older ones
– Fixes an issue where home automations, triggered by people arriving or leaving, may fail
Unsurprisingly, the release notes don't mention the biggest news in iOS 15.5: the new Macs leaked in its beta code. Expect big news from Apple here at WWDC on June 6.
Aside from this, the potentially transformative introduction in iOS 15.5 is the ability to now receive money through Apple Cash not just send it. This could have a huge impact for small businesses, stall traders, etc. It's also useful for getting friends/family to quickly pay their debts!
And yet the most significant reason you should upgrade to iOS 15.5 is security. The official iOS 15.5 security page reveals no less than 34 security patches. The good news is there are no known 'Zero-Day' vulnerabilities (flaws which hackers are actively exploiting before a fix can be issued) but there is a wide range of affected areas, including: graphics, memory, Apple Notes, Shortcuts, WiFi and WebKit (the engine that powers Safari) and Safari Private Browsing.
Apple iOS 15.5 Verdict: Upgrade
Despite a dumpster fire launch, iOS 15 is now a very polished platform. Few releases in recent months have had serious problems and iOS 15.5 looks like another solid entry to this list as Apple winds it down ahead of iOS 16.
For the most hesitant, bookmark this guide. I will continue to update it with any relevant flaws or features I find and you will receive my final verdict here in one week.
The Road Ahead
At the time of publication, Apple has not released a new iOS 15 beta and while several 'minor point' releases (iOS 15.5.1, etc) are likely, I would be surprised to see another major point upgrade (iOS 15.6) before the launch of iOS 16.
And we will see that soon. Apple will debut iOS 16 at WWDC 2022 which kicks off on June 6 and early leaks suggest our hopes should be high. Developer and public betas will follow, though reports claim test builds are buggier than normal which may delay this.
Apple has settled into a one-good-one-bad pattern for generational iOS releases in recent years (iOS 13 – bad, iOS 14 – good, iOS 15 – bad), so let's hope iOS 16 doesn't break the trend. We are due a good one.
___
Follow Gordon on Facebook
More On Forbes
Wordle Game Help: 5-letter words starting with 'S' and ending with 'R' – Dot Esports
Wordle is a fun and casual game played by many players every day. Its simplicity and ease of sharing match results on social media were an essential part of its success. It wasn't long before the game, created by Josh Wardle, conquered the internet and was acquired by the New York Times. It makes sense since Wordle brings that feel of crossword games in the newspapers. Many players even like to play Wordle in the morning over coffee.
There are many different types of Wordle players. Some are more casual and enjoy playing games when they are bored or have some free time, logging into the New York Times website during breaks during work or on the go on their mobile devices.
There are those players who prefer to take the game more seriously and engage in discovering strategies, researching which words are best to start with, and doing everything possible to keep their winning streaks recorded on the Wordle website and shared on their social networks.
It doesn't matter if you are a more casual gamer or a hardcore one. If you play Wordle often, it is very likely you have come across secret words that are more difficult to discover than others. It is part of the game, as every day new words are chosen. And in these more difficult times, a little online help may come in handy.
If you've used several of your attempts but only managed to find that the secret word of the day starts with the letter 'S' and ends with the letter 'R', here are some five-letter words starting with 'S' and ending with 'R', sorted alphabetically so you'll have less work to do with filtering your choices by the letters you've already eliminated.
Five-letter words starting with 'S' and ending with 'R' to try on Wordle
saber
sabir
safer
sager
saker
saner
sapor
satyr
saver
savor
sawer
sayer
scaur
scour
seder
senor
serer
sever
sewar
sewer
sexer
shear
sheer
shier
shirr
shiur
shoer
shyer
sieur
siker
simar
sitar
siver
sixer
sizar
sizer
skier
skirr
slier
slyer
smear
sneer
sober
sofar
solar
sonar
sopor
sorer
sowar
sower
spear
speer
speir
spier
spoor
stair
steer
stour
suber
sudor
sugar
super
surer
swear
sweer
All the words on this list are accepted by Wordle and will give you more clues as to which letters are present or not in the word of the day until you get it right. Another good tip to get it right as early as possible is to find which other vowels are present in the word of the day to narrow down your options. Beware of words that may have repeated letters and don't forget to try words you already know first, since Wordle tends to choose more common words as the right answer.
These tips should help you complete your latest Wordle task.