The art of getting DNA out of decades-old pickled snakes – Phys.org
Two levels underground, Chicago's Field Museum has a secret bunker. The sub-basement Collections Resource Center houses millions of biological specimens for scientists around the world to use in their research, including countless bottles and jars containing pickled fish, lizards, and snakes, arranged like a library. Many of these specimens are decades or even centuries old, near-perfectly preserved by a combination of formalin and alcohol. But the process that preserves tissues often destroys or at least makes acquiring DNA for modern studies very difficult, which is bad news for scientists who study genetic relationships between organisms. A new study in Frontiers in Ecology and Evolution, however, reveals new approaches for getting and maximizing usable DNA from decades-old pickled specimens, and uses these techniques to solve a long-standing mystery about a small snake from the island of Borneo.
"As a true crime aficionado, it reminds me of how people didn't take DNA samples when a crime was committed in the 1960s, because nobody could have predicted that one day DNA samples would let you pinpoint who committed a crime," says Sara Ruane, assistant curator of herpetology at the Field Museum and the study's senior author. "These older museum specimens are sometimes the only available examples of a species, but they weren't preserved with DNA in mind— this paper is about how we can squeeze every bit of information possible out of them."
The project was born of the dissertation research of Justin Bernstein when he was Ruane's student at Rutgers University-Newark. "My primary study is on a group of snakes, called homalopsids or mud snakes, that live in South and Southeast Asia, New Guinea, and Australia," says Bernstein, the paper's lead author. "They're really fascinating; they live in muddy, aquatic environments, and there are 56 species of them. We use DNA to study their evolutionary history, to try to describe new species, and to learn what happened to these groups over tens of millions of years that led to the diversity we see today."
For this paper, there was one animal in particular that Bernstein and Ruane were trying to place into a family group, a two-foot-long greenish-brown snake called Hydrablabes periops, aka the olive small-eyed snake. It's found on Borneo, a large island east of mainland Malaysia and northwest from Australia that contains parts of Malaysia and Indonesia and the entire nation of Brunei. Based on its appearance, scientists had suggested two different families that it might be a part of. Analyzing its DNA could reveal its closest relatives and thus, its family, but that was easier said than done. "About half of mud snake diversity and all Hydrablabes vouchers are known from older specimens that were chemically treated, and this chemical treatment breaks down the DNA," says Bernstein.
Part of the process of preserving an animal in alcohol is "fixing" it with a substance called formalin, a solution of formaldehyde gas and water, that makes its tissues rubbery and rigid. Unfortunately, the DNA in its cells gets altered as well. "It does something called crosslinking, which binds up the DNA," says Ruane. "If you want to study its DNA, you need to undo or try to force the DNA out from those crosslinks."
Studying the olive small-eyed snake meant taking small samples of liver tissue from some of the few specimens in the United States, both from the Field Museum's collections. One from 1964, and the other from a 1993 collecting trip by the Field's then-curator Robert Inger and his wife Tan Fui Lian.
Such old specimens required new lab techniques. Normally, getting DNA out of a tissue sample involves adding digestive enzymes that break apart the tissue, leaving the DNA behind, and heating it to 130 ℉ for several hours. "We had to modify the way we got the DNA out by making it hotter for longer and using more of these digestive enzymes," says Ruane. These more extreme preparation methods have been effective for other snakes in previous studies, but the resulting genetic analysis still contained lots of gaps for Borneo's Hydrablabes snake specimen.
"The chemicals used to preserve the snakes sheared their DNA into shorter pieces of code, which made them hard to compare with longer, more complete genes from other specimens," says Bernstein. "The first software that I used made it hard to understand how much fragmented DNA there was across the study specimens, but switching to a different software that visualized the pieces of genetic code made it easier to see where there were problems." And even the smaller, more fragmented pieces of code could be added to larger, published datasets to help build an evolutionary tree.
An important aspect of this paper for Bernstein was being transparent about the difficulties of using older specimens and the troubleshooting required to study them. "I wanted to show scientists that you can still do work with these specimens, it just requires a bit of finagling," he says. "On a broader level, the study is really showing how to leverage the data you do obtain and how you can combine it with previously published datasets to investigate some really cool hypotheses."
As for the Bornean snake at the heart of the study, the researchers were able to determine that it's a member of the family Natricidae, which contains distant relatives such as the North American garter snakes. Which might not seem like a big deal, but "knowing that a particular species is part of a certain group can tell us a lot about biogeography and about how life on Earth has changed over time," says Ruane.
And beyond the study of snakes, she notes that overall, "this project underscores the importance of museum collections, because you never know what you'll be able to learn from specimens in the future."
---
---
More information:
Maximizing molecular data from low-quality fluid-preserved specimens in natural history collections,
Frontiers in Ecology and Evolution
(2022).
DOI: 10.3389/fevo.2022.893088
.
Citation:
The art of getting DNA out of decades-old pickled snakes (2022, June 30)
retrieved 30 June 2022
from https://phys.org/news/2022-06-art-dna-decades-old-pickled-snakes.html
This document is subject to copyright. Apart from any fair dealing for the purpose of private study or research, no
part may be reproduced without the written permission. The content is provided for information purposes only.
Windsor Public Library wants to show you local art while you ride your bike – CBC.ca
Windsor Public Library wants to showcase the city's downtown art. It plans to have two cycling tours to show it off.
Becky Mayer, a librarian at the Windsor Public Library organized the tours. She said the main reason she wanted to do this is because people think there's nothing to do or see in Windsor.
"I often ride my bike around and I see a lot of cool and weird stuff," said Mayer. "So, I just thought that maybe a few people would want to join me on a weird stuff tour."
Mayer said she'll be bringing Betty the Bookmobile along for the journey. She said the ride will be pretty casual and if someone has a story to tell she's happy to give them space to share.
"I'm fine with talking as well. If you want to have a silent tour, that's also cool. Like, it's very, very casual. Go with the flow. We'll see what happens," Mayer said.
The first tour starts at 6 p.m. August 16, the second tour is on August 20 starting at 10 a.m. The tours last about an hour and starts at the library's Central Branch at the corner of Ouellette Avenue and Pitt Street.
Youth get creative at summer art camp – Lakeland TODAY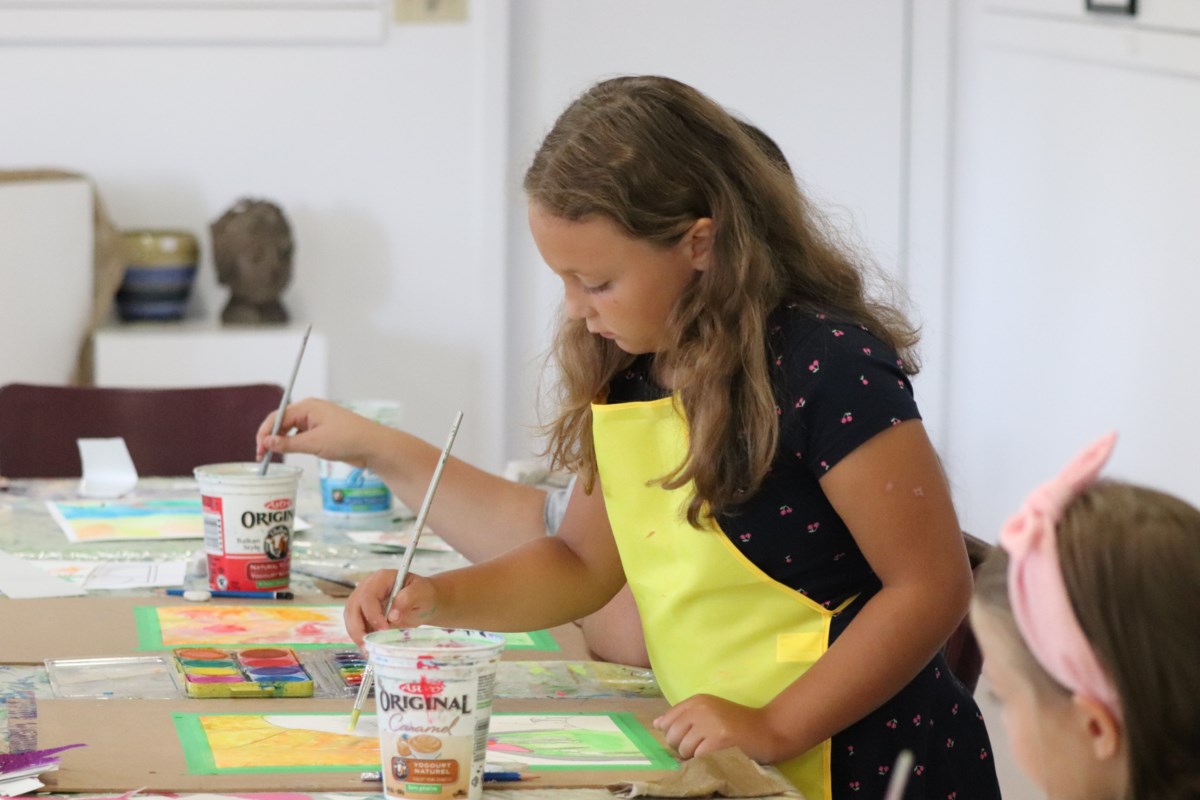 ST. PAUL – A variety of mediums were used to create unique works of art during a week-long Youth Art Camp held at the St. Paul Visual Arts Centre, last week.
Pam Bohn, the art instructor for the art camp, said the camp gives youth the chance to not only do art but form friendships.
"We also go outside to play and go to the park, and so it is also a day where they can make friends."
The art camp included acrylic painting, watercolour painting, mixed media projects, and much more.
"While I facilitate the classes, [the children] are free to create as they please," she said. "That allows those who like to do art that freedom to have different art mediums and try things that they may be unable to do at home."
Bohn said the participating youths have enjoyed the art camps, adding, "They all get excited when they come and take their [art] home to show their parents."
The Hive celebrates three new exhibitions at Art Gallery of Burlington | inHalton – insauga.com
Published August 15, 2022 at 2:41 pm
A special event celebrating three new exhibits is being hosted by the Art Gallery of Burlington.
The Hive is happening Saturday, Aug. 27, from 1 to 4 p.m. This free, all-ages event incorporates the organization, cooperation and energy of a beehive into an afternoon of art, activity, learning and fun.
The Hive will feature a special workshop led by Toronto's Clay and Paper Theatre, live arts and crafts demonstrations, a screen-printing presentation, live performance, food and drink.
The event is being held in celebration of the AGB's three new fall exhibitions:
The Future of Work, an exploration into how the pandemic has affected labour markets and our quality of life

ਨਜਰ ਨਾ ਲੱਗੇ

/Nazar na lage/Knock on wood, a vibrant and meaningful interpretation on the art of rangoli by artist Noni Kaur
Know your Place, an exhibit of cartoon-like clay sculpture that reveal the raw emotional experiences of the artist Sami Tsang
Known for work inspired by oral traditions, folk songs, poems and fables, Clay and Paper Theatre will charm participants and audiences with their original multi-disciplinary performance-based production. Guests who wish to participate with Clay and Paper Theatre should arrive early and be ready to create.
Visitors are invited to an interactive, screen-printing demonstration led by artist Jesse Purcell and are encouraged to bring any used clothing to be transformed into a bunting display to be hung in the gallery by the artist collective Works-in-Progress.
Arts Burlington will be opening its doors to guests with arts demonstrations and the Burlington Handweavers and Spinners Guild will guide guests through a natural plant-based dying demonstration, teaching attendees what they need to know to create from home.
The AGB parking lot will be free for the day. For more information, visit the AGB website.

insauga's Editorial Standards and Policies
Stay the know
Subscribe now to receive our daily email of today's top stories in your city!
advertising