The Atlantic Politics Daily: An Evangelical Ultimatum – The Atlantic
It's Friday, December 20. In today's newsletter: The Christianity Today editorial that shook American politics. Plus: that thing about wine caves …
*
« TODAY IN POLITICS »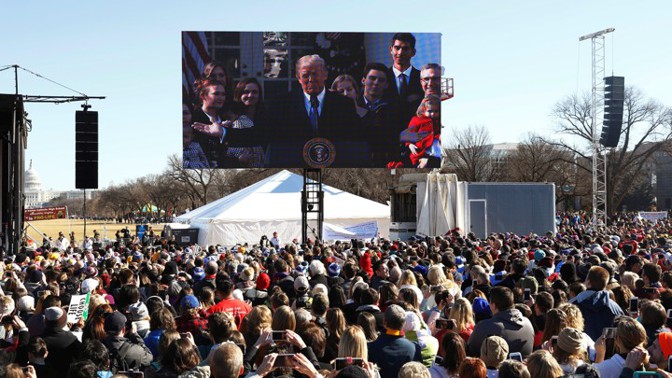 President Trump, speaking from the nearby White House, addresses attendees of the March for Life rally on January 19, 2018. (Eric Thayer / Reuters)
"That is not only a violation of the Constitution."
Public evidence of President Donald Trump as a devout Christian isn't plentiful. (In one now-infamous 2016 campaign speech, for instance, he stumbled over the name of one book of the Bible, citing "Two Corinthians.")
In the lead-up to 2016, white evangelicals were more divided about Trump. Since Trump took office, white evangelicals have remained among his most loyal backers.
Some 82 percent of white evangelical Republicans now want Trump to stay on the party ballot in 2020, making them the subset of the party that backs him most vehemently. Impeachment seems to be pushing white evangelicals even closer to Trump.
(To be clear, there's a yawning racial gap within the faith: In the 2017 Alabama Senate special election, 80 percent of white evangelicals voted for Republican Roy Moore, while 95 percent of black evangelicals went for Democrat Doug Jones.)
This week, an editorial in Christianity Today stunned political observers by calling for Trump's removal. The magazine, a venue for mainstream evangelical thought, was founded by the preacher Billy Graham, whose brand of bipartisanship seems incongruous with the faith's politicization.
As Mark Galli, the publication's editor in chief, told my colleague Emma Green, "Yes, he's done some good things that I am grateful for. But the moral scales no longer balance."
Read Emma's full interview with Galli.
—Saahil Desai
*
« IDEAS AND ARGUMENTS »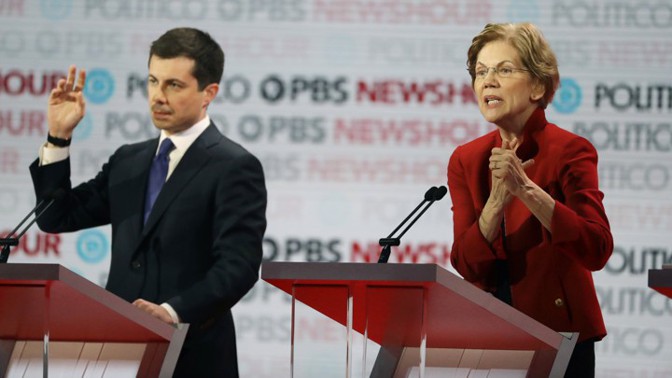 (Chris Carlson / AP)
1. "Not so long ago, working- and middle-class people were mostly spared the details of wealth."
One debate-night phrase still echoing through the insular halls of Twitter: wine caves (the underground rooms where wine is stored and aged). Stay with us; there's actually more to this.
"Billionaires in wine caves should not pick the next president of the United States," Senator Elizabeth Warren had said during the final Democratic debate of 2019.
Pete Buttigieg, who was recently photographed at a fundraising dinner in a crystal-studded wine cave, hit back (Warren has a "net worth 100 times mine," he said).
The real takeaway here may be more about how the internet changed the way we see rich people.
2. "The notion of a purity test by which candidates are measured is similar to another political metaphor drawn from chemical analysis."
What followed the wine-caves exchange between Warren and Buttigieg was one on the purity test.
Since when did the phrase become ubiquitous political speak? The linguist Ben Zimmer takes a look.
One early political foray for the purity test occurred in 1912, when Kansas was deciding whether to adopt an amendment to the state constitution extending full suffrage to women.
Ben traces the full history of the phrase.
---
*
« EVENING READ »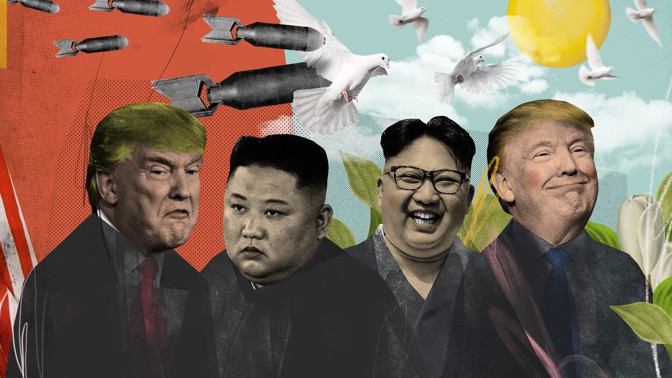 (Nazario Graziano)
Limping Toward Denuclearization
Impeachment has overshadowed another urgent story, one that also hinges on the president's direct relationship with a foreign leader.
Desperate to salvage the détente, Trump has been warning Kim not to "interfere with the U.S. Presidential Election" (as if North Korea's totalitarian leader has qualms about messing with American democracy) or to "void his special relationship with the President of the United States" (as if their bromance were contractual). He has relentlessly downplayed the recent spurt of missile tests, even as they've become more sophisticated and harder to dismiss.

"You can't have the North Koreans, for example, do a submarine-launched [nuclear-capable] missile test and say it's okay, while your closest ally, Japan, is going batshit," Joseph Yun, who served as the State Department's North Korea envoy from 2016 to 2018, told me.
Uri Friedman's full story pieces together how, exactly, the administration's Korea policy got so messy.
---
*
Today's newsletter was written by Saahil Desai, an associate editor on our Politics team, and edited by Shan Wang, who oversees newsletters. You can reply directly to this newsletter with questions or comments, or send a note to politicsdaily@theatlantic.com.

Your support makes our journalism possible. Subscribe here.
We want to hear what you think about this article. Submit a letter to the editor or write to letters@theatlantic.com.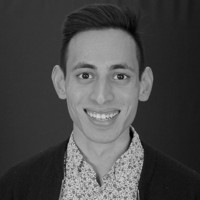 Saahil Desai
is an associate editor at
The Atlantic,
where he covers politics and policy.
Bosnia's political crisis: What you should know, in 600 words – Al Jazeera English
Bosnia and Herzegovina is facing a political crisis that some fear could lead to armed conflict, little more than 25 years after the Bosnia war ended with the signing of the Dayton Peace Agreement.
Milorad Dodik, the Serb member of Bosnia's tripartite presidency, announced this month that the country's Serb-run entity, Republika Srpska, will quit key state institutions to achieve full autonomy within the country, in violation of the 1995 peace accords.
Dodik has been threatening the secession of Republika Srpska from Bosnia for the past 15 years and his latest statements have fuelled concerns that an armed conflict could be reignited.
Here's what you need to know:
How did the crisis start?
The crisis began in July when Valentin Inzko, then the high representative, banned genocide denial and established war crimes, as well as the glorification of war criminals.
Serb representatives responded by boycotting central institutions. Dodik has since been seeking to withdraw the law, threatening Republika Srpska's secession.
What's happening now?
Earlier this month, Dodik said that Republika Srpska is pulling out of three key state institutions: the armed forces, top judiciary body and tax administration.
On October 12, Dodik said the Bosnian judiciary, security and intelligence agencies will be banned from operating in Republika Srpska.
Instead, "Serb only" institutions will replace these bodies in the entity by end of November.
"We want our authorities returned to us [the regional parliament] … This isn't anything radical," Dodik said. "This is for strengthening the position of Republika Srpska."
On Wednesday, the Republika Srpska assembly adopted a law establishing its own medicine procurement agency, the first of its proclaimed agencies to operate separately from the state-level one.
Is secession on the cards?
Dodik insists "this isn't secession" and "there is no possibility for war", but he told media on October 14 that seven European Union countries support Bosnia's dissolution, adding "friends" have promised help to the entity in case of "Western military intervention".
"This is secession in all but name. And he's testing the waters," according to political scientist Jasmin Mujanovic.
This is secession in all but name. And he's testing the waters. If Dodik and his masters in Moscow and Belgrade feel the response here is weak – which I fear it is likely to be – they're going to escalate even further.

— Jasmin Mujanović (@JasminMuj) October 20, 2021
Why is this alarming?
When recently asked by a reporter how he plans to throw out members of state services – judges, prosecutors, members of armed forces – from the entity's territory, Dodik referred to "1992 as the Slovenes did it", referring to the use of violence during the breakup of Yugoslavia.
Dodik openly threatens to use violence in the upcoming steps aimed at the secession of RS.

Bosnia had a lot of crises since 1995, but what we are witnessing these days is by far the most dangerous one since the '90s.

To those not familiar with the region: secession of RS = war. https://t.co/B6B65upI2d

— Ismail Ćidić (@IsmailCidic) October 14, 2021
Emir Suljagic, director of the Srebrenica Memorial Centre, wrote in a column for Anadolu Agency on Sunday that "mono-ethnic institutions like the ones Mr. Dodik plans to re-create" were vehicles for genocide in the 1990s.
"Police, military, intelligence, and security services were at the centre of organised and systematic violence against non-Serbs. These institutions considered Bosniaks' existence an existential threat," Suljagic wrote.
"If we fail to deter these threats, the ultimate price we will pay is another Srebrenica [genocide]."
What can be done?
Partners who accepted the duty to protect peace 26 years ago and have the power to take action must do so, Ismail Cidic, head of the Bosnian Advocacy Center, told Al Jazeera.
Critics found the joint US-EU statement on Wednesday underwhelming, as it called for "all parties" to respect state institutions.
"I understand that 'both-sideism' is always a safe option for every diplomat, but the consequences of such an approach are well known from the 1990s," Cidic said.
"If they are not willing to react because of the people of Bosnia, they should do it at least because of the leaders in their countries who cannot afford yet another refugee crisis or a Russian-backed conflict right next to the NATO borders."
Pro-Bosnian political leaders and state institutions "must be prepared for dangerous scenarios", he said.
Doug Ford says Ontario opposition playing politics over his 'bang on' comments about immigrants – CTV Toronto
Ontario Premier Doug Ford said he believes opposition parties are playing politics over his comments on immigrants and said he's been told his remarks were "bang on."
Ford was asked on Wednesday by Brampton East MPP Gurratan Singh in Question Period whether he is ready to apologize for the comments that "play into racist stereotypes about new Canadians."
"Those comments were hurtful, divisive, and wrong," Singh said.
Ford responded to Singh by saying he has been "inundated with messages from your community, the Sikh community, that said 'You were bang on.'"
The comments about immigrants were made in Tecumseh while Ford was speaking to reporters about a labour shortage on Monday.
"We're in such desperate need of people from around the world," he said.
The premier then specified that he only wanted "hard-working" people to come to Ontario.
"You come here like every other new Canadian. You work your tail off," Ford said. "If you think you're coming to collect the dole and sit around, it's not going to happen. Go somewhere else."
On Wednesday, Singh asked Ford if he was ready to apologize, adding the comments were "just plain wrong."
"Stop playing politics and let's speak the truth," Ford responded to Singh. "You know the backbone of this province are great hard-working immigrants."
"My phone is blowing up all night, all day, day before, from immigrants telling me their story … I'm the biggest pro-immigrant premier we've ever seen here."
Ford told Singh he will "go to his community and door knock and see the response from the Sikh community."
He said he's been told already by the Sikh community that his comments were "bang on" and that he needs to "stay focused."
Many Ontario politicians spoke out and demanded Ford apologize on Monday.
Ford was asked on Tuesday by the NDP to apologize for the "discriminatory" comments. He did not, and instead used the opportunity to say he is "pro-immigration."
How green politics are changing Europe – BBC News
An ocean of conservative blue blankets the electoral map in Germany's southern state of Bavaria.
And yet the conservative vote actually fell across Germany in last month's federal vote, while the Greens achieved their biggest success yet,.
In an election dominated by climate change, a speck of green has made a ripple in Bavaria. For the first time a Greens candidate was directly elected to represent Bavaria in the federal parliament.
It is symbolic of the creeping rise in support for European green parties, from Hungary to Finland.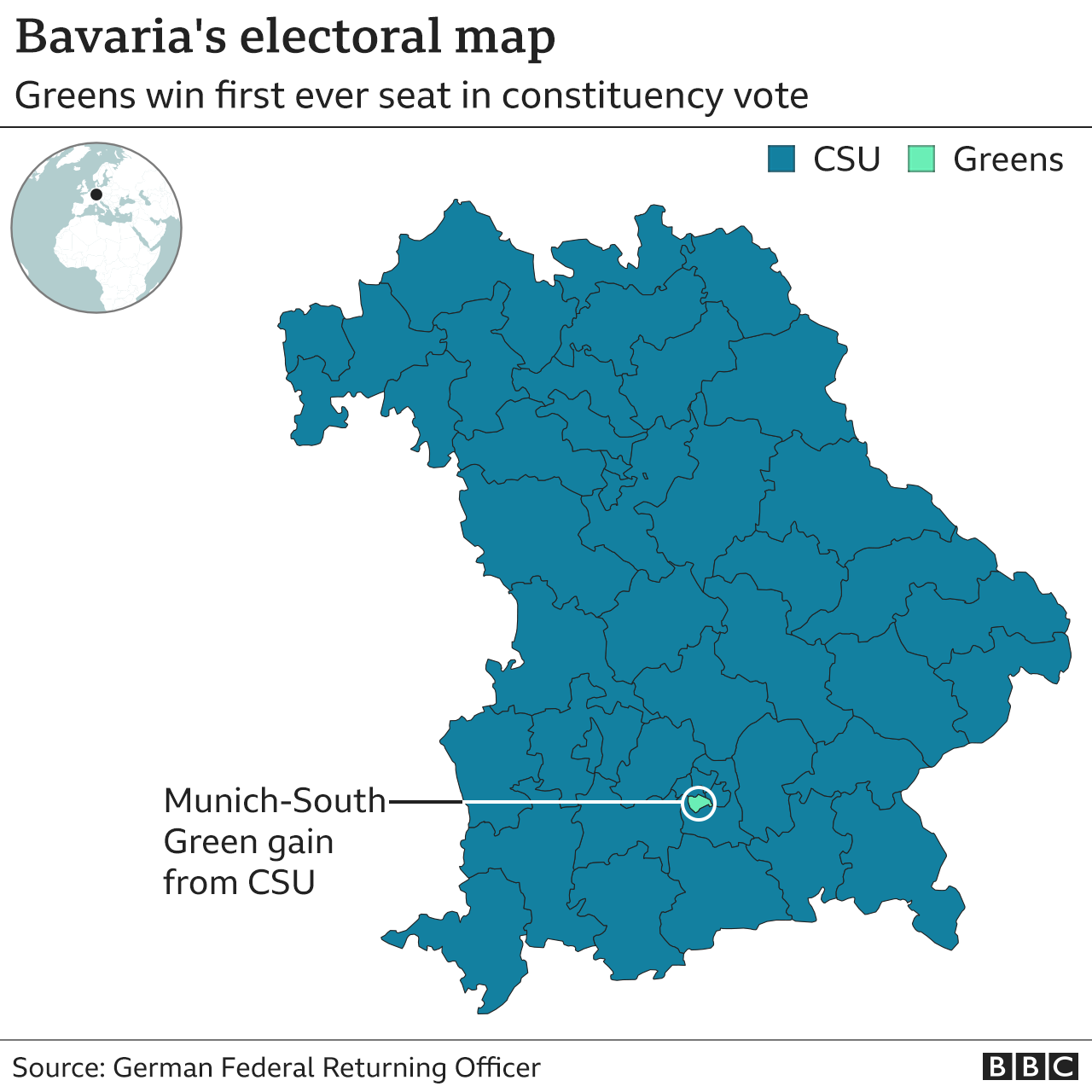 The new MP, Jamila Schäfer, beamed with satisfaction when she recalled her surprise victory in Munich-South, by a wafer-thin margin of 0.8%. Only once before had the CSU lost the constituency since 1976.
"This is a major sign of change," Ms Schäfer told the BBC.
A campaign 'close to the people'
The Greens won 14.8% of the vote nationwide, appealing beyond their eco-protest roots with Annalena Baerbock standing as candidate for chancellor. Now they are in talks to share power as part of a three-way coalition.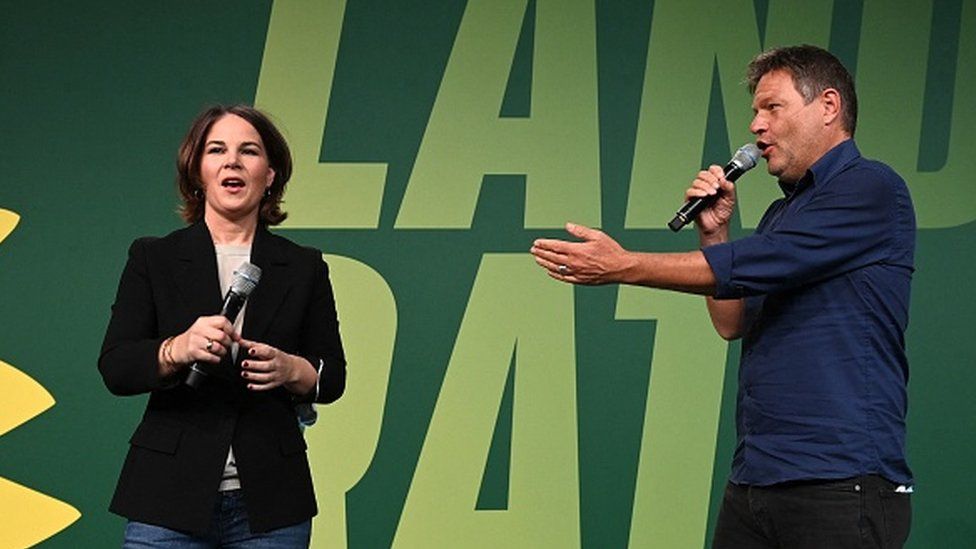 Ms Schäfer, 28, is the Greens' deputy federal chairwoman and typifies a party that has undergone a national makeover after years of power-sharing in several German states (Länder).
She rose through the ranks of Green Youth, taking part in school strikes against education reforms, long before Swedish activist Greta Thunberg made her name by skipping classes for climate protests.
Climate change was consistently ranked as the most serious facing Germany in opinion polls ahead of the election.
Even so, Ms Schäfer targeted her "close-to-the-people" campaign in Munich-South on housing, pensions and taxes.
Green shoots of success
Once ridiculed by many as idealistic hippies, Green parties increased their vote share in 13 European countries at the most recent national elections. In six of those countries – Austria, Belgium, Finland, Ireland, Luxembourg and Sweden – green parties have a share of power in coalition governments.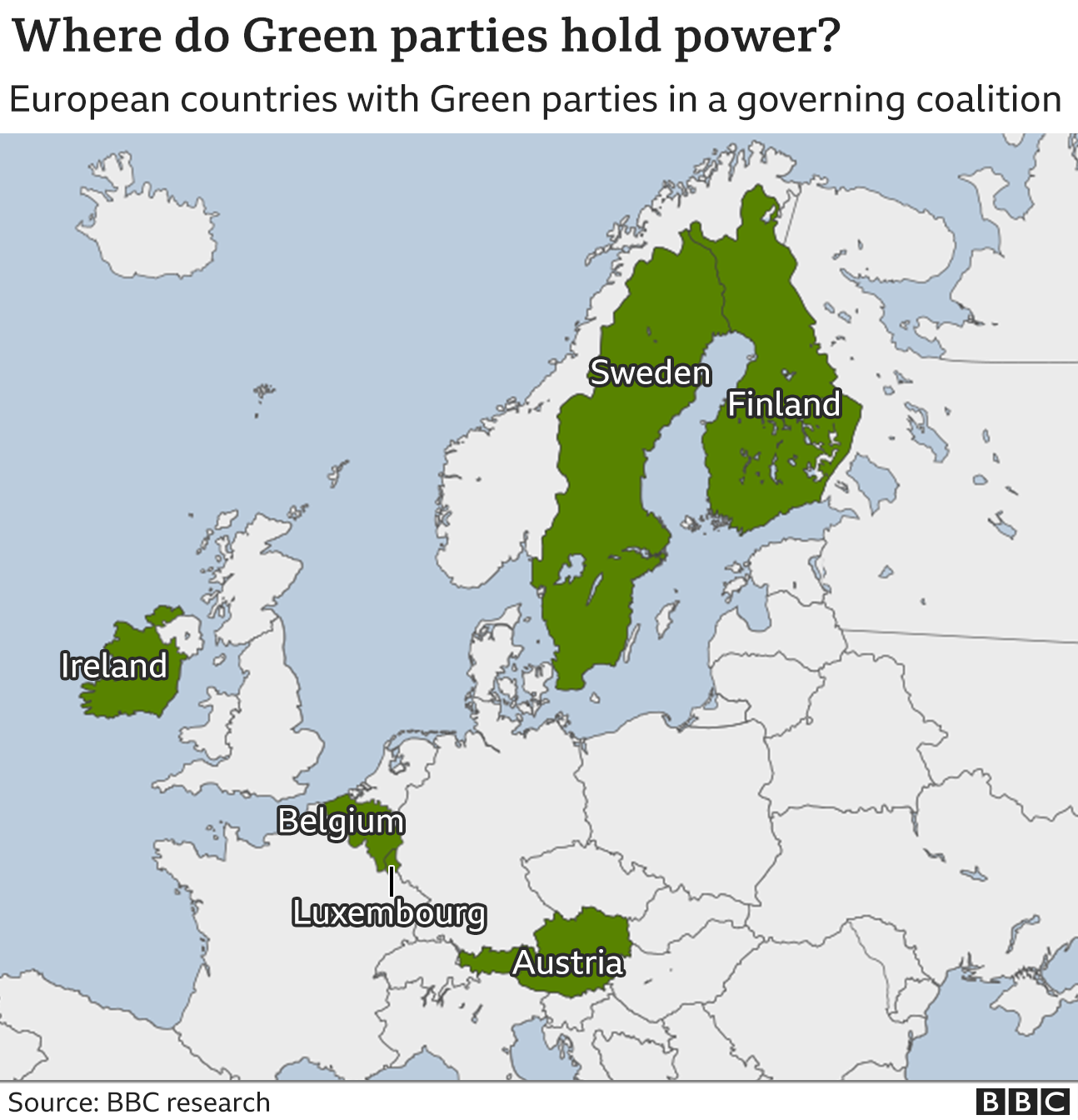 In all those cases, the Greens are pressing their partners to adopt more ambitious targets for lowering carbon emissions. Elsewhere, the green mayors of Amsterdam and Budapest are aiming for carbon neutrality by 2050 and 2030 respectively – to balance the greenhouse gases emitted and absorbed by their cities.
Despite last month's election success for the German Greens, even co-leader Ms Baerbock admitted they had failed to live up to early opinion poll ratings: "We wanted more. We didn't achieve that."
Given the urgency of curbing emissions, what's holding the Greens back?
Trust and fear of change
One explanation is that mainstream parties across Europe have elevated climate change to the top of their agendas.
"If you're concerned about the climate, it doesn't follow that you're going to vote green," Adam Fagan, a political scientist at King's College, London, said. "It means you're going to scrutinise the manifestos of the main parties for their green credentials."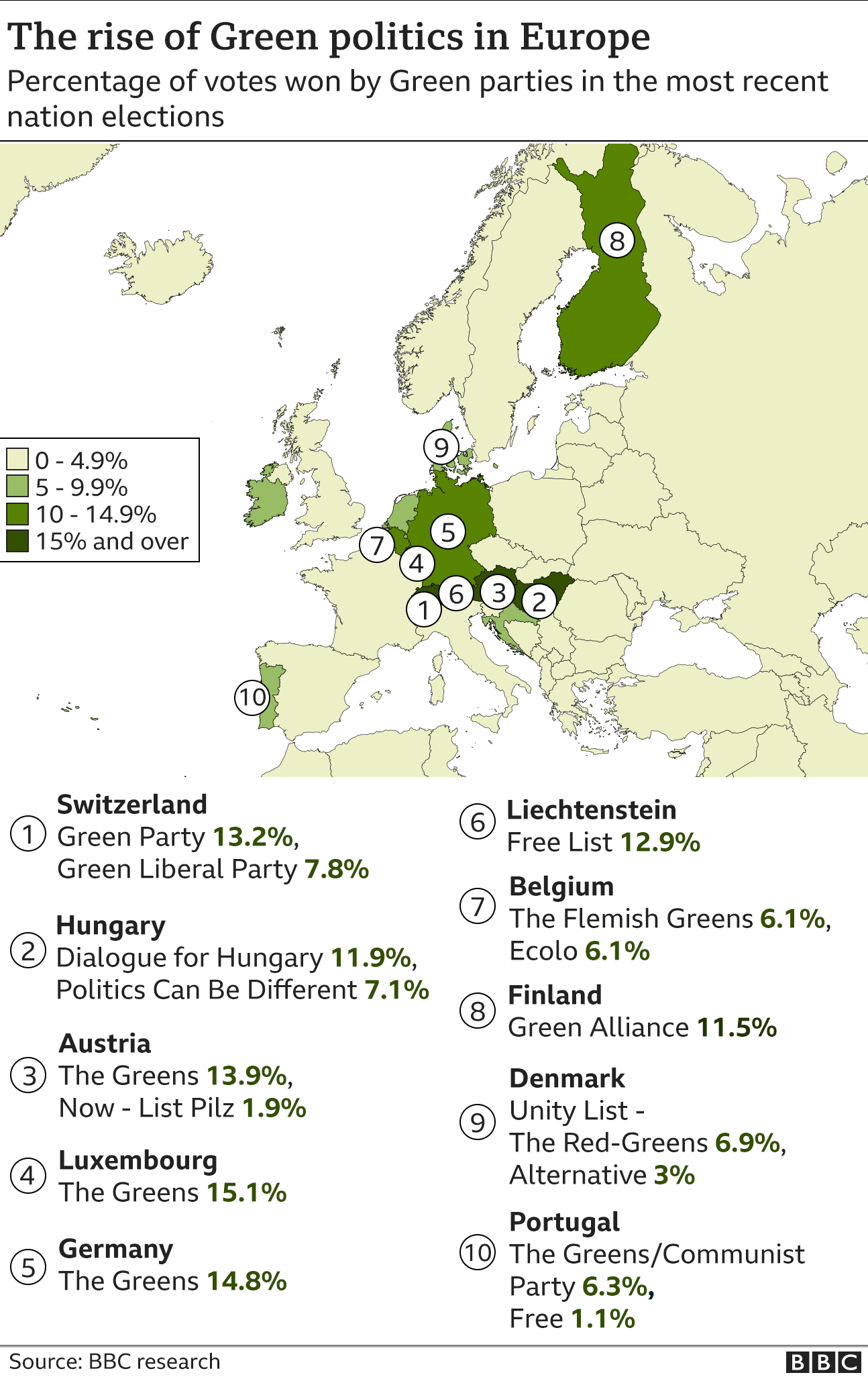 Green parties tend to do better in countries with more proportional systems, as used by the European Union for its parliamentary elections. For example, the Greens/EFA bloc gained 25 seats with 10.8% of the vote in the 2019 election to the European Parliament.
"People think putting the Greens in power [in the EU] is less dangerous," said Philippe Lamberts, co-president of the Greens/EFA.
"From the right and the left, there's always a question hanging over us: can you really trust the Greens with the economy?"
National election results suggest the answer is no.
To reduce emissions, the Greens say big structural changes to the economy are needed. While those reforms are necessary, they scare people and put them off voting green, Ms Schäfer said.
"They're worried they'll be the losers of big transformation," the MP said. "It's a lack of control that people are afraid of. But we need to convince people that our politics is not about giving up control."
'Killing the planet'
It's even more difficult in Southern and Eastern European countries, where support for green parties is fragmented or non-existent. Surveys show that climate change is far from a top priority in post-communist countries such as Poland, the Czech Republic and Lithuania.
Voters and political parties there are generally more concerned about economic development or migration, leaving environmental issues to civil society groups.
Mr Lamberts believes voters find the message that their country's model is "killing the planet" unpalatable.
Unlike in many of the other former Soviet-bloc states, green parties have made inroads in Hungary.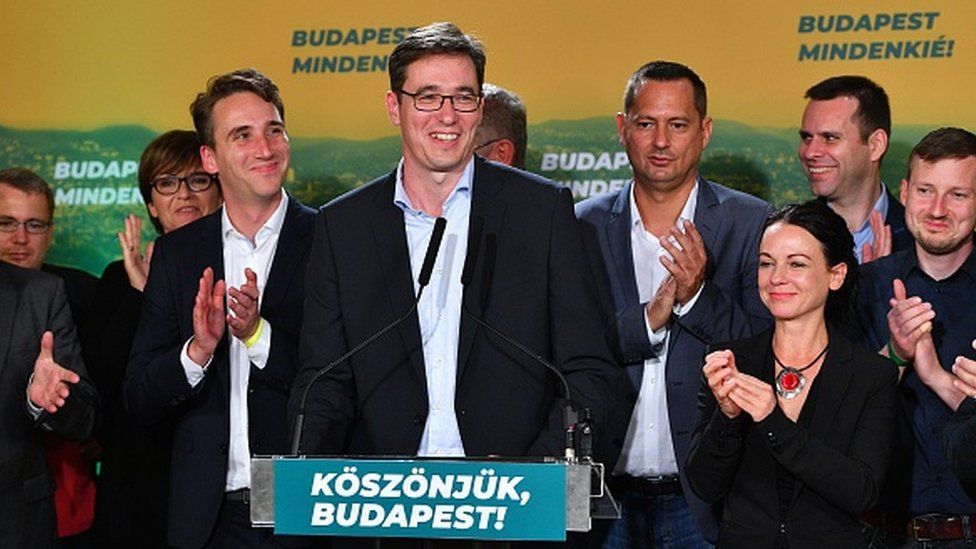 The green LMP party has won seats in three consecutive national elections since 2010, while Dialogue received 11.9% of the vote in an alliance with the Hungarian Socialists in 2018.
Dialogue's success came under the leadership of Gergely Karacsony, who was elected mayor of Budapest in 2019.
He defeated the nationalist incumbent by rallying opposition parties behind his liberal platform, and promising solutions not only to environmental issues, but economic and social ones too.
"In Hungary today, there are three different crises. A democratic crisis, a social crisis and an environmental crisis," Budapest's mayor told the BBC. "The advantage of the green movement is that we have proposals for all three."
He linked green policies such as urban foresting and carbon-free public transport to Hungary's poor record on air quality and other environmental problems.
Particularly in post-Soviet countries, the mayor said, social justice must go hand in hand with the green transition.
"We cannot put the costs of sustainability on disadvantaged segments of society."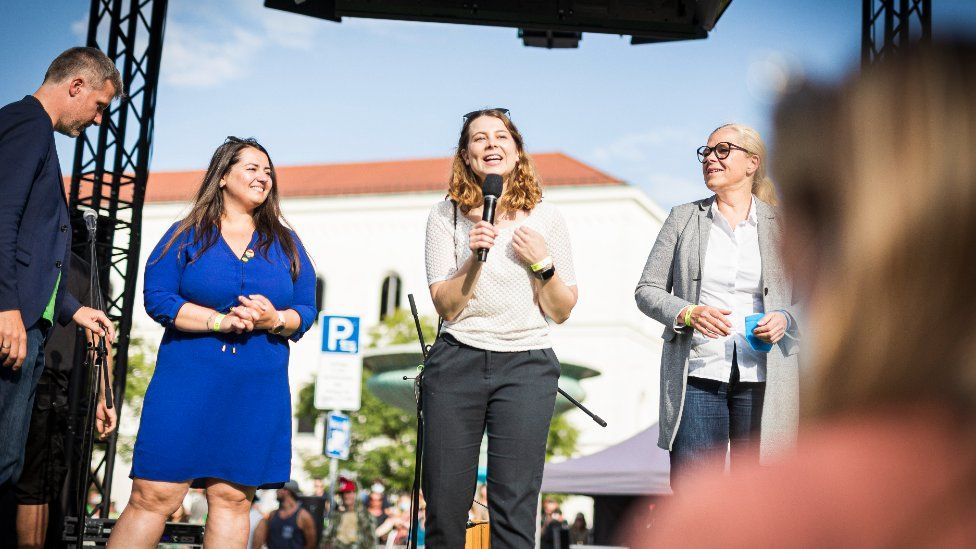 What worked in Budapest may not necessarily follow elsewhere, but green candidates have achieved electoral success where they have channelled voter discontent, united the opposition and diversified their offer beyond the environment.
If the Greens can build on these gains, there is a future for them in coalitions, Professor Fagan said.
"Green politics in Europe is getting bigger and stronger, and I'm sure it will grow in the coming years," Ms Schäfer said.