The 'Destiny 2' Season Of The Haunted Economy Does Not Really Work – Forbes
Seemingly, all the pieces are in place for a great season of Destiny 2. The Leviathan is back, and we never get patrol spaces as part of a new season. Nightmare Containment is a fun, large-scale activity on the ship. The Sever missions have great story beats and fun fights.
And yet, why does it seem like a bit of a drag? Like it doesn't fully add up?
It's the economy, I think, after grinding the season hard for two weeks now.
The way the system is set up to try and get loot from the season is just…wrong. It's weighted too heavily in one area and not heavily enough in another. Here's what I mean:
There are two main currencies this season, Opulent Umbral Energy and Vestiges of Dread.
Vestiges of Dread you will be drowning in very quickly. Why? Well, you get 240 per activity completion in things like playlists, plus bonuses from kills and such. And the only place to spend them is at the end of a Tier 3 Nightmare Containment run, which will get you some loot and a small amount of Opulent Umbral Energy. Most players will find themselves permanently capped at 2,500, yet there is an entire row of the Crown of Sorrow upgrade table devoted to somehow getting more Vestiges of Dread, which I can't imagine anyone wants.
On the other side is Opulent Umbral Energy which in effect, only comes from Nightmare Containment. You get 7 from a full completion, 9 after an upgrade, and you have to farm a rare drop from Containment that allows you to open a chest in Sever to get more Umbral Energy. But these are literally the only sources.
This is a problem because focusing Umbral Engrams this season costs 27 Umbral Energy, which is 3-4 full runs of Nightmare Containment for a single focus. And since everyone's goal is to craft weapons, and red border patterns are no more than a 10-20% drop rate (if not 5-10%), that's hundreds of Umbral Energy you'll need to perhaps even get a single 5 pattern crafted weapon going. And the only place you can farm this material is Nightmare Containment. It's no wonder that players are burning out on the activity which yes, otherwise, would be pretty fun. When it's the only thing you can run to get currency, that's the main problem.
Simply put, there are too many sources of Vestiges of Dread which are only spent in a single place. There are not enough sources of Opulent Umbral energy, and the sources that do award it do not give enough. It is extremely weird to play through playlist activities and get 1) Vestiges of Dread, where I'm almost always capped already and 2) Risen Umbral Energy from last season.
What I would do? Buff Opulent Umbral Energy drops from Sever and Nightmare Containment at baseline. And either award some energy on playlist completion, or randomly through kills at times. It's probably too late to change the Crown of Sorrow upgrades, but just that entire middle row is useless because of how abundant Vestiges are in the first place. Whole system needs some work.
Follow me on Twitter, YouTube, Facebook and Instagram. Subscribe to my free weekly content round-up newsletter, God Rolls.
Pick up my sci-fi novels the Herokiller series and The Earthborn Trilogy.
The pandemic may have forever altered the economy, Fed Chair Powell says – CNN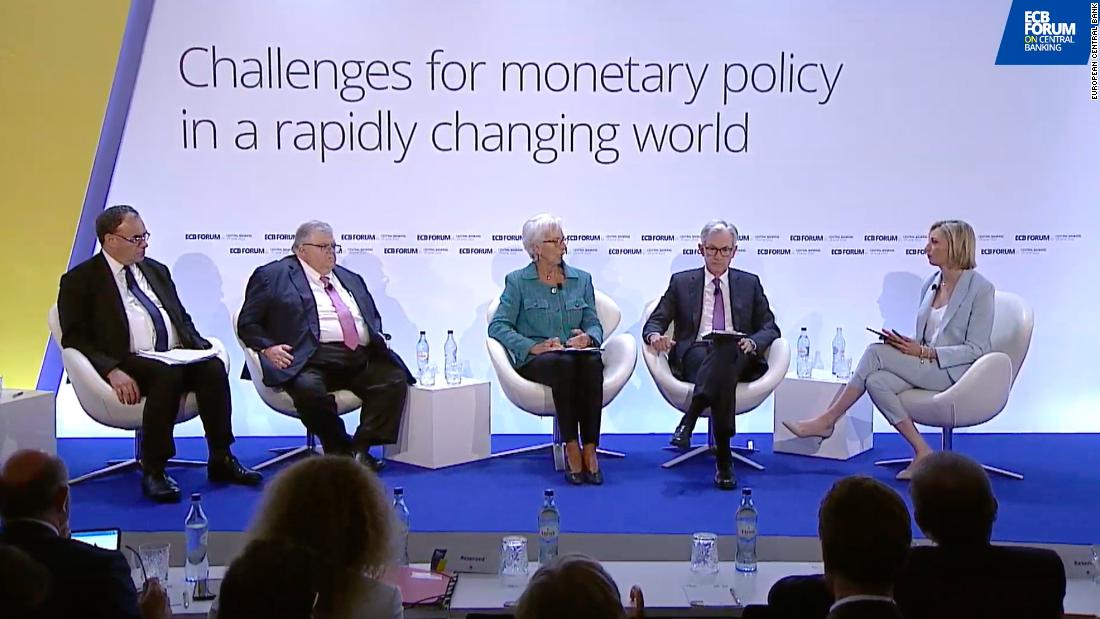 (CNN)It's not yet clear if the US economy will ever return to its pre-pandemic status, Federal Reserve Chairman Jerome Powell said Wednesday at a central banker forum in Portugal.
"The economy is being driven by very different forces. What we don't know is whether we'll be going back to something that looks like, or a little bit like, what we had before," Powell told a panel that included European Central Bank President Christine Lagarde and Bank of England Governor Andrew Bailey.
The central bank heads, who collectively hold around $20 trillion on their balance sheets, discussed how "new forces" have changed
inflationary dynamics
and the global economic landscape — perhaps forever.
"I don't think we're going back to that [pre-Covid] period of low inflation," Lagarde said, noting that Russia's invasion of Ukraine will "change the picture and the landscape within which we operate."
All three central bankers are battling surging inflation in their economies. The Fed embarked on a course earlier this year to hike interest rates and combat the worst US inflation since the 1980s. Earlier this month, Fed officials voted to implement
an interest rate hike of three-quarters of a point,
the first time since 1994 that it has approved an increase of that size.
While a growing pool of analysts and economists fear such aggressive moves could
push the economy into a recession
within the next 12 months, Powell said he believes the US economy is robust enough to withstand a moderation in growth, since households and businesses are both in very strong financial shape.
But the Fed Chair warned that entrenched or persistent inflation would be a worse outcome than an economic downturn.
"Is there a risk that we would go too far [with rate hikes]? Certainly there's a risk," Powell said. "But I wouldn't agree that that is the biggest risk to the economy. The bigger mistake to make would be to fail to restore price stability."
China's Economy Shows Signs of Improvement as Covid Eases – BNN
(Bloomberg) — China's economy showed further signs of improvement in June with a strong pickup in services spending as Covid outbreaks and restrictions were gradually eased.
The official manufacturing purchasing managers index rose to 50.2 from 49.6 in May, the National Bureau of Statistics said Thursday, slightly below the median estimate of 50.5 in a Bloomberg survey of economists. It was the first time since February that the index was above 50, indicating expansion in output compared with May.
The non-manufacturing gauge, which measures activity in the construction and services sectors, climbed to 54.7, the highest in more than a year and well above the consensus forecast of 50.5.
China's CSI 300 Index rose as much as 0.9% while major stock gauges in Asia broadly fell.
Government restrictions to contain Covid outbreaks have gradually eased over the last month. The financial hub Shanghai lifted its two-month lockdown at the start of June by allowing more shops to reopen, more factories to resume production, and for port operation to pick up.
The data suggests "the pace of recovery accelerated as the Covid situation stabilized," said Peiqian Liu, chief China economist at NatWest Group Plc. There was a "broad based but still soft recovery in both production and new orders," and the figures show the rebound is still milder compared with the recovery from the Wuhan lockdown in 2020, she said.
Some 19 of the 21 sectors in the service sectors tracked in the survey returned to expansion last month, up from just six in the previous month, according to the NBS. Gauges of sectors previously hit badly by the outbreaks all improved, such as railway transport, air transport, accommodation, catering and entertainment.
The recovery remains fragile though as the country sticks to its Covid Zero strategy, meaning restrictions could be tightened if outbreaks of the highly transmissible omicron variant flare up again. Chinese President Xi Jinping reaffirmed his Covid Zero policy this week, saying it was the most "economic and effective" for the country.
Economists, meanwhile, are holding firm on their gross domestic product growth forecasts for this year. The median projection in a Bloomberg survey for 2022 growth is 4.1%, well below Beijing's annual target of around 5.5%. Bloomberg's aggregate index of eight early indicators showed some improvement in June, though the recovery remains muted.
(Updates with additional details)
©2022 Bloomberg L.P.
China's economy didn't bounce back in the second quarter, China Beige Book survey finds – CNBC
China's exports surged by 16.9% in May from a year ago, two times faster than analysts expected. Pictured here on June 15, 2022, are workers in Jiangsu province making stuffed toy bears for export.
Si Wei | Visual China Group | Getty Images
BEIJING — Chinese businesses ranging from services to manufacturing reported a slowdown in the second quarter from the first, reflecting the prolonged impact of Covid controls.
That's according to the U.S.-based China Beige Book, which claims to have conducted more than 4,300 interviews in China in late April and the month ended June 15.
"While most high-profile lockdowns were relaxed in May, June data do not show the powerhouse bounce-back most expected," according to a report released Tuesday. The analysis found few signs that government stimulus was having much of an effect yet.
Shanghai, China's largest city by gross domestic product, was locked down in April and May. Beijing and other parts of the country also imposed some level of Covid controls to contain mainland China's worst outbreak of the virus since the pandemic's initial shock in early 2020.
In late May, Chinese Premier Li Keqiang held an unprecedentedly massive videoconference in which he called on officials to "work hard" — for growth in the second quarter and a drop in unemployment.
Transportation, construction companies aren't telling you they're getting new products. They're telling you they've slowed investment, their new projects have actually slowed.

Shehzad H. Qazi

Managing Director, China Beige Book
Between the first and second quarters, hiring declined across all manufacturing sectors except for food and beverage processing, according to the China Beige Book report.
The employment situation likely won't start to improve until China stimulates its economy more in the fall, China Beige Book Managing Director Shehzad H. Qazi said Wednesday on CNBC's "Squawk Box Asia."
So far, there's been little sign that stimulus has kicked in, especially in infrastructure, said Qazi who is based in New York.
"Transportation, construction companies aren't telling you they're getting new products," he said. "They're telling you they've slowed investment, their new projects have actually slowed."
Inventories surge, orders drop
Unsold goods piled up, except in autos. Orders for domestic consumption and overseas export mostly fell in the second quarter from the first. Orders for textiles and chemicals processing were among the hardest-hit.
The only standout domestically was IT and consumer electronics, which saw orders rise during that time. Orders for export grew in three of seven manufacturing categories: electronics, automotive and food and beverage processing.
"Weak domestic orders and expanding inventories indicate the presumed second-half improvement will be unpleasantly modest," the report said.
The authors noted the services sector saw the greatest reversal. After accelerating in growth in the first quarter, services businesses saw revenue, sales volumes, capex and profits drop in the second quarter.
Across China, only the property sector and the manufacturing hub of Guangdong saw any year-on-year improvement, the China Beige Book said.
Official second-quarter gross domestic product figures are due out July 15. GDP grew by 4.8% in the first quarter from a year ago.