The downtown Art X Project launches today (5 photos) – SooToday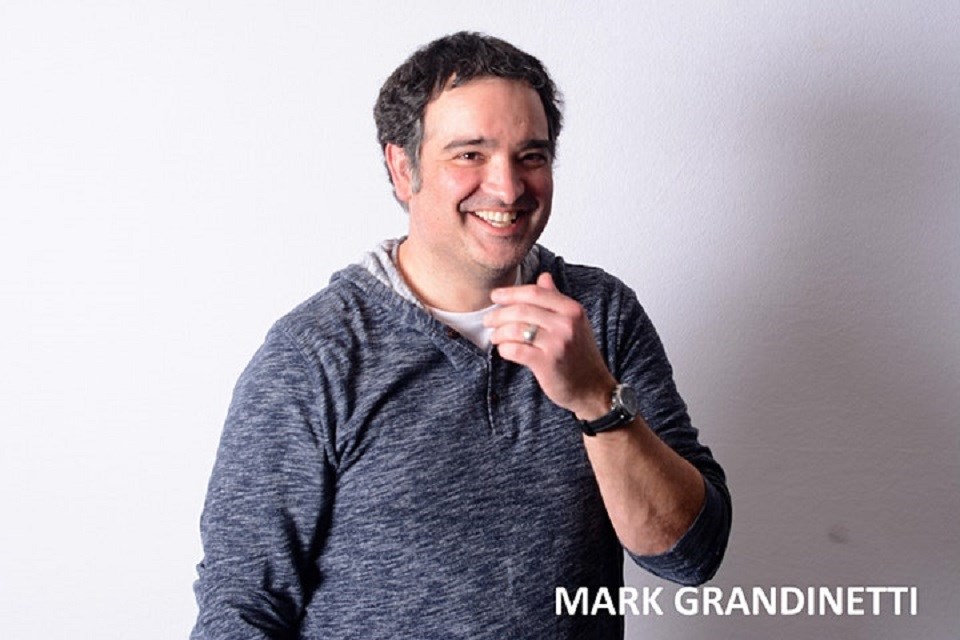 Rolling Pictures North is a new post-production studio in Sault Ste. Marie, located in the community's downtown core.
"We make the magic happen after the cameras have stopped rolling," says Robert Peace, director of community relations for Rolling Pictures.
"We are involved in the editing, sound, special effects, colour correction and so many other technical aspects required to deliver a film or TV show to the screen."
The production studio is a northern offshoot of a larger studio based out of Toronto.
"Rolling Pictures has offices in downtown Toronto and here in the Sault," he says.
"Our Queen Street building was bought a couple of years ago and renovations took almost a year."
Although the company opened last year, COVID struck and the film industry hard, as many other industries were.
"We closed our office for several months and set up our network for staff to work from home," he says.
"We were fortunate enough to have enough work to keep all our staff employed throughout. As things ease back, we look forward to a busy spring and summer next year with many productions both up here in the Sault and throughout North America that we service."
Rolling Pictures North recently partnered with the City of Sault Ste. Marie/Future SSM and The Downtown Association to present The Art X Project, an on-going, interdisciplinary arts and culture exhibition that will be located at the Rolling Picture's downtown facility coinciding with Downtown Association's Midnight Madness.
"As a new business in town we really wanted to be part of the arts scene in the city," says Peace.
"Moving to the Sault … and being new to town, I was really starting from scratch. I knew nobody. Near the end of the summer I approached Todd Fleet at FutureSSM with the idea of using our space to host new artists. Todd was quick to come on board. With all the work he has done through the City and elsewhere, his experience and contacts were invaluable."
Todd Fleet, arts and culture coordinator for Future SSM, saw the proposed exhibition as a great opportunity to help support the arts in the community.
"The project was developed … to help implement action items from the city's Culture Plan," says Fleet.
Through the public consultation process for the City of Sault Ste. Marie's Culture Plan, it was identified that local artists found difficulty in finding public spaces to display their work.
"[W]e think this is a great format for providing that opportunity while connecting with the downtown community and local businesses."
The Art X Project is Rolling Pictures first public event.
"We wanted to do something sooner but obviously COVID slowed things down. Although we would have loved to have a big party with food and drinks, we are still having a small intimate evening where we limit the numbers to less than half the allowed limit with all safety measures in place," says Peace.
"We did all feel that having a small [event] was something we could start with and grow from here when it is safer."
In addition to Future SSM, Rolling Pictures also partnered with the Downtown Association for the event.
For the Downtown Association, the exhibition helps to bring more events and programming to the downtown core.
Ashlyn McMillan, interim manager for the SSM Downtown Association, says it was also an opportunity to connect its membership with local artists and musicians.
"Arts and culture are critical to make downtown a vibrant place to be," she says.
The art exhibition is also a means of introducing Rolling Pictures to the community.
"We love our space but we are not like a retail business with customers coming and going throughout the week," says Peace.
"Our business is also not well understood. So I had the idea to use the space to expose the community to our business and celebrate the arts in Sault Ste Marie. This is a long-term plan that will include hosting new up-and-coming artists in the field of art, music and theatre in our small intimate space each month."
The event also provides local artists with experience in exhibition development, a chance to build their portfolio, and a networking opportunity with other local artists.
The three partner organizations were involved in selecting the first group of artists for the exhibition.
This inaugural Art X Project exhibition features the visual art of local artists Mark Grandinetti, Annie King and Aaron Alessandrini.
Ava Nori will be providing musical ambience for the event.
Artwork created by these artists will be on display and for sale with 100 per cent of the proceeds going to the artists.
As not all visitors may get the opportunity to meet the artists, Rolling Pictures created videos of each of the artists to be displayed on monitors and the in-house theatre so visitors can find out more about each of them.
"We're excited to showcase new facility…[and] to let people see what is behind that giant horse," says Peace, alluding to the giant mural on the side of Rolling Pictures' building.
The first Art X Project exhibition begins today with opening night activities continuing into Friday from 6 to 10 p.m. in order allow people to attend and still be compliant with COVID regulations.
Although the event is free, attendees must schedule their admission via Eventbrite with registrants scheduling time slots for up to 20 people per group to view the exhibition.
Visitors are being asked to consider support the artists with a "pay what you can" donation to help cover show preparation costs.
Rolling Pictures is located at 498 Queen St. E. Sault Ste. Marie (at the corner of Spring and Queen, just look for the Horse Mural and your there). Entrance to The Art X Project will be via the Spring Street Door with parking available in the public parking lots behind the building.
Review: Pathetic Fallacy is a weird weather report, an art history lecture, a green-screen farce – and one of the best livestreams of the year – The Globe and Mail
Title: Pathetic Fallacy
Written and directed by: Anita Rochon
Actors: TBD
Company: The Chop presented by Rumble Theatre
Year: Runs online to November 29, 2020
The Chop is one of those brilliant little companies based out of British Columbia that was thinking deeply about future forms of theatre long before the pandemic hit.
Pathetic Fallacy, its co-artistic director Anita Rochon's clever, unclassifiable 2018 show about weather, God and art, was born out of the idea of creating a touring theatre piece that would not require her to actually physically go on tour.
How useful to have that in your pocket as a performing artist right now.
This is how Pathetic Fallacy, which is live-streaming nightly from Vancouver's Rumble Theatre until November 29, works.
Each evening, a different local actor steps into the show in the starring role, puts on a blue-and-white striped Breton shirt and follows instructions on a monitor while standing in front of a green screen.
An in-person audience would get to watch two things unfold at the same time: On one side of the stage, the unrehearsed actor flailing around trying to keep up with the directions; on the other, a projection of the quirky documentary about weather and art that this actor's image is being sucked into, narrated by and occasionally featuring video of Rochon in tricot rayé herself.
For this live-stream-only version, stage manager Emelia Symington Fedy, who is also co-artistic director of the Chop, calls the shots on what the at-home audiences get to see at any given moment: The farcical frenzy in front of the green screen, the smart if idiosyncratic documentary, or both at once.
If it sounds overcomplicated, it's not: It's funny, like watching an unprepared TV meteorologist try to give a forecast.
I tuned in on Wednesday to see Jonathon Young, the charismatic co-creator of the internationally celebrated B.C. dance-theatre hybrid Betroffenheit, take part in this avant-garde experiment. Arggy Jenati, Aryo Khakpour, Omari Newton and Jivesh Parasram are on deck for the next performances.
The substance of Pathetic Fallacy is a short visual exploration of the history of the depiction of weather in art and television. (It's just 60 minutes, the perfect length for a livestream, or at least my pandemic attention span.)
There's a segment in which Rochon, in recorded form, talks about a 1836 painting of the Connecticut River by the English-born, American painter Thomas Cole, finding all sorts of insights in its details into the shift between the idea of weather as a God or an act of God, to weather as a natural phenomenon we can predict and maybe even shape as humans.
A later segment sees Rochon dissect a more recent masterpiece of visual art about passion and precipitation: The 1982 music video for the disco hit It's Raining Men by the Weather Girls.
All the while, keep in mind, there's the overlaid physical comedy of watching the transposed Young – or whatever actor happens to be in front of the green screen in a given performance – attempt to point to the right place in the painting at the right time or join in the choreography in the music video. The Breton stripes made Young seem like a mime gone mad.
Though the magic of the green-screen technology, Rochon, in filmed form, and her stand-ins, who are live, also share a few scenes – having a conversation on an airplane or in a restaurant about the show's themes. (Candelario Andrade and Milton Lim are credited with the projection design, which is of high quality.)
Young is a quick enough wit that these were the highlights of the performance of Pathetic Fallacy I watched. He flexed his expert improv comedy skills here, but also was genuinely thoughtful in responses to questions about why the world population is growing so quickly and whether the earth can actually "hurt" (or if that's ascribing a human emotion to nature, see: the title of the show).
The crisis hanging over Rochon's show is not COVID-19, but climate change. And yet while Pathetic Fallacy often takes the form of a lecture, the tone is never lecturing.
Indeed, Rochon sets up the entire experiment as a kind of environmental paradox. She tells us right off the top that she decided to make a touring show that she wouldn't have to tour in order to reduce her carbon footprint as a jet-setting theatre artist – but also because she wanted to stay put and have a baby, which would increase that footprint many times more than a few flights to international festivals.
How do you create – theatre or life – knowing that creation may make the planet a worse place? The theatrical tricks Rochon deploy to explore this question aren't necessarily new, but they've been combined in a fascinating new way. Pathetic Fallacy is a weird show that is also wise and seems to have found its perfect form in these live-streamed times.
Pathetic Fallacy is streamable through rumble.org nightly at 7:30 p.m. PST; tickets are "pay what you decide."
Keep up to date with the weekly Nestruck on Theatre newsletter. Sign up today.
Vicuña Winter Art Show supporting artists with diverse abilities in Maple Ridge – Maple Ridge News
The annual Vicuña Winter Art Show showcasing artists with diverse abilities will be online this year due to the COVID-19 pandemic.
Vicuña Art Studio will be live-streaming the exhibit and will include a tour of the show with details about all the art pieces, there will be interviews with the artists and an artist demo.
"Unfortunately, we had to cancel our in-person show this year," said Dhanha Lee, director of the Vicuña Art Studio.
Art shows are essential for their studio, she explained.
"For many artists, sharing their art in the community is crucial. The same goes for Vicuña artists who have diverse abilities."
"The live stream will allow more people to celebrate Vicuña's talents," noted Lee saying she hopes guests at the show will be "uplifted" and "inspired" by the art.
"Often, I find myself grinning and smiling as I interact with our artists and see their works," she said.
Natasha Brayshaw will have her acrylic on paper on display called Snowy Magic.
Brayshaw is an artist that enjoys to be challenged, said
She sets goals and works hard to accomplish them, noted the director.
Although she is not afraid to use a variety of mediums, Brayshaw enjoys working with acrylic paints the most.
Theresa Tetu will have her Little Bubs grumpy cat jewelry dishes and cat paw bowl for sale at the show.
"Her creations are an expression of her love and enthusiasm for cats. Her bubbly personality results in fun art projects, and she is always full of creative ideas," explained Lee, adding that Tetu started at the studio as a pottery artist and only recently extended her talents to acrylic paintings as well.
Vicuña Art Studio was opened in 2008 by Maria Daley. It is a studio devoted to supporting artists with diverse disabilities to embrace their individuality, develop their talent and create inspiring works and it is owned and operated by the Ridge Meadows Association for Community Living in Maple Ridge.
More than 50 pieces of art will be part of the show including paintings, illustrations and sculptures and all will be available for purchase.
Vicuña Art Studio's annual Winter Art Show takes place from 1 to 1:45 p.m. on Friday, Nov. 27.
The live-stream link is vicunaartstudio.com/winter-art-show.
For more information call 604-465-7526 or email vicuna@rmacl.org.
---
cflanagan@mapleridgenews.com

Like us on Facebook and follow us on Twitter
art exhibitmaple ridgePitt Meadows
Outdoor art gallery and scavenger hunt is on in Red Deer next month – Red Deer Advocate
A storefront outdoor art gallery and scavenger hunt will be happening in downtown Red Deer next month.
Art lovers can take a wintry walk through downtown Red Deer from Dec. 1 to 14 and gaze at original works created by local artists.
Paintings, glass and ceramic works will be displayed in storefront windows and are available for purchase.
Scavenger hunt maps can be printed from the Red Deer Arts Council's website. Look for answers to the clues interspersed in the store window displays.
Completed forms can be left at the Housewarmings store on Ross Street for a chance to win prizes on two draw dates: Dec. 7 and 14.
While concerts on the Ross Street Patio are postponed next month because of COVID-19-related restrictions, more concerts are planned for later this winter and spring, as viral cases hopefully decline and restrictions lift.
The arts council is seeking submissions from musicians (soloists and duos) who are interested in performing on the patio in January through April. Submissions can be made on the council's website until Monday.
First Friday receptions for December are cancelled due to more stringent restrictions to reduce the spread of COVID-19, but art enthusiasts can still peruse the local galleries during their regular opening hours.
Red Deer Art Club members have a group show called Scale at the Viewpoint Gallery in the City of Red Deer's culture services building until Dec. 31. Images will zoom in or pull back to view things from different perspectives.
Musical Hands, a mixed-media exhibit by Carmen Winter, is on in the The Velvet Olive Lounge (access via back alley/51st Street) from Dec. 1 to 31.
Other gallery shows are continuing, including remember to remember: new works by andrea dillingham-lacoursiere, showing at the Marjorie Wood Gallery in the Kerry Wood Nature Centre to Dec. 18.
Original art can also be seen in the A + Art Gallery & Unique Collections, Unit 203, 4919 49th St., the Corridor Community Gallery in the lower level of the Recreation Centre, Sunworks, and the Red Deer Museum and Art Gallery.