BOE-Sunak Double Act Attempts to Boost Ailing U.K. Economy – Yahoo Canada Finance
Bloomberg
(Bloomberg) — Greece became the latest European country to declare a national lockdown on the same day England entered a four-week shutdown to combat the accelerating spread of Covid-19. U.K. Chancellor of the Exchequer Rishi Sunak extended the furlough wage support scheme until March.New cases in Germany, Poland and the Czech Republic climbed to records, while unprecedented numbers of coronavirus patients are in intensive care in Belgium. The European Commission cut its economic forecast for 2021, projecting growth of just 4.2%.AstraZeneca Plc said it's ready to supply hundreds of millions of doses of its Covid-19 vaccine and will seek approval for its shot in many countries at once.Key Developments:Global Tracker: Cases surpass 48.2 million; deaths top 1.22 millionEurope's lockdown wave risks double-dip recessionsBrexit in a lockdown is worst of all worlds for U.K. businessAmerica's Covid-19 hot spots stuck with TrumpCaution arises on rapid tests in asymptomatic peopleVaccine Tracker: Clinical trials restart in hopeful signSubscribe to a daily update on the virus from Bloomberg's Prognosis team here. Click CVID on the terminal for global data on coronavirus cases and deaths.White House Virus Briefings a 'Joke,' Cuomo Says (11:54 a.m. NY) New York Governor Andrew Cuomo said Thursday he has stopped monitoring all White House coronavirus briefings, calling them "a joke."Cuomo, in a WAMC radio interview, said he doesn't get much out of the weekly sessions, because officials typically say "everything is going great," even as cases soar."Between the White House conference call and a circus, I think a circus would teach me more about Covid," Cuomo said.Arizona Infections Top 2,000 (11:51 a.m. NY)Arizona reported more than 2,000 new virus cases for the time since Aug. 1. The state had greatly reduced its Covid-19 count after a summer surge, but last week saw more than 1,000 new cases on six straight days. It reported 2,135 on Thursday, and 28 deaths, which brought the state's toll to 6,087.Cases Tick Up on State Island (11:48 a.m. NY)City health officials have identified an uptick of cases on Staten Island in two ZIP codes where tests results are exceeding a 3% infection rate, but are not yet imposing restrictions on schools and businesses.Jay Varma, chief health adviser to Mayor Bill de Blasio, said there was no specific event or cause that could be traced to the spread of the virus, and its spread has been detected early enough that it doesn't warrant clamping down on activity.The outbreaks are isolated and smaller in size than hot spots located last month in Brooklyn and Queens that required school and business closings, de Blasio said. Citywide, hospitalizations for Coronavirus-like symptoms dropped slightly to 95 as of Nov. 3, down from 114 the previous day. The seven-day average of newly diagnosed cases stood at 633, above the city's public-health safety threshold of 550, and the seven-day average of positive test results was 1.81%, consistent with levels experienced over the past several weeks.Denmark Imposes Curbs After Mink Infections (10:30 a.m. NY)Denmark is imposing a new set of restrictions on movement after discovering a dangerous mutation of Covid-19 in the country's mink population.Health officials say the new strain of the virus that they've found affects the spike protein, potentially threating efforts to develop a vaccine.Prime Minister Mette Frederiksen is due to hold a press briefing on the situation later on Thursday. Her government is planning to cull up to 17 million mink in an effort to contain the outbreak.StandChart to Offer Permanent Flexible Working From 2021 (8:39 a.m. NY)Standard Chartered Plc plans to offer flexible work options to more than 90% of its 85,000 staff over three years, a sign of how pandemic crisis management is leading to long-term change in the role of the office.The bank said about half its staff will be able to apply for some form of hybrid work from early 2021. Standard Chartered expects the program to apply to about 75,000 workers in 55 markets by 2023.IMF, World Bank Morocco Meeting Postponed (8:16 a.m. NY)The International Monetary Fund and World Bank postponed their annual meetings scheduled for next October in Morocco by a year until 2022 due to the pandemic. The meetings were scheduled to be the first held outside Washington since a gathering in Bali, Indonesia in Oct. 2018. The gatherings typically draw thousands of delegates, observers and journalists from more than 180 member countries.Italy Debt Could Spin Out of Control, Lawmaker Says (8:10 a.m. NY)Italy could see its government debt spiral out of control next year unless the economy bounces back quickly from a second coronavirus lockdown, according to a senior lawmaker from the governing coalition."Italy will end this year with debt-to-GDP at around 160% — if the economic rebound is limited, we risk an explosive debt dynamic already in 2021," Luigi Marattin, who heads the finance committee in the Lower House of parliament, said in an interview Wednesday.Takeaway and Alcohol Curbs to Stop Paris Gatherings (2:01 p.m NY)Paris and its inner suburbs will close some shops selling takeaway and alcohol at 10 p.m., shutting late-night grocery and convenience stores after evening gatherings were organized at some points of sale, Paris Mayor Anne Hidalgo said on RMC radio on Thursday."When there are actors who don't play the game and who endanger the health of the larger number, then we need restrictive measures," Hidalgo said.Records in Europe for New Infections, Deaths (7:37 a.m. NY)Austria is still waiting for signs that its second lockdown is breaking the wave of new infections. The country reported another record for new coronavirus cases on Thursday, with 7,416 new positive test results in the past 24 hours. The death tally rose to 41, the highest daily since the pandemic started, and hospitalizations and intensive care usage also rose to record levels.Elsewhere, Romania reported a third consecutive daily record of new coronavirus cases, with positive tests rising by 9,714 in the past 24 hours.Sunak Extends U.K. Furlough Wage Support to March (7:26 a.m. NY)U.K. Chancellor of the Exchequer Rishi Sunak extended furlough payments to employees of shuttered companies until the end of March as he sought to provide certainty to the country's coronavirus-ravaged economy.Government payments of 80% of wages for workers at companies forced to close because of coronavirus pandemic restrictions will continue after the end of the partial English lockdown on Dec. 2, Sunak told the House of Commons on Thursday.Speaking on the day England entered a new four-week lockdown, Sunak abandoned his previous position that the program should end on Oct. 31 in order for new, less-generous measures to focus on supporting "viable" jobs.Earlier, the Bank of England increased the size of its bond-buying program, adding an extra 150 billion pounds ($198 billion) of stimulus into the economy, and cut its forecast for growth in the coming years.Regeneron to Ramp Up Antibody Output (6:47 a.m. NY)Regeneron Pharmaceuticals Inc. said it should have enough of its Covid-19-fighting antibody to treat 80,000 patients by the end of the month, and 200,000 doses of the medication that President Donald Trump dubbed a "cure" by the first week of January.It plans to produce another 100,000 doses to fulfill its $450 million contract with the U.S. government's Operation Warp Speed by the end of January. It submitted data to support an emergency use authorization of the experimental antibody cocktail last month.Montenegro Tightens Rules After Funeral of Cleric (6:35 a.m. NY)Montenegro imposed new restrictions after thousands of people ignored existing distancing measures and flocked to the funeral of a famous local Orthodox cleric. On Sunday, an open-casket funeral of Bishop Amfilohije, who died of Covid-19 last week, drew masses to the capital of Podgorica despite a ban on gatherings. Restrictions will be tightened in four cities, including Podgorica, by closing down schools, bars and restaurants.Astra Preparing to Roll Out Vaccine Supplies (6:48 p.m. HK)AstraZeneca Plc is poised to unveil coronavirus vaccine test results by year-end and to begin supplying the world with hundreds of millions of doses shortly afterwards if it gains approval from regulators, Chief Executive Officer Pascal Soriot said on Thursday. Soriot dismissed reports of delays and manufacturing snags.After summer delays, a recent resurgence of the virus has allowed scientists to gather the clinical data they need, Soriot said on a conference call. Astra is keeping the vaccine in a frozen bulk state for now to maximize its shelf life while it awaits final test results and regulatory clearances.Norway Restricts Alcohol Sales in Bid to Avoid Lockdown (6:38 p.m. HK)Norway is banning alcohol sales at bars and restaurants after midnight, extending measures already imposed in some municipalities nationwide. The new curbs also limit gatherings in public places to 20 people, while Prime Minister Erna Solberg urged people to stay at home if they can and advised against unnecessary domestic travel. Norwegians will still be free to travel to their cabins, provided they can avoid contact with others.Solberg said the latest rise in infections means there's no time to see whether restrictions introduced last week are enough.Greece to Enter National Lockdown on Saturday (6:08 p.m. HK)Greece will go into a three-week national lockdown from 6 a.m. Saturday after a prolonged rise in coronavirus infections and an increase in the number of patients in intensive care, Prime Minister Kyriakos Mitsotakis said."If we continued to see the same rate of increase in cases as in the past week we'd have thousands in our hospitals," Mitsotakis said in a nationally televised address.Greece recorded a new daily record high of 2,646 new cases Wednesday, while the occupancy rate of total intensive-care units currently stands at 69%. The total number of infections in the country of around 11 million people is now 46,892.Europe Economy Faces Sluggish Recovery in 2021 (6:00 p.m. HK)The euro-area economy will grow 4.2% in 2021, less than previously anticipated, the European Commission said. The European Union's executive arm does see a shallower recession this year, though that doesn't include the latest government lockdowns, which could push some of the region's biggest economies back into recession.The outlook is for a sluggish recovery next year that leaves EU nations open to rising company failures and long-term unemployment, the Commission said.Polish, Czech Infections Hit New Records (5:44 p.m. HK)Poland confirmed 27,143 new coronavirus cases in the last 234 hours, a record, with 367 more deaths, the country's health ministry said. That pushes the country's infection rate over a threshold set by the government for the imposition of a full lockdown.The Czech Republic also registered a record daily caseload, with 15,729 new Covid-19 infections on Wednesday, according to health ministry. The country's health-care system is under pressure and a state of emergency was recently extended until Dec. 3.Swedish Economy Disappoints, PM Enters Isolation (5:40 p.m. HK)Sweden's economy grew less than expected in the third quarter, when a lull in the virus during the summer months allowed businesses and households to return to a semi-normal existence. Gross domestic product grew 4.3% from the previous quarter, Statistics Sweden said on Thursday, less than economists' predictions of 5%.Separately, Prime Minister Stefan Lofven said he is self-isolating after being exposed to a person who tested positive for Covid-19. Lofven said on Facebook that he has no symptoms and feels well.Top Serb Clerics Get Covid-19 After Funeral (3:50 p.m. HK)The head of the Serbian Orthodox Church, Patriarch Irinej, and one of his bishops tested positive for the coronavirus days after holding service for another top cleric whose funeral in neighboring Montenegro drew crowds that ignored health warnings.Patriarch Irinej, 90, has been hospitalized in Belgrade, the Serbian Orthodox Church said by email late Wednesday. Bishop Joanikije, another dignitary of the denomination, also tested positive.Both attended the funeral on Sunday for Bishop Amfilohije, who died last week from Covid-19 in Montenegro. He was a prominent political figure whose support of opposition groups helped them defeat the long-ruling party of President Milo Djukanovic in August elections.German Cases Climb to Record (2:28 p.m. HK)Germany registered a record increase in new cases, days after the government imposed the toughest restrictions since a national lockdown in the spring.Europe's biggest economy had 31,480 new infections in the 24 hours through Thursday morning, bringing the total to 608,611, according to data from Johns Hopkins University. The figures have fluctuated wildly in recent weeks, with daily infections falling to the lowest in almost two weeks on Wednesday.India Adds More Than 50,000 Cases (12:09 p.m. HK)India reported 50,210 new infections Thursday, the first time in 10 days that cases have topped 50,000. Daily infections have dropped from a peak of more than 97,000 in mid-September, but a rise in cases is expected as India kicks off its festival season — culminating in Diwali on Nov. 14.Total cases in India are at 8.36 million, the second-highest globally behind the U.S., while the country's death toll rose to 124,315 as of Thursday.Record Worldwide Deaths (11:33 a.m. HK)Daily coronavirus deaths worldwide set a new record of more than 10,000, while global infections passed 600,000 in a day for the first time as the pandemic gathered pace, according to data from Johns Hopkins University.China Suspends Entry for U.K. Visas (9:10 a.m. HK)China will temporarily suspend entry by non-Chinese U.K. nationals who hold valid visas or residence permits, the Chinese Embassy in the U.K. said in a statement.The suspension is in response to the Covid-19 outbreak and will be assessed as it evolves, the embassy said. Entry by holders of diplomatic, service or C visas won't be affected, it said.For more articles like this, please visit us at bloomberg.comSubscribe now to stay ahead with the most trusted business news source.©2020 Bloomberg L.P.
Canadian economy added 62,000 jobs in November, Statistics Canada says – KitchenerToday.com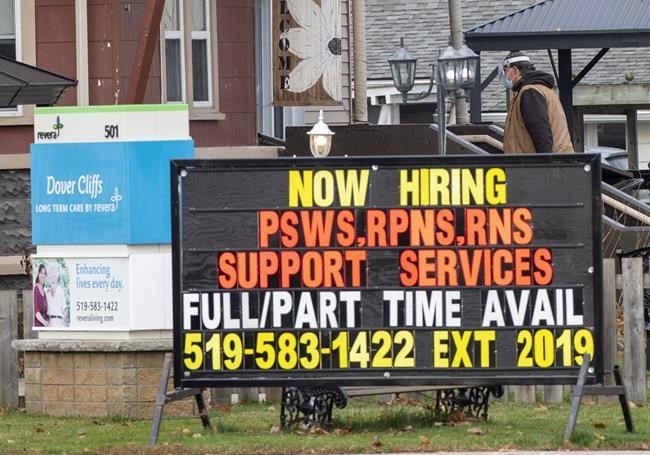 Statistics Canada says the economy added 62,000 jobs in November compared with an addition of 84,000 in October.
The gains were mostly focused in full-time work with a gain of 99,000 jobs, offset somewhat by a decline in part-time work of 37,000 positions.
The average economist estimate had been for a gain of 20,000 jobs and the unemployment rate to remain unchanged, according to financial data firm Refinitiv.
The gains in November left the country 574,000 jobs short of recouping the approximately three million jobs lost from lockdowns in March and April that sent the unemployment rate skyrocketing to 13.7 per cent in May.
Last month, the unemployment rate fell to 8.5 per cent compared with 8.9 per cent in October.
But the pace of gains has slowed, with employment rising by 0.3 per cent in November compared to an average of 2.7 per cent per month between May and September.
In Waterloo Region, the unemployment rate dropped from 10.8 per cent in October to 9.1 per cent in November.
Local entrepreneurs pitch their ideas for circular food economy – GuelphToday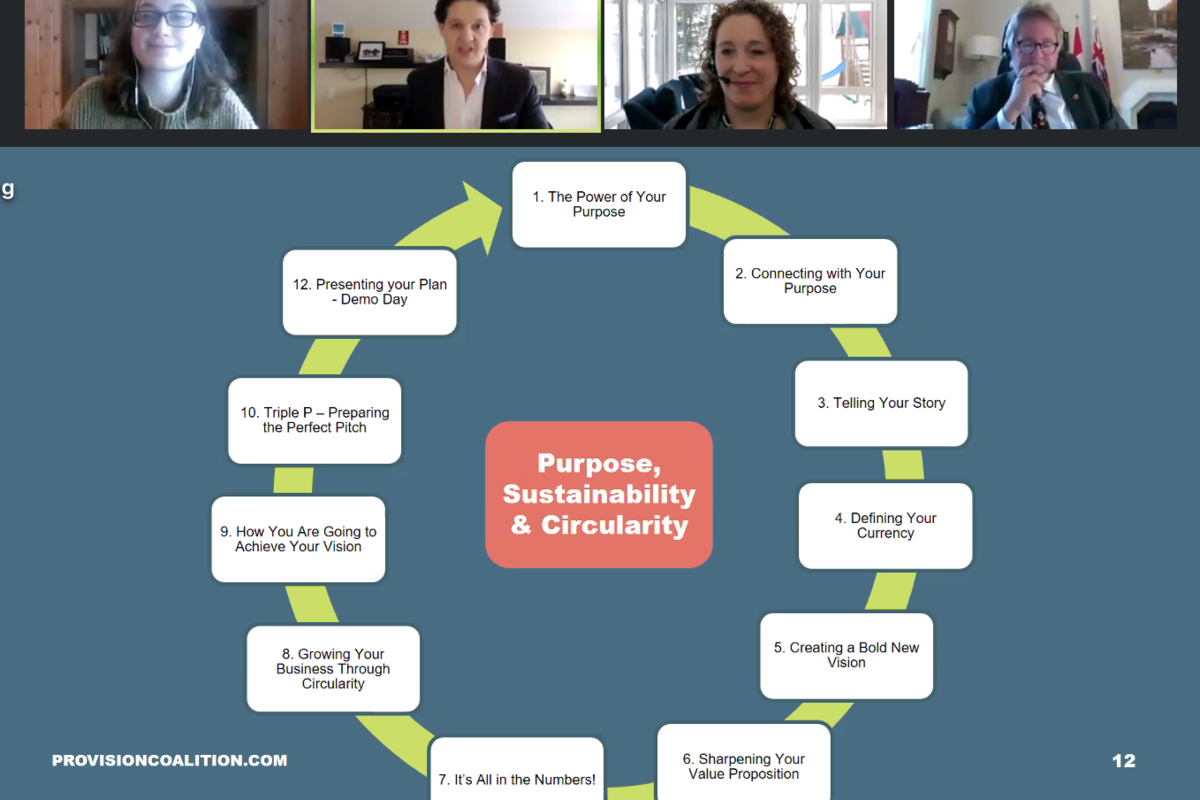 Local entrepreneurs got the chance to pitch their ideas to create a circular food economy earlier this week
The second cohort of graduates from the R-Purpose MICRO program presented their ideas for a more circular economy to a panel of judges for constructive criticism.
The virtual Demo Day event allowed companies to present business pitches and make connections with leaders from various industries.
The program is aimed at micro-companies who have fewer than five employees and is part of Guelph-Wellington's Our Food Future initiative.
"This initiative is to create Canada's first circular food economy by 2025," said Cher Mereweather, president and CEO of the Provision Coalition. "The circular food economy is inspired by the planets natural cycle, it re-imagines and regenerates the systems that feed us, it eliminates waste, it shares in economic prosperity and it nourishes our community.
Each company has an individual idea to create a more circular food economy, from home hydroponic kits to soy-based cream liqueur.
The judges came from various backgrounds:
– Barb Swartzentruber, Executive Director for the City of Guelph Smart Cities office
– Sheri Evans, local development manager for Sobeys
– Marcia Woods, CEO and co-founder for Freshspoke
– Evan Clark, vice-chair of the Golden Triangle Angel Network
"What's amazing is the one thing we all share," said Clark. "We're all optimistic about a world that can be a little bit better and a little bit more environmentally friendly. We're all here to combat a variety of things related to climate change and how we connect with each other. "
Out of 13 presentations, the judges picked 5th bean, a soy-based cream liqueur company, and A Friendlier Company, a company that is creating reusable takeout packaging, as the runners up.
However, a unanimous vote crowned Well Baked Box as the winner. The company works on creating sustainably-sourced boxed baking and snack kits that are delivered. The kits are all free of gluten, dairy and refined sugar.
"I think being very niche in baking is a very smart play," said Woods. "Being able to provide that for folks who have specific dietary requirements is very cool."
Husband and wife duo Stewart Russell and Courtney Clayson-Russell were inspired by their passions for helping others make healthier choices. Russel said when they created the company, they wanted to make a commitment to running a sustainable and environmentally conscious business.
Russell said the taking the R-Purpose MICRO course shaped the direction Well Baked Box is going to be taking.
"This has been crazy, what we thought we were doing at the being of R-Purpose MICRO and what we're doing now and planning to do is completely different," said Russell. "It was very special for us to be part of the course."
U.S. economy gains just 245,000 jobs in final report of 2020 as recovery stalls with Covid surging – NBC News
The U.S. economy added 245,000 jobs in November, as the unemployment rate fell to 6.7 percent, according to data released Friday by the Bureau of Labor Statistics. Economists had predicted the economy would gain around 440,000 jobs.
Amid a fresh surge in coronavirus cases and a new round of shutdowns, Friday's figure represents the fifth straight month of decelerating job gains. It is by far the lowest monthly total since the economy started its halting recovery.
"Today's report is both a wakeup call and a warning," said Nick Bunker, Indeed economic research director. "Coronavirus cases are surging throughout the country and several federal relief programs are set to expire this month. Progress in the labor market has slowed at the worst possible time. We might be optimistic about the spring, but the winter could bring another round of economic pain."
BLS unemployment data is collected on or around the 12th of the month, but more recent metrics underscore how vulnerable the economy is to a "super-surge" of coronavirus infections around the holidays that could send people back into their homes and shutter businesses.
"This surge in cases has the potential to significantly slow down overall economic activity and therefore employers' desire to hire," said Nick Bunker, director of economic research at Indeed.com. "The pullback from those households could slow consumption and therefore overall economic growth," he said — a major risk given that consumer spending fuels some two-thirds of economic activity.
The BLS data came two days after a lackluster report on jobs growth by payroll processor ADP in conjunction with Moody's Analytics, which found that employers added 307,000 private sector jobs last month, in contrast to the 475,000 expected among economists surveyed by Dow Jones.
"ADP's employment report was somewhat disappointing," said Julia Pollak, labor economist at ZipRecruiter.com. "Ideally, we'd be adding 2 million a month and really climbing out of this recession."
Two of the past three weekly jobless claims reports showed increases, reversing a months-long trend of improvements — but seeing how many people are losing jobs is only part of the equation, said Dan North, chief economist, North America at Euler Hermes.
"It does not tell the other half, which is the number of people becoming employed. You would expect with the increase in lockdowns, you would see fewer people becoming employed as well."
Data bears this out: According to Glassdoor.com, job openings fell by 2.5 percent on a month-to-month basis and are still down by more than 10 percent from pre-pandemic levels.
"It is instructive that this decline has been very broad, which points to a repeat of what we saw in the spring, but on a smaller scale," said Daniel Zhao, senior economist at Glassdoor. "Basically, every major group except for health care has seen job openings fall," he said.
Since job openings are a forward-looking metric, economists are looking ahead with some trepidation to the December jobs report, which will be released just after the new year.
"Ultimately, the virus is in the driver's seat. The virus is what determines the trajectory of the recovery," Zhao said.
The profound distortion in usual hiring patterns that typically take place around the holidays will make forecasting difficult, North said. "There has been much less holiday hiring than the seasonal adjustments would normally account for, so that would hold the December… jobs numbers down as well," he said.
Although the promise of a vaccine has raised the hopes of investors, public health officials warn that a large-scale rollout sufficient to protect much of the population could still be months away.
"It's hard to see exactly when the recovery can really start," Pollak said. "The start of vaccination is not enough. We need people to feel totally safe gathering in large numbers."