The Latest: Australia moves up vaccination start to February – Vancouver Is Awesome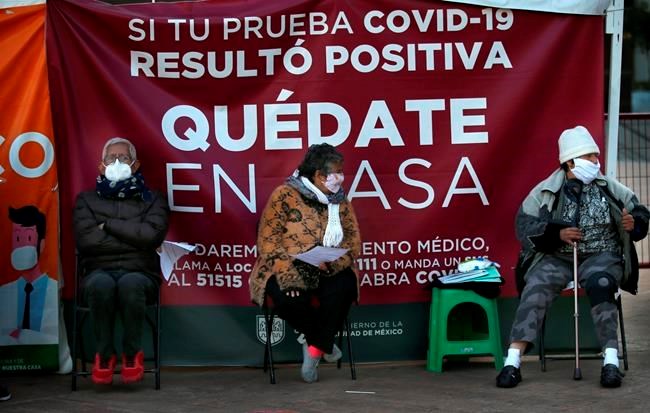 CANBERRA, Australia — Australia is advancing the start of its coronavirus vaccination program to mid-February, with plans to inoculate 15% of the population by late March.
The government had argued there was no reason for an emergency rollout that cut short usual regulatory processes as has occurred in the United States and elsewhere because local transmission rates in Australia are much lower. It had planned to start vaccinating in March.
But Prime Minister Scott Morrison said Thursday he expects the Pfizer vaccine will be delivered two weeks after the Australian regulator approves it in late January. He said that "it is moving considerably faster than normal."
Morrison says the goal is to give 80,000 shots a week and have 4 million of Australia's 26 million people vaccinated by the end of March.
___
THE VIRUS OUTBREAK:
Health and Human Services Secretary Alex Azar says the government will begin allowing more drugstores to start giving shots to speed coronavirus vaccinations. Some governors and other politicians are turning up the pressure after a slow rollout of the coronavirus vaccines. Dr. Anthony Fauci believes the U.S. could soon give 1 million vaccinations a day. The U.S. reports 29 severe allergic reactions to the vaccines.
The European Union has given approval to the Moderna vaccine. The decision gives the 27-nation bloc a second vaccine to use against the coronavirus. The U.K. says it has vaccinated 1.3 million people and plans to have almost 1,000 vaccination centres operating by the end of this week.
— Follow AP's coverage at https://apnews.com/hub/coronavirus-pandemic, https://apnews.com/hub/coronavirus-vaccine and https://apnews.com/UnderstandingtheOutbreak
___
HERE'S WHAT ELSE IS HAPPENING:
MEXICO CITY — Mexico has reported a new high for a daily increase in coronavirus cases, with 13,345 newly confirmed infections reported Wednesday for the previous 24 hours. Officials also reported a near-record of 1,165 deaths related to COVID-19.
The country has now seen about 1.48 million infections and almost 130,000 deaths so far in the pandemic. A low testing rate means that is an undercount, and official estimates suggest the real death toll is over 180,000.
Mexico's vaccination effort continues at a glacial rate, with about 7,500 shots administered Wednesday, a rate similar to previous days. In Mexico City, the current centre of the pandemic in the country, 88% per cent of hospital beds are full.
___
BEIJING — New coronavirus cases in northern China's Hebei province have more than doubled as officials move to lock down an area that is home to about 75 million people.
Officials announced 51 new cases Thursday, bringing Hebei's total to 90 since Sunday. Most of the cases have been in Shijiazhuang, the provincial capital that is due to host some events of next year's Winter Olympics.
Rail, air and highway connections to Shijiazhuang have been suspended, control measures tightened for urban communities and villages in the region, and classes have been suspended.
Authorities have imposed similarly tight measures in the cities of Shenyang and Dalian in Liaoning province just to the north.
Wary of a new wave of infections, China is discouraging travel for next month's Lunar New Year holiday and beginning school holidays a week early.
___
BATON ROUGE, La. — Louisiana hospitals warn that they are running dangerously short of beds because of the influx of COVID-19 patients and the situation is expected to worsen because of the holidays.
Gov. John Bel Edwards and public health officials said Wednesday that efforts are being made to speed up vaccinations for the coronavirus. But they add that nothing will happen quickly enough to lower Louisiana's coronavirus outbreak except the precautionary measures they have been preaching for months.
Virus restrictions are scheduled to expire next week, and the governor says he doesn't know whether he will toughen the rules or renew them as is. New Orleans announced new restrictions Wednesday.
___
LANSING, Mich. — Michigan will begin administering coronavirus vaccines to seniors and front-line workers such as teachers and police next week.
The state had planned to next immunize people 75 and older and essential workers including first responders, prison guards and child care providers. But officials said Wednesday that residents ages 65 to 74 will be included, too.
Gov. Gretchen Whitmer said that "every shot in the arm is a step closer to ending this pandemic."
The first stage of Michigan's vaccination program has been limited to health care workers and nursing home residents. At least 152,000 people in the state have received the first dose in just over three weeks. Michigan will move to the next phase Monday.
___
AUSTIN, Texas — Texas has reported a new daily high for COVID-19 deaths, with 326.
The total reported Wednesday was far more than the previous high of 278 deaths reported July 23. It raised the state's pandemic death toll to 28,545.
Texas officials reported 19,535 new confirmed coronavirus cases.
A record 13,628 people were reported in hospitals for treatment of COVID-19, the 10th consecutive day a new high has been set in Texas.
___
SEATTLE — Washington state officials say everyone over 70 years old and anyone over 50 who lives in a multigenerational household will be the next priorities for coronavirus vaccinations in the state.
The state Department of Health made that announcement Wednesday in an online media briefing.
Newly installed Secretary Umair Shah reiterated that Washington remains in the first phase of vaccine distribution, with high-risk health care workers, first responders and residents of long-term care facilities first in line. But he says that within two to three weeks, the state should be able to move to the next phase focusing on the state's older residents.
So far, state officials have administered 126,602 of the 522,550 doses the state has received.
___
NEW ORLEANS — New Orleans officials say they will forbid most public gatherings or special events involving people who are not members of the same household beginning Friday.
It's a tightening of current restrictions that limit indoor special events to 75 people and outdoor events to 150. The tightening of coronavirus restrictions announced Wednesday also will limit occupancy at businesses to 25%.
The harsher restrictions take effect Friday at 6 a.m.
Mayor LaToya Cantrell and city health director Jennifer Avegno say the changes are being made because the percentage of positive coronavirus test results has doubled in about one week, surpassing 10%. Rising positivity rates had already led to a shutdown of indoor bar service last week in the city.
___
MONTREAL — Quebec's premier is imposing a provincewide 8 p.m. curfew beginning Saturday as a way to curb surging coronavirus infections and hospitalizations.
The province will become the first in Canada to impose a curfew for addressing the pandemic.
Premier Francois Legault spoke of the need to take drastic action as he announced a four-week curfew prohibiting people from leaving their homes between 8 p.m. and 5 a.m. unless they are going to work.
He says officials have concluded the virus is being spread through gatherings in residences, and the curfew is meant to prevent that.
___
JERUSALEM — The Israeli Cabinet has agreed to tighten a lockdown in hopes of slowing a raging coronavirus outbreak.
Most schools and businesses will be closed, public gatherings restricted and public transportation limited for a two-week period beginning at midnight Thursday night. Thousands of police are expected to be deployed to enforce the closure.
Prime Minister Benjamin Netanyahu's office announced the decision late Wednesday.
Israel has jumped out to a fast start in vaccinating its population, inoculating 15% of its 9 million people in just over two weeks. But at the same time, it is facing one of the world's highest rates of coronavirus infections.
Israel's Health Ministry has reported over 462,000 cases of the coronavirus, including more than 8,000 new cases on Wednesday. It also has reported over 3,500 deaths.
___
RALEIGH, N.C. — North Carolina Gov. Roy Cooper on Wednesday announced a three-week extension of a 10 p.m. curfew aimed at helping slow the spread of the coronavirus as some counties experienced a bumpy rollout of vaccines for residents over age 75.
As the state moved beyond healthcare workers and those in nursing homes and shifted to the new phase of vaccine distribution for certain elderly members of the general public, some sites quickly ran out of supplies or experienced long lines or crowds.
Not all counties had begun the new phase because key healthcare workers who regularly come into contact with COVID-19 haven't all had the opportunity to get their first dose of a Pfizer or Moderna vaccine.
At a time when data from the state Department of Health and Human Services shows 96 of North Carolina's 100 counties with substantial or critical community spread, Cooper warned residents to remain vigilant.
"No matter where you live, work, worship or play, COVID-19 remains a deadly threat, and we've got to treat it that way," Cooper said.
___
ST. PETERSBURG, Fla. — Florida began converting one of its major testing locations into a vaccination site and Gov. Ron DeSantis said Wednesday that residents over 65 should be soon able to receive a shot at other large-scale venues, churches, and even some grocery stores around the state.
DeSantis spoke at the Hard Rock Stadium in Miami Gardens, and some first responders were vaccinated. He called Wednesday a "soft opening" that will last a few days until the site opens to the regular public.
More than 329,000 people have been vaccinated in Florida — or about 1.5% of the population — almost all of them either health care workers, residents in care homes, or people over the age of 65.
"We believe putting seniors first is the right policy as a matter of public health," DeSantis said.
___
The drugstore chains CVS and Walgreens both said Wednesday that they expect to finish delivering the first round of COVID-19 vaccine doses at nursing homes on schedule by January 25.
CVS said it was roughly halfway done as of Tuesday. It is working with 7,822 nursing homes nationwide and had completed nearly 4,000 first-dose clinics.
All told, CVS said it has administered 351,231 vaccines in nursing homes as of Tuesday, including nearly 30,000 in big states like California and Florida.
There are more than 15,000 nursing homes nationally, and the drugstore chains focused first on vaccinating at those locations in part because residents there are more vulnerable and require more care than people staying at other long-term care locations.
CVS and Walgreens also are expanding their vaccine delivery into those other locations, which include assisted living facilities. CVS said it has completed nearly 700 first-dose clinics at those locations and administered more than 26,000 shots.
But the drugstore chain said it was still waiting on eight states — Arizona, Illinois, Indiana, Maryland, Oregon, Pennsylvania, Rhode Island and Wisconsin — to set start dates before it can begin working in those locations.
___
BOISE, Idaho — An 87-year-old south-central Idaho man has filed a federal lawsuit against Republican Gov. Brad Little and the state's health department seeking to force the state to put people 65 and over at the front of the line for the coronavirus vaccination.
Richard Byrd of Rogerson in the lawsuit filed Monday says it's a life-and-death issue for older people who tend to die at much higher rates than younger people if they get COVID-19.
Byrd contends denying him access to the vaccine immediately is a violation of his rights under the U.S. Constitution. The Idaho attorney general's office declined to comment on the lawsuit.
___
BIRMINGHAM, Ala. — Birmingham Mayor Randall Woodfin was released from a hospital Wednesday after being treated for COVID-19 and planned to continue recovering from the illness and quarantining at home.
Woodfin, 39, was admitted to Princeton Baptist Medical Center on Monday with pneumonia in his left lung caused by COVID-19. He said a grandmother who died of the illness caused by the new coronavirus was being laid to rest as he was being discharged.
"That pains me. I can't be there, and I miss her. She was 87 years old and she died of COVID-19," he said in a statement. "If you don't have to be out, don't be out. Wash your hands. Wear your masks and practice social distancing."
Woodfin received Remdesivir and convalescent plasma therapy during his stay in the hospital.
Woodfin fell ill at the same time three other Alabama mayors from Auburn, Decatur and Florence were fighting the illness.
The Associated Press
British Columbia announces plan for mass vaccination campaign starting in April – The Globe and Mail
Starting in February, British Columbia's oldest residents will be asked to pre-register to get their COVID-19 vaccination, securing a place in line for when their age group is called.
The B.C. government offered the details of its distribution plan on Friday, as it wraps up the first phase of priority vaccinations for those in long-term care facilities. Rebuffing demands from various industries and professions, it has instead established a rollout based mostly on a resident's date of birth.
"The science is very clear. The single biggest factor for death or severe illness, is age," Premier John Horgan told a news conference on Friday. He said he has been lobbied hard by different interest groups that wanted priority vaccines, but said the plan is driven by the statistics on risk. An individual older than 60 is five times as likely to get seriously ill or die from COVID-19 than someone younger than 45, he noted. "No matter where you work, no matter what you do, your age is the predominant factor. And that's been the focus of the development of this plan."
Even with mass vaccinations around the province starting in April, Provincial Health Officer Dr. Bonnie Henry said relief from pandemic restrictions such as mask requirements, travel limits and bans on social gatherings are many months away.
"I would love to be able to say July 1st, but I think there are a whole lot of unknowns," she said. She suggested that non-essential travel within B.C. will likely be permitted by the summer, but not large gatherings. She cautioned that the new variants of COVID-19, or additional shortages of promised vaccines, could change that.
"By the summer, we should be able to have some types of our normal lives back again," she said. "But the full, back to what we would like to have, in terms of social interactions and being together, is not likely until the fall."
The province, dealing with uncertainty around vaccine supply, is focused on reaching select high-risk populations, such as people who are homeless, acute-care health workers, elderly residents at home and family doctors. Roughly 520,000 people are expected to be vaccinated in this early stage of the program, before distribution is opened up to the remainder of the province's eligible adults. The two vaccines currently available in Canada, made by Pfizer-BioNTech and Moderna, have not been approved for people younger than 18.
Once residents are pre-registered, they will be contacted by their local health authority for the opportunity to visit one of mass vaccination centres that are being organized in 172 communities around the province. They will be set up in school gymnasiums, convention halls and stadiums, staffed by nurses and others who can be trained to administer the vaccine. Residents will emerge with a vaccination card, and instructions on when to return for their booster shot within 35 days.
Residents older than 79, or Indigenous elders older than 64, will be served first. Vaccinations will proceed based on age, descending in five-year increments. The last group to receive their shots will be those aged 18 to 24, with the last, second doses expected to be done in October.
The B.C. teachers union said they are concerned with the plan. "B.C. teachers, like many others, will be disappointed to see there is no prioritization for the front-line workers who have kept our schools, public services and economy open," federation president Teri Mooring said in a statement.
The Mayor of the Vancouver Island city of Duncan, which has seen a large wave of COVID-19 cases, expressed relief at word the program is under way. "The way that they rolled it out makes sense," Michelle Staples said in an interview. "You can see the light at the end of the tunnel. Before, there has been [this sense] that we have no idea how long this is going to go on."
Ian MacPhee, comptroller of Prince of Whales, a marine-tour company operating out of Vancouver and Vancouver Island, said the prospect of widespread vaccination in B.C. provides some "hopeful certainty" for his tourism business.
But hope has a cost. He said his 27-year-old company faces the challenge of surviving to the point when many are vaccinated. "But how many limbs will we have left? We may be that soldier stumbling off the battlefield with only one arm and one leg," said Mr. MacPhee, who is also an at-large member of the board of the Tourism Industry Association of B.C.
The province's plan is banking on the delivery of only the Pfizer-BioNTech and Moderna vaccines, but Dr. Henry said she is hoping a third vaccine, by AstraZeneca, will be approved shortly. That additional supply would allow the province to target some groups that are not currently prioritized but still facing elevated risk.
Until a majority of residents are vaccinated, the virus will continue to pose a risk, she noted. "We need to keep this bargain that we have made with each other, this social contract that we have, to keep ourselves, our communities, protected through this next few months, as we get towards the light, as we start to see the time when we will be able to come together again, when we will be able to take our masks off."
We have a weekly Western Canada newsletter written by our B.C. and Alberta bureau chiefs, providing a comprehensive package of the news you need to know about the region and its place in the issues facing Canada. Sign up today.
B.C. now has three clinics for 'long-hauler' COVID-19 patients with lingering symptoms – The Globe and Mail
British Columbia has launched a network of three clinics offering specialized treatments for COVID-19 patients still suffering from an array of ailments months after testing positive for the virus, with researchers using evidence from this care to better understand the long-term effects of the disease.
On Friday, a group of local health authorities announced units already operating at Vancouver General Hospital and St. Paul's Hospital in Vancouver have now been joined by one this week at the Jim Pattison Outpatient Care and Surgery Centre in Surrey, still the B.C. community reporting the most new cases each day.
As the pandemic nears its first year in Canada, health authorities across the country are grappling with how to treat those patients, who refer to themselves as long haulers. Alberta has announced three similar clinics, while Ontario has one in Toronto and one in London.
How many coronavirus cases are there in Canada, by province, and worldwide? The latest maps and charts
Getting the jab done: When can Canadians expect to get a COVID-19 vaccine?
Most patients at the trio of B.C. clinics will see a doctor at the facility three months after they first feel ill and then have follow-up visits after six months and then a year. "We're truly building this plane as we're flying it and we haven't reached the 12-month mark," said Zachary Schwartz, head of the recovery clinic at Vancouver General Hospital.
Though the scientific research to date varies, Jesse Greiner, the head of St. Paul's clinic, told The Globe and Mail that a leading study showed up to 13 per cent of patients in the United Kingdom self-reported still having symptoms a month after first getting ill. A further 4.5 per cent reported having at least one symptom a month further along, and 2.5 per cent still felt sick at 12 weeks.
In B.C., 56,455 people were listed as recovered in the province's Friday update, which means more than 1,400 people could still be fighting coronavirus-related symptoms three months or longer after first noticing them.
Dr. Schwartz, whose clinic began seeing long haulers in November, said the most common problem among patients is serious fatigue, but many also experience insomnia, ringing in their ears, tremors or a foggy brain.
"It's a very individual disease, and everyone has a different history and story to them which makes treatment very difficult," he said.
For Katy McLean, a Vancouver officer manager, her current experience is comparable to her recovery from a bad concussion once suffered after she fell down the stairs. More than four months after she first tested positive for coronavirus, the 42-year-old still finds it impossible to walk more than 10 minutes at a time and has to write everything down because of short-term memory loss.
"I feel like I have a brutal hangover every day and like I've smoked several packs of cigarettes," she said.
Still, she said she is feeling positive after recently reducing her work hours to 80 per cent of full time. Ms. McLean has found success managing her fatigue by setting intentional goals for each day. She said she is also incredibly grateful to live with her partner, who is a nurse.
"If I had been living alone I think I probably would have had to go live with a family member because that's how much my function has been impaired," she said.
Dr. Greiner, the internist who is in charge of the clinic at St. Paul's Hospital, said the most important treatment to date has been educating people about how their activities can lead to their symptoms flaring.
Often, people experience a worsening of their ailments two to three days after they exert themselves heavily while recovering, he said. But mental and emotional stress can also kick off these bouts of bad symptoms, he added. His clinic has seen 160 patients since it opened in the fall.
"The learning that happens from doing this over and over again really just takes time … listening to patients and really trying to hear their stories and understand what their suffering is and where it's coming from," Dr. Greiner said.
We have a weekly Western Canada newsletter written by our B.C. and Alberta bureau chiefs, providing a comprehensive package of the news you need to know about the region and its place in the issues facing Canada. Sign up today.
B.C. records 508 new COVID-19 cases, 9 deaths as vaccine plan released – News 1130
VANCOUVER (NEWS 1130) — Health officials in B.C. say the risk of COVID-19 transmission in long-term care and in communities remains too high to lift restrictions, as they announce nine more people have died from the virus in the last 24 hours.
In a joint statement Friday, Health Minister Adrian Dix and Provincial Health Officer Dr. Bonnie Henry announced 508 more people have been contracted the coronavirus in the last 24 hours.
On the heels of an announcement of how the province will proceed with immunization, Dix and Henry remind British Columbians that following guidelines and public health orders continue to be critical.
"We need to remember our risk remains high right now, even as we protect more and more people with vaccine. We are not at the point where we can lift restrictions in our community or long-term care," they write.
"We must continue to use our COVID-19 layers of protection and do all we can to stop transmission in our communities right now."
BC's #covid19 update Jan 21
The good:
Steady (but still high) new cases
Active cases & ppl isolated trending down
LTC outbreaks going down
The bad:
Avg of more than 10 ppl dying every day in January
Acute care outbreaks still high
Better but a long way to go#bcpoli @NEWS1130 https://t.co/bNNqec8GoA pic.twitter.com/RBWbOY2ajH

— LizaYuzda (@LizaYuzda) January 22, 2021
So far, 110,556 doses of the vaccine have been administered. Of those, 2,202 are second doses.
A new outbreak has been declared at the North Fraser Pretrial Services Centre in Port Coquitlam, and outbreaks have been declared at Royal Inland Hospital in Kamloops, and Royal Columbian Hospital in New Westminster.
A total of 315 people are hospitalized, 74 are in intensive care.