The Latest Build Back Better Plan Won't Improve The Economy – Forbes
Last Friday, the House passed the $1.2 trillion Infrastructure Investment and Jobs Act (IIJA). The Senate passed the bill over the summer so now it goes to President Biden for his signature. With the infrastructure bill done, the focus shifts to the other piece of Biden's agenda, the reconciliation bill, also known as the Build Back Better plan. Supporters of the reconciliation bill think it will help the country's economic recovery, but there is a better chance it will exacerbate inflation and slow economic growth.
The current version of the reconciliation bill is full of spending unrelated to economic growth. This includes a hearing benefit for Medicare, expanding Affordable Care Act tax credits, tax credits to politically preferred energy sources, and more subsidies to Medicaid's home-based care program. Most of this spending is simply a transfer from younger taxpayers to older retirees. People under the age of 65 are the folks who start or expand businesses and invest in companies, and entrepreneurship and investment are what drive growth. Helping retirees live more comfortable lives may be worthwhile, but it is definitely not pro-growth.
The bill also throws a lot of money at things that seem pro-growth, such as investments in education and workforce development, but it does nothing to address the underlying problems that make current government spending on education and workforce development so unproductive.
For example, the National Assessment of Educational Progress recently reported that today's 13-year-olds perform worse than those of a decade ago, particularly in math. Peggy Carr, the commissioner of the National Center for Education Statistics, was so surprised by the magnitude of the decline that she had her staff double check the data.
Current workforce development programs are just as bad. The programs are scattered across various agencies, each with their own rules and eligibility requirements. Navigating this web of programs is bad enough, but evaluations of these programs also reveal that they rarely help people launch new careers. A 2016 report funded by the Department of Labor found that the availability of government workforce funding did not increase people's earnings or employment 15 months later.
Absent real reforms, putting more money into our ineffective education and workforce training system can hardly be considered investment.
In addition to spending a lot of money on things unrelated to growth, the reconciliation bill raises taxes on the businesses and investment that drive growth. These taxes have consequences: A recent analysis from the Tax Foundation finds that the current iteration of the bill will reduce long-run GDP by 0.38% and wages by 0.27%. These declines may seem small, but 0.38% of current GDP is $80 billion, or about $240 per person.
The reconciliation bill will not increase growth, but the economy could use a boost. The November jobs report released last Friday was better than last month's, showing a gain of 531,000 jobs in October, but it was not all good news. The labor force participation rate is still 1.7 percentage points lower than in February of 2020 and total nonfarm employment is still 4.2 million below the pre-pandemic level.
Prices are also rising fast. The annual inflation rate was 5.4% in September, a 13-year high. Consumers saved a lot of money during the pandemic, in part because of several rounds of government checks and generous unemployment benefits, and now they are spending it. High demand is running into low supply as firms struggle to rebuild supply chains and hire workers. The costs of shelter and energy—two prices people readily notice—are two of the biggest contributors to the high inflation rate.
The price of gas has been on a steady climb across the country since the fall of 2020, hitting over $4 per gallon on the West Coast, as shown in the figure below. President Biden recently said the price is unlikely to come down until 2022.
The Biden administration is blaming OPEC for the high price of gas, but the administration has done its part. The administration cancelled a permit for the Keystone XL pipeline and paused drilling on federal lands and waters. Currently 13 states are suing the administration over the drilling pause, including Louisiana, whose State Solicitor General blames the administration for high oil prices.
U.S. monthly oil production is below its pre-pandemic level and many firms in the oil industry appear leery of investing in new supplies given the Biden administration's regulatory actions and emphasis on alternative energy sources. If firms are unable or reluctant to increase the oil supply while demand remains strong, consumers will be paying high prices for a while.
Federal policy is not the only factor behind high prices. In an insightful thread on Twitter a couple weeks ago, Ryan Petersen, CEO of flexport, explained how local zoning policy is contributing to the Long Beach port problem. Dozens of container ships full of goods are waiting to be unloaded, but there is no space. Trucks could pick up containers to create space, but many have empty containers they need to drop off first, and this is where the problem lies.
Long Beach zoning code does not allow yards to stack empty containers more than two high. So, trucks are forced to store empty containers on their chassis, which means they cannot pick up full containers to create space at the port. With no space at the port, ships can't unload, and the goods people are demanding cannot make it to the stores. This means shortages—which are already occurring at stores around the country—or higher prices.
It is well known that local land-use restrictions increase housing prices, but now it is clear they can harm the economy in other ways, too.
The combination of higher prices and low labor force participation is causing some economists to worry about a wage-price spiral. Gad Levanon, head of the Labor Market Institute at The Conference Board, recently wrote that the labor market remains tight: Average hourly earnings increased at an annual rate of 5.7% over the last seven months. Higher wages are often passed on to consumers in the form of higher prices, and as Levanon notes this may cause workers—who are also consumers—to demand even higher wages to compensate for the higher prices. If this process repeats—creating the wage-price spiral—it could cause prices to rise further in the short run.
The economy has a come a long way since the darkest days of the pandemic, but there is still room for growth, especially in the labor market. The reconciliation bill, however, is not the pro-growth plan we need. It does nothing to fix the economy's underlying supply problems, and its taxes and subsidies reduce the incentive to work and invest. We need less top-down regulation and spending from Washington, not more.
Nobody seems to know what's going on with the economy – CNN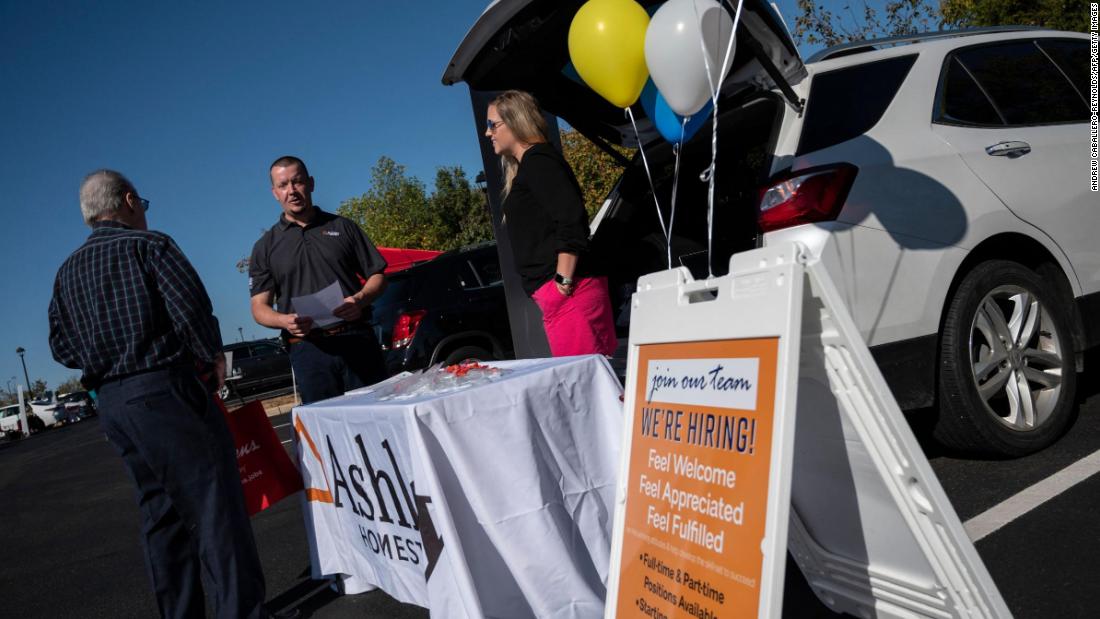 The economy is on the road to recovery from the coronavirus pandemic, reeling from inflation or a source of disappointment on jobs creation, depending on who you're talking to.
It's probably all three, and what happens from month to month seems to be something of a surprise. That element of unpredictability might be the most normal possible thing given the shock of the pandemic — the extraordinary government intervention to save the economy is unlike anything anybody alive today has ever seen.
It's hard to decide how important any single thing is.
Omicron Variant May Be Good For Economy – Forbes
The omicron variant of Covid-19 has sparked great fear. With time, we may find the fear to have been justified, but we may find the opposite: that this is good news for the economy.
It's still early days for our knowledge of omicron. Waiting to learn more seems to make sense, but consider this: Business decisions are being made every day. Any person who waits for perfect certainty—about the economy, technology or Covid-19—will never make a single decision. In many areas decisions have to be made this week. So it's worthwhile to consider how omicron may be good for the economy.
Omicron seems to be displacing the delta variant in South Africa. Ted Wenseleers showed that delta's share of total Covid-19 cases in South Africa has plummeted while omicron has surged. Because the early indications show that omicron was highly transmissible, it could well displace the delta variant around the world.
So far omicron has triggered a surge in infections in South Africa, but not a comparable increase in deaths. There's good reason for the virus to mutate to be less dangerous. Bugs that kill their hosts don't replicate as much as bugs that allow their hosts to remain alive. Many viruses in the past have evolved to be milder. We cannot take this idea too far, however.
The omicron virus may have mutated so that it has greater ability to infect those who already had been exposed to earlier variants. That's no surprise to South African scientists, who have observed a very high past infection rate in their population. The virus could not get ahead by finding people never exposed to any version of Covid-19, so it found a way to infect the previously ill, this theory goes.
BioNTech CEO Ugur Sahin said recently that current vaccines probably help protect against severe illness from the omicron variant, and that new vaccines are under development that would be more targeted against omicron. Given the speed with which our vaccines were developed, we may have new versions being tested in the lab right now. The question will be how long we have to wait for regulatory approval.
From an economic forecasting viewpoint, business leaders should consider the upside potential of omicron. Although it is way too early to be sure, we may find that the disease becomes dominated by a less dangerous mutation. Illness would continue if this happens, but with fewer deaths and hospitalizations. People would come to feel more comfortable dining out, traveling and seeking routine non-Covid healthcare tests and procedures. The rosy view is far from certain, but current evidence is not more pessimistic.
Companies that that are especially sensitive to the Covid pandemic should try to delay big decisions. We'll have better information in the coming weeks. But decisions that cannot be delayed should probably consider the possibility of a stronger economy rather than greater Covid problems.
Can the global economy battle through another COVID-19 setback? – Aljazeera.com
Video Duration 26 minutes 00 seconds 26:00
From:
Counting the Cost
A new coronavirus variant has forced governments to impose travel bans just as economies were starting to recover.
Last week, after scientists in South Africa identified a new coronavirus variant, borders were suddenly closed off to passenger travel from Southern African countries, oil prices fell more than 10 percent, and stock markets took a hit.
Markets and economies are expected to face weeks of uncertainty as investors closely watch for updates on Omicron. What comes next largely depends on what scientists discover and how quickly they do so.
Also, green hydrogen has been hailed as the energy of the future; can it help decarbonise economies?