The latest news on COVID-19 developments in Canada for March 23, 2021 – Delta-Optimist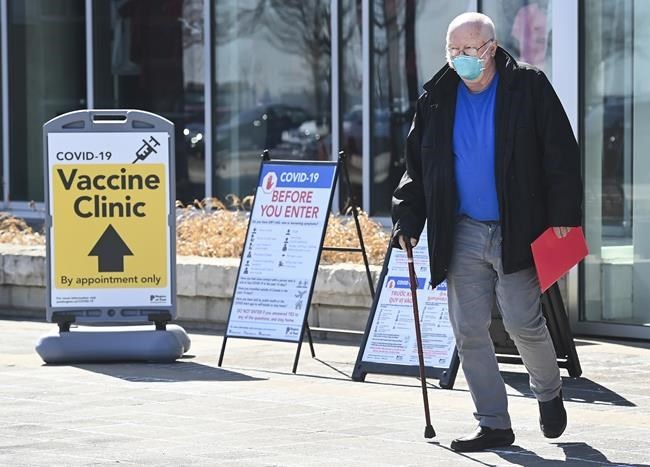 The latest news on COVID-19 developments in Canada (all times eastern):
8:45 p.m.
Alberta reported 465 new cases of COVID-19 and three more deaths.
The province identified 197 new variant cases, bringing the province's total to 1,908.
There were 290 people in hospital, including 53 in intensive care.
Altogether there are 6,231 active cases in Alberta.
The province says so far 497,280 vaccine doses have been administered.
—
7:30 p.m.
B.C. is reporting 682 new cases of COVID-19 and 144 of those involve variants of concern.
A joint statement from Health Minister Adrian Dix and provincial health officer Dr. Bonnie Henry says almost 560,000 doses of the vaccines have been administered and bookings are now open for people 77 years and older.
There's been one more death for a total of 1,438 fatalities since the pandemic began.
The province says letters are going out now to about 200,000 clinically vulnerable people with cancers and other illnesses telling them they can start booking a vaccine appointment on Monday.
—
6 p.m.
British Columbia health officials are prioritizing medically vulnerable people for COVID-19 vaccine.
Health Minister Adrian Dix says in a news release that people with conditions such as cancer, transplant recipients and those with severe respiratory conditions will be able to register for a shot starting next Monday.
Dix says the province has made progress on its age-based program and that allows the expansion to those who are at increased risk from COVID-19.
The government says those people identified as vulnerable will get a letter in the mail telling them how to book an appointment.
—
5 p.m.
Regina is heading back to some of the toughest public-health restrictions seen during the pandemic because of a concerning spread of COVID-19 variants.
Effective immediately, a ban on household guests lifted two weeks ago is back on for households in the city.
Starting Sunday, restaurants and bars in Regina will only be allowed to offer takeout or delivery.
Indoor event venues like movie theatres, museums and community halls are not allowed to have customers starting that day.
The province says these rules will be in effect until at least April 5.
—
4:10 p.m.
Saskatchewan health officials are reporting 151 new cases of COVID-19.
The province says 91 of them are from the Regina area.
The capital city is home to most of Saskatchewan's cases of more infectious COVID-19 variants and is driving the province's spread.
The Ministry of Health says 763 of the 891 variant cases identified are from the Regina area.
It has confirmed 352 cases are from the mutation first detected in the United Kingdom, known as B.1.1.7.
There are 152 people in hospital, with 26 patients receiving intensive care.
—
2:55 p.m.
After a prolonged outbreak in one community, there are now no active cases of COVID-19 in Nunavut.
Premier Joe Savikataaq says Nunavut's case count dropped to zero on Saturday, March 20.
There have been 383 cases in the territory since the start of the pandemic.
Four Nunavut residents have also died from COVID-19, three of them outside the territory.
To date, 12,142 Nunavut residents have received one dose of the Moderna vaccine, while 6,577 have had two jabs.
—
2:10 p.m.
New Brunswick is reporting seven new cases of COVID-19 today.
Health officials say three cases are in the Moncton region and four cases are in the Edmundston area.
Officials say the case that was identified at Moncton High School on Sunday is presumed to involve the more contagious B.1.1.7 variant.
New Brunswick has 56 active reported cases and one patient in hospital with the disease.
—
1:30 p.m.
The Manitoba government is increasing the number of people allowed to gather outdoors to 25 from 10.
It's one of a small number of COVID-19 restrictions being eased starting Friday.
The limit on people allowed to attend weddings and funerals will also rise to 25 people from 10.
The 50 per cent capacity rule for retail outlets will change to a maximum of 500 people from 250.
Manitoba is reporting one COVID-19 death and 98 new cases.
However, five cases have been removed due to data correction, for a net increase of 93.
—
1:30 p.m.
Quebec Premier Francois Legault is asking residents in two regions to reduce their contacts after a recent rise in cases.
Legault says residents of Saguenay-Lac-St-Jean and Outaouais need to be careful if they want their regions to remain orange zones.
The premier says the province is stable but the next few weeks will be crucial in the fight against a third wave of COVID-19 driven by a rise in variants.
He's urging everyone who is eligible to get vaccinated, adding that he will be getting his own shot Friday in Montreal.
—
1 p.m.
Canada's top doctor says a rise in new strains of COVID-19 in Canada, including the B.1.1.7 variant, is leading to higher average hospitalization rates and more severe outcome trends among younger people across the country.
Dr. Theresa Tam says stronger evidence coming from the United Kingdom, where the B.1.1.7 variant originated, shows this new strain can cause more severe illness in the elderly and in younger age groups.
She says if these numbers increase in the younger population, hospitalizations and visits to intensive care units are likely to increase.
Over the past week, there has been a further 15 per cent increase in COVID-19 daily cases, with an average of over 3,600 new cases daily.
Tam continues to urge Canadians to follow public health guidelines, as the countrywide vaccination program continues to roll out.
Canada has seen a total of 938,000 cases to date, including more than 22,700 deaths.
—
12:20 p.m.
The federal government is rolling out extra funding in key regions of Ontario to add more options for residents to protect against the spread of COVID-19.
Ottawa will spend $23.7 million to operate self-isolation sites in Toronto, and the regions of Peel, York and Durham.
More sites are in the works for Thunder Bay, Windsor and other regions.
Health Minister Patty Hajdu says the federal government recognizes many barriers exist in places of overcrowded housing and in areas where housing costs are unaffordable.
That's why the government will fund an added 1,600 COVID-19 isolation rooms, bringing the total of rooms being paid for by Ottawa to 2,000.
—
12 p.m.
Ontario family doctors say they want to be more involved in the province's COVID-19 vaccination effort.
The Ontario College of Family Physicians says a survey found 60 per cent of vaccine-hesitant respondents were more likely to get immunized if a family doctor endorsed and administered their shot.
Dr. Liz Muggah, president of the group, says it's in the public interest to have family doctors more involved in giving out the Oxford-AstraZeneca and Moderna vaccines.
Some family physicians in six regions are offering Oxford-AstraZeneca shots to patients aged 60 and older as part of a pilot project.
Health Minister Christine Elliott says more vaccine supply will be sent to primary care physicians in the future, though she did not provide specifics.
—
11:55 a.m.
The first of two expected shipments of Moderna vaccines this week is being delayed by 24 hours.
Canada is receiving 846,000 doses of the vaccine from Moderna this week, split between two shipments.
The first shipment was to arrive this morning in Canada, but is now set to arrive Wednesday, according to federal officials.
—
11:15 a.m.
Nova Scotia is reporting one new case of COVID-19 today.
Health officials say the case involves a person in the eastern health region and is related to travel outside Atlantic Canada.
Officials say more than 66,000 doses of COVID-19 vaccine have been administered, more than 20,000 of which have been booster shots.
The province has 21 active reported infections.
—
11:10 a.m.
Quebec is reporting 656 new cases of COVID-19 and four more deaths attributed to the novel coronavirus, including one in the past 24 hours.
Health officials said today hospitalizations rose by six, to 519, and 113 people were in intensive care, a drop of one.
The province says it administered 26,040 does of vaccine Monday, for a total of 993, 102.
Quebec has reported a total of 303,707 COVID-19 infections and 10,618 deaths linked to the virus; it has 6,742 active reported infections.
—
10:50 a.m.
Prince Edward Island is reporting two new cases of COVID-19 today.
Chief medical officer of health Dr. Heather Morrison says one case involves a female under the age of 19 who is a close contact of a previously reported infection.
She says the other case involves a male under 19 and may be related to regional travel.
There are now eight active reported cases on the Island.
—
10:40 a.m.
Ontario reports 1,546 new cases of COVID-19 and nine more deaths linked to the virus.
Health Minister Christine Elliott says that 465 of those new cases are in Toronto, 329 are in Peel Region, and 161 are in York Region.
More than 50,000 doses of a COVID-19 vaccine were administered since Monday's report.
This report by The Canadian Press was first published March 23, 2021.
The Canadian Press
Wall Street's plant-based love wilts
By Siddharth Cavale and Uday Sampath Kumar
(Reuters) – A cooling of the U.S. stock market's taste for plant-based meat makers has raised doubts among some investors and analysts about Impossible Foods' plans to achieve a $10 billion flotation.
Impossible is seeking to go public through an initial public offering or via a merger with a blank-check company within the next 12 months, sources told Reuters this month.
The market value of larger competitor Beyond Meat, however, has sunk from a peak of $14 billion to closer to $8.5 billion and is predicted by several brokerages to fall further.
Both firms carry expectations of being big players in a so-called faux meat market which some predict could be worth $85 billion a year by 2030 as dietary habits shift.
But with retail sales of some products sliding, four sectoral investors told Reuters that Beyond's 420% rise in value since listing in September 2019 was now seen as overcooked.
"It's pretty shocking when you see some of these valuations come out," said Patrick Morris, whose Eat Beyond vehicle has invested in three Canada-listed plant-based ventures.
"The $10 billion for Impossible Foods, with Beyond Meat at $8 or $8.5 billion? The first reaction is that these valuations are coming from outer space," added Morris, who said he is looking at investing in Impossible if it opens its books.
Some existing investors have told Impossible that it should aim to go public at a valuation below where Beyond is trading, a person familiar with the discussions told Reuters.
Impossible declined to comment.
BIG DEALS
While the signs remain positive for plant-based food, COVID-19 has halted restaurant sales, and sector studies suggest that the industry has yet to convincingly win over shoppers.
Nevertheless, both Beyond and Impossible have signed deals with major restaurant and grocery chains and the U.S. industry as a whole grew by 44% last year during the pandemic.
Revenues at Beyond and some other producers are growing, but the rate of volume sales growth of fresh and fully cooked plant-based meat alternatives has been declining steadily at U.S. retail stores since July last year, NielsenIQ data shows.
Unit sales growth eased from 32.6% in the July to September period last year to 1% in January to March quarter of 2021, when compared to the same period a year ago, the data showed.
Beyond's sales overall were still just $407 million last year, and its stock trades at nearly 21 times sales per share, according to Refinitiv data, versus 1.6 times and 1.9 times for Kellogg Co and Kraft Heinz, which last year had sales of $13.78 billion and $26.19 billion respectively.
"Food companies need to trade in a multiple that has some logic to it," said Christopher Kerr, Chief Investment Officer at Unovis Asset Management, an early investor in Beyond Meat who cashed out and now holds stakes in Oatly and Zero Egg.
"The question is can they get to something that represents market valuation tied to revenues … right now we're seeing some pretty premium valuations out there," Kerr added.
Graphic: Beyond Meat market cap – https://fingfx.thomsonreuters.com/gfx/buzz/jznpnandjvl/Beyond%20market%20cap.PNG
SPAC BOOM
One reason for the valuation floated for Impossible is the boom in special-purpose acquisition deals and initial offerings that has seen big jumps for a range of start-ups at launch.
Brian Schaeffer, managing director of private equity trading platform InvestX, which allows investors to trade in pre-IPO companies, said Impossible had been one of the top five traded stocks on the platform since introducing it this year.
"The SPAC trend is super aggressive right now …so those kind of public valuations are being translated into interest on the private platforms," Schaeffer added.
Some market debuts, however, have not gone as well.
British-based food delivery service Deliveroo flopped on its debut last month.
While Impossible does not publish sales numbers, some industry estimates give it a less than 4% share of the U.S. imitation meat industry, compared with Beyond Meat's 25%.
Beyond has signed deals with McDonald's, PepsiCo and KFC and Taco Bell owner Yum Brands while Impossible last year gave up on McDonald's, citing its inability to supply on the required scale.
Impossible's burgers and sausages are available at only 20,000 stores globally, versus Beyond's 122,000 and it is still seeking regulatory approval in Europe and mainland China, where the genetically modified yeast it uses is banned.
"There is so much money (from SPACs) looking for so few places to go, because the space is so new," Curt Albright, managing member of alternative protein investment firm Clear Current Capital said.
"Whether the valuations are too much or too little, that the market will figure out eventually."
(Reporting by Siddharth Cavale and Uday Sampath Kumar in Bengaluru; Editing by Patrick Graham and Alexander Smith)
By Nick Kossovan
Interviews Are Modern Greek Tragedies
Odds are the person interviewing you has a similar story as mine—they developed their interviewing skills "on the job." Executives and managers are thrust into the recruiting part of their job without first developing skills to evaluate talent.
Outside of human resources, those whose job requires them to assess and interview candidates get little to no training. I never received any formal training regarding how to interview and evaluate a candidate. Yet, I've interviewed 1,000's throughout my career.
I admit I stumbled through my first 150 – 200 interviews. I developed my interviewing skills, a skill I knew would serve me well, on job candidates, which I now admit was unfair to them.
Hiring the right people who'll fit with the position, team and company can't be overstated. I keep British-American author Simon Sinek's words top of mind, "If you hire people just because they can do a job, they'll work for the money. But if you hire people who believe what you believe, they'll work for you with blood and sweat and tears."
Since finding work is seeking approval, I often think of interviews as conduits to modern Greek tragedies.
We spend much of our youth and adulthood seeking approval, trying to "fit in" with the right clothes, car, house, job, etc. We're constantly aware we're being judged—a cause of much of why we second-guess ourselves and the stress this causes.
Am I good enough?
Do I fit in?
You desperately want to hear, "We want you."
WARNING: Three interview truths coming.
When interviewing, everything goes into "the mix"—past hiring mistakes, bias, prejudices, commonalities.
At the core of every hiring decision is gut feel.
Likability is the most valuable currency a job seeker has, trumping education, skills, and experience.
When a candidate is sitting in front of me, I'm asking myself:
Will this person fit in with the current team members and the company's culture?
Will this person be seen as a good hire by my boss and peers, and the team? (A bad hire = bad judgment, which is an X against my reputation.)
Acing an interview is extremely hard. Much of your success depends on whom you're speaking to, and humans are the ultimate moving target. The best you can hope for is to stack the odds in your favour and hope your interviewer is in a good mood.
Keep top of mind: An interview is a sales meeting, and hiring is a business arrangement.
When interviewing, your job is to establish rapport (READ: connection), build trust and achieve the following goals of making the interviewer:
Believe in you.
See you as a fit.
You achieve these goals by:
Clearly demonstrating what value you can bring to the employer. Connect how yourtrack record, which needs to be quantified; otherwise, it's just your opinion, would be an asset to the employer.
Presenting yourself as a problem solver. If you look at work holistically, you'll realize every position within an organization exists to solve a problem(s). How can your experience and skills solve the problem(s) the position you applied to exists to solve?
Asking good questions. By asking good questions, your interviewer will talk about their pain points. You can then explain (sell yourself) how you'd go about solving their pain point.
Three things worth noting and using as guidance when interviewing:
An employer will hire you if they're convinced you'll bring more value than you cost, therefore offer as much value as possible.
Problem solvers, those with a proven track record of solving their employer's pain points, will always be in demand.
People don't have short attention spans. They have short interest spans. Make your interviewer interested in you!
There's no blueprint to guarantee interview success. All you can do is stack the odds in your favour as much as possible. However, there's one universal interview rule that'll tip the odds in your favour: Always tell the person sitting across from you what they want to hear. When you develop the ability to read your interviewer and comfortably offer solutions to their pain points, you'll have developed solid interviewing skills. Such skills will mitigate the number of Greek tragedies you'll experience while job searching.
______________________________________________________________
Nick Kossovan, a well-seasoned veteran of the corporate landscape, offers advice on searching for a job. You can send him your questions at artoffindingwork@gmail.com.
Judge Rules to delay Huawei CFO's extradition hearings
By Moira Warburton
VANCOUVER (Reuters) – A Canada judge has agreed to delay Huawei Chief Financial Officer Meng Wanzhou's U.S. extradition hearings for three months, according to a ruling read in court on Wednesday, handing her defense team a win.
Meng, 49, was arrested at Vancouver International Airport on charges of bank fraud in the United States for allegedly misleading HSBC about Huawei's business dealings in Iran, causing the bank to break U.S. sanctions.
Meng's team had asked for more time to review additional documents that became available after HSBC and Huawei reached a settlement in Hong Kong. Extradition hearings were originally set to wrap up in May.
Defense attorney Richard Peck argued in court on Monday that they were requesting "a modest frame of time" to be able to read the documents and potentially file them as evidence in the British Columbia Supreme Court.
Lawyers representing the attorney general of Canada had fought the adjournment of hearings set to start on Monday, arguing that Meng's team had been given more time than was usual in an extradition to make their case, and the contents of the documents were too redacted to be relied upon as significant to the case.
"The outstanding feature of this application is that it's based on speculation," prosecutor Robert Frater said on Monday.
But Associate Chief Justice Heather Holmes disagreed, siding with the defense in granting an adjournment.
Her reasons will be read out on in court on April 28.
(Reporting by Moira Warburton in Vancouver; Editing by Chris Reese and Marguerita Choy)