The latest news on COVID-19 developments in Canada for March 8 – The Tri-City News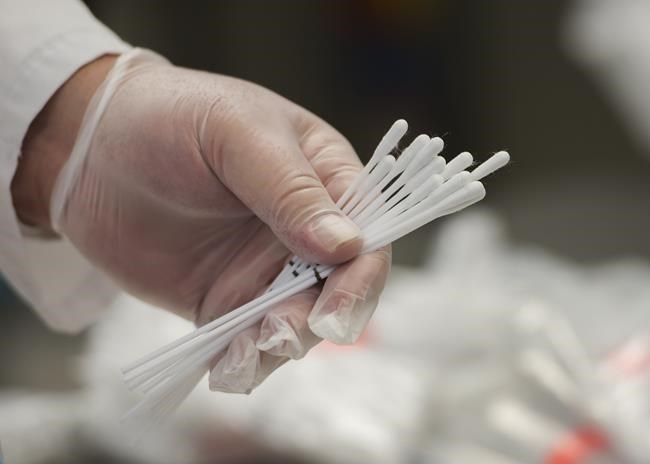 The latest news on COVID-19 developments in Canada (all times Eastern):
6:35 p.m.
Alberta is reporting 278 new cases of COVID-19 and six additional deaths.
The province says six cases of a more contagious variant have also been detected, bringing that total in Alberta to 659.
There are 254 people in hospital, with 36 of them in intensive care.
Health Minister Tyler Shandro says he believes it's safe enough to immediately lift some more public-health restrictions.
—
6:30 p.m.
Alberta is lifting more COVID-19 public-health restrictions, including allowing more people to shop in retail stores and malls.
Health Minister Tyler Shandro says the retail limit is increasing to 25 per cent capacity from 15 per cent.
He says banquet halls, community halls and conference centres can open for meetings, while weddings of up to 10 people and funeral services with a maximum of 20 people are allowed.
Lessons and practices for youth and post-secondary sports can go ahead with a cap of 10 participants.
And there can be rehearsals and performances — without an audience and confined to 10 people — for youth and adult dance, singing and theatre activities.
—
6:15 p.m.
B.C. is reporting 11 more deaths and 1,462 new cases of COVID-19 over the last three days as the death toll in the province nears 1,400.
Provincial health officer Dr. Bonnie Henry says more than 4,800 cases are active, including 240 people hospitalized with the illness.
She says 144 more cases of variants of concern have been detected in B.C. for a total of 394, of which 87 cases are active.
There have been 333,327 doses of COVID-19 vaccine administered in B.C., including nearly 87,000 second doses.
—
4 p.m.
Prince Edward Island is reporting two new cases of COVID-19 today.
Health officials say the new cases involve two men in their 20s.
They say one man recently travelled outside Atlantic Canada and the other is a close contact of a previously reported infection.
P.E.I. has 28 active reported cases of COVID-19.
—
3:05 p.m.
Saskatchewan is reporting 97 new cases of COVID-19 and two more infections caused by a more contagious variant.
Health officials say a provincial lab confirmed two additional cases of the variant first detected in the United Kingdom in the Regina area.
The ministry also confirmed a previously reported presumptive case to be the B.1.1.7 variant.
To date, Saskatchewan has seen nine cases of variants of concern.
—
3 p.m.
Quebec is announcing it will not follow recommendations from Canada's national vaccine expert panel regarding the newly approved Oxford-AstraZeneca vaccine.
The province said today in a news release its provincial vaccine expert committee is recommending that all approved doses be used immediately — particularly for people in their 70s — to reduce death and hospitalizations.
Canada's National Advisory Committee on Immunization has said the AstraZeneca vaccine is not recommended for people aged 65 years and over because of insufficient data.
Quebec says the fact the AstraZeneca vaccine doesn't need to be kept frozen will help officials conduct more mobile vaccinations campaigns and reach patients at home.
—
2 p.m.
Ontario's health minister says people won't be asked to provide proof of their pre-existing health conditions to access a COVID-19 vaccine during the second phase of the rollout.
Christine Elliott says she believes most people will come to the clinics when they are permitted and not take advantage of the honour system.
The vaccine will be offered starting in April to people with specific health conditions like organ transplant recipients, those living with obesity and those receiving treatments that suppress the immune system.
Elliott says local public health units will screen people as they arrive at the clinics and may be able to check with a person's family physician, but that will not be mandatory.
—
1:35 p.m.
New Brunswick is reporting five new cases of COVID-19 today.
Two cases in the Moncton region involve people in their 20s and are travel-related.
The other cases are in the Miramichi area and are linked to a previously reported infection.
There are currently 36 active reported cases in the province and three people in hospital with the disease, including one in intensive care.
—
1:35 p.m.
Manitoba is reporting 63 new COVID-19 cases and one death.
On a per capita basis, the northern part of the province continues to be hardest hit.
—
12:55 p.m.
Manitoba is expanding its vaccination program again.
The minimum age to book an appointment for the general public is being dropped by five years — to 60 and up for First Nations people and 80 and up for all others.
—
12:45 p.m.
Newfoundland and Labrador is reporting three new cases of COVID-19.
Health officials say all three cases involve close contacts of previously reported infections.
The province has 84 active reported cases and three people in hospital with the disease.
Newfoundland and Labrador has reported a total of 1,009 COVID-19 cases and six deaths linked to the virus.
—
12:15 p.m.
Prime Minister Justin Trudeau says March 11 will be a "national day of observance" for the COVID-19 pandemic.
The day is meant to commemorate the 22,000 people in Canada who have died from the disease and to acknowledge all the other ways lives have changed over the past year.
In a statement, Trudeau says that includes kids' missed birthday parties, seniors' increased isolation, lost jobs and failing businesses.
The day is also meant to honour workers in health care and other essential front-line services.
—
12 p.m.
Nova Scotia is reporting no new cases of COVID-19.
Health officials say the province has 24 active reported infections.
Two people in the province are in hospital with the disease, including one in intensive care.
Nova Scotia has reported a total of 1,659 COVID-19 cases and 65 deaths linked to the virus.
—
11:45 a.m.
Ontario is reporting 1,631 new cases of COVID-19 and 10 more deaths today.
The province says the daily case count is higher than expected due to a "data catch-up process" in its system.
No other details about the issue have been provided.
The province has lifted its stay-at-home order in Toronto, Peel Region and North Bay, the last three regions where it was still in effect.
—
11:05 a.m.
Quebec is reporting 579 new cases of COVID-19 as well as nine additional deaths due to the illness.
None of the deaths occurred in the past 24 hours.
Hospitalizations declined by two to 590, with 108 people in intensive care, which is one more than a day earlier.
The province administered 15,249 doses of vaccine Sunday, bringing the total to 564,302.
—
This report by The Canadian Press was first published March 8, 2021
The Canadian Press
Basketball trailblazer denied Canadian permanent residency, must return to U.S. – CBC.ca
Bilquis Abdul-Qaadir, the trailblazing basketball player who set up an academy for girls and coached multiple sports at an Islamic school in London, Ont., has been denied permanent residency in Canada and will have to go back to the United States.
"We've been here for two years, my son is Canadian, and we would love to be part of this country, but we finally got the message from immigration that we were denied permanent residency. It's very unexpected," said Abdul Qaadir from her London home. "I'm at a loss for words. I've single-handedly brought sports to an underserviced community. It's heartbreaking."
Abdul-Qaadir and her husband, A.W. Massey, moved to London from Tennessee three years ago.
She said she hasn't been able to work in Canada since August, when her work permit expired and wasn't renewed by a Canadian border official.
"We're still trying to figure out what we're going to do. We aren't sure. We're angry and we're tired. We put our heart and soul into this application. We felt like we checked all the boxes."
Abdul-Qaadir led a four-year battle against the International Basketball Federation, which banned religious head coverings on the court. She won, but sacrificed her basketball career to do so.
She had been the leading high school point scorer for both boys and girls in Massachusetts, and went on to play for the University of Memphis in Tennessee, where she was the first woman to play in a hijab in NCAA Division 1.
Alongside her motivational speaking gigs, she teaches at the London Islamic School and has opened a basketball academy in London, but all that is now up in the air.
After waiting an entire year, my Canadian permanent residency application was refused because the <a href="https://twitter.com/CitImmCanada?ref_src=twsrc%5Etfw">@CitImmCanada</a>'s officer felt that my job duties as Athletic Director at the Mosque/Private School in London ON, wasn't adequate work.

&mdash;@Bilqis_AbdulQ
On Thursday, Abdul-Qaadir got a letter from Immigration, Refugees and Citizenship Canada (IRCC) that said she doesn't "meet the requirements for immigration to Canada."
She applied for permanent residency as an athletic director at the London Muslim Mosque, but her duties — including developing, managing and supervising the school's physical education and athletic programs, as well as being the head coach for the basketball, volleyball and cross-country teams — are "inconsistent with the actions" of an athletic director.
"I am not satisfied that your stated duties is sufficient to indicate that your role involves plan, organize, direct, control and evaluate the operations of comprehensive fitness programs at this organization. I am also not satisfied that you performed a substantial number of the main duties for this [job classification]," IRCC wrote in her letter.
Abdul-Qaadir said she doesn't know if she and her husband will fight the refusal.
For more stories about the experiences of Black Canadians — from anti-Black racism to success stories within the Black community — check out Being Black in Canada, a CBC project Black Canadians can be proud of. You can read more stories here.
Mastercard expands cryptocurrency services with wallets, loyalty rewards
Mastercard Inc said on Monday it would allow partners on its network to enable their consumers to buy, sell and hold cryptocurrency using a digital wallet, as well as reward them with digital currencies under loyalty programs.
The credit card giant said it would offer these services in partnership with Bakkt Holdings Inc, the digital assets platform founded by NYSE-owner Intercontinental Exchange.
Founded in 2018, Bakkt went public earlier this year through a $2.1 billion merger with a blank-check company. Shares of the company were up 77% at $16.19 on Monday.
Mastercard said its partners can also allow customers earn and spend rewards in cryptocurrency instead of loyalty points.
The company had said in February https://www.reuters.com/article/us-crypto-currency-mastercard-idUSKBN2AA2WF it would begin offering support for some cryptocurrencies on its network this year.
Last year, rival Visa Inc had partnered https://www.reuters.com/article/us-blockfi-crypto-currency-visa-idUSKBN28B603 with cryptocurrency startup BlockFi to offer a credit card that lets users earn bitcoin on purchases.
Bitcoin, the world's largest cryptocurrency, touched a record high of $67,016 last week after the debut of the first U.S. bitcoin futures-based exchange traded fund. It has more than doubled in value this year.
(Reporting by Niket Nishant in Bengaluru; Editing by Ramakrishnan M.)
Huawei CFO Meng Wanzhou returns to work in Shenzhen, after extradition drama – Global Times
Meng Wanzhou, CFO of Huawei Technologies, returned to work at the tech giant's headquarters in Shenzhen on Monday after almost three years fighting extradition to the U.S. in Canada, state-backed Chinese newspaper Global Times reported.
Meng, the daughter of Huawei's founder Ren Zhengfei, completed three weeks of quarantine last week after returning to the southern city of Shenzhen where a crowd of well-wishers chanting patriotic slogans awaited her at the airport.
"Over the last three years, although we have struggled, we have overcome obstacles and our team has fought with more and more courage," she said in a speech at an internal company event that was circulated online.
The extradition drama had been a central source of discord between Beijing and Washington, with Chinese officials signalling that the case had to be dropped to help end a diplomatic stalemate.
Meng was detained in December 2018 in Vancouver after a New York court issued an arrest warrant, saying she tried to cover up attempts by Huawei-linked companies to sell equipment to Iran in breach of U.S. sanctions.
She was allowed to go home after reaching an agreement https://www.reuters.com/technology/huawei-cfo-meng-appear-court-expected-reach-agreement-with-us-source-2021-09-24 with U.S. prosecutors last month to end a bank fraud case against her.
(Reporting by David Kirton; Editing by Kirsten Donovan)