The latest news on COVID-19 developments in Canada for March 8 – The Tri-City News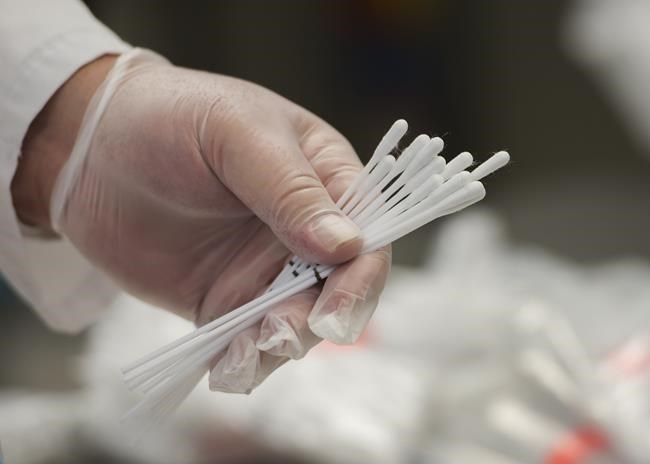 The latest news on COVID-19 developments in Canada (all times Eastern):
6:35 p.m.
Alberta is reporting 278 new cases of COVID-19 and six additional deaths.
The province says six cases of a more contagious variant have also been detected, bringing that total in Alberta to 659.
There are 254 people in hospital, with 36 of them in intensive care.
Health Minister Tyler Shandro says he believes it's safe enough to immediately lift some more public-health restrictions.
—
6:30 p.m.
Alberta is lifting more COVID-19 public-health restrictions, including allowing more people to shop in retail stores and malls.
Health Minister Tyler Shandro says the retail limit is increasing to 25 per cent capacity from 15 per cent.
He says banquet halls, community halls and conference centres can open for meetings, while weddings of up to 10 people and funeral services with a maximum of 20 people are allowed.
Lessons and practices for youth and post-secondary sports can go ahead with a cap of 10 participants.
And there can be rehearsals and performances — without an audience and confined to 10 people — for youth and adult dance, singing and theatre activities.
—
6:15 p.m.
B.C. is reporting 11 more deaths and 1,462 new cases of COVID-19 over the last three days as the death toll in the province nears 1,400.
Provincial health officer Dr. Bonnie Henry says more than 4,800 cases are active, including 240 people hospitalized with the illness.
She says 144 more cases of variants of concern have been detected in B.C. for a total of 394, of which 87 cases are active.
There have been 333,327 doses of COVID-19 vaccine administered in B.C., including nearly 87,000 second doses.
—
4 p.m.
Prince Edward Island is reporting two new cases of COVID-19 today.
Health officials say the new cases involve two men in their 20s.
They say one man recently travelled outside Atlantic Canada and the other is a close contact of a previously reported infection.
P.E.I. has 28 active reported cases of COVID-19.
—
3:05 p.m.
Saskatchewan is reporting 97 new cases of COVID-19 and two more infections caused by a more contagious variant.
Health officials say a provincial lab confirmed two additional cases of the variant first detected in the United Kingdom in the Regina area.
The ministry also confirmed a previously reported presumptive case to be the B.1.1.7 variant.
To date, Saskatchewan has seen nine cases of variants of concern.
—
3 p.m.
Quebec is announcing it will not follow recommendations from Canada's national vaccine expert panel regarding the newly approved Oxford-AstraZeneca vaccine.
The province said today in a news release its provincial vaccine expert committee is recommending that all approved doses be used immediately — particularly for people in their 70s — to reduce death and hospitalizations.
Canada's National Advisory Committee on Immunization has said the AstraZeneca vaccine is not recommended for people aged 65 years and over because of insufficient data.
Quebec says the fact the AstraZeneca vaccine doesn't need to be kept frozen will help officials conduct more mobile vaccinations campaigns and reach patients at home.
—
2 p.m.
Ontario's health minister says people won't be asked to provide proof of their pre-existing health conditions to access a COVID-19 vaccine during the second phase of the rollout.
Christine Elliott says she believes most people will come to the clinics when they are permitted and not take advantage of the honour system.
The vaccine will be offered starting in April to people with specific health conditions like organ transplant recipients, those living with obesity and those receiving treatments that suppress the immune system.
Elliott says local public health units will screen people as they arrive at the clinics and may be able to check with a person's family physician, but that will not be mandatory.
—
1:35 p.m.
New Brunswick is reporting five new cases of COVID-19 today.
Two cases in the Moncton region involve people in their 20s and are travel-related.
The other cases are in the Miramichi area and are linked to a previously reported infection.
There are currently 36 active reported cases in the province and three people in hospital with the disease, including one in intensive care.
—
1:35 p.m.
Manitoba is reporting 63 new COVID-19 cases and one death.
On a per capita basis, the northern part of the province continues to be hardest hit.
—
12:55 p.m.
Manitoba is expanding its vaccination program again.
The minimum age to book an appointment for the general public is being dropped by five years — to 60 and up for First Nations people and 80 and up for all others.
—
12:45 p.m.
Newfoundland and Labrador is reporting three new cases of COVID-19.
Health officials say all three cases involve close contacts of previously reported infections.
The province has 84 active reported cases and three people in hospital with the disease.
Newfoundland and Labrador has reported a total of 1,009 COVID-19 cases and six deaths linked to the virus.
—
12:15 p.m.
Prime Minister Justin Trudeau says March 11 will be a "national day of observance" for the COVID-19 pandemic.
The day is meant to commemorate the 22,000 people in Canada who have died from the disease and to acknowledge all the other ways lives have changed over the past year.
In a statement, Trudeau says that includes kids' missed birthday parties, seniors' increased isolation, lost jobs and failing businesses.
The day is also meant to honour workers in health care and other essential front-line services.
—
12 p.m.
Nova Scotia is reporting no new cases of COVID-19.
Health officials say the province has 24 active reported infections.
Two people in the province are in hospital with the disease, including one in intensive care.
Nova Scotia has reported a total of 1,659 COVID-19 cases and 65 deaths linked to the virus.
—
11:45 a.m.
Ontario is reporting 1,631 new cases of COVID-19 and 10 more deaths today.
The province says the daily case count is higher than expected due to a "data catch-up process" in its system.
No other details about the issue have been provided.
The province has lifted its stay-at-home order in Toronto, Peel Region and North Bay, the last three regions where it was still in effect.
—
11:05 a.m.
Quebec is reporting 579 new cases of COVID-19 as well as nine additional deaths due to the illness.
None of the deaths occurred in the past 24 hours.
Hospitalizations declined by two to 590, with 108 people in intensive care, which is one more than a day earlier.
The province administered 15,249 doses of vaccine Sunday, bringing the total to 564,302.
—
This report by The Canadian Press was first published March 8, 2021
The Canadian Press
Canada's manufacturers ask for federal help as Montreal dockworkers stage partial-strike
MONTREAL (Reuters) – Canada's manufacturers on Monday asked the federal government to curb a brewing labor dispute after dockworkers at the country's second largest port said they will work less this week.
Unionized dockworkers, who are in talks for a new contract since 2018, will hold a partial strike starting Tuesday, by refusing all overtime outside of their normal day shifts, along with weekend work, they said in a statement on Monday.
The Canadian Union of Public Employees (CUPE) Quebec's 1,125 longshore workers at the Port of Montreal rejected a March offer from the Maritime Employers Association.
The uncertainty caused by the labour dispute has led to an 11% drop in March container volume at the Montreal port on an annual basis, even as other eastern ports in North America made gains, the Maritime Employers Association said.
The move will cause delays in a 24-hour industry, the association said.
"Some manufacturers have had to redirect their containers to the Port of Halifax, incurring millions in additional costs every week," said Dennis Darby, chief executive of the Canadian Manufacturers and Exporters (CME).
While the government strongly believes a negotiated agreement is the best option for all parties, "we are actively examining all options as the situation evolves," a spokesman for Federal Labor Minister Filomena Tassi said.
Last summer's stoppage of work cost wholesalers C$600 million ($478 million) in sales over a two-month period, Statistics Canada estimates.
($1 = 1.2563 Canadian dollars)
(Reporting By Allison Lampert in Montreal. Additional reporting by Julie Gordon in Ottawa; Editing by Marguerita Choy)
Canada scraps export permits for drone technology to Turkey, complains to Ankara
OTTAWA (Reuters) –Canada on Monday scrapped export permits for drone technology to Turkey after concluding that the equipment had been used by Azeri forces fighting Armenia in the enclave of Nagorno-Karabakh, Foreign Minister Marc Garneau said.
Turkey, which like Canada is a member of NATO, is a key ally of Azerbaijan, whose forces gained territory in the enclave after six weeks of fighting.
"This use was not consistent with Canadian foreign policy, nor end-use assurances given by Turkey," Garneau said in a statement, adding he had raised his concerns with Turkish Foreign Minister Mevlut Cavusoglu earlier in the day.
Ottawa suspended the permits last October so it could review allegations that Azeri drones used in the conflict had been equipped with imaging and targeting systems made by L3Harris Wescam, the Canada-based unit of L3Harris Technologies Inc.
In a statement, the Turkish Embassy in Ottawa said: "We expect our NATO allies to avoid unconstructive steps that will negatively affect our bilateral relations and undermine alliance solidarity."
Earlier on Monday, Turkey said Cavusoglu had urged Canada to review the defense industry restrictions.
The parts under embargo include camera systems for Baykar armed drones. Export licenses were suspended in 2019 during Turkish military activities in Syria. Restrictions were then eased, but reimposed during the Nagorno-Karabakh conflict.
Turkey's military exports to Azerbaijan jumped sixfold last year. Sales of drones and other military equipment rose to $77 million in September alone before fighting broke out in the Nagorno-Karabakh region, data showed.
(Reporting by David Ljunggren in Ottawa and Tuvan Gumrukcu in Ankara; Writing by Daren Butler; Editing by Gareth Jones and Peter Cooney)
Investigation finds Suncor's Colorado refinery meets environmental permits
By Liz Hampton
DENVER (Reuters) – A Colorado refinery owned by Canadian firm Suncor Energy Inc meets required environmental permits and is adequately funded, according to an investigation released on Monday into a series of emissions violations at the facility between 2017 and 2019.
The 98,000 barrel-per-day (bpd) refinery in the Denver suburb of Commerce City, Colorado, reached a $9-million settlement with the Colorado Department of Public Health and Environment (CDPHE) March 2020 to resolve air pollution violations that occurred since 2017. That settlement also addressed an incident in December 2019 that released refinery materials onto a nearby school.
As part of the settlement, Suncor was required to use a third party to conduct an independent investigation into the violations and spend up to $5 million to implement recommendations from the investigation.
Consulting firm Kearney's investigation found the facility met environmental permit requirements, but also pinpointed areas for improvement, including personnel training and systems upgrades, some of which was already underway.
"We need to improve our performance and improve the trust people have in us," Donald Austin, vice president of the Commerce City refinery said in an interview, adding that the refinery had already undertaken some of the recommendations from the investigation.
In mid-April, Suncor will begin a turnaround at the facility that includes an upgrade to a gasoline-producing fluid catalytic cracking unit (FCCU) at Plant 1 of the facility. That turnaround is anticipated to be complete in June 2021.
Suncor last year completed a similar upgrade of an automatic shutdown system for the FCCU at the refinery's Plant 2.
By 2023, the company will also install an additional control unit, upgraded instrumentation, automated shutdown valves and new hydraulic pressure units in Plant 2.
Together, those upgrades will cost approximately $12 million, of which roughly $10 million is dedicated to Plant 2 upgrades, Suncor said on Monday.
(Reporting by Liz Hampton; Editing by Marguerita Choy)