The latest news on COVID-19 developments in Canada for Thursday, April 1 – Coast Reporter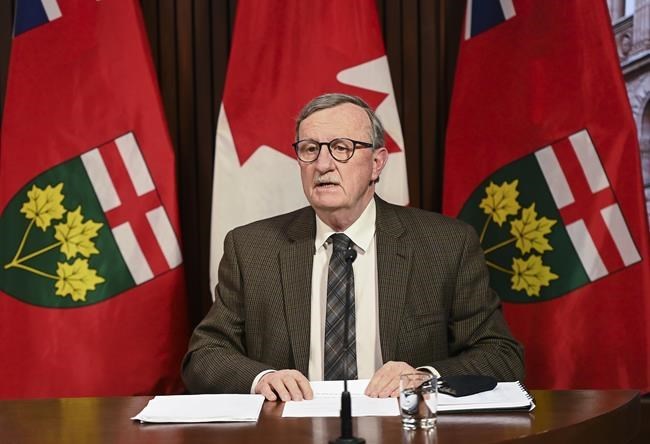 The latest news on COVID-19 developments in Canada (all times Eastern):
6:10 p.m.
British Columbia is reporting 832 new COVID-19 cases and five deaths.
Provincial health officer Dr. Bonnie Henry says B.C.'s total number of deaths has now reached 1,463 people.
She says 296 people are in hospital being treated for COVID-19, with 79 people in intensive care.
Henry started her update today answering questions she says she has received from members of the public, including questions about B.C.'s vaccine strategy.
—
4 p.m.
Saskatchewan is reporting 199 new cases of COVID-19 Thursday, 115 of which are in the capital city, which has become a hot spot for variants of concern.
Health officials warned that the number of faster-spreading variants is also beginning to rise elsewhere in southern Saskatchewan, particularly Moose Jaw and Weyburn.
The province is expanding vaccine eligibility to people 58 and older as of Friday.
So far, 200,633 doses have been administered.
—
3:05 p.m.
Prince Edward Island is reporting one new case of COVID-19 today.
Health officials say the case involves someone under 19 who is a contact of a previously reported infection.
Prince Edward Island has 13 active reported cases of COVID-19.
The province has reported a total of 160 infections and no deaths linked to the virus.
—
2:15 p.m.
Health officials in New Brunswick are reporting 10 new cases of COVID-19 in the province today.
One case is in the Moncton region, and the other nine are in the Edmundston region.
There are now 141 active cases, and four patients are hospitalized, including three in intensive care.
Following a recent confirmed case of COVID-19, health officials have declared an outbreak at Foyer St-Jacques, a special care home in Edmundston.
—
2:05 p.m.
Ontario is imposing a four-week "shutdown" to combat rising COVID-19 infections.
Premier Doug Ford says the measures will take effect Saturday and remain in place across the province for at least four weeks.
Retail stores will see limits on capacity while restaurants will be restricted to takeout, delivery and drive-thru service.
Ford made the announcement hours after his government's science advisers said a stay-at-home order is needed to control the third wave driven by deadlier and more infectious variants.
—
1:55 p.m.
Two women in their 40s in Manitoba have died from COVID-19 and there are 52 more cases of the virus.
Screening has also identified three more cases that are variants of concern for a total of 270.
There are 148 people in hospital due to COVID-19 and 30 are in intensive care.
—
1:05 p.m.
Health Canada says almost three in four Canadians over the age of 80 have now received at least one dose of a COVID-19 vaccine, as have one in three people between 70 and 79.
Overall, almost one in six Canadians have now been given at least one dose, with 5.1 million people vaccinated as of Thursday morning.
About 690,000 of those have received both doses.
Health Canada also issued new data by province today, showing Quebec ahead of the rest of the country in vaccinations, with 17.5 per cent of the adult population in Quebec vaccinated with at least one dose, followed by Saskatchewan at 14.9 per cent, Alberta at 14.6 per cent and Ontario at 13.9 per cent.
Nova Scotia trails way behind at 5.6 per cent, with Manitoba second-to-last at 11 per cent.
—
1 p.m.
Newfoundland and Labrador health authorities are reporting one new case of COVID-19.
Officials say the case involves a man between 20 and 39 years old and his infection is related to travel within the country.
Public health says contact tracers are still trying to chase down the source of another infection announced Wednesday.
Newfoundland and Labrador hasn't reported a case of COVID-19 whose source wasn't quickly traced to travel or an existing infection since an outbreak swept through the St. John's region in February.
—
1 p.m.
Ontario is now offering Oxford-AstraZeneca COVID-19 vaccines to residents aged 55 and older.
It's also expanding the roster of pharmacies offering shots to include locations in every public health unit.
The province is expecting 583,400 shots of the vaccine to arrive today.
It says pharmacies could start offering the vaccine as early as Saturday.
—
12:20 p.m.
Canada's first deliveries of vaccine from the international vaccine sharing program known as COVAX will begin in the next few days.
Maj.-Gen. Dany Fortin, the military commander overseeing Health Canada's vaccine delivery logistics, says Canada is preparing to pick up 300,000 doses of the Oxford-AstraZeneca vaccine in the coming days and they will be delivered to provinces next week.
Canada is to get 1.9 million doses through COVAX by the end of June.
—
11:10 a.m.
Nova Scotia is reporting three new cases of COVID-19.
Two of the cases are in the Halifax area, with one related to travel outside of Atlantic Canada and the other being a close contact of a previously reported case.
Health officials say the third case is in the western health zone and is also related to travel outside of the Atlantic region.
The province is reporting a total of 24 active cases of novel coronavirus.
—
11 a.m.
Quebec is reporting 1,271 new cases of COVID-19 and nine more deaths attributed to the novel coronavirus, including one in the past 24 hours.
Health officials say hospitalizations rose by two, to 487, and 119 people were in intensive care, a drop of one.
The province says it administered 41,406 doses of vaccine Wednesday, for a total of 1,391,649, representing 16.4 per cent of the population.
Quebec has reported a total of 312,362 COVID-19 infections and 10,676 deaths linked to the virus; it has 9,038 active reported cases.
—
10:30 a.m.
Ontario is reporting 2,557 new cases of COVID-19 and 23 more deaths linked to the virus.
Health Minister Christine Elliott says there are 743 new cases in Toronto, 484 in Peel Region, and 311 in York Region.
She also says there are 131 new cases in Ottawa, 119 in Hamilton and 107 in Durham Region
Ontario says 84,060 doses of a COVID-19 vaccine were administered since Wednesday's update.
—
10 a.m.
Ontario's science advisers say stay-at-home orders will control the third wave of COVID-19, which is being driven by rising rates of the more deadly variants of concern.
The Ontario Science Advisory Table makes the findings in its latest pandemic modelling data.
Dr. Adalsteinn Brown, co-chair of the group, says short-term case projections will depend entirely on the public health measures implemented by the government and vaccination rates.
He says the province's vaccine rollout is not reaching the highest risk communities, which is delaying its impact as an effective strategy to fight the pandemic.
—
7:15 a.m.
The Canadian Press has learned that Ontario is expected to announce a 28-day provincewide "shutdown" today to stop the spread of COVID-19.
A source with knowledge of the restrictions says the final details of the new measures are still being worked out.
The source, who was not authorized to speak publicly about the announcement, says schools will remain open after the Easter weekend.
—
This report by The Canadian Press was first published April 1, 2021.
The Canadian Press
Note to readers: This is a corrected story. A previous version had an incorrect number of active cases in Quebec.
'Getting dangerous': Calls grow for federal action amid Canada's nurse shortage – Global News
Two decades into a career she once loved, Toronto emergency room nurse Nancy Halupa says she is almost ready to throw in the towel.
"I don't think I can do a fourth wave with this kind of staffing," she told Global News.
"It's not good for my mental health. It's not good for my family. It's not a workable situation anymore."
Across the country, hospital staff are leaving their jobs at an alarming rate. And that's prompting experts and health-care workers to call for more action from the federal government.
Nearly one in five job vacancies in Canada is in health care and social assistance, according to Statistics Canada. In early 2021, those sectors experienced the largest losses year-over-year compared to all other sectors.
Weekly overtime increased, too, 78 per cent on average from May 2019 to May 2020, the Canadian Federation of Nurses Unions (CFNU) said, using data from StatCan.
According to the CFNU, that number jumps to 137 per cent in Quebec and Ontario.

2:04


Facing COVID-19 staffing crunch, hospitals offer cash bonuses to new nurses



In Canada's largest province of Ontario alone, the president of the CFNU told Global News it estimates there are more than 16,000 vacancies.
For those, like Halupa, who haven't quit, the workload, she said, is crushing.
"Things need to change. It is getting dangerous out there," said Halupa.
"I've never gone to work with this much anxiety or fear on what I'm going to see or what we're going to have to deal with or how short-staffed we are."
Halupa said not all the blame can be put on COVID-19. Recruitment, retirements and pay, she said, have also played a role in pushing people out of the profession.
At a recent rally in Toronto, medical professionals condemned the Doug Ford government for Bill 124.
The legislation was introduced pre-pandemic in 2019 and caps certain public sector wages, such as nurses', at a one per cent annual increase.
For registered nurse Leah Waxman, that meant 47 cents more per hour for her last raise, a number that doesn't make her want to stay in her role.
"Something acute needs to happen to make a drastic change and prevent our health-care (system) from collapsing … because it is," she said.
Richard Mullin, a spokesperson for Ontario's Treasury Board, told Global News in a statement that "it is inaccurate to suggest that Bill 124 caps wages at one per cent annually."
"Ontario's public sector employees will still be able to receive salary increases for seniority, performance, or increased qualifications as they do currently," Mullin explained.
Labour expert Rafael Gomez called the legislation "suppressive."
"Health-care spending now is the largest ticket item of any government. So I understand the macro priorities," said Gomez, the director of the Centre for Industrial Relations and Human Resources. "But health-care is a micro event. When you're in a hospital and you need help and you want a nurse to be there, that's affecting you personally. And if there are policies that are hampering that, I think the government is sort of short-sighted."

A Canadian problem
In July, Alberta Health Services confirmed it had only about 18 treatment beds available at one of its busiest hospitals, the Royal Alexandra, "due to short-term staffing coverage issues."
Alberta Opposition NDP Leader Rachel Notley said bed closures due to staffing pressures aren't isolated.
"This has led to bed closures and cancelled surgeries and repeated emergency room closures in the communities of Edson, St. Paul, Boyle, Elk Point, Galahad, Westlock, Fairview, Rocky Mountain House, Cold Lake, Lac La Biche, High Prairie, Slave Lake, Wainwright, Rimbey and Lacombe."
Since then, the United Nurses of Alberta has said the province has been hiring contract nurses to address severe staffing shortages in hospitals there.
Meantime, in Kamloops, B.C., the shortages have become deadly. There, a 70-year-old woman died in an emergency department waiting room while seeking treatment last week.
"The government has let the situation at the hospital's emergency department become dire — we've heard reports that some shifts have only three nurses trying to keep up with a workload usually handled by 13 people," Kamloops-South Thompson MLA Todd Stone said Monday.
Cheryl Cusack of the Association of Regulated Nurses of Manitoba said there, nurses are struggling with depression and other mental health issues, including trauma, as a result of their efforts to save coronavirus patients.
And in Nova Scotia, what was once a seven per cent vacancy rate has climbed to 20 per cent, according to the Nova Scotia Health Authority.
"We've had 34 people leave the Halifax Infirmary emergency department in the past two-and-a-half to three months," said the province's General Employees' Union president Jason MacLean. "Six of them didn't even have other jobs. So what we need to do is find out why they are leaving, which I believe we are getting to, but also people need to be incentivized to stay there."

Experts call for federal leadership
The president of CFNU, Linda Silas, told Global News Ottawa needs to "show leadership."
"We need commitment from the federal government to create a health-care workforce agency," Silas said. "The federal government will have an agency to look at how many nurses we need in five years. What do we need to do today to keep what we have and plan better with the provinces and territories?"
When asked if it would consider any of these measures, in an email to Global News, Health Canada spokesperson Mark Johnson wrote: "the responsibility for matters related to the administration and delivery of health services, including health workforce planning and management, falls within provinces and territories jurisdiction."
It's not the first time health-care experts have asked for the Canadian government to create national standards or regulations for nurses.
Over the last year, seniors' advocates have been pleading for national standards in nursing homes. And while Liberal Leader Justin Trudeau made the promise last fall, his government still hasn't put anything into action.
Colleen MacPherson, a critical care nurse in Toronto, is upset the provinces and the federal government haven't made significant steps to fix the growing problem.
"Look what happened in long-term care. The nurses were working without protection. They were understaffed," she told Global News.
And, she said, hospitals aren't immune.
"People are at risk. We have no staff. Nurses didn't get any vacation this year. Wages are stuck."
Now, MacPherson and others worry an election has created more uncertainty and set back any plans for a solution.

Party plans
During the 2021 federal election campaign, Trudeau has promised that a re-elected Liberal government will give $10 billion to help provinces clear their backlogs and pandemic wait-lists. It plans to help provinces hire 7,500 nurses, nurse practitioners and family doctors.
The Conservatives, meanwhile, have vowed to meet with premiers to make a new health-care agreement and boost the annual growth rate of the Canada Health Transfer by six per cent if elected. That plan would add nearly $60 billion to the system over a decade.
Erin O'Toole did fall short of promising to hire more front-line workers.
Jagmeet Singh and the NDP announced $250 million to address the health-care worker shortage, a fund to help hire 2,000 nurses across the country.
The Green Party, meanwhile, promised to develop national health-care guidelines.
Toronto emergency room doctor Chris Keefer said in the meantime, patients are the ones really suffering.
"If nurses aren't available to get orders done, to get procedures done and treatments done, patients wait and wait and wait. And people are already quite frustrated with that. But it's getting worse and worse and it's getting critical," Keefer said.
Halupa agrees.
"It's impossible to run a department shorthanded," she said, worried the time to save the health-care system is running out.
"There's not a lot of veteran nurses left," she said. "if you want to keep health care somewhat safe, then you need to retain the people you have. You need the veterans. You need to retain who you have now."
© 2021 Global News, a division of Corus Entertainment Inc.
Where Canadians can travel abroad during COVID-19 – CTV News
TORONTO —
While Canada continues to advise against all non-essential travel outside the country, there are plenty of countries accepting Canadian travellers with limited COVID-19 restrictions.
Most countries have COVID-19 restrictions in place for foreign travellers, Mexico and Colombia are two exceptions to this. Both of those countries require a travel form to be filled out prior to arrival but have no other COVID-19 restrictions in place for Canadian travellers.
Canada is currently restricting all travel to 16 countries. Nations on that list include Afghanistan, Iraq, Iran, Myanmar and Somalia; more details can be found here.
EUROPE
European Union member nations began accepting Canadian travellers in July. Travellers headed to most European countries will require a negative PCR test and proof of vaccination to avoid mandatory quarantine. Non-vaccinated travellers will need a negative PCR test and to quarantine for 10 to 14 days depending on the country being visited. France, the U.K., Sweden, Germany, and Austria require negative tests but are not asking Canadians to quarantine upon arrival regardless of vaccination status.
Many European countries welcoming Canadian travellers are accepting those who had mixed-and-matched vaccines as long as the vaccines were approved for use by the EU health authority or the World Health Organization (WHO). What's considered fully vaccinated can depend on the country, so it is always best to check government websites for most up-to-date information, but currently most EU countries are accepting mixing of AstraZeneca and mRNA doses, as well as a mixing of mRNA doses.
UNITED STATES
Currently, the United States doesn't have any vaccine requirements for travel. The land border is currently closed to non-essential travel from Canadians, but they are able to fly into the country. Canadians travelling to the U.S. from abroad must be aware of additional restrictions in place. Canadians will not be allowed to travel to the U.S. if they have travelled to India, China, Iran, Brazil, South Africa, or most European countries in the 14 days prior.
The land border restrictions for Canadians travelling to the U.S. are in place until Sept. 21 and may be extended. American travellers have been able to use the land border to enter Canada since Aug. 9 with proof of vaccination and a negative PCR test within 72 hours of arrival.
LATIN AMERICA AND CARIBBEAN COUNTRIES
Most Latin and Caribbean countries are also accepting Canadians, but travel requirements vary. Some countries will need a completed negative COVID-19 test before arrival while others will do testing upon arrival. Other countries require vaccination, and some offer COVID-19 certified accommodations to control spread.
Turks and Caicos Islands requires full vaccination and a negative test for travel to the country. They accept mix-and-match doses between mRNA and adenovector vaccines, and between mRNA doses.
Canadians travelling to Jamaica will need to provide a negative test. Travellers will need to fill out an online application within seven days prior to travel and wait for approval before entering the country.
Similarly, Saint Lucia doesn't require vaccination for entry, but travellers must have a negative PCR test at least five days prior to visiting the country. Saint Lucia has set up special accommodations to help keep COVID-19 from spreading on the island by keeping tourists in one area during their quarantine period. For those who are fully vaccinated, they can come and go from these accommodations as they please; for partially or non-vaccinated travellers, there are restrictions of where they can travel and which excursions they can participate in at certified resorts.
Bermuda will require a negative test, and unvaccinated travellers will need to quarantine for 14 days upon arrival.
On Aug. 10, Martinique entered a lockdown and is currently not accepting tourists.
It is important to check your destination's restrictions before setting off as they are regularly updated.
CRUISES
As with other destinations, it is important to keep track of changing requirements on cruise ships. Currently, there are no cruises operating out of Canada, but Canadians can hop on board in other countries.
What is considered fully vaccinated can vary significantly by port and country, so it is important to be aware of vaccination policies while travelling.
Celebrity Cruises departing from most ports in Greece accept mixed mRNA doses, but those leaving from Athens accept mixed doses of AstraZenca and an mRNA vaccine.
Norwegian Cruise Line requires passengers to be fully vaccinated with a single brand of vaccine.
All cruises departing U.S. ports require that passengers be vaccinated by the CDC's definition, which does not include mixing and matching AstraZeneca and an mRNA dose.
WHO CAN TRAVEL TO CANADA
Canada has currently suspended flights from India and Morocco. Otherwise, travellers entering the country must provide a negative molecular test taken within 72 hours prior to arrival, and provide proof of vaccination authorized for use in Canada to avoid a 14 day stay in quarantine.
Travellers are required to use the ArriveCAN app to upload their proof of vaccination.
There is no guarantee that travellers to Canada will be accepted at the border.
TRAVEL INSURANCE
Travel insurance is always beneficial in the event travellers need medical assistance abroad, and insurance companies are now providing COVID-19 specific travel insurance.
Manulife has a pandemic travel plan and WestJet is offering complimentary COVID-19 travel insurance to travellers using their services.
Since Canada is currently advising against all non-essential travel abroad, it is best to check insurance policies to see if they will cover any COVID-19 related issues that may happen while travelling. Some insurance companies, such as TD Insurance, have coverage exemptions in place where Canadians have been advised to avoid travel.
Travel insurance coverage can also be dependent on the vaccination status of the traveller, one of Manulife's travel insurance plans does not cover any COVID-19 related expenses for unvaccinated travellers.
Coronavirus: What's happening in Canada and around the world on Wednesday – CBC.ca
The latest
The U.S. government will spend $470 million US to learn more about long COVID-19, its causes and potential treatments.
The National Institutes of Health (NIH) announced the plans Wednesday with a grant awarded to New York University and a goal of enrolling up to 40,000 adults and children nationwide. The effort, dubbed "Recover," will involve researchers at more than 30 U.S. institutions.
"This is being taken with the greatest seriousness. at a scale that has not really been attempted with something like this," said NIH director Dr. Francis Collins at a briefing Wednesday.
Collins said it's estimated 10 to 30 per cent of people infected with COVID-19 may develop persistent, new or recurring symptoms that can last months or perhaps years.
Long COVID is an umbrella term for symptoms that linger, recur and show up for the first time four weeks or more after an initial infection. It also includes heart inflammation and multisystem inflammatory syndrome, a rare but serious condition that can occur in children after a COVID-19 infection.
Pain, headaches, fatigue, brain fog, shortness of breath, anxiety, depression, chronic coughs and sleep problems are among the reported symptoms of long COVID. Possible causes include the virus lingering in tissues and organs or overstimulating the immune system.
The announcement came as the World Health Organization said there were about four million coronavirus cases reported globally last week, marking the first major drop in new infections in more than two months. In recent weeks, there have been about 4.4 million new COVID-19 cases.
In its weekly update released on Tuesday, the UN health agency said every region in the world saw a drop in COVID-19 cases compared to the previous week.
Although the worldwide number of deaths decreased to about 62,000, with the sharpest decline in Southeast Asia, there was a seven per cent increase in deaths in Africa. According to the weekly report from WHO, the highest numbers of cases were seen in:
The United States, with 1,034,836 new cases — a decrease of roughly 20 per cent from a week earlier.
The United Kingdom, with 256,051 new cases — a five per cent increase.
India, with 248 248 new cases — a 15 per cent decrease.
Iran, with 172 030 new cases — a 17 per cent decrease.
Turkey, with 158 236 new cases — a six per cent increase.
According to the weekly update, the delta variant had been identified in 180 countries as of Tuesday.
-From The Associated Press and Reuters, last updated at 3:30 p.m. ET
---
What's happening across Canada
WATCH | New Brunswick's chief medical officer expresses frustration over stalled vaccination rates:
New Brunsick's chief medical officer of health, Dr. Jennifer Russell, makes a direct appeal to the public to protect the more vulnerable, children and the health care system and encourage others to get vaccinated. Sounding frustrated, Russell said the vast majority of people in the province sick with COVID-19 are not fully vaccinated. 2:43
---
What's happening around the world
As of early Wednesday evening, more than 226.2 million cases of COVID-19 had been reported worldwide, according to the coronavirus tracking tool maintained by U.S.-based Johns Hopkins University. The reported global death toll stood at more than 4.6 million.
In the Asia-Pacific region, China is imposing lockdowns and ordering mass testing in cities along its east coast amid the latest surge in COVID-19 cases. Checks have been set up in toll stations around the city of Putian in Fujian province, with a dozen of them closed entirely. The nearby cities of Xiamen and Quanzhou have also restricted travel as the delta variant spreads through the region.
Cambodia will launch a campaign Friday to begin giving COVID-19 vaccinations to children aged six to 11. Prime Minister Hun Sen is also considering having children aged 3 to 5 be vaccinated soon. Cambodia began vaccinating 12- to 17-year-olds at the start of August.
Nearly 72 per cent of Cambodia's almost 17 million people have received at least one COVID-19 shot since vaccinations began in February, the majority being China's Sinovac and Sinopharm vaccines.
In the Americas, Mexico will send vaccines to Nicaragua in September, the country's foreign minister said on Tuesday, in a rare sign of international engagement with the administration of Nicaraguan President Daniel Ortega.
In Africa, after uncertainty about whether the coronavirus pandemic would force South Africa to postpone local government elections, the courts have ruled the vote should move ahead. South Africa's courts ruled this month the Independent Electoral Commission should hold the polls on Nov. 1, despite concerns about political rallies spreading the disease.
South Africa has recorded 2,640 new infections and 125 deaths in the last 24 hours. The nation accounts for more than 35 per cent of coronavirus infections in Africa, with 2.8 million confirmed cases and 85,002 confirmed deaths.
In Europe, the Dutch government is easing restrictions and will introduce a "corona" pass showing proof of vaccination to go to bars, restaurants, clubs or cultural events.
Meanwhile, health-care workers in France face suspension from their jobs starting Wednesday if they haven't been vaccinated against COVID-19. With about 300,000 workers still not vaccinated, some hospitals fear staff shortages will add to their strain.
In the Middle East, Iran on Tuesday reported 22,329 new cases of COVID-19 and 408 additional deaths.
-From Reuters, The Associated Press and CBC News, last updated at 2:30 p.m. ET