10 local pharmacies to start offering AstraZeneca vaccine as early as this week – GuelphToday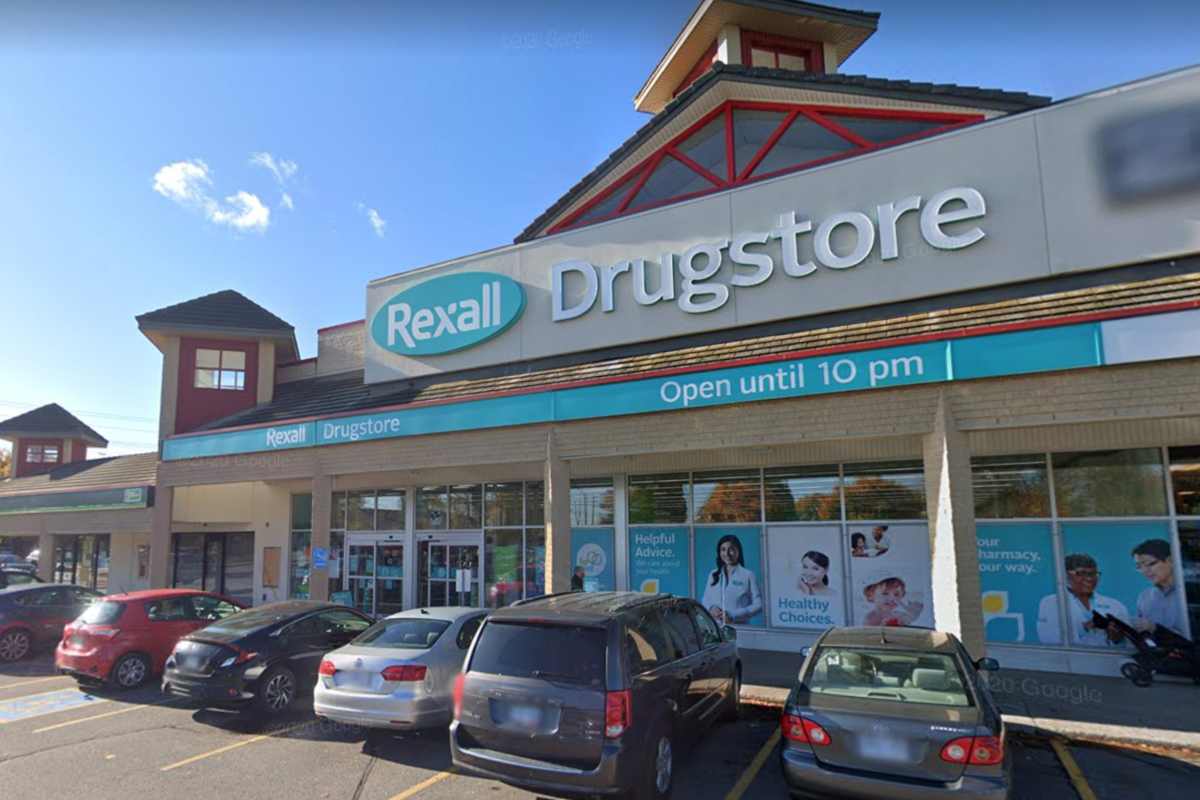 Starting as early as Saturday, 10 pharmacies in the local public health area will be offering the AstraZeneca vaccine to individuals 55 and older.
The 10 pharmacies were announced Thursday as part of the province's plan to increase participation of the COVID-19 vaccine rollout. Over 350 pharmacies and primary care settings will be participating across Ontario.
Wellington-Dufferin-Guelph Public Health area will see four additional pharmacies in Guelph, two in Fergus, one in Erin, two in Orangeville and one in Shelburne. Information about vaccine locations and appointment bookings can be viewed here.
The following pharmacies will be participating:
Costco Pharmacy on Elmira Rd in Guelph.
Rexall on Woolwich Street in Guelph.
DRUGStore Pharmacy on Kortright Road in Guelph.
DRUGStore Pharmacy on Paisley Road in Guelph
Shoppers Drug Mart on Tower St. S in Fergus.
Pharmasave Trailside Pharmacy on Beatty Line in Fergus.
Rexall on Main Street in Erin.
DRUGStore Pharmacy on Second Line in Shelburne.
Shoppers Drug Mart on Broadway Ave. in Orangeville.
Jeffer's Pharmacy on Elizabeth Street in Orangeville.
"Ontario's capacity to get needles in arms continues to grow by the day," said Premier Doug Ford in a press release.
"Thanks to the determination and commitment of members of Team Ontario we are ahead of schedule and administering more vaccines than all of the other provinces combined. We are ready to dramatically increase the number of vaccines we can administer once we receive a steady and reliable supply from the federal government."
Earlier in March, Ontario began offering the COVID-10 vaccine to individuals aged 60 and over at pharmacies and primary care settings. Pharmacies in the WDG were not part of this roll-out.
Today's vaccine rollout expansion brings the total number of pharmacies in Ontario offering the vaccine to 700. The province expects the number of pharmacies to climb to 1,500 by the end of April as pharmacies and primary care settings continue to increase access points for vaccines across the province.
WDG Public Health has 10 vaccination sites (in addition to the WDG Public Health building) offering the Pfizer and Moderna vaccine. All vaccinations are by appointment only. Phase 1 and Phase 2 groups are able to register here.
WDG Public Health expects to vaccinate 75 per cent of the total eligible population with at least the first dose by June this year. As of Thursday, 44,057 people in the area have been vaccinated with their first dose.
As of March 31, over 2,275,000 vaccine doses have been administered across the province, with over 81 per cent of Ontario residents aged 80 and over having received at least one dose. More than half of residents aged 75 to 79 have now received their first vaccine dose. Over 317,000 Ontarians are fully immunized including 91 per cent of long-term care residents which makes Ontario the leading province in Canada with the highest number of vaccines administered and individuals fully immunized.
Canadian National challenges Canadian Pacific with $33.7 billion Kansas City bid
By Shreyasee Raj
(Reuters) -Canadian National said on Tuesday it had offered to buy Kansas City Southern railroad for about $33.7 billion, and shares of U.S. company soared as investors anticipated a potential bidding war with Canadian Pacific.
Canadian Pacific had agreed a deal to acquire Kansas City Southern for about $25 billion last month. Either combination would create a North American railway spanning the United States, Mexico and Canada as supply chains recover from being disrupted by the COVID-19 pandemic.
The acquisition interest in Kansas City Southern also follows the ratification of the US-Mexico-Canada Agreement last year, that removed the threat of trade tensions which had escalated under former U.S. President Donald Trump.
Kansas City said it would evaluate Canadian National's offer. If it found it could lead to a better deal, Canadian Pacific will be given the opportunity to raise its bid.
Canadian National's cash-and-stock offer, worth $325 per share, is at a 26.8% premium to Kansas City Southern's offer as of Monday's trading close.
"We are surprised by this move given the healthy valuation Canadian Pacific had already offered to Kansas City Southern shareholders," Stephens analyst Justin Long wrote in a note to clients.
Kansas City Southern shares rose 15.8% to $297.12, indicating most investors deemed it unlikely the company would stick with Canadian Pacific's offer.
One investor that took a different view is Chilton Investment Co, which has a less than 1% stake in Kansas City Southern. Citing regulatory hurdles, it said it preferred a deal with Canadian Pacific.
"There's more overlap with Canadian National deal which makes it harder to get (regulatory) approval. The Surface Transportation Board (STB) doesn't like overlap," Chilton CEO Richard Chilton said.
Canadian National CEO Jean-Jacques Ruest said his network and that of Kansas City Southern are "highly complementary networks with limited overlap." They only run parallel for 65 miles, between Baton Rouge and New Orleans.
Kansas City Southern has domestic and international rail operations in North America, focused on the north-south freight corridor connecting commercial and industrial markets in the central United States with industrial cities in Mexico. Calgary-based Canadian Pacific is Canada's No. 2 railroad operator, behind Canadian National.
The STB updated its merger regulations in 2001 to introduce a requirement that Class I railways have to show a deal is in the public interest. Yet it provided an exemption to Kansas City Southern given its small size, potentially limiting the scrutiny that its acquisition will be subjected to.
Canadian Pacific agreed in its negotiations with Kansas City Southern to bear most of the risk of the deal not going through. It will buy Kansas City Southern shares and place them in an independent voting trust, insulating the acquisition target from its control until the STBLatest clears the deal. Were the STB to reject the combination, Canadian Pacific would have to sell the shares of Kansas City Southern, but the current Kansas City Southern shareholders would keep their proceeds.
Canadian National said it was willing to match these terms. It said its offer does not require approval from its own shareholders because of how much cash it has, eliminating a condition in Canadian Pacific's offer.
Bill Gates' Cascade Investment, which is Canadian National's biggest investor with a 14.25% stake, said it fully supports the combination.
A private equity consortium led by Blackstone Group Inc and Global Infrastructure Partners (GIP) made an unsuccessful offer last year to acquire Kansas City Southern. But it was Canadian Pacific's announcement of a deal with Kansas City Southern that spurred Canadian National into action, as it raised the prospect of losing out to its rival, according to people familiar with the matter.
(Reporting by Shreyasee Raj and Ankit Ajmera in Bengaluru; Additional reporting by Greg Roumeliotis in New York; Editing by Shinjini Ganguli, Anil D'Silva and David Gregorio)
CEO shake-up at Canada's Nutrien could pave way to M&A: shareholders
By Rod Nickel and Maiya Keidan
WINNIPEG, Manitoba (Reuters) – Investors expect the new chief executive of Canada's Nutrien Ltd to swing deals as part of a more aggressive growth strategy, after an abrupt shake-up at Canada's biggest agriculture company.
Nutrien, the world's biggest fertilizer producer by capacity, surprised shareholders on Sunday by promoting its chairman, Mayo Schmidt, to CEO, replacing Chuck Magro, who had led the company since it formed from Agrium's 2018 merger with Potash Corp.
Schmidt, raised on a Kansas farm, is best known for leading the Saskatchewan Wheat Pool grain cooperative's acquisition of competitor Agricore United in 2007, creating Viterra Inc, one of Canada's biggest grain handlers. He subsequently bought Australia's ABB Grain before leading the sale of Viterra to commodity trader Glencore PLC in 2012.
"Acceleration of M&A is a natural progression as we enter the next commodity supercycle," said Michael Underhill, chief investment officer at Capital Innovations LLC, which owns Nutrien shares. "I would not bet against him."
Nutrien shares were down 1.3% on Tuesday, after falling 3.5% on Monday. They have risen about 35% year over year, riding soaring corn prices, but gained only 2% since they began trading in 2018.
Some investors had grown uncertain about Nutrien's growth strategy under Magro, said Mike Archibald, vice-president and portfolio manager at AGF Investments, which owns C$136 million ($109 million) worth of the company's stock.
Archibald said now the strategy looks likely to shift to deals.
"The incoming CEO does have a history as a deal-maker so, to the extent he lives up to what he's done in the past, we should expect sometime in the next 12 months that we'll get something happening on the M&A front," Archibald said.
POTENTIAL DEALS
Nutrien could try to acquire U.S. nitrogen fertilizer rival CF Industries, which has a $10-billion market capitalization, or accelerate the company's roll-up of smaller farm retail stores, Archibald said. A CF spokesman did not immediately respond to a request for comment.
Conversely, Schmidt could sell off the retail business to focus on fertilizer production, Archibald said.
Nutrien declined an interview request for Schmidt. A company spokeswoman said Schmidt's plans include following the company's climate change initiatives, which Magro unveiled this month.
Schmidt may also eye selling Nutrien's phosphate fertilizer business, even though it recently got a boost from U.S. duties against Russian and Moroccan imports, said Brian Madden, senior vice-president at Goodreid Investment Counsel, a Nutrien shareholder.
The CEO change is positive, as Schmidt has an exceptional record of creating shareholder value, said Scotiabank analyst Ben Isaacson. He added that Nutrien could look to consolidate the nitrogen industry.
Schmidt would find it difficult to sell Nutrien itself, Madden said. There is no obvious domestic acquirer and the Canadian government rejected a foreign bid for Potash Corp in 2010.
"Schmidt has got cred in the ag world," Madden said. But he added that abruptly changing chief executives is not how successions should occur at large companies.
(Reporting by Rod Nickel in Winnipeg and Maiya Keidan in Toronto; Editing by Marguerita Choy)
Canadian Business During the Pandemic
In 2019 the world was hit by the covid 19 pandemic and ever since then people have been suffering in different ways. Usually, economies and businesses have changed the way they work and do business. Most of which are going towards online and automation.
The people most effected by this are the laymen that used to work hard labors to make money for there families. But other then them it has been hard for most business to make such switch. Those of whom got on the online/ e commerce band wagon quickly were out of trouble and into the safe zone but not everyone is mace for the high-speed online world and are thus suffering.
More than 200,000 Canadian businesses could close permanently during the COVID-19 crisis, throwing millions of people out of work as the resurgence of the virus worsens across much of the country, according to new research. You can only imagine how many families these businesses were feeding, not to mention the impact the economy and the GDP is going to bear.
The Canadian Federation of Independent Business said one in six, or about 181,000, Canadian small business owners are now seriously contemplating shutting down. The latest figures, based on a survey of its members done between Jan. 12 and 16, come on top of 58,000 businesses that became inactive in 2020.
An estimate by the CFIB last summer said one in seven or 158,000 businesses were at risk of going under as a result of the pandemic. Based on the organization's updated forecast, more than 2.4 million people could be out of work. A staggering 20 per cent of private sector jobs.
Simon Gaudreault, CFIB's senior director of national research, said it was an alarming increase in the number of businesses that are considering closing.
"We are not headed in the right direction, and each week that passes without improvement on the business front pushes more owners to make that final decision,"
He said in a statement.
"The more businesses that disappear, the more jobs we will lose, and the harder it will be for the economy to recover."
In total, one in five businesses are at risk of permanent closure by the end of the pandemic, the organization said.
The new sad research shows that this year has been horrible for the Canadian businesses.
"The beginning of 2021 feels more like the fifth quarter of 2020 than a new year," said Laura Jones, executive vice-president of the CFIB, in a statement.
She called on governments to help small businesses "replace subsidies with sales" by introducing safe pathways to reopen to businesses.
"There's a lot at stake now from jobs, to tax revenue to support for local soccer teams,"
Jones said.
"Let's make 2021 the year we help small business survive and then get back to thriving."
The whole world has suffered a lot from the pandemic and the Canadian economy has been no stranger to it. We can only pray that the world gets rid of this pandemic quickly and everything become as it used to be. Although I think it is about time, we start setting new norms.