The latest news on COVID-19 developments in Canada for Tuesday, March 30 – The Record (New Westminster)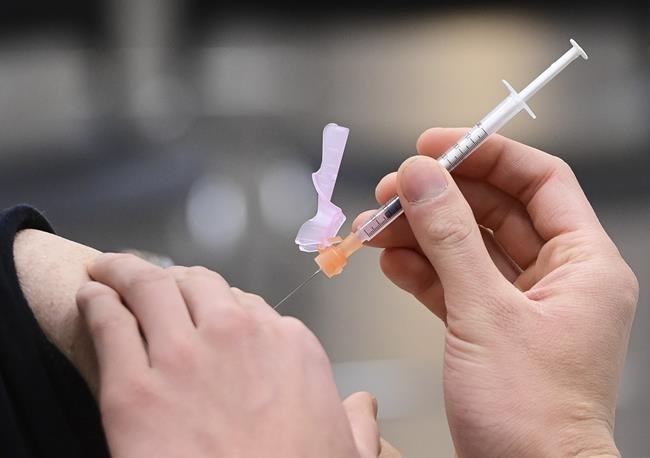 The latest news on COVID-19 developments in Canada (all times Eastern):
2:05 p.m.
Canada has signed on to a joint declaration with 13 other countries voicing concerns with an international report on the origins of the COVID-19 pandemic.
The statement outlines the nations' unease after World Health Organization experts went to study the original outbreak of the virus in China's Wuhan province.
The countries decry what they call the significant delays and lack of access to complete, original data and samples that the international study team faced in China.
The statement goes on to say that the international community must understand how COVID-19 began circulating in the local population to improve future pandemic responses.
Such a response can only happen if experts can study the origins of COVID-19 free from interference and undue influence, the statement adds.
Aside from Canada, other signatories include the United States, Australia, Israel, Japan, Denmark and the U.K.
—
2 p.m.
Ontario Premier Doug Ford says his government is considering additional restrictions to combat a surge in COVID-19 and is urging people not to gather over the Easter weekend.
Ford says he is "extremely concerned" about rising infections and stressed that residents must follow public health rules.
He would not specify what measures are being considered but says he will consult the province's top doctor before making a decision.
The province has seen rising COVID-19 rates for weeks, fuelled by the spread of more transmissible variants of the virus.
—
1:40 p.m.
Manitoba is reporting no new deaths and 77 additional cases of COVID-19 today.
The majority – 43 – are in Winnipeg and 27 are in the northern health region.
Screening has also identified 11 additional cases involving variants of concern.
The province says 150 people are hospitalized due to COVID-19 and 31 are in intensive care.
—
1 p.m.
Newfoundland and Labrador is reporting two new confirmed cases of COVID-19.
Officials say both cases involve men in their 40s and are related to domestic travel.
There are now four active cases of COVID-19 in the province, and no one is in hospital due to the disease
Since the beginning of the pandemic, Newfoundland and Labrador has had 1,018 confirmed cases and six deaths.
—
12:40 p.m.
Federal Procurement Minister Anita Anand says delivery of the Johnson & Johnson vaccine will begin at the end of April.
The New Jersey-based company has been plagued with production issues that have slowed all deliveries, including in the United States.
Canada has bought 10 million doses of Johnson & Johnson, with the option of securing up to 28 million more.
Anand says the government is still finalizing the delivery schedule, but she confirmed in correspondence with the company last night that shipments will start to arrive in Canada within a month.
—
12:25 p.m.
New Brunswick is reporting 14 new cases of COVID-19 today.
Health officials say eight of the new cases are in the Edmundston region and involve contacts of previously reported infections.
Officials say the six other cases are travel-related: four are located in the Moncton region while the Fredericton and Saint John areas each have one new case.
New Brunswick has 126 active reported COVID-19 infections and five people in hospital with the disease, including two in intensive care.
—
11:55 a.m.
Canada's chief public health officer says COVID-19 variants are driving a weeks-long spike in new cases and hospitalizations as the third wave of the pandemic continues to surge.
Dr. Theresa Tam says an average of more than 2,200 COVID-19 patients were in hospital last week, with more than 660 in intensive care, representing week-over-week increases of six per cent and 14 per cent respectively.
She says a 64 per cent increase in the number of COVID-19 variant cases over the past week marks the "most concerning" development.
Tam says the country has logged more than 9,000 cases of variants in the past week, with the B.1.1.7 mutation accounting for more than 90 per cent.
—
11:40 a.m.
Prime Minister Justin Trudeau says Pfizer-BioNTech has confirmed it will move up delivery of five million vaccine doses to June from later in the summer.
The earlier shipment period will boost the number of Pfizer doses received by the end of that month to 18 million doses.
Procurement Minister Anita Anand says the accelerated schedule means Canada will receive about 44 million vaccine doses in total by the end of June, more than enough for every Canadian to receive at least one shot.
By the end of this week, Canada will have received about 9.5 million vaccine doses from three manufacturers, with 3.2 million doses arriving this week alone.
—
11:05 a.m.
Quebec is reporting 864 new cases of COVID-19 today and seven additional deaths linked to the novel coronavirus, including one within the past 24 hours.
The Health Department says the number of hospitalizations rose by 10 to 487, while the number of people in intensive care rose by six to reach 126.
Health authorities say 38,801 doses of vaccine were administered yesterday for a total of 1,261,855.
Quebec has reported 310,066 confirmed cases of COVID-19 and 10,658 deaths linked to the disease.
—
10:45 a.m.
Ontario reports 2,336 new cases of COVID-19 today and 14 more deaths linked to the virus.
Health Minister Christine Elliott says that there are 727 new cases in Toronto, 434 in Peel Region and 229 in York Region.
She also says there are 194 new cases in Durham Region, 144 in Ottawa and 123 in Hamilton.
Ontario says that 1,090 people are currently hospitalized with the virus, 387 are in intensive care, and 249 people are on a ventilator.
—
10:45 a.m.
Health officials in Prince Edward Island are reporting three new cases of COVID-19 today.
They involve two people under 19 and one person in their 40s who are all close contacts of previous cases.
There are now 14 active cases in P.E.I. and 94 close contacts are in isolation.
There have been 159 positive cases of COVID-19 in the province since the onset of the pandemic.
—
10:50 a.m.
Nova Scotia health officials are reporting three new cases of COVID-19.
They say one case is in the health zone including Halifax and is a close contact of a previously reported case.
The second case is in the northern part of the province and is under investigation, while the third was identified in the eastern region and is related to travel outside Atlantic Canada.
Officials say Nova Scotia now has 24 active infections.
—
This report by The Canadian Press was first published March 30, 2021.
The Canadian Press
Canada's manufacturers ask for federal help as Montreal dockworkers stage partial-strike
MONTREAL (Reuters) – Canada's manufacturers on Monday asked the federal government to curb a brewing labor dispute after dockworkers at the country's second largest port said they will work less this week.
Unionized dockworkers, who are in talks for a new contract since 2018, will hold a partial strike starting Tuesday, by refusing all overtime outside of their normal day shifts, along with weekend work, they said in a statement on Monday.
The Canadian Union of Public Employees (CUPE) Quebec's 1,125 longshore workers at the Port of Montreal rejected a March offer from the Maritime Employers Association.
The uncertainty caused by the labour dispute has led to an 11% drop in March container volume at the Montreal port on an annual basis, even as other eastern ports in North America made gains, the Maritime Employers Association said.
The move will cause delays in a 24-hour industry, the association said.
"Some manufacturers have had to redirect their containers to the Port of Halifax, incurring millions in additional costs every week," said Dennis Darby, chief executive of the Canadian Manufacturers and Exporters (CME).
While the government strongly believes a negotiated agreement is the best option for all parties, "we are actively examining all options as the situation evolves," a spokesman for Federal Labor Minister Filomena Tassi said.
Last summer's stoppage of work cost wholesalers C$600 million ($478 million) in sales over a two-month period, Statistics Canada estimates.
($1 = 1.2563 Canadian dollars)
(Reporting By Allison Lampert in Montreal. Additional reporting by Julie Gordon in Ottawa; Editing by Marguerita Choy)
Canada scraps export permits for drone technology to Turkey, complains to Ankara
OTTAWA (Reuters) –Canada on Monday scrapped export permits for drone technology to Turkey after concluding that the equipment had been used by Azeri forces fighting Armenia in the enclave of Nagorno-Karabakh, Foreign Minister Marc Garneau said.
Turkey, which like Canada is a member of NATO, is a key ally of Azerbaijan, whose forces gained territory in the enclave after six weeks of fighting.
"This use was not consistent with Canadian foreign policy, nor end-use assurances given by Turkey," Garneau said in a statement, adding he had raised his concerns with Turkish Foreign Minister Mevlut Cavusoglu earlier in the day.
Ottawa suspended the permits last October so it could review allegations that Azeri drones used in the conflict had been equipped with imaging and targeting systems made by L3Harris Wescam, the Canada-based unit of L3Harris Technologies Inc.
In a statement, the Turkish Embassy in Ottawa said: "We expect our NATO allies to avoid unconstructive steps that will negatively affect our bilateral relations and undermine alliance solidarity."
Earlier on Monday, Turkey said Cavusoglu had urged Canada to review the defense industry restrictions.
The parts under embargo include camera systems for Baykar armed drones. Export licenses were suspended in 2019 during Turkish military activities in Syria. Restrictions were then eased, but reimposed during the Nagorno-Karabakh conflict.
Turkey's military exports to Azerbaijan jumped sixfold last year. Sales of drones and other military equipment rose to $77 million in September alone before fighting broke out in the Nagorno-Karabakh region, data showed.
(Reporting by David Ljunggren in Ottawa and Tuvan Gumrukcu in Ankara; Writing by Daren Butler; Editing by Gareth Jones and Peter Cooney)
Investigation finds Suncor's Colorado refinery meets environmental permits
By Liz Hampton
DENVER (Reuters) – A Colorado refinery owned by Canadian firm Suncor Energy Inc meets required environmental permits and is adequately funded, according to an investigation released on Monday into a series of emissions violations at the facility between 2017 and 2019.
The 98,000 barrel-per-day (bpd) refinery in the Denver suburb of Commerce City, Colorado, reached a $9-million settlement with the Colorado Department of Public Health and Environment (CDPHE) March 2020 to resolve air pollution violations that occurred since 2017. That settlement also addressed an incident in December 2019 that released refinery materials onto a nearby school.
As part of the settlement, Suncor was required to use a third party to conduct an independent investigation into the violations and spend up to $5 million to implement recommendations from the investigation.
Consulting firm Kearney's investigation found the facility met environmental permit requirements, but also pinpointed areas for improvement, including personnel training and systems upgrades, some of which was already underway.
"We need to improve our performance and improve the trust people have in us," Donald Austin, vice president of the Commerce City refinery said in an interview, adding that the refinery had already undertaken some of the recommendations from the investigation.
In mid-April, Suncor will begin a turnaround at the facility that includes an upgrade to a gasoline-producing fluid catalytic cracking unit (FCCU) at Plant 1 of the facility. That turnaround is anticipated to be complete in June 2021.
Suncor last year completed a similar upgrade of an automatic shutdown system for the FCCU at the refinery's Plant 2.
By 2023, the company will also install an additional control unit, upgraded instrumentation, automated shutdown valves and new hydraulic pressure units in Plant 2.
Together, those upgrades will cost approximately $12 million, of which roughly $10 million is dedicated to Plant 2 upgrades, Suncor said on Monday.
(Reporting by Liz Hampton; Editing by Marguerita Choy)